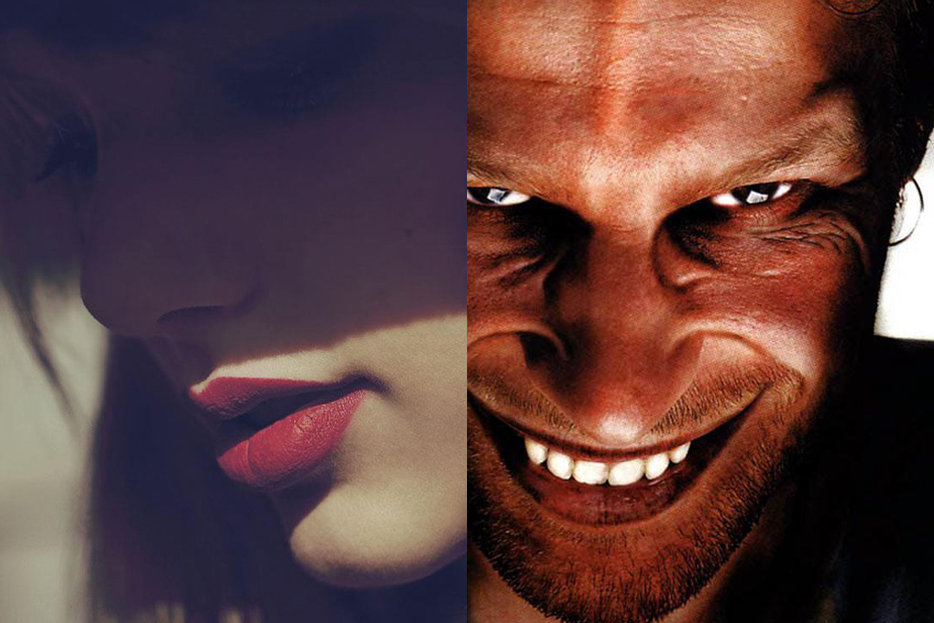 Whether you consider him a comedian, an artist, or perhaps an undercover philosopher, David Rees specializes in restoring meaning to activities that seem mundane or moribund. His targets have included the newspaper comic strip (which he turned to foul-mouthed social protest in the classic 2001-09 Get Your War On), the art of pencil sharpening, and, on his ongoing TV/Hulu show Going Deep with David Rees, such basic tasks as tying your shoes, making ice cubes, or shaking hands.
So on one level, the fact that Rees has turned his hand to making "mashups" is confirmation (if you needed any) that the glory days of that popular early-2000s cultural Cuisinart-form are well and truly over. Throughout this week, Rees is posting to his Soundcloud page each of the eight tracks from his new Aphex Swift project, which mates vocals from Taylor Swift songs to instrumental tracks by avant-electronics giant Aphex Twin.
The slow-reveal method mirrors the way Swift herself has been teasing out bits and pieces of her new album 1989 ahead of its debut next week, or perhaps it's more like "Weird Al" Yankovic posting a video for each of 10 consecutive days earlier this summer. It's a fortuitous coincidence that Aphex Twin (Richard D. James) staged a covert-surprise release this fall of his first full-length album of new material in 13 years, Syro—Rees has said he didn't know either album was coming when he began working on Aphex Swift earlier this year.
It's not like Rees brings any more technical skill to the task than past practitioners such as Danger Mouse, 2ManyDJs or Freelance Hellraiser (whose "Stroke of Genie-us" mashup of Christina Aguilera and the Strokes might remain the most enduring work in that mongrel canon). Instead, what Rees always brings is that one step beyond cleverness that makes the Earth's orbit feel like it's wobbled just below the threshold of perceptibility. You never know if it's a profound, Zen-like appreciation of banality or a cynical contempt for people's absorption in the trivial.
Aphex Swift recalls the way that the best of the old mashups tended to play with binaries: the cool and the uncool, rock versus pop or hip-hop, male versus female, the "authentic" versus the "artificial"—21st-century versions of high and low culture. Heard in a kneejerk way, it could be taken as just more of the same. (It doesn't help that Rees chose to post the album's weakest, dullest track, "Starlightlicker," first.)
But when you hear a mix like "T4ouble"—which blenderizes Aphex Twin's "4" (from 1996's Richard D. James Album) with Swift's hit "I Knew You Were Trouble"—something much less giggly takes place. With James's malfunctioning-robot-drummer trills and poignant mutated-organ figures underlying Swift's rueful relationship lyrics, the track's gaze turns away from any fictional or memoiristic boy-nemesis-desire-object and zeroes in instead on trouble itself, as a larger existential state of alarm.
What I hear is Rees asserting that James and Swift are similarly potent and mischievous intelligences operating in two entirely separate realms. He is using Aphex Twin's music—hypnotic but now also dated, less "avant" than it once seemed—to undermine the naturalistic narrative of Swift's career as she always has marketed it, of the girl next door who (gosh) just happens to be super-talented and insightful and thus (who, me?) has lucked her way into stardom.
By stripping away the acoustic guitar (that ur-signifier of singer-songwriter sincerity) and substituting the eccentric but anti-humanist beats and synths of James's non-dance-music, at the project's peaks Rees manages to make Aphex Twin sound like the naïvely self-expressive one and Swift like the master technician. The organic and the synthetic are flipped, whether into a wrestling match or a 69.
For me, this is most effective when Rees draws on earlier parts of Swift's career, when she was still styling herself as country rather than pop. "To Cure a Weakling McGraw" plucks her first hit "Tim McGraw" (2006) out of its sepia-tinted pickup truck and drops it into an earthmover on Mars. "Why You Gotta Be So Flim" repositions Swift's "Mean," her slightly whiny (but ultimately triumphalist) 2010 complaint against bullies like the dickish critic Bob Lefsetz, projecting it way beyond the "someday … in a big old city" she invokes in the lyrics into an era in which she looks down laughingly upon him from among the ethereal goddess creatures of Alpha Centauri.
And "You Belong With Avril" embeds her huge 2008 high-school rivalry rant into an atypical Aphex Twin standard, the chamber-piano piece "Avril 14th" (previously sampled wholesale on Kanye West's "Blame Game"), draining the mean-girl energy away and making the lyrics sound much more like an abstract study, love-triangle-as-still-life. Again, Swift suddenly sounds much less like a diarist than like a virtuoso, a Brill Building pop-song scenario creator, a Carole King or Ellie Greenwich. And that is no slight—it's part of why she has a stronger bid for staying power than many of the lesser pop stars of our time.
I'm less totally enamored with the several rips Rees makes from Red, the 2012 album where Swift is partway into the pivot toward full-on dance-pop that she's poised to complete with 1989. "We Are Never Getting Girl/Boygether" takes a song that was already electronic and just makes it more so. But that track and "Twengerbibbytwo" ("22" plus "Fingerbib") are in their own way most timely of all, when you compare them to this week's release "Welcome to New York," the weakest link in the 1989 chain so far.
It makes you fantasize about a future Swift who embraces her auteurism so thoroughly that she leaves behind workaday hit-makers like Ryan Tedder and standard retro-gated-drums. She could trust herself to be the artist who could bring out naturalistic emotion in even the weirdest freak-noise squiggle montages. She could write the bass drops that make the whole world cry.
Perhaps Aphex Swift is even part of such a long-term secret plot. I wouldn't put anything past Swift, and you never can read Rees's deadpan, silent-film, Cheshire-cat smile. But as Swift's deepest devotees feel about her, I'd follow it anywhere.