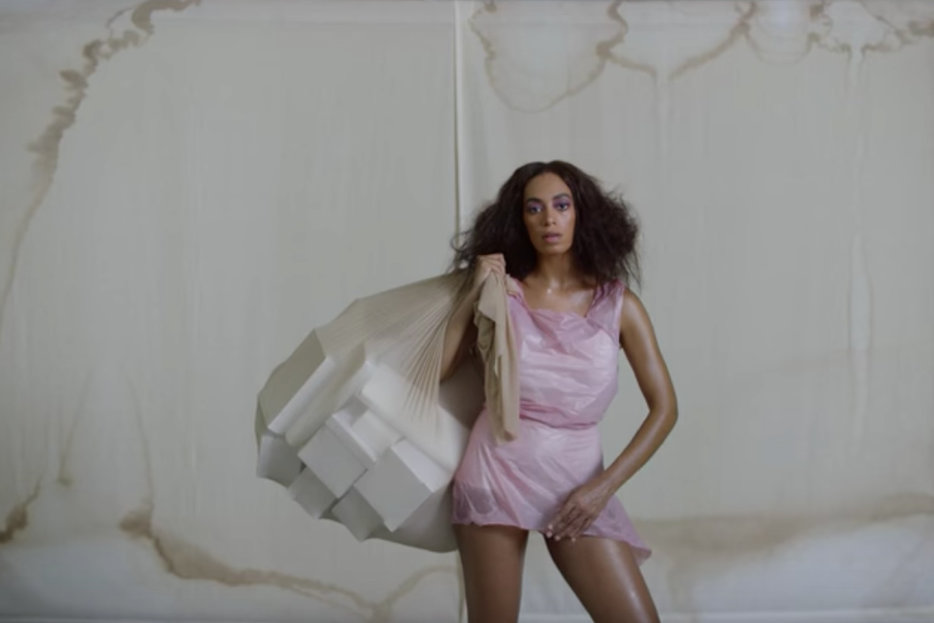 Ramadan this year was a sacred starting point for me in the process of letting go. It's helped me understand that my anger can, and will, illuminate me.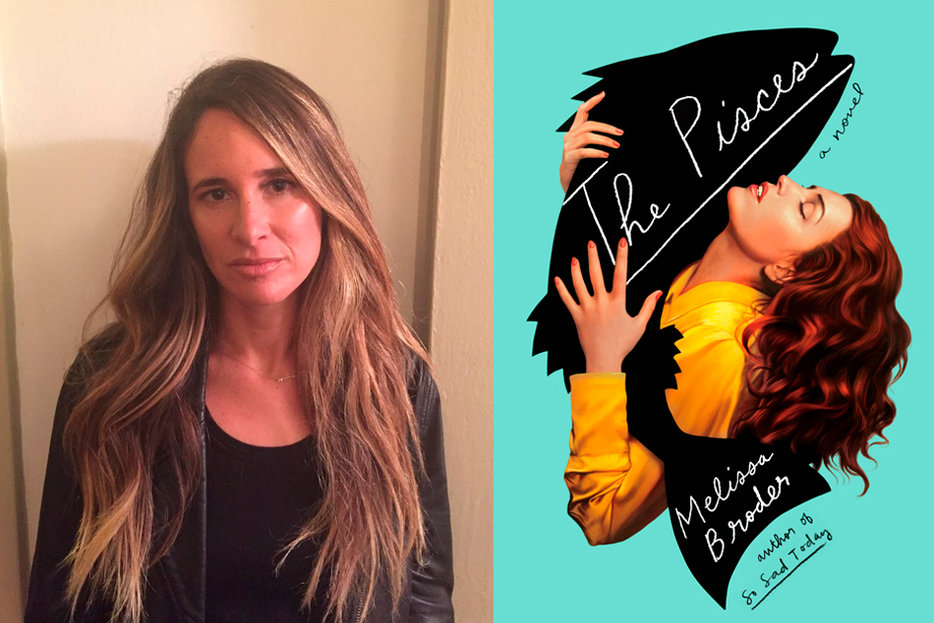 The author of The Pisces talks astrology, fish sex and filling existential holes.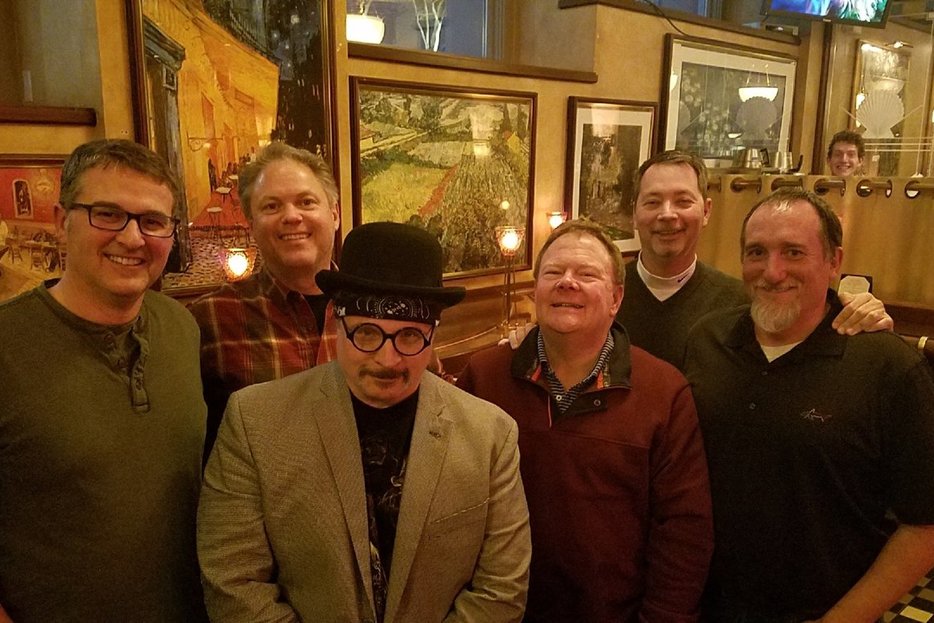 These ten friends have been playing the childhood game for decades—and each year, the stakes get higher. Now, their contest is being immortalized on film.
Latest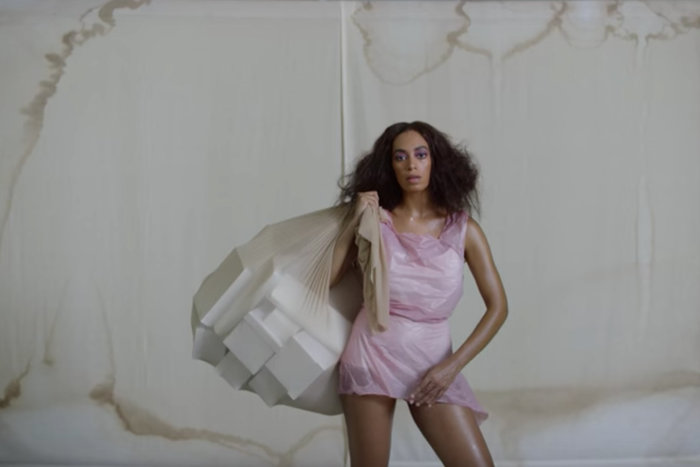 Ramadan this year was a sacred starting point for me in the process of letting go. It's helped me understand that my anger can, and will, illuminate me.
Friday, June 15 marks the last day of Ramadan this year, a sacred month for Muslims to fast from sunrise to sunset. Ramadan occurs on the ninth month of the Islamic calendar, once a crescent moon has been detected. Muslims worldwide, if able, practice good deeds to become a better Muslim, and abstain from pleasures, sin and food as an act to become closer to God. Ramadan has long been understood to me as a month-long opportunity to pause. I grew up fasting. As a child, I was told I only had to complete half-days. I would break fast at school at noon while everyone ate lunch. It was always a great way to find out which other students shared my faith. By the time I reached high school, I became more selective about when I would fast—it was entirely out of convenience, and I would spend more time trying to find ways to pretend I was completing my fast than actually doing so. Sometimes I would hide snacks in my room, or school bag, feeding myself before Meghreb. Ridden with guilt, I would make sure I ate after everyone else or request to make my own meals. But by the time I reached university, my questions about Islam, and religion altogether, steered me clear of any guilt about missing a day of fasting. I began to critique my faith rigorously. Most of my twenties have been a back and forth about faith, especially when relatives were murdered back to back. At some point, I had no faith in faith anymore. I had no hope for this dunya (meaning "world"). I did not know how to. I'm happy I went through that period of questioning—it brought me closer to Islam. By 2015, my relationship to my faith, once again, was shifting: I was fasting again. I was re-teaching myself how to pray. I was asking questions. I was trying to learn more. I began to accept that I don't need to make sense of it all in order to have faith. You just have it or you don't, and that doesn't need to be explained. Last year was the first time in several years that I did not fast for Ramadan. I was not well, and I wasn't admitting it to myself. I lost my grandmother, was struggling through my first year in a doctoral program, had a family member try to move to Somalia the day that Trump's travel ban was announced. Meanwhile, I was navigating my first real experiences of gendered violence on my body—twice, in one month—while my face and name made headlines across publications in my home city for helping Black women get into academia. I didn't have the energy or capacity to recognize any positivity in that moment. I was overwhelmed and I wanted to get out. By the time Ramadan had arrived I was swamped with rerouting my life from my home city of Toronto to Montreal, without much consideration that I would be living without my community, family, and friends during one of the most vulnerable moments in my life. It was the first time I really felt alone. Every day felt like it was getting harder to breathe. I was depressed. I was angry. * I tried to run it awayThought then my head be feeling clearerI traveled 70 statesThought moving around make me feel betterI tried to let go my loverThought if I was alonethen maybe I could recoverTo write it awayor cry it awayAway, away, away, away, away, awayAway, away, away, away, away— "Cranes in the Sky," Solange A year later, I moved back to Toronto into a beautiful home—it's spacious, full of sunlight, swarmed with plants, in a secluded area. It's the most quiet and peaceful space I've ever lived in. My time here for the past few months has allowed me to reflect heavily on what space means to me, especially as a Black Muslim woman who grew up in a household full of men. I've never felt that I've had space that was rightfully mine. I never felt a spiritual ownership of a space or home. I've always had somewhere to live—alhamdulilah—but until this house, I never felt like I had a home. Like last year, this year was chaotic. I started off the year mourning my uncle who was murdered in a Mogadishu bombing in October. It was the birthday of his son, Masud, who was murdered four years prior in Toronto. I really began to wonder about the disposability of Black life. I was overwhelmed with the realization that death in my family, and community, seems to rarely be the result of natural causes. I began to ask where it's safe to be Somali. It was the first time I realized how easy it is for Black girls to disappear—and how easy it is to want to. My current home has felt like the first step towards peace in a long time. But this home is situated in one of the whitest neighbourhoods in this city. Once, a guest and I stepped out of my house to sit outside in the sun. My neighbours were watching their children while they were playing with their toy water guns. As we moved around my house, the children started probing us with questions, occasionally pointing the water guns in our direction with innocent, unknowing smiles. They asked why we were there, because they didn't think we belonged. At one point, they gently asked us to leave. Their assumption was that we were labourers—perhaps cleaners or nannies in the area. That is, after all, these children's only understanding of how women of colour exist in this world. My friend and I were completely puzzled as to how to tell children they were being inappropriate. We were even more puzzled by the lack of intervention by the adults who were present. Our live-in landlord was also present as the children probed my friend and I without intervention. They said nothing. As someone raised in Scarborough, a multicultural borough in the east end of the city, my current neighbourhood has definitely been a difficult readjustment. But inside my home, I am at peace, and at the least, we all deserve that: a peaceful home, if we are so fortunate. In a city with an incredibly inequitable housing market, finding an affordable and lovable home is already difficult enough. I was lucky to have finally found something I adored and could afford in Toronto. Two weeks after I moved into this house, I found out it was being sold. The first day that I fasted this Ramadan was the day I woke up, looked outside, and saw a "sold" sign outside of our house. An hour later my roommate broke the news to me: we were moving. I was angry. I wasn't just angry about the sale sign, I was angry that I finally had something that felt like a little bit of peace, and I wouldn't have it anymore. I was starting off my Ramadan angrier than I had already been. It's one thing when hardships come our way because, perhaps, there is some spiritual lesson that the universe or God (or whatever faith system you have) brings to us to grow from. And then there are hardships that come your way merely because this world is trash, and your fate is nothing but the result of structural power. For the past year, I have tried to find meaning in what feels like an ongoing plateau of unfortunate events. I am accepting that there is no spiritual lesson to be found in experiencing gendered violence. There is no spiritual lesson in dealing with anti-Blackness. There are no spiritual awakenings that come with murder. * A few days after I received the news that I would be searching for a new place to live (for the fifth time in the past year), I broke my fast by listening to music. I was fuming while I walked from my house to the subway station, observing the neighbourhood I would no longer be calling home, and I figured that my anger was not useful to a productive fast that day anyway. "Mad" by Solange came on. I've heard this song, and the album in its entirety, damn near a million times. But with good music, there is always something new to be discovered or observed, regardless of how much the work has aged. For the first time ever, I paid attention to the lyrics of the first few lines of the song, and continued to repeat them during my twenty-minute commute from High Park station to downtown Toronto: You got the light, count it all joyYou got the right to be madBut when you carry it alone you find it only getting in the way— "Mad," Solange They were the words I needed to hear in that moment. As Audre Lorde says, "my anger is a response to racism." My anger is always valid. It's loaded with details, understanding and information about the structures of this world. However, despite how valid my anger is, it harms no one but me. It chips away at my heart, my health, and my spirit—no one else's. It slowly kills me. That's the catch. Black women are given every valid reason to be angry existing in a world that continuously renders us invisible, and yet, we are projected as too angry for society in order to erase any validity to our very real frustrations. The "angry black woman" archetype functions to conceal the realities of the day-to-day violences that are projected onto us. I've spent too much time trying to validate my anger, or have it be validated, that I've failed to realize the necessity of letting it go. "Anger is loaded with information and energy..."-Audre Lorde And so, I've come to understand Ramadan as having another advantage: it is a time for me to address and sort through my anger. I wasn't able to fast every day this Ramadan, but I tried my best. Ramadan this year was a sacred starting point for me in the process of letting go. It's helped me understand that my anger can, and will, illuminate me. I'm ending this Ramadan knowing that I don't need to just be well. I want and need to learn the tools to help me proactively stay well—a shield, if you will—to help me continue to get through this life. This may seem pessimistic, or, perhaps, realistic: but I am painfully aware that there will be more shitty times, much like there will be good times, too. I want to be prepared for both. A part of me suspects that the anger I have carried with me for the past year is the result of an accumulation of traumatic events that I haven't healed from. As my brother likes to remind us, it's not normal how much my family, or our community, has danced with death. There is a lot I have been carrying with me throughout my life. There is a lot that I need to let go. I was never taught the blueprint of self care. I've been making it up along the way, as many of us do. And by chance, or by luck, I've been surviving. But we can't always afford luck. For the first time in a long time I no longer lack hope that I will be better. I believe there's more to life than this. There is better than this. I have so much work to do before I arrive there, and inshallah, I will. In the meantime, all I can control is my body and my mind, and in this life, I must protect them both. I'm beginning to believe that the past year was the universe, or God, or something, telling me to slow down; to find the tools of self-care; to love myself better, and be patient with myself. That I won't be able to continue to live peacefully until I locate adequate tools of self care. My anger has been whispering for me to listen to myself and my body more. It's telling me to find ways to let go. And, thankfully, it was Ramadan that finally helped me hear it. Outside of abstaining from eating food, or committing any sins, fasting is a bit more specific for me. I like to call it my fix-up month. For thirty days I (try) to find ways to re-centre myself. I'm cognitive of who I speak to, how I speak to people, how I speak about people, and how I speak to myself; I pay closer attention to the energy I receive and the energy I release into the world. We often talk about protecting our energy and space from others without really reflecting on the energy we bring into the world ourselves. Ramadan helps me make sure I am aligning myself to be the person I want to see in this world, and to remind myself that I should continuously hold myself to that standard. I listen to myself more. I am softer with myself. I talk to God more. I feel more free. Ramadan might not always necessarily bring me peace, but it always brings me clarity. "My anger has meant pain to me but it has also meant survival, and before I give it up I'm going to be sure that there is something at least as powerful to replace it on the road to clarity."— Audre Lorde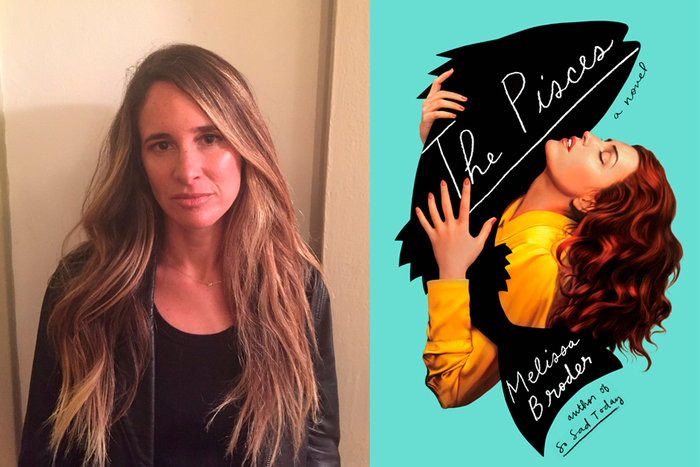 The author of The Pisces talks astrology, fish sex and filling existential holes.
How do you fill an existential void—carved out by anxiety, depression, a general sense of malaise—within yourself? Everyone has their fixes: food, drugs, alcohol, sex, mindless scrolling through Instagram, obsessively checking your horoscope, a dogged exercise regime, drunk texting an ex. This question is fundamental to Los Angeles-based author Melissa Broder's new book, The Pisces (Hogarth). In it, PhD student Lucy has been writing her dissertation on the Greek poet Sappho for nine years when she inadvertently breaks up with her longtime boyfriend in a failed attempt to get him to commit. Newly single, depressed and under pressure to finish her thesis, Lucy moves to Venice Beach to dogsit for her half-sister over the summer. In Los Angeles, Lucy fills her voids with one-off Tinder dates and crappy sex in fancy hotel lobby bathrooms. Then she meets Theo, a young, bronzed swimmer who actually turns out to be a merman, and falls obsessively in love with him. Broder has written four books of poetry and is the person behind the viral Twitter account, @SoSadToday, where she posts dark and funny ruminations like, "autocorrect 'weekend' to 'sitting alone in the dark'" and "should I eat, nap or masturbate: the musical." In 2016, her Twitter spawned the essay collection, So Sad Today, in which she writes in unflinching detail about her own experiences with depression, anxiety and romantic doom. When I call Broder a week before The Pisces comes out, she's channeling her own anxiety by eating miniature cheesecakes while sitting behind the wheel of her car stationed in the grocery store parking lot and buying the same pair of shoes and then returning them over and over again. We talked about the big business of self-care and wellness, why she has a love-hate relationship with astrology, The Shape of Water and fish sex. Samantha Edwards: When did you start thinking about The Pisces? Melissa Broder: After I finished writing So Sad Today, I still really wanted to explore this theme of love as addiction and why fantasy love can be so much more intoxicating than earthly love. I was on the beach in Venice, where I was living at the time, and reading this book called The Professor and the Siren by a dead Italian writer, Giuseppe Tomasi di Lampedusa. It's about a man who falls in love with a mermaid. It dawned on me how much the human-mermaid relationship really embodies this dichotomy that I was trying to explore. But why is it always a mermaid and a man? Why is it never a merman and a woman? The story was born for me right there. I don't write often from a personal standpoint, so I've always imagined that it's harder to write personal essays because you need to put yourself out into the world. It's feels more vulnerable. Is it harder to write as yourself than as Lucy? I wouldn't say it's easier. There's a lot of me in Lucy, as there always is some of yourself in your characters. I feel really fondly for Lucy. She's become a companion of mine. I never understood when fiction writers talked about their characters as people. I thought, "you're fucking weird." Now I'm writing the screenplay of The Pisces and it's so fun because I get to be back in this world. It's almost like writing fan-fic. How do you see yourself in Lucy? We're both really sad and don't understand why fantasy isn't reality. We're both perplexed that you can't just will life to be as you imagine it to be. We also both have addictive tendencies. I have a broader range of addictions than Lucy. Lucy can sometimes get a little too drunk, but it's fine. I cannot just have "some" white wine. I've been sober for thirteen years. But I think when it comes to sex and love, Lucy's journey is very much one that I have. I have not fucked a merman, but I definitely grappled with the question of, "Can you fill the existential hole with romantic obsession?" I wanted to ask you about holes. In The Pisces you write a lot about filling holes, whether they're literal, like mouths, vaginas or assholes, or cosmic and existential. In the first essay in So Sad Today, you write about being a baby and needing so much breast milk from your mom so you could sate a hole. What do holes in all their varying forms mean to you? I think the awareness of feeling like something is missing or that there's an emptiness within has dictated a lot of choices I've made in my life. I tried to use a lot of different things to sate those holes. Through experience I've come to realize that there's no amount of validation, drugs, alcohol, food, success or the right pair of shoes that's going to be that lasting caulk. It's really an inside job. That being said, I'm a human being and I'm always going to reach for shiny shit. I'm probably always going to try to fill that internal hole with outside stuff. I'm not expecting to reach any sort of enlightenment where I come to peace with my own emptiness all the time. But I do continue to come back around to this place where I'm like right, it's an inside job and the solution is spiritual. I'm probably always going to continue to have these awakenings and mistakes, but for me, that feeling—whether you want to call it depression or an existential hole—has been a real, powerful force. It's something that I'm very aware of so it infuses everything I write. How old were you when you first had that awareness? I always say that I could have probably used a drink right out of the womb. I've never been that chill about being alive. [I've had this awareness] from a very young age, but I do have some very visceral memories. I have a memory of being on a beach when I was probably around twelve. That's when I was very familiar with my holes. I had so many crushes at that point. My longing for boys was off the charts. But I remember sitting on a beach and seeing all these beautiful other girls around me and they were all wearing bikinis and I was not having a good time with my body, it was very Are You There God? It's Me, Margaret. The sun was beating down and I remember the level of discomfort and darkness that I was feeling. I just thought god, I wish I could be one of them. Another one, aged 12, was hooking up with—okay, I'll change his name, I don't want to give his real name—hooking up with "Josh Goldberg" in the phone room in a hotel at a bat mitzvah. We were slow dancing to this song by the Righteous Brothers and then we made out and it was so amazing, and then the next day being like, "I wonder if I'll ever hear from him?" For a moment, that hole had been filled and then on the other side of the filling of that hole, what it had done is expanded the hole and oh my god, I'm hungrier than ever. Lucy is in group therapy with a woman she calls "Chickenhorse" who constantly talks about being trigged by seemingly innocuous stuff, like newsboy caps. In one session she says she feels "re-traumatized" because her mom doesn't like her dogs. And she's always the victim. "Trigger warnings" are so present in our vernacular in 2018 and how we preface stories, and I get the importance of that. And while I did feel sympathy for Chickenhorse, I also found her really annoying in how she always made herself the victim. That's the thing. I have compassion for Chickenhorse's suffering, but her constant use of the same words to sort of signify that suffering makes it hard to connect. It's the McDonaldization of suffering. As someone who really cares a lot about language, Lucy is just like, "Why are they using all the same words?" Psychobabble can be a turn-off. What do you think about self-care as this… The self-care industrial complex? Yeah, this idea that it's something that you can buy. The big business of self-care and wellness. When I was in my early twenties I was really into New Age culture. I also was doing a lot of psychedelics and smoking a lot of weed. I worked at at a tantric sex and wellness non-profit in the Bay area. I saw the business side and I think it really clued me into the performative elements of the business. And I've always been skeptical of any modality that purports itself to be "the only way", especially if there's a lot of money being made. That being said, I don't think there's anything inherently wrong with the monetization of learning a new meditation modality or being a healer. I get really skeptical when some humans claim that they have a patent on the truth. How did working at the tantric sex wellness place affect your views on self-wellness? It showed me that anything can be snake oil. I think that as a person who always had insecurities, I was always looking outside of myself for the answer. I really thought any psychic, astrologist or tarot card reader knew more than I did. When I was nineteen I went through a breakup very similar to Lucy's breakup, and I studied astrology as a way of attempting to manipulate the universe into bringing me love. I've kind of given up on astrology in a lot of ways. I think it's a very reductive way to look at the universe. But I'm also like that person who is a lax Catholic, yet still secretly believes in hell. For me, it's like ah, astrology is bullshit, but I'm never going to fuck an Aries. In The Pisces, Lucy reads her horoscopes from like five different sources until she finds one that she likes. I think a lot of people, myself included, read our horoscopes in that way. Like if I don't like what Astro Poets on Twitter or astrology.com tell me, I'll go some place else until I find a horoscope I think is relevant to me and what's happening in my life. I don't read my horoscopes anymore, but within like ten minutes of meeting someone, I'm always like, when's your birthday? It's like a tic of mine. I see astrology as more like archetypes now. It's symbolism and as a poet I can totally get with that. We've all accidentally read the wrong horoscope and thought it really applied to us, like oh wait, they were describing Sagittarius, but I'm a Virgo and it sounds so much like me. We all want to make sense of the world. There have been some think pieces recently about how mermaids and mermen are having "a moment." I know everyone probably asks you this, but have you seen The Shape of Water yet? I haven't, but I was on an airplane and The Shape of Water was one of the movie choices so I put it on and fast-forwarded through it. I just wanted to find the fish sex, but I couldn't find it so I just turned it off. When you heard about the premise of The Shape of Water, were you like, oh my god, there's something else coming out with fish sex going on? I was like, I'm so fucked. I didn't hear about it until it was already out. And then when it won an Oscar I was like, no one is going to read my book. But then my agent was like no, it's good, people will be prime for fish sex. [In The Shape of Water], isn't he a weird slimy creature? He's not a merman. I'd say he's definitely more fish. Yeah, he's gross. He looks like an amphibian. Yes, very amphibious. He's also kind of buff, but definitely not sexy. Why do you think people are attracted to this idea of finding love in these creatures? On the planet right now, everyone has all the answers. We have access to information at the tip of our finger tips; there are so many think pieces telling us what to think and what to believe. The ocean is still this totally mysterious realm. When you think about all the dating apps, we know so much information about people before we even meet them. With the ocean, it's the opposite.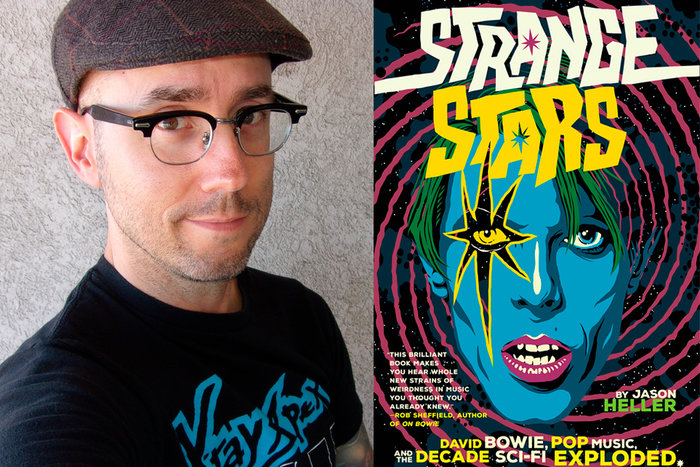 Talking about the Seventies, the inside-baseball debate over sci-fi vs. SF, and who's carrying the torch of sci-fi music today with the author of Strange Stars.
Jason Heller's Strange Stars: David Bowie, Pop Music, and the Decade Sci-Fi Exploded (Melville House) explores a genre that spread across rock, jazz, disco, metal and funk: sci-fi. The cover image—David Bowie's face against a starry backdrop—immediately contextualizes the musical use of a term that we've been comfortably attaching to genre work in literature, film and television for decades. Heller, a Hugo-winning novelist, makes a compelling case for the importance of sci-fi to some of the greatest music of the seventies, from Kraftwerk to Sabbath to Funkadelic. Heller is a former record store employee, and it shows: he's seemingly heard everything, and as I was reading, every time I thought I'd found a gap in his cataloguing of sci-fi music's proponents—Hawkwind, say—I was usually about two pages away from his detailed exploration of the band's relationship to British sci-fi writing legend Michael Moorcock. The book can be used to generate an endless cosmic playlist, and perhaps most usefully, gives us a way of thinking about musical genre that transcends the usual categorizations: Heller's book groups music according to the aesthetic and thematic concerns of the artists who made it. Naben Ruthnum: I liked that you got into instrumentation as a component of sci-fi music—that this form of music is not just defined by lyrical content. This is especially obvious when you write about synth-centric artists such as Kraftwerk or Klaus Schulze. But earlier in the book, you talk about Pink Floyd leaning away from sci-fi music as Roger Waters took the reins. I thought this might be an interesting place to pin down a definition of sci-fi music. Is the Floyd shift away from sci-fi music a matter of refocused lyrical concerns, after the departure of original vocalist and creative force Syd Barrett? Jason Heller: I think Pink Floyd definitely sought to redefine itself after Barrett's departure, and justifiably so. They could have tried to replicate his mix of mythical whimsy and astrophysics, but that would have been a losing game—at the same time, they didn't make a sharp left turn, but gradually expanded the scope of their lyrical concerns while retaining vague elements of the cosmic. This is one example of a very tough struggle I had while conceptualizing Strange Stars: How do I define this stuff? Should I only include music with lyrics, and specifically lyrics that reference sci-fi works and/or tropes? Or should I also include music that's instrumental but has a strong sci-fi vibe and even sci-fi-centric song titles? That issue dovetailed with another I was having: Do I restrict this book to pop music, so no jazz or classical, or do I define pop music on seventies terms, which would definitely include jazz, thanks to the huge jazz-fusion crossover of the decade? I wrestled with all these things before realizing I should approach this a little more intuitively than giving myself hard-fast rules on what I could include or exclude. My working definition of sci-fi music while I wrote Strange Stars was simply: Music that was directly inspired by or paralleled, consciously or otherwise, what was going on in science fiction of all media during that time. I didn't include classical music or soundtrack composers, as I felt that was something altogether different, a dynamic that functioned less organically and spontaneously than the back-and-forth between pop music and other sci-fi pop culture of the seventies. On the page, British and American sci-fi had quite a different evolution, and as a result, UK and US sci-fi in the seventies and eighties were rather different beasts. Strange Stars tracks the differing evolution of sci-fi music in the UK and the States: SF music gained British traction before it caught on in America. Just a note on SF vs. sci-fi as the terminology I use in Strange Stars: I come from the science fiction scene, where SF is definitely preferred, as opposed to sci-fi, which is viewed by some in a snooty way as something the uninformed or clueless might call science fiction—or the lowest class of science fiction itself. It's such an insider-baseball argument, and I was writing this book for a general readership, so I stuck with the more recognizable "sci-fi," regardless of any objections a couple of snobs here or there might have. Also, to a general readership, "SF" means "San Francisco"—and since the city of San Francisco is mentioned a few times in the book, I thought that a good ninety percent of my readers could potentially be thrown off by all the "SF"s in the book. Ah! You argue that "Doctor Who" and other mainstream culture staples in the UK paved the way for sci-fi music on that side of the Atlantic, while sci-fi stayed cult in the United States until 1977, with the Star Wars explosion. Initially, I bucked against this argument—to me, American sci-fi has been part of the pulp lifeblood of the country's culture since long before Lucas. How did you come to your conclusions on when sci-fi became undeniable in the States? I think that may be an oversimplification of what I say in the book. I don't say that sci-fi was underground in America until Star Wars—only that sci-fi music wasn't very marketable as such in America until Star Wars came out, and when Meco's disco version of John Williams's theme went platinum, which opened the floodgates for sci-fi music on a commercial level. Of course, Star Wars did elevate sci-fi cinema dramatically as well; almost overnight, sci-fi became cool instead of fringe, mainstream instead of niche, in a way it had never been before. There are many degrees of underground through aboveground, with each sci-fi medium being a unique spectrum, and those affected how and why sci-fi music was made in the seventies. And that's what I explore in the book. Got it. And as for Continental Europe—you talk about Magma, Kraftwerk, and many other European bands—was this branch of SF music distinct, and unified in any sort of scene, or were these just different groups with different stories? And did the evolution of SF music in Europe have parallels in European SF writing? Well, I write at length about krautrock and how it was distinct, unified scene. As for European sci-fi bands as a whole being united in some way, no, it was more of a country-by-country thing. And most of the European bands were drawing from American and British sci-fi, which dominated the markets at the time, even in Europe. These authors—Moorcock, Ballard, Dick, Clarke, Heinlein, Le Guin, and so on—made up the canon of 20th century sci-fi as it was defined at the time, and the European sci-fi bands wanted to be part of that conversation. At least those who paid attention to the sci-fi canon and weren't more ambitiously crafting their own sci-fi mythos out of whole cloth, like Magma. You mention that sci-fi music in the eighties wasn't so much about spaceships as "about technological advancement in mass media and the impact it might have on society." Did this trend continue in sci-fi music? What is sci-fi music about now? Sci-fi music tapered off in the late eighties and early nineties, barring a few outliers like Queensrÿche and Voivod, who reconnected metal with its sci-fi roots in totally unique ways. The music of the nineties wasn't as interested in science fiction, at least musically, with exceptions like Kool Keith's Dr. Octagon; it was a decade more about turning inward than pondering the outer unknown. But the 2000s brought a huge new wave of sci-fi music, from Coheed & Cambria to Deltron 3030 to where we are now, with Janelle Monae and clipping. being recognized for their sci-fi concepts both within the music industry and within the sci-fi community. And that music reflects some of the more pressing concerns about technology and the future that we have today: posthumanism, cloning, the internet, and a whole other host of themes that are more cyberpunk in nature. For the most part, it's metal, hip hop, and R&B that are carrying the torch of sci-fi music today, but those seeds were planted in the seventies when those genres first began channeling science fiction. You credit your editor with keeping this book from becoming an encyclopedia of the bands and artists that fit into this genre, and I was wondering how you both made sure that you were writing the story of SF music, and not a catalogue of its proponents. Were there throughline arguments you kept in mind with every chapter? A conclusion you were aiming towards, or one that you started with? I was being a little self-deprecating by saying I originally was going to write an encyclopedia about sci-fi music. My original proposal encompassed all of popular music from World War II on, with each decade comprising a chapter. It wasn't going to be an encyclopedia per se, but it would have read a bit encyclopedically, since I would have had very little page-time to devote to each artist—I would have had to basically rush through and draw my conclusions more generally. So, my editor at Melville House, Ryan Harrington, asked me, "Can you narrow this idea somehow? And find a stronger narrative that runs through it?" Bowie was always going to be the primary figure on Strange Stars, so it took me about ten minutes of brainstorming before I realized that zooming in on the seventies was the way to go. Not only could I bookend the that decade with "Space Oddity" in 1969 and its sequel, "Ashes to Ashes," in 1980, I could probe the transition of sci-fi music from novelty to self-conscious art and back to novelty again. And in doing so, I was hoping to tell a kind of alternative history of Bowie's life and career in the seventies, one that is often touched on in his biographies but never fully depicted—that is, Bowie as an author as well as an avatar of science fiction. The book makes it clear that Bowie's primacy as a figure of sci-fi music is undeniable—and his large role in your own cultural worldview seems just as prominent, from your brief discussion of your relationship to his music and Bowie-as-icon in the first few pages of Strange Stars. To what extent did your interest in sci-fi on the page and screen predate and feed into your developing interest in sci-fi music? My earliest memories of science fiction are watching reruns of the original Star Trek with my grandfather when I was a tiny kid in the early seventies, and also shows like "Voyage to the Bottom of the Sea" and "The Six Million Dollar Man." Then Star Wars hit, and I was hooked forever. I grew up very poor, and all these images of advanced technology and humankind transcending their surroundings—and even their bodies—captivated me. A lot of people view science fiction as escapist, and of course that's anything but the truth. I was inspired to seek out science fiction novels, and I joined the ubiquitous Science Fiction Book Club, which advertised in magazines frequently back then. Between that and the public library, I was by the early eighties this precocious ten-year-old devouring Frank Herbert, Andre Norton, Roger Zelazny, Fred Saberhagen, Frederik Pohl, Robert A. Heinlein, and so many other sci-fi masters. The first sci-fi record I ever owned, though, was one I cover in Strange Stars: Meco's disco version of Star Wars. But by the early eighties, science fiction everywhere in music, and I remember Peter Schilling's new-wave hit "Major Tom" really grabbing me when I was around twelve. Of course, it's a song that stars Bowie's Major Tom, and I was getting into Bowie at the same time—so sci-fi music felt like some kind of vast, interconnected mythology to me, one that, in those pre-internet days, was something I had to discover on my own.
The specific way men interview women (5:05), Rory Gilmore, journalist (17:17), and the Avril Lavigne riots of 2021 (48:27)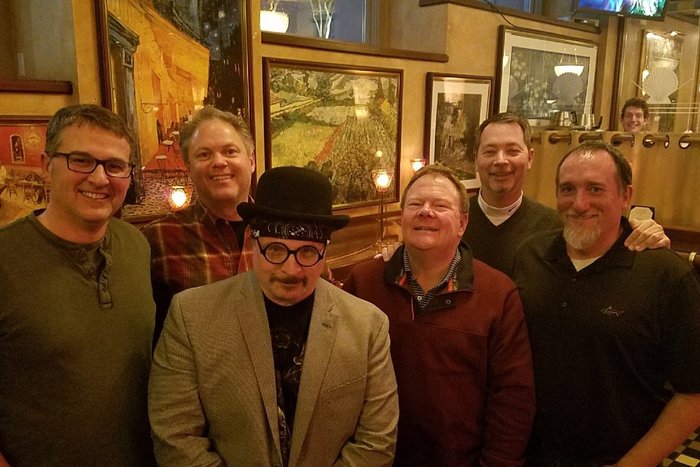 These ten friends have been playing the childhood game for decades—and each year, the stakes get higher. Now, their contest is being immortalized on film.
On a Saturday afternoon in February in downtown Seattle, Chris Amman, a neatly dressed fifty-two-year-old financial services professional, had the strange feeling he was being hunted. After spending the morning attending to a few things in the office, Amman had a one o'clock meeting in a bar named The Brooklyn, on the ground level of his building. He'd chosen the location knowing it would be relatively quiet at that hour, all the better for detecting anything out of the ordinary. The day before, he'd paid a visit to get the lay of the land, suss out its blind spots and points of entry. He spent some time looking online for more information on the person he was scheduled to meet. His story checked out, but Amman remained suspicious. Entering The Brooklyn a few minutes after the hour, he scanned the space, gazing past a man at the bar with a mullet, eyeing the group in the back. He spotted the journalist, whose picture he'd seen online, and walked over to take a seat. Niceties were briefly exchanged. He ordered a beer. And then, just as Amman was beginning to relax and feel safe, the man with the mullet rose from his barstool and stalked purposefully over. "Hey, aren't you—" he began. Amman looked up at the approaching figure. It took a moment for recognition to dawn. Then he made a run for it. He didn't get far. The man with the mullet gave Amman a light but effective whack on the upper back. "Tag!" he said. "You're It." * In all the usual ways, they are just like ten normal middle-aged guys. Mostly scattered around Seattle and Spokane in Washington, they have wives, children, jobs, grown-up responsibilities. When they get together, they drink a few pints, smoke cigars, watch basketball, regale each other with stories and call each other by time-honored nicknames (Amman is Lepus, Rick Bruya is Bruiser, Joe Caferro is Beef). Unlike most adults, however, they have been playing an unprecedentedly epic and continuous game of "tag," the beloved children's playground game (called "tig" or "it" by some), for more than thirty years. They call themselves the Tag Brothers. On that Saturday in February, Amman was the latest to become "It" in a long line of Its—the most recent victim of likely the most enduring Itness ever, passed on, and on, in a decades-long, criss-crossing relay of taggers and tag-ees. This is not your typical schoolyard game of tag. The Tag Brothers plan and execute tags with the seriousness and dedication of resourceful adults. Their movements put one in mind not of the tomfoolery of schoolchildren but the merciless cunning of hitmen, participants in The Most Dangerous Game, taking turns at being prey and predator, hunter and quarry. They gather intelligence on their targets, conscript accomplices, don (often ludicrous) disguises. They scheme, they stalk, they strategize. They engage in all manner of subterfuge and deception. When eluding their would-be taggers, they plant red herrings and false trails, lay low or hide out like fugitives. The story of the Tag Brothers was first covered in the Wall Street Journal on January 28, 2013, after a family friend tipped off a reporter at a party. It was a front-page story. "It Takes Planning, Caution to Avoid Being It," read the headline. "Group of Men Have Played Game of Tag for 23 Years; Hiding in Bushes, Cars." Amman hadn't even thought to tell his family about the game until the article was published; he was more nervous about telling his boss. "You never know what someone is going to think about a group of grown-ups playing tag," he says. There was a huge response to the Wall Street Journal article, and an enormous amount of follow-up coverage, in print, on radio and on television. In Shine: Rediscovering Your Energy, Happiness and Purpose, a self-help book by Andy Cope and Gavin Oattes, the case of the Tag Brothers was held up as an inspirational example of preserving the joy and innocence of youth. The takeaway lesson: "You can have a happy childhood at any age." And, on June 15, Tag, a movie inspired by the story, starring Jon Hamm, Jeremy Renner, Hannibal Buress, Isla Fisher and Rashida Jones, hits theaters. With all the press attention in 2013, the game intensified. This year, with the new movie on the way, the game kicked up several notches more, with a noted increase in smack talk. As a number of them told me, "No one wants to be It at the premiere." In February, I traveled to Seattle to embed myself with a covert tagging operation (on hearing my plan, one of them said, "You're like Wolf Blitzer"), but also to hear their stories and observe their much publicized, outsize friendships first-hand. I quickly got the impression that, for some of the Tag Brothers, the game is a counterpoint to a more serious occupation or loftier calling. Mike Konesky is a consultant with IBM; Sean Raftis is a Catholic priest in Columbia Falls, Montana; Joe Tombari teaches math at the school where it all started; Patrick "Paddy" Schultheis is the chair of the corporate department of one of the biggest law firms in the country, overseeing four hundred corporate lawyers. "My profession is very serious," says Paddy. "But it's important to me to remember I'm just a middle-aged guy who grew up in Spokane, with a bunch of really good friends." * They were ten boys who attended Gonzaga Preparatory High School in the '80s. They were an eclectic bunch. Some were varsity athletes, some were members of the trivia club, some held positions in student government. If they had one thing in common, it was a sense of humor and mischief, and a lunatic tendency to take it too far. Chris and Sean once hung a sign from an overpass that read, "Party at Konesky's." Mike got revenge by kidnapping Sean, strapping him to a stretcher and leaning him up against a street sign at the entrance to the school. In 1982, they started playing tag, and playing it fiercely, hyper-competitively, like an extreme sport, with all the energy and single-mindedness of testosterone-addled adolescent boys. Whoever was It would be the butt of mockery and ridicule—playful, yes, but the way that getting strapped to a stretcher and propped up at the entrance to the school was playful. They were regularly late to class. Sometimes, they would sit in on classes that weren't their own to avoid being tagged. Bill Akers once collided with a book-carrying sophomore girl in the hallway at full speed. She hit the ground; he kept running. "I found her after school to apologize, and she wanted to know why I was running. I said I didn't want to be tagged. She said, 'You guys are so immature.' I was seventeen at the time." Akers pauses for a beat. "Now I'm fifty-two. I doubt her opinion of me or us has changed." In June, on the last day of finals, Tombari found himself It. His masterplan involved driving to Paddy's on the pretense of collecting Akers's copy of Of Mice and Men. With fewer than ten minutes left in the game, Paddy locked himself in his car, in his driveway. Tombari stood outside, helpless. To his horror and humiliation, he would be It for life. Or so he thought. A few years after graduation, during an informal reunion in the winter of '89-'90, there was much fond reminiscence of schoolyard antics, the tag game in particular. And then, someone suggested—maybe not entirely seriously—that the game ought to be resurrected. Well, what if it was? How would it work? How could ten adults, dispersed around the country and with other things going on in their lives, set about playing a meaningful, enjoyable game of tag? They devised and agreed upon three main rules. The game would only be played in February—from midnight February 1st to the last moments of February 28th, or 29th in a leap year. There would be no touch-backs, meaning a tagger would be immune to being simply tagged in return. And, if asked, "Are you It?," one must respond promptly and truthfully. Paddy, a junior lawyer at the time, was tasked with drawing up a contract. The nine-page Tag Participation Agreement, dated January 27, 1990, and signed by all ten "Participants," outlined and defined the game, even went to the trouble of defining what constituted a "tag": "A valid tag occurs whenever (subject to Article II below) It intentionally causes his hand (right or left) to come into contact with the body or clothing of any other Participant." It went on: "Tag shall be played by each and every Participant beginning, initially, on February 1, 1990 and ending on February 28, 1990. Thereafter, Tag shall be played during each and every February until the termination of this Agreement." Everyone signed their own copy of the document and sent them to Paddy for safekeeping. * By the end of January every year, whoever happens to have been It for the past eleven months is desperately raring to go. The other nine, meanwhile, are on high alert. "Many of us played sports together in high school," says Akers. "Feb 1 feels a little bit like being in the locker room before the football game starts. Adrenaline. A little bit of nerves." Tombari compares it to being like a deer or elk at the beginning of hunting season. Over the years, they have each developed and refined a personal evasive strategy and methods for thwarting enemy espionage. Every February morning, Amman lets his dog out his front door to sniff out anyone hiding in the bushes. He cuts back on social media, never disclosing his location, in fact posting false clues as to his whereabouts. He takes the freight elevator into work and has co-workers check if the coast is clear. Brian Dennehy avoids going out altogether and has even lied to family members about his travel plans. Bruiser locks himself in the house on the last day of the month. "Change your schedule, always be suspicious of friends and family and spread misinformation about your plans and whereabouts," Amman says. "Always be prepared to tag someone else." A conscious effort is made to tag evenly, democratically, among the group. Sometimes, especially towards the end of February, a would-be target will suspect, or glean from intelligence, that their time is running out. Sensing the sniper's crosshairs closing in on them, they will often employ extreme evasive measures. "I knew I was at target on the last day in 2016," says Beef. "I got a room in Tacoma and stayed two days until the month ended." "I went to Mexico," says Akers. "I told people I was going to Cabo when I really went to Cancun." As for being It—the feeling is multifarious. As was the case back in school, there's a certain amount of shame and dishonor associated with it. Not in an abstract way, either, but plenty of actual jeering and taunting. But that shocking sensation of having been gotten, the initial disgrace, eventually gives way to the bloodthirsty thrill of the hunt. "I hear music in my head," says Akers. "Usually the Mission: Impossible theme song. Sometimes James Bond music. Or 'Eye of the Tiger.'" But that assassin-like urge itself can gradually curdle into a sticky, sickly, burdensome feeling, a sense that the Itness is an oppressive weight or infection to be gotten rid of as soon as possible. Tombari describes being It as like having something "flowing through your veins," comparing it to possessing the powerful, corrupting ring in Lord of the Rings; Father Sean Raftis likens it to being a character in a Cold War thriller. No one, and nowhere, is safe. Over the years, there have been tags in public and on private property, in homes and in backyards and in places of work, in the street and in shopping malls and in airport terminals and at the movies, over drinks, over dinner and, in one case, over someone's dead body. There have been too many instances of breaking-and-entering to count. Konesky once tagged Dennehy while he was in bed with his then-fiancée. ("That's the G-rated version," he told me.) Tombari tagged Paddy in the shower. (When Paddy told me the story a fellow Tag Brother interrupted with, "Where did he tag you?") Father Sean has been tagged during mass ("He's a sitting duck on Sundays"), while he himself tagged Tombari after springing, Jack-in-the-box-like, out of Konesky's car trunk. (Tombari's wife was so alarmed she twisted her knee and blew her ACL, the worst tag-related injury thus far. She was a good sport about it.) Bruiser once drove the one thousand miles from the Bay Area to Seattle to tag Beef while he was in the middle of a job interview—Beef didn't get the job—whereas Konesky once flew across the state purely to acquire a tag from Beef so he could fly back and tag Tombari that same evening. Just this year, Akers was reprimanded and removed from a pool at the YWCA by a lifeguard, after tagging Mengert during his children's swimming lessons. Some of the more momentous tags have become enshrined in Tag history, their stories so frequently told that they are easily recollected by name alone: the aforementioned Trunk Tag, Home Invasion Tag and Shower Tag, but also the Hag Tag, the John Wilkes Booth Tag (which took place in a theater), and a tag dubbed The Michael Corleone Tag. The latter mirrored the choreography of the Louis' Restaurant scene near the end of The Godfather, in which Michael Corleone retrieves a handgun stashed away in the restroom, returns to the table and murders the rival gangster Sollozzo. The Tag Brothers' version is similar, except that hiding in the restaurant restroom was not a handgun but Mark Mengert, currently It. "A thing of beauty," Tombari remembers. Tombari owns around ten wigs, a lot of mustaches, and professional facial hair kits. "A few years ago, a large costume shop went out of business and I went crazy," he says. "I am not much for disguises," says Bruiser, "but have worn hats, overcoats and overalls. One time I wore a large '70s-like poncho, cowboy hat, dark glasses and put myself in a wheelchair." Akers has posed as a cowboy and a fast food drive-thru window worker, sported a fake beard and wielded a walking cane. Amman has dressed as a UPS driver (Dennehy opened his front door with no hesitation) and a pushy beggar, and keeps a change of clothes and a disguise in his car during the whole of February. "I lost my shame a long time ago," says Beef, who has disguised himself as a nun, an elderly lady and a nurse. ("A redhead nurse," he clarifies.) One February 28th, Mengert crashed a major college basketball game in full costume as an anthropomorphic bulldog, one of the team's mascots. Swatting away the children who gathered around him, he maneuvered into the row behind Dennehy and, since his voice wasn't audible through the enormous bulldog headpiece, handed over a note. "You're it," the note read. "Your friend, Mark Mengert." Mengert's glory and gloating was short-lived. That night, Dennehy managed to tag Akers, who mercilessly tagged Mengert back at a few minutes to midnight, when everyone else had made themselves scarce. It for another year. Friends, family and co-workers have all been drawn into the Tag Brothers' complex web as co-conspirators and spies. "My office manager Karen, secretary Deirdre and receptionist Cleo all know who the other taggers are, and zealously protect me during February," says Paddy. "They do not disclose my whereabouts or schedules. Cleo keeps a Taser behind her desk, in case one of the Tag Brothers tries to blow past her in February to tag me. She is not afraid to use it." But loyalties and allegiances shift, even across bloodlines, with family members acting as double agents. One of the lessons of the game, says Akers, is that no one can be trusted. "Son, daughter, and wife have all betrayed me," says Dennehy. "I don't harbor a grudge. That's what wills are for." It takes a special kind of chutzpah to sell out a priest, though one of Father Sean's friends has done it. "Catholicism is about forgiveness and mercy," he says, even-handedly. "So I readily forgave him." For the Tag Brothers, there's a lot of personal satisfaction to be gained from executing an especially creative or ingenious tag. But, sometimes, foiled or otherwise unsuccessful attempts are as fondly remembered as the successful ones, such as the time when Beef, with a fake mustache and wearing a hard helmet, was escorted away from Amman's office by building security, having been pretending to "triangulate" the area. "I mean," says Amman, "who would think that was suspicious in this day and age?" Another time, Paddy, rightly suspecting he was about to be ambushed at the airport, arranged for a driver to collect him—then exited via a different terminal and took his own car home. (Bruiser hovered near the driver holding up Paddy's name, ready to pounce, for some time—one of several failed airport tags.) "I spent a week working with the chemistry teacher," says Tombari, "trying to figure out how to start a fire on Meng's car without it damaging his car, to try and get him to come out of his house. I never pulled the trigger on that one because I didn't want to ruin the paint job." Konesky once flew from Washington to Boston and spent three days staking out Amman's apartment, only to find out he was in New York for the weekend. Ultimately, however, there's little disagreement about what has been the all-time greatest, most brazen tagging. On the afternoon of Friday, February 15th, 2013, at St. Aloysius Church, Spokane, Paddy was seated in the front pew at his father's funeral. During communion, friends and family offered their heartfelt condolences as they passed him by. And then he felt a reassuring and familiar hand on his shoulder. "You're It," said Beef. There was a pause. "Really?" "Yep." * As February began this year, Tombari was It. Tombari tags Amman, Amman tags Bruiser, Bruiser (dressed as an airport janitor) tags Akers as he is returning from Mexico, Akers tags Beef as he tries to help a (phony) stranded motorist, Beef tags Amman, Amman tags Paddy (after lurking in Paddy's yard for some time), Paddy tags Akers, Akers tags Mengert at the YMCA swimming pool (allegedly yanking a lifeguard into the water in the process), Mengert tags Tombari (after a plan to tag Konesky is foiled), Tombari coordinates with Paddy's wife and tags him in the shower (again), Paddy (hiding in the washroom stalls) tags Amman at a urinal, Amman tags Tombari, Tombari (dressed as an old man with a walking frame) tags Konesky… And then, in the third week of this year's game and for the first time in its history, an outsider was used as bait—a journalist who'd reached out to Chris Amman for an interview for a story. I meet Konesky—currently It—across the street from The Brooklyn, about twenty minutes before he plans to tag Chris. "I'm excited, I'm nervous, I'm fired up," he says, scanning the surroundings through his Ray-Bans, which are part of a disguise that also includes a mullet and soul patch. He wonders if Amman will make a run for it. "If he takes off, I'm ready to roll." Even I, with no stake in the matter—and a mere walk-on role in what is, remember, a children's game—become tense and nervous as Konesky assumes his position and my meeting time with Amman draws closer. The tagging goes off without a hitch, much to the baffled amusement of the bar staff, and there are laughs and back-slapping all round. For a while, Amman has the red-faced look of someone who's just been humiliated in public. "I've got some time, I've got some time," he says, reassuring himself. Before long, an evening's truce is called, and several Tag Brothers have gathered for drinks. The first order of business is a blow-by-blow account of the afternoon's tagging. They laugh hard and laugh often. February, I'm told, is often the only time many of them get to see each other. Without the excuse of this game, they agree, some of them might not be in close contact at all. "This game pre-dates everyone's marriages," says Beef. "We get a pass." But Akers points out that, until the response to the Wall Street Journal article was so huge, none of them thought their friendships were that remarkable or special. "When we were younger it was more of a fun thing," says Konesky. "For me, definitely as we get older it's really, really cool. It takes a little effort to stay friends with people, you know. I talk to a lot of people who don't stay in touch with their high school friends anymore. And maybe they wish they had, I don't know. I think I appreciate it more and more every year." (Father Sean, who couldn't be present, would later tell me via email that he's had a series of severe diverticulitis attacks in the last few months. "The Tag Brothers were all in touch," he said, "praying for me and expressing their love for me during that time. That helped save my life.") After at least one round of drinks, I'm emboldened enough to ask the question: What'll the game be like twenty, thirty, forty years from now? "You know what," starts Konesky, "we could be in a home for old people, and we would be going down the hallways…" He mimes the wheeling of a wheelchair. "Where do we go from here? It'll just keep going." Sure, I say. But after that? How will the game end? "We've thought about that," says Amman, looking less red-faced now. "Do you hand it down to your children?" He mulls it over. "It's not going to be the same." "Eventually somebody will die. Hopefully that person's not It when they die." "I think there's no disagreement about what happens. If the person who's It is in a casket, then the previous tagger—" Someone else finishes the thought: "It goes back." There's a beat. "Just the fact that we're thinking about that is crazy." "Well, at some point," says Akers, "somebody will be It for eternity." They all laugh. Five days later, on the night of February 28th, Konesky earned the "Championship Tag Belt" for a successful eleventh-hour tagging. Until next February, Akers is It.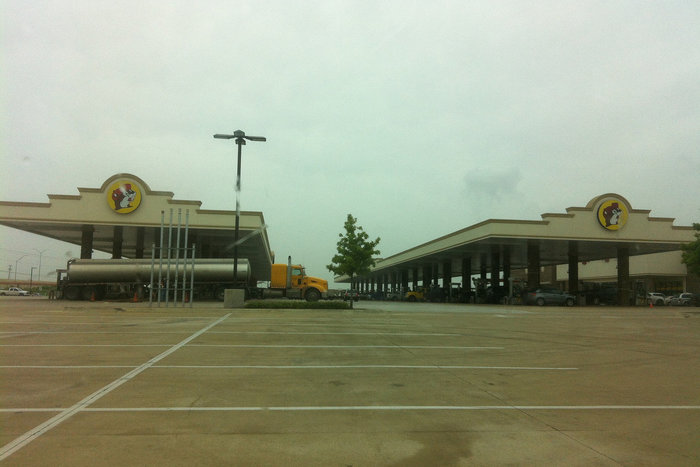 You go to Buc-ee's for the same reason you break up with someone: to pursue possibility, that narcotic promise of more.
On the drive I took from Texas to Chicago in early June of 2017, I stopped at every Buc-ee's gas station that I saw. Buc-ee's, a Southern chain, is a place for families and couples, or couples with family-sized appetites: you can wash down your gallon bag of wasabi peas with a cauldron of soda, or stand in line for kolaches the width a newborn. You can buy everything from camo t-shirts to gas grills, boot-shaped earrings to deer feeders. It is the Disneyland of gas stations. I was twenty-nine, and this was the first road trip I'd taken alone. The drive was onerous—almost sixteen hours, if traffic was kind—but with two duffel-sized bags of Buc-ee's corn nuggets riding next to me in the passenger seat, nothing short of a four-car pile-up could dampen my good mood. I was off to spend the summer with the boyfriend I'd left behind when I moved to Texas. We'd been together nine years, though we had broken up twice, and there was the hope that this summer might mend us. Then he'd join me for a new life in Dallas, and all our problems would disappear. But the Midwestern summer meant to reconcile us broke us apart for good, and it was a miserable me that packed up my car and began the slow, hot return trip south. I left Chicago in the early morning. The August sky was the color of ghosts, and I watched as the city I'd once called home faded into the distance. As I crept closer to Texas, the sun—a bright hard cough drop—burned fuller and harsher, and the land began to widen and open up around me. I was stopped at a Buc-ee's an hour outside of Dallas when my car battery died. I sat for a while with my hands on the steering wheel, trying to view my life in a positive way, and then I went inside and locked myself in a bathroom stall and cried, and the crying made me feel wonderfully dramatic, my sobs rising above the gushing faucets and flushing toilets. These were the cleanest bathrooms in Texas—everyone said so—and sitting atop a toilet that shone like a dinner plate, mops whipping vigorously beneath stall doors, I had to agree. I don't know how much time passed before I finally stood, blew my nose, and flushed. I slid back the lock, its sharp metallic clack echoing off the spotless walls that were covered in glittering rhinestone crucifixes. The air stiffened as heads turned to look at me. At the sinks, I accidentally locked eyes with a little boy. "Look away," I heard his mother whisper as I passed. He's not even supposed to be in here, I wanted to say, but then I caught sight of my reflection in the mirror. I looked tired, distraught, my face a big white dumpling of sadness. I smelled sour, of tears and sweat that leaked through the armpits of my black dress, which was three sizes too large and engulfed me like a garbage bag. My red eyes lowered to the bleach-streaked floor, I hurried out of the bathroom and back into the warm fluorescent buzz. * All summer I'd been reading about liminal spaces, and as I wandered the aisles, past long glass coffins of jerky and endless spitting soda fountains and towers of brisket tacos mummified in foil, I felt it—an eerie in-betweenness. To walk around Buc-ee's as a single, unattached person is to experience your own invisibility. To delight in the Wonka-like array of taffies and trail mixes and gummies stretched floor-to-ceiling, only to realize that nothing—save for salad and hardboiled eggs—is sold in bags smaller than a five-year-old and think Well, I guess if I gave some to my cat, is to wake into your own dashed dreams. I was alone in the taffy aisle, bleary-eyed with indecision, when I felt the tears starting again, a hot clench deep in my guts. I left without buying anything. Outside men were pumping gas. They looked like the men I'd always imagined lived in Texas, button-down shirts, dirty hands, pick-up trucks. I wiped my eyes and walked over to one. "Excuse me," I said. When he turned from the pump, I saw that he was tall, with a face as strong as a brick. He looked like a man who would know how to fix something broken. "My car died. Can you jump me?" I said. His teeth, when he smiled, were broad and clean and made me shiver, though it must have been at least one hundred degrees outside. As I led him to my car, his boots clicking on the hot pavement, I thought of the psychic. It was my senior prom's after party. She was the mom of somebody, and I remembered how she'd gripped my hand tight in her wrinkled one, palm up, and told me I would marry a cowboy from Texas. It came back to me as I watched this man lift the hood of my car and stick his head inside, his shirt tightening around the muscles in his back. "So do you live around here?" I asked. "Madisonville," he said into the car's belly. When I said nothing, he looked up, at the streak of blankness in my eyes. "You're not from here." It seemed an accusation, the way he pointed a jumper cable at my chest. I shook my head no. He grinned and said, "I knew it," and I wondered what had given me away—the red square glasses that ate up half my face, maybe, which I wore to compensate for the drama I felt my features lacked. Or maybe my hair, the firm, organized bun jutting from the top of my head as if trying to catch a space signal. I leaned against my car, which was attached to this man's truck with the cables, and he walked over and stood in front of me. "Jimmy," he said, extending a calloused hand. I've always had a thing for crusty-looking men, and that's what attracted me to this guy—the sense that he'd been roughed around. His tired cheeks and desolate eyes struck me as a welcome relief from the aggressive cheer in Buc-ee's. We were kindred spirits in malaise. He asked where I was from and I said Chicago. "No shit!" Jimmy looked at me in a surprised, impressed way. From his pocket he pulled out his phone and handed it to me; on the screen was a note he'd titled "Thirtieth Birthday Bucket List." I scrolled through: see a play, ride bikes in a charity race, go to Chicago, read a Shakespeare novel. Novel. Jimmy was grinning at me, but I couldn't bring myself to look at him. With horror I thought of my literature students, of how I was always crossing out story and writing ESSAY! in red pen on their papers. I needed to loosen up, I thought, to stop being so "exacting." That was what my ex-boyfriend had called me. He'd thrown in "uptight" while he was at it, and the sting I'd felt only confirmed my worst suspicion: it was true. Against our backs my car hummed softly. Jimmy's truck made violent gasping noises as it worked to power mine. He had a job in a warehouse, he said, doing something with machines. A fire at Christmas had burned all the hair off his knuckles and forearms. A few months before that, a forklift accident had shattered every bone in his right foot. This only restored my attraction to him. My ex-boyfriend had worked behind a desk. Who's uptight now? I thought, eyeing Jimmy. I imagined those strong arms wrapping around me and carrying me into a new life. Jimmy asked what had brought me to Texas and I told him I was a professor. "No shit," he said again—this time in a flat voice. He narrowed his eyes at me. "You're young to be a professor." "I'm the same age as you," I said. "You think you're smarter than me?" Jimmy's voice was teasing, but his face wore a scowl. "Clearly not," I said, gesturing to my dead car and trying to laugh, but Jimmy just stared at me. A minute of silence passed, my heart thudding, before he took my keys and turned them in the ignition; with a shudder, my car roared to life. "Well, thanks again," I said as Jimmy handed me back my keys. I started to slide behind the wheel when I felt his hand on my arm. "Gotta let 'er run a minute," he said. The grin was back, pinned high like mistletoe. "I'm gonna get a sandwich. You want one?" "Uh, sure," I said. I don't know why he kept talking to me, or why I let him; even now, almost a year later, it embarrasses me to think of it. But my breakup had made me believe that something big could happen. I needed to leave my comfort zone, friends were telling me—hang out at restaurants and bars and strangers' apartments. Put my face on the Internet! Still, I couldn't shake the suspicion that there was something Jimmy and I recognized in each other, some desperation, maybe, that brought him walking back across the parking lot toward me, two massive, plastic-wrapped, pulled pork sandwiches in hand. Without a word he climbed into his truck and motioned for me to sit next to him. After I turned off my car and we settled in, he reached into the glove compartment and withdrew a small glass pipe. "You smoke weed?" he asked. I didn't, not really—something that, according to my ex-boyfriend, had contributed to my uptightness. But out here, over one thousand miles from home and surrounded by open space, it felt possible to be a different kind of person. My nerves were jangly, bright, as if I'd been plugged into an electrical socket, yet still I managed to accept the pipe and hold the lighter to the bowl. Looking through the window, I could see the sign with Buc-ee's face—a beaming, chubby-cheeked beaver in a red baseball hat—and beyond that fields and fields and fields, all flat and brown as beer. In Chicago I'd felt cradled by the buildings, hidden; but here in Texas I felt exposed, that I would need to be brave. We chewed in silence. "Do you think we can turn on the radio?" I asked. "You got it, lady." It was he who brought up the subject of sex. One minute, I was asking him about his dogs' personalities and the next thing I knew he was telling me about his ex-wife, who'd cheated on him. "A cock tease," he called her. "A whore." Jimmy also told me that she'd been an English teacher, like me, and that she'd slept with the entire high school—he was certain of it. "It's like, one night she's cooking you dinner and the next she's swallowing some seventeen year-old's dick. You know?" "Oh, sure." I bit into my sandwich and looked out the window. On the sign, Buc-ee's grin seemed suddenly sinister, his huge white teeth like two gleaming cleavers in his mouth. I stared at him as the pot dug its warm fingers into my brain. A minute of silence and then Jimmy relit the pipe, took a hit, and passed it my way. "You have a boyfriend?' "Yeah," I said. "I mean no. Not anymore." "You guys get into fights?" "Like, arguments?' "No," he said. "Fights. With your fists." I lit the pipe and thought of the spat I'd had with my ex-boyfriend before I'd left. It was the first time either of us had gotten physical during an argument, and it left me feeling like a complete idiot. I'd gone to shove him, but had tripped on the leg of a kitchen chair and fallen into the table, bruising my hip. Even our fights weren't working, we'd laugh-cried later, as he helped me carry boxes to my car. But Jimmy didn't care. The topic had only been raised as a transition, an excuse for him to brag about demolition derby. On weekends he drove for a local team, Orange Crush. "There're always fights," he said excitedly. "Hell, I've even seen husbands and wives up in the stands, just slugging it out." "But don't they stop the races?" I asked. "That's insane. I mean, what is this, Mad Max or something?" "You should come see for yourself," Jimmy said. "This weekend." "I can't," I lied. "I have a work thing." Jimmy rolled his eyes. "Women," he said, blowing smoke out of his nose. "Y'all the same." He passed me the pipe, but when I peeked at him I saw that his eyes didn't hold the anger that his voice did. He just seemed sad to me, and tired. "Look at us," he said, letting out a long sigh. "A couple of dumped fucking assholes." I wanted to defend myself, or at least point out that I had done the dumping, not the other way around, but then there came a tap on the driver's side window. "Fuck off," said Jimmy, waving his hand. The man outside did not fuck off. He wore a red polo t-shirt with Buc-ee's grinning face emblazoned on the left breast pocket, and on the right, a plastic tag that said Manager. Jimmy rolled down the window. There was no use denying anything: the truck reeked of weed. I guess the manager could have gotten us into trouble—called the police, had us ticketed for loitering or something—but instead he just told us to get lost. Jimmy and I parted without saying goodbye, me walking off to my car, and he heading, I assumed, toward home. I watched his truck pull out of the parking lot. Whatever allure he'd possessed had vanished, and now he was just another broken man in a truck, trying to make the day pass. * I went back into Buc-ee's. Inside, it smelled of barbecue and cleaning agents, a mopped school cafeteria. The mood was buzzy, animated, teeming with parents and children, their eyes wild and fingers dripping soda. A group of pre-teen boys rushed past me, waving wooden popguns. I watched them dart and fire at each other across shelves of camo hats. In front of the men's bathroom stood a handful of women, waiting. One, a short brunette whose silhouette, in loose denim overalls, looked as shapeless as a kolache gave me a hard look before I realized I'd been staring. I walked past them to the coolers, grabbed a water bottle the heft of a ten-pound weight, paid, and went back outside, into the close heat. In my car, I drank the water and waited out the high. I shoveled corn nuggets into my mouth and wondered what might have happened had I accepted Jimmy's offer. I pictured our house overlooking a wide front yard: the charming wrap-around porch, his truck parked in our winding dirt driveway. When you're young, it's easy to believe in more, the idea that there is always something—or someone—better waiting for you. Instead of a filmmaker in Chicago, it might be a painter in Los Angeles or maybe even a cowboy in Texas. You tell yourself that you moved to Dallas for a teaching job, and that you could keep on doing this, year after year—another university, another city—because you think there will always be a job, a city, a someone for you. Until the day you wind up in a Buc-ee's gas station, so lonely that you spend your afternoon flirting with a divorced demolition derby driver. I'd always heard the sky is bigger in Texas. But as I looked out my window I wondered if this was really true or just something I needed to believe in, all that boundless blue. Outside, people were filing in and out of Buc-ee's, their smiles gummy and eyes overfull, arms loaded down with more than they could carry. You don't just go to Buc-ee's to get your desires met. You go to Buc-ee's for the same reason you break up with someone: to pursue possibility, that narcotic promise of more. It's a faulty promise, maybe, but what else to do besides pretend and buy more corn nuggets? But that understanding would come later. At Buc-ee's, there were one hundred gas pumps. Walls of candy. The cleanest bathrooms. And shining above it all, a beaver's impossibly white smile and the words, Hold It. You Can Wait.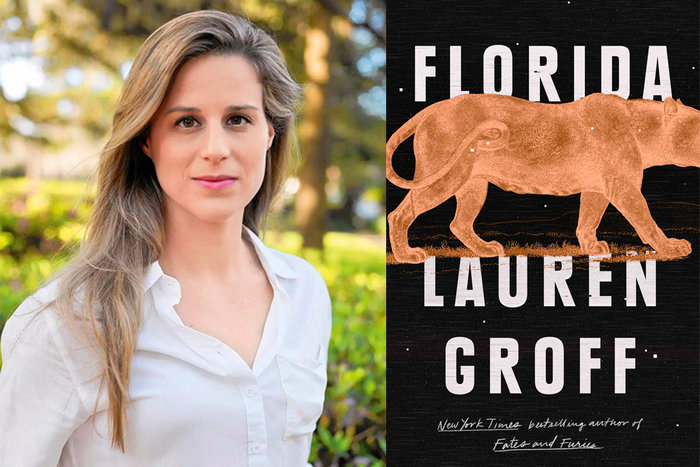 The author of Florida on the impact of landscape on the psyche, the political responsibilities of fiction, and playing with expectations. 
Lauren Groff's work is complex and layered—there's always a statement about the world contained within, like a prize in a Cracker Jack box. The New York Times bestselling author followed up her 2008 debut novel, The Monsters of Templeton—a family saga with a mythical lake monster at its core—with the critically acclaimed Delicate Edible Birds, a short story collection about the lives of American women. After writing Arcadia, a novel about a child named Bit who was born in a 1960s hippie commune and forced into the real world once his sheltered life collapsed, Groff's welcoming, luminous prose gathered power. Her 2015 novel Fates and Furies, the story of a tumultuous marriage told from two sides, was the most talked about book in the US that year, and not just because Barack Obama said it was his favourite. Now, with the short story collection Florida (Riverhead), Groff has taken a setting that feels familiar and revealed its true self. Here, there is "golden sun pouring down over everything, all of it shimmering but untouchable, as if behind glass"; there are screens at night that "pulse with the tender white bellies of lizards"; there is a character hiding in her hurricane-battered house who has "always felt a sisterhood with bathtubs; without someone else within us, we are smooth white cups of nothing." I recently discussed writing, politics, dread, and what the future holds with Groff—who seems to know better than most where the world has always been heading. Marissa Stapley: There's passion and anger in the stories in Florida—and there's also bleak frustration, especially evident in the recurring novelist character, who worries about her children surviving in the world as it is. Is this writing a reaction to the current state of politics in the United States, and the increasing unrest (or, perhaps the permanent state of unrest) in the world at large? Lauren Groff: Absolutely. Yes, yes, yes. But most of these stories were written before things went so haywire, partially because when you live in Florida, you can live your daily life among the elements that made the political events take place. I saw it coming and was frightened out of my mind. But I'm also just an anxious and furious person, full of dread, so no matter what had happened in our electoral system, I probably would have written an anxious, furious, and dread-soaked book. This collection made me think about Florida in a way I never had before: less vacation theme parks and golfing presidents, more snakes in the toilet and a crocodile in the pond at the gated retirement community. It's also so horribly beautiful, like a character itself. To me, reading about Florida in this way felt like your way of reclaiming the narrative—perhaps even reclaiming Florida from Trump. Was this purposeful? Even though the stories in this book took twelve years to write, from a time in which the-one-who-can't-be-named was just a bankrupt buffoon with terrible hair, the placement of the stories into a slowly developing argument in the book is a deliberate response to the sense of horror and disaster that came upon thinking people at the end of 2016. I was tired of the novel I'd been working on, which felt so imbued with literary references that it was ingrown in a way that literature can sometimes be, and I felt that it was morally bankrupt in this brave new world to write hermetically sealed fiction. It was intentional to write a more political book, without it ever becoming polemical (I hope). You grew up in Cooperstown, New York, and wrote about it in your first novel, The Monsters of Templeton. Now you live in Florida, and are writing about that. Why do you so often choose to write about the place where you are? Landscape is a powerful force on the psyche: your surroundings are part of your character. A person who has only lived atop a mountain, in the clear cold up there, will be different in vast and important ways from a person who lives on the flat pebbled marshes at sea-level. What you notice on a subtle daily basis changes the essence of who you are. And why France? Because Florida isn't just about that particular state—a great many of the stories take place in France, too. France is the imagined place of the self, the place the resentful and trapped Floridian believes to be closer to her soul. But, of course, you don't get to choose the places that dovetail into you. They choose you. So many experiences are universal, and authors strive to get it just right so people recognize themselves. And yet, there's the potential for catastrophe if people do see themselves. Do you worry about this as much as I do? I don't worry about it until the point where I show the work to someone else, by which time it's been through so many iterations that the original spark is buried. And then, with the understanding that strange eyes are going to look at it, there comes a sense of real obligation to see the work as though your source were seeing it afresh. I think these two impulses—rewriting and rigor—generally keep work from being hurtful. I think writers should feel free while composing to write about anything they want to write about, no matter how hurtful to someone else it could be. That said, they don't have to publish it, of course, and in many cases, they shouldn't: you should never intentionally hurt someone with your work. It's morally irresponsible to do so. It takes some time and a few mistakes to understand where the line is between publishing something that feels personal and urgent, and something that will hurt someone. Lord knows I've failed at this (I'm trying to make my amends). Do you find readers/friends/family often think, especially when you write about marriage or motherhood, that you must be writing about yourself? How do you feel about this? I've resigned myself to the idea that people will read the real me into a fictional version—they tend to do this more with women writers, but not exclusively, of course—to the point where I deliberately play with this idea, because it's so deliciously fun. Many of these stories have been previously published, in The New Yorker, Tin House, and literary journals. Was there a point when you began to feel the stories were connected, or did you always know you were writing a collection? Why a short story collection now, rather than a novel? I've written novels constantly since college, but I've also been writing short stories all along—it just takes a little more faith on the part of a publisher to get a collection of them in the world. Florida is made of stories that are very new, as well as stories that have been in the world since before my first collection; the final selection was made of stories that felt thematically linked and built into an argument. I love the novel form, but I think I love the story form better: the novel takes so long that unless you commit to it every single day, it just won't get written, whereas I keep a story in the back of my mind for years until one day it becomes so urgent I have to sit down and write it. It's a long swim versus a terrifying leap. I began to think of a collection of stories last year, after I wrote the newest ones, and saw how they drew the strands of the collection together. More and more is expected of authors these days. It's not enough to be brilliant on the page—you also have to be witty and wise in person, willing to engage on social media and on book tours, appear at various events. How much does this phase of the writing journey take out of you? Do you dread releasing a book into the world and then essentially reentering the world, or do you welcome it? I'm a true introvert, so even one event takes three days of wind out of my sails. A book tour of more than a week can take months out of me. You've caught me just a few weeks before my book is published, and I'm, honestly, anguished about it. I have to run about ten miles a day just to get to sleep at night—not so much because of the reviews (though I dread them so much that I can't read even a positive one), but because this thing that has mattered so much to just me for so many years suddenly becomes the property of the world. This is my fifth published book, so I'm not new to the process, and have put a few good systems in place to help me: my husband knows to shoulder more of the burden, my family is on red alert, and I'm pretty much resigned to not being able to write well for a long time, so I have some editing things lined up, et cetera. In the end, though, the kindness and generosity of readers—the emails, the hugs, the appreciative responses—is what gets me through the dark times of writing. I'm so grateful to readers, and to the massively important booksellers who keep the literary ecosystem alive, that I'd find it appalling ungrateful to refuse to tour. Do you have a favourite story in this collection? Is that like asking if you have a favourite child? And do you think you'll go back to the novel for your next book—or is it too early to tell? I do have a favourite story, yes—and each of the stories believes with very good reason that it is my secret favourite. I do plan to go back to the novel, but novels are recalcitrant things, best approached by slow sidling while squinting off into the far distance, so I have no idea if any will come under my hand before another story collection does.