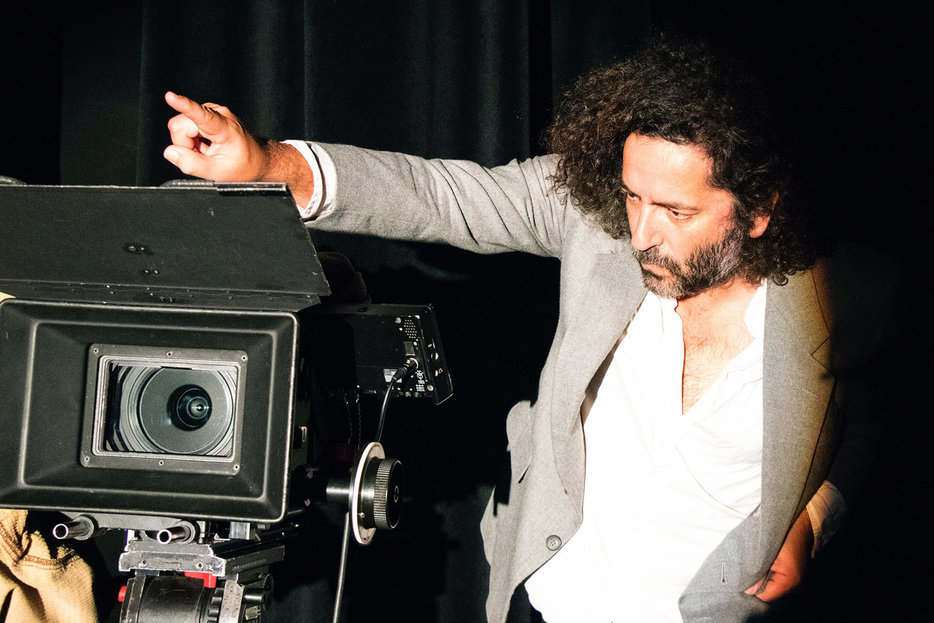 Talking to the Destroyer singer-songwriter about his new album, Have We Met, writing as an act of inspiration, and being a musician in middle age.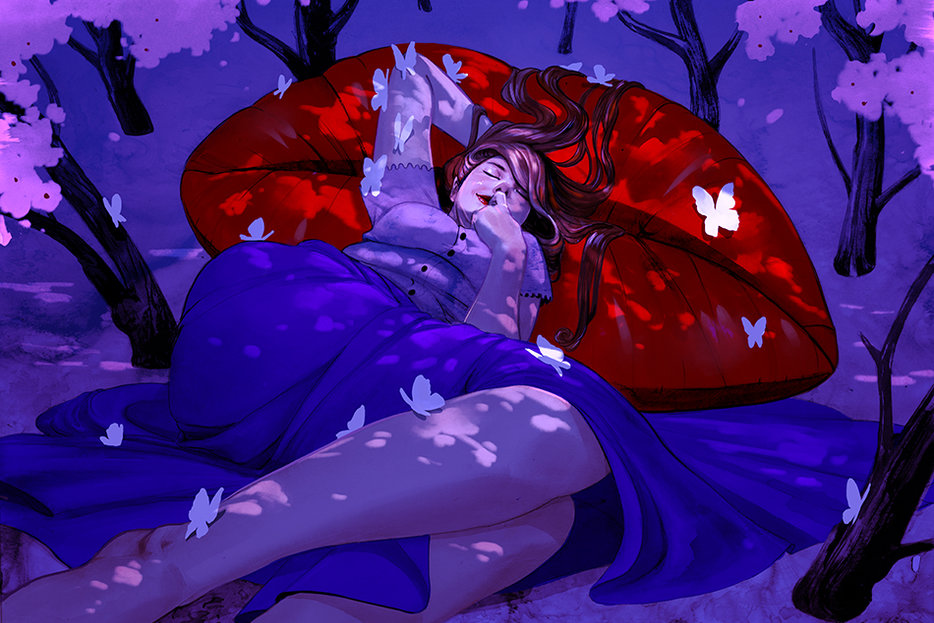 I have begun to obsess about this one kiss. A kiss. What the hell difference would a kiss make?
Latest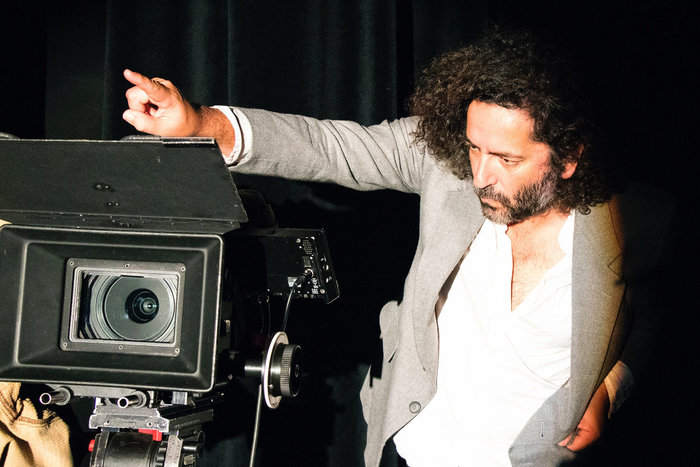 Talking to the Destroyer singer-songwriter about his new album, Have We Met, writing as an act of inspiration, and being a musician in middle age.
For two decades, Dan Bejar's Destroyer has been known for its sonic mutability. What started off as a low-fi folk project has moved through periods of glam, baroque, and sophisti-pop, but has always remained beholden to the charge of "Destroyerness" that runs through it. This singularity of vision is defined by relentless sonic experimentation, and unified by a lyrical approach that favours image over narrative, evoking emotion before analysis. His lyrics, often mistakenly labeled as abstract, are deliriously specific: it's just that the world he's building is not ours. Where most lyrical sheets opt for a first-person realism, Bejar has been slowly sculpting the alternate visions of a mad preacher. From "Blue Eyes," off 2011's Kaputt: "You're a permanent figure of jacked up sorrow/I want you to love me/You send me a coffin of roses/I guess that's the way that things go these days" Or from "La Regla De Ju" off 2017's Ken, "Thursday: possibilities, slim and endless/Possibilities, slim and endless/The excellent beautiful woman/Left behind at the party by her friends/With a pig of a man who is wasted/She is wasted and slightly blinded/But not so blind as to not see," and from "Crimson Tide," the much quoted opener of their new album, Have We Met, "I was like the laziest river/A vulture predisposed to eating off floors/No wait, I take that back/I was more like an ocean/Stuck inside hospital corridors." The images are vivid because of their particular bizarreness of language. This "Destroyerness" is what unites the catalog, despite sonic twists and turns. While the language creates hyper specific moments, what's left out is context—to whom, about what, or when the narrator is speaking. Bejar has described his writing in terms of brush strokes or a painter's colours, hinting at desire to evoke rather than describe. It's a kind of modernist writing that relies on sound and images to create meaning. By generally downplaying narrative world-building he asks listeners to use their own memories to provide context and emotion, luring them into a deeper bond with the writer. The lyrics become simultaneously vague and direct, ambiguous and evocative, pockmarked with turns of phrase that stud into the brain and link us to our image making Unconscious. After nine releases, Kaputt was the first time this broke through to the mainstream: the sound that he and his bandmates created—sophisti-pop tweaked, with gentle, lush synths, stoned disco beats, and the electronic lilt of a wide-eyed librarian—happened to coincide with a larger reembrace of synth music. This apocalyptic texture persisted through his post Kaputt career. Where Kaputt was full of yearning, and Ken a slinking anger, his latest release, Have We Met, completes this synth trilogy of modern dread with a droning melancholy on the big existential themes: memory, regret, alienation, and the end of times. In interviews, Bejar displays an analytic mind capable of engaging with his own work as if he was talking about someone else. Whether or not he's playing mischief is difficult to assess; the interviews themselves, with many mentions of "typical Destroyer shit," seem self-aware about being self-aware. This ability to maintain this self-awareness allows him to be free as he wants with romantic imagery in his lyric writing—poets, flowers, wine, and drunken failure are common motifs—without coming off as tediously deranged. The key to his artistic voice is its ability to pair romantic indulgence with straight-eyed despair, allowing him to move between genres while maintaining a cool elegance. I was curious to hear more about his writing process, and called Dan in Vancouver. He spoke to me graciously, a soggy cough interrupting us sporadically, as he promised he was fine. Adnan Khan: How's the weather there? Dan Bejar: Dismal. I heard it's really shitty. It's like sometimes Vancouver gets a certain version of grey where it all blends together into one thing. I used to live there. You know what I'm talking about. Pitchfork's Instagram posted five inspirations for the album; one of them was Bi Gan's Lost Day's Journey Into Night. What in particular did you take from that to Have We Met? Not to rip apart the facade of my five inspirations on [the] Pitchfork Instagram post but I feel like that was something I just threw together. Sure. Those are things that I like, but I wasn't, I can't really parse them in a way that's just like me watching Long Day's Journey Into Night, pressing pause every once in a while, taking off my 3D glasses, and writing down some notes to be discussed later, or upon working on Have We Met. I think I just like that guy's movies. I've seen two of them. One is that one and one is his first one called Kaili Blues, which I probably like even more. I've seen them both, I've heard the album, and they're sharing a frequency, I would say. The reason those movies strike a chord with me is that they do a kind of thing that I dig, which is, it works a lot with memory. With memory being erased, which is a topic I really like. Being lost in a fog, which is a topic I really like. There are movies that aren't scared to express themselves explicitly through poetry, as in like, poems that are written and then spoken in a movie, which is pretty rare. Like in Kaili Blues, I thought that was some of the best poetry I'd read or heard in a movie or outside of a movie in a book. That's pretty rare, especially a director, some director in his twenties, is gonna anchor his movies with that kind of writing. I think he was a poet beforehand. I don't know anything about him, but he must have been. The only poetry like that in a movie I know is Tarkovsky's stuff, and that was using his dad's writing. I'm sure maybe Tarkovsky was an influence… or at least was like a liberator, like, "He does all these things I can do too." I think a lot of the textures in Long Day's Journey I felt in your writing for Have We Met. Yeah, that's cool. When I say I like something, I never know how much I take from it. I feel like Destroyer writing has been kind of an etched in stone thing for a while now. I don't really know; I feel like I still really take influence from singers. Or I still take influence from ambience, you know? As far as me sitting down and what I write, I feel like an etched in stone thing, for 15 years now maybe? In terms of what themes and stuff you take on? Just—A) I don't even know what I take on. I've never felt like I've sat down and attacked a theme in my life. Right—you say that for you writing is very inspirational. At the same time, you also say that there's "typical Destroyer shit." Right, yeah. I say that there is, only because I assume there is: any writer has that. What some people call themes, I just call my nervous tics. Or my hang-ups. I know they're there. I know I write in patterns. I've been told that I repeat myself. What do you do with that comment? I have no problem with it. Does it affect your work? I wish I could hone things even harder. And say less. And repeat myself more. That's something that like behooves singing, you know? I'd rather eliminate all chords as well, if I could. What's that been like? You made the shift, ten years ago, to saying that you wanted to focus more on singing, you felt like you wanted to pare down lyrically. You felt like earlier there was a battle between your lyrics and your music. Are you still viewing yourself primarily as someone who wants to bring a certain standard of writing to pop music? I think I got it wrong when I thought about it ten years ago. I knew there was some kind of shift that happened when I started listening to more instrumental music and I felt just kind of spent with the notion of [being a] singer-songwriter. I needed to say that to will it—but it wasn't actually what happened. It hasn't really been 'til this record, Have We Met, where I've learned to sing in a way that I had in my head. The way that I was talking about when Kaputt came out was kinda dead. On that record it's pretty dead eyed. I don't feel like I've arrived to it 'til this record. The strange thing is—which I never thought of—how you sing maybe affects how you write. And not vice versa. Yeah, on "Man in Black Blues" was the first time where I was like, "Oh shit, that's that singing." That song to me is a very simple song that from beginning to end tries to address loss, or grief, it tries to give solace of some kind. And in the end it drops that and kind of moves from solace into being like just trying to sing on a dark topic or a sad topic in kind of a blue eyed funk kind of way. In terms of writing—do you view writing as something that's unified? Something that you have to bring together with singing? The way I do it now, I just sing into my phone. Usually the words and the melodies come as one thing. There's songs on Have We Met that bring that mold. That first song, "Crimson Tide," is kind of old school 2000s Destroyer. But that's because I had a melodic motif and a beat and two chords. I was just pilfering old writing of mine and sticking it to that. Otherwise I was gonna throw away that writing. I was pleasantly surprised it was more melodious that I remembered. Would you feel anything if you threw it away? I don't know. It's the same as forgetting about it or never looking at it again. I didn't need to burn it and spread its ashes everywhere. You seem very casual about your writing process, which is weird, considering how much people talk about your writing. I don't know enough about writers to know how many share my process. Which is super casual, I guess. I don't have a routine, I don't have a headspace, that I know of—I mean, I probably do. I don't enjoy examining myself closely enough to know what that headspace is. Where does the self-analysis come from? You're a pretty good interview. The self-analysis? Yeah, of the work. Being bullied into it by having to talk to people about it. Otherwise, it would never happen in a million years. I mean, I'm just making this up as I speak: I'm sure I'll deny all of it. It does sound like you're talking about someone else's work. I mean, it's my work, but it's—to me it's still important that the records are called Destroyer records and not Dan Bejar records. Maybe that's a luxury writers don't have. I have that luxury in a big way. The press release for Have We Met talks about Y2K as a conceptual starting point. I know you sort of threw out that talking point, but it did feel—like a lot of the stuff on the album, the dread, the confusion, that's very Y2K to me. Was that actually a thread? Again, I felt like I was thinking more sonically, to be honest. There seemed to be these kind of moments, and maybe they're stacked up more than your average Destroyer record, of world dread, just like, panic as a topic. Even though when I'm singing about it, I sound, at least to myself, more relaxed and casual then I've ever sounded. Which is funny, because, I think for a good chunk of the 2000s I sang in a way that literally physically embodied the word panic. Which is kind of the opposite the way I deliver words now. It seemed to come up in some kind of unnamed darkness encroaching. Which, for me, is kind of a fun theme, as well as one [that], oddly enough, seems palpable in the very air we breathe these days. So it's kind of like, win-win. It feels like that's a romantic theme for me, plus the world seems kinda extra fucked. So I might as well. Going back to—we've sort of thrown away the Pitchfork list. No, that's okay, I don't mean to throw it away—I feel like, when I watched that movie it was really strange, and when I watched Kaili Blues it was really strange and like, "Oh this feels like a kindred spirit," I mean but somehow, really kinda more masterful in that. Usually you're good at one or two things, but that guy is visually so striking, but also kind of just a stunning director in the old sense of the world, but also seems to be a poet. How many poets turn into film directors? I don't know besides Pasolini who there is. It's just surprising, you know. And the whole kind of dreamlike trajectory of things, even though they wander, it's still like an arrow shot. You mention noir a couple of times, and like, that to me, that chase, that arrow, is central to the Bi Gan movies, but you also mentioned Patrick Modiano as an inspiration, and he's working with a lot of that memory, repetition, that dreamscape. I found that stuff is on your frequency, lyrically at least. I like his books because they do have that combo. A) They seem to take place in a kind of like pretty menacing world. It's always an unknown dread—even though you actually do know what that dread is, which is Occupied Paris, but it's always just someone kind of wandering semi-aimlessly through their life and they know that all the key bits of their life thread back to these dark times, you know? And there's always weird characters who show up for one scene or half a scene and they say a couple of things and you never see them again. There's a lot of wandering through the streets without any real direction, but there's some kind of mystery at the heart of it, always. At some point the point of the mystery will fall by the wayside, in favor of like, a very salient brutal moment right at the end of the book. Those are all things I like… I don't always associate this stuff with Destroyer, but for the last few years for some reason, I feel more comfortably, I just sink into it. I think maybe it's stuff that I would have thought is goofy when I was younger, especially music that I thought sounded kind of noirish in the '90s, which was a real thing. I always thought it was kind of hack and they would always use the silliest samples and be really moody in a goofy way. Now I wonder if I'd be all over it. You seem lately very attracted to artifice. I don't know. I don't know if that's true. I like—I feel in some ways I'm writing in a way that's… I don't know why I think this, but in some ways I'm writing in a way that's more personal than I ever have. Not by leaps and bounds, but just my general trajectory. If you can feel that, or at least sing that, you can cloak it in whatever glass box or flowing silks… you can wrap it in whatever you want and it'll still have this thing at the heart of it. It did seem, around Ken, you started talking about an interest in koan-type lyrics, and I found that on this album there was a lot more repetition, and that really brought me back to that idea of prayer and that sense of speaking to someone. It's got that very similar tie into noir and that big dreamscape. Is that purposefully a direction you're moving towards? You have talked about as you're getting older, your writing getting pared down—is that something you're finding happens naturally, or are you striving towards it? It really happens naturally, you know? I just kind of like… it's just how it comes out. It's coming out more conversational, more like my speaking voice. I mean, when the band plays songs off of, say, Destroyer's Rubies, it's really fun to sing, but I find myself taking pause and wondering about—I'm just curious as to where all those words came from. They just came tumbling out. I don't know if at that time I was still in love with the challenge of starting at the 1 and ending at the 4 and getting the line somehow, that was almost impossible, in making the line melodious, even though there's barely room for notes. Just tangling with music in a different way than I do now. That cramming of syllables into meter, that is the closest to what rap kind of is, right? That lyrical focus is not really there in a lot of pop music. It's funny, when we started working on the record and really just had the idea of loud simple beats, and just kind of in your face, punishing bass and just sound effects, what John took away was, I think at first he was thinking of an old school rap aesthetic. In some ways I'm maybe thinking of hip hop more than I ever have, but still from a music standpoint, even though, I mean that's where all the kind of cool writing in music is happening right now, when I was doing something like Rubies, I was really just listening to Bob Dylan, Van Morrison, and Joni Mitchell all day long. I think you're right in that most lyrical innovation is coming from hip hop and not rock anymore. It just doesn't seem like a concern in rock music. It seems like an afterthought. Maybe even in hip hop now that's becoming more the case as well, I don't know. At least for the previous 20 years that seemed to be where all the action was. I think you said you were reading Fleur Jaeggy? Yeah, a couple years back I was burning through her books. What did you like about it? I love her style. So brittle but also had this amazing flow for something that seemed hardened. It could be like a Swiss thing. I think Swiss writers maybe have access to dark places we don't know about it. It seemed also to like brutally lay everything on the line. But her narrator voice—I found it really readable and poetic, although it's not really—the style is the opposite of poetic. Also, again, kind of a world that seems—even though everything she's describing is familiar, it's probably dark and fantastic in a way that's like Switzerland in the 20th century. I felt a lot of The Black Paintings by Goya, in Have We Met. Was that at all on your mind? I mean those are like the only paintings I know. I don't know anything about art, I just know about Goya a little bit. I don't know how much that creeps into Have We Met specifically. I feel like with Have We Met the main thing that's happened with me is probably just going back into a regression into kind of being slightly obsessive about film. Which is a way that I was, maybe in my early twenties? Before music kind of took over my life. For some reason, now, in my middle age-dom, I mean I've always loved films but it feels like I get these ideas about movies turning around in my head in a way that I can't let go of. Those are the kind of things I mean when I talk about nervous tics and hang-ups. It feels like the most filmic album I've done, even though maybe Poison Season and Kaputt are a little bit more directly into the idea of film scores. This is more into the idea of what does film actually do, you know? You sound lately, and I don't mean this to be rude, but very age conscious. Age conscious? Yeah, like you bring up a lot of, that you feel like you're middle age— I don't feel like it! I am middle age. I'm 47. Does it feel like a turning point or something? You've always been talking a lot about Leonard Cohen's late work, Van Morrison's late work. Oh yeah. That's kind of always—I think to not be conscious of it in show business is just like, what do you call that kind of ignorance where it's not borne of nothing but it serves a greater, possibly nefarious purpose? To not be conscious of how things age out for singers—to not think that's a thing, is to me, dangerous and hurtful. It means it'll never change. What do you mean? To not bring it up all the time. To let people know about it. To have it be known that there's an old person in the world. Usually, you're put on a raft by the time you're 45 in music. I don't know who else you're thinking about, but it's kinda lonely out there. [laughs] If someone in show business, a singer or actor or dancer, someone who does something with their body, people look at you and they either clap or want you to go away—it's time for you to go when you're my age. That's not an accident. That's just an apparatus that's been set up. Pop culture, rock music, it's very much a product of youth culture. It always has been. That's why it's tough to reckon yourself as a writer or artist, because you know your time in theory is played out and your best work is behind you. As opposed to a novelist when you're 45 or a film director when you're 47, they're just getting to the good stuff. It's just not like that in my world. Do you really not think you have a book in you? I'm just not interested. I don't think, deep down, if I'm being honest. I don't know what kind of book—I have writing that didn't end up in songs, but I don't know what it is. It's like a poem. It doesn't have an ending. They're all short blasts of writing that I could try to piece together into something else. It wouldn't be a poem. I definitely don't have a story to tell… when there's like a story happening, especially a concrete one, I generally want people to move it along. You know, I'm kinda strung along by people's styles and if they describe scenarios—if that style takes place in scenarios I kinda like, then I'll stick with it. Why don't you just do that? I don't have the muscle. I haven't exercised it. I don't know what it would like. Have you ever tried? No, because I'm not used to trying. I've never tried to write anything. My number one rule is to never try to write. I really don't believe that. It seems so strange for me for you to just say, like, I just walk around and into my iPhone notes I put in lyrics. And then they have this cohesive thing. Is it just a matter of accumulation? It's kind of accumulation. It's kind of going through them a little bit, but it happens pretty fast. Usually like if I'm having one week where I'm kind of writing a lot if you collect the sticky notes from that week or the voice memos from that week, you're going to see that it generally turns into a certain song. So you're not sitting down at a desk. No, no fucking desk, no way. Sitting down at a desk is what you do when you have to like, figure out which Garage Band Apple drum loop to use. That's for the music stuff. Not for writing. Your writing stuff is pure intuition. Yeah, it's just walking around… Always? Always. That seems like a crazy way to do that. Yeah, it doesn't feel sustainable, that's for sure— You have sustained it. I live in this certain valley of terror, where it's like, "This can't possibly be the way I do this for the rest of my life." A) I know I'm slowing down and I do it less and less and less. So that's a feeling. Not to go back to the age thing, that's pretty common. You kind of think about things more but the actual doing happens less. That's fair. I dunno. It would be good to have a room and a desk and I just stare at the wall and see what happens and I put in my time and I punch out. I really think you'd be surprised with yourself if you did that. I'm not saying I'm never gonna try it. I'd like to try it sometime. I just haven't done it yet. And I'm obviously 100 percent suspect of it for myself. It doesn't mean I shouldn't try it and fail at it.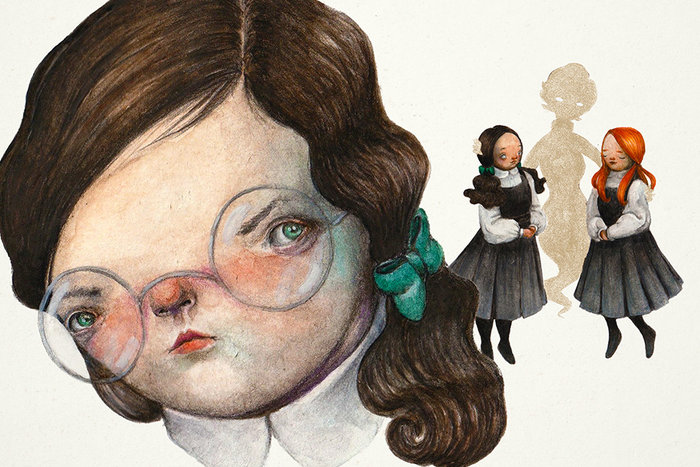 On the shame of mentorship.
In the middle of Muriel Spark's brief and elliptical novel The Prime of Miss Jean Brodie, one of Brodie's protégées is asked about the biggest influence of her teens. Sandy, turned Sister Helena after joining a convent, can only say what she repeats again in the last line of the book: "There was a Miss Jean Brodie in her prime." What remains between the repetitions of this line changes every time I read the 127-page story, published for the first time in its entirety in a 1961 issue of the New Yorker. In the text, Sandy and the five other girls who make up the "Brodie set" discuss their junior-school teacher as though it was a privilege to be taught by her, matching the comically arrogant way Brodie speaks about herself. Told they are the "crème de la crème" of Edinburgh's Marcia Blaine School for Girls, and bonded by a cliquish feeling of superiority, the girls share gossip about Brodie the way only a close-knit sect of young women can. But eventually, their relationship to Miss Brodie comes to resemble a trauma, revealing more every time it's unearthed and reiterated. Each return to the topic of Miss Brodie's influence cements it as the defining narrative of their lives. They all have individual fates: Sandy becomes a nun, Rose a "great lover," Monica marries and then separates from a scientist, Jenny tries to be an actress, Eunice becomes a nurse, and Mary dies young in a hotel fire. But beneath each life runs an understanding that they became who they were because Miss Brodie emphasized certain characteristics in them, orchestrating some events while avoiding others. "She thinks she is Providence," Sandy realizes eventually, "she thinks she is the God of Calvin, she sees the beginning and the end." Brodie wouldn't disagree, judging by her own motto: "Give me a girl at an impressionable age and she is mine for life." Here, she makes an explicit distinction between the roles of schoolteacher and mentor. The former simply teaches the curriculum, but the latter leaves an unshakeable imprint in the student's project of becoming herself. "To me," Brodie intones, "education is a leading out of what is already there in the pupil's soul." With Brodie, Spark creates a woman who unwittingly demonstrates the dangerous slipperiness of mentorship, that relationship responsible for creating a "great influence" in any life. While Brodie's dictatorial command of her students is emphasized in the novel, often for ironic effect (she admires Mussolini, but concedes that Hitler was "rather naughty"), it draws attention to specific tactics common to all kinds of mentorship. There's her sharp fluctuation between praise and condemnation, her instant ability to see a student's most prominent insecurity and leverage it to induce humiliation, and her consistent, unflagging reinforcement of a core tenet of her teaching: that only she can show you how to flourish towards a "prime." Not only does Miss Brodie believe she sees the souls of her pupils rather than reflections of herself—she also believes her influence is necessary, above all else, to wring meaning from their lives. She revels in the way it possesses these young girls, makes them recognizably hers, and her proud understanding of this type of possession presumes it lasts—well, forever. Can anyone who believes they are entitled to exert influence be a good mentor? And when power plays, as it inevitably does, into mentorship, are "good" mentorships possible at all? This particular question has haunted me for some time, largely because my experiences as a reader and a writer, a woman and an immigrant, have led me to hold enormous stakes in both sides of the argument. I feel like an eternal mentee, one who perpetually shifts gears to absorb what she can to become the person she wants to be. The part of me that picks up crumbs of voice, character, and spirit from others needs to believe that mentorship can be a good thing, that growth, artistry and actualization are learned partially from other people. Yet, as a reader, the representations of mentorship that I find most exciting for their intensity epitomize a human lust for power and control. They reveal the ways that, no matter how wise, mentors are by their very name woven into relationships that leave room for manipulations of authority. The strangest thing about my question—do good mentorships exist?—is that both answers, yes and no, are sources of anxiety. If there are no good mentorships, all influence leads in some way to grooming, manipulation and trauma. But if there are good mentorships, then attributing to them someone's talent or success bypasses something crucial and complicated in the structure of this relationship. It ignores the tendency mentorships have to derail lives or actualize them, and the strange hunger for metamorphosis they thrive on. * When I first encountered Miss Brodie, it was in film; the 1969 movie directed by Ronald Neame stars a young Maggie Smith. I was preoccupied and distressed. It felt like I'd watched someone pull back the curtain shielding my inner self from the world. Mostly, the movie reminded me of a man who'd approached me in my first writing workshop. For years, I did everything I could to not think of him, because it was painful to pick apart the various threads of that confusing time. But then and now, if I was asked about "the biggest influence of my teens," I'd answer with his name. I was seventeen, and the Saturday writing class I signed up for was a weekly respite from my family home during the summer before my senior year began at an arts high school. My only friend was away until September, and I'd developed something of a claustrophobic reaction to my bedroom, where it seemed I'd already spent too many hours reading Gabriel García Márquez and scrolling through the fashion blogs of emaciated white women. I waited all week to subway from Etobicoke to a bland office space above a coffee shop on the Danforth, where a miscellaneous group of seven adults and I spent long stints writing prose poetry inspired by quotations and single-word prompts. We took turns holding a stone or a feather, trying to muster up lines of flash fiction. In August, as the last session drew to a close and while the other members of the workshop milled around, happily complimenting each other, someone tapped my shoulder. "I'm starting my own workshop," said a male peer I'd been friendly with. He spoke to me with excessive gentleness. "I see so much potential in your work. I know there's something more there, so I'm asking you to join." I went home that evening vibrating with adrenaline, feeling chosen. I'd told him I'd think about it, but I already knew I would say yes. It didn't matter that I hardly knew him. What mattered was that I, trapped in a severe teenage loneliness during the exact months of my life when I desperately wanted to feel adventurous and free and loved, saw a small way into altering that life. After so much time spent hunching under the pressure to make something of my time, and fearing that I would never succeed, I was being given an opportunity, not just to do something else, but to become the kind of person who would have no reservations about hanging out with a bunch of adult strangers. It was a relief, at the time, to push aside the nervous feeling in my gut, lie to my parents, and dive in. There were four of us at first, and we met in a library for two Wednesdays, continuing the prompt writing and discussions we'd begun in the previous workshop. The third Wednesday, it was only myself and the man who invited me, who I still knew almost nothing about. When I arrived, he said, "I thought it would be interesting to show you some writers I like," and pulled out of his bag some Hemingway, Ford, and Salinger stories he'd printed from the web. The insights I offered after reading them seemed to impress him. He fed me ways to earn his compliments—writing exercises, prompts, memorization—and I consumed them eagerly. We met every week for a few hours, first at the library, and then at his house. We switched back to Saturdays after my senior year of high school started. He kissed me on the street, and I pretended not to see people staring. When she returned, I told my best friend that I was doing the two things I'd wanted more than anything: I was becoming a writer, and I was falling in love. Cradling the phone to my ear in my family's backyard late at night, I told her he was older, maybe too old. I didn't yet know how old he actually was: forty-one. She told me that I should do whatever felt good, but that I should never trust him. I said I didn't, that I was in control. I had chosen this. After a month, he became my first boyfriend. I saw him every weekend under the pretense of participating in a writing workshop, always at his house. In a way, it was a workshop. He gave me assignments, story prompts, deadlines. He edited the stories I wrote into new shapes, sometimes adding characters that stood in transparently for himself. He made his touch and affection a reward, something I'd earn by doing my work. After a year, I left the city for real writing workshops and for college, but that wasn't the end. Even after our break-up, he sent emails, letters, voicemails, packages of books he thought I should read. I alternated between desperate attempts to reason with him and long bouts of silence. In one of his emails, he wrote: with some gentle pushing from me and a firm commitment from yourself to keep your promises, by the time you reach my age, you will be far more talented than me In another: we connected at a deeper level about literature and music and life and travel and dreams and hope and it would be nice to reconnect on those things again but if not, then i'll try again later and again and again until you call the police and have me jailed i suppose I never called the police, but when I watched The Prime of Miss Jean Brodie, I felt sick with excitement. I had been pushing away the idea that the man who tried to turn me into a writer shaped me in any permanent way, but here was a reason to stop avoiding it, to instead examine it as closely as I could. It was clear that whether I ran from it or held it close, the fact of his influence was inescapable. Watching the five girls in the film bend to Brodie's will, wary of and yet fascinated by her manipulations, influence turned from an invisible shame into something I could see and acknowledge and chart. At least if I understood it, I could make something from it. * Probably because their work has so much to do with developing the self, writers are particularly embroiled in the machinery of mentorship. For The Atlantic, Rick Moody writes about studying at Brown with Angela Carter and John Hawkes. He is witness to the now infamous scene in which, on the first day of workshop, a young male student casually asks Carter, "Well, what's your work like?" to which Carter replies, "My work cuts like a steel blade at the base of a man's penis." This clears the room of several students, but Moody remembers thinking: "This is the teacher for me." Carter makes Moody feel that he "not only grew as a writer, but improved as a person." Moody goes on to emphasize the embarrassing thing about mentorship: it changes one's drive. He wrote to impress his mentors, to make himself memorable to them. He says that he got better "by writing in order to please them." In an interview for this magazine with Miranda Hill, Moody describes mentorship as someone getting "lodged in [your] unconscious," so that you see everything you do through their eyes. Internalizing the mentor's tastes, interests, and preferences, and working to impress their sensibilities indicates a particular vulnerability. In order for mentorship to work at its deepest level, the mentee needs to not simply tolerate, but actually lean into dependence. In an essay from his collection How To Write an Autobiographical Novel, Alexander Chee describes Annie Dillard's class at Wesleyan University, the rigorous and thrilling pace at which she did everything from critiquing student pieces to eating individually wrapped caramels. "By the time I was done working with Annie," he says, "I wanted to be her." Chee's essay is anthologized in the only nonfiction work I've been able to find with an explicit focus on literary mentorships, titled Mentors, Muses & Monsters: 30 Writers on the People Who Changed Their Lives. It is full of writers explaining how older, more famous and infamous authors teaching at MFAs and elsewhere swept them into private intellectual worlds and public literary acknowledgement. So many writers have a guardian who brought them into writing, and they all seem to know that to change the writing, you have to first change the writer. To produce a specific kind of work, you must become the person who is capable of producing it through the very process of writing. Even in this anthology, the unseemly side of mentorship isn't touched. There are no mentions of the literary relationships that cross over into a specific kind of gendered trauma, often wrought within romantic entanglement. We are familiar with this story, the two ways it is most often told: a young writer seduces an older one for connections, privilege, clout. Or: the older writer falls in love with the younger, who later speaks out about being abused. In reality, there are as many differing versions of those stories as there are people who experienced them. But I point out those two because they are ways of answering the question most people in these mentorships are left with, once it's over: Who is to blame? This is the question Joyce Maynard wrestles with in her memoir, At Home in the World, about falling in love and living with J.D. Salinger for the better part of a year. Upon its publication, this book was criticized as shameless, tawdry, and exploitative, and Maynard herself called a parasite and a predator. During a reading she gave after it came out, several literary figures rose from their seats and walked out. While the work dwells on Maynard's childhood, her parents' influence and her own ambition, it also dissects the strategies Salinger employed to turn her into a particular kind of writer. When they begin a correspondence of letters spurred by fifty-three-year-old Salinger's attention to a photo of eighteen-year-old Maynard on the cover of the New York Times Magazine, she notices how her language begins to mimic his, each line composed and tailored to suit him. In her preface to the 2013 edition of the memoir, written fifteen years after its original publication, Maynard writes, "I had grafted his view of how a person should be so utterly onto my sense of who I was in the world that there existed a time when I no longer knew who I was, separate from Jerry. Everything I believed came from him." This mentorship digs to the root of how a person can be irrevocably shaped by another's influence. Why, then, was it so despised, and Maynard so shunned? Serious mentorships, the literary world seems to believe, are only ever about the work of writing. To do justice to them, one must put aside the messy reality of human emotions and traumas, the desperations and desires that serve as scaffolding to every artistic practise. Yet it seems clear that the power that lies at the center of mentorship has to do with literary experience and expertise and recognition, but also with emotion, desire, connection and character. These facets of human interaction can create a mentorship dynamic, even if the roles of its participants aren't formalized by an institution. The way a person speaks, inhabits a body, and creates a particularity of gesture all contribute to a magnetism that defies proper definition. Observing that person becomes a privilege. Collecting bits of information on them feeds a hunger. Speaking to them is stressful, sometimes unbearably so—or else steeped in urgency. All interactions accrue power when you see someone as a one-way route to becoming who you want to be. Like falling in love, this has the added dangers of being utterly projected—one's innermost desires appear through a fun-house mirror, reflecting back a distorted vision of another human who has managed to become everything you craved, everything you're not. There is shame associated with the excitement of absorbing an influence. Feeling the ground of your selfhood shifting in real time has a dizzying effect—there appears to be a choice. You choose to change, to pursue desire, to involve yourself in a relationship. And if that relationship twists down paths you couldn't see—well, too bad. You're along for the ride. You are choosing, in effect, to become something other than what you currently are, to diverge from the self you see moving along its predictable, narrow path, and instead take a calculated risk to become unknowable to that self, for better or for worse. The shame comes, in part, from showing the person who influences you this disavowal of yourself. It comes from saying, "I will take whatever improvements you can make to me. I am sick of this thing built of my experiences. Change me so I am more like you." Later, this choice becomes the basis of self-blame. Who else can you blame, if you remember asking for a specific person's towering presence in your life—if, in fact, that choice leads to one of the most emotionally vibrant periods of your life? In My Education, her novel about a graduate student falling in love with both her married professors, Susan Choi writes: We weren't zigzagging forward but wildly seesawing, the ups ever higher, the downs ever lower…. Martha's flights of hedonism—Martha's brooding resolutions and remorse. I'd like to say I defied gravity just as often as feeling its snare, but my efforts were most likely spent clinging on with white knuckles to not be dislodged. Still, that was my heroism—my tenacious fidelity to her, though it was based on a grave misperception. I thought desire was duty. No trial could not be endured nor impediment smashed in desire's holy service... This desire to incorporate someone else into your own being is a confession we love to make in art, but rarely in life. "Do I want to fuck him, or just be him?" reads a piece of dialogue from the scene in which Choi's protagonist first lays eyes on Martha's husband, her Chaucer professor. Imitation, like love, makes us incredibly vulnerable. But while love is a feeling that moves outward from the self, permeates the self, even ennobles the self, imitation suggests there is no real self. It suggests that the self facing the world is a forgery, concocted out of lies and cheap deceptions, void of originality. To be caught imitating someone's phrase, gesture, or style while trying to pass it off as one's own is embarrassing at best. We like to think we made ourselves, or that events ordered in a meaningful sequence made us. When that stops feeling true, as it abruptly did for me, one is left with the shame of mentorship. Examples of these dynamics abound in literature and film. That kind of mentorship-desire is buried in Magda Szabo's The Door, in which a well-to-do writer develops a friendship with her reticent housekeeper, and in Apt Pupil, a Stephen King novella, in which a boy hunts out a Nazi war criminal in hiding and forces him to recount his crimes to feed his own hateful obsessions. It's in Robert Musil's 1906 novel, Confusions of Young Törless, where one precocious, impressionable pupil joins his peers in the sadomasochistic abuse of another student. As an archetype or a formula, this dynamic depicts more than infatuation or obsession. It illustrates what it means to be forged, as a self, from within a fiery exchange of power. If mentorship teaches you how to be yourself, it does so in the most charged way, by testing your limits: how much you're capable of giving to and taking from another person, and how much of that exchange you can withstand. It separates the core of you from the chaff by creating deeply rooted narratives about the self—about exactly what you are worth, and why. * When I moved back to the city where I'd met my older boyfriend, I checked for him on every street I walked. I was afraid of running into him because I knew that if I did, it wouldn't be a coincidence. It would be a deliberately orchestrated event in which he would decide the circumstance and the rules, maybe after digging online to learn which Master's program I was enrolled in, which classes I was most likely to take. He would realize I now studied at the same campus he'd once taken me to on autumn weekends, the same campus he studied at two decades earlier, and he'd corner me in one of the charming old buildings where we'd sat together reading. I looked around every corner for weeks. What I worried most about wasn't how I'd flag someone down or get away if I saw him, though—I wanted to know if he'd think I'd changed in the absence of his influence. I wanted to know if I still appeared as the gawky, insecure, childishly knock-kneed girl he'd chosen to manipulate because he knew she was impressionable. I desperately wanted to see myself through his eyes again. I believed that only then would I be able to judge for myself how ill-intentioned he was in approaching me, or whether I'd worn my desperation as an invitation. * Gender and sex are two of our earliest and most intense influences. They shape our expectations before it is possible for permission to be given, and create the many-handed mentor that teaches us what to look for in others, so that we might build ourselves. To different degrees and different ends over the course of Western history, patriarchy and mentorship have formed the foundation for how we pursue our identities. Not coincidentally, this has everything to do with power and the institutions that govern its exchange. In Queer City: Gay London from the Romans to the Present Day, Peter Ackroyd maps queerness and sexuality as a distinctly influential part of London's history and, in doing so, elucidates the connections between same-sex love, patriarchy, and mentorship. Queer love was widely documented as common practice among Celtic and Roman men, he writes, before Christian influences took hold in the sixth century. Their "world of warriors, governed by a rich and intense male culture" exemplified the many ways that everything from cultural beliefs to military victories depended upon a sexual structure of mentorship between men. Handsome young men customarily bottomed for older, more powerful men in the Roman city. Seen as part of a nobleman's pleasurable lifestyle, they took on "a passive role as part of their transition to adulthood." Sodomy, pedophilia, and pederasty (sex with an adolescent), far from being taboo, were widely accepted practices—"admirable activities" that mainlined a sense of youth and power into the active partner. Having sex with male prostitutes, slaves, or preteen boys made sense within the independent city-state's hierarchy. Rape went hand-in-hand with military conquests, and prisoners and children, Ackroyd points out, possessed "no political role" other than their victimhood. The undesirable union, in this era, was one that took place between free men of equal status, since it violated the Roman sense of sexual conquest and created the potential for political consequences. The layers of political and sexual power run deep here. First, there's the fact that patriarchy was used as a tool against men and boys in addition to women. Women possessed no political power in Roman London—meaning no vote and essentially no state-recognized identity. They simply were not people in the sense that men were. In effect, this correlation between gender and politics extended both ways: women were identified with the lack of political power, and the lack of political power feminized everyone else who didn't have it. To Roman men, this meant turning male foreigners and children into appropriate sexual partners without queering their own identities or risking their morality. Their masculine heterosexuality, for all political and ideological purposes, was maintained and reinforced not by the gender of their sexual partners, but by the power structures within which they had sex. The "world of warriors" consisted of a simple binary, imposed upon relationships not yet considered deviant or aberrant: conquer or be conquered. There's also the implication that in order to ascend to a position better than one's own—whether that was a position of powerlessness, insignificance, political invisibility, or simply youth—one had to survive a rite of passage that doubled as a kind of sacrifice, offering up the self to forces that were entitled to use and abuse as long as they forged someone new in the end. Ackroyd's playful documentation of gay monikers throughout early Western history includes as many references to young boys as not: glabrione (smooth skinned boy), catamite (from Ganymede), puer delicatus (sweet, dainty), pullus (chicken), mollis (soft). In some cases, the terms refer also to any male who takes the passive position during sex, such as pathic (sufferer). In certain contexts, a sexual relationship between an older man and a boy supposedly created a transfer of power to the latter, making him likely to gain status as a result. To some degree, the power went both ways: sex has historically proved to be the higher class's most useful tool in the art of grooming. As an extension of the warrior's, diplomat's, or king's status, the handsome young boy behaved as a masculine symbol of his older lover's immortality and fame. At the end of the seventeenth century, William Bentinck became one such handsome young boy for King William III, who ennobled him as the Earl of Portland. Bentinck was then quickly portrayed in gossip as the "catamite who rules alone the state." In being physically desired by a man of higher stature, and in sexual service to his needs, the young courtier gains rank by proximity and enacts a kind of promise to live according to the specific hierarchy he is molded by. Even if, like Bentinck, the court mocks his sudden rise to favour, the envy of his peers and the marked gains in title encouraged sexual closeness to the king. Ackroyd notes: "A flatterer is described by Richard Nicholls as 'he whose tongue the tail of greatness licks.'" Etymologically, this is probably where we get "ass-kissing." It also links flattery and mentorship together with a transfer of power in sex acts. For boys, an indoctrination into a world of patriarchal order is meaningful when it advances the "greatness" that benefits them all: male power. * While works about the damaged female psyche focus on the fraught, embittering process of trying to shape a self, narratives about the male psyche give us an impossible trajectory of struggling to master the self. In Whiplash (2014), nineteen-year-old Andrew Neiman (Miles Teller) sets out to be the best jazz drummer in the world. As a Buddy-Rich-obsessed freshman at the Shaffer Conservatory of Music, he falls under the mentorship of infamous conductor Terence Fletcher (J.K. Simmons), whose violent style of instruction—basically a case study in toxic masculinity—pulls Neiman's personal life into shambles. Everything about this mentor's influence is rooted in the idea that to be a musician, Neiman first has to be turned into a certain kind of man—the kind who plays until he bleeds, cares for nothing and no one except music, and will suffer any loss to be the best. The kind who does not indulge in basic human needs, who does not have a desire to be cared for or loved, who does not want anything that music cannot give him. Fletcher's chosen tools of transformation are fear, alternating with sweet-talk: he terrorizes his all-male band, screaming at individuals for being out of tune, off tempo, or late to practice—then he tells Neiman he should "just have fun." Chairs are thrown, verbal abuse hurled, and traumas inflicted, but it is all, Fletcher's aura of greatness promises, for the sake of music: "You know, Charlie Parker became Bird because Jones threw a cymbal at his head." Neiman dumps his girlfriend, the only non-musical element of his life. He bleeds over his set and "earns the part" on a brutally fast piece of music, all in the name of becoming "one of the greats." In the making of his supposed musical talent, though, Fletcher has also made an egomaniac out of Neiman. Dismissed from Shaffer, he agrees to file a complaint against Fletcher, then decides to quit music for good, only to run into Fletcher playing jazz at a bar. "I was there to push people beyond what was expected of them," he tells Neiman. "I believe that is an absolute necessity. Otherwise, we're depriving the world of the next Louie Armstrong or Charlie Parker." Soon, Neiman is back, playing for Fletcher, reeled in by the promise of a specifically male, merciless greatness. When he gets on stage for a crucial performance, he realizes Fletcher deliberately hasn't given him a piece of sheet music. The film ends with Neiman flailing during the first piece, humiliated, but making a comeback to cue the band on his own for the rest of the performance, delivering a fifteen-minute solo with his trademark blood dripping down the sticks, Fletcher staring into his eyes. Up until this point, the imperfect little scar on Miles Teller's chin, the scattering of acne there, his father's insistence on putting Raisinets in movie-theatre popcorn—all of it immerses the viewer. But during the solo, as Neiman plays, he transcends the believability of his circumstances and that of his emotional abuse to overthrow his mentor. Fulfilling the dream of masculine mentorship, he achieves what has always been dangled in front of him, what we know is bait thrown by a narcissistic jerk. He gets to be great, and Fletcher, the man who terrifies him, is now his convert. The film isn't about music—as Richard Brody points out in the New Yorker, it's pretty inaccurate about jazz—rather, it's about an archetype. It enacts the wish fulfillment of men who want to believe that competitive ambitions can replace emotional intelligence and a human connection to the life happening around themselves. If the female mentorship represented in The Prime of Miss Jean Brodie is about manipulating and controlling female desire, male mentorship in Whiplash is about militarizing it, so that nothing vulnerable remains. * As observers, enthusiasts, and finally students of her love life, the girls challenge the basis of Miss Brodie's prime on a metaphysical as well as sexual level. In addition to being younger and eventually smarter than her, their existence as her mentees undercuts the essentialism of Brodie's claim that her "prime" makes her more valuable than other girls and women. She treats it as a natural state of her body, like fertility—this quality of being at her intellectual and physical peak that comes from within, tingeing her every act with some divine feminine virtue. But she also continuously promises to impart this supposedly internal condition to the girls, by teaching them to wash their faces with witch-hazel, sit up straight, speak in full sentences, appreciate "Art and Beauty," and eventually, in Rose's case, to seduce Teddy Lloyd, the art teacher. The façade of her prime crumbles not because she ages, or because she fails to groom Rose for her old lover—it breaks down into a pathologically recycled mask, worn out by overuse and false logic. When Sandy realizes that her permutations of self are as replicable as Lloyd's portraits, she gives away a secret to the school headmistress that finally forces Brodie into retirement. "It's only possible to betray where loyalty is due," she tells Monica. She points out that crucial cog in the wheels of mentorship that Miss Brodie never understood: in teaching the girls of her supposed prime, she also teaches them the inner mechanics of her manipulations and deceptions. She teaches them of her intense hunger to control, and in doing so, shows them how to thwart that same control. In a bid to escape the manipulations of Brodie's puppet strings, Sandy spends her life in the nunnery. She writes on religion and morals, at least partially because she knows Brodie would disapprove—they are far from her influence, even if her influence is precisely the thing that drives Sandy there. * My obsession with mentorship manifested in a frenzied desire to collect any and all representations of this dynamic. I couldn't watch a movie without understanding it through a lens of influence, manipulation, self-transformation, or metamorphosis. I re-watched scenes that gave me the same quiver of excited anxiety Miss Jean Brodie did. Angelina Jolie's first appearance in Girl, Interrupted, when she's led after an escape back to the halls of Claymore in cuffs, each of her ward-mates visibly affected by her sudden re-entry into their lives. The lunch scene in Carol, when Belivet is intimidated by the way Carol orders without looking at the menu and, when the waiter turns to her, can only say, "Um, I'll have the same." The moment in Mona Lisa Smile when Maggie Gyllenhaal, playing Giselle, looks in the mirror and asks, referring to the controversial new art history teacher, "Do I look a little bit like her?" These women, in female company, live in an ongoing act of overlapping influence: traces of it flash through dialogue, bearing evidence of how they actively choose to shape themselves into and against each other. I watch that terrifying little moment cross their faces and think of how I once jotted down every gesture in my fourth grade classroom that impressed me, from the way my teacher wrote her number 3s with jagged zigzags to the fluid movement of a blonde classmate packaging her hair into a hot-pink scrunchie. In immersing myself in stories of mentorship and sifting through them, I felt some kind of purpose. I wanted to figure out what made us (us, all humans, but more specifically, us, young women) like this. I wanted to calculate how many insecure attachments it took to tip certain individuals into a dissociative state fragile enough to absorb influence so hungrily. I wanted to know, most of all, what they did with it, how they survived, what they became. I couldn't scroll through Twitter without thinking of mentorship on a grander or smaller scale (Larry Nasser's trial, Reddit relationships posts, Queer Eye, Elizabeth Holmes and Theranos). I listened to podcasts about infectious diseases and sat haunted by the idea of my desire to become other people infiltrating my identity, replacing it on cellular level. I found writing about mentorship paralyzing. It was difficult not because I didn't know what to say—I could, and did, speak with friends at length about my obsession—but because I felt, in my endless note-taking, that my ideas only added up to proof that there was no way out of this maze. I was observing literary and cultural patterns that reflected at me from every surface of life: they made up the texture of the world I lived in, the things I consumed, the way I behaved, the way I wrote. It wasn't just in the air around me—it was the air. I couldn't see it from the outside, because I had defined it for myself in such a way that there existed no outside. The search for representations of mentorship resulted in my being convinced that I needed someone to explain my web of citations and references to me, so that I might understand how they—how I—fit together. Describing my system of becoming did nothing to dismantle it. It only grew more complicated, more difficult to distinguish between the framework of my questions and the content I'd used to form them. As the art teacher of Miss Jean Brodie repeatedly paints Ms. Brodie's face, no matter which of her pupils he uses for reference, I wrote the same things down no matter which film I watched. Does mimicry reveal weakness in a person?—or power, in its chameleon-like detachment? Does a toxic mentorship fundamentally change the person experiencing it, or does it only bring out a kernel of selfhood that always existed? The questions feel truer than their possible answers. For now, I will have to be satisfied with them.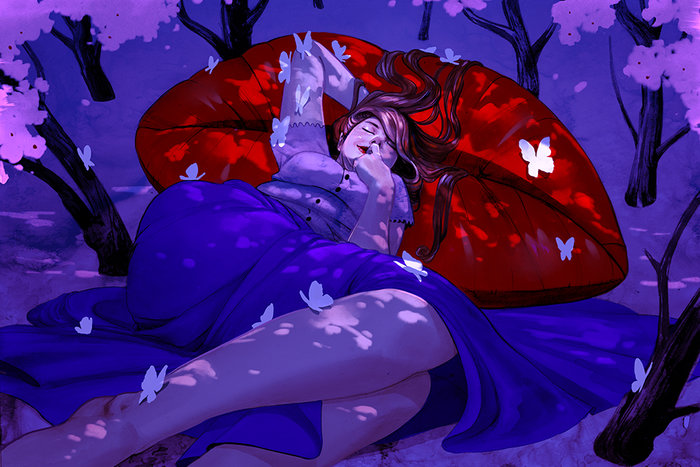 I have begun to obsess about this one kiss. A kiss. What the hell difference would a kiss make?
There has been much grief. Change does not slip around me with ease. I do not go gently. But little by little, I become convinced. I have seen something new—a glimmer of truth in the rent fabric of my universe—and, just as they say, once you see, you cannot unsee. There is no going back, only forward. I recall meeting a Toronto editor for coffee and telling him how I'd blown the whole thing up, blown the lid off, blown it wide open, and him saying, "Well, it looks good on you. You look happy. I'm happy for you." All true, and in between it looking good on me, in between bouts of that happiness (a thing that was never my goal), much weeping. More weeping in the last three years than I care to recount. An ocean, a melted glacier's worth. My body has been melting: from eyes, heart, cunt. The first thing is critical theory, a schoolgirl crush on Jacques Lacan. And Jacques Derrida. Okay, and also Sigmund Freud. I want to hug Roland Barthes (even if the author is dead) and cradle Michel Foucault (because not everyone is out to get you, sweetness). I have a jealous respect for Julia Kristeva because she dares to write such impossible sentences. Is this normal—to fall in love with philosophy? I mean really in love? Is it normal to get off on theory? It's the vulnerability in-between their lines that opens my heart. There is a scene in Freud's essay "The Uncanny" in which he recounts getting lost walking in Venice and finding himself repeatedly in the red light district. Who tells this about themselves? Who dares tell the story of being confronted with himself in this way? My friend, Sarah, says, "It's not a scene, Kathryn. It's not a novel." She's right. It's Freud's narrative of the self: of a self who is willing to tear away his own persona to get at something else, something more curious. I adore Freud's personal anecdotes: the one about the friend who decorates with matchboxes, the one about his grand nephew coping with the anxiety about his mother leaving to work each day by way of mastering a spool of thread—throwing it out (fort) and pulling it back (da)—and how this simple game of fort/da inspires Freud to think harder about the soldiers he was witnessing in his clinic who were suffering shell shock. It's the most minute observation, and from it Freud recognizes psychoanalysis's most powerful observation of all: the death drive—our strange drive toward repetition, the inclination we harbor to greet our worst traumas over and over again, and thus also reiterate the possibility of facing that trauma, and so heal. *** My new analyst wonders what brought me to his office and I tell him that I am pursuing a PhD, that my research is theoretical, and that I want the therapy to enhance and amplify my reading. I want him to believe that my work in his room is theoretical. That it forms part of my study. "Oh yeah?" he says. Even now I can hear the incredulity in his answer. He can hear that I am positioning theory as a defense against therapy, because whatever else, I do not like the idea that I need therapy. Isn't therapy a big crank? My then-husband thinks so. Get busy and your problems will disappear is how he approaches life. This mantra has (badly) served many. "Tell me about your graduate project," my new analyst says. Which is when I burst out crying. It is nice that he tells me right then that he had a client once who cried through several months of sessions. It makes me feel more or less intact. I, at least, get words out in between the tears. I get whole thoughts out even while blowing my nose and covering my face. "It's normal," he says. "It's cliché, you mean?" I answer. He laughs and I immediately form a crush on him. My mirror, my healer. In psychoanalysis they call love transference. Transference is the first thing that my analyst explains to me. He draws a square. I am in one top corner, and he is in the other, in the bottom corners rest our unconscious selves—all the material that I am messily melting. I watch his lips while he speaks. I know it's completely gauche to do so and yet I can't help it. I was taught to look people in the eye. But people's eyes never do interest me. I like watching people's lips to see their words coming out. I like the invisible network of meaning with which the lips are asked to grapple. My analyst's lips are kind. On the image, he draws lines from me to him and from him to me ("that's us talking in the therapeutic session") and then he draws vertical lines from him to his unconscious and from me to mine ("That's the dialogue between each of us and our repressed selves"). Then he traces lines on the diagonal between our conscious selves and each other's unconscious selves ("That's you and me in conversation with each other's unconscious meanings"). He pauses, then, before drawing lines between our unconscious selves ("And that," he says, "would be our unconscious dialogue."). This kind of game is very scary, I think. And then I think how it is all in pursuit of a kiss, because that is what I have really come to talk to him about, even if I won't dare mention it for weeks and weeks. Instead I say, "Fort/da." "What about it?" "Is it always the case that we are destined to repeat?" "They say so." "Is there a way out?" "Yes, in some cases. It's a matter of work." "The fort/da game is work?" "Yes. It is." *** The fact is, I am not happy at all, not happy in my mothering, and not happy in my marriage. I am mostly just frozen in time, reading these brilliant ideas and trying and failing to keep them at bay. It is bound, the iceberg that is me, to eventually calf and send crazy ripples in every direction. I have begun to obsess about this one kiss in 2013. I have won a writing residency fellowship and met an artist and, because he laughs at my jokes and I like the attention he gives me, I fall in love (cue your laughter). I do not know much about the unconscious at the time. I do not have any such skills to think through my feelings and so I am simply left with the dismaying chaos of love and lust and yearning lapping at me in my far-away-from-home residency bedroom. I clutch the symbolic Chanel scarf that a friend who has heard I am going to this well-respected residency has given me. "Marriages crumble in the magic of that place," she has said. It is silken fabric festooned with a bold gold chain design. I wrap it around my face and masturbate. Alone and frustrated, I find myself in love with someone not my husband and all I can think of is not that I want to make love with him but rather that I want, very badly, very obsessively, to kiss him. I want my tongue down his throat. Kissing is not exactly chaste but it isn't the same level of transgression. I can keep a kiss to myself—a secret gem of knowledge, a microscopic lie. I'm not especially proud of this thought trajectory but that nevertheless does not stop me wanting that kiss. If this was a dream and I was parsing it for meaning, it would be bland: I want to kiss an artist. His art is serious, engaged with world politics, he himself is engaged in the world in a way I wish for myself. I want to make a worldly difference with my work and it is hard to gauge; I feel small where I want to feel large. *** A kiss. What the hell difference would a kiss make? The experiment of how to desire without consuming I most like is the one that puts young children in front of a marshmallow. The child is told that if they wait until the experimenter returns, they will be given a second marshmallow. Developed by Walter Mischel, the project is interested in the development of self-control. But what self-control here means is that they have to wait. Regardless of whether the child endures the seeming torture of this delay (in videos on Youtube children bang their heads, poke themselves and cringe as they wait), in the end the child always consummates his desire. He either gets immediate satisfaction or he gets twice the gratification later. Yearning only grows with the wait, it seems. Eros builds the more we try to stave it off. In one case, a young, desperate boy, puckers his lips and tenderly kisses his marshmallow. This boy has solved the problem of his desire in this moment by having his cake (kissing it) and eating it, too (well, he eats two of them). Eros is untameable, ungovernable. The heart wants what it wants. All the things that I fantasize the artist is, I want for myself, and I think I will achieve it by way of a kiss. It's an extravagant wish fulfillment delusion. My desire hits the node of the exquisite lack in my being (my hungry wound): I want to be made more myself, I want to consume this imagined future, by way of kissing it. If my lips can only graze up against this man and his work, then won't I be able to more fully taste it? Won't the kiss give me back something, won't it inoculate me into a new path of discovery? The part of the story I cannot admit to myself is that if I felt better about myself, my actual physical body, I might obsess about fucking him. Instead, I repress my self-loathing (my aging, dry, fat body—how I internalize myself at that time) by substituting a kiss for sex. Different orifices, sure, but desire always finds its object. When I dare to ask the artist for what I want, after months of looping thoughts and school-girlish fantasy, I am rebuffed. He does not wish to break up my marriage. He says that he doesn't want to be "that guy." It's true it is a hard time in my marriage. I am seeking a way out—not yet out of the marriage because I'm not quite sure I can bear that (the renegotiation I sense that would be—with myself, my children, with the world)—but rather out of my feelings, of the malaise of self-hatred. I want to be loved even if I don't think I'm worth the effort. I want a contract by way of a kiss; I want a little slip of knowledge suggesting a more-ness about me. I remember with sickening clarity the prognosis of a friend of mine on her narcissistic, self-loathing husband: that he thinks he is the piece of shit that the world revolves around. The artist's rebuff solidifies this awful projection for me. Nothing will change in my life. I am not the sort of person to whom change happens. I don't reckon in the big scheme of the world in such a way. *** Psychoanalysis is, for me, the practice of sinking a bucket into the well of my unconsciousness and watching, dismayed, disrupted, fractured and melancholy, at what the contents of that bucket reflect back at me once I bring it up to the surface. Often it's ugly, often it's shocking, but always it feels like something accurate is being revealed to me. It feels as if layers of material that have, over time, accreted to my skin, are being shed and that I can, finally, and with great relief, breath again. There is a great deal of compost there, gobs of actual shit, and the sort of snakes that relish that. I have let this compost fester for overlong and now, unbeknownst to me, I have come seeking help. The thing about compost, for good or bad, is that it rots whatever is around it, too. It's why we floss our teeth, it's why we move the bad apple out of the pile. This longed-for kiss was eating me, which is what fantasy does if you don't act upon it. *** I try to write it out of my system, try to purge it by telling a couple of friends. One of these friends—Abe, a poet—listens to my story and as I finish telling him, I ask him if he thinks it's possible to have strong feelings like this for a person and be utterly mistaken in thinking that they are returned. He is quiet for a time and then says that he thinks that we, too, have something between us. He doesn't believe that it's possible that my feelings are entirely unrequited. He says that desire only reaches that pitch if it's mutual. I'm grateful to Abe for daring to validate my erratic, disinterested love object. I consider again this idea of my unconscious in discourse with the repressed material of other people, how we speak to each other in uncanny ways, with the strange language of body. *** Kissing is so lovely, I'm thinking (all the time!). Kissing makes me feel more myself, makes me feel good in my skin, in my body, makes me feel juicy. In a good kiss, all the nerves vibrate, the cells stand up at attention. The tongue, the lips, the teeth of the other person press into me. My mouth explores the other's body from this one focused body part. My mouth—the whole apparatus of mouth, teeth, tongue—charts their entire organism in the way that acupuncture tracks neural pathways. This exquisite idea of kissing runs through the body. Kissing is, they say, the most intimate of sex acts, but it is also more than that. It is the most fine, elegant, grotesque hunger. The mouth is the face of desire in this regard. It is the place from which we consume, the portal to the desiring self. It is the place where words spill from us and merge us to the great other—society—and it is the place that welcomes our food, our elemental needs, and our lust for life. By eating the things we lust after—food and mouths and other body parts in the sex act—we symbolically accrete the objects we want to ourselves. We absorb and have by way of our mouths. Kissing achieves this sense—or at least it does for me—of getting something, of luxuriating inside a wholeness. Adam Phillips writes that "with the mouth's extraordinary virtuosity, [kissing] involves some of the pleasures of eating in the absence of nourishment." In this way, we eat each other. Oh, to kiss! When I kiss and that kiss is reciprocated, I feel what Freud calls the oceanic. I feel awash, unmoored, disconnected from the constraints of my life—I feel languorously, dangerously, wickedly creative. At the time of wanting a kiss and only a kiss, I have not felt this for a great long time. I have not kissed in this way for what seems like years. Marital kisses have become perfunctory, a chore, like the dishes, or taking the garbage out—one kisses in marriage because one is supposed to. Those little hard kisses are killing me. I am furious at them, making him kiss me again. "Do it softer, better," I say. "What was that hard, cold thing?" But it is no use. I have a recollection, a shimmering memory, of proper, sloppy kissing. But it isn't something we can manufacture any more. It isn't something one person can have if the other person doesn't feel it. Kissing is a feedback loop. It is a circular hunger, an ouroboros—a luscious, horny snake eating its tail. It is also an infinite untalking. For if nothing else, the kiss requires no words. It is the opposite of social politesse in this single regard. For what you cannot do if you are properly kissing is talk. Your mouth is full. In this way, kissing elides language so particularly and with such insistence that it plunges one into a disturbing and wholehearted bodily disorganisation. Lacan understood this kind of disturbance to reside outside of language. He named it "the real." In his theory of language, we are plunged into the abyss of the real wherever language fails us—where language reaches its limit, where language is insufficient, or where we discourse outside language's mundane and hegemonic meaning. We are in the realm of the real where language ruptures into poetry, or where language shatters us into jokes. Or when we neck. Kissing is surely oppositional to language. Is it not even possible to really speak about a kiss. There is almost no way to describe it without resorting to analogy or without risking obscenity. Well, it is obscene. It must be obscene because it does away with the civility of language, the very thing that constructs our civilized world. It eliminates everything we know, and all that we do not know and cannot know (there are no words for it). That is to say, kissing is nothing. It is the opposite of something. It is nonsense. It is a game—playful and therefore also creative. *** But not what I am doing. I am not quite able to follow the thread my fantasy leads me down. It is a puzzle inside of which I am trapped. I am busy in my head, circling around kissing. I imagine kissing, jerk off to these imaginings, and do nothing at all about it. Everywhere I go, this magnificent kiss follows me, but never do I do anything about it except talk to a few friends and try to externalize it by writing about it. The kiss is persistent, though—it wants to be played. *** One key detail about the structure of language as it "creates" the world in which we live is that it is not steadfast—language comprises a spectrum of signification (words) from odiously regulatory to poetically freeing. Language can tell us how to drive a car, manage a money market, or put together a bookcase but it can also incant a song or undo itself in an experimental poem. In the former instances, we may benefit from words staying put and meaning what they mean and, in the latter instances, we might find ourselves excited with their ability to scramble our senses, unlock us from stasis. Because language has multiple valences: metaphor, metonymy, for example, it flies off the handle even as it gestures meaning. And in this way we are bound to an apparatus (language) that leaves room for desire—a language that thrusts us into the real. It has a built-in outlet from hegemonic conformity, one that correlates to desire. *** For Lacan, desire is connected to the wound of subjectivity—that barred feeling we experience as a result of our entrance into social norms. Desire and lack are bound. We feel this fleetingly—the feeling of something being solved or completed—when we fall in love, when we buy something we badly want. But the fact that desire erupts again and again suggests death drive, a repetition which rotates around our trauma (our subjective lack). Our wound has to do with the way that language structures us into our society, as well as, the particularities of the way by which that wound was incurred. Each of us desires in different ways and these desires therefore have something to tell us about ourselves. We have desires that recur, or love objects that strangely resemble one another, we might find ourselves again and again buying race cars. Desire, as it erupts in objects that beckon us, is always speaking to us about some aspect of ourselves that may benefit from some introspection. Such is the repetition of trauma. The desire to buy a Maserati might be parsed as: I lack drive, I want drive, I want agency, I want freedom. *** It's a kiss I want. It's a kiss I can't stop myself from wanting. In 2014, a solid year of wishful thinking has been inadequately repressed and I am asked to participate in a large outdoor reading event at a downtown park. The convener has decided that as part of the event there will be a confessional, and that event-goers will be able to confess to authors. I'm a lapsed Roman Catholic so I don't know why I agree to participate in this: I should have seen God's hand coming to slap me awake. The first person in my confessional is a middle-aged woman. She tells me, at length and in detail, the story of her long extra-marital affair. She wants advice about whether she should tell her husband. She is miserable with shame. I can't recall what I say to her but I do remember thinking that people must be hurting in the world if they come into a confessional in a park in midtown Toronto and spill that sort of story to a novelist. Confessing to a writer is ludicrous. Forget absolution. Forget penance. Our salvation is the pen and we are as likely as not to just go ahead and steal your most shameful admissions. I absolve her. I want to give her a hug. The next person who comes in is a woman I have recently "met" through Facebook. She says that she'll only confess to me if I confess to her. This game seems safe (it is not). I take the opportunity to tell her about the kiss that got away. I have forgotten what she tells me, and after this we become friends and both of us forget—for a long time—the laughs we had in the confessional as I tell this meandering story to her about wanting and failing to procure a simple kiss. *** I wonder about elision in storytelling. I ask my analyst if forgetting is always defense, if we always elide the bits of stories that terrify us. I ask because I have failed to tell the woman in the confessional the whole of the story of the kiss. I tell my analyst this story now. I recount that the artist has told me that he has a history of errant kissing. That his own partner has the year before discovered his transgressions and left him. His ex-partner then begins a durational performance art piece that involves almost, but not quite, kissing. The kiss that contains trauma, I suddenly think, is that special? And then I quickly overwrite the question with what I know: that every kiss holds trauma. Insofar as every kiss dramatically covers over language, it must always also aim at the heart of things. It wouldn't feel so delicious if it didn't aim there. But what is the heart of things for me, and why this godforsaken fantasy kiss that will not go away? Did I somehow vibe into the artist's marital dissolution—else why him and why just a kiss? My analyst suggests synchronicity, says that experiences sometimes display a kind of symmetry or simultaneity. It feels like magic or God's hand, if one were to believe in either. Freud would say that it is uncanny, this walking back to the red light district of my heart. It is certainly uncanny the way things replicate not just in my life but also in the so-called real world. Is it possible to replicate on a broader scale? That is to say, can a kiss bounce across individuals? Did the artist unload his desire on me? Did my unconscious speak to his? And then time flies. And in 2016, on a walk, the woman from the confessional stops me under a bower of trees along the Lakeshore in Toronto, the same place I have walked with the artist two years prior. She holds me by the arm and says, "I promise never to do this again if you don't want me to," and she lands that fucking kiss right on my lips. *** I have been fantasizing a kiss, talking about a kiss, and thinking about kissing for three years at this point. I have begun to think that kissing might be dead for me, that the story might have run its course. The short fiction I have written about the kiss is long published, and there is a sense that I have exorcised it by way of writing and talking about it. And then this innocent, slight, glancing kiss. Hardly a kiss, really, because it is so unexpected, I have not really participated in it. It is strange to be kissed by someone new—a woman. We see the kiss in film all the time—we long for it as a marker of plot, as if a kiss signifies a kind of attainment, or ending. But as a performative, it never really does solidify anything. Instead, it seems to unleash us from contract. The feeling it gives is one of freedom, or pure lust, of desire run rampant, of desire spilling into itself, of a thing that cannot contain itself. Maybe that's why it ends in two s's and sounds as if it wants only to run away (with one). This reminds me of word lists from early grade reading primers: miss, kiss, bliss, hiss. There is a sense in each instance of movement, egress, transformation, danger, of something not staying put. This particular kiss makes the briefest of contacts, and because it is a surprise, and because it meets me just inside a fantasy I have long held, it cleaves my world. A long-held desire is in that moment consummated but I am barely even there, and the fleeting nature of the bestowal never has a chance of stopping. And all I want is more. The rest of our walk I try to make myself talk, make words form. "I think you should do it again," I finally dare to say. And so we kiss, this time both of us. A kiss is so innocent seen from the outside. I am not sure I like it. I love it, I want it, it makes me feel lustful and on the edge of something important, but after so many decades of kissing one person, the change in lip is strange, a repetition with a huge difference. Also, I have not known I would want to kiss her. I did not know or build up an idea of this particular kiss and so, in a way, it is a sort of ur-kiss. An exemplar. A kiss for the sake of a kiss. And so, it is a special sort of almost theoretical desire suggesting more. Whatever that is residing in that kiss, with this woman, I want to get to know. Actually, I need to. It is as if a rope ties itself to me and pulls me toward it. I am generally the sort of person to turn a thing over and over in my mind before acting, but this. This feels vocational. Beyond me. Out of me. I call my analyst and say, "What should I do?" and he says, "Well, you can work analytically through the questions and subsequent desires arising from this kiss—or you can muck about inside an embodied exploration." I ask him if he thinks it's possible to do both. There is a second of quiet contemplation at the other end of the line, and then I hear him laugh. "Yes," he says. "Of course. You can have both." He asks me what I would do if I took away the prevailing taboo—of transgressing my marriage vows. The answer is easy. That rope is tugging me hard, jangling my unconscious. *** My inability to halt the call to this desire ends with the dissolution of my marriage. Two years of kissing this woman and I am still obsessed. The lip bite, the tongue slide, the nibble, the deep throat, the lip on tooth, the soft touch, a finger slipping in between, a lip that flips the other's lip—all the nuances of how we kiss wondered at and thought through. Can a kiss feel this good, initiate and sustain such excruciating longing, and simultaneously heal? Is it possible that kissing like this does something good or wholesome to that lack-in-being Lacan spoke about? If the kiss makes it impossible to speak, can something else be amply communicated? Where talk therapy depends on the accidents that burble up in language, the kiss is another kind of discourse. Humans are the only species that kiss in this way—it makes me wonder if all we want in this sex act is to please, please not talk. Walter William Skeat defines the kiss as a "salute with the lips." Osculation, the Latin for kiss, means "a little mouth, a pretty mouth" and connects up to a mathematical notion of two curves barely touching at a common point. Etymologically, the kiss has a puritanical limit—a mere peck of lip on lip. But the kiss is more than lips in salutation. When we kiss, we cannot eat, we cannot talk, and we limit breathing, too. If we kiss hard, we will eventually die. In this way, the kiss connects us to the part of ourselves that recalls a time before language, even before eating became our concern. The prettiness of the glancing lips is suggestive more of desire than of getting off, is more in line with an unattainable commodity, an unbreachable distance, of a dare barely taken. This has little to do with the true mechanics of a proper kiss in which the participants are merging—eating one another—disabling their language capacities by using their pretty mouths to untalk. And in the chaotic, undoing incidence of this untalking, we lose ourselves. *** In the first dream I ever recounted to my analyst, I visit a Canadian surrealist poet's cabin. I have no idea if this poet has a cabin in real life, but in my dream he does, and I want to get into it. Every time I try to open the door and look around, his cat attempts to escape, and I know that if I let the cat out, the poet will know I am trespassing on his sanctuary. My analyst says, "The cat is trying to get out," and I say, "Yes, it's curious," and he says, "But you don't want to let the cat out?" and then I see and hear it, the sonic charge of my dream. At the time of the dream, there has been no transgression but, already, in my deepest self (the place that only dreams can read), I know there is something I need to keep a lid on, a door closed on, a key locking it down. Now, the kiss, as I begin to explore it, has blown the lid off, for sure. It is this losing myself outside and inside of language that I must have been after all along. I want (still want) the bright, frightening space of losing control, of unlinking from society (from the regulatory aspects of marriage and expectations put on me all through my upbringing), from my ever-busy brain, from the assumptions into which language has woven me. I want the ungovernable eros of kissing to permeate—everything.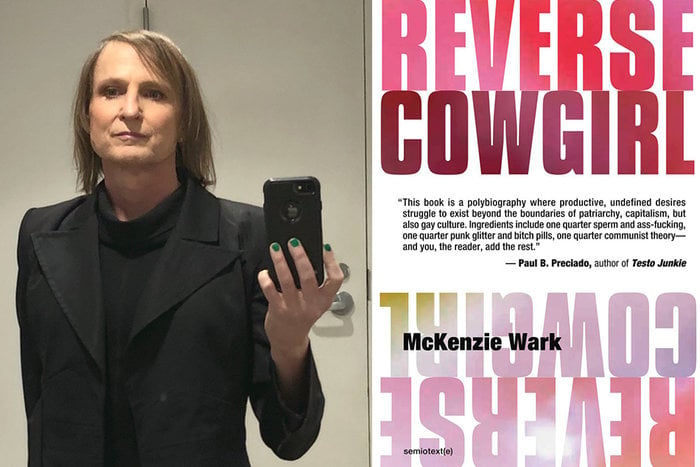 The author of Reverse Cowgirl on autofiction, an uneasy relation to place, and languages of sexuality. 
I first encountered McKenzie Wark's hyper-astute thinking about technology, mass media, culture, politics, and critical theory at university, yet her work exceeds academic territory, taking into account class and labour struggles, as well as the impact of global capitalism. A Hacker Manifesto, Gamer Theory, and Capital is Dead: Is This Something Worse? have all been game-changers in their respective fields, and the 2015 release of I'm Very Into You, Wark's correspondence with famed writer and artist Kathy Acker, caused a collective swoon amongst Wark and Acker fans alike. Capital is Dead opens with the query: "What if we asked of theory as a genre that it be as interesting, as strange, as poetically or narratively rich as we ask our other kinds of literature to be? What if we treated it not as high theory, with pretensions to legislate or interpret other genres, but as low theory, something vulgar, common, even a bit rude—having no greater or lesser claim to speak than any other. It might be more fun to read. It might tell us something strange about the world. It might, just might, enable us to act in the world otherwise." In Reverse Cowgirl (Semiotext(e)), Wark's latest release, she's done just that, offering up a new model of a transition memoir. Constructed as a robust series of narrative reflections, cultural observations, and third-party citations, Reverse Cowgirl addresses the question: "What if you were trans and didn't know it?" An hour before teaching a class on trans aesthetics at The New School, where Wark is a Professor of Culture and Media, she kindly spoke to me about her experiences of trying to answer this question through writing. Esmé Hogeveen: Midway through the book, you write: "This is more a meme than memoir. Not a personal essay so much as an impersonal essay. It's genre less adventure tale than misadventurous genre tail. Not only literary criticism but also critical literalism. It's not about coming of age, it's about the age of cum." Given that autofiction and autotheory are having quite a moment right now, I'm curious if you felt a need to comment directly on your interpretation of these genres? McKenzie Wark: There's a tendency to think of autotheory as newly in fashion, but for me, it has roots in Michel de Montaigne, Roland Barthes, Michel Leiris, the later Guy Debord texts. Same with autofiction. Particularly in French literature, there's a whole vein of writing selves—Marguerite Duras, Guilluame Dustan. I think it's more interesting, however, to separate out the autofictive from the autotheoretical, and to consider how they become related. Considering how autofiction has become a way to narrate and reflect on non-standard lives strikes me as key. Who are the people who don't fit the realm of the novel? For me, they're for whom autofiction exists—where, of necessity, you don't get to tell stories about marriage and property. And then, next step, to make that conceptual, make it autotheory as well. I'm curious if you had any sense of Reverse Cowgirl fitting into an epistolary tradition? An earlier version was epistolary and addressed to people in the book, particularly those who had passed. I couldn't sustain that, though, and so I turned it into something else. But letter writing was definitely part of the book's evolution. The novel comes out of the epistolary tradition, and I was interested in opening up questions about how form is invented as you write, and about how a writer shapes the possibility of who the narrator is. I was curious about how that might happen without defaulting into autobiography, novel, memoir, or letter form. Speaking of form, there's a turn that happens between the first and second parts of the book that includes a significant gap in chronology. What inspired you to make this leap, and to expose the reader to almost a meta-commentary on writing in Part Two? When Chris Kraus and Hedi El Kholti at Semiotext(e) accepted the manuscript, there was only the first part and the story sort of ended there. It's a book I tried and failed to write for ten years. I could finally find a form for it just when I decided to transition. At that moment, the topic I really had knowledge of was being what trans people call an "egg." I had already socially transitioned when I was working on the book, but I wasn't on hormones, so I kind of see it as a book that ends before it ends. In one sense, there's a life that is over, and so able to say certain things about itself. But then something else begins: a really excitable and quite naive trans woman appears in the last few pages. She has an almost mythic point of origin, where everything's new and fresh. So the book has sort of the opposite of the bildungsroman structure, where you come to the truth of the self at the end. I feel like Reverse Cowgirl ends with this person who has no clue who she is whatsoever, but isn't bored anymore. Did writing about growing up in Newcastle, Australia, cause you to reconsider the influence of "home" on your identity? (I'm doing air quotes around "home" right now!) I quote from one really good book about my hometown (Southern Steel by Dymphna Cusack) and one or two literary friends, but that's about it. I don't know how the book is going to play in Australia, because I wrote about Australia in American English. I don't just mean the spelling—the tone, weight, and meaning of certain words and how they scan doesn't really have much relation to Australian literature at all. I think the book has a displaced and uneasy relation to place, but I'm kind of a self-hating Australian so that's all I can say. It's the expatriate dilemma. But I hope Australian readers might be interested in what an Australian can do within the space of American English. I noticed the discussion about using Australian "arse" versus American "ass" in the chapter that includes your email exchange with Chris Kraus. Arse is just not sexy to me. It doesn't have the same range of connotations as ass. It reminds me of bad British sex comedy, you know? The reason I prefer French literature to English is that it's much better for expressing sexuality. There are different affordances and a different eroticism and sensibility that, at least to me, aren't possible in white, English-speaking Commonwealth language. Since I can only write in English, I definitely prefer American English as a language of sexuality, though. Were there any aspects of your life you were determined to leave out of the book? Yeah, I won't write about my kids. The only stuff about my family is really about my parents who are long dead. I generally don't reveal aspects of my life that involve other people and I've hopefully fictionalized some living people enough. The exception would be my partner, Christen Clifford, who was also the book's first and more thoughtful reader. The book is very, very selectively revealing. I've used some pseuds and changed some details, but I'm a little conflicted about those issues. Guilluame Dustan wrote in a serial way that I really like, so there might be a sequel with other stories that lace through and even contradict those of Reverse Cowgirl. In your last book, Capital Is Dead: Is This Something Worse?, you explored vulgar Marxism. Recognizing that vulgar Marxism is distinct from linguistic vulgarity, I'm still wondering if you sought to describe sex in explicitly "vulgar" or colloquial language when writing Reverse Cowgirl? That twin sense of the vulgar might connect the autofiction and autotheory sides of my work. Reverse Cowgirl is about bottoming as praxis, and—why not? There are endless descriptions of fucking in the English language, and the best are in porn rather than literature, frankly, because of porn's interest in detail and suppression of the metaphoric. When writing, I was really interested in how precisely one could describe, particularly remembered, acts of fucking. The sex scenes were written first and all together. I was alone in a hotel room in Seoul, Korea, and supposed to be doing an art world junket and I just wrote all those scenes. I felt there wasn't a whole lot written about the details of an egg-state trans woman's sexuality. As I say in the book, no one needs to read more about a cis man fucking a woman, so I only included one scene like that, which plays for comedy because I'm so disassociated when I'm doing it. So the book is vulgar in that sense, and vulgar in the Marxist sense by being interested in what practices are, and by trying, in a very minimal way, to be honest about who is doing what labour and how class comes into it. I'm curious if you anticipated that shopping and fashion would be such core themes? There's stuff in there about the commodity fetish and the sexual fetish, which again connects autotheory to autofiction, as I had both fetishes at once [laughs]. I was interested in the layering of presentation and how bodies are always erotically and sensorily charged no matter how many layers you're wearing. You're never naked in the sense that you're always wearing an image of yourself, yeah? I was also considering images available in the mass fashion culture of the '60s, '70s, and '80s, so fashion was maybe always going to be there in that I didn't want to talk about ass-fucking for an entire book. How people appear to each other in everyday life, and how you play with those appearances, is also part of trans experience. For instance, I dressed like a girl through the '70s, and nobody noticed because everything was unisex. Yes, that comes up in the chapter about David Bowie! I was trying to recall what it was like growing up in that broadcast culture. There were literally only forty songs played on top forty radio, so you had to find the one song that offered another possibility for how you could exist. You couldn't go on the internet and find your preferred flavour of being. You had to read through things that were polyvalent and Bowie, for example, was a master of that. I'm thinking about the moment when you reference the Stuart Weitzman 5050 boots. Iconic! [Laughter] They're a bit of a trans girl cliché, I think. You can get them in big sizes, although I'm only a women's 9—runway model size [laughs]. I really appreciated the Otto von Busch quotes about "feral fashion" that you included. He's a colleague here at the New School and he's always spectacularly turned out. I've learned a lot from him. He equates fashion with systems of fascism, thinking about submission to dominant style as being a form of aesthetic fascism. I'm putting it a little more strongly than he would, but the idea reminded me of how I never wanted to be too singular while I was growing up. I never wanted to sign off on dominant fashion systems, nor did I want to be a complete outsider, so it felt like I was always negotiating between the two as you work your style through the fashion cycle. Now I just dress all the time like it's 1967. While we're talking about personal style, I'd love to ask whether writing about fashion being in tension with commodity culture made you feel more or less skeptical about clothing's liberatory potential? It's funny, critical theory in the '80s was about trying to reconcile yourself to being inside closed systems, where any form of play was inevitably internal to those systems. Recognizing that your resistance is what those systems fed off of, you still just tried to extract some possibility of belonging in and against the mass commodity market and its fetishistic surfaces. It's sort of bittersweet now, because I look back and view my fascination with style as also a holding pattern for navigating obtuse gender dysphoria and not realizing I was trans. So fashion was helpful, but also obscuring. Did writing the David Bowie chapter, which is a cross between a letter and an essay, feel like a refreshing opportunity to analyze a character other than yourself? Yes. Bowie is one of the reasons a lot of us are alive. It was really weird when he died and I learned that all these super straight people also felt connected to him. I thought he was for us, but the whole point of pop culture is that it's for everybody in all these different ways. And Bowie had a certain genius that was all about appropriation. He stole it all, obviously. You can go through the eras and see how he was appropriating and mixing. But yes, he died while I was writing the book, so his death went into it, too. I felt like I could make him a character that would thread from my teenage years to my emigrant New Yorker life. Bowie came to New York just before I did. That's a thing about this city: it always had these outsize outside characters who populate it as a popular imaginary space. David Bowie was one of them and it's just nice to know you walk the same streets that he walked, that Candy Darling walked, that Miles Davis walked, and so on. Several of the book's key themes seem to crystallize when you write about Bowie. In the "Queen Bitch" chapter, you describe "teenagers of the seventies [who] lived through the great cult of cock." You write: "[I]f one had a cock, you could try to mimic the simulated cult of it on display in rock and roll. But if you did, and it worked, the girls you fucked were not dreaming of you. They were dreaming of rock stars. You've got to be the substitute for the substitute." Can you talk about this idea of substitution? It's from The Who song "Substitute": "But I'm a substitute for another guy / I look pretty tall but my heels are high / The simple things you see are all complicated / I look pretty young, but I'm just back-dated, yeah." I remember when that was on the radio, because I'm that fucking old! Those '60s pop songs were like nursery rhymes to me. That was a key song about doubling and replacement. I read it as really being about class, but it contains all sorts of feelings of insufficiency in relation to the idolatry of pop. Bowie came at the end of the era when rock stars were men with big, swinging dicks, and the dick was hidden but supposedly real. It's interesting how much that's faded away now. But then to be the substitute of the substitute is '80s semiotic theory—the endless chain of signifiers, each replacing the other. And Bowie is interesting for how he cut across those eras. We know he fucked under-age groupies. He was no saint. But there's also a camp reading where you know Bowie got fucked in the ass. There's a way that Bowie's personas—and that's what they are, it's never him—have little particles of someone who bottomed as well as topped and had a complicated relationship to gender and other layers of being. He's a substitute for a substitute. He's someone you sort of know has also done some really bad things, but when you get to Bowie, it's endlessly substitutable and that's sort of the point. It struck me that this capacity for substitution is what signifies Bowie as different from the rock gods that came before him, the big "authentic" dicks. You often invoke Greek mythology, specifically referencing the goddess Ariadne and linking her to Bowie's spiders from Mars. I'm wondering if references to diverse mythologies felt crucial to Reverse Cowgirl's project of imagining new selves or horizons? As I was working on Reverse Cowgirl, I was writing about Kathy Acker. The Acker book is called Philosophy for Spiders and there will be a lot more Ariadne myth in that, having to do with simulation and doubling and mechanical reproduction. So a bit of the Ariadne myth ended up in this book, as well. Kathy thought that myths begin as a sensation of a chaotic universe but then the story of the myth ends with a somewhat artificial re-establishment of an underlying order. In her own writing, she tended to cut out the parts about order. Instead, she gives us myth's chaotic face in its pure form. So I wanted to include myths that had the first part of the mythic story without the orderly conclusion. I mean "story" here in the Walter Benjamin sense, as in small templates you can use to think all sorts of different things. Like a template for a concept that isn't specific, a good myth has the function of being able to do a few things at once. The other myth I played with was another one Kathy worked with: Orpheus and Eurydice. I use Jean Cocteau's film version. It's sort of the fulcrum point of Reverse Cowgirl. I felt like I had to include some version of why I transitioned it, but I decided to make it a myth. In my version—spoiler—Orpheus is Eurydice, she is the multitude he contained and can no longer contain. I don't really care to figure out the origins of my transition beyond that, so myth was useful. My transition happens late in the book, and that last section is where something else begins. With regards to mythic order, you also write, "In my utopia: before anyone attempts to fuck another, they will first have learned how to be fucked. Irrespective of genders or whatnot." This is advice I give to everybody! Especially cis girls whose boyfriends want to fuck them in the ass. I wanted to give a vulgar description of what a utopia might be. Maybe one that doesn't scale. Perhaps utopias have to be temporary in time and space. A good rave may be the next scale up in terms of what a utopia can be. I might have to write about that in the sequel. But I wanted to include a utopia that has a minimal reciprocity of both difference and connection. That one learns to bottom before one gets to top is my whole sexual ethics. In an ideal world, boys would not get to put their dicks in anything until they'd been thoroughly penetrated. But would that world ever come? Maybe not. Oh, let's not rule it out though! Soon after that last quote, you write, "But basically, there are the fuckers and the fucked. I wanted to be, and became, one of the fucked. To become flesh." I'm curious if you see the positions of "fucker" and "fucked" as always juxtaposed? And, if so, does maintaining space between those positions feel necessary given what you've just said about the importance of being fucked being the primary encounter? I have to admit it's a whole sexual ontology. I don't know if I'm like that anymore [laughs], which is a weird place to be in. I'm not sure if that's me anymore. Stay tuned for the sequel! Trans women's sexuality is a whole other experience that's not widely written about, although do check out Torrey Peters, Carta Monir, or Juliana Huxtable, for example. But yeah, I wouldn't want to universalize Reverse Cowgirl or claim it reflects anyone else's experience. One of the things the book is trying to do is to excessively generalize from a very particular kind of experience—my own—to show that anybody is welcome to do that. The details of any autofiction can also be abstracted into its own wonderfully specific autotheory. There's a point at which any kind of generalizing becomes crazy. All sorts of universalizations probably come from super weird and specific experiences, so it takes a bit of nuance to accept that one could generalize an entire worldview through one concept of utopia and a very particular sexual act. That generalization could be completely persuasive and real for someone who shares that experience and unreal for anybody else. My concept of utopia doesn't negate anyone else building a different worldview. It's more fun to try to put them against each other. Maybe someone else has an entire worldview based on non-penetrative sex. There are versions of political lesbianism that are actually exactly that and my worldview doesn't negate them. It's just different. The language of trans-ness doesn't come until the last part of the book. There's a great nugget on page 178, where you say, "Since I was already writing this book, I thought about the writing, if 'thought' is the right word. More that I felt it. Felt the book in the body, and the body in the world, the book in the world, the world in the body… Since the body felt fine with itself, for once, it felt fine in the world, and the book felt like it could be fine in the world someday, too, or almost." Was writing the book a process of bidding farewell to a version of yourself? That's a whole fallacy around the relation between writing and life. Like, writing doesn't sum up life at all, as if life happens and then you contemplate it and explain it. I was actually able to go on living by writing the book, not the other way around. It was tempting to go back and change the book once I'd decided I was transitioning, but I didn't. There were only one or two little tweaks to the music of the text, so the ending doesn't completely blindside the reader. There isn't too much teleological foreshadowing going on, at least I hope there isn't. Did the moment where you take mushrooms at the lakehouse and come to this full—I think you use the word "giddy"—decision about transitioning happen while writing? A little bit, yeah! There was a certain element of deciding on a whim, both about the book and about the transition. The Eurydice myth is fiction, but I did go to a lakehouse and I did have a fantasy while tripping up on that hill. But I wanted to avoid imposing too much retrospective consistency onto things that had happened earlier. I wanted the things I thought I really knew about my pre-transition life to stand and to let the much shorter, second part of the book kind of kick that sideways. I go off somewhere else, but I think that's more what life's like. I've found it a little uncomfortable that the dominant genre for trans writing is autobiography. They tend to have arcs and end with reconciliation. My transsexual life wasn't like that at all and I think lots of people, trans or not, have lives that don't add up or make narrative sense, so I wanted to open and expand what happens in trans writing but also for anyone who finds life too accidental to read like a novel or memoir. With a couple exceptions, I didn't find myself in the literature that was available, so I wanted to open a space for other trajectories.
The author of In the Dream House on gaslighting, the lack of institutional capacity for change, and formal experimentation. 
When I meet author Carmen Maria Machado—essayist, National Book Award finalist for the fiction collection Her Body and Other Parties, and now memoirist—it's a bleak, freezing morning in Toronto. She had been out late at an event promoting her new book, In the Dream House (Strange Light), and is fighting a brutal cold. I'm there to talk to her about this newest book, which chronicles an abusive relationship Machado had with an ex-girlfriend. In the Dream House is primarily written in the second person, as though Machado is addressing a younger version of herself who is simultaneously excited about the new relationship and slowly trying to grapple with the accumulating red flags that present themselves through her girlfriend's controlling, rage—induced behaviour. Alternating her own memories with cultural criticism, she looks to fairy tales, academic texts, pop culture cornerstones, and other mediums in order to relate her own experiences in a larger context of abuse narratives that centre on heterosexual physical violence. It was, of course, a heavy subject to broach on a weekday morning while Machado is drinking an herbal tea, but it's subject matter that she has been sitting with for years now—first in her life, then in her art, now in a press tour. Still, she has a lot to say, often letting one thought trail off before switching to another, still trying to find the right words to express what is widely experienced but rarely talked about. Anna Fitzpatrick: You're touring a book right now that's about trauma, so my first question is just, how are you doing? Carmen Maria Machado: [Laughs] Great opening question. I don't know. I'm OK. I'm fine—my little pin [points to pin on her lapel that has a cat in a box that says "I'm Fine."]. It's been really hard. The process of writing the book was hard, and the process of touring it. Touring it is not as bad, but it feels similar. It's very intense, and I certainly will be excited to be done with this part of it, and I'm excited to talk about other things. Have you been meeting people on tour who have been sharing their experiences? I have, which I expected. I get a lot of messages online. I think, when you feel like someone's speaking to you and you haven't felt spoken to, people respond in kind with their stories. Which was, I'm assuming, one of the goals of the book. Such as with its dedication: "If you need this book, it is for you." For sure. There's one part of the book where you're talking about fitting your story in this history of queer abuse narratives, of which there aren't that many, and you bring up one example with this Bollywood movie Girlfriend. It shows the butch woman as abuser, and the femme as a mostly straight woman who is temporarily seduced away. In a lot of depictions of abuse, it shows this similar dynamic. How do you think this fits in with how society views these gender dynamics, and the way these biases are placed onto queer relationships? The fact that that story—you know, "Oh yes, the butch, the man, is the abuser." That was a thing I found doing my research, when people are talking about it they would talk about it, like, as butches beating femmes, this reproduction of this heterosexist dynamic. It's obviously fucked up, and not accurate, and not helpful to anybody, 'cause it just reproduces this idea that only men or masculine people abuse, and women or feminine people are abused. And it's like, no, that's not the dynamic. That's a version, but it's not the only one. Your book is about how the way we talk about abuse is in this limited imagination, that even when people try to "queer the narrative" that imagination is still limited. Well, the narrative is insufficient. It's very gendered, it's very white, it's very size-ist, you know, this idea of a big dude beating a little woman. All these very weird assumptions and connections that we project onto it. But it's very interesting, because it tells us a lot about how we imagine trauma, and how we imagine violence, and how we imagine gender, and all these things. Formally, your book has been getting a lot of attention. Every chapter heading in the book calls attention to different narrative conceits. In the process of writing that, did you start with just writing and seeing which themes or motifs jumped out, or did you work backwards? It just depends on the chapter. The memoir bits, those I was writing what happened. I just wrote what happened, and then figured out how to frame the discrete scenes or pieces of it. For the essay ones, and a lot of the ones where I'd do like, time travel, I'd think about time travel in relation to this whole thing, and then I would write from the prompt of the conceit. It was really dependent on which chapter it was. Did having those prompts help? Oh yeah. A lot. I work from prompts really well. I work from conceits and constraints, and I feel like my brain, somebody gives me a thing and then I take it and run with it. It's actually really helpful to have those things. I don't know if I would have thought in those exact terms if I hadn't had that thing kicking off my brain. Which sections were most challenging to figure out, in terms of form rather than theme? Just the general shape of the book. Putting everything in order was really hard. My editor actually had to help me do it. He did it for me [laughs]. When I was writing it, the memoir bits were in chronological order, but all the history pieces were in the order I wrote them in the document. I was like, OK, I actually have to put these in throughout, and I had to figure out where they belong, and so I actually had to have him do it, because I was so stressed out and I couldn't make it work. I was like, "Can you do this for me? My brain is truly broken." He was like, Yeah, of course, and he did it. It was amazing. Who was the editor? Ethan Nosowsky at Graywolf. He's a genius. He's a really—we're very simpatico. Our brains are just very synced up in that way. He did a great job. He put it in the correct order. Writing the individual pieces wasn't necessarily formulaically difficult. I guess the Choose Your Own Adventure had a lot of things I had to figure out. What sorts of things? How to structure it, because you had to map it out. You have to make sure it's doing all the things you want to do. That one took some work. With trying to find these thematic narratives, you look to a lot of stories that don't necessarily depict abuse in an overt way. The most notable one is the Star Trek chapter ["Dream House as Five Lights"]. You have essays about Disney Villains and old films. How did looking at these different forms of pop culture, different ways to tell stories, how did that help you ground your experiences, if at all? I don't know if they grounded it. I feel like I was just really interested—I'm sort of a voracious consumer of books and movies and video games and TV, and that is just the way I've always been. I feel like it was really interesting to me to see the ways human experience is really fractured and fragmented through those narratives. They gave me lenses to think critically. I feel Gaslight was really instructive, sort of for a few reasons. Like the story of it, evolution from play to film to second film, and the way they tried to destroy the old material to pretend it didn't exist, that was really interesting. The fact of Gaslight being a narrative in which, actually, the husband is not—like, he doesn't lay a hand on her. He does illegal things, but not to her. There's a lack of violence, physical violence. It's a lot of emotional and psychological violence. That seemed important and relevant. It seemed the way in which Gaslight just had this cultural footprint with the language, the way we talk about it, gaslighting seemed relevant. It feels like so many things pull out of that one film, or that one property, because it's been multiple things, that story, it feels so... Star Trek is the same way. That episode where I was like, Oh, there's something happening in here about, you know, being told to think a thing that is not true, and then eventually coming to believe that it's true, which is really fucked up. Or "Voices Carry," talking about Aimee Mann, talking about how that song was initially about a woman, which is such a strange thing. What a weird footnote. It just felt like a different way of thinking about it and understanding it and getting a different sense of how other people have thought about these things. The Aimee Mann example is such an interesting one, because the seeds of the story are there. The stories are in the public, there's this history there, they're just not talked about explicitly. The thing about "Voices Carry," I remember years ago hearing that from someone. Like, someone said to me, "I heard that 'Voices Carry' was supposed to be about a woman." And I was like, "Really?" And then I was looking it up and thought, surely someone has written about this, and I, like, found the material where the producer is talking about it, and thought, "OK, great, so I have that." Again, I thought certainly someone has written about this, this seems so relevant. Couldn't find anything. To the point where I was like, "Is this really anything?" It just felt really strange, that I heard a rumour, someone mentioned it to me. Like the Berenstain Bears Mandela Effect. Exactly! It's also like, it was for a while on the Wikipedia page for "Voices Carry," but then at some point it was gone. It's a fact that just seemed to exist in this weird liminal space. It's like, how weird, you know? What a weird super apt metaphor. It was so accurate, and the fact of it just being made with male pronouns, but that the video is so over the top, and he's so masculine, it's just so interesting to me. I feel like those pieces just gave me a whole new way. It wouldn't be enough to just be in my own brain, because my own brain is insufficient. I need to sort of be looking in what other people have done and talked about, and that just feels important to me. That's sort of one of the big points of art, to see certain narratives reflected, and to know that the history of queerness didn't start in 2008 or whatever, when certain mainstream sources started to pay attention to it. The same with the history of abuse. Right. These stories have been around for a long time. "Gaslight," I feel that's a term that a lot of people didn't really know about until a few years ago, but then it just hit the mainstream. If you search on Twitter now, you'll see thirty different definitions of what it means. We're having a moment where people are talking about abuse, and so many stories are coming forward, but in a way that's sometimes messy, and people don't know what the next steps are. People are still debating what gaslighting is, or people discussing what we're supposed to do with the art of "bad men," and all these other conversations. I was wondering if you've given any thought to what happens next? Hmm. It's funny because obviously there is no agreed upon... like a formal body of who said what gaslighting is. I think people use it to mean a lot of things of which I don't think are always accurate or useful as I would want them to be. I think it's also funny because I found it very useful to go back to, not just the original film, but to go to the source material, and watch the movie, and watch it many times. I feel people are always saying the wrong thing about it. I feel people are always saying, "He's trying to drive her crazy!" There's just all these weird ways people talk about it when they clearly haven't seen the movie, or they don't really understand. I feel going back to it and looking at what he does and his intentions and motivations, is actually far more interesting and subtle and really fucked up, more than I think people fully realize. I feel there's something useful about going back to that material and looking at it that way. People use the word to mean a lot of things. I think it's fully used when describing a full system, so I feel like, in the same way that you can be gaslit in a relationship, you also can be gaslit at a job, where there's a closed system in which there are these agreed upon facts and there's a power structure, and like, you can be manipulated in this way. I've had friends use that word, "gaslighting," to describe a work experience they've had and I'm like, yeah, that feels actually very accurate. Gaslighting also exists in closed systems of oppression. I feel like we can culturally gaslight people. We can culturally gaslight women. We can culturally gaslight people of colour. There's a sense of undermining what has happened through agreed upon cultural amnesia. It is possible to do it in that way. Some people use it to mean "I don't like what's being said to me" and that is not quite gaslighting. I don't know how it connects to #MeToo directly. #MeToo is very interesting to me because I did an event last week at the height of my illness, so I was in a very bad mood. It was at the Strand in New York. Someone asked me about #MeToo, and I think one of the biggest revelations of my adult life has been what I want to tell to people who are younger. I'm not old. I'm in my thirties. But what I want to say to people who are in their twenties and in their teens is, #MeToo is good. It's good that it's happening. I don't think it's going to create long-term change because I don't think that the people who are in power have sufficient incentive to change the way that they behave. We've created a power structure where it's impossible—I think individual things can happen. Good individual things, people can be individually punished, but do I think the culture of men feeling entitled to women's bodies and minds and stories, is that ever going to change? No, I don't think so. I think that's the fact of the world. I don't want to believe that's true. A thing I've come to believe is, expecting institutions, like media institutions or universities or whatever, to do the right thing is really quite pointless. I think when they do do the right thing, it's by accident. It's because the right thing also serves their interests. Institutions are meant to maintain their own longevity. Their function is to keep existing. They will do that in whatever way they can, and sometimes that might include going after somebody bad, but it also might not. I feel like I've watched institutions both relevant to my own story and to this book, and also to other people, all kinds of things, just make bad choices of self-preservation that throw people under the bus and there's no recompense. There's no recourse. I feel that's a very dark and depressing way of thinking about it. I don't want to believe it's true. But I feel it makes the world make a lot more sense. If you believe these things are going to change, you're going to feel sad and disappointed forever, but I've recognized expecting the right thing to happen in this sort of arena, that there's just no point. You have to do what you can do individually because expecting larger groups of people to do the right thing is sort of pointless. Again, I feel people disagree with me. Once I said that, I was at an event and a lady came up to me, and she was like, "Are you in therapy?" I was like, "I'm in so much therapy. I love therapy!" But I'm just saying I don't feel optimistic about the world. We're getting a little better. When it does happen I'm pleasantly surprised. I don't know. Or there might be one public figure associated with an organization scapegoated while the institution doesn't change. Exactly. Right, where it's like, Oh, we can fire so-and-so for saying this thing, but these larger problems going on in our organization can go unchecked. I feel when you realize that, it really does make the world make a lot more sense. Honestly, when I figured that out—and I figured that out through the process of going through this stuff in my life that became this book—once I figured out that that was what it was... [pauses]. It made me feel less crazy. Because I was like, this is actually what's happening. You have this scene in the book where you visit ex-girlfriend's family, and you see that she wasn't created in a vacuum. You talk about her father, and these patterns that have replicated themselves. You also point out that almost nothing she did was technically illegal. I think that speaks to your point about how just occasionally punishing the one public bad person without looking at the systems that create this or the ways abuse happens on a spectrum beyond what is or isn't legal— Right. I think it requires a kind of nuance that we're not capable of on a large scale. You know what I mean? Trying to convince people to do the right thing, or to be critical of themselves, or be critical of their own sexism or racism or homophobia or whatever, I think people want to believe that they are fundamentally good, and that other people are fundamentally good. To encounter evidence to the contrary is very stressful to people. I don't think we want to change in a way that would actually effect change. And to believe also that people exist in a dichotomy of good or bad— Exactly. You want people to be cackling maniacs, like I say in the book. We want people to be like, "Muahaha," twirling the mustache, tying damsels to railroad tracks, and it's like, "Well..." Sometimes people are just fucking selfish, and they don't care, and that doesn't make them evil. It just makes them indifferent or amoral. I don't know. I don't know. Has it become easier to talk about, with the more interviews you give? It's about the same. The thing about being on tour for anything is that you eventually figure out what your answers are, and you say them, and I feel like I'm able to talk about it because it's in this sheath of, "Well, I've now said the answer to this thing or this thing so many times." I can deliver it without having to engage with what it means in my mind and my inner, most tender self. I already did that. It's in the book. I don't want to do it again. It's funny, last night when I read, I went out afterwards with some folks from Strange Light, and Anthony [Oliviera], the guy that I did the event with, was like, "You were so present. What does it feel like to read from the book?" And I was like, Oh I seem present, but I'm a million miles away. I could deliver those in my sleep. If I really thought about what I was saying, if I really super engaged, I don't think I'd be able to get through it, you know? So, I have to kind of create this distance for myself. I could recite the Bluebeard chapter from memory. I need that for my own sanity. The stuff that's really interesting to me is the formal stuff. I like talking about structure and craft. That to me is very interesting. I'm a little less interested in talking about—which doesn't mean that people shouldn't ask me about it—but I'd rather talk about structure than about the worst thing that ever happened to me. But you know. It is what it is. I'll tour the book until I don't, and then I'll never talk about it again [laughs].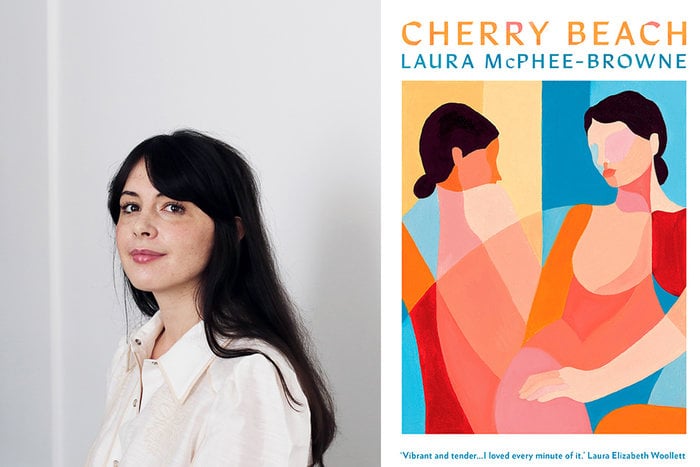 The author of Cherry Beach on exploring different ways of being, becoming comfortable with open-endedness, and putting yourself out there.
Laura McPhee-Browne's debut novel Cherry Beach (Text) is about friendship, but it's also a love story, in that your earliest best friend-ship can be the most comforting and cruel form of romance; a potential blueprint for any kind of intimacy thereafter. Shifting between Toronto, Canada, and Melbourne, Australia, we follow Hetty and Ness, two young women who embark on a new life together overseas. They are the kind of friends who "took everything as an omen": the good things that happened to them meant they'd made the right decision while every obstacle or mishap threatened to take them further away from the life they'd imagined for themselves. And yet the universe has a plan for them that they aren't entirely aware of. The novel frequently reveals how social anxiety disorder can color the reality of growing up. Ness, shy and gentle, begins to learn from a young age how loyalty can be a blessing when navigating competitive environments: she understands that kids at school see her as cool because her new friend Hetty treats her like she is important. When older, and living in a share house, she interprets her housemate's dog nuzzling at her legs to mean "don't worry." She performs incidental, everyday okay-ness when everything's overwhelming. The endless possibility of a place hums throughout Cherry Beach, too: having a heart-to-heart with a friend over sweaty jugs of beer at the Grace Darling Hotel in Collingwood, Melbourne, or kissing in the noodle aisle of a supermarket in Koreatown, Toronto; the lack of a "grand hurrah" when walking out through the airport doors after a long time away. Here, home isn't just a place on a map either—it can also mean a person you've known for a very long time, especially when it's time to move on from the bubble you've created with them. Laura and I spoke to each other leading up to the launch of Cherry Beach in Melbourne. Nathania Gilson: When I read Cherry Beach, I was reminded of the way Mary Gaitskill rejects traditional female ideals of goodness, kindness, and beauty in Bad Behaviour, and the messy friends-like-family intensity of the Neapolitan novels. I wonder what you hoped to contribute to the canon of queer romance novels, or literature that explored both the most difficult and most tender parts of female friendship? Laura McPhee-Brown: I wanted to contribute to the canon of queer romance novels simply because there aren't enough of them, and when I was growing up I would have loved to read more queer fiction. I also loved the Neapolitan novels in part because the love between Lenu and Lina was almost indefinable. That passion and nuance is something I've experienced in all my close female relationships, but it hasn't always been written about. I wonder if Hetty is a modernization (almost Melbourne-ization) of the literary "bad girl" archetype. There's a line in the novel (from Ness's perspective) that goes, "Later, I would wonder what it would be like if Hetty and I had a different kind of friendship, or if we were different people: the kind who laid it all out and hoped for the best." How did Hetty come to life in your head; what were your hopes for her as a character your readers would meet, and form their own ideas about? It's funny—many of the people I've spoken to who have read the book so far have seen Hetty as a rebel; a bad girl and the life of the party. But when I was writing her, I saw Hetty as lost, and ramshackle, and in no way confident, despite her charisma and her beauty. I wanted her to be a bit of an enigma; I wanted her to be seen by the reader the way Ness saw her, and for her to come undone in the reader's mind as she came undone in Ness's mind. I also wanted to write a character that was anxious about life in a different way to how I am anxious about my own life, because I thought that would be fun to try and do. Hetty seems to glide through many parts of existing that other people around her find difficult, but at her core she is an anxious being. She just doesn't quite know how to voice that anxiety, or how to slow down and look at it. There's a lovely observation about Canadian-ness versus Australian-ness in the novel as well: how Canadians are conscientious and polite whereas Australians can speak like "brazen weed." How much of the novel involved showing readers the tendencies toward cultural miscommunications; and how much of it was about how opposites attract, in friendship and romance? I never thought of Australians as particularly direct, or brash, or open. I don't think we necessarily are, but when compared to the average Canadian, our tendency towards self-deprecation and our love affair with camaraderie can feel excessive and pushy. I don't think I deliberately set out to explore the idea that opposites attract, but I can see how that came through. I enjoy writing characters that are contemplative and—in particular—characters who are wary, and passive; in part because I am not this way. I tend towards spontaneity and rushing my decisions, and Ness does not. It's enjoyable to explore different ways of being through the writing of fiction. I came to this realization recently when talking to my editor and seeing that many of the characters in my short stories are wary, passive, quiet beings. You've published short stories for years in the lead-up to this debut novel. Has the short story form led to any revelations or triumphs that helped you build a muscle or experiment in particular ways when you began writing a novel-length work? I started writing short stories around seven years ago, and am still writing them now, in an ad-hoc way. I never, ever thought I would write a novel, and didn't think I wanted to, until I came back to Australia after living in Toronto, and felt like I wanted to write something bigger than a short story that would be set there. Writing short fiction has perhaps taught me how to edit and hone and cut the fat. This was helpful when I was writing the first draft of Cherry Beach. I will keep trying to write novels, for the investment in character development and the experience of inhabiting a fictional world, and will write short stories for the way they are like a piece of art, with every word placed perfectly, and every image needing to speak loud and long. In Cherry Beach, while shy Ness adores whirlwind Hetty in a way that might never be reciprocated, Ness soon meets Faith; someone who makes her feel safe and comfortable. It was beautiful to come across so many vivid descriptions of how developing a crush on someone can make the body come alive; for it to feel "lush and green" on the inside; for "nothing but fizz" to be held inside a tummy. In a world where it is sometimes easier to pander to masculine ideals of female sexuality, what was your process for writing the sex scenes between Ness and Faith? I thought about how it felt when I was intimate with a woman in the past. The way my body felt on the inside and the way my lover's body was different and similar to mine in a way that felt good and also scary. Then I imagined the characters (the bodies and minds) of Ness and Faith and how it might be between them if they were intimate. Then I just wrote what felt right. I wanted readers to feel a bit sexy reading those scenes, but also to feel like they were bearing witness to a love building, as well as a desire. What coming-of-age stories made an impression on you in your twenties? I'm a bit old-fashioned in some ways, and I read a lot of coming-of-age books written in the '60s, '70s, and '80s when I was in my twenties! My favourite author, Margaret Drabble, writes about the female experience and coming-of-age in Britain beautifully, and her books have always resonated with me despite many of them being written before I was born. Her first novel, A Summer Bird-Cage, is a tongue-in-cheek, intellectual story about two sisters, and it's delicious. Possibly my most favourite book ever is The L-Shaped Room by Lynne Reid Banks, another coming-of-age novel set in Britain and written in the 1960s. It's very dated in some ways, but the way that the characters grapple with what it means to become independent, to be a woman and to have a baby, is timeless to me. I also love (and re-read often) I Capture the Castle by Dodie Smith. It was published in 1948 but the voice of Cassandra and her observations of her sister Rose's experiences are so vivid and familiar. Alice Munro is someone who writes young women growing older so well, and I read her stories over and over in my twenties. Her collection of linked short fiction, Lives of Girls and Women, was revelatory for me. The novel's titular beach is in Toronto, Canada. What were your memories of living in Toronto? Like most people, I am very sentimental about place, and Toronto as a place made a huge impression on me. I lived there for two years from the age of 29 to 31, from 2014 to 2016. I got to know the city very well by walking the length of it often and also working in a social work job that required me to know the Greater Toronto Area quite intimately. I wanted to write a book set there so I could re-visit it, I think. Funnily enough, I started writing the first chapter of Cherry Beach while on holiday in Amsterdam one morning early, when I was jet-lagged. It's possible that being away from home inspires me! There's a Margaret Atwood celebrity-spotting scene in the book, and I'm wondering what your thoughts are on meeting your heroes, or being in close—if serendipitous—proximity to famous people you admire? I'm pretty terrible at meeting anyone I admire, famous or not! I just get very awkward and talk too much, about things that aren't important, because silence would mean our meeting had failed, in my anxious mind… As much as I'd love to meet the writers I most admire, I don't think I'd have anything impressive to say, and would likely just gush and go red in the face. Something I was reminded of in reading Cherry Beach, and spending time with Hetty and Ness, was that old friends aren't necessarily good friends. In a world that still romanticises traditional heteronormative break-ups, what is it about friendship break-ups that make them deserving of being paid literary homage? Friendship break-ups can feel just as, and often much more, painful than intimate relationship break-ups, I think. We show so much of ourselves to our friends, and tell them things we don't tell our partners, because we believe they will always be there. I have experienced the break-up of a relationship with a very close friend and found that it was necessary to grieve it for a long time. So much of the heart is involved in a close friendship. You can share such a long history and so many of your memories with this person. I think that's worth writing about. The ending of Cherry Beach (without giving it away!) reminded me of this idea of how personal growth in reality exists on a continuum. When Ness realises and tries to accept that maybe she and Hetty didn't really want the same things after all, someone tells her, "It takes a lifetime to accept that we can't stop the waves from coming." Yet self-help literature, historically, has been steeped in actionable takeaways; in the dream of "fixing" an issue. How do you grapple with endings as a writer? How much of real life influences how you decide where a story ends? When writing short fiction, I've always wanted to be quite instinctual when deciding on how to end something, and this has often meant my stories are a bit open-ended, and leave people wanting to know more. I don't know if that's a good thing! When writing Cherry Beach, I had an idea of the overall plot as I wrote it, but the ending I submitted to [my publisher] and my editor David wasn't the ending it has now. David helped me understand how the book could end in a way that felt whole. I think that's something I struggle with, in my writing and in my life—letting things go. I feel such grief when I have to end something, even if I know it's necessary, or preferable. I think I struggled with that a bit when I tried to end the book. What advice would you have for anyone with a manuscript tucked away in a drawer somewhere; especially if it's one they haven't shown to anyone yet? I don't know that I have anything very helpful to say to a budding writer, or to someone who has written an entire manuscript, which in itself is such an achievement. I know that I have had to learn a lot about myself over the last ten years of my life and this self-knowledge has been helpful, because it has meant I have been able to have faith in my writing process, and keep at it despite the setbacks. If you can foster something like that, you will keep writing and you will put yourself out there: the two most important steps to getting published.