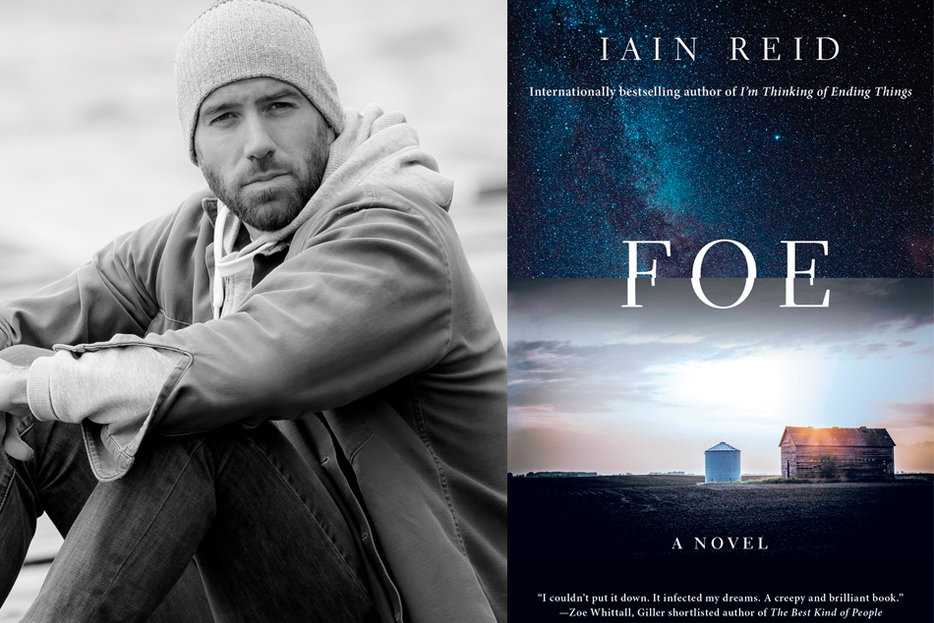 The author of Foe on marriage, having Charlie Kaufman adapt your work, and why he likes stories that remind him of Manu Ginobili.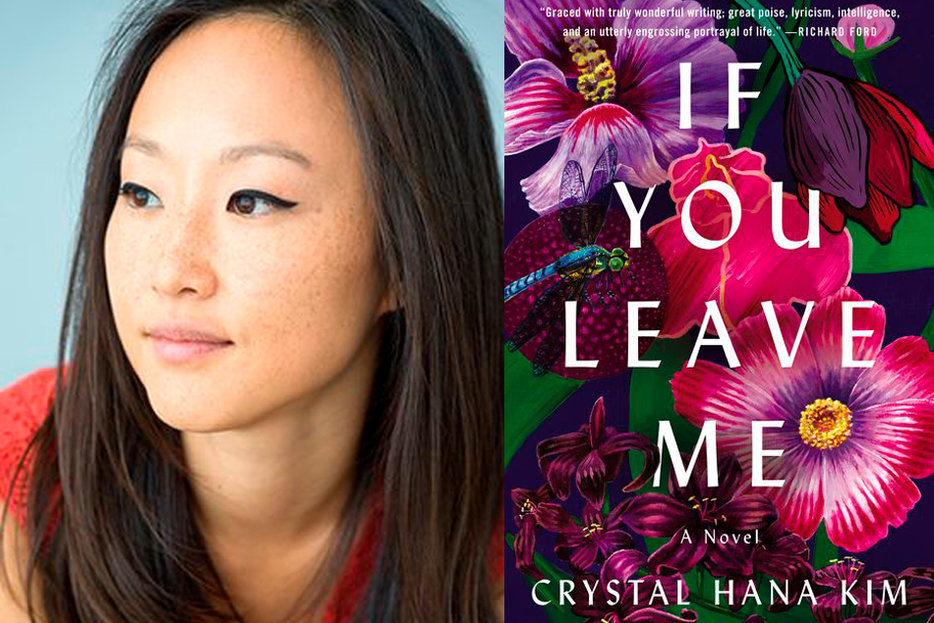 The author of If You Leave Me on the Korean War, listening to your family stories, and the cost of survival.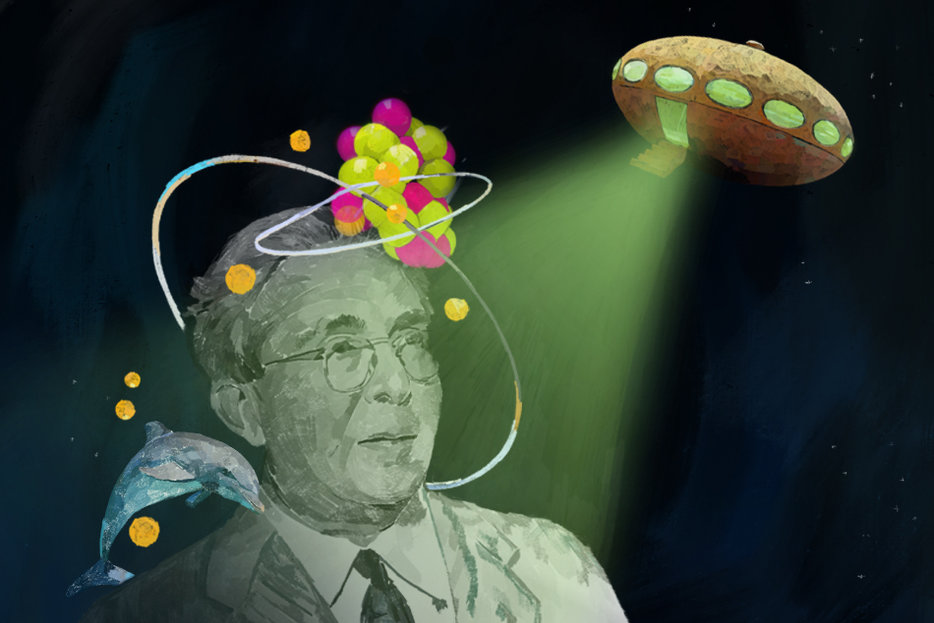 The dubious distinction, and literary legacy, of Leo Szilard, the physicist and writer "who did the most to create the atomic bomb, and the most to stop it."
Latest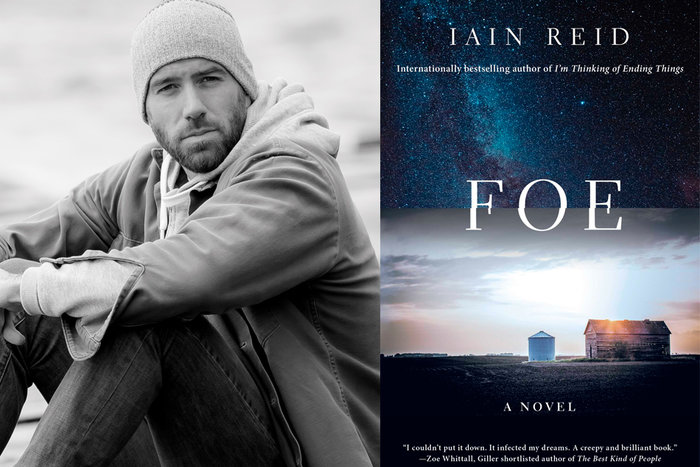 The author of Foe on marriage, having Charlie Kaufman adapt your work, and why he likes stories that remind him of Manu Ginobili. 
With his 2016 best-seller I'm Thinking of Ending Things and the new Foe, Iain Reid has made the middle of nowhere into home turf: his wary, watchful novels take place off the grid, both in terms of geography and genre. "We don't get visitors. Never have. Not out here" says Foe's narrator, Junior, a young farmer living somewhere in Ontario with his wife Henrietta. His tone suggests that the intrusion of a third party is as unwelcome as it is unexpected. Junior's anxiety is not misplaced. The visitor is a figure out of an X-Files episode, a proverbial Man in Black claiming to represent a government-funded initiative to relocate Earth's swelling population to outer space. ("This is a long time coming.") What's more, the man, whose name is Terrance, explains that Junior has been selected by lottery as a possible candidate to join the off-world workforce. If his number comes up, choice is not a factor; he cannot decline the call of duty. Service is mandatory. But—and this is where the outsider's spiel truly starts to seem strange and sinister—arrangements can be made if Hen needs somebody who looks and acts a lot like her husband to take care of her. The pleasure of Reid's work—and he's as gifted and scarifying a storyteller as Canadian fiction has produced in a long time—is how judiciously he parcels out narrative information. If I'm Thinking of Ending Things was a brilliant and resourceful variation on one of the oldest tricks in the mind-fuck-fiction handbook, Foe is similarly indebted to a science-fiction tradition encompassing Dick, Clarke and Asimov. These layers of reference are no more than a brilliant disguise, however, cloaking Reid's true and universal subjects even as they lurk in plain view on every page. Adam Nayman: It seems to me that the through-line between your two novels so far is isolation. In I'm Thinking of Ending Things, you have a young woman who becomes increasingly unnerved as her boyfriend takes her into the country and out of her urban comfort zone; it's sort of a journey away from the center. In Foe, you focus on a couple who already live on the margins of civilization in the middle of nowhere and are accustomed to it, until an outsider shows up. It's an interesting reversal, but there's also a continuity there. Iain Reid: There definitely is that underlying current of isolation [in I'm Thinking of Ending Things] and it's here as well. It does change a little bit for Foe, as you said, as the isolation here involves things that are familiar for the characters. At least at first, anyway. I think that isolation and solitude are the things that I started out with on this one. I always think of one or two major conflicts or problems when I'm getting going, and on Foe, they were isolation, solitude and confinement. "Confinement" was a word I was thinking of a lot in the early stages. I wanted to know what it was about confinement that I find so unsettling and disturbing, and it ended up going down the path of relationships and marriages. If you've been told for your entire life that you should feel a certain way about something—that you'll like something, or dislike it—you start to believe it. But what if something happens to make you start questioning that attitude? That's sort of what Foe is for me in a lot of ways. I also noticed that Foe begins with the image of headlights in the dark, which is pretty central to I'm Thinking of Ending Things. We talked about that image at the end of our last interview, so maybe it's a fun way to get into the new one. That's the opening image of the book exactly, yes, and it was absolutely one of the first images that came to mind for Foe too. But the thing that really influenced me before I started writing was this: I was out at an awards ceremony and there was a man who was receiving a prize and the way he thanked his wife from the stage was very disturbing, at least to me. Everyone else was really happy with it, and they thought it was this great acceptance speech; they were almost sighing out loud at how it was. He said things like "I want to thank my wife for putting up with my instability, and allowing me to do what I do." I thought, "No, I'm sure she has her own thing, her own life, she's not there to prop your genius up." It seemed so icky to me, as did the idea that this dynamic was something he was being accepted or even congratulated for. So that's when that idea I mentioned before about confinement within a relationship came to me. I wanted to write about a relationship that wasn't ruined by one dramatic moment, like somebody cheating or losing their temper or a secret, but instead had been slowly rotting over time. Once you're in a situation and you're committed to it, what else can happen? How can you get out? That's where things started. Let's talk about how a lot of people are going to come to Foe, which is not only in light of I'm Thinking of Ending Things but also via genre: it's being marketed as science-fiction and the genre stuff is present alongside the portrait of the marriage. And it gets into the sci-fi stuff pretty quickly, so much so that I was surprised. It's very disarming when Terrance shows up and provides all this exposition about the possibility of colonizing outer space to a couple who seem to be living this out-of-time existence in the country. I think I had it in my mind for a long time that I wanted to write a novel about space, to have some type of element about space. And the reason for that is that my brother is a rocket scientist, and he works in that world. So whenever we would be together, the conversation would always evolve or devolve, depending on your perspective, to me peppering him with questions about space travel, and where it's at and where it could go from here, It's fascinating for me, as somebody who has probably a fairly average knowledge of that industry, to learn what it might look like in ten or twenty years. My brother is the kind of person who if you go see a science-fiction movie with him, or a movie about space-travel, he'll pick them apart. So I always thought he'd be a great resource in ensuring that what I was doing was authentic. So going back to the idea of confinement, what is the opposite of that? Space. So I also realized this would be my book about space. I talked to my brother a lot while I was writing but then he read it and he said, "It's not really about space." Part of that is that I took a lot of things out during revisions, to the point that the outer-space aspect is more of a metaphor than anything else. Science-fiction is always really conducive to metaphor, and in that sense Foe felt a bit old-fashioned to me—almost nostalgic even though it's set in the future. There's a really slippery sense of time throughout, actually; there's very little about Junior and Hen's lifestyle that wouldn't have been more or less identical if they were living in the same place in the 1960s. It felt like I could have been reading a book about two people in 1969 who suddenly learn that there's a Space Race going on between America and the Soviet Union. You're right to think about the initial moon landing. That was on my mind, too. What would happen if an ordinary person had a chance to be a part of that? If somebody showed up at their house with this mission and this invitation, how would it play out? It's also really effective how you suggest that the world has changed around them in some big ways but they haven't even tried to keep up. There's no reference to technology, social media, Facebook, Twitter, Instagram, even though all those things will likely be around in the near future, if not amplified... That's the timeless element we were discussing earlier. I think there is a dynamic to their marriage that's closer to the 1950s or 1960s. There's this assumption that things have changed a lot since then, but I think that restrictive element is still there in some places, including some rural settings. That places things right on the fault lines of some of the larger culture war stuff that's going on now in Ontario and of course in the United States, too. That's not to generalize about "small town values," because I think those liberal clichés about them can be as reductive and reactionary as the values themselves. But I did feel like Junior and Hen's marriage was suggestive of something larger and older that's also cyclical and maybe inescapable. I mean, Junior could not be a more patriarchal name, right? That's exactly right. And if you think about sort of what happens in the triangular relationship between Junior and Henrietta and Terrence there's a shift along those same lines. There is a change that Henrietta goes through, as does Terrence. I think Terrance changes too. Really, the only one that doesn't change is Junior. Hen's pretty suggestive as a name too. Ha, yes. Junior talks about them having chickens and how he goes out to feed them and care for them. He also likes it when Hen plays the piano for him... Junior reveals a lot of things by accident; he's not just an unreliable narrator but he doesn't seem to necessarily know his own mind all that well either. In I'm Thinking of Ending Things your narrator had a huge amount of self-awareness, and kept throwing up all these defense mechanisms and checks and balances. I feel like Junior is transparent, and that makes him a unique entry point into a narrative where all is not as it seems— especially not to him, we could say. In this type of marriage, who would be the one who would be permitted to speak for both parties a lot of the time? It would be Junior. He would be the filter that their communal story would be told through. That also I think was part of Henrietta's wanting a change, as she begins to wonder what's best for her, to assert herself, and to take some power back. I was thinking a lot about toughness when it came to her character. Normally if you say that one of your themes is "toughness" people will assume it's a story about boxing or something; I wanted to access toughness in a different way. You've probably heard people talk about a basketball player like Manu Ginobili and how he plays "in between the dribbles," and I like stories that do that too. So when Junior is telling us things, he's also giving us more than he's saying, and maybe some of it is about Henrietta, more than he even knows. It's funny because, while he gets a lot right about Henrietta and even how she feels about him, he really doesn't know what's going on with Terrance; his suspicion and jealousy become misplaced in a way that's very alpha-male macho and sort of naive at the same time. Yes, exactly, and I think that when I was reflecting on how a marriage like this might disintegrate, that's sort of how it would happen, with the intrusion of a third party, whatever the third party is actually trying to do in the end. Trying to reflect on a way that this relationship is disintegrating in the way that I envisioned, that's sort of how it would happen. I think that when these people got married they thought that it was love and that it would last a lifetime, but I don't see how that can work if you think of yourself first. This seems like a common thing, actually, that from the male point of view you get married and you're sort of "done." It's like getting a job or something—you just check off the box and you're married and that's all. That's a horrifying thought from both perspectives, I think: that marriage is a thing to do instead of a process that requires work and effort and change from both parties. The idea that you just take comfort from the fact that you're married, you're in it, and that's it… that's horrific to me. Well, not only that, but culturally we're conditioned to think that the stubbornness and the laziness of men—and to some extent the flaws of both genders in heterosexual relationships—is "cute." And then it hardens over time, and any complaints about it are met with truisms like, "Well, you're married, that's how it is." It's like the idea of "letting yourself go" but not just your body; your sensitivity and your curiosity, too. Junior hasn't let himself go physically, though, and there's a frightening quality to how he describes his own body and his strength—it turns the narrator of the story into a potential source of threat even as he's growing paranoid about what's going on behind his back. It is frightening, I agree. And again, if you think about it in the context of confinement, or the opposite of space, and that physicality that Junior has...Again speaking about metaphors, I think for me what seemed enticing about a story like this right now, again I don't think I've really talked about this yet and I don't know how much I will, but sort of what's happening in the world right now, in the western world, politically, ending up stuck with someone strong and scary like that... it's not a joke, it's not charming, it's quite horrific. You're stuck with that. Are you married yourself? No, I'm not. I know that you are. It's funny because marriage is such a clear interest of mine. No kidding. Yeah, and it's funny, because I have been asked, it must be because people think I'm anti-marriage because of these books and I'm really not, in fact I'm the opposite. I think that marriage is wonderful and I can see how it would be very appealing in certain situations. I would say that I might be married at some point, who knows? I'm not anti-marriage, I just find the idea of it utterly fascinating. We do it in such huge numbers, and so many people do it in such a way that's sort of like passive acceptance. And yet it seems like the hardest thing you can do. Even having kids, that's more purely biological right? That you have this desire to protect your children? But to live with one person for your whole life, and the inherent challenges in that... so many people want to do it, or think they want to do it or don't want to do it, or don't think about it at all. They just do it. Maybe that's indicative of why the divorce rates are over 50 percent now. And then if you take into account those couples who aren't divorced, how many are struggling in a very serious way? That notion of being trapped in a marriage because there's no language to even discuss separation evokes the frontier—it evokes the past. But I agree with you that it's no less of an issue now. I think that if I were to write a story about a serial killer chasing somebody, I'd be interested on how the person being chased would try to escape—all the ways available to get out of that situation. I think that's what I was thinking about, actually, in a different context. Foe is a more quiet kind of horror. Did you have fun coming up with all the gimmicky sci-fi stuff? Terrance's stories about his company and their experiments in 3-D printing and replication are quite outlandish but he keeps rooting them in science and it's quite funny, but there's also the possibility—broached by Junior and passed on to us—that Terrance is just full of shit, or crazy, or making the whole thing up. It's funny because that's the one part of Foe that, when I look back at it—at some of what Terrance says, and how he says it—that makes me laugh a bit. At the same time, he's a character who contains the possibility that anything can happen at any time, which heightens urgency and suspense and tension. It's a balancing act to be as delicate as possible, and the more you try to explain, the weaker the material gets. If I let a reader imagine what's happening—and maybe wonder about a character like Terrance—it's so much better, because then it lives in their imagination. I feel like Terrance and his story are effective because Junior is so out of the loop. If he lived in a city and had a smartphone and a Twitter feed and a bunch of friends, the ambiguity would be gone. He sort of has to go on what he's being told... Exactly, which goes back to you talking about isolation at the beginning. That's why it works. Well, now that we've worked our way back to the beginning, let's end by talking about the fact that I'm Thinking of Ending Things is being turned into a Netflix movie by Charlie Kaufman. I wonder if that last sentence is surreal enough that you just want to sort of talk about it? Yeah. It's been a great experience so far, because it was so unexpected. The last time we talked we discussed how interior I'm Thinking of Ending Things is and how impossible it would be to adapt into a film. A movie version was never in my mind, but if I could have picked anybody to do it I would have said Charlie Kaufman. So it was an unbelievable surprise that he had interest. I've been really happy with everything so far and Charlie has been so nice and kind and generous. At this stage it's still in development and I'm excited to see the final version and how it turns out.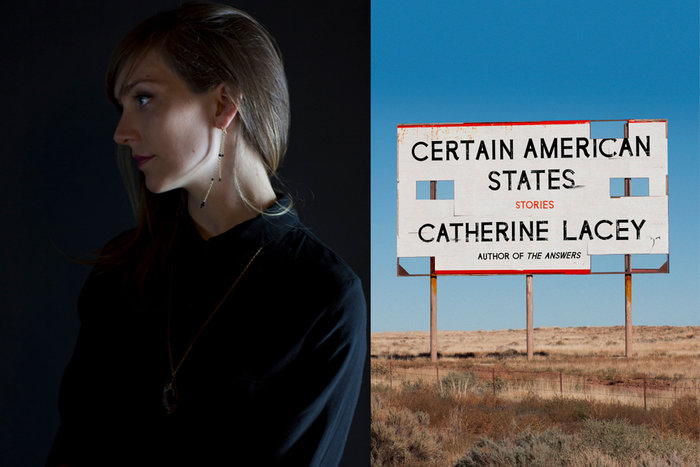 The author of Certain American States on living with titles, the narrative space of relationships, and why short stories are like sauce.
In Catherine Lacey's short story collection Certain American States (Farrar, Straus & Giroux), characters with rich interior lives are captured in acute moments of existential ennui. They navigate surreptitious affairs and dissolving marriages, run away from their families and hometowns, and generally resist modes of social containment by bravely, brazenly, treading their own paths. Whether "dizzy with failure" or slightly unmoored, Lacey's characters chart a wide range of emotions—which are often, compellingly, at odds with their external landscapes. In a story cut into twenty-four discrete sections—perhaps an effort to organize wild, expansive prose—the narrator divulges, "There's a word for the scrambling of senses, but there's no way to explain how I'm always reeling from unclear feelings and memories, no word that's not an insult, anyway, or a diagnosis." As demonstrated in her first two novels, The Answers and Nobody is Ever Missing, Lacey is skilled at creating worlds where intimacy and loneliness and alienation and abundance can coexist. We talked about un-sentimentalizing the process of writing, the Freudian concept of the "narcissism of small differences," and intimate relationships as a potent narrative space. Anna Furman: I read Certain American States while also reading Rebecca Solnit's A Field Guide to Getting Lost and found the two books to be—for lack of a better word—quite complementary. In both books, characters reconcile complicated interior landscapes with external situations/conditions/predicaments. I wonder which books about place or placelessness or lostness informed your writing? Catherine Lacey: A Field Guide to Getting Lost is definitely in there, but I actually didn't read it till 2016. I think of Grace Paley a lot. I don't love everything she's written, but I've always been drawn to the way a character can kind of just wander around a space in a Grace Paley story. And Lydia Davis too. I don't think I'm anything like Lydia Davis, but I really love Lydia Davis. I was thinking about writing a book of stories that are derivative of Lydia Davis. Sometimes I find myself complaining about something or launching some complaint at my partner and then I realize after, it's a Lydia Davis story. I think it speaks to how embedded some of her characters are in my head. They become crucibles for me to express something that I might feel. I'm not so much influenced by autobiographical things but more by situation, like odd predicaments that one could get into. When I took care of my dog by myself for the first time, it was a very productive time. I wrote a lot out of it. It was only three days, but there was something about the fact of being alone, just me and this dog for three days, and not knowing anyone else in town, that changed me. I just read Motherhood and listened to a couple interviews with Sheila Heti. And I can't stop thinking about an interview on the Longform podcast with the writer Elif Batuman. I was totally lit up by that interview. It really tore me a new one, in a good way. As I read this collection, my understanding of the title changed, from referring to certain, specific states in the U.S. to states of being. Did you have other working titles for the book? When did you arrive at Certain American States? In 2014, when I started thinking I had enough stories to finish up a collection, I called it "Small Differences." I thought it was most exemplary of a new way I was working. It comes from this Freudian concept of the narcissism of small difference. But many of the stories changed and finally "Small Differences" didn't feel sufficient anymore. I had to make a decision on the cover right after the election. "Certain American States" is the oldest story in the collection. It felt like the right title because it has a four-pronged meaning and made me a little bit uncomfortable. I tend to move towards things that feel like too much to say or too embarrassing to say. Then I want to say it. I felt mixed about the title till recently, because I think the word America is pretty ugly. Just as a sound, I don't particularly like it. And I find the majority of things it connotes to be pretty ugly. Eventually, you just resign yourself to the limits of a title. And at different points in the process of choosing one, you can feel completely convinced that one is great, and then two days later feel like it's the worst title in the world. Maybe both of those things are true. And all titles are ultimately insufficient. That's why the whole story is there. In "ur heck box" the narrator describes Midtown Manhattan as a place that looks exactly the way her head feels: "bleak and crowded." What places look the way your head feels right now? I'm sitting in a public space right now, on a patio area attached to the apartment that I just moved into. It's just a big slab of Astroturf. I feel like it's some kind of a fake comfort in the midst of an urban landscape. There are parts of the country where you get four seasons in a day. I feel like, internally, I experience five seasons in a day. Or maybe ten seasons. I wrote "ur heck box" during a period of grief—and what's striking to me about grief is how much pain you can feel for so long. You become LA weather, but not happy. It's where nothing changes. In the story "Family Physics," you write: "Since the World Trade Center, people had stopped whispering about the apocalypse and began to speak of it, plainly and loudly, whenever." Did you write this story during the post-9/11 Bush years? Since Trump was elected and we've all been catapulted into this new political reality that feels apocalyptic to many of us. Did you tweak these stories to reflect that change? When Bush was elected, I was sixteen or seventeen. There was this feeling of defeat and darkness among my few liberal friends in Tennessee. I wrote "Family Physics" during the 2016 election, while I was working at a college in Montana. This felt like a crazy, exaggerated version of the 2000 election. When you're a kid in high school versus an adult employed at a university, your perspective of what these things mean is completely different. I've been thinking about the kind of rage we feel across political boundaries, and yet how neutered that rage is. Nobody really does anything. There's no real upheaval or shift of power. We just get this teeter totter of eight years of this, eight years of this, eight years of this. It made me think of the country as one big, horrible family going through these periods of time together, with different people feeling more or less like black sheep within that family. There's different times when more marginal or outside perspectives might feel like they have a place within this country. And sometimes, brutally outcast. I wasn't consciously sitting down and thinking: I know, it'll be a family that is microcosmal of the country. It's only on reflection that I can see that. How do you know when a story is finished? You know how, when you taste a sauce, you know: oh, it needs more of this or less of that? It's done or it's not done. It's kind of like that. And the more sauces you make, the more you know what sort of texture and flavor profile you're looking for, and how much salinity. It's like a fingerprint that you don't realize you're developing. And you know when all the pieces are there, but you don't necessarily know how to describe putting all the pieces together. You know how an old grandma might make the best tomato sauce, but when they try and explain the recipe to you, yours doesn't come out like theirs? I think it's a bit like that. In the first story, "Violations," the characters don't have names but are identified by their pronouns. Why did you decide to write them as she and he instead of as people with specific names? There's this way that a relationship between a man and a woman, or between anybody and anybody, can be claustrophobic. Whether it's she or he or me or you, it's always you and the other. You feel like you have an entire world with this other person. A relationship is an interesting narrative space because it's not always clear who is in control and who is really writing the narrative. It wasn't important to me whether the characters had names. It's hard for me to remember which things the man says and which things the woman says or even what the roles are because they're switching back and forth so quickly. Their names become irrelevant. Characters are not actual human beings of course, so really it's a matrix of ideas and feelings and postures and situations. Sometimes it makes sense for that matrix of thought to be held by a female person or a male person. Maybe part of it is that when you're a younger writer, sometimes it's better just to limit the variables that you're having to juggle at one time. It's easier to make the character have the same sort of biochemical reality and social experience that you have. I had a big break-up two years ago and the anger that you can feel over how the other person will necessarily have a different narrative about what happened during the break-up and why you broke up and why you got together and what happened all those years is so potent and so visceral. Once you've experienced that rage, you recognize it. There's a line in "Violations" that goes: "He had wanted to make sure she wouldn't write about him, but he knew he couldn't ask her outright not to write about him, since he was sure such a question would set off a lecture about how he was not within his rights to…" Have friends or family members misinterpreted characters that you've written as representing them? There's this interaction between any writer's life and what they're writing about. In the past, I've felt extremely nervous about what this or that person thinks of this or that character, if something shows up in my fiction that looks a lot like my life or that person. I've been worried about hurting someone's feelings—or, in writing a story, sometimes I realize that I don't care anymore. I have an ex-husband and he's actually a really marvelous person in a lot of ways. I didn't want him to come across the story without knowing that it was coming. I decided to send it to him ahead of time, and actually, he totally got it and wasn't angry. It made me realize that there's a lot of wasted energy in being worried about what people are going to think about you because of your fiction. Or what they're gonna think about what you might think of them, because of what you write in fiction. I didn't write the story out of malice. I wasn't angry at him, directly, and I wasn't painting anybody out to be the wrong person. I think that if you're in that place, writing about situations that relate very closely to your life narrative can be a fine thing to do. Also because you can write into spaces that you didn't get to experience. There's a lot of things in that story that certainly didn't happen and the details are not representative of an autobiography. Sometimes you want to exaggerate certain things and tone down other things and see if you change the proportion of story that you experienced. By amplifying one aspect of it and turning down another, what does it look like then? You shuffle the characters around or try and imagine something from someone else's perspective. I think it can be useful to understand that your perspective on your life is maybe not the most important aspect of it. Some friends of mine that recently got married said, "Ah yes, the final test of getting married, combining your books on the same bookshelf." And I was like: "the final test of getting married is getting divorced and seeing if that's a good person to get divorced from." I wanted to ask you about silence as a device. You write that silence "could choke a person" and about characters that "exchanged the kind of nonspeech that people with nothing to say to each other end up saying to each other." What does silence in these varying forms mean to you? The way I teach my writing workshops, usually, is a bit different from the traditional workshop method. In my workshop, the student that's being workshopped has to sit in front of the class and take these questions from the rest of the students. I always encourage the person to sit there as long as they want before answering a question, to decide how they feel about it and let the answer come to them under the awkwardness and duress of a room of people waiting on something from you. It can be a bit of a pressure cooker when you're silent with someone else. And then there's the silence of just being a human being and having to walk around the world and spend all your time with yourself. I love multitasking and listening to music and absorbing a podcast and doing ten things at once. But when I remember to leave things at home and just walk my dog without my phone, aimlessly, I find myself writing stories in my head, and it's so useful. Silence is an endangered species. It's a very rich, sort of fecund area of human existence that's not really taken advantage of enough. I read a conversation you had with Leslie Jamison in which you said: "There is really no way to demystify the creation process, though I do think it's a good idea to un-sentimentalize it." I think it's a challenge for interviewers to ask craft-oriented questions that don't romanticize the writing process. So, maybe, what are the most unglamorous or mechanical parts of your writing process? I wake up most mornings, five to six days a week, and go away. Don't say anything. I find it's really helpful not to speak to my partner or my dog or anybody. And just go, drink some coffee and write. Last year, I was living in Mississippi teaching at the university there for a one-year residency. I've been pretty transient the past couple years, living in different places every few months, so I've had to be more adaptable. I need to work in public, because every time I work at home, I do the laundry instead of working. Or clean something or procrastibake—bake something really elaborate, and then, it's like 10 a.m., and I'm like, "what the fuck am I doing?" For several years, I had my place, a cafe in Brooklyn, and they just knew me. I felt really comfortable there. I knew where to sit, and what time to arrive so that it wasn't crowded yet. I really believed that if I left that pattern, I just wasn't going to write anything else. Now I've found that I can write at home. I can write in the afternoon. I can write other times of day. I just prefer working in the morning on a clean brain—before I've checked my email or worried about anything that probably needs some worrying. I think it doesn't matter that much, as long as it's the morning and there's coffee.
The author of If You Leave Me on the Korean War, listening to your family stories, and the cost of survival.
In Crystal Hana Kim's debut novel If You Leave Me (William Morrow), sixteen-year-old refugee Haemi Lee finds herself caught between the affections of two men: Kyunghwan, her first love, and Jisoo, his wealthier cousin. She eventually marries Jisoo, sacrificing a life with Kyunghwan for what she believes will be the safety and security of her family—a choice that sows seeds of deep unhappiness not just for her, but for future generations. If You Leave Me is a powerful and timely story about the personal cost of survival—the cost to relationships; the cost to families; the cost for generations to come—as well as a vivid, beautifully rendered portrait of love, sacrifice, and tragedy in a country torn asunder by war. The book began as overlapping character-driven stories, and Kim gives all her main characters a voice: Haemi, Jisoo, and Kyunghwan take turns narrating throughout, along with Haemi's brother Hyunki and, later, her daughter Solee. The agility with which these rich, distinctive voices interweave is one of many strengths in a book that never flags despite its heavy subject matter. Kim says she wanted to consider the effects of inherited trauma by telling the story of a spirited, complicated woman constrained by war and time and circumstance. For Kim, who grew up hearing stories about the Korean War from her family members, in particular her grandmother, the novel grew in part out of a desire to fill in gaps in her own understanding. "When I start writing, it's nearly always because I am curious about something and want to learn more," she says. "When writing this book, I wanted to know more about this war that is such a big part of my family's history." Nicole Chung: The Korean War and its realities are deep in the marrow of this book, and we follow the characters beyond it. Why did you want to write about this particular era of Korean history and its aftermath? Crystal Hana Kim: It's so interesting that it's a timely story right now, because when I began writing it—and even when it went out on submission to publishers—a story about the Korean War didn't seem as timely. It's such a big part of Korean identity, and it is still ongoing. But I didn't realize how little people in this country knew about it; about America's involvement; about North and South Korea and the fact that they have been two separate countries for less than 100 years. I was so surprised to find that many people here didn't know all these facts when I talked to them about it. Both my parents are Korean. My mom, who is the only one in her family who lives in America, is one of five daughters; the rest of the family is in Korea and we visit them often. So the war is something I grew up hearing a lot of stories about—which I think has not been the experience for some Korean Americans I know. Many people are hesitant to talk about the war and the trauma they experienced. But my grandmother is a storyteller, and she told me a lot of her stories. The war is part of our history, and I knew a little about it, but I wanted to understand it more fully. And I understand best through writing. "Solee," a version of one of the chapters in this novel, was published as a short story by The Southern Review and then selected as one of PEN America's 2017 Best Debut Short Stories. I loved that story when I first read it, and ever since I have been so eager to read this book. Can you talk a little about the evolution of the book, from interconnected stories about this family to the final novel? Where did it really begin for you? When I was an undergrad, I was writing a lot of stories about teenagers and young girls. I came up with this character, Solee—she might have had a different name at the time, but I focused on her because I wanted a way to write about and explore mother/daughter dynamics. Then, when I started my MFA, I really thought I wanted to write a collection of interconnected short stories. The idea of writing a novel was so daunting to me, and I thought connected stories might be more feasible. Solee was one of the first characters I created, and by writing her I realized I was interested in the character of her mother. I wanted to figure out her story, so I wrote a chapter from her perspective, and that led me to other characters. I just kept following my own curiosity about these different people; I didn't quite know who they were yet. I knew they lived in Korea, but wasn't sure when. At the time I was also talking a lot with my grandmother, trying to think about larger themes and ideas, and I knew I loved hearing her stories. I decided to write about the Korean War in order to understand it more deeply. I'm so interested in exploring family and this idea of generational trauma. So I started with Haemi, the main character, writing her life and her journey beginning with her teenaged years as a refugee. By then I knew her very well as a character, and I knew what her perspective would be. I felt so deeply for Haemi, I would've read about her forever. She seemed so strong in the beginning, and even later, in the depths of her unhappiness, she never quite felt like a victim to me. It was difficult but also powerful to read about this strong woman who cannot have what she wants—or even necessarily feel sure of what she wants all the time—because her life is so much about survival. I'm so glad you didn't think Haemi seemed like a victim. It was really important to me to write a strong female character. I grew up around strong Korean women. My mom is one of five sisters, all very strong in their own ways, though they all have very different temperaments. My grandmother has always been very strong—my grandparents divorced, which is unusual in Korea, and I grew up hearing my mom tell stories about how my grandmother had to work hard to provide for the family, because my grandfather wasn't really providing any financial support. She was a single woman running a hotel, raising five children. One time when I was young, I asked her how come she wasn't like all the other halmeonis I saw when I visited Korea, and she said, "It's because I have to make money!" Can you talk more about Haemi, and some of the challenges of writing a strong character whose options are so limited because of the time and place she lives in? She's so smart and determined—you want her to have so many more choices than she does. She has to flee with her mother and brother to a refugee camp. She tries to seize some happiness for herself, but doesn't get to keep the man she loves. She gets backed into this very hard decision, trading love for what she thinks will be security for her family, and by then the choice feels inevitable. I really wanted this book to feel realistic. Haemi is a character with an impoverished background. She doesn't have a high school education—that was common for a lot of people back then. She's also a refugee, living in a country at war, so she is going to be very limited in her choices. So I wanted her to make choices and not be a victim, but also, as you say, she can't help but be constrained in those choices. She needed to be a realistic person given the time period. That said, sometimes I felt it was important to push back against people's perceptions of women in different time periods. Once I workshopped a chapter about Haemi, and one of the comments was: "I don't know that a woman of this time would have these sexual desires." And I just remember thinking, "What?" I wanted people to understand that women in these circumstances would have the same desires, the same wants, maybe some of the same ambivalence about becoming a mother that many women today experience. I wanted to make Haemi a woman who struggles with motherhood because the cost of survival was so high for her. And that is something her children will notice. Because they're young, they can't always articulate it, but they know that something is wrong. At the same time, they also have this kind of unreserved love for her. I thought it was so well done, the way you explored the far-reaching consequences of Haemi's choice to marry Jisoo and how her resulting unhappiness—and that generational trauma you mentioned before—echoes through the lives of her children. Can you talk a little about that, and also how you wrote the relationship between Haemi and her daughter Solee? I really wanted to write about Haemi and her daughter, and spend time exploring that relationship, because I have always been interested in mother/daughter stories. To me, growing up, my mom always seemed like someone who was louder and more outspoken than a lot of the Korean women I saw when I visited Korea, and I was always very curious about that. My mother and I have a good relationship, but you know, the mother/daughter relationship can just be so complicated. It's something I have thought and written about for so long. I want to be a mother one day; I grew up around all these strong women; I also have a younger sister—these relationships between women are fascinating to me. What sort of research did you have to do to write this book? Oh, it was so much more than I thought when I started writing! I was mostly following my writerly whims in grad school, and I didn't realize how much research would be involved. But then I realized my workshopmates didn't know much about the Korean war, and that would be true of many of my readers, so I needed to provide a lot more background information. And also I just wanted to read and understand more for myself. So I read a lot of historical and political texts about the Korean War. I interviewed my grandmother. I interviewed some of my dad's siblings, who were alive during the war. I watched documentaries and movies. And I also looked at a lot of photographs, to get a sense of what everyday life was like for people at the time. I wanted to create a visual and sensory experience for the reader, especially because I knew it might be a foreign place for them. What was the most surprising thing you learned in your research? One thing that was surprising but shouldn't have been was just how difficult it was to find accounts of women's experiences during and after the war. That was hard and frustrating. I had to get creative with my research, because I was specifically interested in women's lives during the war, and there was not much information. So I read a lot of sociological studies about women and war and trauma. And let's see...one of the more interesting things I learned was that, in the years after the war, there were a lot of government campaigns to promote smaller families. They actually had a van go around and provide free IUDs to people. I'm so curious about what those were even like, and how effective they were. Sometimes I wonder if we're finally seeing more Korean and Korean American stories because of South Korea's increased cultural influence. In more cynical moments, I think our country is also fascinated by North Korean suffering. Did you feel any additional pressure writing a book set during and after the Korean War for a largely non-Korean audience? When I started writing this, I was really just driven by my interest and my own need to write it. I felt like it was something I had to do. I wasn't thinking about any readers in particular. But later on, when I had a draft I was revising and I was starting to think beyond the characters, I did start to think about that kind of pressure. I had a conversation about the book with my parents and my uncle, and showed them all of these photos I had gathered over the years. My uncle made a comment like, "Make sure you represent us well and make Koreans proud, show us in a good light." Wow, that's so much. It is! I didn't know how to articulate to them that that's not my role as a writer. I'm not trying to represent all of Korea. I want to write these characters who have particular experiences. Though I think it's wonderful if the American reader, or English-speaking reader, learns more about the Korean War or thinks more about what one woman's experience during that time might have been. So what's been your family's reaction since you finished the novel? Have any of them read it. They are all so excited for me. My parents can read English, and they speak English, but it would be hard for them to read a whole novel in English. They're not going to be able to read this book easily. So they're hoping it'll get translated into Korean, and I really hope it will, too. They joked that if it doesn't, they'll read one line a day, and it'll take them the rest of their lives. My mom has been trying to read the essays I've written, like the recent one about my grandmother. I really loved that essay. In it, you wrote about the realization that you are more than your own self—your body, your bones, as you put it—you are also your family, and what they lived through. What are some things you learned about your family while talking with them for this book? And did any of their stories come into the novel, or just influence it in some surprising way? I learned a lot more about my grandmother when I interviewed her. Working on this novel also allowed me to hear more stories from my parents. My dad is kind of a silent guy ... but nowadays he talks more and shares more stories. When I started this book, I asked a lot of questions about his childhood, and he'd give such interesting tidbits. When he was little, the kids would go around chasing grasshoppers. They'd pluck their wings, and fry and eat them. They'd catch tadpoles and fish and eat those, too. It was because they were hungry, and it was protein, but as a child he didn't think about that; he thought it was fun. He also told me about living near a woman whose child was half-white, and there was all this discrimination against them; that's something I remembered, and wanted to include in my book. And my father vividly remembers the candy and cookies American soldiers would give out. So many of his memories rotated around food, because they didn't have enough. His life is so different now. Before, I hadn't consciously thought about just how different it is. Growing up, I didn't think about my parents being that poor or hungry—I mean I knew, but I just couldn't imagine it fully. Writing this book helped me to ask more questions about them, about my family, and I became closer to them because I listened to their stories. Have you started to hear from readers? Any reactions that have really meant a lot to you? I've heard from readers who've said I'm portraying a really complicated woman who they did not hate in the end, even though they didn't always agree with her. And I'm happy to hear that—I really wanted to write about someone complicated, and have people care for her. I'm really excited to hear from Korean American readers. I didn't grow up reading Korean American authors, and now I read every one I can find. I feel like it's been kind of a banner year for Asian American women writers in particular. Is that something you've noticed, too? Yes, and I'm so excited! This is a big year for Asian women writers. I also didn't grow up reading many Asian women writers, or Asian American writers in general, but I think it's something I desperately wanted. I distinctly remember when I was in Kindergarten, I picked up this book about a Chinese adoptee just because it had a girl like me on the cover. I really wanted to read more books about Asian characters, more books by Asian writers. And maybe that's represented in the years I spent in college writing these white or raceless characters because I didn't want to write Asian characters—I just hadn't read about many growing up, and so I thought that wasn't literature. I'm so happy and proud about all the Asian American women writing today. It fills me with such joy. Do you think you'll write more stories set in Korea, during this time period or a different one? I think so, yes. I started working on a novel, and it is half in America, present-day, and half in Korea in the '80s. Earlier I mentioned being surprised by the amount of research that went into If You Leave Me, but I did enjoy that process, and how informed I felt creating the world of the book. So I think I will keep doing research and writing about Korea. I'm also eager to write about Korean Americans—who knows, it's early and could still change, but with the second book, I'm trying to do both.
The specific way men interview women (5:05), Rory Gilmore, journalist (17:17), and the Avril Lavigne riots of 2021 (48:27)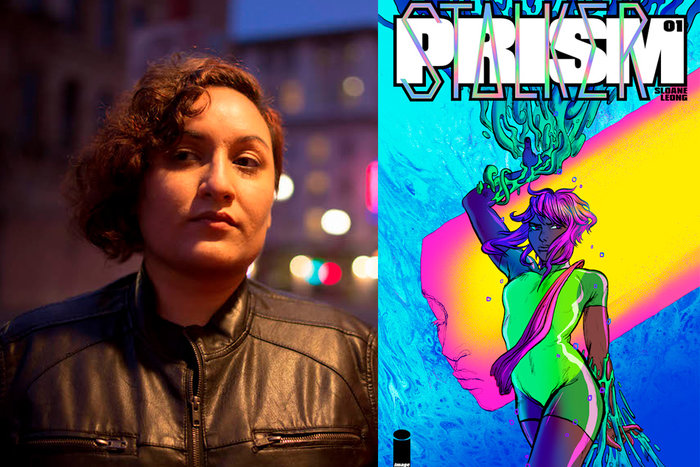 Talking to the creator of Prism Stalker about body horror, complicating stories of subjugation and colonialism, and finding inspiration in Sailor Moon.
Sloane Leong's Prism Stalker, a new series from Image Comics, begins inside a dream: Human forms abstracted by swirls of creamy pink and radioactive orange. This is how the young protagonist Vep remembers her home—a planet ruined by plague. Her people were rescued by a galactic power known as the Chorus, which recruits them into service with the empire. Vep ends up at a telepathic police academy, training to put down indigenous unrest. Struggling to master her native language, manipulated into complicity, Vep's disquiet reveals itself during psychic combat; fellow students watch their bodies liquefy or crack apart, fighting through illusions. The moral corrosion of colonialism makes everything slippery. One of Vep's teachers takes hold of an ancestral necklace, not without tenderness, and then tears it from her neck: "A distraction you can't afford here." Before creating her current project, Leong put in time contributing art to various other comics, including Dial H, an uncommonly strange DC monthly written by the Marxist-surrealist China Mieville. Prism Stalker is the first series she owns, in more than one sense; Leong scripts, pencils, and colours each issue herself. For all its overlapping textures, its membranes and trellises, she draws this world with loose ease. * Chris Randle: On your website you describe yourself as a "self-taught" cartoonist, so it felt irresistible to ask: what did you learn from? Sloane Leong: Reading books, reading comics, watching movies and stuff, just absorbing what I saw. I didn't have any formal training. I think I took an art class when I was in, like, third grade, where I learned how to finger-paint beach scenes, which was fun, but nothing beyond that [laughs]. You're from Hawaii...was that helpful in itself? The fact that you didn't grow up in some random suburbs? Yeah, I was born in southern California, so I went to school there for a little bit, then I lived in Hawaii, and that was when I was really starting to come into my own as an artist, painting and stuff. The art scene in Hawaii specifically on Maui was pretty much whale art and beach photography, and beyond that there was really nothing. I was absorbing other more interesting stuff on my own on the Internet, like roleplaying on forums and reading webcomics and fanfic on the internet. How did you first get into work-for-hire comics? The first thing that got published, I think I was 18, and I did a two-page comic for Slave Labor Graphics, for an anthology called Fat Chunk: Robot. I don't think they exist anymore. Did they fold? [laughs] And they published, like, Johnny the Homicidal Maniac, right? Yup. Yeah. I didn't really grow up reading comics, I started reading them around 14, so I didn't really have any history or know who published what. But I used to draw for a website called EnterVoid, I don't know if you've heard of it. A lot of Canadian cartoonists were on there, like James Stokoe and Marley Zarcone. Basically you'd make an original character, you'd do a design sheet, and then you would pit your character against another person's character, and you'd have to draw a short comic with them fighting it out. You'd get graded on skill, creativity, and technique, and people would rate you from 1-10, and they'd also do long critiques. It was really brutal [laughs], because there were teens like me going up against 30-year-olds. It was intense but fun, and you could do something short like a five-page comic within two weeks, or they'd have tournaments, and you'd have to draw a 22-page comic within two weeks, with a month's worth of fights. That was formative for me as a cartoonist. Prism Stalker began as a novel, right? Yeah. It was a baby novel, and then I wanted to do a visual novel, like an RPG game, but it was too complicated because I didn't have any experience with gaming. And then after several years I felt confident enough to draw it, so I settled on doing a comic. Do you write detailed scripts for yourself, or just lay out each issue first as thumbnails? Mostly outlines. I'll compile an issue's worth of scenes and ideas, but they're usually only a couple of pages long. I don't write dialogue until I'm actually drawing—as I'm drawing it, I'll be thinking through dialogue and writing it down. To me the characters are super amorphous, and when I start drawing a scene I'll be like, "Actually they wouldn't say this, and they wouldn't act like this." Or the way I intuitively draw them acting out their emotions will alter how I think they should speak, what they're thinking. So I don't plan until I'm in the mix drawing it. I do have a loose overarching storyline, but I don't like going into too much detail, because it kills the momentum for me. It is funny that Prism Stalker started as a novel, because the story most reminds me of this species of psychosomatic '70s science fiction—I was thinking of writers like Samuel Delany, Octavia Butler. Was that in the back of your mind? Oh, totally. I think the most apparent inspiration is Sailor Moon, magical girls shouting out moves, and I wanted to take that and—not dissect it, but elaborate on it, instead of just being like "this is my water attack." There's one move, I think in the fifth issue that I just drew, it's this frog alien and her move is forcing someone to experience what it's like to give birth to hatchlings from their back [laughs]. That's like her psychic move and it's very traumatizing if you're not a frog alien. I just try to take that idea of transmitting an experience and go really weird with it. That made me think of—Dan O'Bannon, who wrote the screenplay for Alien and came up with the basic concept and everything, he had Crohn's disease, and I think he understandably had a lot of frustration and trauma surrounding that. So he was like, my idea for this horror story is, what if men got impregnated? Because that's what it feels like, yeah. Body horror is a big thing for me. I have chronic [gastrointestinal] disease, so every time I eat I get nauseous and sick, it's been happening since I was a tween. So I have this disgust and—not complete fear, but a dread-filled fascination with my body, because I'm not in control of it, and I've had cancer scares and stuff. Asthma. The body is so crazy, in how it can turn on itself. That's a big inspiration for the entire world [of Prism Stalker]. That is such a recurring theme with Delany and Butler as well, this fantasy of the mutable body. You did a minicomic about it, but there's multiple scenes in Prism Stalker—I was thinking of the one where Vep becomes this membrane of frantic lines. I love that part. And it doesn't feel clean or sterile like a lot of clichéd science fiction, the aesthetic is techno-organic. All these giant hives. People pressing into the flesh of a door to open it. And the palette is so tropical. Were you consciously trying to go against all those clichés? Yeah. And I feel like that's my perspective on a radical future, a biological synchronicity between us and our environment. Acknowledging it as something that's alive, although not necessarily conscious, which comes from my native Hawaiian background, having that relationship with the land you're on. So I wanted to do a sci-fi version that was a little more flashy and colorful. I just love how dynamic the human body is on a cellular level, how it can encode data into itself. I feel like a lot of bad science fiction is about overcoming or erasing nature, rather than reshaping it, so that was cool to see. Another thing that struck me was...this is a story about a refugee who's been displaced by a terrorist attack, and ends up working for a private military contractor, but it doesn't feel clumsily allegorical. How did you go about gesturing towards these political ideas, but in a way that's— —not too reductive? Yeah. That reveals the operations of colonialism by displacing it into a different context. I drew a lot from Hawaiian history and culture around the 1890s, when Sanford Dole and other businessmen came to Hawaii to start plantations for sugar and pineapples. There were all these immigrants coming in to work for them, and the natives were working for them, so there were hierarchies involved. The plantation owners would also play mind games, like, they started treating the Japanese really well, to make them feel above the others, above the Chinese workers, above the Hawaiians. It's very messy, you know? Obviously there's oppressive subjugation of the native peoples, of the immigrants, but there's also the colonized people enacting that violence against each other. And I wanted to explore that, so it wasn't such a clean, "here's the oppressor, and here's the victim." In Prism Stalker's world there's the Chorus, which denotes that they're going for harmony. They feel that they have the right to subjugate people for their own good. When they rescue Vep's people from that terrorist attack on their home planet, it's not like they're forcing them to leave, they're saving them from this horrible disease that's spreading. But there's still trauma involved for them. There's this trope in shitty space-opera movies where the bad guys are so ridiculously evil-looking. And I can appreciate the camp of a villain slinking around his fabulously appointed lair, but that is not how these empires saw themselves in real life, they thought they were doing good. I loved how you capture the euphemisms they use: "It's important for your social health to move beyond your base traditions." All the teachers are different species and races and ethnicities as well, so a lot of them also had to give up their traditions in order to take on authoritative roles at this academy for the Chorus. They're sympathetic, but they want to succeed in this place where they've found themselves. I think of you as somebody who watches a lot of films, and studies—mm, that sounds bad, [pompously] "studies cinema." But you write about it really well. How has that informed your cartooning? Hmm...I feel like it's such a core part of how I learned storytelling, just because I don't have any formal training besides reading books with titles like How to Draw Comics. I just kind of absorbed media willy-nilly. Movies specifically...I think color and atmosphere was a big thing for me. I don't know, because I feel like my compositions aren't especially cinematic, I don't rely on three-panel wide shots, you know? That doesn't really come into my mind, but the color and atmosphere and mood that movies can achieve, that is present in my mind when I'm coloring. A lot of comics that are colored, as opposed to black and white, it almost feels pointless. It's such a boring, realist use of color, compared to a movie like Black Narcissus, where it's so florid...is that what your approach is going for? It depends on the scene. Like, a lot of the fight scenes I end up going more abstract, especially because there's a lot of psychic abstraction happening in the scene. I'm always trying to find the simplest way to depict something. Not that it'll lack detail, but if I can get away with adding a wash of color to show depth, or wash a whole scene in a very limited palette to control pacing, I'll do that. I'm always trying to use color to make the story and mood clearer. And you even have soundtracks for Prism Stalker. I got the idea from my friend Porpentine, who does Twine games and fiction writing, and Riley collaborates with her a lot, does music for her games. I thought that might be cool, especially because Prism Stalker has a lot of...it's a very noisy world to me. Everything is goopy and membranous and echoing. There's large chambers, crowds of people. Do you have the whole thing planned out right now in your head? Like, do you know how long it's going to run for, what the arc of the story is... Yeah, I have a loose outline, and I pitched it as 25 issues. I thought that was a safe bet. I feel like a lot of Image comics fail when they do that, like, "I'm just going to go on until it's canceled." 25 issues, five trade paperbacks, that seems safe [laughs] ... I think it's also my history with short comics, like, I love doing short fiction and minicomics, one-shot stories, so having something that's ongoing, to me that just means I don't have a pointed theme in mind, and that I'm groping for something to knead it to. [Prism Stalker] is such a clear experience that I'm picking apart that I have an end in mind. Plus you're doing literally everything on this comic yourself, so I imagine you don't have much time to draw other stuff. I'm also working on a graphic novel, I don't recommend it [laughs]. What can you tell me about that book? It's called A Map to the Sun, it's halfway inked, it's about five girls that get forced together to join a basketball team. They're in 10th grade. It takes place in an ambiguous Los Angeles / San Diego-adjacent neighborhood, there's school drama, lots of basketball rivalries. I wanted it to be kind of like Slam Dunk, but there's a hard page count that I can't go past, like, 320 pages, so I can't do a 100-page-long basketball game [laughs]. I'm trying to condense that sort of complex, detailed drama of being a player in a game. Is it also jarring to go from this surreal science fiction to a realist— Yeah. I try to stay looser for A Map to the Sun, especially the backgrounds, it's more brush-y, because I just don't like drawing cars and houses that much, but that and Prism Stalker are both very kinetic, they have a lot to do with the characters' bodies and becoming skilled at a certain thing. I have to ask, because you're doing a book-length comic about L.A.: Have you seen Los Angeles Plays Itself? No, I haven't! It's this three-hour-long film essay about the depiction of Los Angeles in cinema, and the director quotes from dozens and dozens of other movies with narration over that...he talks about how, in classical Hollywood, they couldn't actually shoot movies in China or wherever, they almost never had the budget for that kind of thing, so they would just pretend that these fields outside the city were rice paddies. There's a section where he's showing an old crime thriller supposedly set in Chicago, and the guy is escaping through these hog pens, and the narrator deadpans: "But what about those palm trees?" I did say [A Map to the Sun] is set in Los Angeles, but because it's not "sexy" like L.A. is, I try not to necessarily reference that aspect. I'm mostly referencing, like, the hot, semi-tropical desert property there. I don't know, there's such a specific idyllic feeling, but it can also be really gritty and ugly.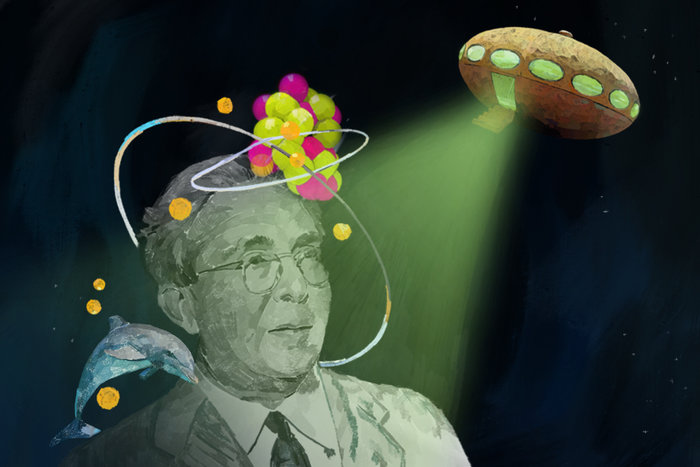 The dubious distinction, and literary legacy, of Leo Szilard, the physicist and writer "who did the most to create the atomic bomb, and the most to stop it."
By all accounts, Leo Szilard loved being in the hospital. In 1960, he was sixty-two years old and dying of bladder cancer, or so it seemed at the time. Although he had liked his life, dying did have its privileges. In room 812 at Memorial, he could hold appointments from bed, like a child king; he had prompt meals, daily pampering; hourly respite from loneliness. And, though he had gone without a permanent address for nearly a decade, he now had a constant influx of visitors: the nurses who indulged his banter and let him take his own temperature; the doctors who tolerated the proffering of his medical opinions. Cancer, miraculously, had given Leo a social life. It had also, paradoxically, given him time. Propped up on his deathbed with his mind at leisure, Leo could cultivate new hobbies, like researching poison. "How terrible it is that you can't walk into a drugstore and buy something to kill yourself without pain," he lamented to his colleague, the physicist and Nobel Laureate Hans Bethe. Barbiturates were good, but cyanide was better, if you could curb the choking sensation. He began a patent for a so-called "suicide kit": a hand pump that could diffuse a painless dilution of cyanide fumes, making dying as easy as breathing. Around that time—in the hours he wasn't napping, or amusing nurses, or trying to covertly direct his own radiation treatment—he began writing a book. That book, a collection of eight addled, antic parables about nuclear war called The Voice of the Dolphins, would go on to be hailed by at least one of Leo's contemporaries as a "science fiction classic." The cyanide pump, on the other hand, was a morbid failure. So, in his way, was Leo. Leo is best remembered, when he's remembered at all, for his contributions to a different kind of deadly device. In 1939, he sent a famous letter to President Franklin D. Roosevelt. "In the course of the last four months," he wrote, "it has become possible to set up a nuclear chain reaction in a large mass of uranium." The letter, cosigned by Leo's old friend Einstein, was the beginning of the Manhattan Project. * Born in Budapest in 1898, Leo was a mere nerd long before he was ever a maker of bombs: quiet, inward, exceedingly mockable. He had protruding ears, a high forehead, and a collection of whimsical hats. His best (only?) friend was his kid brother, Bela, with whom he spent hours building radios and reading science fiction. As a boy, he discovered the "scientific romances" of H.G. Wells who, in a novel titled The World Set Free, likened atomic power to the discovery of fire, which could "[raise] man from brute." Wells's furious utopianism struck a chord with Leo. As a young man, he would go on to start the Hungarian Association for Socialist Students, which proved a gutsy move for a Jewish kid in a collapsing country. In the first of many historical ironies, he moved to Germany, where anti-Semitism seemed comparatively mild. Leo's plan was to study engineering at the prestigious Friedrich Wilhelm University in Berlin, but engineering proved boring—"the routine application of established knowledge," in his appraisal. At Willhelm, he attended lectures by Nobel physicist Max Planck, who sparked his interest in theoretical physics, and befriended Albert Einstein by walking him home from school. But even with Einstein's guidance, Leo struggled to secure a job in his chosen discipline: undoubtedly brilliant, he was also, in the words of his friend Eugene Wigner, "an ass in some respects," bored by teaching and lab work, distracted by his own quixotic ideas. Tellingly, he put the word "job" in scare quotes. By the end of the decade, he was broke, and Berlin was in crisis. On January 30th, 1933, Hitler was named Chancellor of Germany. A few months later, once Einstein secured him a last-ditch fellowship, Leo moved to London. It was in London, on a street corner in Imperial Park, that Leo had an epiphany, motivated, characteristically, by irritation. He had just read an editorial by Ernest Rutherford declaring the Wellsian dream of atomic power a theoretical impossibility. It occurred to Leo that a nuclear chain reaction could be precipitated by the neutrons, then a recent discovery, in a "critical mass" of uranium. Vindicated, Leo filed his first patent. Five years later, he fled Nazi-occupied Europe for the United States. In 1942, under the auspices of Roosevelt, Leo began work as Chief Physicist at the University of Chicago's Metallurgical Lab, where the Manhattan Project was first conceived. He collaborated with Enrico Fermi to create Chicago-1, the world's first nuclear reactor, partially devised from Leo's 1934 patent. Unsurprisingly, Leo was a frustrating colleague from the very beginning—a "peculiar man," in the words of Fermi, with too many ideas and too few social graces, who "seemed to enjoy startling people." Chiefly, he enjoyed startling "brass hats," or the bureaucrats and government officials with whom he would be in conflict for most of his adult life. As the Manhattan Project continued, the Met Lab came under the control of Lieutenant General Leslie R. Groves, the director of the Army Corps of Engineers and Leo's eventual nemesis in life and death. Groves was a career soldier with a puny mustache, a pugilistic face, and a hearty American distrust of intellectuals; Leo was a Hungarian with a heavy accent, a jocular contempt for military authority, and an ecstatic, evangelizing confidence in his own ideas. The two were instant enemies, bound by a beautifully counterpoised hatred. From the first, Leo bristled at the presence of military engineers, whom he believed capable of little more than "putting up bridges," and resented Groves in particular as a philistine intrusion on the sacrosanct domain of science. He was also, to Groves's consternation, immediately dismissive of security protocols, which he thought stymied collaboration among physicists. After Groves refused to support one of Leo's initiatives—his plans for a bismuth-cooled reactor—Leo's fraught relationship with the Army Corps deteriorated even further. "If you don't get rid of these engineers," he said to Arthur Compton, the Met Lab's research director, "I'm going to quit." Groves proposed another solution: that Leo be impounded as an "enemy alien" for the duration of the war. Rather than firing or imprisoning Leo, which would trigger a wave of resignations from his colleagues, Compton removed him from daily operations at Met Lab and assigned him a nominal advisory role. But if Leo had less of a say in the making of the bomb, he now had more time on his hands to consider its destiny. Leo had imagined that "liberating the atom," as Wells described it in The World Set Free, would liberate the world from Nazis. But as the war continued, it became clear that the bomb would function more profoundly as a deterrent to the Soviet Union than as the death knell for the Third Reich. In 1945, Leo decided once again to draft a memo to President Roosevelt, titled "Atomic Bombs and the Postwar Position of the United States," which cautioned that military use of the bomb could trigger "a preventative war with the Soviet Union." Roosevelt died before Einstein, again volunteering as intermediary, could deliver it. Leo had entered the Manhattan Project under the auspices of Roosevelt and would leave it under the stewardship of Harry Truman and an administration of dogmatic Cold Warriors. In the spring 1945, Leo finagled his way into a clandestine meeting with Jimmy Byrnes, soon to be named Truman's Secretary of State, to present him with a version of the memorandum he had intended for Roosevelt. Although the memo was signed by a number of Leo's Manhattan Project colleagues, Byrnes refused to pass it on to Truman. While the war would soon be over, Byrnes explained to Leo, the use of the bomb on Japan would make Russia more "manageable." Before the war had even concluded, the bomb had already been conscripted into the fight against Communism. As August 1945 approached, Leo made one last attempt to stop the bomb: Along with Arthur Compton, Edward Teller, Eugene Rabinowitch, and a number of other prominent scientists, Leo helped draft the secret petition that would come to be known as the Franck Report, cautioning Washington about the likelihood of a postwar arms race should the bomb be deployed on Japan. The petition marked the end of Leo's career in nuclear physics. It was the last of his many attempts to spurn Groves and his ilk, for whom the military use of the bomb beckoned as a career capstone. To Groves, Leo wasn't simply a rival, or a nuisance, or even just an "enemy alien," he was a "true villain," "an inveterate troublemaker," and "not a great scientist." Most of all, he was a Jew. "I'm not prejudiced," Groves told a reporter in 1957. "I don't like certain Jews. I don't like certain characteristics of theirs, but I'm not prejudiced … Take Wigner and Fermi—they're not Jewish—they're quiet, shy, modest, just interested in learning." Leo was keenly aware of the fact that his colleagues, too, had stymied his attempts to stop the bomb, most notably Oppenheimer himself, who told Leo repeatedly that scientists had no place in politics. Oppenheimer, Jewish though he was, had never stoked Groves's racist ire the way that Leo had. "He can talk about anything," Groves said admiringly, "except sports." Regal in his despair on national television, it was Oppenheimer, not Leo, who emerged as the Manhattan Project's high-profile penitent. He became, in the sobriquet of his biographer, the "American Prometheus," while Leo—the Martian, the Jew, the frumpy, frantic foreigner—has been largely forgotten. During the war, Leo never described himself as socialist or, for that matter, as a Jew. Instead, in a famous quip, he described himself as a Martian. Alien or not, he had always been a moony annoyance, bidden by odd, insistent habits. He didn't marry until 1951, when he was fifty-three years old, and courted his wife, Trude, by mail over a period of decades—aware, perhaps, that he charmed in prose but chafed in person. Mostly left to his own devices, he seldom bothered with anything so terrestrial as labwork, or laundry, or living in houses. He felt most at home in hotel rooms, roosting anywhere with room service. Leo lived precariously, portably, with everything he owned—clothes, books, papers, patents—slopped into suitcases. His first real permanent address in America was in La Jolla, where he retired and where, in 1964, he died. William Lanouette, in his biography of Leo, characterizes these habits as those of a late-in-life bachelor. But so, too, do they seem like the habits of a lifelong refugee—a European Jew exiled from Europe, and, eventually, as a physicist exiled from physics. After the revelations of the Franck Report, Groves blacklisted him, writing menacing notes to physics departments around the country cautioning against his employment. Leo never worked in nuclear science again. Instead, he wrote about it. With the imprimatur of a former Manhattan Project scientist, Leo found he could publish more or less whatever and wherever he wanted: in The Bulletin of Atomic Sciences, The New Republic, Life. He had always been an easy, authoritative writer with a flair for argument and irony; now, instead of writing letters to the president, he wrote articles for the public, pleading the case for international arms control. Living on the periphery of America's nuclear politics at the dawn of the atomic age, Leo found, to his chagrin, that he had hardly any influence but plenty of celebrity. Such was the dubious distinction of the man, in the words of Lanouette, "who did the most to create the bomb and the most to stop it. " * When The Voice of the Dolphins was published, Leo hadn't worked in physics in over a decade. The title story, composed after his cancer diagnosis, was his attempt to craft nuclear policy from his hospital bed. Over seventy pages long, "The Voice of the Dolphins" takes place in the near future, and follows a cabal of messianic dolphins who take over the Vatican. Possessed of a frighteningly superior intelligence, the dolphins also demonstrate a preternatural understanding of nuclear warheads. To everyone's relief, they crave only peace. They start a radio show, on which they predict the U.S.-Soviet nuclear crisis of the 1980s. They also resolve it, through a series of byzantine policy proposals. Then, under mysterious circumstances, they die, evoking either a political assassination or the death of Christ. This is, for The Voice of the Dolphins, a happy ending. It's easy to imagine the Leo of the 1960s dividing his days between writing fiction and envisioning his own funeral, grief-stricken under a fine rain of nuclear fallout. His book reads less like a classic of science fiction than an extended revenge fantasy—a Boschian portrait of what the world would look like without him. Every policy suggestion made by the dolphins had, as one reviewer noted, "been made at an earlier time by Leo Szilard himself," in an article published in Life Magazine titled "How to Live with the Bomb—and Survive." When Leo's former colleagues responded to his article derisively—that is, the way they responded to all of his articles—he decided that, if they "couldn't take it straight, they would get it as fiction." He rewrote "How to Live with the Bomb," point for point, as a short story, then added dolphins. But the charge of aggressive self-plagiarism doesn't fully capture the book's peculiar blend of hack shamelessness and high moral purpose. It's a divided, demented little book, riven by dueling desires for penance and self-promotion—as confused, perhaps, as Leo himself, torn between curing his cancer and committing suicide. In his book, as in his life, it's hard to tell whether he wanted to save the world or revel in its ruin. Leo was a man who could hardly tie his own shoes but could foresee the split atom while crossing the street; a man who could succeed in building a bomb but who failed to stop it. The Voice of the Dolphins is, perhaps, less a classic of science fiction than an aching inventory of its author's failures. The title story, Leo wrote, "is not about the brilliance of dolphins, but about the stupidity of man." In most of the stories, the surest sign of men's stupidity is that all of them are dead. * Leo remained convinced, to the end of his life, that the nuclear threat wasn't a scientific crisis but a political one—the singular result of war hawks like Byrnes and Groves who dismissed or demonized him. And as the Cold War mounted, Leo kept faith in his vision of a nuclear arsenal wrested from the hands of politicians, helmed instead by an enclave of scientific elites. But, for all his scientific optimism, there are hardly any heroic scientists in his fiction. There are hardly any humans, in fact, and the ones who survive wish they hadn't. In "The Mark Gable Foundation," a man wakes up from a cryogenic freezer to discover that the humans of the future all wear dentures. In the millennia he slept through, science hasn't solved the problem of the bomb. But it has, reassuringly, solved the problem of teeth, extracting them for "hygienic purposes." Far from saving the world, science in Leo's fiction is toothless and inept, piloting humans into a future they never wanted. It's space aliens, not scientists, who promise salvation in Leo's fiction. Subverting the decade's B-movie tropes, Leo's aliens aren't hostile invaders but melancholy intellectuals—cosmic outsiders who don't want to blow up Earth but understand why it blew up in the first place. They're not Communists, perhaps, but intergalactic fellow travelers; innocent of commerce, they appear to believe that the only thing crazier than nuclear war is capitalism itself. It's the very unsubtlety of that symbolism that makes The Voice of the Dolphins such a ribald, risky marvel: Leo Szilard, enemy alien trailed by the FBI, wrote a widely-published book of fiction condemning the bomb and eulogizing Karl Marx. In "Notes on Exterminism," published in the New Left Review in 1980, the critic EF Thompson declared that the arms race was too crazy to admit a class analysis; the bomb was a political concern that subsumed all others. But, in his life as in his fiction, Leo rejected the idea that the atomic thread overrode questions of class and power. He understood, ever since that failed meeting with Byrnes, how thoroughly the bomb was embedded in forms of economic domination. In the introduction to the 1992 edition of The Voice of the Dolphins, Barton J. Bernstein wrote that "My Trial as A War Criminal" marked Leo's attempt, however conflicted, to echo Marx's assertion that "history is written by the victors." But, if there are no real war criminals in The Voice of the Dolphins, there are no winners, either. The book, ultimately, suggests that history—its weight, its wounds—is inherited by the losers. He understood that at stake in the bomb was more than one kind of extinction. Before the death of the species would come, inevitably, the extermination of difference. If his fiction offers any fragile grounds for hope, it is the image of the Martian—the socialist, the Jew, the bitter outsider—as the one who survives. * Leo recovered from his cancer diagnosis, either through the salubrious effects of imagining apocalypse or because he insisted on directing his own radiation therapy. He recovered in other ways, too: the success of The Voice of the Dolphins somehow allowed him to regain, for a brief time, his political credibility. People started opening his letters again, and sometimes they even answered. One of those people was Nikolai Kruschev, to whom Leo, with typical bravado, had sent an unsolicited manuscript of The Voice of the Dolphins' title story. Kruschev was amused. For a time, they corresponded. That correspondence scored Leo a few successes. It was at Leo's encouragement that the first hotline between the White House and the Kremlin was established. More characteristically, Leo also managed to secure more vacation days for the scientists at the Atomic Energy Commission. But he will always be a figure regarded more highly for his failures than his successes. His thwarted attempts to stop the bomb had largely effaced his role in building it. That quirk of fate—that he could become one of the most famous failures in nuclear politics, and beloved for it—wasn't lost on him. Towards the end of his life, Leo reflected on his differences from Enrico Fermi, describing him, in a backhanded sort of way, "as a scientist pure and simple." For Leo, that "position is unassailable because it is all of one piece….I doubt that [Fermi] ever understood that some people live in two worlds like I do. A world, and science is a part of this one, in which we have to predict what is going to happen, and another world in which [we] fight for what we want to happen. But how many people are able to understand that coexistence of these two separate worlds? I certainly would not understand it were it not for certain accidents in my education." If this "separate world" was one born out of futility, it's also one he perceived most clearly in his fiction. Thomas Carlyle once described poetry as "failed prophecy," and the same could be said of science fiction—the genre that H.G. Wells once lamented as a "self-destructive art." To write fiction like Wells's or Leo's is to write fiction that is often debunked by the very future it foretells. This is, perhaps, a good thing. What's bad for the survival of science fiction is probably good for the survival of the species. Like Wells before him, Leo wrote to capture a collective nightmare. And we hope of nightmares what we seldom hope of novels: to forget them, sooner rather than later. Might the same be said of scientists? Groves, certainly, thought not. In 1965, a year after Leo's death, he wrote to the editors of the Encyclopedia Americana to complain about an entry on Leo Szilard. "It's unnecessarily long," he wrote, "and overstates his importance."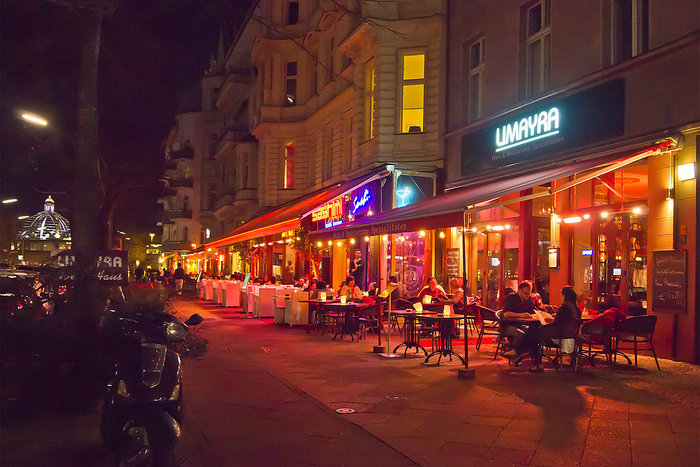 In Berlin, I watched us queer women watching each other. But nobody seemed to lead anyone inside. Could cruising ever be a part of lesbian culture the way it is for gay men? 
When I moved to Berlin I saw queer women everywhere. Women with crewcuts and sturdy knuckles and their collars turned up; women with long dark hair and clean faces who crooked their mouths at me on the subway; women swimming naked in Brandenburg's lakes, circling one another. They passed me on the street at night, they leant up against the same railing at U-Bahn stations. Recognition slipped sideways from a friendly you're not alone into the swampy, heady world of queer desire. Germans tend to stare, but translated into the underground of the German lesbian world this meant that complete strangers would catch my gaze and hold it for an entire train journey. Once I stumbled out, almost breathless, dizzy from the way a woman had been watching me, while my straight friend chattered on beside me, oblivious to the entire exchange. It's odd to be a lesbian in public and feel the frisson of heat rather than danger. There was something about the way we were all looking at each other that couldn't be easily explained. It wasn't until I was idly rereading an old Alan Hollinghurst novel that I realised the difference. We weren't just noticing each other. We were out there to be looked at. We were cruising. * Cruising—the act of going out in public to look for sexual partners, usually for brief or anonymous encounters—has a long history and runs as a bright, dangerous thread through gay literature. Its purposes are manifold, seeking not only sex but partnership, community, and identity. In Gay New York, George Chauncey, writing about the early gay scene in the city from 1890 to 1940, explains that well-known cruising areas offered the chance to find sexual partners and socialise with other gay men. In contending with "the threat of vigilante anti-gay violence as well as with the police… gay men devised a variety of tactics that allowed them to move freely about the city, to appropriate for themselves spaces that were not marked as gay, and to construct a gay city in the midst of, yet invisible to, the dominant city." Cruising is both community-building and world-building. In an interview with The Guardian, author Garth Greenwell argued that modern cruising still offers vital connections and support: "Cruising has been central in my life since I was 14 years old. It was the first gay community I found in the pre-global internet in Louisville, Kentucky, where I grew up." And Greenwell, writing for BuzzFeed, scoffed at the idea that the age of Grindr has made cruising obsolete. If so, he says, "it's difficult to explain the persistence of analog cruising, or the fact that often enough offline and digital cruising happen side by side". Cruising and literature are inherently linked: cruising is, after all, a form of reading, with its own codes and languages. Unsurprising, then, that so much of gay literature is interested in the politics and romances of cruising. Greenwell's debut novel opens in a public bathroom defined by its cruising potential by the narrator; there is, he tells us, "only one reason for men to be standing there." Cruising in What Belongs To You is a tender act, where love and loneliness couple in the "hidden gay world" contained within Sofia's streets. This hidden gay world is so all-consuming in Alan Hollinghurst's debut novel The Swimming Pool Library that it becomes hard to remember there is another heterosexual world existing around it—let alone a world containing women, who appear only briefly, usually presented off-screen with faint disgust. ("It was not nice," one male character remarks, "to think of female fingernails doodling over his smooth man's body.") The novel's narrator, William Beckwith, spends the novel seeking and having sex in public, with almost no effort: "[M]y pick-ups were virtually instantaneous: the man I fancied took in my body, my cock, my blue eyes at a glance. Misunderstandings were almost unknown. Any uncertainty in a boy I wanted was usually overcome by the simple insistence of my look." For Will, it is "strangers who by their very strangeness quickened my pulse and made me feel I was alive." The novel revels in public sex, in cruising, in the erotic possibilities offered by this simple insistence of Will's demanding gaze. Berlin, of course, has long been home to cruising both real and fictional. Christopher Isherwood, poet laureate of gay Berlin, reports frankly that "Berlin meant boys." Writing forty years later in Black Deutschland, Darryl Pinckney begins his tale of American expatriate Jed in 1980s West Berlin with an explicit Isherwood callback: "Fifty years after [Isherwood's] adventures among proletarian toughs, Berlin meant white boys who wanted to atone for Germany's crimes by loving a black boy like me." Jed is not particularly interested in cruising, but he is still alive to the possibilities it offers, whether "cruising in the Tiergarten. Show me the way to the next pretty boy" or dryly recognising the potential that passes him by; "the boys not giving me a second look," his inability to "get any of the loitering Turkish boys to respond." When I first noticed the way in which women were looking at me in Berlin I went back to these books and thrilled again, with Greenwell, at the potential for "the park's other life, secret and ludic"—where park could read city, train, walk home. But clearly, these books were lacking the very thing that had driven me to them: there were no women. * The world of queer women's literature is vast and varied, and this year I embarked on a brief, desperate catalogue of lesbian fiction in search of women cruising. I read a limited but comprehensive sample: classics of the genre, more recent releases, some of the pulp fiction of the '50s and '60s. I came up with a bare collection of disparate threads, not enough to fill even one Hollinghurst chapter. Audre Lorde refers to cruising throughout her memoir Zami: A New Spelling of My Name, but she means picking women up in gay bars, not quite the same as a public search, let alone public sex. Rita Mae Brown, in the groundbreaking Rubyfruit Jungle, never mentions it; neither does Eileen Myles. The characters in Torrey Peters's self-published trilogy may run into each other in a dystopian future, but the dangers for trans women on the streets are, of course, even more pronounced, and they don't cruise. Virginia Woolf's Orlando offers a form of non-explicit cruising when the title character, at that point a woman crossdressing as a man, meets another young woman while walking at night. Orlando sweeps "her hat off to her in the manner of a gallant paying his addresses to a lady of fashion in a public place"; the two meet eyes; and the other woman "rose; she accepted his arm." The woman, it's revealed, is a prostitute called Nell, and in Nell's bedroom Orlando reveals her own womanhood, whereupon Nell bursts into laughter. There is still an implicit sense of eroticism, but it is deliberately hidden "for it cannot be denied that when women get together—but hist—they are always careful to see that the doors are shut and that not a word of it gets into print. All they desire is—but hist again—is that not a man's step on the stair?" Woolf keeps her doors firmly closed. And though behind the door it is probable that Nell and Orlando are having sex, the scene doesn't quite work as one of lesbian cruising triumph, not least because there is no moment of mutual queer recognition on the street; Orlando does not reveal her gender until they are safely behind closed doors. In Sarah Waters's Victorian romp Tipping The Velvet, protagonist Nan comes to cruising by accident. When wandering on London's streets she is "stared at and called after—and twice or thrice seized and stroked and pinched—by men… I was a solitary girl... in a city where girls walked only to be gazed at." The solution, Nan discovers in an echo of Orlando, is to dress like a boy—but in another twist, crossdressing Nan is still "gazed at," now by gay men. Despite being gay herself, Nan engages in sex work with men while disguised as a boy, drawn by a sense of power rather than any sexual fulfillment. But she is still not truly seen, in that crucial visual realm where cruising operates best: "My one regret was that, though I was daily giving such marvelous performances, they had no audience." Nan finds her audience in a carriage that follows her home, manned by a woman who requests her services. Nan protests, aware that her boy-guise will fall apart when working with a woman, then confesses: I took a breath, and leaned into the dark interior of the coach. "Madam," I hissed, "I ain't a boy at all. I'm—" I hesitated. The end of the cigarette disappeared: she had thrown it out of the window. I heard her give one impatient sigh—and all at once I understood. "You little fool," she said. "Get in." The moment of desire is electric. Though the strange woman is dangerous and the relationship will quickly turn abusive, the act of being seen, recognised, and solicited as yourself is an overwhelming one for Nan: a moment of lesbian cruising, against all Victorian London's odds. * Berlin is a good city for queer women; it is a good city for most queer people. Before the rise of Nazism, the Weimar Republic was shockingly welcoming to gay men and women, particularly in the thriving neighbourhood of Schöneberg—where Christopher Isherwood lived, but also where singers and actresses like Claire Waldoff, Marlene Dietrich, and other queer women performed and prowled. The lesbian community in Berlin grew up alongside the gay community; there was even, in 1928, a guide to lesbian bars called Berlins lesbische Frauen. After World War II, Berlin began to slowly recover from the fascist persecution of gay people. Homosexuality was decriminalised in 1969; the world's first Gay Museum was opened in 1985. Berlin began to be known once more as a safe(r) space for queer people. And Berlin has a rare determination to preserve queer women and lesbian culture, rather than allowing it to be subsumed under the larger umbrella of gay male culture. There are bars in Berlin that are still exclusively meant for queer women; there are hundreds of private-public spaces designed for us, from parties to community organisations to sex clubs. Sometimes it feels like a city built for dykes, and through my first months here I watched us watching each other, whether topless on the lake shores in August or bundled under coats in the deep cold of January. But still, nobody seemed to lead anyone aside, and no queer women I asked had any experience of cruising, either. My friend N told me about Stadtbad Neukölln, a sauna which, they said, on a Monday night was full of gay women checking each other out, Berlin's best lesbian cruising ground. A sauna was indoors but undeniably public, and Stadtbad Neukölln was not a designated gay setting; my heart leapt. Then N blinked and added, "But as far as I know, no one actually does anything. Me and my mates have been going for years, but no one ever has sex there or nearby. Maybe you get a number, if you're lucky." Another friend of ours said that lesbians don't cruise because they want more of an emotional and thoughtful connection with someone before they have sex, but I found this dangerous territory in its implications and, at any rate, unlikely. "Yeah," N agreed, laughing. "You've clearly never been to a darkroom." "There's got to be some reason," I said. I wanted a revelation or discovery: I wanted something new. "It can't be just that dykes don't go out and cruise properly because…" "Because we'll be raped and murdered," N said, matter-of-fact. "Yeah," I said. It is this threat of violence that makes the ugly, obvious truth plain. Queer women probably don't cruise because it is simply too unsafe for us to do so. It's why Woolf is so careful to close her doors; it's why Lorde sticks to lesbian bars, spaces created for and by queer women. Queer women's sexuality is such a threat to patriarchal, heterosexual control that for many centuries its existence was completely denied, or deliberately hidden. The oppression levered against queer women is one of violent control: keeping us trapped, denying our existence, struggling to remake us. And even now, to be a woman in public is to be harassed—catcalled or followed home, leered at or abused. The threat of violence is inseparable from the idea of lesbian cruising. Of course, gay men too, and particularly men of colour, face public violence and control. Cruising is never safe. The books that explore gay cruising dwell, as men do in real life, on the dangers inherent in the act. Hollinghurst's novels are fraught with violence both within (the HIV risk plays a major role in The Line of Beauty) and without (the "exhilaration" of sex with strangers, Will tells us, "is sharpened by the courted risk of rejection, misunderstanding, abuse"). Greenwell's narrator is strung with tension, as is his love affair, the prospect of homophobic violence never far-off; Pinckney's novel, too, is saturated with danger, dwelling on the racist surveillance and threat Jed faces as a black man in public spaces. Out of the theoretical space of literature, cruising is even more fraught, and homophobic violence is an everyday reality. But cities were never built for women, let alone queer women, much as I want to claim Berlin. The streets of our cities have always been men's domain: often segregated, always controlled, but still made for and by men. Men, then, have more of an ability to forge out the invisible, private gay spaces that, while always at threat, can nevertheless exist. But women moving even as freely on streets as we do now is relatively new by the long standards of history—we haven't picked up the habit of it yet. Women's bodies are too immediately at risk to think about trying to create those safe, hidden public spaces. We're busy hurrying home. * In 1993, academic James Creech published Closet Writing/Gay Reading, which explores what Creech calls "textual cruising," or "the wink": signals for a reader that there is gay subtext to be found. He uses a minor character, Lieutenant Weincheck from Carson McCullers's Reflections in a Golden Eye, as an example. The Lieutenant lives alone in a bachelor apartment with twelve potted plants, an Angora cat, and plays the violin—"a sound," McCullers tells us, "that made the young officers passing along the corridor scratch their heads and wink at each other." "The wink of the other officers as they pass Weincheck's door," Creech explains, "is the same wink that the text directs at its readers." In this way, authors writing in historical periods during which being accused of gay content was highly dangerous, career-destroying if not life-destroying, authors like Herman Melville and Henry James, could still communicate with their gay readers without worrying about heterosexual disapproval. Straight readers would not even notice the wink that the text offers. "It is much like cruising," Creech writes. "If the object of interest does not recognize that he is an object of interest, then he is, in fact, uninteresting. He is not the object which the sign is hailing." Women in public are never completely safe; queer women are doubly unsafe; queer women having sex in public run great and terrible risks. But there is still something vicious and triumphant in what we can wrest out of the streets when we try. Something about Berlin makes us bolder, and our real lives are translated back into text, where the gay wink has to function, like Woolf's closed door, as a signal for what could be and for the truth of lesbian desire that exists, hidden by necessity or by force. A look that burns like a touch. Hist again for the man's step on the stair, and don't break your gaze.