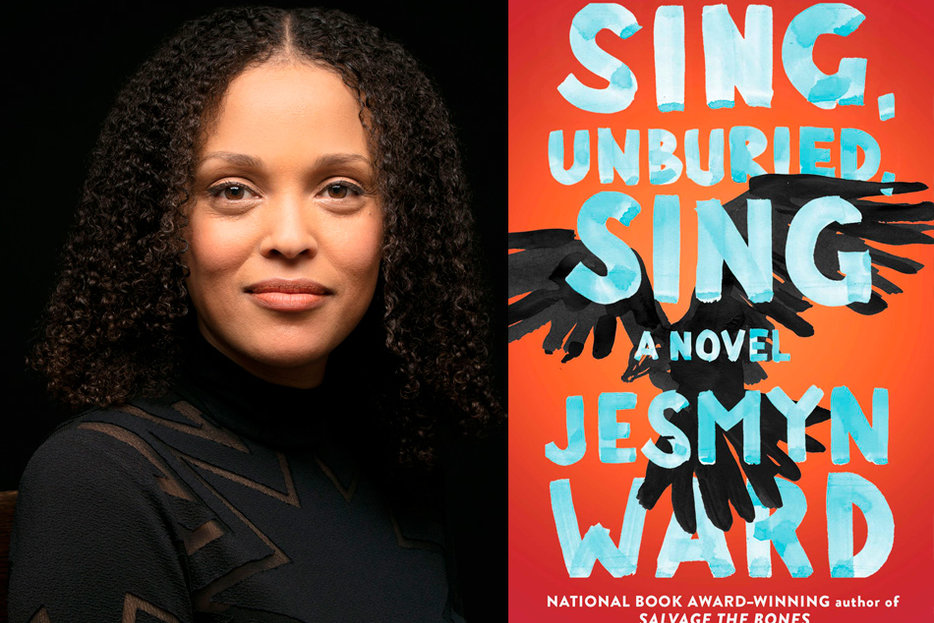 The author of the National Book Award-winning Sing, Unburied, Sing on the pressure of accolades, discovering new stories and processing pain.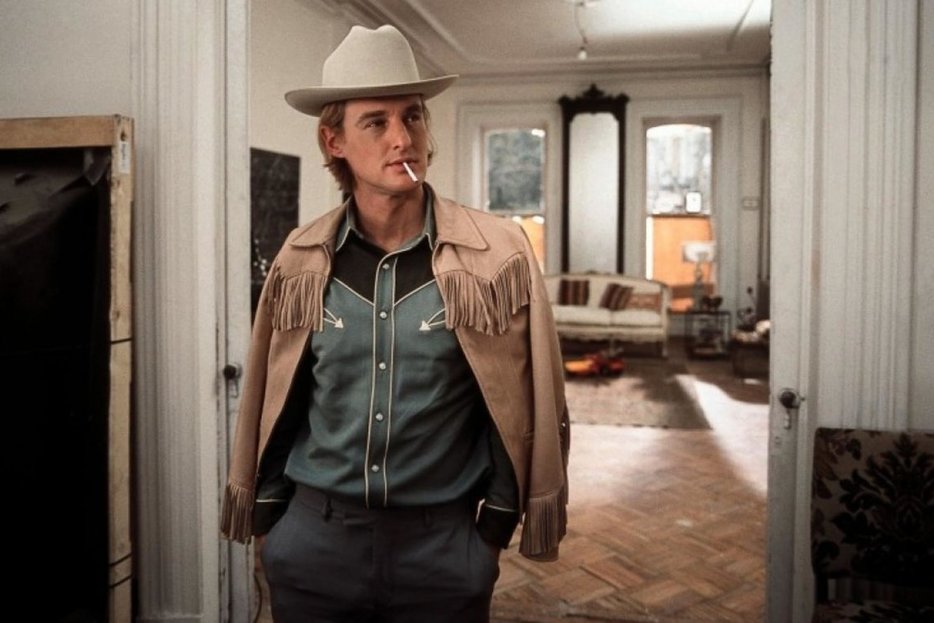 As a nerdy kid who wanted to be a film critic, I saw myself in Wilson's unexpected comedy. But my favourite writer was destined to become a movie star.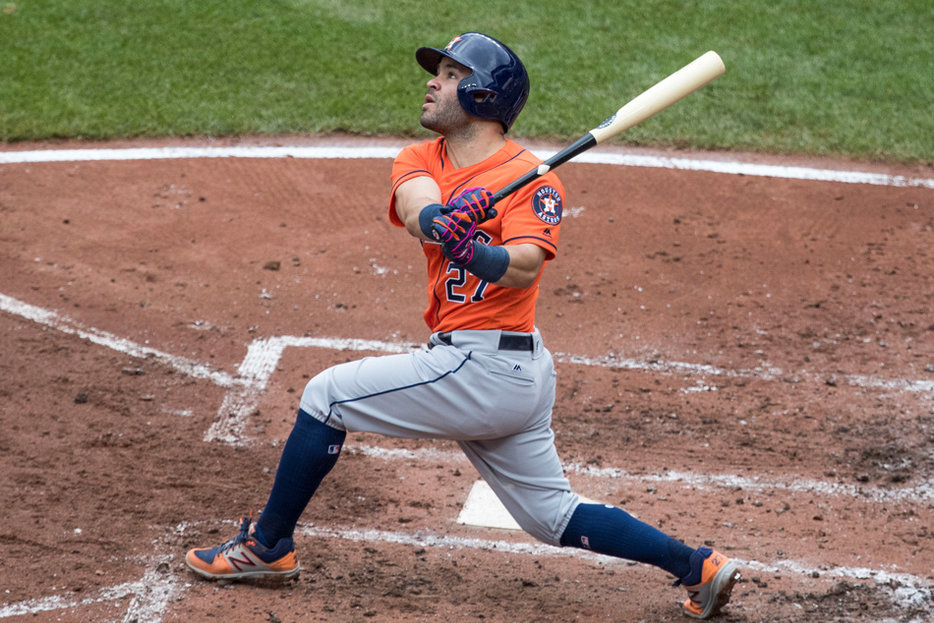 I thought baseball would become political in 2017, but it only absorbed the frazzled, babbling-lunatic tenor of the country at large—which gives me hope for the game's future.
Latest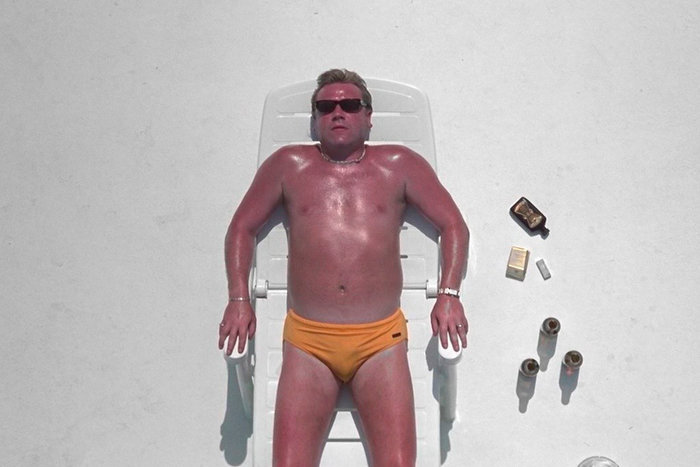 Jonathan Glazer's lush, romantic take on the gangster movie, Sexy Beast, uses the simplest of moments to build its sense of dread: a warm day, a clear pool, a frosty beer.
In a small, unglamorous Spanish restaurant, Gal Dove's friends arrive with bad news. And not just bad news—life-changing news, in the truest sense of the word. He's just found out that he's been offered a job, one for which he's been asked to come out of retirement, or rather—and you can tell this from the look in his eyes, from the shift in atmosphere when the identity of the caller is revealed—for which he's been told he's coming out of retirement. One final heist. It's this scene towards the end of the film's first act that serves as the catalyst of Jonathan Glazer's lush, romantic take on the gangster movie, Sexy Beast. It's in this moment we first hear the name Don Logan. Gal, played by Ray Winstone, may be at the core of the film's plotline, but it's Don, the psychotic, manipulative, maniac London mercenary, played by Sir Ben Kingsley, who informs the entire piece. When Gal's friends break the news that Don wants him, he knows that the life he's made for himself—the villa in Spain, the pool, the nice restaurants, the calm—is about to be destroyed. Perhaps then, that's why in this scene he allows himself one final moment of respite—a last piece of clarity, before everything goes to shit. A waiter approaches the table whilst Gal processes the information. Without missing a beat, the waiter pours out a beer, its frosted amber rendered particularly evocative by the film's hazy cinematography. How good that beer looks, how hot the room feels. He takes a sip and gestures to the lager—an almost imperceptible movement, like The Wolf drinking coffee in Jimmie's flat in Pulp Fiction, rendered through alcohol instead of caffeine. "That's nice, that," he says. "Nice and cold." This is Gal's last meal. It's a dramatic tonal shift, a flip-flop from sheer panic to a pure, base level of satisfaction. A need being met. The film, from its outset, effectively foreshadows this sort of disruption. In the first twenty minutes, though, it's less polar, more a continued zig-zagging between idyll and turmoil throughout three sequences, where external forces don't allow Gal any kind of respite. * In the film's opening scene, Gal lies—speedo-clad, sunglasses on—in his private pool, a red love-heart tiled on the bottom. He is the archetypal Brit-abroad, doing the exact kind of thing British people do when they encounter actual heat—dry, desert heat, the kind you don't get in the UK. He says it's "too hot," and then begins to fan himself with a tiny hand-held electric fan, as if that's going to do anything at all. It's the most British reaction to being in the sun you could imagine. He is living his best life. That is, until a boulder crashes into the pool, totally soaking him, although ironically, probably cooling him off pretty quickly. Still, the pool is destroyed, and, you know, he nearly gets hit by a boulder. But don't worry, he bounces back, manning a barbecue in the next scene. Here, it's important to note the cultural difference between the American barbecue and the British barbecue. The American barbecue is an artisanal craft on which whole swathes of food culture are built: smoking, slow-cooking, dry-rubs, hot sauce, ribs, brisket, chicken—the whole of the South, basically. The British barbecue is: every year on a day when it's forecast not to rain, but it rains, a dad gets out either a very rusty gas cooker or, more likely, a disposable foil tray filled with charcoal, and burns meat over fire whilst getting slowly drunk. And we love it. This scene is porn for British dads. Look at Gal, holding court over this grill, his subjects—wife Didi, friend Aitch and Aitch's wife Jackie, the friends who have joined him in this post-gangster life—sitting, waiting for their quarter-pounder. Once again, Gal's having a time, and then suddenly the fire spits at him, a throng of flames leaping out and sending him a few steps backward. The third moment is slightly weirder, more conceptual. Gal and Aitch stand in a desert with shotguns, joined by Gal's Spanish errand boy, and try (unsuccessfully) to shoot a hare. Again, a minor cultural point: it's unlikely that Gal and Aitch—two East End wide-boys—have a relationship with hunting. Hunting is not a working-class pursuit in England, and gun ownership isn't really a thing, although with both being ex-gangsters, you can imagine they know their way around them. Still, you can tell they're both playing at it—Aitch in blue Wranglers and a ten-gallon hat, Gal in army fatigues and a military bandana. However, not only do both Aitch and the kid's guns fall apart in their arms, the scene is followed by a dream sequence in which a tall, pretty terrifying rabbit appears on horseback and aims a gun at Gal's head. London-based psychotherapist Ales Zivkovic talks about how in dreams, the symbol of the rabbit often refers to something that is ungraspable, foreign, or unknown, a reflection of the animal's nature in real life, their elusiveness. The rabbit is a frequent a symbol of an instability or psychosis: Donnie Darko (2001), Choking Man (2006), the white rabbit of Alice In Wonderland, Here, the rabbit escapes Gal in reality but returns in his subconscious, a symbol of his fear that is returned to in the film's closing scene. Throughout these opening moments, the dream sequence in particular, you can't help but get the sense that somehow, Gal knows what's coming. The unease that hangs over his opulent, blissful lifestyle is palpable—he's just waiting for it. It's The Appointment in Samarra, the idea that you can't outrun fate, and if in the story of Samarra, fate is the servant eventually coming face to face with death, here it is Gal hearing he's been called out of retirement, and that Don is coming. Perhaps the real reason that Gal's small toast rings out so clearly in this film, though, is because of who's saying it. Ray Winstone is an odd kind of leading man, an actor whose entire career seems predicated on the idea that he's just one of the lads. Where Ben Kingsley is method, serious, a towering thesp, Winstone is an everyman. Rico Lowson, Programme Coordinator at UK film education charity Into Film, suggests this is crucial to us empathizing with him as Gal. "He is of that world entirely, it's unreconstructed, there's a genuine sensitivity to him because he's right on that edge of pure bloke, but there's a yearning to him. If you listen to him in interviews, he's exactly the same." We understand his performances through the lens of what we know about him as person; there's no divorcing the two. That's not to discredit his performance in any way—in a film that is all about the rhythm of the dialogue and the tension between Gal and Don, Winstone is flawless, never misses a beat, but what it means is this: when he drinks a beer, something he's probably done countless times before, and takes the trouble to say how good it is, you know that means something, and by extension, you know how bad it's about to get.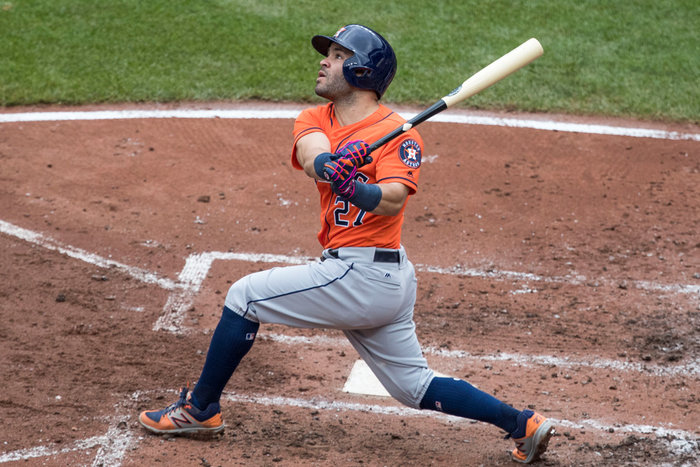 I thought baseball would become political in 2017, but it only absorbed the frazzled, babbling-lunatic tenor of the country at large—which gives me hope for the game's future.
Paint the Corners is a monthly column about baseball. And just like that, it's over. A six-month season, a month of wildly entertaining playoffs, a record-setting seven-game World Series that felt agonizingly close up to its final day, and now there's a long winter before pitchers and catchers report. The final stretch of a baseball season is so unlike anything that precedes it, as if the whole sport suddenly switches genres from a low-key comedy to a grisly slasher. Throughout October, the games grow increasingly high-stakes until finally, with one mundane play (in this year's case, a routine ground ball to second), it all just stops. November 2, the first baseball-free day since the pre-spring chill, felt longer than average, emptier. Every day since has, too. Except, I suspect, in Houston. Back in April, I had only the vague feeling that baseball would be different this year. I thought that, surely, the closed world of Major League Baseball would be forced to address Trump, eater of worlds. One errant tweet, one notionally controversial player interview, and the game would collide with the president's ever-ballooning ego like the rest of our culture. And certainly the wider game encompassed issues that Trump, through petty vengeance or mere incompetence, made his own, from the anti-Trumpcare banner that flew over Progressive Field in Cleveland to the long-awaited first knee taken by a ballplayer, the Athletics' Bruce Maxwell. But these were feints, small nods to the reality of the current regime. Baseball, let alone the MLB, was largely unaffected by Trump. I spent the season combing for news stories that even tangentially gestured at politics, and though I always found them, they never cohered into a single narrative. Instead, I came to a greater appreciation for the game's capacity to mirror our culture. Of course politically minded story lines popped up in our most ethnically and racially diverse sport, the one whose player base and business interests now stretch from Gulf Coast junior colleges to Vilnius. The game naturally broadcasts our national reality back to us because it is diffuse and sprawling enough to still encompass it all—nearly 5,000 total games every season, played by men from all corners of the globe. And so it felt almost fated, for example, that Bruce Maxwell initiated his offseason with a frightening-sounding incident in which he pointed a gun at a food deliveryperson. This was late October, right between the two mass shootings that have defined autumn 2017 in the United States. As if we needed further proof that our firearm worship constitutes mass psychosis, baseball was there to provide one small example of the derangement. And as Puerto Rico struggled to overcome a botched hurricane recovery and an open-shut case of contractor corruption, it was Kike Hernandez, consummate utility man and P.R. native, who hit a shocking three home runs to send the Dodgers to the World Series, where they played against a city that was itself reeling from its own environmental disaster. Baseball can be such a wonderful distraction from the sick, overwhelming world, but the closer you look, the more it resembles the world itself. * Last year's playoffs took place at the end of a demoralizing, frightful presidential campaign that had seemingly upended the laws of societal physics. A man with no political experience could talk about his penis during a debate and still get a major party's nomination? He could be caught on tape spewing the most crudely insulting, sophomoric sexism and still hold a chance of winning the presidency? The world seemed upside down, and so baseball obliged: the Cubs, for the first time in over a century, became world champions. This year, the world isn't caught in election mania, but everything nevertheless feels like it's in free-fall. A new swarm of scandal and vulgarity envelops everything ad nauseam, without even a national election day on the horizon to act as a finish line. For months, our hopes have been pinned to some unsure, unknown legal reckoning by Robert Mueller, a revelation to ensure comeuppance or impeachment or even criminal charges, which will then give way to… something, surely, some kind of course correction, right? What would that even mean at this point? And so baseball obliged yet again, with a postseason where order of a kind has been restored: we came perilously close to the Yankees winning an AL pennant (just a few months after their owner compared players speaking about politics to a monkey showing its ass, no less) before the league's two winningest teams ultimately met in the World Series. There was a hugeness to this series—a sense, as with the daily news, that anything could happen and reality could pivot in an instant. A record twenty-five home runs were hit over those seven games, many of which either tied or reversed a lead. Astros star George Springer had a dismal ALCS performance against the Yankees, then struck out four times in Game 1 against the Dodgers, but starting in Game 2 he emerged as a titan, tying the record for most-ever home runs in a World Series and eventually winning the series MVP. Clayton Kershaw's October heartbreak has long been the only moderately pitiable thing about him, but he had two incredible starts and four scoreless relief innings against the Astros. His reliably unhittable teammate Kenley Jansen, however, suffered a few scuffs to his armor by surrendering leads in Games 2 and 5. This is America in 2017, so we had racial scandal, too, in the form of Yuri Gurriel's horrible slant-eyed gesture mocking Yu Darvish. We had on- and off-field drama, including two extra-inning games, one of which went more than five hours, and allegations of a juiced ball. At least two players reported blackouts-from-joy, out-of-body experiences where sheer hysteria erased their memories. This is a nuttier, more fevered version of America's pastime, a perfect fit for a summer in which multiple cities drowned simultaneously, Republicans repeatedly attempted to strip health care from millions, northern California incinerated, Las Vegas was turned into a nightmarish shooting range, and Puerto Rico nearly collapsed. Right on schedule, Robert Mueller announced his first indictments the day after Game 5, the craziest of the series. I thought baseball would become political in 2017, but it only absorbed the frazzled, babbling-lunatic tenor of the country at large. If anything, this gives me more hope for the game's future. The sport and MLB feel alive to the world. Baseball is in flux right now like everything else; the last three World Series have vanquished decades-long championship droughts, and would have done so even if the losers had won. The number of foreign-born players continues to grow each year, and the conventional knowledge about how to win a game or construct a team is seemingly revised after every season. For now, baseball is an exciting yin to society's yang, proof that the unprecedented doesn't have to be nauseating. * But let's not get too rosy-eyed. The day after Game 7, two renowned New York-based media entities, DNAinfo and Gothamist, were unceremoniously shuttered by their owner, Joe Ricketts. The decision followed the writers' vote to unionize, and a spokeswoman for ownership made it clear that the two events were related: "The decision by the editorial team to unionize is simply another competitive obstacle making it harder for the business to be financially successful." Funny thing, that. Because Ricketts owns another business, the Chicago Cubs, that has been wildly profitable of late despite its players being union members. If anything worries me about baseball and the game's role in our culture, it's the sheer profitability of it, and the narrow ways those profits are shared. It was heartwarming that the Astros' owner Jim Crane, a billionaire shipping magnate, led the club's $4 million investment in Houston's post-Harvey recovery, but that was a crisis response. In terms of everyday economic implications, baseball teams are primarily a risk-free investment for the old businessmen who buy them. As the GOP continues with a donor-demanded tax plan that would gut our remaining safety net and widen our already untenable wealth gap, it is hard to stay too excited about a league where failed fools like Jeffrey Loria can infinitely profit off their mismanaged teams and successful ones like Joe Ricketts can dissolve multiple newsrooms with a single memo. I don't expect baseball will ever reckon outright with our Gilded Age income inequality, but if 2017 is any indication, the effects of that inequality will somehow make themselves felt in the game nevertheless.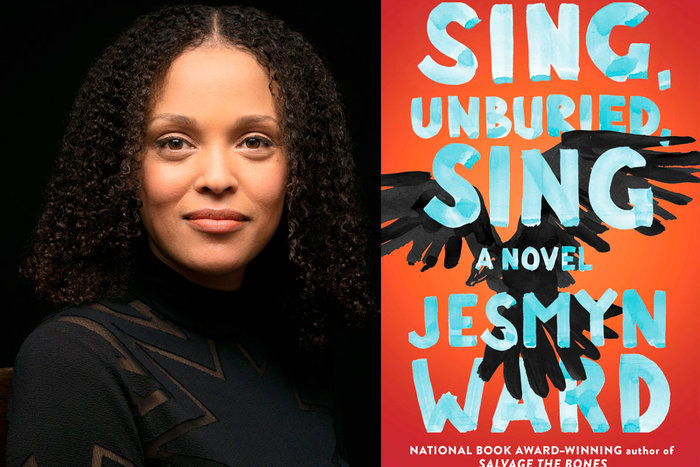 The author of the National Book Award-winning Sing, Unburied, Sing on the pressure of accolades, discovering new stories and processing pain. 
Jesmyn Ward is one of the great writers of our time and when I dial her number, I am nervous. When she answers, I learn that she is trying to find her way out of a building after a radio interview on the campus of the University of New Orleans. There is no one around and she has been locked out. She enters a new unlocked door and finds herself locked in again. As I commiserate with her over this experience, my nervousness ratchets down. Ward is human—she, too, gets lost and has to find her way back. We decide that she should call me back after she finds her way. Ward is the author of three books—two novels and a memoir—and the editor of an essay collection. Her second novel, Salvage the Bones, is one I recommended to friends over and over for its storytelling and poetry-infused prose. I read Men We Reaped while in transit, thinking of loss and those taken too soon. Sing, Unburied, Sing (Simon & Schuster) is her latest, and just last night, won the National Book Award for fiction—her second time taking that honor (she previously won for Salvage the Bones in 2011). The novel simultaneously takes place over the span of both days and decades. At the center is a family: Jojo is a biracial boy, Leonie is his black mother, Kayla is his baby sister, and Pop and Mam are his grandparents. In the novel, Jojo and Kayla go along with Leonie and her friend to pick up their white father from prison. It is a story that deals with what it means to be a family, what it means to grieve, what it means when the past won't let go. Once again, Jesmyn Ward has created a work that is stunning in its representation of humanity and of people who often don't get the chance to be rendered as human. Ward calls me back once she has made it outside. We talk about failing others because you have been failed, legacy, and the pressure of awards. We talk about more. Occasionally, I hear the wind. Abigail Bereola: Jojo is a sweet thirteen-year-old boy trying to navigate what it means to learn to be a man. To him, manhood means confronting death without looking away and it means denying himself very human things, like touch. Where do you think Jojo picked up these constructions of manhood? How much of it do you think comes from him and how much is what is put on him by other people? Jesmyn Ward: I think that a lot of it is put on him by other people. Most of the good he's learned from Pop, about what it means to be a man, what it means to be a black man. This idea he has that men nurture—that men are caretakers—I think he gets that from Pop. This idea he has that you express your love for people by caring for them, by providing for them—I think he gets that from Pop. I think that the bad ideas he has about masculinity, I think a lot of those he's getting from the outside world. His ideas about showing emotion, and there are ideas that he has about what it means to be a person of color and what it means to move about in the world as a person of color—I think his ideas about that, he's definitely getting from the outside world. But I do have to say that I think that he's a naturally sensitive person, and so I think that some of what he understands about what it means to be a man and nurture and be a caretaker, I think some of that is just because of who he is. Because he's sensitive and because he's so empathetic, you know? Yeah. That's interesting with thinking about how he does have this example of a nurturer who is right in his household, but he still feels like there are certain ways that you can nurture certain people while he kind of cuts the nurturing off with regard to himself. Huh. Yeah. I feel like… in part, maybe he's getting some of that from Pop, from his grandfather, but in some ways, it might be that the reason he believes that is because Leonie is still his mom. I think in some ways he might be modeling her, because she doesn't practice self-care. She's a really destructive person. So, I think some of that may be coming from her—from watching her and the ways that she moves through the world and interacts with the world, and at the same time that she's failing them, she's failing herself in certain ways. So, maybe some of that is coming from Leonie. I think it would be easy to say that Leonie is a "bad" mother, but you wrote her in such a humanizing way that I think it's also easy to say that she is a woman who is seeking love, but who doesn't quite always know how to give it, especially to her children. She's grieving her brother's death, her boyfriend's imprisonment, and aspects of her own life in some ways. Her kids offer something other than what she is, other than her pain and self-hate, but they are also emblematic of it. Her brother, Given, was failed in the way that he died and in what came after, but do you feel like Leonie was failed, too, as a person among those who were left behind? And now she fails others because she doesn't know how to process her own pain? Oh, definitely. Definitely. That was the key for me, the key to understanding who she was and why she failed those around her. Why she neglects her children, why she is sometimes emotionally and physically abusive to them. Because she had been failed. Because she had been left to learn how to bear underneath this grief, how to carry that grief throughout her life. And she was left to struggle with that alone, in some ways. I mean, in the end, I think we all have to struggle with our grief alone, but she—I don't know, I think that it was hard for her because maybe she didn't have any models for how to do it. And it seems that her mother and her father were struggling with their grief and I think it was so difficult for them that they couldn't see beyond their grief to help her through her grief. In a way, I think that that's a really natural response because the grief of losing a child—I mean, I can't imagine how awful that must be. But I know from experience, from my own mom talking about what it was like to lose her son, that it's a special kind of hell. And so, I think that in some ways, Leonie was left alone to struggle with this thing and I think it's the great wound of her life. She can't see beyond it because she hasn't begun to heal from it. Because she can't live with it. She can't confront it. She can't sit with it. I just think that it complicates everything for her and I think that it makes her even more self-involved, even less able to care for others around her. To care for her parents or her children. To care for herself. In Sing, Unburied, Sing, there are many elements of the supernatural, but they feel so intrinsic and intuitive to the world in the story. Some people have referred to the novel as magical realism. Do you agree with that characterization? And either way, do you see the novel as resting more on the side of magic or more on the side of realism? I think it's a combination of the two. I can't deny that there are supernatural elements in the story. But I think that my understanding of the world that the characters live in is that the supernatural and the natural are inextricably bound to one another. One can't exist without the other. So, I think it is magical realism. I guess I think about it as delving into different aspects of black culture that aren't always at the forefront, but are very real for the people who experience and practice it, if that makes sense. Yeah, that totally makes sense. One of the reasons that I wanted to write about voodoo or write about hoodoo is because I feel like in the larger culture—in American culture—voodoo is something that has been maligned and I think that black spiritual traditions were important and are still important, for many, for our survival. I come from an area where a lot of people are Catholics—I was raised Catholic—but yet in voodoo, you have this example, especially in New Orleans, of elements of African spiritual traditions melding with Catholicism. I think that voodoo and hoodoo were a way for people of African descent to feel as if they had some sort of power or control in their lives, especially when in every other aspect of their lives, they were denied that. I think that those traditions are really important to understanding how we survived, how we exerted control, how we assumed some power, how we claimed some agency for ourselves throughout the hundreds of years that our ancestors were enslaved. So, I wanted to push back against that understanding of voodoo, of hoodoo, of that kind of black spiritual tradition, so that people are better aware of how it, again, helped us to thrive and how it helped us to fulfill some really deep-seated human needs that we had. When reading this novel, I was so excited that Skeetah and Esch from Salvage the Bones made an appearance. Do you think of all your characters across novels as existing together in the same world? Oh, yeah. The characters at the center of my first novel were a set of twins and those were the twins that Leonie is talking about. There's a flashback when she's thinking about Given and Given and Pop were working on his car trying to get it together and she says, "Oh, I wish so-and-so would walk down the street." She's talking about the twins from my first novel. In my head, they're all existing at the same time, in the same place. In part, what I feel like I'm doing when I'm casting about for ideas for novels is that I'm trying to figure out who else lives there. I'm trying to find more people in that place so I can write about that. I really love that. Yeah? Because that's how life is, too! We all exist at the same time, even though we have our own stories. Do you see yourself as having an overarching project that you are working toward, that all of your books add to? I think in the end that will be the result. But right now, I don't have everything mapped out. I haven't reached that point in my career where I'm thinking about legacy yet. I've met writers who are… I sat in on a lecture by John Edgar Wideman once and he was talking about legacy and he had sort of reached this point in his career where he was thinking about what had come before and thinking about the time that he had left, so he was trying to figure out what he would devote his time to and what his body of work would look like, but I'm not there yet. I haven't begun approaching my projects like that yet. For me, it's really two different things that are happening concurrently. I am finding voices that speak to me. Characters that intrigue me and who I'm curious about and characters who want me to tell their story. For Salvage the Bones, that was Esch. For Men We Reaped, of course the most important character is my brother. For Sing, it was really Jojo. Jojo came to me first. So, I'm finding characters who want me to speak, but then at the same time, I'm also finding myself drawn to the same ideas. I'm obsessed with the same things. And so recently, I feel like one of the big ideas that I keep returning to and trying to figure out is I keep thinking about time and about history and about how the past bears on the present. And how it affects people in their everyday lives. I think that those two things are happening at the same time, that I'm drawn to characters but also these bigger ideas about time and history are circling in my head. But I'm sure maybe in five, ten years or so—I mean, I'm forty right now, so if I live to forty-five, or if I live to fifty, then I'm sure that I'll reach this point. It seems like many writers reach this point where you began thinking about the time you have left and what you've done and you begin to plan your projects. But I'm not there yet. By now, you are the recipient of one National Book Award, a finalist for another, and the recipient of a MacArthur Grant, among other accolades. Do you find that these achievements add a sense of pressure to the work that you're doing?11This interview was conducted before Jesmyn won her second National Book Award. Yes. Yes. Yes. I mean, I think that they add pressure for several different reasons. Because the weight of what you've already done and the subject matter that you've already written about, as a writer, you're supposed to be thinking about audience. You're wondering if people want more of what you've already written, so in some ways you feel pressured to write about certain things. And so there's that pressure… At first, when I won the [National Book Award] for Salvage, I felt a sense of pressure because I thought, "What if this is it? What if this is the best that I'll ever do?" And so, I think that also makes you feel a certain sense of pressure because you're wondering if you've peaked as far as your work is concerned. Yes, these accolades definitely do exert a certain sense of pressure, but I don't know. Whenever I get something—and I've told this story before—my NBA award from Salvage is at my mom's house. The certificate I got, also at my mom's house. Any time I get any sort of award that comes with a memento or something, I always give it to my mom because I feel like it's easier for me if I don't see them. Because then when I sit down in front of the computer to write, it helps me to forget—to sort of shrug off that pressure. Do you know what I'm saying? And to forget audience for a second! Because I think you have to. In order to really feel a sense of creative freedom and just write, you have to forget audience. I feel like audience is something that I allow myself to think about when I'm revising, but when I'm writing a rough draft? When I'm really creating something, then I feel like it's necessary to forget audience because, I don't know, I feel like a constant awareness of audience can make you choke sometimes. It can make you choke. So, I try to forget. Who do you write for? Speaking of audience! Many different people. On one hand, I think I could say I write for fifteen-year-old me. I write for kids who don't see themselves in literature and who want to see themselves in literature. I write for those kids. Then I also write for present me. I write for twenty-year-old me. Aspiring writers. I write for black women. I feel like I write for my family. I write for my community. I write for my region. But then I'm also aware of the fact that I write for people who are nothing like me. And I've been aware of that fact from the very beginning, because I remember thinking when I was younger, when I just started out, that I wanted to write about the kind of people that are in my family and about the kind of people that I grew up with so that people who aren't like me—so that some of the awful kids that I went to school with who were white and also racist—would read about people like me and would feel for people like me. I don't solely write from that impulse anymore, but I am aware that I do write for people who are nothing like me. And I've met a lot of people who come from very different backgrounds, very different places. After Salvage the Bones was published, I went to New Zealand for a book festival. And I remember meeting a lot of readers there and they had just experienced the Christchurch earthquake and I remember meeting people and those people saying, "I love this book so much because it spoke to me, especially after the earthquakes." And so here they were, approaching the book and loving it and feeling empathy for the characters because they, too, had lived through natural disasters. So, I don't know. I'm aware that I'm writing for people, like I said, people like me and people like the people that I know and love, but I am also aware of the fact that I'm writing for everybody else, too.
The specific way men interview women (5:05), Rory Gilmore, journalist (17:17), and the Avril Lavigne riots of 2021 (48:27)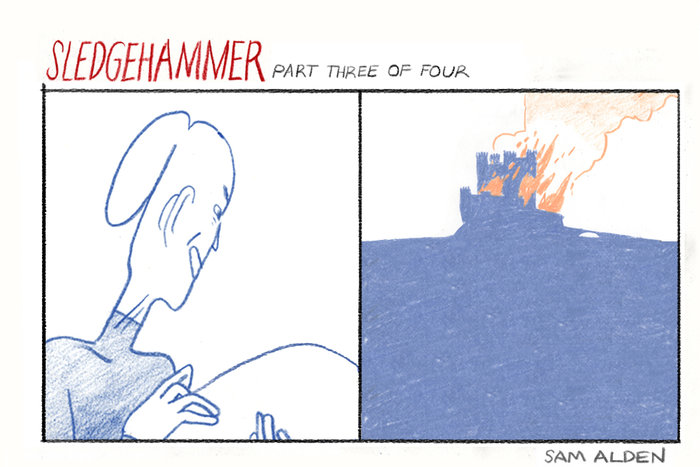 "Oh my god. Why do you play these awful pranks."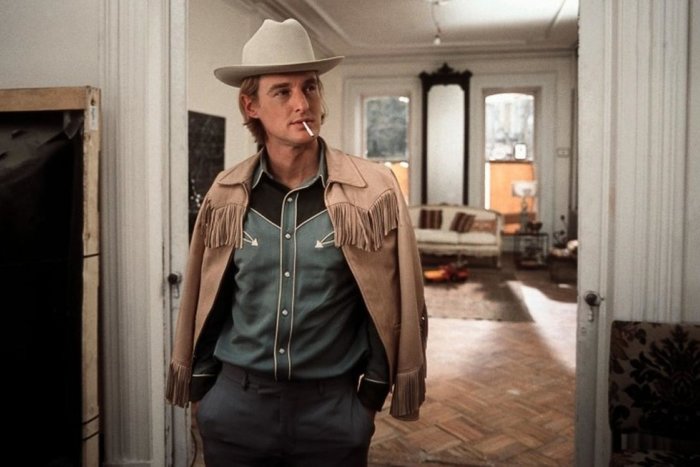 As a nerdy kid who wanted to be a film critic, I saw myself in Wilson's unexpected comedy. But my favourite writer was destined to become a movie star.
"Do I know what I'm doing today? No. But I'm here, and I'm going to give it my best shot." - Hansel, Zoolander Some of us are lucky enough to remember falling in love: like a bolt of lightning across a crowded room, a moment of eye contact so life-changing that it looks straight at you and says, hey buddy, starting now, everything else is different. We all have our love stories. We all understand the magic of love at first sight, even if we don't get to experience it directly. While this may be embarrassing evidence of just how small my life is, I can remember, fairly distinctly, the first time I saw Owen Wilson. Or, to be more specific, it was a series of events. A red poster in the corner of a used record store, a guy with short blonde hair curling up his mouth at the camera, looking both confused and cool. A picture in that month's Premiere magazine of the same blonde man looking at a gun like he'd never seen it before, cocking his head like an idiot puppy. But most of all, the thing that I remember is seeing Owen Wilson in scenes from Bottle Rocket (1996), when it was reviewed on Siskel and Ebert. Now, a little background: I was a weird little kid. I wanted to grow up to be a movie critic. And Siskel and Ebert's syndicated movie-review show served a particular function, pre-the you-can-have-anything-instantly generosity of the internet. I never knew when movies were coming out. I never knew what to see. But Saturday morning, when I finished watching cartoons and Saved By the Bell, I could futz around a bit on the television channels, and, before my mom would come into the living room with her squall of a vacuum, I'd find two Chicago newspapermen, one tall and thin, one short and fat, each wearing their finest sports coats, sitting in the aisle seat of the movie theater, arguing and talking passionately about movies that were coming out and movies that they loved, as exclusive-feeling clips from each film flickered behind them. They were a form of education in the form of entertainment. Bottle Rocket was released in 1996, square in the mighty wake of Quentin Tarantino's gigantic, generation-defining Pulp Fiction. In this aftermath, nearly every indie film about young men trying to commit crime was Tarantino-esque, with showy dialogue overladen with references and very cool music. Meanwhile, if you were a little tween like I was, the definition of comedy at that time was, in some ways, rather traditional. There were Adam Sandler films about young men yelling at the world. There was Chris Farley bringing shame on his family by being fat. Comedy came from action. It was hard to find the wordplay-based wit of your average British comedian. Comedy, as far as I knew it, was pretty obvious. It was a hilarious person (who had been on SNL) breaking the world with their rage. The week that Siskel and Ebert reviewed Bottle Rocket, neither critic was particularly impressed. And I couldn't quite pinpoint just what I found so enthralling about the clip. It seemed, on the surface, to be just another movie about young men obsessed with crime. But there was one crucial difference here: by no means were these guys cool. Wilson, playing aspiring criminal Dignan, is trying to push his way into a strip mall bookstore at closing time. He's young, twitchy, and handsome, wearing a black nylon ski jacket that clashes with his military-grade high and tight haircut. He talks in a slow, long drawl that makes every sentence feel like he's coming up with the words for the first time. To hide his identity, he's got some tape on his nose. He comes up behind the clerk with a gun. The clerk isn't scared. Dignan acts like the tough guy, demanding that the manager give him money. The manager tells him to not to call him an idiot, and then Dignan turns on a dime, asking, politely, whether he has a bigger bag for larger books, "like atlases." The dialogue here isn't funny on the surface. What made the scenes the funniest thing I had seen in my life was that here was this guy trying to be a cool robber, and he was just getting it wrong. The clerk was asking him about his disguise. The manager demanded respect. I had never seen comedy with that kind of rhythm before. You needed to listen to the dialogue, to think about the way that things were playing against what was being said. It was subtle and dry and pretty witty, and I wanted more of it, as soon as possible. I didn't get to see the movie until it came out on video and it ended up being my favorite movie of all time, easily usurping A Room With a View (which had romance, Helena Bonham Carter's magnificent nest of '80s hair, and lots of penis in a euphoric bathing scene). I rented it weekly. I tried to watch it every day. I just wanted a little bit of that attitude. Every time I watched it, I found more subtle moments of wordplay and pain that I adored. I couldn't tell if I was in love with Owen Wilson or if I wanted to be him. He was blonde; I was blonde-ish, and if I looked at the mirror from the right angle, I could be his sister. He had a funny nose, the sort of thing that looked like Picasso drew it during a drunken phase; my nose was too aggressive for my face, a cliff about to fall into the ocean. There was something so beautiful and right about Dignan's journey, how he wanted to have something like purpose in his life, and the only way to achieve that was to become a "great" criminal, even though he was clearly never going to be any good at it. I felt that way about a lot of things. I wanted to be great, I strove for greatness, it was the only way that I'd get anyone to pay any attention to me; and in that dreaming, I never really bothered to like myself, or to do anything of interest in the first place. There was something in the character of Dignan that I had never quite seen before. He wasn't a wannabe gangster of an earlier vintage. Rather, Dignan was a world-weary naïf. He was too innocent to be a true hero or villain in his adventure, but he was too smart to be fooled by the trivialities that kept the rest of the world occupied. Needless to say, girls never get to go on a journey quite like Dignan's. I found other images to aspire to. Still, on a sunny fall day, years later, in Harvard Square, walking past the Fogg Museum down the cobblestone streets, my then-best friend's boyfriend launched into a gentle imitation of me. "Hey …" he trailed off, pausing between each word, nearly enunciating each ellipsis. "I'm … Elisabeth!" Each syllable lasted for an hour. According to Shaun, I sounded slow, daffy and forgetful. I had a twang. A drawl. You'd be forgiven for thinking that I was Southern, maybe. And you'd definitely think I was stoned. I listened to his imitation with a slight horror. Befitting his position in my life—we were friends, sure, but I bet I was more of an annoyance—the imitation was accurate and a little mean. In my head, I was fast-talking, witty and smart, maybe a Gilmore Girl or a dame like Myrna Loy. I should've had an accent like my fellow native of the South Shore of Massachusetts, Mark Wahlberg, making all my As broad and forgetting about Rs. Instead, what Shaun showed me was that I had changed my speaking pattern so I sounded like a man who was on the poster in my bedroom—blonde like a bleached hunk of driftwood, squinting at the camera with an air of desperation, aiming for cool and coming off confused: actor and writer Owen Wilson. The minute Shaun began his imitation, I knew that was where the twang, the drawl, the stoned affectations (and goodness, I was pretty much straight-edge in every aspect of my life) came from, in some deep hole in my subconscious. It turns out the things you love when you're young can leave their mark. * Owenergy Studios on YouTube is the passion project of one goofy, passable editor who is devoted to tracking Owen Wilson's repetitions and verbal tics on screen with an admirable amount of obsession. (And yet, maybe I'm betraying my own amount of obsession to note that whoever it is, they are not completely thorough.) In various supercuts with titles like "Owen Wilson Says WOW [a two part odyssey]," "Things Owen Wilson Says," "Owen Wilson Whispers," "Owen Wilson Is Living The Dream," peppered with the occasional Matthew McConaughey tribute ("Matthew McConaughey Telling Stories," ), and some Owen Wilson montages set to songs such as Alanis Morrisette's "Thank You" and Coldplay's "Fix You," Owenergy Studios embodies their mantra: "This is a celebration of Owen Wilson. We love him and just want a hug from him." Seeing Wilson's repetitions, often pretty banal, everyday phrases ("Wow" "C'mon" "Unbelievable!") pile up on each other in the span of three minutes, the movie selections ranging from Cable Guy to Shanghai Noon to The Internship to the barely seen Peter Bogdanovich screwball-escort banger She's Funny That Way, is mildly entertaining and a little embarrassing. Sure, Wilson hits a variety of words in the same way, in every film. It makes him seem a little mediocre as an actor. The last scene of Midnight in Paris: he's standing on the Seine, staring at the sparkling Eiffel Tower, ruminating on life and love and nostalgia; the voice of a familiar young Frenchwoman chimes in, with a "Hi," and he responds: "Hey! … Wow!" He's certainly not a chameleon. He's a persona, a guy, mildly befuddled at this thing we call life. Mostly, he's just kind of charming because he always appears to be having fun. Even in dreck like You, Me, and Dupree. If the name Owen Wilson means anything to an average moviegoer, I would wager that it stands for blondeness, a magnificently broken nose, and a likable presence that generally pops up in bland big-screen films made by committee, with titles that explain exactly what the movie's about (No Escape, Marley & Me) or, occasionally, a strange, discomfiting presence in movies made by Woody Allen or Wes Anderson. He's a bit like the word surfer made sentient: a ray of sunshine and a manner that says, what, me, worry? The comedy, of course, comes from the way that Wilson's energy invariably clashes with the world. He can be the chilled-out yin to some neurotic other guy's yang (see: Jackie Chan, Ben Stiller, Vince Vaughn), or he can just be an affable, handsome guy learning something about life and love in story about his dog. The thing that gets me, however, is this: Owen Wilson was a hero of mine. I imagine when I was a kid, seeing the dry, laconic, the joke-taking-a-minute-to-hit rhythm that Wilson applied to comedy was the sort of before-and-after story that people like to apply to the classic, iconic comedians and troupes, the Steve Martins, Richard Pryors, Larry Davids, the Monty Pythons, the Mr. Shows, the Alan Partridges of the world. For me, Wilson was my comedy gateway, the first time I saw a comic hero that seemed like the right kind of model of how a person should be in the world. And yet these days, when I want to talk about Owen Wilson, I feel kind of like his character Hansel shirtless, wearing a pair of elaborate angel wings, talking about Sting in 2001's Zoolander: "The music he's created over the years—I don't really listen to it—but the fact that he's creating it? I respect that." * "Well, does the fact that I'm trying to do it do it for you?" - Dignan, Bottle Rocket The thing that kicked my mild obsession with Owen Wilson into complete hero worship was the fact that he wasn't just an actor in Bottle Rocket—he also co-wrote the screenplay with Wes Anderson. The two collaborators met in college when they took a playwriting class together. In interviews, Anderson noted that Wilson, who tended to read the newspaper in class, didn't talk to him much until one day when he asked him about an assignment as if they were old friends. But it was the start of a beautiful collaboration: they became roommates, and, sparking off each other, they worked on the screenplay for Bottle Rocket, which got them into Hollywood. If Bottle Rocket was a romance, then their next film, Rushmore (1998) was a revelation. It was a coming-of-age story about slacker-overachiever Max Fischer (Jason Schwartzman), a barber's son who found a thing he loved—his prep school, Rushmore—and how that love got corrupted with the addition of one comely teacher, Miss Cross (Olivia Williams), and a budding friendship with a rich industrialist, Herman Blume (Bill Murray, in his first and greatest Sad Bill Murray performance). Like Bottle Rocket, Rushmore also had a poor boy who wanted to be great and a misconstrued idea of greatness. The movie comes on like a shot, with the guitar riff of Creation's "Making Time" on the soundtrack and a succinct summation of Fischer's many projects at Rushmore Academy: Yankee Review, Editor-In-Chief, Publisher; Calligraphy Club, President; Rushmore Beekeepers, President; Max Fischer Players, Director; etc., etc. Clearly this is a kid who can do anything he sets his mind to—and yet, as his Dean put it, he's also "one of our worst students." Wilson didn't appear in this film as an actor (although a picture of him represents Miss Cross's late husband). But he did appear in a promo shot featuring Wilson and Anderson in go-karts. In interviews about the film, both Anderson and Wilson would demur about how much of it was based on real life, but it was Wilson who was kicked out of his tony prep school in tenth grade for cheating on a math test and ended up at public school, before graduating from a military academy. In an interview from Matt Zoller Seitz's The Wes Anderson Collection: The Grand Budapest Hotel, Anderson noted that when it came to both Bottle Rocket and Rushmore, "Owen and I were together while we were writing those." So here is where I dived into obsession. It was the purest obsession, teenage obsession, where I collected every possible bit of Anderson-related paraphernalia. I had the script for Bottle Rocket. I bought the very same poster that I had first seen in the used record store and hung it over my bed. I bought every film—once I could afford it—on DVD and until then, I rented these films as much as possible. I related to Max Fischer, I related to Dignan. I thought that Bill Murray was robbed at the Oscars, losing Best Supporting Actor to James Coburn in the forgotten Russell Banks adaptation, Affliction. (From the title, you can guess that it's about how fathers and sons afflict each other with their habits, yes?) The Royal Tenenbaums (2001) would be the last collaboration between Anderson and Wilson as screenwriters. The story of a grown-up family of former child geniuses coming together at a point of crisis, it was, arguably, the film that made Wes Anderson into Wes Anderson, the most influential director of the 2000s, for better or worse. It's where his inspirations—French New Wave films, Peanuts—coalesced into something like style (montages, dead dogs, elaborate fake books, suicide, father issues, a troupe of familiar faces), leading to divisive notes from critics, some claiming that Anderson treated his film like a dollhouse or a music box (twee was yet to come). It had a cast of stars—Bill Murray, Gwyneth Paltrow, Ben Stiller, Anjelica Huston, Danny Glover, Luke Wilson, and Gene Hackman—with Owen Wilson taking a small but crucial role as Eli Cash, a hilarious spoof on self-serious cowboy writers like Cormac McCarthy who has a sordid affair with Paltrow's character, and the film's pivotal line: "I always wanted to be a Tenenbaum." I had liked The Royal Tenenbaums enough when I saw it, but it seemed like a sign that things would be changing in Wilson's career and Anderson's art, that these two collaborators may not work together for long. Between the both of them, they were busy: Wilson had the imprint of stardom, and Anderson had the imprint of "great director-ness," which meant that folks were clamoring to work with him. Life may simply have gotten in the way of the urgency that drove their previous collaborations. Wilson had become a movie star, making money joking around with Jackie Chan in Shanghai Noon (2000), and he was a perfect blank slate as male model Hansel in Zoolander (2001). It was clear that Wilson was far more in demand as an actor then a writer, and a question as to whether he'd have the time to be writing. He wasn't my little secret anymore, and he wasn't Anderson's, either. He was a big-time comic actor, cast in stuff that comes out in the spring and the summer that takes forever to shoot and requires a high commitment to promotion. * "You know how they say we only use 10 percent of our brains? I think we only use 10 percent of our hearts." - John Beckwith, Wedding Crashers Wilson came up through Texas, but part of me suspected there was something of the East Coaster in him. There was a wordy intelligence to the way he talked and the way that his scripts unfolded, the sort of intelligence that felt well-trod. His late father Robert was a public television executive who first put Monty Python on American television, and his mother, Laura Wilson, is an accomplished photographer who worked with Richard Avedon. The photo of "the gang" in Bottle Rocket—a photo that's striking in its very composition, way better than a snapshot—was taken by Laura, along with fine-grained set photos in black-and-white on nearly every film by Wes Anderson. Her talent is on display throughout The Wes Anderson Collection, and perhaps befitting a mother's love, Wilson seems to be bathed in light while Anderson recedes into the background, a nerd in wire-rim glasses. That intelligence, which you could see in the way that Wilson's comedy felt new, quickly grew old as he appeared in cheesy big-budget movie after cheesy big-budget movie. Wilson was no longer a bright spot, an actor with all the potential and a great screenwriting career; rather, he was an actor-for-hire, lost in the world of big budget comedies, of scripts by committee, of "Oh Wows," of appearances in the gossip columns as "the Butterscotch Stallion" (never not funny, especially when Wilson responded to a salacious Page Six posting about the Butterscotch Stallion's lovemaking in Rolling Stone with "There's lots of different paths to the waterfall"). While Wilson was making films like Wedding Crashers and doing a voice in Cars, Anderson was releasing more films under the aegis of "auteur" (a flawed, much-abused and mildly sexist term that we will nonetheless use as shorthand for "film director whose name and style you know, immediately"), choosing new screenwriting collaborators and traveling all over the world for his next films, working on the screenplay for The Life Aquatic with filmmaker Noah Baumbach and The Darjeeling Limited with Roman Coppola and Jason Schwartzman, films that came to life in Italy and India. Clearly a creative breakup of sorts had occurred, and yet it wasn't discussed in public. The casual moviegoer probably wouldn't even notice it, as Wilson was still taking funny, complex roles in Anderson's films, mostly as a steadfast supporting character. In interviews with Anderson, the director chalked up working with other screenwriters to the fact that Wilson had become a big movie star. Wilson's reduced appearances seemed like good sport, a sign of friendship. But a Los Angeles Times interview from 2006 classified Wilson as "shocked" that Anderson wrote with someone else: "I can hardly think of anyone that I have as much fun talking to as Wes. We're really on the same page." I saw The Life Aquatic in the theater. The woman next to me, anytime something wacky happened, would say, "That's weird." I cringed. The Life Aquatic felt different from the previous Anderson films. The actions that characters would take didn't feel natural. It felt like quirky for quirky's sake. I suppose the balance of an innocent naïf who wants something very badly in a strange gingerbread house world is one that's hard to maintain, but you could see the seams. In The New Yorker, Anthony Lane wrote, "nobody could leave without the impression of having nearly drowned in some secret and melancholy game." * "That was my favorite age." - Steve Zissou, The Life Aquatic It was a strange and sudden tabloid story. Owen Wilson, the forever-easygoing slacker star of big-budget comedies, had attempted suicide, slashing his wrists. The story dominated the tabloids in August 2007. A People cover story alluded to past drug problems, referred to as "the hard stuff," and two rehab stints were mentioned. Courtney Love weighed in, warning via quotes in British tabloids that her ex, comedian Steve Coogan, played a role in Wilson's downward spiral, taking him out to strip clubs and partying. The two men had become fast friends working together on the set of A Night at The Museum. Wilson was fighting an addiction to cocaine and heroin; a quote from a 2005 Playboy interview in which he talked about suffering "from an Irish strain of depression" came up again and again, along with suggestions that he was heartbroken over his breakup with Kate Hudson. Wilson released a statement, asking for privacy "so that he could heal during this difficult time." Required to do press for The Darjeeling Limited's fall 2007 release—in which he played a survivor of a suicide attempt—his first interview was a pre-taped video piece with Anderson, which ran on MySpace. The collaborators avoided the suicide talk completely, focusing on what it was like to film in India and what monkeys they ran into. At this point, you could say that Wilson disappeared from public life. He pulled back from interviews. The films that he starred in for the next few years were an interchangeable series of cartoons and wacky comedies that felt beneath his intelligence. He did the voice of Marmaduke in a live-action dog movie. He starred in the Farrelly Brothers dreck about male sexual anxiety, Hall Pass. When I heard of Wilson's suicide attempt, it was as if a distress call went up from somebody who was very important to me at one point in my life. * By the time I graduated college, I had slotted my love of Wilson and his early work with Anderson into a past version of my life. I had thought that loving movies and actors meant something, that the great amount of time and space in my brain devoted to things like minor roles for Wilson and Bottle Rocket trivia on how Kumar Pallana became part of Anderson's movies would pay off in a job, some drive, a sense of purpose. When it came to all that time and expertise, however, IMDB had made me obsolete. And a love that felt like a secret code that made me special had become mainstream. Liking Owen Wilson, liking the films of Wes Anderson, it didn't quite mean anything anymore. Perhaps as a response to the emptiness of Hollywood's celebrity-driven culture, it was as if Wilson and Anderson—another artist who has never seemed crazy about selling his work—began hiding in plain sight. They were working, Wilson making terrible comedies, Anderson making more films, but they avoided press, staying reticent on the subject of their lives. The work was speaking for itself, with little input from the artist—the sort of thing that was an inevitability in Anderson's case, the sort of thing that creates mystique and mystery. But in Wilson's case, it felt like an act of survival. Because, while Anderson has had the opportunity to keep defining himself as an artist again and again, whether it's through the stop-motion animation of The Fantastic Mr. Fox or the nostalgia-laden fantasies of Moonrise Kingdom and The Grand Budapest Hotel, Wilson—as a writer, at least—has stayed in amber. To me, there was a quality to Anderson's work that came out of his screenplays with Owen Wilson that's missing from his more recent films, even if we are at the stage where he is accepted as a Great Director, a true visionary. It's something like sympathy for the outsider. The bratty innocence that fueled characters like Dignan, Max Fischer, and Eli Cash all got sanded down into general rich-person malaise, the drive of the outsider turning into Bill Murray's despair, the curve of Adrian Brody's distinguished nose, a perfectly symmetrical shot of Louis Vuitton suitcases representing the baggage that humans bear everyday. Moonrise Kingdom and The Grand Budapest Hotel make some gestures towards being outsiders' stories, but they lose the elegance and drive that characterized Anderson's earlier work. (Also, Budapest's twee take on fascism is pretty much unforgivable.) As a writer, what Wilson brought to the table can be sussed out, looking at the negative space between Anderson's first three films and the rest of his career. It is something akin to sympathy for the underdog, an appreciation of the outsider, and it can be seen over and over again, in Dignan's drive to be someone, Max Fischer's desperate love of Rushmore Academy, and, well, Eli Cash's desire to be a Tenenbaum. And it worked best in Rushmore, arguably one of the seminal films about an American teenage boy who, through heartbreak, becomes a little bit more of a man. My love of Bottle Rocket was vindicated in 2000, when Martin Scorsese called it one of the top ten movies of the '90s, writing about it in Esquire: "the central idea of the film is so delicate, so human: a group of young guys think that their lives have to be filled with risk and danger in order to be real. They don't know that it's okay simply to be who they are." He mentions the film's tenderness and innocence. And he, rightfully, notes that the end—when Dignan is caught by the cops to the sound of The Rolling Stones' "2000 Man"—is a transcendent moment. Even as savvy an artist as Frank Ocean seems to have a preference for earlier Wes Anderson. I perked up when I saw his list of his favorite films in his Boys Don't Cry zine, which included Rushmore and The Royal Tenenbaums. Collaboration is a dance that requires total trust. It makes complete sense that two young men could only keep it up for a short amount of time; in particular, as work and drugs pushed them apart. Wilson elevated Anderson's work to a certain level, adding a drive and drama and soulful characters that would lose out to interior design in future work. The indulgence that characterizes later Anderson films is a tribute to Wilson's skills. Like a hidden editorial voice, a wife saying, no, don't go to that well once again, don't kill the dog quite yet, something about Wilson's eye meant that Anderson pulled back, and the scripts had more affecting stories. Normally when two men work together like Wilson and Anderson, you get report after report of every quality they brought to the table (see: The Beatles), but the way in which Wilson's disappeared as a writer reminds me of the thousands of wives, sisters, and helpmates who looked over every word that the great man wrote, getting written out of the story in the process. * "If the story is true, if the prose is clean and honest, and if it affirms courage and grace under pressure." - Hemingway, Midnight in Paris In the new decade, Wilson's best role was in Woody Allen's porn-for-English majors Midnight in Paris. Wilson's strange rhythms and pronunciations made the script seem more charming that it actually was, and the glee that Wilson expresses as he meets all the literary superstars of the Lost Generation, from Hemingway to Fitzgerald, makes the fantasy all the more appealing. He's so authentic you can almost forget that each woman is an underwritten shrew. It was a reminder that there's a quality to Wilson that's in short supply. Perhaps it's a particular sort of charisma, the likable befuddlement of the handsome yet disheveled, the way that dopiness can be forgiven with a wink underneath it. It's the quality of the guy who can get away with it. It's never been a quality I could aspire to, as a woman always too confused and shy to know what capital I have to play with. It's something quite unlike women's charisma in film, which is never in service to their genius; too often, rather, it's just about being appealing to some guy or another. I wanted to know how to be interesting and I always felt like Wilson offered an example as an actor, because he would end up surprising me in some way, whether it was how he hit lines, improvised, or swaggered through the world. I wanted to be him. Even though I feel very far away from the young woman who looked at Wilson onscreen and saw something like a hero, well, I still have a lot of affection for the guy. Enough so that I still end up seeing his movies: I sat through material like Matthew Weiner's uneven initial attempt at filmmaking, Are You Here, and the (terrible) Zoolander 2 looking for that moment where Wilson is sparking and alive. Wilson can slip in a "Wow" or a wink or a well-told joke, and it's as if the mask is lifted, and you can see the interesting man underneath. It's hard to find these days. But I still root for the wild-eyed Dignan of my childhood to find something like happiness. It's probably not coming through the cinema. A person once told me "the world is ruled by the semi-smart," a phrase that's fairly haunting in its accuracy. As actors, directors, and artists try to have careers in Hollywood—a place that's for vampires at best—you can see it in action every day. At one point, I thought that Wilson's career was something to aspire for, the dream of making it with your best friend and creating things that were hopeful and earnest. But it was naïve to think that there'd be something like salvation through unfettered admiration of someone like Owen Wilson, even if, by accident, he shaped some things in my life, from my vocal inflections and my sense of humor, to a new realization about the ways that we contribute to—and are hidden from—the history of art. You get older, and actors stay in the same place. Your relationship with them, even virtually, can have a strange sort of intimacy because they have faces that you see magnified, or they're even inside your house. Their adventures and ups and downs may take you back to very specific places. I know that there is a part of me that will always, in some way, be rooting for Owen Wilson. He provided a spark in my life when I was lonely and unformed. His rhythm showed that enthusiastic, drawling girl that I used to be, that there were different ways to look at the world, dreaming of a way to be big, even when you're more than enough. Some days I root for that girl, too.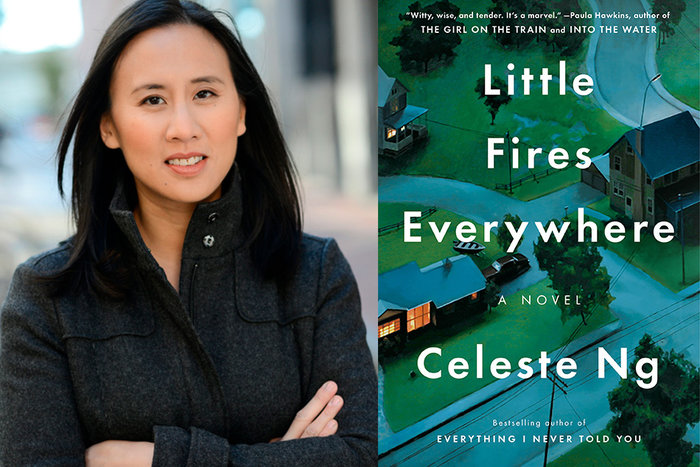 The author of Little Fires Everywhere on class markers, digging into the suburbs, and the depictions of East Asian characters in art. 
On the first page of Little Fires Everywhere (Penguin Books), Celeste Ng gives away the ending. The Richardsons' mansion is on fire, flames shooting out of each of the six bedrooms. The youngest Richardson, Izzy, is the arsonist culprit and has already fled Shaker Heights, the peaceful, progressive suburb of Cleveland. For the rest of the novel, Cambridge-based author Ng explores the uncomfortable truths of racism, classism, identity and the privilege of who gets to be a mother. Set in Ng's own childhood hometown, the book centers on Elena Richardson, a rule-following, do-gooder reporter at the local newspaper obsessed with maintaining the façade of a perfect life, her defense attorney husband, and their four high school-aged kids, Lexie, Trip, Moody and Izzy. Elena's life is overturned when the enigmatic, status-quo-busting Mia Warren and her daughter Pearl move into the Richardson's rental property, and the two mothers end up on opposing sides of a custody battle between a desperate Chinese waitress and a rich white couple. Little Fires Everywhere is Ng's follow-up to her best-selling debut, Everything I Never Told You, which follows the lives of the mixed-race Lee family in suburban Ohio. While Everything I Never Told You showed the blatant racism against Asian-Americans in the 1970s, Little Fires Everywhere scrutinizes the illusion of a post-race America. Samantha Edwards: Why did you want to set the book in your hometown, Shaker Heights? Celeste Ng: I had gotten to that point in my life where I had been away from Shaker Heights long enough that I was able to look back and see it with a bit of clarity. [When I started working on Little Fires Everywhere] I had been away for ten years and I started to realize a lot of things that I thought were normal based on my hometown were actually nothing of the kind. Things as small as rules about how you took your garbage out or how you had to mow your lawn. When I got my own house, I realized it was OK if we didn't mow the lawn and we were allowed to put our garbage on the curb. But I also realized how unusual Shaker Heights was in a lot of positive ways. It's very much an idealistic sort of town. It's racially diverse and fairly racially integrated. The community is so aware of race there was a race relations group at the high school that went to work with the fifth graders. I was fascinated by that tension between the idealism that runs the town and the nastiness of the world we live in, so I wanted to try and write a story about that. Everything I Never Told You is also based in a small town. What's the appeal of writing about small towns or suburbs? This gets into deep psychological territory. I'm a city person. One thing I love about the city is that it affords me a certain level of anonymity. You get a lot of choice about who you interact with. I remember the first time I went to New York City, I was really worried—"am I going to be dressed well enough?"—and then I went and no one cared, no one noticed me. A suburb isn't quite a small town, but it's sort of in this middle area where there's a lot of different people but you don't have the same anonymity as a city. There is a very defined community and a very defined base in which that community has to live and get along. There's something about it that fascinates me. I grew up in the suburbs, so it's a place I feel like know really well. It's a fun place to dig into. One of the biggest distinctions between Mia and Pearl and the rest of Shaker Heights is their economic class. It struck me that when I was in high school there were a lot of class distinctions in Shaker Heights, but I didn't quite know what to make of them until I got older and moved away. Shaker Heights is known in the Cleveland area to be very affluent, so if you tell people you're from Shaker Heights, they assume you have a lot of money. But the thing is, there are also a lot of basically middle class households. As a kid, I noticed who had the real Keds and who had the knock-offs. Who had the brand name coat and who has the one that looks like it. Who goes skiing and and who doesn't know how to ski. My family never went skiing and it was kind of a fashion thing to go skiing on the weekend, and then come to school with the lift ticket on your jacket. I think it was only looking back as an adult that I could look back and go "Oh, that was a class difference." I didn't go to sleepaway camp, where, at least in the states, there's sort of a class marker as well. When we see Pearl going into the Richardsons' house for the first time, she's just in awe of all their stuff and noticing all these tiny things. You realize that for Lexie, Tripp, Moody and Izzy, these are things they don't even notice. Exactly. It's part of the scenery for them. That was an experience I had as a kid, partly because my parents were immigrants so they were concerned about getting us through school and saving money to buy a house. My parents were also scientists so they didn't care a lot about decorations, they just wanted the house to be nice and clean. I'd go to friends' houses and see all their little knick knacky souvenirs and their enormous furniture. My parents liked functional things like sofa beds. I found it really interesting how in Everything I Never Told You, which was set in the 1970s, the kids felt like outsiders because they were mixed. And then in this book, set in the 1990s, mixed kids are seen as something desirable, the perfect amount of exoticism. Lexie says to her African-American boyfriend, "If we ever had kids, they would be adorable because mixed babies always come out so beautiful." I think as there are more interracial couples and therefore more multi-racial babies, we're also starting to see this pushback against the idea that mixed babies are going to save the world. Full disclosure: I'm half-Japanese and half-Caucasian. Full disclosure: my husband is white so I'm the mother of a mixed kid. I remember that in the '90s, if I was dating a white boy my friends would say, "if you ever have a baby it's going to be so cute because it's mixing up the gene pool." At the time, I was like "OK, cool." Now that I'm a little older and our discussion about this topic has become more nuanced, I feel resistance to the idea that all you have to do is have two people in an interracial marriage and then their children will magically solve all the race relation [problems]. One of the reasons I wanted to set the book in the '90s is because it's just far enough for us to see it with a little bit of perspective, but it's still close enough we can still remember that era. There's this sense of how far we've come and how far we've not come. This whole idea of "Oh I don't see race," which I remember being very much the way we talked about race at the time. Now we see that as not necessarily a positive thing. The Richardsons view themselves as really progressive people who don't see race, but then they say a lot of things that are subtly racist or made me feel uncomfortable. Like when Lexie is looking at [the baby] May Ling's skin and describes it as the colour of café au lait. I feel like every woman of colour has had their skin described as the hue of a hot beverage at least once in their life. Exactly! What I hoped readers would get out of that is this little moment of slight cringing but also laughing. "Oh you're chocolate-coloured, you're mocha, you're biscuit-coloured." Why are we always food? And it's so often a hot beverage, which is so weird. I read in another interview that when Everything I Never Told You came out, you were a bit concerned about being pigeonholed as an Asian-American writer who specifically wrote for an Asian-American audience. Are you still afraid of that? My feeling about that has evolved and I'm privileged that my experience got to evolve because that book got embraced by not just Asians, but wide a swath of the population. I think it gives me a little bit of freedom that a lot of Asian writers haven't been given, and should be given. I was worried that people were going to say, "Oh this a book only for Asian people." I was really happy when non-Asians would come up to me and say, "Look, I'm not Asian, but this is my relationship with my mother" or people who were mixed race, but not mixed race Asian, would say, "I really emphathised with this family." That meant a lot to me but I feel like in a lot of ways, that was a lucky fluke, I was very fortunate that happened. Now maybe people won't pigeonhole me, but it happens to so many other Asian writers. If you write about Asian characters you are assumed to only write about Asian issues. That's very frustrating to me. It's like you've been assigned a beat and you're not allowed to stray from it. It's something that doesn't happen to white male writers. You're not going to say, "How come you're writing about white men again?" The baby at the centre of the custody battle is Chinese. Why did you want the baby and her mother to be Chinese? I wanted to tackle the experience of being a Chinese-American in a community where we think mostly about black and white. In the US, we're thinking about race largely in terms of black and white. As an Asian-American, I'm in this very weird middle-ground. I don't fit into that binary system, and yet at the same time, I'm clearly affected by both. I wanted to put an Asian woman and an Asian baby at the centre so I could look at the experience. They're at the centre of this debate, and yet they're the ones with the least agency. At one point in the book, Mr. Richardson says that East Asian men can either be "socially inept or incompetent, ridiculous or slightly buffoonish, but not angry and powerful." I see that [stereotype] exist in pop culture. Like, why can't an East Asian man be cast in a Hollywood romantic comedy? I absolutely completely agree. That's one of the reasons I was glad I got to put that in the book because I feel like obviously there are lots of limitations on what society is going to take from East Asian women, but I feel like East Asian men even have a whole different set of limitations. Kevin Kwan's book Crazy Rich Asians, which is about families in Singapore, is [being turned into] a romantic comedy with an all Asian cast, which is kind of amazing. The last time there was a [Hollywood movie] with an all Asian cast was The Joy Luck Club, which came out in 1993. It's quite startling that for whatever reason, Asian men aren't considered for a such a wide swath of roles, they can either be the funny sidekick, or the evil bad guy/martial arts hero, but they can't just be normal people. I didn't want to ask you so many race questions, but I realized I just threw them all out there. It's something that I'm really interested in too and frankly, at least right now, I'm always happier when people ask those questions than if they don't because we have not reached the saturation point of that conversation. We have not reached the point where we don't need to talk about it anymore. I never planned to be any kind of spokesperson, but my feeling is if people want to talk to me about it and they're going to listen, I will.