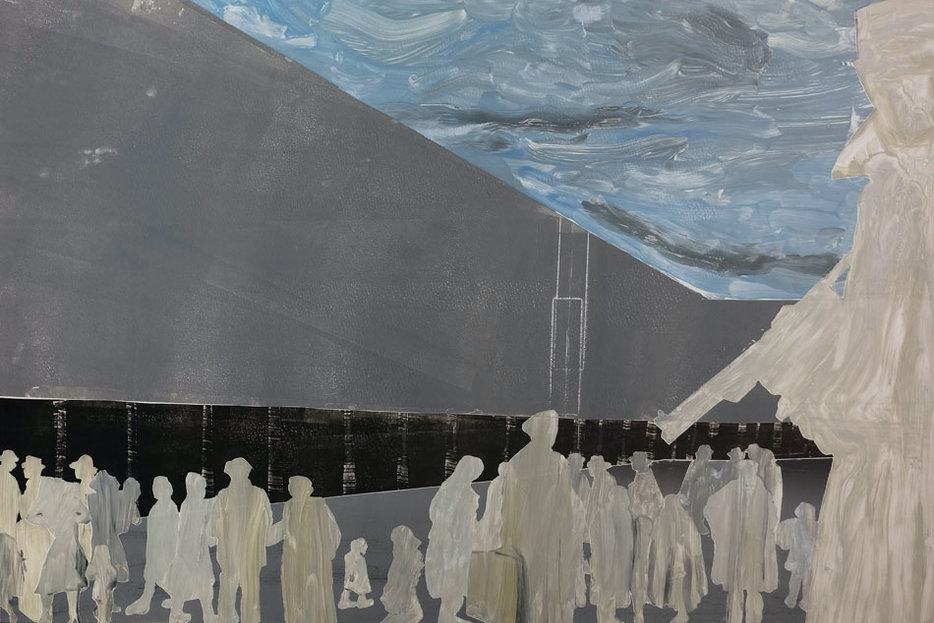 To visit Drancy is to confront dark and unsettled questions of who is remembered, who is heard, who can speak, and why.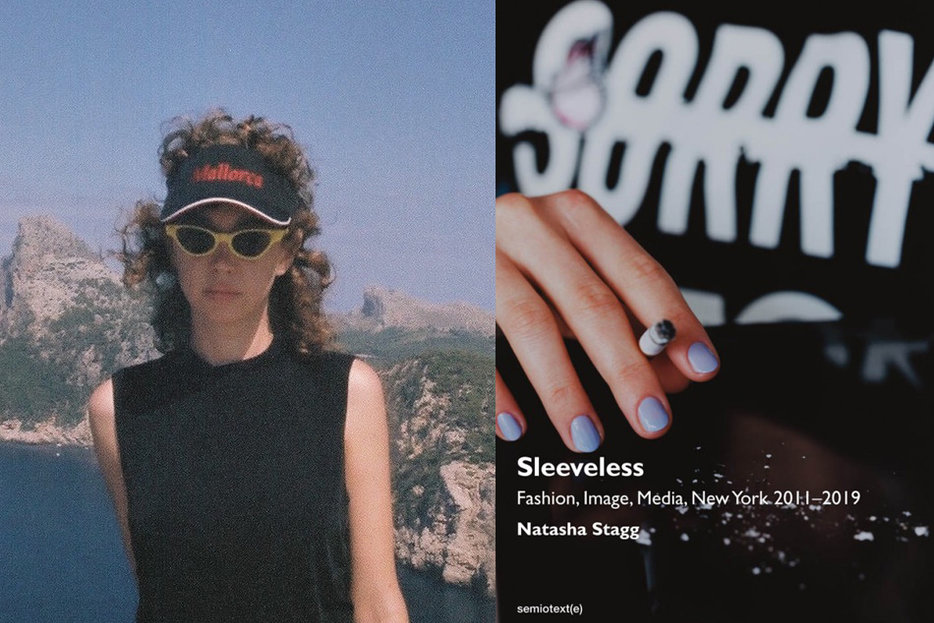 The author of Sleeveless on 2010s New York, jealousy, and being out of touch.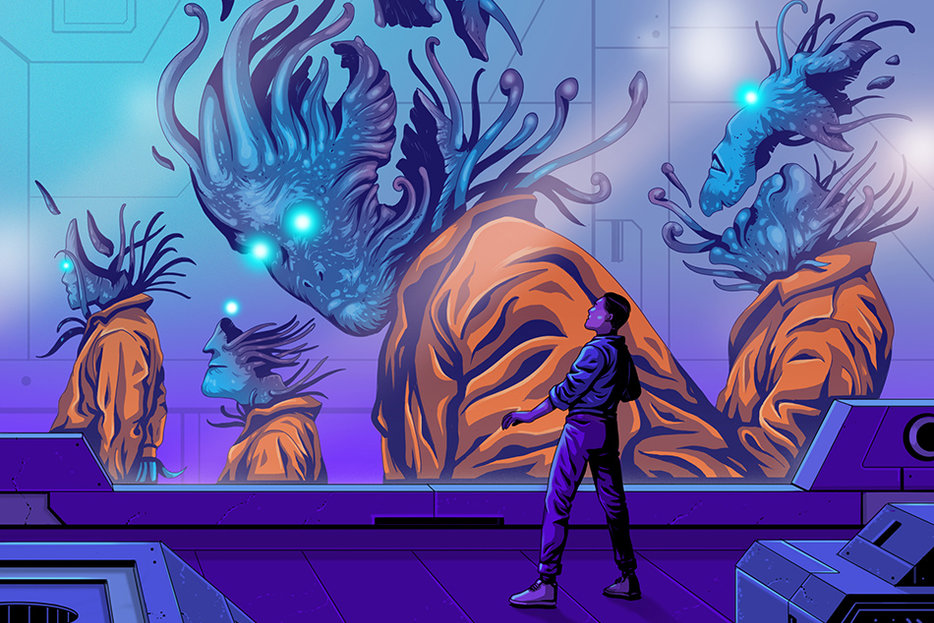 I am now one of a small number of people to have actually seen The Four in the flesh. Well, not quite the flesh.
Latest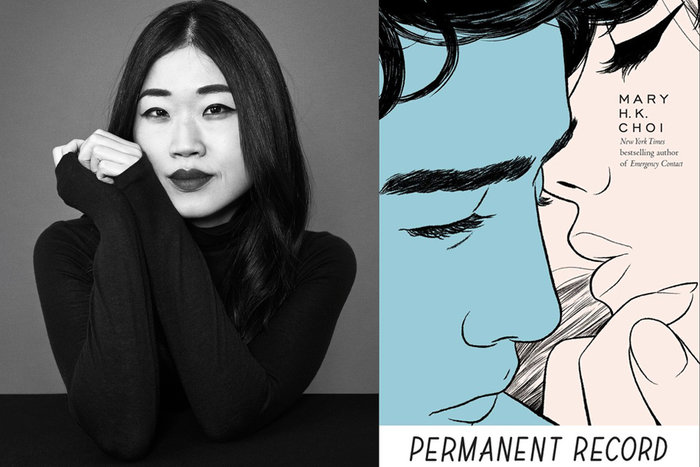 The author of Permanent Record on families of origin, emotional expense, and bodega cats. 
In her collection of essays Oh, Never Mind, Mary H.K. Choi summed up 2014 in three crucial lines: "The Internet has turned us all into pure energy. Doesn't it feel rad? Send help." Choi would know because she covers the internet (and more) on the internet (and in print) for publications like Wired, The New York Times Magazine, GQ, The Atlantic, and The Fader. In 2016, she embedded herself in a group of teens for Wired and probed them on their online behaviour. It's what ultimately led her to write her debut novel, Emergency Contact, where the internet cultivates a safe space for a burgeoning relationship. Barista Sam is insecure about his own poverty while college freshman Penny is simply awkward. "It's the intimacy that comes from when you are unencumbered by your mouth-breathing meatsuit of awkwardness," explains Choi. "The fact that they can just give each other their best, which is just asking good questions and receiving each other and holding space for what the other person is saying and processing it—that is such an act of service and selflessness and I think that is a beautiful aspect of the intimacy we can find in certain digital spaces." In 2019's Permanent Record (Simon & Schuster Books for Young Readers), social media is less of a conversational buffer and more of a self-harm tool. College dropout Pablo Neruda Rind gets swept up in pop star Leanna Smart's life so he can avoid his own debt and stasis. It's a role reversal with a twist: a realistic Notting Hill with younger people who Choi says "eventually go back to their corners and finish cooking." I sat down with Choi in a hotel lobby that featured a Beauty and the Beast library, but with vases instead of books. We sat there, contemplating the objets d'art, New York and the gritty in-betweens of success. Sara Black McCulloch: In Emergency Contact and Permanent Record, you focus on the families that we're born into and the ones we get to choose. In a lot of ways, your characters are coming to terms with their parents being human but also the fact that their parents can't always give them what they need as adults. You don't see that particular approach to family dynamics often, especially in YA. Is this something you're seeing in your own life? Mary H.K. Choi: I think there are a couple of things. As the child of immigrants, there's always a schism in terms of what you're experiencing and what they have experienced. In my own life, we immigrated to Hong Kong when I was eleven months old. My parents were in their very early thirties, and there was this trapped-in-amber aspect to their childhood. When they left their mother country, they had this set reality that travelled with them and it didn't age or evolve. Korea went from having the GDP of a small nation to now becoming a global power, and so there are a lot of things that have iteratively changed and become a lot more contemporary that my parents simply missed out on. Other than the fact that they have KaKaoTalk—the one texting app that all Koreans love—and the fact that now they can stream TV from Korea, they still have a lot of social mores that I think are trapped in amber and really speak to a bygone era. And so there's been a lot of struggle with me living in a different civilization and growing up and them being trapped in this one thing. That particular gap can widen over the years. Prior to getting older, it was about me having to rebel and feeling as though the way that I wanted to be was something that they could never possibly understand. It was really important to me, with Emergency Contact, that Penny's mom Celeste wasn't what you would typically see as the matriarchal figure in a lot of Asian pop culture, which is the tiger moms with all these expectations. So I really wanted to start off with a relationship that was a lot more like Lorelai and Rory Gilmore or, if not, then Edina and Saffy Monsoon, where it's a role reversal, where the kid is always worried about the mother's welfare instead of the other way around. It was also very important for me that Celeste be somewhat assimilated into American culture and so it wasn't the cultural gap so much as it was just expectations, which is something that anyone can relate to. With Pablo and his mother, I wanted to peel back the layers of what those expectations felt like—I mean that filial piety, fidelity and that first-born son expectation—and then just keep going with it. What we find in the second book is that a lot of those expectations come from fear. It's a fear that is not only specific to East Asian or South Asian parents: you could ask any Haitian, Nigerian, Taiwanese, British parents—anyone! People want their kids to be successful and a lot of that lingua franca, that irrefutable co-sign, comes from name brand schools, vocations that pay very well and are universally respected. Is there a risk of being too prescriptive, though? As a person who is a little bit older writing for young people, I don't want to be prescriptive in what I'm saying, but I do want to just allow for certain things to be the way they are without imbuing them with morality. For me, in my more recent years, it's been about receiving my parents where they're at and understanding that as grateful as we can be to our family of origin, it's simply a repeated, cyclical trap of resentment to keep going to your family of origin for things that they don't have. I'm in recovery and 12-step for different kinds of addiction and an eating disorder and there is this saying in meetings: "Don't go to the hardware store for orange juice." At a certain point, you know what your family of origin has a capacity for and to expect them to miraculously be different because you want them to be is just a recipe for prolonged and sustained heartbreak and suffering. The only thing you can actually exert control over is your framing around that, and changing your own expectations. And that's okay. It's not rejection and it doesn't have to be. It's this wild and contrary act of acceptance. I think that's the only point that growth, mutual appreciation and understanding of each other's humanity can actually come from. It's hard being a parent, too. Everyone has intergenerational trauma. It's not something that's wholly new to us as a generation just because we have all these social media outlets where we can complain or even have the language for it. My mother knew famine as a child during the Japanese occupation of Korea. It's a very real thing: that fear comes from personal experience and actual testimony. I can't fault her for that. If anything, it's an invitation for me to experience compassion and to know that there's so much about my parents that I won't ever know. It goes both ways and I think that there's so much reparenting that has to happen on both sides. Has that approach to compassion altered the way you now engage with other people? Totally. We're all so broken! And it's really beautiful. Anytime anyone has been particularly vindictive or contemptuous towards me, I recognize that what I'm witnessing is a tantrum and sure, the shrapnel is getting on me, but what I'm witnessing is someone else's pain and that doesn't mean I have to stick around for it or experience a co-dependency with their happiness, but it is not something I can then use as artillery either. It's not something I even have to hold onto! It's been a really beautiful reminder that whatever interaction I'm having with someone else, their rendition of it isn't something I'm going to wholly understand and I have to be okay with that. Do you find that with career prospects, too? Or even with writing, which is not an easy thing to do. Oh my god, it's so hard. Now that I'm a quote-unquote author (or scare quotes, rather), I talk to so many other writers and we're constantly so shell-shocked that we've signed onto this vocation where we have homework for the rest of our lives. And there's nothing more existentially harrowing than having to produce on a daily basis. Also, fiction is wild: So let me get this straight, you're just sitting there, making shit up? What is that about? It's so subjective and human—this compulsion to create art. There's also another facet—selling yourself as a writer—that's weird, too. I'm thinking of that piece that was published recently, about the journalist being an influencer. How do you mitigate that role and the expectations that come with it? I think about this a lot because when I'm trying to straddle those two perspectives, I get in a lot of trouble. There is nothing more stultifying, in terms of being able to create, than that. Nothing hogties me more than writing while I'm editing while reading while receiving while thinking about the audience. I liken it very inelegantly to the fact that you just can't poop and eat at the same time. Anytime I sit in my own audience and anytime I'm worried about how someone will receive this based on the merit of my previous work, that is when I cannot write anything with value. I can't write and aim at the same time. If you're aiming, you're aiming for a lot of different targets—for any made-up version of a reviewer or an audience member that you're imagining. I can't think of anything more scattershot! I can only write for me, and I know that people say that so much and it sounds like such a stereotypical bromide but I can only move in one direction and so I may as well move in the direction that feels clear to me. Otherwise that's a guessing game! It's hard enough to listen to my own intuition versus sitting here, making up what I think other people's expectations will be. There's also this idea (or ideal) of objectivity in journalism, which often extends into writing. I think it's a lofty goal, but it's ultimately impossible. Is it that people just don't want to acknowledge their own biases? It's so impossible! We should also surrender that completely. It's so interesting because New Journalism, the long tail of it, went from writing in the first person, to interjecting your point of view, doing write-arounds and talking about people contextually and not just what they're saying and wearing or—god forbid you only have forty minutes for a cover story—what they're eating. It's always going to be distorted by you having been there. And I think that if everybody just accepts that, it's a good baseline. And then other people, having enough integrity, can just not make facts up. That would be great in this day and age! The thing about biases is that largely we don't know that we have them and that's not good or bad, it just is what it is. I think it's compounded with this notion, too, of how we presume social media is straight from the horse's mouth. I think that can be really confusing because everything is a performance and so everyone, on any day, for every mood and filter should be taken with a grain of salt. In Permanent Record, Pablo really gets caught in the "best life" aspects of Instagram. Yet, he completely overlooks the fact that he has this incredible lifeline: the people who are looking out for him. I mean, both his friends and his parents align in their observations about him. It's funny because if you were to ask your best friend, "Do I isolate? Am I selfish? Am I grandiose?" Your friend would tell you, "Oh yeah, 100%." But you have to ask them point blank. It takes a lot for those people to say that to you because it's so obvious to them that it never occurs to them to tell you that you are these things. Anytime I feel hysterical about someone saying something to me—like if I get that jolt of contempt and I'm filled with moral outrage and righteous indignation—generally, I find that that stuff is accurate. We're not a cipher! The people who know us, know us. That's the you. It's the difference between your recorded voice and the voice you hear. No one thinks their recorded voice sounds better! Like, you think you're out here shining, and your friends are like "No, you're doing this weird thing, a weird squirrely dance that you're trying to hide." What was it like analyzing male friendships from that perspective? When I was in edits for this it was during #MeToo and Cosby and all I wanted was to write a tender, sweet and true-hearted boy. I wanted to write emo, loving demonstrative friends because that's what I've actually seen in New York by dint of all of us being squished together with very finite resources. My male friends have the most beautiful, supportive and edifying conversations with each other. They really hold each other up and it's fucking beautiful. I thought that was a particular dynamic that just didn't get enough attention at all. I also think that in New York, you need to be surrounded by a group of people who will support you because you will need them. I'm a writer in New York. I have needed my friends. I have sometimes needed them financially. My colleagues, my friends, my cronies have supported me during very lean times. I survived 2008 and 2009 in media in New York. I will always be grateful to them for that because it takes a village and if I shine, then you shine. You take turns supporting each other. You take turns reparenting each other. And that's just part of it. And being happy for someone in the way that you would sometimes hope your parents would be but can't and so you have people celebrating you with deep, deep love and understanding of what it took to accomplish something. I mean, they put up with your ass in the lead up to this shit! So you bet they will celebrate you. It's the in-betweens we often overlook. They get left out of those success narratives too. Permanent Record analyzes the Western ideals of success, ambition and straightforward career trajectories. Pablo keeps watching these Secret-like Youtube videos, and yet he can never connect to them. As he starts changing and accepting his own shortcomings, he finally encounters success narratives that resonate with him. Why was it important for you to include that in the book? The thing that the supercut doesn't show you on Youtube, as the person makes their millions or gets their free ride to Columbia or whatever, is all the disgusting actual work that had to take place. When you're starting out, your output is repulsive. Ira Glass has that great quote about how your output never matches your taste for a long time and that's a really important thing to hear because Permanent Record comes from this notion, this data that follows you in terms of your successes and your failings: your FICA score and your credit and all this stuff. It's also this notion of permanent record, which is the reality distortion of social media, where you feel so much pressure that you feel like you cannot afford to make mistakes. We love the story of the beauty blogger who made billions, or the one about the person disrupting hotels or the child disrupting the salad industry, or Forbes' 30 Under 30. Now, it's all about getting a Ted Talk before you're out of middle school. The bloodsport has gotten so aggressive that it's sort of laughable. That narrative—jinned by the 24-hour news cycle and the pyrotechnics that we need for every viral hit— really does a disservice to the countless majority of people who just grind. The other thing is that I wanted Pablo to have uncertainty around his own career but also acknowledge that there are a lot of people who are successful doing things that you won't hear about on your local news channel. I think that there's a lot of grace in that. And acknowledging that as a path that can lead to happiness is important. Pablo's dad, Bilal, talks about the notion of autotelism, the act of doing it and the satisfaction in doing it. It's not about the accomplishment, it's about the very slow and grueling work of just getting better at something over time. It always takes time. It's fine to want and it's fine to try, but the second you try it and it doesn't work, please try working a lot! Bilal also talks about how the root of all creativity is abundance: wanting what you already have. How ephemeral is getting what you want? I've gotten so much in my life and it's so amazing how quickly it turns to resentment or this voraciousness, that will never be sated, for the next thing. When your first book did very well, like New York Times Best Seller-well, did that make you nervous or even resentful of your own success? Oh, it completely fucked me up so hard. What happened with the first one was that I had written it and rewritten it and it sat in a drawer for eight months because my agent didn't like it. A different agent reached out saying they were a big fan and asked if I would ever write a book. I told him I already did and he asked to read it. He read it and had notes, so I tackled the notes. And then he told me he could sell it and it went to auction and it did really well. But what happened with that is that because I had zero expectation that the book would ever sell, I had another job on camera for HBO's VICE and I was just on a different wave during that time. Emergency Contact had sold, but before it came out, I had written a draft of Permanent Record. I told myself, if the book tanks, I'm never going to be able to write again and I have this idea for another book so I've got to write it now. While I was shielded for the first draft, I didn't know that promoting a book would be all-consuming and just emotionally expensive. It didn't make the NY Times best-seller list the first week out, it made the list on the second week, which very rarely happens, and then stayed there for a month. During that time, I was rewriting Permanent Record and that was the most...I mean if you want to talk about scattershot, I didn't know what I was doing. There were so many edits where I just rewrote the whole thing and then could not accept changes because what I had written was just nonsense and I didn't know what it was and I got further away from it. I was more out to sea and that was a really big lesson. I told myself it was just the sophomore thing, because I don't know how to write a book. I've only done it once before, like, who the fuck am I to say that I can write a book? I won the lotto once. It wasn't until I got away from all that that I realized what I had done and how much my final actual draft resembled my first early draft. I realized how you could get burned out without producing anything. There were so many honest conversations about money, credit and debt and the insanity that is having an 18-year-old figure out the rest of their lives and place a huge bet on that decision (with an insane loan). I mean, we're all so scared to talk about money and we avoid it altogether because my god, that pressure! And a loan of that size! I mean, you really do mortgage your entire future and it's like you're betting on a level of financial solvency by a certain age so that you can recoup on this initial investment and pay people back because, as the clock is ticking, all of these loans are metastasizing. And I really wanted to talk about that. It's great if you get into Columbia, Duke, and NYU, but how are you going to pay for any of it? How do you enter the workforce in this day and age with that much volatility—with a house strapped to your back? Why don't you own a house for how much you owe? And then graduate school: do you really want to pursue that or is it an issue of sunk cost where you need to do that extra thing because you haven't questioned what you wanted to do, and now it's a question of what you can do to get the money back doing what you're doing? How will you ever know what you want in your quietest self? How will you ever find your due North if you're completely saddled by this clock and this money? It leaves you with little room to fuck up, no? You can't afford to! And if you fuck up you better not tell anybody and you better hide it and again, even if people find out, you better play it off and tell everyone that you've got it figured out. And you best hope that watching the right Youtube video will help you figure it out because I don't know how else you would. There is a great divide and there is so much otherizing and fetishizing that happens with each generation as technology changes at a rapid pace. It was, first, about otherizing Millennials—and it's not the reductive aspect of it, it's the difference that you're creating. And with that comes a great breakdown in communication and apprenticeship. You have people who are in such a scarcity mentality about these people taking all the jobs, so they keep all their institutional knowledge to themselves, and the new people coming have no idea how to deal with that hostility, but they also don't want to fuck up and so they don't ask any questions. You now have so many people who have a very specific skill set, and that's wonderful, but they don't know how to do fundamental things like ask a question, make a mistake, remedy it and call attention to it in the right way. The result is that everyone is now like "Don't trust Gen Y," and Gen Y is saying that you can't trust Gen X-ers. It's this incredible communication breakdown that breaks my heart and as a person who is older talking to younger people, I just want everyone to hang on, and not go to AskJeeves to figure out how to write a cover letter! Ask someone and admit to that vulnerability and have that person help you out. I think a lot of that responsibility falls on our shoulders because we don't make it easy to ask us things and that's fucked up. It would just be so much better if everyone talked to each other. The food in Permanent Record, especially those snack combinations, really brings everyone together, and showcases their resourcefulness. It also facilitates some difficult conversations. How was it writing about that? It was really beautiful. I wrote a New York Times Magazine article about candy a while ago and it was really short and joyful but that was really triggering. And I realized I was definitely a sugar addict. It's that recursive nature of disordered thinking. When I'm in that mode of thinking, it's all I can think about and it was really interesting. I had enough awareness to be like "Holy shit, you're catching a weird ass contact high." With this, I knew that food was going to be a big part of it because of Pablo's mixed race. It's the one arena in which he doesn't feel like an impostor, where he doesn't feel tested, where he doesn't feel like it's a pop quiz he's going to fail. Even if Pablo were at church or at a wedding or around his parents' friends, he might feel uncomfortable, or might feel as though they're about to give him a pop quiz about how much of his culture he can actually be familiar with. He doesn't have that with food. It's his love language, the way he shows up for people in his life and he doesn't ever worry about the cultural authenticity of it. And I wanted him to have freedom in some arena. With my own personal history around it, it was a really beautiful thing where I could experience joy around food again and where food was appropriate in my life: you could be excited about it and be happy about it and feel abundance in it, but you don't have to be drunk on it. And it doesn't have to be the only thing that you think about. The way I knew I had an eating disorder, even though for years I thought I didn't qualify as a bulimic anymore, was that someone told me that if you believe that being a different size will change everything about your life, you probably have an eating disorder. And that blew my mind because I thought I didn't have an eating disorder but I was alternately paleo, or vegan or on some crazy regimen or not eating this or orthorexic or whatever, but thought it was a coastal elite thing or whatever. Now, I know that was really disordered. Now, you eat a meal and you forget about it—that's what life is actually like. You have life in between meals. It's not eating something and trying to figure out ways to game it or get rid of it for the next six hours. It was also really important, like an amends to myself or a healing practice, I think, to create a character in Leanna where she's like ostentatiously famous, where her body is so renowned and admired and gawked at, and she doesn't have an eating disorder. It makes me weepy to think about a young woman who is that scrutinized who chooses to feed her body and chooses to nourish it lovingly and have an appreciation for what her body is capable of doing. Just the idea of having a woman like that felt like such wild subversion and that was really beautiful for me as someone who is older to just write a love letter to a person like that. I think that that helped me do a lot of forgiveness around all this abuse and turmoil I put my body through and the dissociation and just how I left my body in different places in my life. Leanna, as a mega pop star, is the source of a lot of body anxiety and dysmorphia for other people, but she isn't absorbed in it at all. Absolutely. She just doesn't take that on. Leanna is fucking awesome in so many ways. She's hugely flawed and she's very young. Someone even told me that I vilify her and I really don't. I don't think there's a single smart woman in this world who has even a modicum of ambition who wouldn't understand exactly why she does the things that she does. This famous person is surrounded by this cacophony, this overwhelming din. It's the age and the level of celebrity that we have to grapple with. This is a person, as far as you know and think, but the celebrity industrial complex is a great many other external forces and people. She is the head of her personal brand: she is the CEO, CFO, COO, but also there are people she is answerable to and that's a real part of her life. But Leanna is also quite whitewashed as a pop star. I really wanted to talk about that. I remember when I interviewed Rihanna for one of her first cover stories for Complex (when Good Girl Gone Bad came out). She had just cut her hair and people were figuring out that Rihanna was stylish. And she told me that she was really excited to have a little bit more autonomy in her career. I asked her what she meant by that and she said that she was singing in her actual accent. I think that there is this coming of age that happens twice when you are not of the majority. You have your coming of age just like in life: your Saturn Return or whatever. And then you have this coming of age where you realize that you have inherited this double consciousness, like what your contribution is as an artist of colour. I certainly had the same thing. And I'm so grateful that I started writing when I was older because I could work all that out and figure out where I was at with it and then produce from there. With Leanna, she gets really excited when the industry changes enough that she's finally in a position where she can have a Spanish-language release. That was something she felt she had to earn. I wanted that to be an issue, even for her and for how powerful she is: if she's coming through that Disney entertainment factory (we'll use that as an example), then what does that mean and how does that affect how people receive her? And then what she can claim for herself later? The centre of gravity for this book, and the source of food and cravings, is the bodega — it's where everything begins and reconnects. Pablo's job is a service job and it's a low-valued job, and it requires a lot of expertise that's often overlooked. Why was that crucial to you? I didn't want this to be a dissertation on or contemplation of city living where we don't know each other and the death of intimacy. It's more like that New York thing where we're all crammed in together and you end up gleaning the weirdest parts of each other. And I love the bodega because it's the place I missed the most when I briefly lived in California for work. I just wanted a bodega! I didn't want to get in my car to go to Target for Advil! I just wanted the two-pack to swallow dry on the train! But the bodega is a 24-hour way station for a lot of different types of addiction. There are witnesses to your personal crises. All under those horrible lights! And those cameras! It's just like Russian Doll! That's the nexus. We're all glitches in each other's Matrices. And then there's that fucking judgmental bodega cat. As much as we think that technology is creating a rift, there are still these little things we have to do that force us to interact with each other. Reluctantly! That's a really beautiful part of New York: you're forced into those situations. Like mass transit: the fact that we have to mutually tolerate this broken railway system is just hilarious to me. It's the source of so much drama and strife and the bodega is definitely another touchpoint where we just all have to put up with each other. We all have to get in that fucking line and god forbid you have to go in the morning and everyone before you is ordering an egg sandwich because you're going to be there for 37 minutes. With your work, how do you reconcile something that you love bringing you closer to the thing you hate (overworking, capitalism, burnout)? It's really hard but it's a scarcity mentality. It's also something I can speak to from a place of great privilege. I have never been in a position where I had to spend an advance cheque on life. I've always had jobs in between the creative moments. I've always had a job, feathered the nest, and then did all speculative weird stuff. I keep the pragmatism with those jobs and I keep the high-risk stuff high risk. I also don't worry about money insofar as I never do something for money because that's always gotten me in trouble. I call it that Tahiti test: if this thing went away to Tahiti, is there a part of you that would have some regret? Or are you relieved? And if I'm relieved, then I'm not allowed to do it. If I'm regretful over some aspect of it, then I have to sit there and contemplate it. I never send things to Tahiti when it's just money-based and if I don't experience true relief. I've never done anything solely for money because it's just too emotionally expensive that way. I'll do stuff for money that I'm interested in or that I find entertaining or do it because I can't believe that people can be paid to do it. Doing something expressly for money has only ever made me resentful, has taken three to four times longer than I think it will and has only ever brought me just butt-hurtness. It's only ever tarnished the work that I do. I just don't want to be embarrassed about anything that I make and that threshold is low—I mean, I survived being a writer.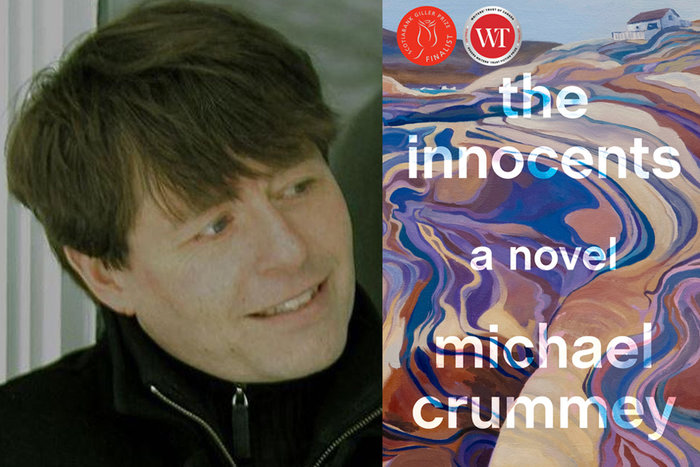 The author of The Innocents on growing up, survival, and giving your characters dignity. 
Since his 2001 debut novel River Thieves, Michael Crummey has woven together Newfoundland's rich and often ignored history with fiction. His latest novel, The Innocents (Doubleday Canada), took years to begin and was written almost out of compulsion after a trip to an archival library. The novel follows two young siblings, Ada and Evered, following the death of their parents and baby sister. With very little contact with the outside world, the brother and sister survive the harshest conditions. Having only each other to rely on, the siblings form a bond that is tested as they grow into adolescence. The siblings endure unimaginable hardships, giving the reader a highly complex and rich coming of age narrative, one that Crummey was almost too afraid to explore. Through his writing, we see an empathetic portrait of what becomes of familial bonds when tested beyond their usual limits. Sarah Hagi: You've mentioned how this story came to be, through reading about a clergyman's findings. Can you get into that a bit more? Michael Crummey: I was at the provincial archives in St. John's. I spent a lot of time there for a bunch of different projects so I was there working on something else, I don't remember what it was and it was quite a while ago. Just in the process of poking through things, I just happened on this one paragraph. It was from way back, so possibly a newspaper. And I don't know if it was the clergyman himself writing it, or if it was somebody reporting what he'd been told by the clergy. But this clergyman was traveling around the island, which was not unusual because most places didn't have a church or a clergyman. In the course of traveling around the islands, he came upon an orphaned brother and sister who were living alone in an isolated cove. It became obvious to him very quickly that the sister was pregnant and he immediately assumed that the brother was the father. The brother ended up driving him off with a rifle. There was no more information about who the brother and sister were or how old they were. I immediately thought that would be a story, and I immediately rejected it. Like, I didn't want anything to do with it. Yeah, so I didn't take note of the source material or anything, I just sort of, I read it, and I just kept going with whatever the business was. And I mostly forgot about it, I think, But, but not completely, obviously. What was it that stuck with you? Every now and then I would think about those youngsters. And I think the thing that really hooked me was thinking about them in relation to my own childhood, and what it was like for me growing up. Just how unbelievably confusing it was trying to come to grips with those kinds of changes that were happening within me. Even though I grew up in a place where I had some resources and there were bits and pieces that I could try to cobble together into a picture that said something about what I was feeling, it was just appallingly confusing. And so thinking about these two children who had been left on their own completely, with no resources, with no one to turn to, and guessing that they wouldn't even really be able to have words to even try to describe what was happening, and then to end up in the situation that they ended up in, I guess I was kind of heartbroken for them. In a way I wanted to tell a story that did the opposite of what the clergyman did. I was hoping that by the end of it, that they would be left with some kind of dignity, but I didn't know how to go about that at all. I imagine it was very difficult to write about. I mean, one of the things I wanted to do was to provide them with a life that was more than that. I don't want it to be the incest book. I decided what I had to do was try to put them into a life in which what happened between them, in that intimate way, was just one of the things that happened to them in the stream of things they had to deal with. Their entire family dies within the first ten pages of the book. When you're writing these two characters and there's so much left to the story until the end, how was it dealing with that grief they obviously felt and with them becoming adolescents? I mean, it's no wonder that I went so long not touching this book. I wrote that opening actually quite a while ago, maybe three and a half years ago. Then I just put it away—I thought, "I can't do it." I didn't know if I had it in me to tell that story in a way that felt believable, and that wouldn't just be a misery trek for readers. It wasn't until my editor Martha called me. I didn't really have anything except this [opening], it's about three thousand words. After she read it, she said, "I'd like to know more about those children." So I kind of thought about it, as a story about childhood. I just tried to write them as real children in extreme circumstances. What was it like dealing with the survivalist aspects of the story? That was part of me wanting them to be situated very clearly in the rhythms of the life that people would have had at the time. My father was born in 1930. But he started fishing with his father when he was nine, down on the Labrador Coast. He says he didn't take a full share of the crew until he was eleven. And I think that's part of the reason I picked the ages I did. They're eleven and nine when the book opens, because I thought, okay, at that point, they actually would be able to survive. They've been working their entire lives, really, to that point they have probably reached a stage where it's not out of the realm of possibility that they would be able to make a go of it. All of the survival stuff was basically just putting them in the landscape and letting the landscape happen to them. Even though they're so isolated, the story very clearly takes place in Newfoundland. I feel like it couldn't have happened anywhere else. I've always said that the books that I've written have been an attempt to get Newfoundland down on paper, and to create a real sense for readers of what the place is like, and how people have lived there. With this book, I had a slightly different feeling, because I felt like the story of the brother and sister could have happened anywhere. I was just sort of happenstance that this particular story happened. But then the fact that they were in Newfoundland shaped almost the entire narrative, because the place itself was such a presence in the lives of people at the time. Just in terms of what you had to do to survive and how you could or couldn't live in that landscape. You mentioned feeling the need to write this story to do these kids justice, do you feel like you accomplished that? It was kind of like Martha pushed me off a ledge in a good way. I always doubt a book when I start it. But about halfway through the book, I started thinking, "I hope I don't die before I finish it." I just had that sense that this was a story that I really wanted to see told and that I was telling it in a way that I felt good about. There was a real sense, when I was done, that it was pretty much what I hoped for. I'm happy to have it out in the world.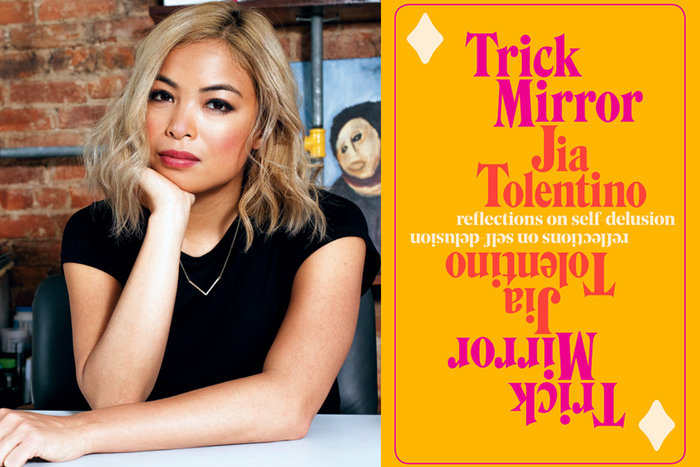 The author of Trick Mirror on the self as a lens on the system, scams, and the internet beat. 
Over the last several years, at the Hairpin, Jezebel, and now the New Yorker, Jia Tolentino has cemented herself as almost peerless in her ability to capture our current cultural zeitgeist in a world that sometimes moves so quickly it can be hard to define what the zeitgeist may be. With her book of original essays, Trick Mirror (Random House), Tolentino weaves together online culture with real life in a way that not only captures the present, but how the past and perceived future shape our understanding of the world as it continues to change. Right on the heels of an extensive book tour and becoming a newly minted New York Times best selling author, I spoke to Tolentino about the delicate balance of writing about topics so of the moment and how we can feel less alone. Sarah Hagi: Your book has been doing incredibly well—it sold out everywhere. What's that been like? Jia Tolentino: I really, really, really did not expect it to be successful in this way. The book is pretty dense. Parts of it are kind of academic and it's kind of hardline anti-capitalist to some degree, right? And I just didn't expect that people would be down. Like, it's really crazy. I only ever thought about finishing the book, all I wanted was to finish the book and be happy with it. You never know how something is going to do when it comes to writing. The thing that has made me feel truly validated in a deep way is this instinct that I didn't really want to write a book with any obvious takeaways. That's really the reason why I'm surprised it's doing so well: I very deliberately wanted to try writing a book that didn't propose any solutions. It feels really good to realize the desire for that is really widespread. Talking about the book so much, it's helped me realize things that are underneath it that I didn't understand while writing it. One of the things I have been trying to think about is that all of the structural forces that govern our lives with the internet, and male power, and capitalism, they want us to be isolated individuals just running as fast as we can. They make us feel like we're alone in these anxieties that we have and that we have to solve them by putting our heads down and working harder. A cold consolation is that one of the ways in which we are actually very connected and interdependent are all these fears and subtle dreads that wade through our lives. Like, "Oh yeah, we're all feeling this all the time." You weave in a lot of personal experience throughout the book. Was there anything you were surprised to learn about yourself and your understanding of the world while writing this? I do write in the first person a lot, and I have this everyday narcissism and probably a lot more of it than the average person given I'm trying to make my career around this super individualistic, self centered thing. I don't feel, on an everyday basis, particularly interested in myself. But I am interested in the way that the self is literally your only lens for your experience of the world and of systems. I think I did learn some things about myself while writing because I never learn anything except through writing, and inevitably I figured out some stuff about myself. I think I've developed this much stronger sense of my interest in the self, really, insofar as it is the only way we experience the world. It's like this thing that walks around and can gather evidence about the things you're actually interested in. So much of what you write about in Trick Mirror is stuff that very online people know about, but someone who isn't online as much can understand. Was that difficult to balance out? I mean, embarrassingly, my beat is the internet, right? But increasingly, that's the only beat, right? I started realizing that the internet, no matter what you're writing about, is a part of it. If you're writing about ISIS, the internet's a part of it. If you're writing about climate change, globalization—the internet is woven into anything, like any other overarching structure, and it's done that so quickly. I was definitely aware that, especially in the first chapter, these are unbearable things to talk about in real life. I pretty strongly try not to talk about the internet in real life, but I felt like an essay like that is a good use of the stuff that occupies a lot of my online attention but is so fucking boring to talk about in real life. I think that, in general in my life, I'm trying to see the internet for how we underestimate its importance, and also how we overestimate it at the same time, and constantly sort of adjusting my understanding of how important something is. But yeah, that was something that I consciously wanted to do with the book. It was hard, but the things I like writing about are the things that are hard to get right tonally. You go deep with bringing in the past and present together. Do you think about how a lot of it will read five or ten years from now? Oh, no, I never think about that! Already, my first job that was so important to me and probably shaped the way I write more than anything, I can't find half of the shit I wrote there. Coming into writing with a sense of the fact that the industry was in such a crisis, it felt like it was a total fluke I was there until recently, like it was a total accident that could go away at any second. That's really how I felt until close to when this book came out. I'm bad about thinking about the future in any specific terms. The idea that anyone would be reading my work five or ten years from now is not something I think about or hope for. I think, subconsciously, I'm probably trying to work in such a way that this will be a book about the present that will be readable in five years, like it won't seem so obviously dated, like a lot of work that concerns zeitgeisty stuff does. I guess it has occurred to me that a lot of pop culture essay collections are pretty fucking dated in a bad way when you read them, like, four years later, but I think it's hard to calculate. The future is very opaque. How does the future seem to you? I only think of the future because I'm like, "I haven't lived a life yet so there has to be more!" I have just this unshutoffable thing about myself, I'm trying to do so much shit that it's so much harder to turn it off than it is to keep going. I can trust that my automatic instinct will just make me do all this shit. I think that's one way that I work and live—I try to get the underlying drives and then not think about the rest at all, and just hope that takes care of it. I think that's one way in which I've been absolved of even the question of thinking about the future. It's just because, for whatever reason, I've been formed into this person that is so attracted to work and effort in a way that I don't think is really healthy. But it's like, I could just trust that machine will just keep running, I had to find it really hard to just turn it off. One essay that really stuck out was "The Story of a Generation in Seven Scams," and how not all of these scams immediately stuck out as being scams or even similar to one another. How do you define scams? They're all pretty normalized and valued. To be a banker, or to take out a loan for college, or be a girlboss or disruptor—these are all very highly valued scams. They are genuinely presented as a way to live. Before I wrote that chapter, I read a lot of books about the history of scamming in America that never really made it in. For example, every time there was a shift in the banking structure, there was a massive uptick in scams of various sorts. And a lot of them would be like this full on counterfeit money scams, a lot would be more complicated. They would sort of give rise to these cultural corollaries. So, it became clear to me that around times of transition, it becomes really easy to do. If you boil scamming down to the basic definition, which is the abuse of trust for profit, it's like, what doesn't that seem like? Social media in general has been the abuse of trust for profit, some of it has been inadvertent. Zuckerberg didn't know he was going out to build this fake advertising business, he thought he was just making a face book. But we have been able to successfully do the real scam of social media, which is making a personal brand, a safety net. It's like making us put our lives online in case we need it financially because we don't have any other safety nets, really.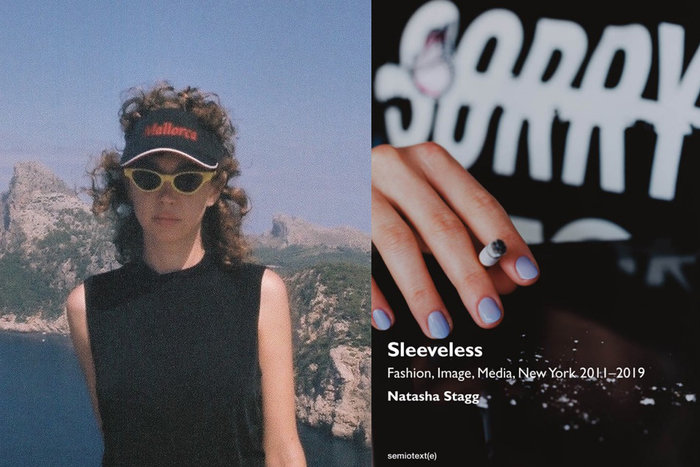 The author of Sleeveless on 2010s New York, jealousy, and being out of touch. 
In her book of critical essays on artists Forty-One False Starts, Janet Malcolm writes, "There are places in New York where the city's anarchic, accommodating spirit, its fundamental irrepressible aimlessness and heedlessness have found especially firm footholds." Opening a copy of Natasha Stagg's Sleeveless (Semiotext(e)) is like entering one of those footholds, be it the red glow of China Chalet at 3 a.m., a corporate warehouse party where everyone is beautiful and no one talks to each other, or a downtown coffee shop buzzing with nervous, striving energy where the person at the next table happens to be Coco Gordon Moore. Sleeveless covers the glittering void of 2010s New York, which Stagg chronicled first as a contributor for the underground art magazine DIS, then as a senior editor at fashion glossy V, and now from the aerial view of a copywriter shilling for the brands she used to cover. It's an endless parade of free cocktails and vacuous conversations where Stagg serves as both participant and observer; a bit like Andy Warhol's diaries if they were written by a millennial, populated by shiny happy people until an unflattering zoom reveals the rot festering inside. Stagg writes, "I love expensive things but I hate being around people who can afford them," which may well serve as a metaphor for the entire book. Stagg's New York is nearly fifty years past the decadent heyday chronicled in Patti Smith's Just Kids, David Wojnarowicz's Close to Knives and fictional texts like Slaves of New York and Bright Lights, Big City. But instead of complaining about missing out on all the good times, Stagg ventures into the fraught territory of chronicling her own era, which is still ripe with the turmoil, angst, and ennui that make New York both unbearable and the greatest place in the world. Isabel Slone: It occurred to me while reading Sleeveless that you've managed to capture and preserve a specific era of New York in amber, specifically the intertwined fashion and literary scenes of the 2010s. Did you set out to write a quintessential New York book? Natasha Stagg: I had been trying to write another novel—I wrote a novel a few years ago—and was pretty stuck trying to write another one for a bunch of different reasons, then realized the whole world is too bizarre to write something fictional right now. Most of this work was not done in preparation for a book, but on assignment. The intention of editing all of these stories together was to capture a moment and to kind of challenge myself to not be afraid of doing that. I think a lot of writers are afraid of sounding dated when they just write about one particular time period. I guess I was just thinking, "If I'm not writing a novel, what do I have? What am I doing? Am I going to be able to write something ever again?" Then I try to motivate myself by looking at things I wrote for some other reason. I have all these folders on my computer and looking through them, I realized there was enough for two books and all I had to do was figure out how to make them feel cohesive. I ended up just sending a big folder of work to Chris Kraus, she's my editor, and she was like, "Basically don't change the format here, this is just chapters." When you were going through the folders on your computer, was there a reason for selecting the pieces you chose to single out and rework for the book? I started seeing a theme of articles that were questioning personal image, personal brands and the way one sees oneself in this era, which is shifting a lot every day. Whatever I wrote ten years ago, I would probably write differently now, but it's interesting to see what I was imagining would happen in the future back then. Most of the articles I chose weren't about a typical celebrity. They're about a person that is in a very precarious place in terms of their status and visibility. That added to this longer narrative I had in my mind of what is going on with the way people view themselves in this age, whatever you want to call it, and all the changes that have occurred in the past 10 years in terms of media. The precariousness you mention also applies to the way the book is narrated; it often feels as if you're this dual character, playing the role of participant and observer at the same time. I'm curious, how did you end up working in fashion in the first place? When I moved to New York, the first job I got was at Beacon's Closet. To me, it was the best job ever, because I met so many interesting people. It's this unique place that attracts really interesting people like stylists, fashion journalists, drag queens and all these other kinds of performers. Before I moved to New York, I was writing a column for DIS magazine, so I met a lot of people through them, and Beacon's Closet, and just living here. Very quickly, within a year of living here, I got the job at V magazine. I worked with Patrik Sandberg who has become a very close friend of mine over the years. After that, I took all these other writing jobs and now I work for a few different brands through a design firm and do my own freelance stuff writing press copy and articles for magazines whenever I want to. In the book, you refer to fashion as "the most insecure of any art form," and I'd like to discuss that statement specifically in regards to fashion writing. Often I'll see someone on Twitter asking for a recommendation for "good fashion writing," as if it's this excruciatingly rare thing that's impossible to find. It almost seems like people choose to actively ignore all of the good fashion writing getting published in order to preserve the idea that its difficult to be a rigorous thinker on the subject of fashion. What do you think about that? This happened to me yesterday. I was at a talk and somebody asked for a recommendation for good fashion writing, and the panel's response was to seek out participants in call-out culture, like Diet Prada. You know, the kind of Instagram accounts responding to culture and saying, "This is what you should know about this collection that the critics won't tell you because they're getting paid and I'm not." I think there is really good critical fashion writing out there and what's stopping people from finding it is they're looking at fashion magazines for it. Those magazines can't afford to be critical of their advertisers. What is unique about fashion is that there's this exclusive component. With art writing, anybody can go to a gallery opening, you don't have to be on the list. You do have to become a networker to get exclusives on artists, it's the same with any type of journalism, but there isn't this exalted status of fashion journalist where you get to show up and borrow clothes and be in this inner circle. It all looks very rich and exciting and they basically become a brand ambassador when they're invited to be a critic at the same time. There is something unique about fashion criticism: it kills itself eventually. Anybody who is looking to become a good fashion journalist is easily brought into the fold, which means they can't be a good fashion journalist because they're too biased. One of the main themes in the book is jealousy: romantic, professional and otherwise. You write, "Jealousy is the most poisonous emotion and admiration is always laced with it." What drives you to explore jealousy and get cozy with that sick feeling? I experience it a lot. People lie to themselves if they say they don't. Most of the time, if they're participating in social media, they're participating in an endless trap of jealousy. That's the reason why all these apps are so addictive, probably; this sick jealousy that we all have needs to feed itself. Then it drives us to project our own actions just to make sure everyone knows that we're not jealous or doing something people could also be jealous of. Everyone is super jealous of everybody's lives no matter who they are. It's the way that jealousy has shaped the media I find interesting. I've always been obsessed with celebrities throughout my life, but then we all discovered that you could also be obsessed with a non-celebrity, and that is the idea behind influencers. Technically everybody is an influencer and therefore everybody can be influenced. That you can actually put numbers on the level of jealousy we experience daily is so interesting to me. Imagine living 100 years ago, when there were no numbers behind any of these emotions and now its quantifiable. Well, except that it's not. All those numbers are phony in their own way. But I think the impulse to make everything into a chart and a graph is a fascinating one. Your novel Surveys is essentially written about an influencer before the term became ubiquitous. Now people are having conversations about whether or not the influencer bubble is going to burst. Do you have a perspective on that? My instinct tells me that it will burst. In its current form, the influencer marketing strategy will become defunct in some way. Like all advertising, people get wise to a certain strategy and then they don't trust it, so advertisers need to find a new way to capture their attention or their trust. I don't think that will ever end. There's no way advertisers will stop being super creative in ways to manipulate their audience into thinking someone they know or admire uses a product. At least I notice that everything getting sent to my feed is more and more appropriate. I think, "Oh that is an interesting new brand, and it's sustainable and I can buy it right now." The algorithm that produces the content is directly doing its job. I don't see someone's face and think, "Because she uses it, I should use it," but it's the same kind of shit. Somebody has found out what I look at, suggested that if I look at that, then I should look at this. It's not that different. I'm still being fed a lifestyle that should influence me. I really liked when you wrote, "I could always sway people in a conversation by using the phrase 'out of touch.'" Who do you think is out of touch right now? Sometimes I say that about myself, you know? "Well, don't ask me, I'm out of touch." It's just this perfect way of getting out of something. Most of the time when I say that in meetings it's not even accurate, I just don't want to keep talking about a certain person. It's so bizarre to me. Remember a few years ago, when every single fashion brand wanted A$AP Rocky to be their mascot? In hindsight, that makes so much sense. They wanted to check a lot of boxes; he was very safe in a lot of ways but also dangerous in the right ways and interested in fashion, whatever. I feel like that person for right now is Billie Eilish. Oh totally. She checks so many boxes of what a quintessential person of today should look like and behave like. Whenever this happens, I get so sick of hearing their name, it makes me feel their time is almost up. So I have to say, "I think that's kind of out of touch," or, "I think that's kind of over." But nobody listens to me anyways. I'm not like some bigshot in any advertising meetings ever, I'm just kind of there.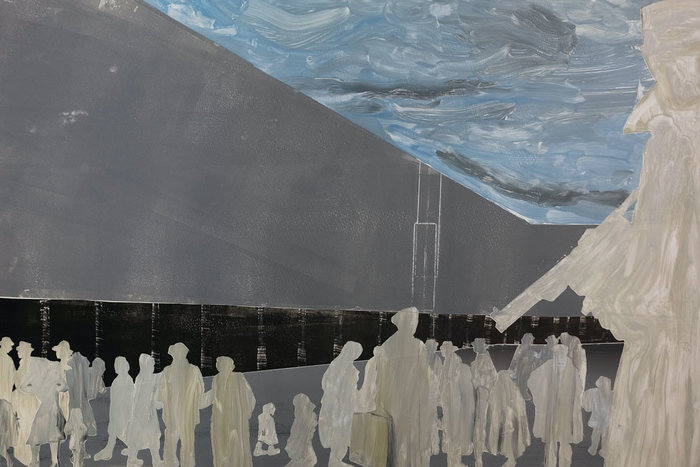 To visit Drancy is to confront dark and unsettled questions of who is remembered, who is heard, who can speak, and why.
The wind blows south over Drancy. It blows south along the horseshoe of boxlike buildings, south through the dark cluster of trees they enclose. It blows south as it musses the hair and scarves of the residents of Drancy as they make their way to and from the towers in which they live, and it blows south until it strikes the strange structure that has been erected in the center of the ring: a repurposed cattle car, at the base of which is a plaque that reads, "The French Republic in hommage to the victims of racist and antisemitic persicutions and the crimes against humanity commited on the authority of the de facto 'Government of the French State.'" [sic] Most of the Parisian friends I tell about my plans to visit Drancy have never heard of the place: hugging close to Charles de Gaulle Airport, some hour and a half outside of the centre-ville, it's a suburb both geographically and psychically at Paris's perimeter, out of sight and out of mind, a place where you wouldn't wind up without a very specific reason for going there. Though Paris's subway system is so extensive that its maps resemble a plate of spaghetti, Drancy is not hooked up to it; to get to where I need to go—a modest housing development known as la Cité de la Muette—requires a commuter train journey followed by a mile of walking. Now home to low-income residents primarily from France's former colonies in the Middle East and North Africa, the tower blocks that make up Drancy's Cité de la Muette constitute France's cheapest social housing, and some of its least desirable. But at its inception almost a century ago, the complex was intended to be a shining model of salubrious modern design, a haven to which Parisians tired of the cramped and crowded central city might retreat by choice, not by last resort. Between its origins as a starry architectural project and its current fate as a graying banlieu of which most city residents are scarcely aware lies one of the darkest phases of France's history: that of its wholesale collaboration with the Nazi occupation, during which time Drancy would imprison between 67,000 and 74,000 Jews, many of whom would die either within the complex's walls or upon their transportation to concentration camps in the east. As such, to visit Drancy is to confront dark and unsettled questions—in France and elsewhere—of who is remembered, who is heard, who can speak, and why. * En route to la Cité from the rail station, it strikes me that the urban planning of the surrounding area seems in many ways an apologia for the history it plasters over. There's a Rue Charles Fourrier, a misspelt tribute to the eighteenth-century French thinker whose proto-socialist ideas about utopian communities would collectively be known as Fourierism (note the one r). Farther along, there's another street named after Paul Lossing, a member of the French Resistance who was shot by the Nazis in 1943. There's a Rue Dr. Albert Schweitzer and a Rue Nelson Mandela and a Rue Sacco et Vanzetti. Elsewhere in the district, the street names morph from homages to freedom-fighters, radicals, and humanitarians into simple prayers for social good: Rue de l'Harmonie, Rue de la Prospérité, Rue de la Liberté. Yet as I walk through the area it is impossible not to note—or perhaps, given that I am psychologically primed, to project—a certain aura of death. I see multiple funeral homes, multiple gravestone sellers with their wares parked out front like Toyota Camrys at a used car dealership. My route passes through a walled cemetery, packed with graves and deeply ugly especially in comparison with the stately central Parisian necropoles of Père Lachaise and Montmartre. Placed on several of the graves are plaques by the National Federation of Deported and Imprisoned Resistance Fighters and Patriots, in memory of the death of one of their members. It was a blistering day: I see few people about, hear few voices. There is no grass for the breeze to rustle. The name Cité de la Muette means the silent city, the city of the mute. Describing the slum he lived in during the late 1920s in Down and out in Paris and London, George Orwell recalled rooms so mite-infested that residents had resorted to burning sulfur as a bug repellant; the street itself, he wrote, was a "ravine of tall, leprous houses, lurching towards one another in queer attitudes, as though they had been frozen in the act of collapse…and packed to the tiles with lodgers." The opening of the book memorably sketches the nerve-jangling din that characterized everyday life in that place: "quarrels, and the desolate cries of street hawkers, and the shouts of children chasing orange-peel over the cobbles, and at night loud singing and the sour reek of the refuse carts, made up the atmosphere of the street." If life in the city's most overcrowded and unhealthy districts was marked first and foremost by incessant, calm-shattering noise, the Silent City stood apart as something new, modern, clean, and above all quiet. With its generously sized lodgings, quality ventilation, and signature peaceful atmosphere, the development contrasted sharply with much of the housing stock that would have been available to most Parisians at the time. This combined with its broad central green and large-windowed apartments that let in plentiful light created a sense of utopia, a serene oasis at the edge of the city. It seemed to point a way forward, to a future in which all could afford to live in the kind of serenity that had previously been the preserve of the wealthy. The large-scale development was composed of several buildings: an exclamation-mark suite of five fifteen-storey towers accompanied by long, low buildings, and then, at the end, a final building in the shape of a U. Constructed using exposed concrete and an iron armature, the buildings were avant-garde both in style and execution. What's more, the fifteen-story highrises were Paris's first skyscrapers: eager tourists bought up Drancy postcards and attended guided tours of the site. In 1939, seven years after construction had begun, Drancy's design was showcased as part of Houses and Housing: Industrial Art, an exhibition at New York's Museum of Modern Art that aimed to showcase the best of public housing around the world. At the MoMA show, Drancy was placed on par with contributions from the likes of Alvar Aalto, Ludwig Mies van der Rohe, and Le Corbusier. Its designers, Eugène Beaudouin and Marcel Lods, envisioned copycat colonies springing up as more and more people were won over by the concept of the decentralized, green "garden city" approach to urbanism. That vision was never realized: on May 10, 1940, the Germans launched the invasion of France; by the beginning of June, they had begun an assault on Paris; and by June 24, the French government officially surrendered. Hitler inspected the broad Haussmannienne boulevards, walked the plaza over which arched the bowed base of the Eiffel Tower, visited Napoleon's tomb, and left after only three hours. Arrests of Jews began that year. At this time the apartment blocks that had once been postcard fodder for eager visitors were in a sad state of half-construction. The economic difficulties of the Great Depression had put construction on ice: beginning in 1939, the as-yet-unfinished buildings were put to use by the French government to intern communists (the Communist Party having been officially outlawed that year). Following France's surrender to the Germans, the Nazis originally converted the site into a prison camp for French and British POWs. But when the major roundups of French Jews began in Paris, Nazi officials decided to put the buildings to a different purpose. Other aspects of the location made it attractive to the Nazi administrators as well: the horseshoe-shaped block, designed to curb the flow of the wind, was easy to close off with barbed wire and the addition of a couple guard towers. Once that was done, the open central green—which the designers had once envisioned as a place of afternoon strolls and weekend relaxation—became instead a place where Jewish internees could be kept and easily monitored. Elements that had been intended as building blocks for utopian design were put to use for dystopian purposes with amazing ease and speed: the distance between the two poles, in the end, proved frighteningly small. Camp conditions quickly deteriorated—Drancy was at one point filled to ten times the buildings' maximum capacity, and woefully inadequate nutrition combined with squalid conditions to produce rampant and deadly disease outbreaks. In a sardonic twist on the development's earlier life as an ideal dwelling place, internees referred to the latrines (located in one building put up in the courtyard, as the apartments' plumbing installation had never been completed) as the "chateau" (a reference, said one internee in a later interview, to the idea that wealthy prisoners had swallowed their diamonds rather than letting them be seized). In other moments, internees were forced to ape a paradise they did not know: of the five extant sets of photographs taken when the Drancy camp was in operation, four of them were staged propaganda shoots, either for French newspapers or to hoodwink the Red Cross. And in the meantime, except for these visits, the camp was sealed off; roundup after roundup of Jewish prisoners was forced to live in conditions that were increasingly squalid, and beginning in 1942, trainful after trainful were sent to the east. Those outside of Drancy said nothing at the disappearance of their neighbors; those inside it could not speak, or if they could, would not be heard. This was a silence of a different kind. * "I'm not at ease at Drancy," says Jacques Saurel. "They hurt me, these buildings." I'm listening to recordings of Drancy survivors at the Shoah Memorial of Drancy, a museum located just across the street from what used to be the outer walls of the camp. Marked by minimalist restraint of design, the building is easy to walk past even if you are looking for it. On its north façade, floor-to-ceiling windows turn their unblinking gaze at the site, a request for contemplation that is direct yet unspoken. The archive, library, and galleries that comprise the Shoah Memorial represents perhaps the deepest of the many attempts to commemorate the tragedy of Drancy: if the site itself is marked by a kind of silencing, its monuments constitute a visual argument of styles and opinions. The first was Shelomo Seligman's 1976 modernist sculpture, whose title, The Gates of Hell, references Rodin's famous work. The sculpture is composed of three parts, all rendered in pinkish stone: two bracket-like monoliths (upon which a dedicatory inscription has been carved) and a central sculpture of writhing and oddly suggestive masses. The red lettering, the rough-hewn style of the sculpture, the reach upwards—all of these are visual cues that on paper should sum to something. But in person they repel more than they provoke, producing neither an articulate statement nor a plain surface upon which to project one's own. The train car standing not far off––which viewers approach by walking along a train track—is a more scrutable memorial, an obvious emblem of the fate that so many of Drancy's internees eventually suffered. As well as these installations, however, there is the ever-present question of whether or not the entirety of the site should constitute a memorial to itself. In the years following the end of the war and the eventual liberation of Drancy, Paris faced a massive housing crisis. The former camp buildings that had until recently served as a temporary waystation between life and death were unceremoniously put into use as social housing. Drancy became a no-frills, no-luxury, no illusions home of last resort in which people were billetted because they had nowhere else to go. Drancy's transformation into an undesirable housing block also mirrored a larger demographic shift in Paris's urban geography whereby the periphery became the province of the poor—and increasingly the ethnic minority—mired in low-wage work that had left them unable to afford the skyrocketing prices of the central arrondissements. The Shoah Memorial's archive of interviews with Drancy's survivors reveal contradictory attitudes about what should be done with the site. Henri Gotainer, who was taken to Drancy in 1942 at the age of 11, said he had been back only once, for the inauguration of the train car memorial, though he has visited Auschwitz (where he was never interned) several times. For Gotainer, the need for people and place to move on is not only natural but essential to survival: "If I lived permanently in these memories," he said, "It would be intolerable." For others, however, the question is more complicated. Jacques Saurel, who was taken from Drancy to Bergen-Belsen, describes "coming out of [his] muteness" about the war after reading that a memorial for those who died at Bergen-Belsen would be erected at Pere Lachaise Cemetery. Shortly thereafter, he says, something took hold of him: he got in his car and drove to Drancy. "It was history that accompanied me," he said of the journey, which he had never thought of making before. But though Saurel has since returned, the place remains indelibly associated with the pain and suffering he witnessed there. Sometimes, Saurel says towards the end of his interview, he thinks it would be better after all to turn the whole place into a museum: "It's a question I haven't found the answer to." Saurel's uncertainty and discomfort point to one of the central tensions of Drancy: that even if one accepts that life must go on in places of tragedy, the degree to which normal life is contingent upon a certain degree of forgetting makes it seem somehow deeply wrong. Today, the majority of Drancy's residents are Muslim immigrants from former French colonies in the Middle East and Africa. The fact that many of these low-income residents lack the means to move elsewhere renders the question of whether or not they would prefer to live in a place with a less gruesome past something of a moot point. This particular lack of freedom points to the ways in which those who are marginalized today are forced to live with the ghosts of history, the places haunted by deaths at the hands of people whose ancestors now quietly choose to look away. Given Drancy's current demographic makeup, the question of memorialization becomes a fraught one: razing the entire site or converting to whole area into an open-air museum would render homeless residents who had no part in the historic wrongs committed there. As Katherine Fleming writes in "What Remains? Sites of Deportation in Contemporary European Daily Life: The Case of Drancy," Drancy plays host to some of the most difficult problems in modern French public discourse, including "questions relating to the memory of the Holocaust in contemporary France, on the one hand, and the place of (largely Muslim) immigrants, on the other. In many ways, these debates are two different historical instantiations of the same 'problem,' the 'problem' of the outsider. In Drancy, they collide." These residents, too, have been silenced. This is the defining characteristic of Drancy, its ability to swallow all sound like freshly fallen snow. * Of Drancy's many silences, perhaps the most pointed one is that of the question of French complicity. A Parisian Jewish friend of mine once posed the following question to me: how many Jews did the Germans deport from France? The answer: none—because the French were so willing to lend a helping hand and do it themselves. One of the reasons Alain Resnais's seminal Holocaust documentary Night and Fog was banned in its director's native country until almost a decade after it was made is that one of the shots of deportation trains being loaded with people shows a French gendarme on the station platform, overseeing what was effectively the administration of a mass death sentence. This was the rule for Drancy as well: though the site was planned by Nazi overseers, the entire camp was largely run—and its prisoners supplied—by French police and government bureaucrats who proved more than willing to collaborate. French officers conducted the round-ups; French officers stripped Jews of their possessions upon arrival; French officers profiteered from Drancy's black market. But the 1976 tear-down of all but the Cité's U-complex marked the irreparable destruction of physical evidence of the French guards who had been billetted in the adjoining tower blocks. The fight over the acknowledgment of French culpability cannot be understood without a full acknowledgment of France's antisemitism, which is not a confined historical phenomenon but a living strain of thought that continues to draw blood in the present. It was not until 1995 that the French government (then headed by Jacques Chirac) admitted to culpability in the Holocaust, but more recent statements by politicians on the far right—most notably Marine Le Pen during her unsuccessful presidential bid in 2017—have rejected the idea that France was in any way to blame for the deaths of over 70,000 of its Jews. Such hand-washing statements come against a backdrop of increasing antisemitic violence across the country. In March of 2018, two assailants broke into Holocaust survivor Mireille Knoll's Paris apartment, stabbed her to death, and then set her body on fire, allegedly under the assumption that because she was Jewish she would have money to steal. Knoll's funeral attracted thousands of mourner-protesters. Hers is only the latest in a string of murders motivated by antisemitism that have collectively contributed to what the president of the European Jewish Council has described as an "increasing sense of emergency." As a site of confrontation with France's collaborationist past, Drancy is not unique: many major French urban areas were affixed with "silent cities" of their own, internment and transportation camps created on their outskirts of which even locals today are largely ignorant. Near Toulouse, there is Saint-Sulpice-La-Point and Recebedou; near Pau, there is Gurs; near Aix-en-Provence, there is the Camp des Milles. But none of these are comparable to Drancy when it comes to the fact that at the latter the living of the present occupy the exact same space as the murdered of the past and lead lives whose normalcy depends, at least in part, upon the mental shelving of this fact. Drancy was not a purpose-built containment site for evil; it was a normal place in which horrific things occurred. This too is not unique: the most infamous of France's wartime roundups took place at a bicycle track. Transport to camps was often undertaken using requisitioned public buses. There is no kind of space that cannot play host to the crimes of history, just as there is no human heart in which evil will not roost. Perhaps what is most disturbing about visiting the Cité de la Muette is the disjuncture between my knowledge of what happened there and how little of this I would be able to glean on my own had I stumbled upon this place ignorant of what it was. People commonly speak of "energies" or "auras" exuded by certain places, of a permanent eeriness or chill left by the ghastly events of the past, but in truth as I circumambulated the courtyard I could feel nothing of this kind. Views of the indoor entryways often revealed peeling paint or dirty stairwells, but the exterior walk was swept clean, the doors painted a cheery pink. There is a center for the elderly; there is a maternal health clinic; there is a wooded park, though no one is there. It is comforting to think of places of great evil as perceptibly, palpably marked out; the truth, that time is capable of rendering invisible even the most horrible of crimes to the naked eye, is far more frightening. Drancy is not, candidly, a beautiful place, but nor is it scarred by the kind of ugliness that its moral history would merit. Had I come to this place not knowing what it was—and were it not for the memorials there to teach me—I might even have found the place pleasant.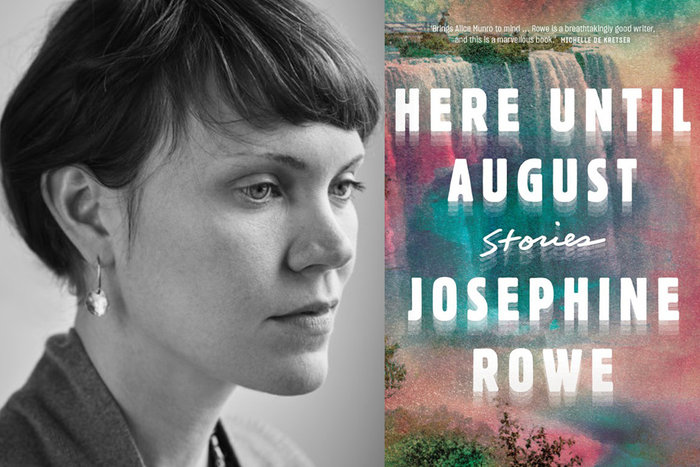 The author of Here Until August on the cruelty of language, fiction as a form of introspection, and writing as an act against ventriloquism.
Josephine Rowe's latest short story collection Here Until August (Catapult) is full of people leaving, returning, and biding their time. Seven years in the making, many of these stories take place all over the world: from Australia to the Catskills to Newfoundland. There's an interiority in the work; of secret passageways, bated breath, family history and inside jokes reserved for old friends. As a poet, Rowe demonstrates a dislike of wastage in her work: every word counts. Her debut novel—A Loving, Faithful Animal—is just under 200 pages, and explores intergenerational trauma through a group of siblings growing up in 1990s southeast Australia. Josephine and I spoke while she was on assignment in Western Australia as a journalist, before returning to Melbourne for the launch of Here Until August. Nathania Gilson: As I read the stories from Here Until August, I was struck by the Australian-isms that sung out on some of the pages: "runners," "pissing contest," "reffos," "bogans," "hauled arse," "lark." What is it about this kind of colloquial syntax that deserves its place in a story (even at the risk of losing or confusing readers outside of Australia)? Josephine Rowe: I've never really understood that a writer might run the risk of alienating or losing readers—especially those who've elected to read a book by a foreign writer—by using an unfamiliar word. Reading—however you're coming to it—is a willful act of discovery. Of engaging. So, I'm not sure who that reader is, but I hope never to be stuck in a lift with them. It would be a dreary wait. That said, colloquialisms probably tell us something more pointed about people than standard language. For instance, the word "reffos" makes me cringe. In the story, it's treated as a harmful and dehumanizing word—which it is. It trivializes the experience of dispossession; of unfathomable loss (of country, and more) while seeking to shrug off our national responsibility to extend asylum to those in need of it. Not everyone who uses that word—children, for example, as is the case in the story—does so in full consciousness of its cruelty. But what does it say about Australia as a country for that word to be so prevalent in the lexicon? So many of the characters in this new collection of stories are so attentive to language: they hear words as though they've "been kept in the wrappers they came in." They compile mental lists of words that sound differently when spoken than they do written down—"vital and gleaming." In your own life, do you have any language-based rituals or systems that you use to collect words, sounds, sentences, or turns of phrase that catch your attention? How do you make the most of noticing things? How to make the most of noticing things—this might be the perfect mission statement for much writing, and much of art. I just write things down on whatever's to hand—notebook, envelope, wrist—then often forget about them just as quickly. But your question makes me suspect I'm being left out of some terrific methodology of cataloguing. Certain things I've probably internalized without consciously recording. The speech patterns and idioms of friends, or the various ways that English breaks when spoken as a supplementary language. I remember studying your work at uni, and being shown evidence that published short stories need only be one sentence long, that more words didn't necessarily mean better (or more interesting) narratives—especially from your early short stories and Tarcutta Wake. These stories were published not long after the introduction of Twitter, which was envisioned at the time as "like texting, but not." I wonder what you set out to achieve—or rebel against?—at a time when short stories (or flash- or micro-fiction) may not necessarily have been in vogue, seen as profitable, or a thing to "aspire" to, as a writer? Writing those earlier collections, social media wasn't remotely on my mind (I was a latecomer to social media; also, the term "flash-fiction" always seemed like weird, time-poor branding to me). I wasn't rebelling, either, even though I was told often enough that I was doing something unpopular or unsaleable. But it was only ever publishers who told me that—"five-finger exercises," one man dismissed them as. I was just writing in the mode that I felt fueled to write in, and that I've always loved to read in. We don't have to reach very far for galvanizing examples of writers who are exceptional—and often at their best—in shorter forms: Yasunari Kawabata, Jayne Anne Phillips, Ali Smith, Lucia Berlin, Sandra Cisneros, Michael Ondaatje (in his early novels). Jorge Luis Borges, Raymond Carver, Eliot Weinberger, Janet Frame—pretty much any fiction writer who is also a poet, as they are more likely have the patience and the reverence for distillation. The stories in August being generally longer (if not necessarily better or more interesting!) might have something to do with them being further from autobiography (which I've delved into elsewhere) but also simply the luxury of time. I say "luxury" to mean something closer to a self-imposed effort towards patience. I don't know if it's because I'm older, or several years further into things. Thinking on it, perhaps there was a particular urgency early on—that the twenty-something-year-old writing those stories didn't believe she'd make it to thirty. Post-thirty (and then some), I've at least a slightly longer view: I quite like the process of a story accruing over many months, or years. I think in many ways I'm working from the same instincts, with the same sensibilities—definitely from the same methodological disarray, and occasionally from the same sense of urgency—as I was with those shorter stories. But if we were to break it down to say, the attention that's gone into a sentence, then there's probably no difference between my approach to a long story or short: the sentence would be holding the same amount of time (and ghost versions of itself). Several books into your writing career now, how do you motivate yourself to keep writing? I was speaking recently with my oldest friend, a cellist, about how much can be meaningfully addressed (not just expressed) through our respective artforms. Whether there might still be time to become qualified in something more practicably beneficial to the environment or to others. Or, are these vocations that we both came to honestly, worked shitty jobs to support, with no real expectation of ever making a living by them (even a modest, no-car-no-kids living) what we are beholden to push forward with? To find a way of ensuring they're relevant, in the service of the right things. (For the record, I don't think it's a bad thing to have a perennial crisis about this, so long as you keep moving.) What keeps me writing is some blend of that innate compulsion, not quite articulable, and the desire to hitch it to something definitive. And—shorter, straighter—I write because it's the best means I have of figuring things out. In the final short story at the end of Here Until August, a couple drives past a frozen pond. They want to walk out onto the ice just to see if it'll hold their weight. Of the trust required to believe the ice will hold their weight, they remark, out of superstition: "It is magic in the sense that there is no metaphor you can build out of it that will not undermine its magic." There's a sense of being dumbfounded by nature there, I think. Wanting to be impressed by the force of it, but not necessarily getting wrapped up in how things might actually come into being. Earlier this year, you wrote a weather report on global warming for The Believer. In the piece, you name the environmental philosopher Glenn Albrecht who coined the term "solastalgia" which was widely adopted as a watchword to describe existential crises brought about by environmental crises. I'm wondering how you grapple with writing about home, homesickness, and a sense of place in the age of climate change and the looming realities that impact our physical sense of where we come from? While the stories in Here Until August do have human lives as their fulcrum, the non-human world—animal and elemental—is very present. And the characters in each story, even if they're somewhat bulwarked by city life, are moved by these forces whether they're conscious of it or not. But these stories were collected over seven years. And seven years ago, like most of the attention-paying world, I was less afraid (at least in regards to the climate). So much has happened, or come to light, in the intervening years that locates us in the tipping point, not simply bracing for it. In The Believer essay I mention last summer's news cycle—within the same report there'd be fires, floods, the mass death of fish in one of our most significant river systems. New colors appearing on the temperature map as record highs were consistently broken. If the stories here are reflective of the concerns I have about those looming realities, then great. But I don't think they speak as loudly to them as I presume my next book will. At present, I'm probably more likely to confront these things directly in essay and non-fiction. Which is not to say that they shouldn't be a focal point in fictional narratives; absolutely, they should. Only that sometimes overtly assigning a character one's own agenda can feel like a flimsy act of ventriloquism. After a point, the story resists. In non-fiction, that isn't a problem. I don't have to worry about whether it would be believable of X to think deeply and at considerable length about Y. So much of your work reveals the thrill of being understood—and the devastation of being misunderstood. I'm thinking of in "Real Life," the Yukon Jack girls, whose neighbours can never tell if they're fucking or fighting. When the narrator in "Repairs" removes the "s" arm off her typewriter so she can't spell her ex's name. Instead, she types: "Bezt. Regardz. Cheerz. Xincerely. Thanx." Short stories often come with intentional gaps or unfinished business—how does the form help you resolve or contain things that don't necessarily work themselves out as you'd like to in real life? It does help, but it might take a lifetime to get to the why. Maybe writing neither resolves nor contains these things, but rather opens to air, or helps to metabolize. My own clearest example of this were the realizations I came to in writing A Loving, Faithful Animal, my first novel, and a quintessential first novel in many regards (very close to the bone). But also, this is not the only reason I write. Are there narrative forms beyond the short story and novel that you have experimented with and found a new voice in, or that you're interested in exploring? I'm not sure about a new voice—for better or worse I think I'm fixed to this one, at least authorially—though I do hope characters' voices are distinct from this. But I do write in other forms—and perhaps feel most myself in fragmentary, genre-eliding works. But where to house these? So, they don't often make it as far in finding an audience, and that's okay. Once something's published it's essentially set, and there's something comforting about the prospect of works that might stay malleable and in-progress for an indefinite period of time, something you may never have to call finished. (And also, I should say that I appreciate very much the outward attention that an essay or profile requires, if we might include these as narrative forms. Being brought out, blinking, from the grainy introspection of fiction. I find it's necessary.) What advice would you have for young writers who doubt themselves and the stories they want to tell? Firstly, that doubt can be a formidable ally, indicative of many favorable and necessary attributes; that you take your work and the story you're trying to tell seriously. Probably that you have a moral compass, believe in accountability, etc. Of course, doubt can be entirely inhibiting, so we have little choice but to make a friend of it. I say this with the caveat that some doubt is well-founded, so we're continually tasked with determining whether we hesitate because we are ill-equipped, or because we are simply afraid, and undervalue our voices. A friend sent me a Georgia O'Keefe quote a couple of weeks ago: "I've been absolutely terrified every moment of my life—and I've never let it keep me from doing a single thing I wanted to do." I can't claim the same, exactly (of never allowing fear to scupper my ambition or desire) but it's a good stone to have in your pocket, remembering that the most courageous and dedicated people we know and admire are generally also scared witless, in one way or another.