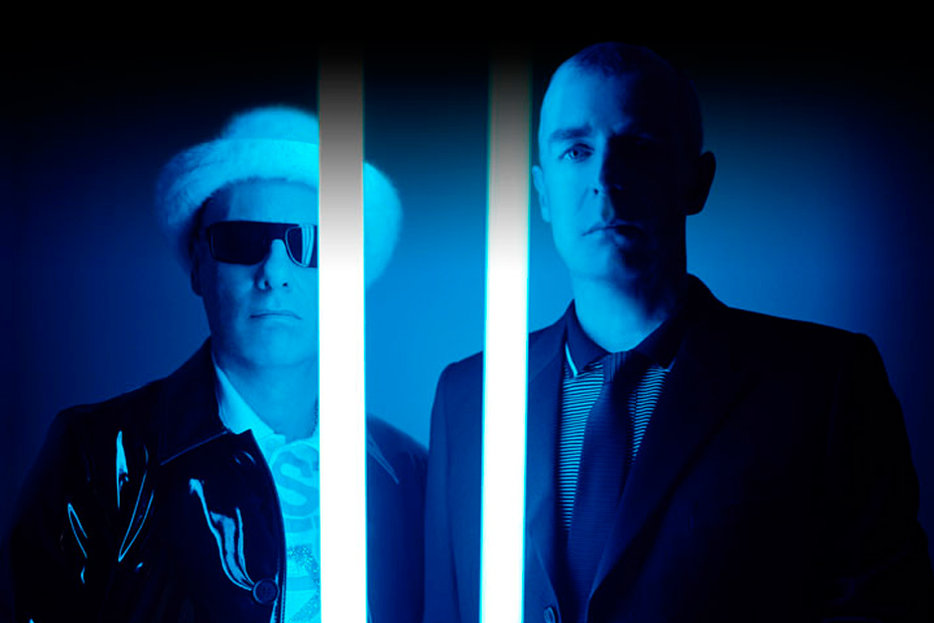 Other pop musicians have burned brighter and more briefly, but I can't name any who rival the Pet Shop Boys' extraordinary longevity and consistency. Three decades after former Marvel Comics UK editor Neil Tennant began collaborating with architectural student Chris Lowe, wielding synths with arch intelligence, they're still making feyness danceable. Their new LP Electric is the best one they've produced since the mid-'90s precisely because of its monomaniacal club-dwelling, even transfiguring Bruce Springsteen's anti-war song "The Last to Die" and its highway/radio Boomer signifiers into a Hi-NRG number. (There is also a track about pleading with a one-night stand to stay all weekend, in case you worried Tennant might be getting hard.) Here, to celebrate, is a walkthrough of every one of the 53 singles released by this singles band nonpareil.
"West End Girls" (April 9, 1984/October 28, 1985)


This may or may not be the first-ever #1 rap single, depending on how you define "rap." The accolade is most often conferred ironically, but let's consider it further. It's not just that Neil Tennant shapes his bars to the beat in a loping deadpan, something he would seldom attempt afterwards; where "West End Girls" really shares an affinity with hip-hop is its sense of place, or, rather, un-place, it being a song about feeling alienated from your own surroundings. Even the narrator's perspective cracks apart every few lines. (The main inspirations, according to Tennant, were T. S. Eliot's "The Waste Land" and Grandmaster Flash's "The Message.") The west end/east end references suggest class-riven London, but this could be anywhere, a tumult "in every city and every nation."
"One More Chance" (June 1984)
It took two attempts and a switch of producers from Bobby Orlando to Steven Hague for "West End Girls" to finally break through. In between came another non-hit, "One More Chance," which demonstrated the duo's early taste for affected, medicated-sounding vocals and an enduring allegiance to the E-mu Emulator II sampling keyboard. The masochistic pant of its romantic paranoia is intriguing, but not as intriguing as the fact that this track was originally intended for Divine.
"Opportunities (Let's Make Lots of Money)" (July 1, 1985/May 19, 1986)
I love Hefner's "The Day That Thatcher Dies," but my favourite works about Thatcherism tend to be those cancerously attacking it from inside. Alongside The Line of Beauty is "Opportunities," a shamelessly satirical classified ad that cemented (or consigned) Pet Shop Boys as synth-pop ironists for the rest of the decade. The precise nature of this "partnership" remains unrevealed, but the narrator's pathetic come-on makes its mercantile leer hard to forget. "Opportunities" is the only PSB single that found more success in America than Britain, and that's the funniest joke of all.
"Love Comes Quickly" (February 24, 1986)
Of all the subtleties in this delicate, gorgeous, almost ominous song, the faint shift of "Just when you least expect it/Just what you least expect" always catches me. But nobody could miss those ooh-ooh-ooooohs.
"Suburbia" (September 22, 1986)
Frenzied dogs chase the bassline from "Into the Groove."
"It's a Sin" (June 15, 1987)


My father was born a year or two before Neil Tennant and 10 miles away, in the poorest, sparsest-populated, most desolately industrial region of England. There the parallels diverge, because while he was raised with no particular religion—dad's dad had little affection for the aristocracy, the bosses or the Church of England, and gleefully voted out Churchill in 1945—Tennant ended up at St. Cuthbert's, a Catholic secondary school in Newcastle, the subject of this song. I admire its thundering, bombastic maximalism ("The outro? Oh, let's chuck in a space shuttle launch"), but it's the same sort of detached, aestheticized admiration I might reserve for some extravagant cathedral.
"What Have I Done To Deserve This?" ft. Dusty Springfield (August 10, 1987)
In the novels of Ronald Firbank, early modernist and delighter in sexually indeterminate decadence, few people manage to sustain attentive conversations; they talk past each other, or to themselves, depending on their latest social agendas. It reminds me of this duet, which I adore: An irked, unimposing kept-man type sulkily vamping ("I pour the drinks and crush the flowers") while his partner wonders how she'll get through without his non-existent love. Dusty doesn't even show up until 1:30 in, but her rueful presence rapidly takes over, and he's reduced to repeating that peevish query: "What have I done to deserve this?" I don't think the queerness of both singers is incidental; their put-upon camp suggests that one might answer the song's title with "heterosexuality."
"Rent" (October 12, 1987)
Despite that title and what must be deliberate suggestiveness, the author of "Rent" has long claimed its protagonist is a female sex worker. As a typically weird teenager, straight but uncertain about gender (beyond "it's stupid"), the confusion was part of the appeal. The narrator can't make up their mind either; is it "I love you: you pay my rent," or "I love you… You pay my rent"? Are they speaking to a client or a lover? "Words mean so little, and money less/When you're lying next to me," irony and poignancy in almost equal measure.
"Always On My Mind" (November 30, 1987)
I sing "Always On My Mind" at karaoke a lot, in part, I think, because the very cover is self-consciously performative. Willie Nelson sang this tune in newfound humility and probably overalls; Pet Shop Boys entered their stance from the opening notes, a sublime synthesizer fanfare, like the tune by which one might be introduced in the court of some regal alien. Neil Tennant is sorry, albeit arrogant, albeit deservedly, but he also intends to win you back, and he's confident that these ascending flat notes will beguile you once again. To quote Alfred Soto, "he's going to keep trying to become worthy of the attention lavished on him."
"Heart" (March 21, 1988)
Their last British #1, and the simplest one, a straightforward confession of throat-caught love. Lowe and Tennant considered offering the demo to Madonna but couldn't find the nerve to contact her, which seems sweetly fitting. Plus, she wouldn't have cast Ian McKellen as a bride-seducing vampire in the video.
"Domino Dancing" (September 12, 1988)


Speaking of music videos, this might be the gayest ostensibly heterosexual one ever shot. Lyrical ambiguity was and remains a frequent Pet Shop Boys technique; slippery pronouns are one reason why many people who weren't cerebral British gay men first identified with their discography. "It's just a boy or a girl/Not the end of the world," they later comforted. Yet the two never claimed to be anything other than themselves, and by the late '80s it became increasingly obvious even to oblivious breeders. But Top 40 radio programmers weren't looking for Latin freestyle elements, either, and "Domino Dancing" ended up PSB's final American hit. What Neil Tennant would later call the "imperial phase" was over, yet it allowed for a deeper engagement with dance music that produced some of their best work—listen to how that trumpet solo nimbly rejoins the main synth melody here.
"Left to My Own Devices" (November 14, 1988)
"Originally it was going to be 'drink some tea, maybe if you're with me, we'll drink some coffee.' When I thought of 'do some shopping' instead, I knew everyone would say it was pathetic—another Pet Shop Boys song mentioning shopping—but I decided 'coffee' was even more pathetic… And then it goes into a major childhood experience: 'I was always told you should join a club…' Which is completely not true, by the way. That's when I realised what the song was about—that this person goes through life always doing what he wanted to do. I liked the idea of writing a really up pop song about being left alone."
"It's Alright" (June 26, 1989)
Neil Tennant has one of pop's most distinctive voices, but nobody would confuse his nasal, formal tones with a diva's. He tends to approach dance anthems from an unusual angle, and "It's Alright," a cover of the classic Sterling Void house track, lets backup singers handle the transcendence while Tennant anxiously hopes music will survive fraught geopolitics: "I can hear it on a timeless wavelength/Never dissipating…"
"So Hard" (September 24, 1990)
Donna Summer realizing that love maybe wasn't what she felt after all.
"Being Boring" (November 12, 1990)
"The vocals are almost hushed. It's recorded very very quietly, and I wanted it to sound like it was someone whispering in your ear. It's hard to sing. That's why we didn't do it on the tour in 1991, though eventually we added it as an encore because people—Axl Rose, for instance—complained."
"How Can You Be Expect to Be Taken Seriously?" (March 11, 1991)
The "You're So Vain" of synth-pop, and one their finest videos, stranding a visibly 36-year-old Tennant in punk and Elvis drag amidst beautiful youths. Replace some stray references and the song would still be cutting today, though we as a society have, thankfully, moved past taking the Rock 'n' Roll Hall of Fame seriously.
"Jealousy" (May 28, 1991)
The very first song its writers collaborated on, back in 1982. You wouldn't notice.
"Where the Streets Have No Name (I Can't Take My Eyes Off You)" (March 11, 1991)
Turns out I can tolerate U2 if they're surrounded by Boys Town Gang. Transmuting his band into dance music is the most charitable act ever associated with Bono.
"DJ Culture" (October 14, 1991)
Baudrillard goes clubbing. Even fellow poptimists might marvel at the fact that a pile of arcane lyrics about political manipulation of digital media reached #13 in the UK.
"Was It Worth It?" (December 9, 1991)
The first PSB single that failed to reach the UK Top 20, "Was It Worth It?" really should've switched places with its B-side "Miserablism," a song that manages to mock Morrissey ("Just for the sake of it make sure you're always frowning/It shows the world that you've got substance and depth") even while acknowledging his saturnine appeal, much as it flutters between high and low ends.
"Can You Forgive Her?" (May 31, 1993)
While the past few years saw a vogue for what Gawker's Rich Juzwiak called "gay-pandering" anthems—e.g., carefully generalized "It Gets Better" messages from the likes of Katy Perry—"Can You Forgive Her?" remains the only pop hit dramatizing the psychological agony of the closet. In 6/8 time (abnormal) and a second-person perspective (even more abnormal), the narrator rebukes this ashamed, cringing "you" for being unwilling to admit they like disco, not rock, and all things associated with it. Neil Tennant may yet write a better lyric than "Remember when you were more easily led/Behind the cricket pavilion and the bicycle shed," but he'll never produce a more Neil Tennant one.
"Go West" (September 6, 1993)


In 2011's We Were Here, a documentary about AIDS in San Francisco, interviewee Guy Clark describes how he ended up in the Bay Area: He went to California to dance, but eventually started a florist business instead. "Being the flower man," he says, "I was thrown into the middle of it because a lot of people would say, 'Guy, my friend died, and I don't have enough money to buy flowers, and I need some help. Can you help us?' They wanted to bury their friends with a lot of dignity and beauty." According to its creators, "Go West" concerns the post-Soviet Eastern bloc. According to a lot of other people, it ironizes the Village People original into a plague elegy. The most moving performance I've seen happened at the 1994 Brit Awards, where Tennant and Lowe took the stage alongside a miners' choir, men whose vowels lilted in the same manner as my grandfather's. That land promised with such wrenching certainty by "Go West" corresponds to no particular geographic or temporal coordinates, because it is Utopia, the one country, as Oscar Wilde said, where humanity is forever landing and departing.
"I Wouldn't Normally Do This Kind of Thing" (November 29, 1993)
I love when Neil Tennant sounds mildly scandalized by his own abandon, and each subsequent exploration of that state never quite catches up with his first breathless one.
"Liberation" (April 4, 1994)
Although its singer finally, redundantly came out the year after Very's 1993 release, "Liberation" is not a song you'll ever hear blasting from any Pride floats. Its lyrics describe emancipation on an intimate, private, immediate scale, recalling Auden's plea: "Lay your sleeping head, my love/Human on my faithless arm."
"Absolutely Fabulous" (May 31, 1994)
The best thing one can say about this record, aside from the philanthropic caveats attached to all charity singles, is that it's slight rather than sonorous. What's Absolutely Fabulous without the outfits?
"Yesterday, When I Was Mad" (August 29, 1994)
Great record sleeve—not one that entered their iconography like "Love Comes Quickly," a flag of allegiance waving in plain sight, but starkly memorable nonetheless. And the record inside? Well, it's the fifth single from their best and best-selling album, and if I would've sifted the riches differently, plucking out "Young Offender" or "Dreaming of the Queen" instead, I can't deny the withering effectiveness of quoting your most patronizing acquaintances and critics verbatim. That said, whoever told them "you've both made such a little go a very long way" was saying more than they knew—as Tom Ewing once noted, "[Pet Shop Boys] took the things they knew would prevent them from being successful and emphasised them as much as they possibly could."
"Paninaro '95" (July 24, 1995)
Pet Shop Boys songs where Chris Lowe grabs hold of the mic are rare but always welcome; on Electric's new "Thursday," he follows the Tennant declaration "I wanna know you're gonna stay for the weekend" by helpfully counting off a portentous, hilarious "THURSDAY. FRIDAY. SATURDAY. SUNDAY." There's a deadpan quality to Lowe's voice that sounds equally comfortable intoning over club tracks or quasi-rapping, and this rerecording, with its succinct lists of emotions, pursuits and brand names, could be tagged "Paninaro '13." For "Armani, Armani, ah ah Armani," read "Versace Versace."
"Before" (April 22, 1996)
Chris: "I love this. There's nothing extraneous on it. There's no unnecessary musical things happening."
Neil: "We set out to make it for America. This is the song described by Atlantic Records, our American label at the time, as a 'straight out of the box smash.' It wasn't a hit there."
Chris: "I love Neil's vocal style on this."
Neil: "It's very smooth. I sing like a girl."
Chris: "Maybe you should sing like a girl more often."
"Se a vida é (That's the Way Life Is)" (August 12, 1996)
It says something about the principals that even this summery, sleeve-tugging record mentions "gothic gloom," "the ghosts of love that haunt your room."
"Single-Bilingual" (November 11, 1996)


Possibly the only pop song narrated by a lascivious European Union technocrat. He's learning foreign tongues, eyeing some emerging markets.
"A Red Letter Day" (March 18, 1997)
Having borrowed a progression from Beethoven's "Song of Joy," Tennant and Lowe bring in martial chord changes, some sleigh bells and a Russian choir, the latter's out-of-tune contribution matching this bereft mood all the more for it.
"Somewhere" (June 23, 1997)
In their glancing encounters with Americana, the Pet Shop Boys tend towards schmaltz: orchestral melodrama, cartoonish accents, and unembarrassed sentimentality. Their rendition of the Bernstein/Sondheim West Side Story number contains all three, getting its yearning across through sheer lack of restraint. Discussing Celine Dion, my friend Carl Wilson argued: "Schmaltz is an unprivate portrait of how private feeling is currently conceived."
"I Don't Know What You Want But I Can't Give It Anymore" (July 19, 1999)
Grandeur and repetition wrestle themselves into mere monotony. Legends tell that "I Don't Know What You Want…" began life as a "Barbie Girl" answer song, and wouldn't you rather hear that instead?
"New York City Boy" (September 27, 1999)
A ludicrous song, but that's exactly what it needs to be—how could you pay tribute to the Village People without disco strings, double entendres or rousing brotherly encouragement? As the video makes clear, that male choir isn't singing about New York so much as an ahistorical fantasy version of it.
"You Only Tell Me You Love Me When You're Drunk" (January 3, 2000)
I really want a country star to cover this—Brad Paisley might do, but I picture a George Jones or Merle Haggard figure, old-school Nashville, aware you can get worse than drunk, capable of following its steel guitar and straightforward lyrics to the despairing vulnerability they reveal.
"Home and Dry" (March 18, 2002)


Recorded after the ambivalent reception of their West End musical Closer to Heaven and the total collapse of Wotapalava, a planned 2001 tour featuring various queer musicians, Release is a subdued, withdrawn album, heavy on acoustic guitars. It managed to cause trouble anyway, thanks to "The Night I Fell In Love," the story of a teenage fan's tryst with a "homophobic" rapper strongly implied to be Eminem. (Remember when he and Elton John performed "Stan" at the Grammys in a spirit of polka-dotted tolerance/smirking provocation? Remember 12 years ago?) All this is more interesting than "Home and Dry," although promoting your lead single with a music video full of feral rats was conceptualist trolling avant la lettre.
"I Get Along" (July 15, 2002)
Inspired by one of the many spats between Tony Blair and his intermittent confidante Peter Mandelson, likely a meaningless reference point to 99% of non-British listeners. But that haughty, wholly Mandelsonian tone—"You've got quite an appetite/For being wronged and in the right"—is rarely struck in any breakup song, perhaps for good reason.
"London" (October 14, 2002)
The Cole Porter tweak ("let's do it, let's break the law") is perfect, the digital ones to Tennant's vocals less so, but I appreciate any song that imagines London as a city of political refugees and not investment bankers.
"Miracles" (September 17, 2003)
Greatest-hits-collection-bonus-track-fodder that's still impossible to confuse with anyone else's: "The sunset is deeper and longer/The scent of the jasmine is stronger." You could make a list of esoteric substances mentioned in Pet Shop Boys lyrics, if you were a bizarrely specialized BuzzFeed contributor.
"Flamboyant" (March 24, 2004)
A deceptively nuanced record, describing its subject's exhibitionism with wearied indulgence and what comes to sound like sneaking admiration. I'm not just saying that because I identify with the exhibitionist. Or because of how Neil Tennant phrases "Issey Miyake."
"I'm With Stupid" (May 6, 2006)
The list of songs that address romantic woes in geopolitical terms—Pere Ubu's "Nonalignment Pact," for example—is much longer than any doing the inverse. "I'm With Stupid" redraws the mid-2000s caricatures of George W. Bush (dim, arrogant lunk) and Blair (dutiful, desperate poodle) into florid Tennessee Williams melodrama. When our embarrassed narrator wonders whether he's the true dupe, my perverse, passing sympathy only confirms his disgrace.
"Minimal" (July 24, 2006)
Processed, robotic chorus, rhythm like a conveyor belt, couplets with the austere abstraction of binary code.
"Numb" (October 16, 2006)
What can I say about this… several years ago, I ranked this one third-from-last amongst Pet Shop Boys singles. In hindsight, that may have been slightly generous.
"Integral" (October 8, 2007)
Good joke, whichever label executive selected this allusion to the seamless totalitarianism of Yevgeny Zamyatin's science fiction novel We as the first download-only PSB single. I like Neil's camp interjections: "Sterile. Immaculate. Rational. Perfect."
"Love etc." (March 16, 2009)
Some uncharacteristically silly lyrics here ("a supercar to get far"), but cleverly delivered. That call-and-response chorus, with the pair completing each other's sentences, gives earnest-looking advice a taunting ring, while Tennant draws out "you need loooove" to just the right number of sardonic syllables.
"Did You See Me Coming?" (June 1, 2009)
A weak pun that the upbeat, puppyish synths never figure out how to enliven. It's pleasant enough, but it's not even the superior "I Wouldn't Normally Do This Kind of Thing" pastiche on Yes.
"Beautiful People" (October 2, 2009)


It's nice that Owen Pallett's dramatic Bond-movie string arrangement received some extra exposure, albeit in a single limited to Germany. I do wish the spectral lament "King of Rome" had gotten promotional shine too, despite its stately pacing; I'm always struck by the line "someday you'll deign to phone me," both needy and defiant.
"Together" (October 24, 2010)
Now this is greatest-hits-collection-bonus-track-fodder.
"Winner" (July 3, 2012)
In the wan, lethargic milieu of last year's Elysium, "Winner" and its straining to be "inspirational" were as much verve as you got. "This is all happening so fast," Tennant says, inaccurately.
"Leaving" (October 12, 2012)
A poetic wisp, weighted down by egregious backup vocals and in need of a BPM injection.
"Memory of the Future" (December 31, 2012)
They released three singles from Elysium? And "Requiem In Denim and Leopardskin" wasn't one of them?
"Axis" (May 1, 2013)
After an entire LP that sounded like untreated narcolepsy, they woke up again and just kept moving, pulsing across your headphones, stripping back any vocals that might get in the way of constant sensation. It's as if Giorgio Moroder told Donna Summer to forget about all those emotions and leave it at "I Feel."
"Vocal" (June 3, 2013)


"Calling Neil Tennant a bored wimp is like accusing Jackson Pollock of making a mess," Robert Christgau once wrote, back when they were known for irony rather than sincerity. But the two have always been complementary in Pet Shop Boys songs, scabbard and shield. "Vocal" begins at the other end of the party "Being Boring" looked back on, a rave anthem that anticipates its own recollection: "Expressing fashion, explaining pain/Aspirations for a better life are ordained." Yet when the synths build up to Tennant marveling "everything about tonight feels right and so young," the only distance in his 59-year-old voice is the kind that accompanies reverence.