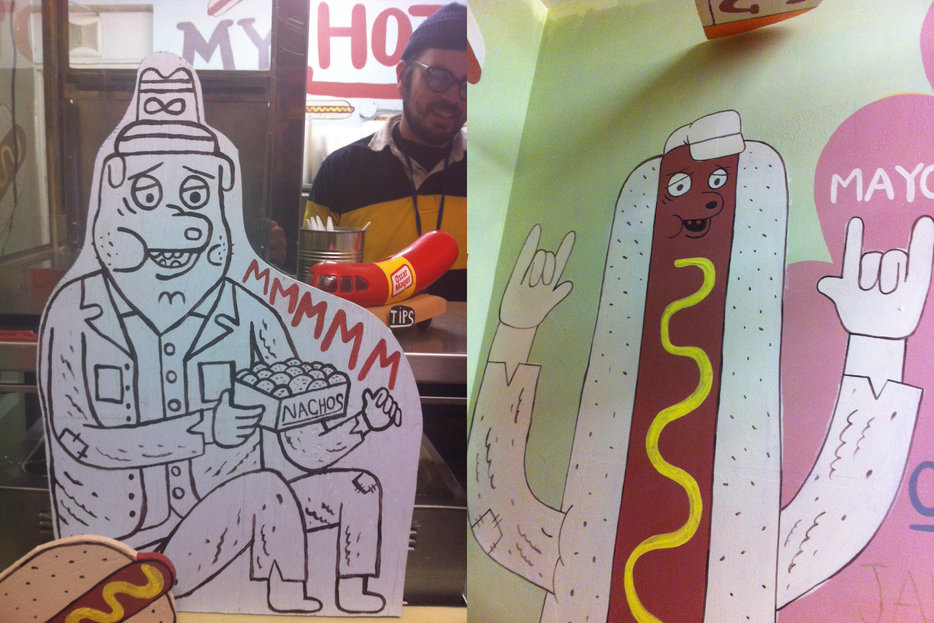 Midway through Catland Empire, the most recent book by Toronto cartoonist Keith Jones, two elemental beings called Mr. Space and Mr. Time create dozens of wieners from the aether for some talking felines: "You will receive further instructions in the form of telepathic communication in a couple minutes. In the meantime, enjoy the hot dogs." Jones has found himself drawing street meat again lately—all over the walls of the Hot 'n Dog, a tiny Parkdale takeaway he just bought.
Hanging around a comic book shop is what led to the artist's sudden side career. He often visits Kensington Comics, a store owned by Hot 'n Dog founder George Karpouzis, who eventually decided to focus on selling ink and pulp. "He just didn't have time to be here as much now, he likes being at the comic shop more, so he was trying to sell this place. I was there the whole time, and then one day I woke up and I was like, 'I should just buy that,' because I only live a block away…So the first thing I thought about doing was obviously decorating it all."
Hot 'n Dog wasn't exactly understated before—when he started it a year ago, Karpouzis covered the walls with bumper stickers—but Jones has made every available surface look like a panel from one of his books. Funny animals with exaggerated figures abound, toting sausages or soda, throwing up the horns. A "Hot Dog Air" plane dangles from the ceiling, and the minimal furniture beneath it now resembles Jones' wares. Even more renovations are planned, aside from redoing the storefront: "I'd like to have a car that has a trunk that opens up that has a Hibachi barbecue in it, so I can barbecue hot dogs in the back of the car in the summer in front of the shop. But then I also want to have a delivery bicycle, and hot dog party packs, so for $10 I can get on a bicycle and deliver them to you in the park and your friends."
The menu changes so far are relatively minor, including the addition of nachos and poutine as sides ($5 gets you one of either, a wiener and a drink). Jones is rolling out chili cheese dogs and might bring in pork rinds soon, but the main draw is still the 50+ free toppings on offer, which extend to such unlikely garnishes as hickory sticks, rainbow sprinkles, guacamole and Cheezies. ("Marshmallows, surprisingly, are way more popular than you'd think.") It's the culinary equivalent of that colouring-book minicomic Jones sells over the counter. And scrolling through Tumblr GIF art will confirm that hot dogs have always been cartoon meals: "Lately I've been calling it 'dumbo food,' stuff you get at a circus or a baseball game, just stupid stuff." He's closing that particular circle with the Hot Dog Times, "a little newspaper that I'll have for free," full of contributions from other cartoonists. How many artists get to smuggle a publishing imprint into their steamer-tending day job?