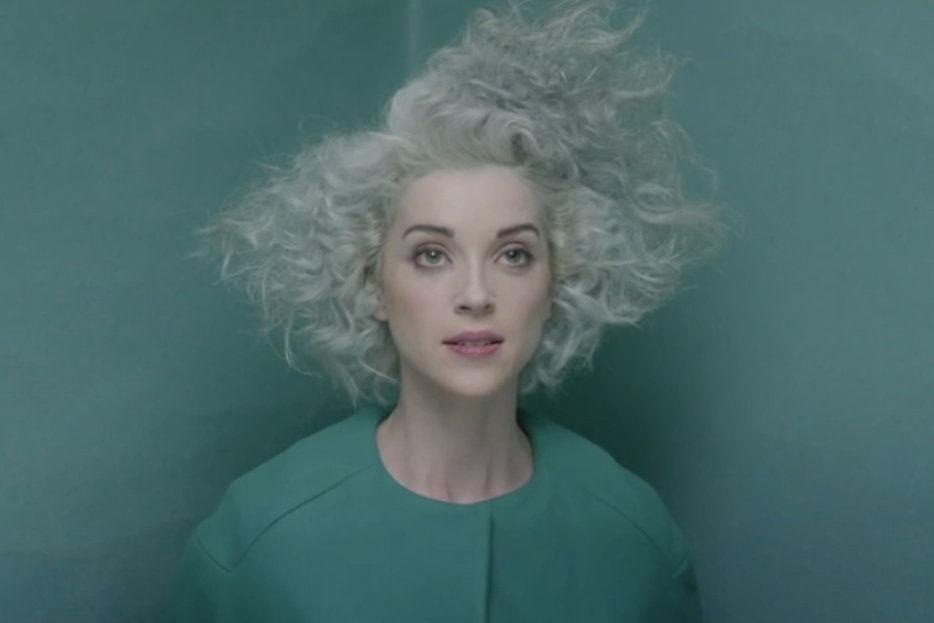 During my first visit to New York City, I emerged from the subway near Lincoln Center—it was staging a John Adams opera—to find the intersection stilled. "Show's over, folks, nothing to see here," a police officer barked, waving his arms at dozens of people who disagreed; beyond him, somebody lay unmoving beneath an overturned van.
A block or so farther north, I walked past the musician St. Vincent, a.k.a. Annie Clark, who'd played up here only days before. I wanted to say "you were great in Toronto last week, Annie!" but a heat wave had begun since then: while she looked chic in a sundress and shades, I was a jorts-impaired apparition, shambling sweaty. So I let her and her friend move on towards another glancing encounter with death. Listening to the new St. Vincent album last week, also called St. Vincent, that afternoon seemed like a fluke example of her taste for jarring dissonance—stylish allure, in this music, being the weapon of choice as often as brute force.
Although she got her start in hippie choir the Polyphonic Spree, Clark has become one of the fiercest and most perverse-minded guitarists around. Even "Cruel," the accessible lead single from 2011's Strange Mercy, makes room for a solo with the timbre of sharpened rubber. Earlier that year, she got to shred unrelievedly on a renowned live coverof Big Black's "Kerosene," stiffened with ominous ennui. When she released the Record Store Day single "Krokodil"—guitars that sound like they were recorded inside an imperiled shipping container, distorted vocals mixed so low they only distinguish themselves as screaming ("shut up so I can think"), the rapacious chant "I need to bite"—it appeared to augur a whole LP of abrasive noise. That was just a very loud feint. The dreamy beauty that edges towards menace remains, but St. Vincent is the closest to pop music she's ever sounded, a masterful student of the charts.
That sensibility was always present in her songwriting; "Marrow," a highlight of Clark's second album Actor, works its horn blurts and effects-laden guitar into distressed funk. What's new is the sense of sheer ebullient momentum. "Cheerleader," which has the big hook but comes off as a rhythmic cipher, now feels like a trial run. Describing the St. Vincent single "Digital Witness," Katherine St Asaph wrote: "As much as the fustified brass recalls her David Byrne collaborations, it's also a lot like the Bee Gees and, more to the point, all the '10s hacks who wish they were Bee Gees … Those blase 'yeahh' interjections are Pop 101, as is the shimmery chorus." One of those songs pondering the Internet/surveillance/media/etc., "Digital Witness" avoids the condescension of the previous Byrne/Clark joint "I Should Watch TV" while managing, unlike Arcade Fire's "Reflektor," to discern some comedy in its omnipresent subject. Its naivete is all fake.
For someone who loves a detuned guitar freakout, Clark has some of indie rock's most precise diction. Maybe they teach enunciation at Berklee. Who else would begin a song with their own intake of breath? Over percussion that could be coming from a malfunctioning cell phone, "Bring Me Your Loves" offers polyamorous sadists a potential come-on: "Bring me your loves, all your loves, your loves, I wanna love them too, you know." Combining repetition with subtle changes in inflection, Clark gives the words hypnotic force, both mantra and hex. When she draws out "I…thought you were like a dooooooooooooog," or bites down on the end of "I took you off your leash," the Disney-villain staginess stresses what might make a relationship this fraught so absorbing. She can do other affects, too: listen to how that refrain in "Rattlesnake" descends towards anxiety, "wha ah ah ah oh oh uh oh."
The other moments of disorientation on St. Vincent tend to arrive with a lighter touch than before as well, which doesn't make them any less striking, only refined. She's learned that elegance can unnerve as much as savagery. The eeriest thing about "Prince Johnny" is its disembodied backing choir, which sounds like a sample of a sample of a sample. There are still corrosive solos, such as the degraded drone thronging "Huey Newton," but even that dovetails with Clark's textural fixation. It recalls Actor's "Black Rainbow," whose swooning orchestral parts tightened into the hypertense strings of a Bernard Hermann soundtrack, sweetness turned brittle and rancid. Whereas stripping away nearly every adornment does so much to situate "I Prefer Your Love," a person grasping at one last certainty: "Sure as mother licking a finger / Wipe the blush and the smudge from my cheek and / Wonder what will become of your little one."
The strings that do remain pulsing through that song are recognizably synthetic. That summer I didn't quite run into Annie Clark, she was already a diverting performer, but not yet so enamoured with the artifice of being one. I've been watching a rendition of "Rattlesnake" she did at New York Fashion Week this month. Alternately combative and mesmerized, twitching shoulders and feet, using poses as choreography, she has me craning to see her guitar even when she's not playing it. If Clark picked anything up from her album-length collaboration with David Byrne, which she consistently handled the burden of enlivening, it was how to make neurotic tremor look like dance moves, or vice versa. No wonder she's assumed an expression of aloof command on the St. Vincent cover, pastel pink throne and all.
Because she does the persona-play of any aspiring pop star, and enjoys accentuating her large, emphatic features to a certain extreme, men sometimes describe Clark like she's some disturbingly pretty alien. Rick Moody, who writes music criticism as if trying to wring droplets of youth serum from it, couldn't finish a paragraph of his Salon interview with her before succumbing: "I have sat in rooms full of movie stars. I have met politicians and religious leaders. I once had dinner with Don DeLillo. Why was I so uncomfortable around Annie Clark, better known by her musical moniker, St. Vincent?" (It got still more embarrassing: "I observe that it's infrequently the case that a woman gets to be one of the most interesting guitar players around. Do you feel a sense of responsibility in that sense?")
The nadir from Moody's attempts at parsing the exotic foreign language of feminism was his assumption that Clark's hair—now hued like cloudy opal, or dying jellyfish, or an electrical burst—represents a grand political statement. To paraphrase: "You're, like, a babe, but you dyed it grey, which for women means, y'know, semiotically, unsexy gravitas?" It's deflating and amusing when Clark says, Well, really I was aiming for blue. At some pinnacle of charismatic theatricality, an artist risks building their own vitrine, no longer able to buy milk without the act being seen as commentary on itself. But style can equally occur by accident—the happy kind, for once.