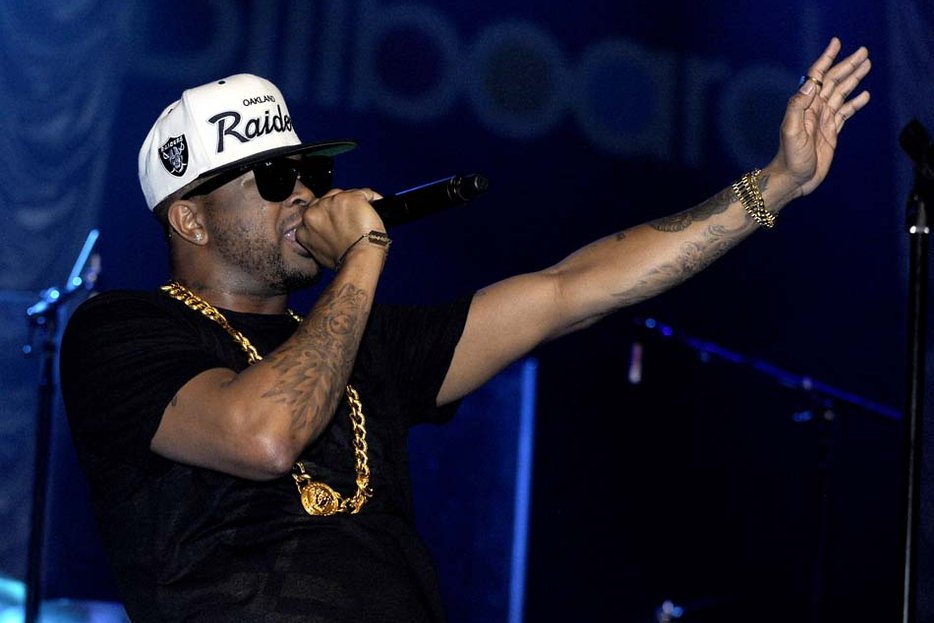 "I can give a fuck about the foreplay / I want it now," The-Dream mutters on the title track of his fifth album, which happens to be called, um, IV Play. There are other ironies. The man born Terius Nash can work fast—he wrote Rihanna's "Umbrella" in 15 minutes—but the songs that wooed his following of R&B obsessives sometimes seem to be all foreplay, laying the listener onto lush synth beds, running his falsetto up and down. He made luxury brands seem idiosyncratic. "Fancy," from 2009's Love vs Money, rolls across satin for six minutes and 17 seconds before finally bringing in drums. Despite half a decade of cohesively extraordinary solo work, most of The-Dream's success came in semi-anonymity (he also produced "Single Ladies"), and IV Play tenses with frustration over it.
The least memorable songs on this record are its most blatant appeals to the Billboard chart, as if Nash were trying to seduce somebody he doesn't respect. "High Art" lumbers around in search of a club until Jay-Z shows up, sounding like he recorded his verse while booking plane tickets. "Turnt," which uses the same refrain with a different Knowles-Carter, only inspires longing for what it replaced—another Beyonce collaboration, built around a Culture Club sample they couldn't clear, said to be the album's lost treasure. Obliquely recalling Future's "Same Damn Time" ("got my left hand on that booty / got my right hand on that pussy"), "Pussy" follows the album's best guest appearance with its very worst, as Pusha T gives way to Big Sean, a rapper so inert he can be legally killed in Holland.
The-Dream's vexations go beyond any disdain towards radio programmers. The implosion of his marriage to Christina Milian, which littered debris all over last year's self-released 1977, still agonizes. Although "New Orleans" gets bitterly chauvinistic, using "this bitch" as shorthand for the subject of its tortured internal monologue, such moments reveal a strikingly damaged figure: the loverman who doesn't know how to love, fingers hanging off a weepy keyboard. As my friend Lily put it, "Terius isn't good at women and he sort of understands why but doesn't completely and sort of cares but doesn't really." The bonus track "Y'all" is therapy with vocal effects: "Most days I can lead us to victory / But some days I need you to lead me / I can hear my mother say from the other land / 'This too shall pass.'"
For such an ostentatiously heterosexual singer, several of his greatest sex jams are animated by idolized male musicians. On "Kelly's 12 Play," a song about having sex to R. Kelly's 12 Play, he sings fastidious and reverent over libidinal rhythms: "I'm looking for the right cover / The name's in red letters / Can't wait to pop it in my Bose / And put our bodies together." (You maybe don't want to date The-Dream.) "Yamaha" took the anti-metaphor from "Little Red Corvette" into sublime new realms of horniness, gazing upon this curvilinear motorcycle/sweetheart with twinkling eyes. My favourite track on IV Play, "Michael," represents the oddest homage yet. Hearing Nash channel MJ's weightless coos to court the Billie Jeans and Dirty Dianas rather than dispel them was absurd, and all the more absurd for how much it moved me.
While he began the album asking for gratification without delay, The-Dream ends it counseling patience, at least where EDM and sex work are concerned: "I'm here to see that thing pop / I'm see to here that thing rock / I'm here to see you pick it uuuuup and let it drop / Enough with the motherfucking dance songs." (What, he didn't like Spring Breakers?) It's the 2013 equivalent of "My Ladybug Stay Away From That Beatle," as addressed to a strip club DJ. But "Slow It Down" is an admonishment The-Dream could deliver to himself, having made a good LP that nonetheless lacks those characteristic filigrees, his exacting care, the unpredictable ingenuity. To eroticize Trotsky, you may not be interested in foreplay, but foreplay is interested in you.