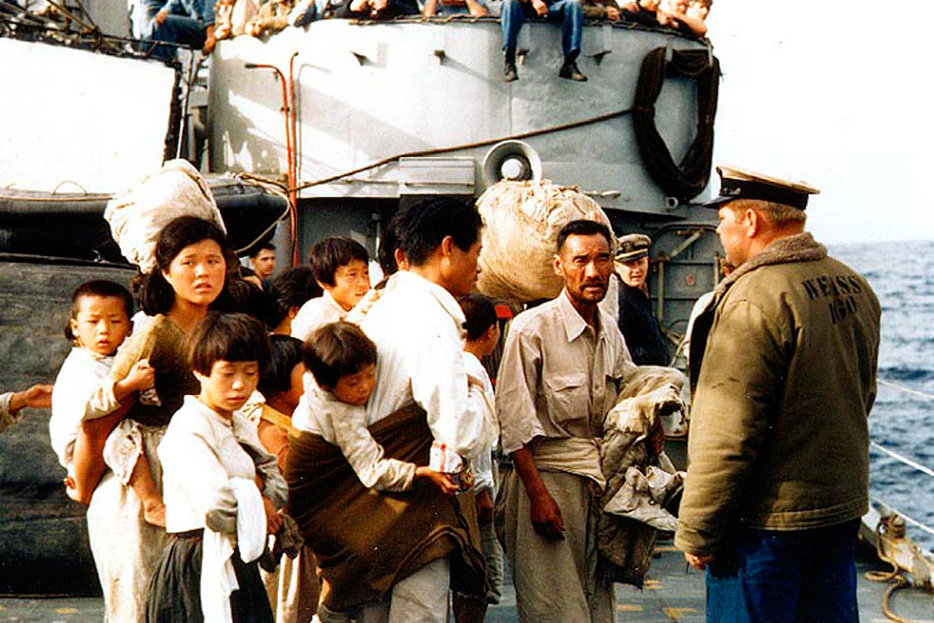 It's kind of a luxury to be suddenly terrified of the North Korean government. North Koreans have been for years. Since the partition of North and South Korea in 1945, and the Korean War that followed, many people who ended up on the north side of the border have been risking their lives to get to the south.
In the 1990s, the collapse of the Soviet Union meant the loss of much-needed support and trade for North Korea, and the ensuing famine killed somewhere between 250,000 and a million people. At that time, recorded cases of North Korean defectors who reached South Korea were in the single digits, but by 2008 they peaked at 2,809. In 2012, there were 1,509. They are sometimes referred to saeteomin, "people of new land," or sometimes as bukhanitaljumin, "residents who renounced North Korea."
A new study in the Journal of Traumatic Stress by Woo-Taek Jeon and and Sung Kil Min of Seoul's Yonsei University College of Medicine, along with Jin-Sup Eom of Cheongju's Chungbuk National University, examines the incidence of Post-Traumatic Stress Disorder in North Korean defectors seven years after arriving in South Korea. The prognosis is surprisingly good.
The current project is actually a follow-up study. The original, conducted in 2005, used information from 258 participants, all North Koreans who arrived at a South Korean facility in 2002. Seven years later, the researchers convinced 106 of those—62 men and 44 women—to participate in the follow-up study. People had to give their consent orally rather than sign any documents that might allow the North Korean government to find them.
The interviewers asked participants to indicate whether they had ever undergone any of a list of 23 traumatic experiences, among them being beaten, starved, punished for political misconduct, watching a family member or close neighbor die of starvation without being able to help, and watching public executions. More than 80 percent of the participants reported experiencing starvation, watching family members die of starvation, and seeing public executions.
In 2005, 26 of the 106 who participated in the later follow-up study were diagnosed with PTSD. They reported recurrent distressing dreams, difficulty concentrating, inability to express emotions, and outbursts of anger.
Seven years later, in 2012, only two of the 106 still exhibited enough of the symptoms associated with the disorder to be diagnosed with PTSD. North Korean defectors' sleep habits had returned to normal and they had stopped experiencing troubling flashbacks.
The North Korean defectors' success in moving past their traumatic experiences, the researchers note, stands in marked contrast to other refugee populations. In a 1994 study of 145 Vietnamese refugees living in the United States, incidence of PTSD was about 10 percent on arrival, and those suffering from PTSD showed no improvement after three years in the U.S. In 2005, it had been 20 years since the end of the Cambodian civil war, at which time many refugees resettled in the U.S., but rates of PTSD in Cambodian refugees living in America were still extremely high (a study diagnosed the disorder in 62 percent of 490 people interviewed).
Part of the reason why North Korean defectors living in South Korea may achieve better mental health outcomes than refugees to the U.S. may be that having a shared language and traditional culture eases the transition to a new environment. They also do better than North Koreans who have settled in Japan. However, the researchers also found that seven years after arriving in South Korea, North Korean defectors were still experiencing culture-related stress.
South and North Korea had one culture for thousands of years, but since 1945, the two have developed very differently; participants commonly reported feeling discriminated against, as well as feeling a distinct difference in the values and lifestyle, and feeling underprepared for work in South Korea. But defectors who end up in South Korea are the lucky ones. Many defectors end up in China, where they remain as illegal aliens, at risk of being caught and sent back to North Korean labor camps, or executed. Smugglers lie in wait for women who make the perilous crossing into China, and kidnap them for sale into forced marriage or prostitution.
The South Korean government, on the other hand, has an official policy of reunification, and a ministry that helps North Koreans assimilate, offering training in the South Korean dialect as well as a cash bonus to help refugees get settled. It may be a little easier to get over past trauma when you feel like someone cares about your future.
–
Studies Show is a weekly column that appears every Thursday
Photo credit: North Korean refugees on a U.S. Navy fast transport, Official U.S. Navy Photograph