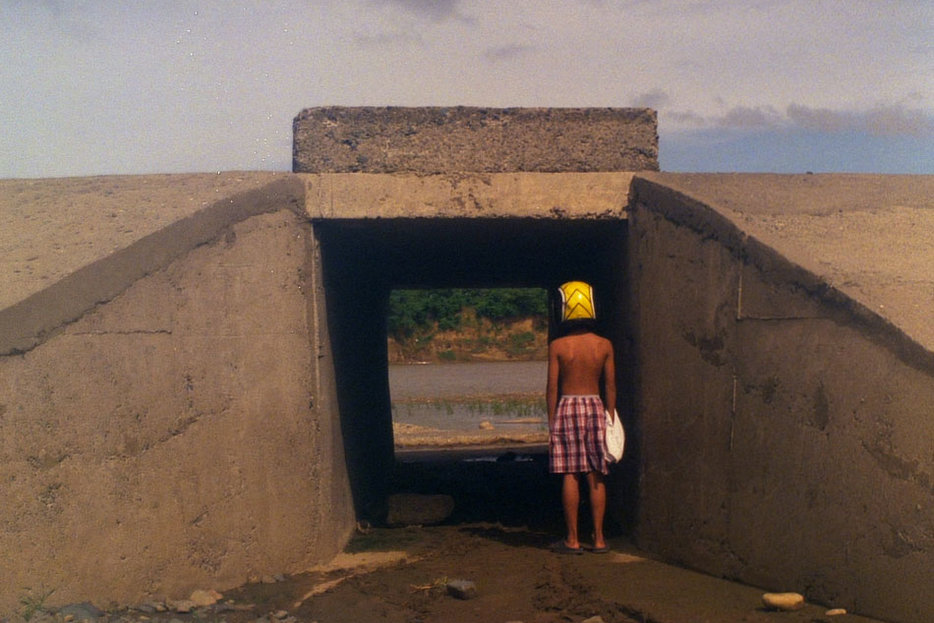 At one point during the catalogue launch for 2013's Images Festival, the annual celebration of experimental cinema kicking off today in Toronto, there was a sharply critical allusion to those exclusivity agreements that enable larger institutions like TIFF and Hot Docs to hoard premieres by the dozens, even when the only thing a movie might win from the Academy Awards is baffled incomprehension. That hasn't reduced Images to scraping around film canisters. In its 25th year, the festival can still be counted on for formal ingenuity, inflecting its screenings with music, theatre and visual art. (The catalogue actually leaves one title all mysterious, an impish circumvention of any potential legal issues.) Here are six cases in point.
Opening Night Gala: Live Images with Tim Hecker + Robert Todd, SlowPitch (St. Anne's Anglican Church, April 11, 8 p.m.)
Tim Hecker is the Montreal electronic musician who specializes in ambient environments with titles like "Arctic Lover's Rock," made up of flickering static and hypnotic echoes; Robert Todd makes miniature 16mm documentaries that study the shapes and light of their subjects with abstracted lyricism. This eerie collaboration will be preceded by SlowPitch's audiovisual piece Emoralis, "a collection of moving images of transforming snails."
Film: Rope (Theatre Centre, April 13, 3 p.m.)
Rope is feature-length sleight-of-hand: Alfred Hitchcock's 1948 adaptation of the Leopold and Loeb murder case famously contains only four undisguised cuts, making it seem like a single continuous shot. Since camera rolls could only hold 10-minute takes, the other edits were all concealed through subtle manipulation of mise en scene, including one of the most elaborate cycloramas ever devised. An experimental film hidden inside a stagy melodrama, or possibly the other way around, Rope rendered theatre as real-time cinema, and Film: Rope attempts to invert the magic trick by recreating its movements in live space.
Leaf in the Wind (Jackman Hall, April 13, 6 p.m.)
The Cameroonian independence fighter Ernest Ouandié was captured and executed by his own government in 1971, having proven to be all too independent for the country's first post-colonial ruler Ahmadou Ahidjo, an obliging French stooge. Thirty-three years later, Cameroon's Jean-Marie Teno interviewed Ernestine Ouandié, a daughter he never met, about exploring her father's life and her own arduous one. The ghostly nature of the resulting film, completed in 2010 only after Teno learned of Ouandié's self-inflicted death, complicates its testimony still further.
Rhythm and Reflection (Jackman Hall, April 15, 9 p.m.)
A collection of short works concerned with people, objects and landscapes past, whether the oil drilling footage taken from the Texas Archive of the Moving Image and spliced together as Scott Stark's "symphonic collage" Bloom or the late Stan Brakhage film Stellar, warped into JB Mabe's transfiguring Pastoral.
Beautiful People (Jackman Hall, April 17, 9 p.m.)
There's a photo of David Wojnarowicz that always comes to mind, never quite leaves it. It was shot from behind at a protest, his denim jacket emblazoned with a pink triangle and the text: "IF I DIE OF AIDS – FORGET BURIAL – JUST DROP MY BODY ON THE STEPS OF THE F.D.A." After recent documentaries like United in Anger and How to Survive a Plague lent renewed attention to the influential activist group ACT-UP (with its in-house propaganda studio Gran Fury), the late artist's more politicized work has a fuller context, but this rarely-seen Super 8 short seems to be in a different mode: drag queens swimming! The talk by Wojnarowicz's collaborator Jesse Hultberg might clarify matters.
After My Own Heart (Oakville Galleries, until May 18)
Oakville is no one's idea of utopia, but it's hosting a few at this exhibition, which surveys feminist visions of an ideal world across several decades. The featured artists include Torontonian Allyson Mitchell, one of the designers for a recent poster series protesting marginalization of HIV-positive people; the Women's Liberation Cinema, an all-female collective that made radical 16mm films; and queer cinema vanguardist Barbara Hammer, whose work is screening at TIFF's Lightbox throughout the festival.
–
Find Hazlitt on Facebook / Follow us on Twitter
Photo Credit: John Torres / Lukas Nino (Lukas the Strange)