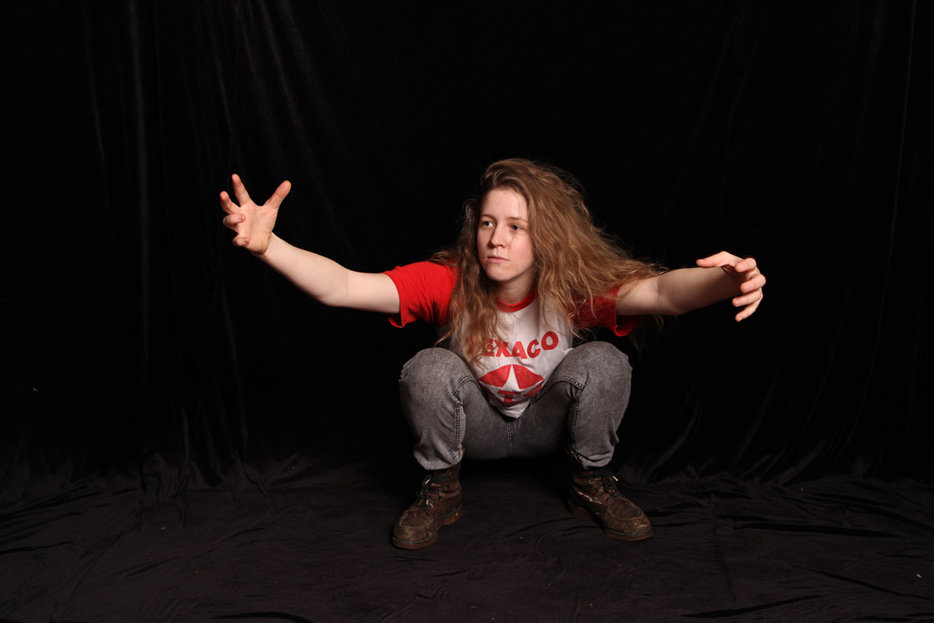 The last time I saw Simone Schmidt sing was during 2012's Poor Pilgrim, an annual all-day show traversing Toronto Island. There were a capella folk songs inside St. Andrew-by-the-Lake Church; later on, as the night's last ferry approached, an R&B duo performed slow jams dockside. In between, not long before midnight, Schmidt stood on the steps of the Algonquin Clubhouse, playing a guitar as she drawled songs about humiliated mental patients and rueful addicts. Fire ants were crawling everywhere, intent on demonstrating the etymology of their name, but nobody moved.
The first time I saw Simone Schmidt was in a course on Romantic poetry at the University of Toronto; I'm not sure either of us finished it. But she was already writing lyrics for her country band One Hundred Dollars, poetic without the sense of someone flipping through a thesaurus: "The little lies, they don't mean that much / Love me while you're waiting on another." The group brought that mythically Southern genre—its character studies in sin and desperation and solidarity—into a modern Canadian context, recording queer murder ballads or adopting the perspective of a Fort McMurray oil worker.
Schmidt has since lent her familiar rasp to a new band, or newish, since guitarist/vocalist Paul Mortimer and bassist Kyle Porter come to the Highest Order straight from her previous one. After the addition of drummer Simone TB (Ell V Gore), they're markedly heavier and noisier, dwelling on blurred, psychedelic harmonics. When their first album If It's Real came out earlier this month, I met up with both Simones for the first installment of a semi-regular Hazlitt series asking musicians about what they read during the recording process. (They made the Highest Order LP live off the floor over a handful of days at Toronto's 6 Nassau studio, so take "process" broadly.) Our conversation was edited down into this list, part liner notes and part marginalia.
We Are Everywhere, by Jerry Rubin
Simone TB: This book I was reading ended up being a little relevant, because [the other band members] were talking about the Grateful Dead. It's by Jerry Rubin, the leader of the Yippies, who were this pseudo-political party but just a bunch of burnouts in San Francisco. And they were involved in the big riot at the '68 Democratic National Convention. It's written just as his thoughts about what's going on at the time. He wrote the whole thing while he was in jail awaiting trial, so he's definitely maybe coming down off of years of doing drugs and losing his mind. It's both visual art and him writing about how he feels about the movement of humankind and how the government is garbage and all this stuff, but they talk a lot about going to Grateful Dead concerts and being burnouts in general, and I was like, this is kind of relevant.
Modern Recording Techniques (7th Edition), by David Miles Huber and Robert E. Runstein
Simone S: I'm apprenticing as an engineer right now.
Simone TB: Or are you just sitting in coffee shops reading – "everybody respect me, I've got a giant book."
Simone S: But it's funny, it's reading like a textbook in the way that textbooks are written right now. The writer is trying to buddy up with the student. He's like, "You know? You get it!"
The Happy Prince and Other Tales, by Oscar Wilde
Simone S: I haven't been able to read [long-form] fiction in years. What happened? I don't know. I lost a lot of my ability to focus over the course of a year, four years ago, and I couldn't read long fiction anymore. So I've had to figure out why that's going on. I can't really get immersed in characters anymore.
I've generally always enjoyed non-fiction, but I was training myself back into fiction by reading Oscar Wilde's fairy tales. I remember sitting on the couch [in the studio] thinking about the part in the "The Happy Prince" when the mayor decides that after the prince has been stripped of all his gold and sapphires and rubies that he's not beautiful anymore and they can dispose of him. And I was sitting there being like, it's such a strange pursuit making a record, and beauty, an aesthetic. And I was like, my god, what has my life come to? Just feeling fucked up about it.
I think that it's nice to read those stories, because they're so moralistic, but not in any straight-ahead way. They're not full-on parables, like a lot of the moralism that was going on at the time. They're not just rewrites of the Bible. But yeah, in ["The Happy Prince"] there's a tension between romantic love and self-sacrifice—there's the swallow, the bird that's obsessed with the statue, and he won't leave his side, and dies for him, but prior to that was courting a reed and trying to get down with the reed.

Slouching Towards Bethlehem, by Joan Didion
Simone TB: It's a collection of essays, all over California in the '60s. It didn't have anything to do with recording the record, it was totally just to fill time, but it was a really interesting book. It showed musicians at that time from a different perspective. It has a really good Joni Mitchell story, about her retreat in the valley outside San Diego or something, more about spiritual consciousness and not anything to do with the music. You just see her life at the time being like, "I kinda want to play a concert, I kinda don't." I can't imagine living like that, that'd be really weird—like, if I were able to be a musician full-time, to pull back from performing and start a school instead. It doesn't make any sense to me.
[Didion's] such a lost soul. Even when she writes about going away with her husband, she writes about love so detachedly. She seems to obsess over people who are not revealing their entire selves. I find that whenever you see an image of her, she's this secret of a person, leaning against a car smoking a cigarette, thinking something she's never going to let you know.
Days of Destruction, Days of Revolt, by Chris Hedges and Joe Sacco
Simone S: You know Joe Sacco? And Chris Hedges? Hedges is incredible, he's so articulate. He's really one of those people who can credibly tell the story of others. And I find that's the link between Joe Sacco and Chris Hedges, the way that they tell stories and their individual practices [have] this precision. Their slant is obvious, their bias is obvious, and you come to love them as people through whose eyes you're seeing.
For this book they collaborated, travelling around the U.S. and talking about places like Camden, New Jersey, which is the poorest city in the U.S. Right now I'm watching Boardwalk Empire and Camden is actually booming during that time [the 1920s], so it's funny to see it portrayed in HBO fiction and then read about its destruction. The book is about post-industrial America and telling different people's stories, and interspersed in all this text are these beautiful images by Joe Sacco.
It's quite depressing, the corruption in the electoral system and police and all that, but then it's coupled with this incredible hope because you're reading Joe Sacco and Chris Hedges getting stoked about the Occupy Movement and feeling like, even though they're direct witnesses to the worst—they're both also war correspondents, right, they've seen the worst of humanity—they can muster enough hope to still think it's important to tell stories. Writers like them are really important to me because when I write narratives, it's important to me to think that stories matter, or else I think that I would maybe stop paying attention to what I write. [Simone S. notes that she often writes about marginalized characters.]
I also don't feel like the point of writing is to write. I think maybe there are writers who are like, "Oh, the point of writing is just to write," or I feel that a lot about music—that the point of singing is just to sing. And I feel that about covers, if they're good vehicles for your voice and mediums for your playing then that's great. But as a writer who can pay attention to what they're writing, then they're vehicles for my despair and my hope and my visions. And I don't know why else one would write. So when you choose to write in a medium like country music, you're going to work with an archetype, an archetype of a suffering person, and you're going to work within a form that allows a certain amount of movement, an arc in storytelling or in a narrative perspective. That's not all I write, but I guess that's pertinent to what we're talking about right now. I'm not a confessional writer, but if I was I think it would be even worse.
âpihtawikosisân.com, by Chelsea Vowel
Simone S: I don't know how to say it, I have to look it up—it's this woman, she's Cree, she has a blog. It's really embarrassing that I can't say the name of it, but I don't speak the language. Anyway, the Idle No More movement brought this woman to light for me, and she's just got a really great analysis of what's going on politically in the country right now, for First Nations. It's exciting stuff to read. And she has a lot of resources for allies and for [non-aboriginal] settlers who are like, "What am I supposed to do?"
Crazy Like Us: The Globalization of the American Psyche, by Ethan Watters
Simone S: It's about cultural exploitation of notions of mental illness, and in part about [foreign] aid—when there are crises and disasters in other countries and the U.S. and Canada go and give aid. A lot of the medical aid can involve diagnosing people with things like post-traumatic stress disorder, which are predicated on notions of the psyche that are unique to us, and those diagnoses have effects on the mental health of other cultures.
It's weird, the pathologization of behaviour in general. It's troubling right now. Like, it's easy for people to understand behaviour when it's medicalized and everyone gets a note from their doctor, and they have a diagnosis, rather than your friend just understanding that you're acting like a fucking freak for whatever reason, or understanding the cause of it. There are a lot of positive advances in certain institution that I've seen in Toronto as of late. Over the past year I've had a few friends get formed—"formed" is the word for when the law says, "you're crazy, go and deal"—and I've seen the system improve in certain respects. But it really depends on how much money you have and whether you're on drugs or not. People have very little sympathy for people who are poor and on drugs. That's a large discussion that I prefer not to make a blanket statement about. It feels very personal to me. And private [laughs]. I actually wrote an entire [Fiver] record about it that'll be coming out in September.