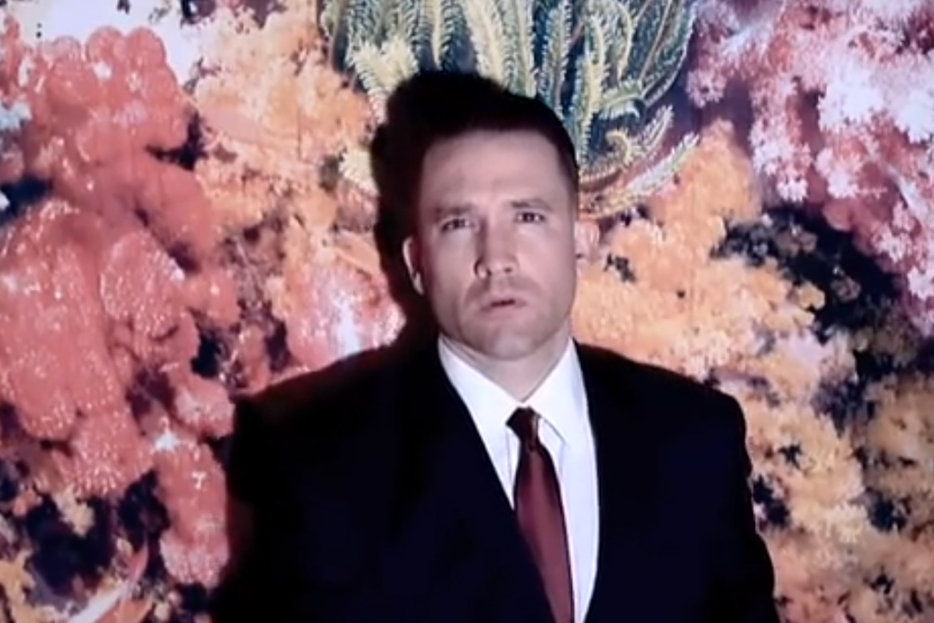 Still image from "You'd Be So Nice"
Many musicians eventually witness one of their compositions become most famous while being sung in another artist's voice—pending a surge in radio spins for "Tower of Song," that's the chair Leonard Cohen will forever be tied to. A rarer phenomenon, though, is the artist who reveals some fundamental aspect of themselves while playing a cover. (When popular music was experienced primarily through live performance, bands prided themselves on their ability to master new jams; even as the recorded object replaced the interpreted song as the basic unit of listening in the 1950s, you could still find a dozen versions of numerous hits.) Prince has inspired a few of them, although to my ears the only adaptation that entirely escapes his orbit is Chaka Khan's "I Feel For You." I love the Pet Shop Boys's version of "Always On My Mind," which renders guileless, chastened lyrics as arch exhibitionism. And a good troll might argue that the Beatles sounded best, or at least happiest, running through Chuck Berry and the Marvelettes.
This is how I feel about Xiu Xiu, sometimes. Over the past decade, the band's nucleus Jamie Stewart dedicated himself to one earnest aesthetic: grim, traumatic, uncomfortably intimate lyrics, sung in either a hysterical vibrato or pained whisper, over atonal instruments that edge flinching towards a brutal form of pop. My friend Ari told me that Xiu Xiu's "Dr. Troll," evoking gender dysphoria as it did ("the horrible dream of being somebody"), saved her life. I don't often listen to them for long, not because the music overwhelms me—I just get numbed to that disruptive force. Maybe that's why I like their covers so much. Their nightmarish rendition of Rihanna's "Only Girl (In the World)" received more attention, or baffled horror, but my favourite is "Under Pressure": Swans's Michael Gira exchanges his usual Book of Revelation vocal stylings for a calm deadpan, Bowie embalmed; Stewart screams "can't we give love one more chance?" as if, unlike Freddie Mercury, he needs to know the answer; and a song that used to host theatrical bombast becomes something harder to describe, though equally diverting.
Gira also indirectly spurred Nina, Xiu Xiu's new album, which consists solely of Nina Simone covers: "The idea came being backstage in Austin," Stewart wrote in a press release, "opening for Swans and feeling like I did not play well. Michael Gira and I had the night before talked about our mutual love for Nina Simone and how her intensity and crazy political truthfulness always pushed us to try harder … The idea came from wanting to honor her, challenge myself to be better than I think I can be…"
That reverence may be what made Nina such an odd, halting record. Whether taking up a mournful "Don't Smoke In Bed" or going all giallo on "Pirate Jenny," Stewart uses the same hushed murmur throughout; the new arrangements of Simone's songs default into dissonance or silence, as if trying to channel her anguish. The frantic urgency of the best covers here, like "See Line Woman," sets one wondering what the backing band (prolific avant-jazz players) would do in a less solemn mood. When Stewart does risk sacrilege, it's by half-personalizing the lyrics of "Four Women," but some about the experience(s) of being a silenced black woman remain, and it's still gross to hear a white man essaying them. I appreciate his disdain towards those "plundering race without any consideration for the implications," filching Afropop with an air of frictionless politesse—and what manner of appropriation, cultural or otherwise, is more direct and transparent than the cover song? But Nina didn't write most of the other numbers on Nina anyway. She just made them hers. Xiu Xiu seem too understandably respectful to attempt the same.
Nina Simone was a great woman in a world that did not revere them. Throughout her life, she struggled with abusive partners, undiagnosed bipolar disorder, and the "liability" status conferred by her unpredictable stage manner and political militancy (she managed to throw Martin Luther King off guard by greeting him, "I'm not nonviolent!"). She had to resist self-hatred as well. Gaining access to a trove of her witty, searching diaries, Joe Hagan quoted them at length in a 2010 Believer article: "I can't be white and I'm the kind of colored girl who looks like everything white people despise or have been taught to despise … If I were a boy, it wouldn't matter so much, but I'm a girl and in front of the public all the time wide open for them to jeer and approve of or disapprove of." Last year, during a period of intense depression, Jamie Stewart asked people to send him reasons to keep on living, an action eerily anticipated by Simone's psychiatrist, who urged her to make lists of the good things in her life. She described a new house: "The trees, green grass, all the little flowers, apple tree, cherry trees, the vacant spot where greens should be growing…"
She found freedom in restlessness, moving the target. She resented the people who called her a jazz singer (her first love was Bach), and later said: "It's always been my aim to stay outside any category." Simone's devotion to genre-scrambling and sonic contrast made her a radical formalist—just not somebody liable to get recognized as one. The cultural scholar Daphne Brooks once argued: "Nina Simone staged a kind of performative sit-in," a crossover "that was less about achieving conventional success on the pop charts and more concerned with barreling into putatively forbidden representational territories." You hear it in her covers. "Pirate Jenny" is the classic example, full of queenly, menacing interjections, transfiguring slave ships into vessels of revenge without a single substitution from Weill and Brecht. These days, however, I find her 1976 performance of the despised and ridiculed soft-rock hit "Feelings" more striking. Simone uses metacommentary, flat and sharp affects alike, sudden emotion and her own audience to attack the song and then finally the very presumption of irony. It's the punkest cover there ever was.