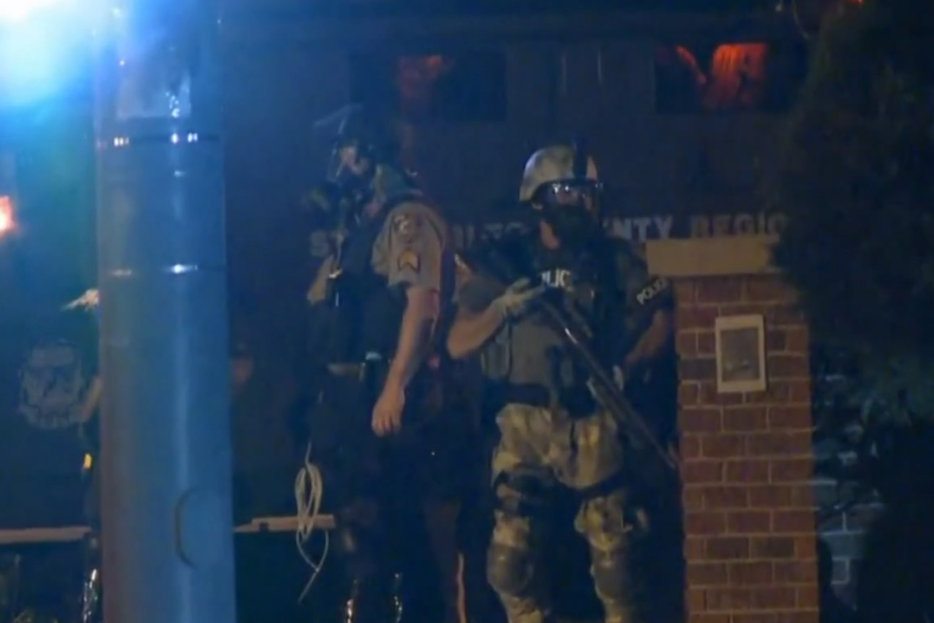 In the events of the last few days, it's important to insist on the primacy of one fact: the events in Ferguson, Missouri, all flow from the shooting of Michael Brown, an unarmed black teenager, and the local police department's refusal to treat this traumatic event with even the basics of decency and respect owed the community they're responsible for protecting and serving, without fear or favour.
It's that trauma that put people in the streets, marching into the teeth of what can only be called a police riot, with protesters abused and (less importantly, but more visibly) reporters arrested for the crime of asking which door of a McDonald's to exit from.
Then, by all accounts, things turned around rapidly yesterday, when state highway patrols replaced the local police forces, marched with the protesters, and generally used policing techniques more intellectually and emotionally advanced than screaming "respect mah authoritah!", Cartman-style, through a haze of tear gas and menace.
The residents of Ferguson don't need to defend their actions over the last week, but Thursday's scenes of people hugging patrolmen and taking selfies with their liberators is as eloquent an evisceration of the local police force's conduct as anything could be. This was never about a dangerous population that needed to have a lid clamped down on it. This was about people needing, and deserving, accountability from the violence-dispensing arm of the state.
Totally coincidentally I'm sure, the police force responsible for the violence this week is almost entirely white and polices a majority-black community. In Ferguson today, the state highway patrols are being led by a black man who grew up in the area. Naturally, the too-late moves by State and Federal leaders are still being blasted by some local politicians for being insufficiently worshipful of local police forces.
We should be increasingly impatient with hair-splitting over whether the justice system is riddled with racists or not. It's a certainty that no police, judges, or lawmakers would self-identify that way, nor, I'm sure, would their acquaintances. But we need to stop seeing racism as a stain on the soul, and as something people do.
When Senator Rand Paul writes "anyone who thinks that race does not still, even if inadvertently, skew the application of criminal justice in this country is just not paying close enough attention," he's not wrong, but he's trying too hard: it matters not to the dead if the white cop who shot an unarmed black kid's fear and anger was inadvertent or premeditated. Nobody cares how we feel—they care about what we do.
The news, this morning, is that police are releasing video of a robbery that happened shortly before Brown was killed that they seem to be suggesting may posthumously implicate him in a crime. The video stills are dubious, but even if it were true, it wouldn't materially change the facts as we understand them: he was unarmed, he was fleeing, and the constitution forbids the use of lethal force in almost any case where those things are true. Brown may not have been an angel, but he can't be brought to trial anymore—something for which his killer is singularly to blame.
So yes, the broader problem of America's increasingly militarized police forces is an important one to reverse. (A problem that's not alien to Canada, it needs to be said.) And we should all have a rueful, cynical laugh at alleged rights activists who are silent when the skin tone of people being abused is inconvenient. But more than anything, we need to stop assaulting and killing people of colour, and then assaulting and killing them for objecting to the violence pointed their way. People don't care how we feel—they care about what we do.