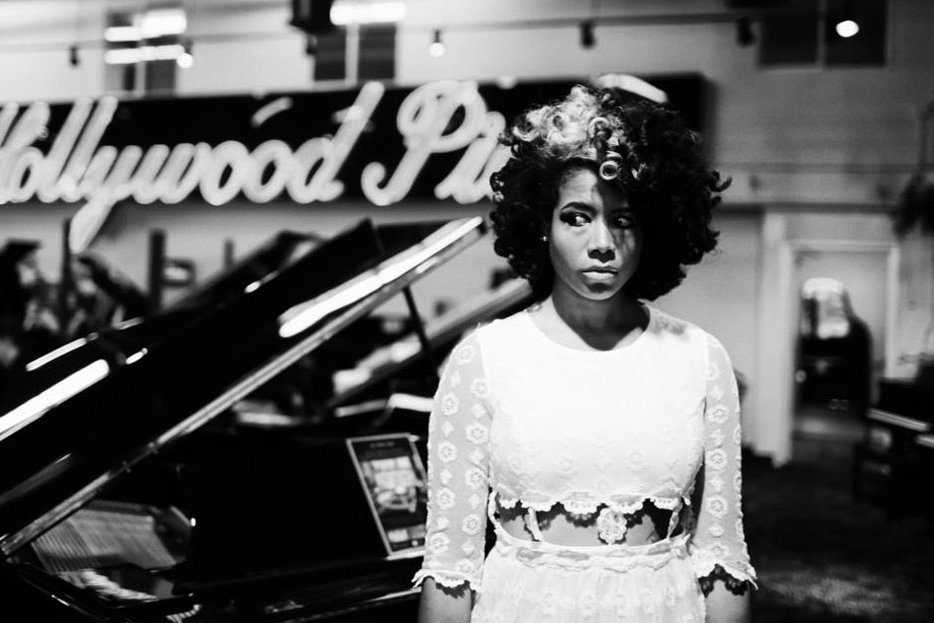 Beyond a certain level of empyrean Beyoncé-scaled fame, pop stars are often obliged to field dumb questions from some media institution or another—especially in a music market like this one, where the #2 American album last week sold a record-low 30,000 copies, or 0.0001 per cent of the U.S. population. So it was that Kelis had the opportunity to politely shade a New York Times Magazine reporter with responses like, "I've been doing music since 1998, so obviously longevity is not an issue for me," or, "I don't know what Paul Newman's situation is, but I make sauce" (she started producing a whole line).
The best of these came after a lazy series of questions concerning her ex-husband Nas, who is clearly no closer to getting over their marriage than he is to moving on from recording Illmatic just the once: "I don't really listen to his music anyway." But the observation that she's been on a radio somewhere for 15 years now is more revealing than she perhaps intended: study her career, and you find a musician coolly waiting for fashions to catch up, as if she were unstuck in time.
"Jerk Ribs," the lead track and single from her new album Food, makes that point a little more emphatically. It sounds like a soul record from the 1970s that's been nestled at the back of a crate ever since, but nothing much like the various British revivalists that description might bring to mind. As produced by TV on the Radio's Dave Sitek, the horns have Afrobeat aplomb, and Kelis sings of personal history rather than nostalgized pastiche: "In Harlem, where I started to breathe / Your beat was like a soundtrack to me / I was the girl, my daddy was the world / He played the notes and keys / He said to look for melody in everything." On "Jerk Ribs," she's still there, surfacing from the 3 train right when the sunlight hits the Studio Museum. A musician as unhurried as Kelis would never bother agonizing over any manifestos, but we might take the key hook for one: "It feels just like it should."
She's never been demure in her restraint. Three years before the Neptunes began notching international hits like "Slave 4 U" or "Hot in Herrre" circa 2001, they produced her debut album Kaleidoscope, one of the odder major-label projects to ever make money. (Like much of her discography, it did better in Europe than America, only reinforcing those parallel-universe qualities.) The single "Caught Out There," pop in the process of falling apart, still skirts convention today: synths appear to fail, vocals constantly interrupt each other, Kelis declares "I hate you so much right now" and then just screams out of wordless frustration. Given a husky, inelastic voice, she uses it with maximum blitheness. Her limitations remain an advantage: 2010's Flesh Tone, a prescient application of R&B diva to Eurodance, would tempt many technically masterful singers towards domineering melisma. When Kelis told her infant child "I can't always be here to rescue you when life gets crazy," the strained phrasing gave the next lyric its sense of weary exhalation: "I love you more than you'll ever know."
The ecosystem of pop encourages metamorphosis, but it tends to involve a conspicuous emergence from the cocoon. Kelis doesn't radically change her look or approach modern artists for collaboration; she just commits her central themes and traits to whichever new style with Oulipian rigor. "Bossy" reclines imperiously on a chaise longue when "Milkshake" would be grinding all over you, but both songs come to the same conclusion: I'm incontestably hot, and you should do what I say. (I wouldn't try to dispute it, myself.) As boasts go, "I'm the first girl to scream on the track," is unusually formalist. My worry with Food was that classicist-feinting arrangements might finally overpower Kelis's voice, force her into a contest of brute strength against implacable brass.
They do, now and then. "Cobbler" acknowledges it outright: "You make me hit notes that I never sing." She doesn't hit them without struggle, but Food manages to circumvent that too. Kelis always had a good instinct for the right juncture to subtract herself from a mix, and the new album mostly anticipates when simple belting would be unable to carry a track any further; I can't remember the last record I heard that took such care with how vocals sound striking against instruments. She sounds more reactive than ever before, giving up a modicum of control, albeit still unbossed.
Maybe it's because I tend to cook while playing music, but Food seems pleasantly distracted, as if ambling towards a destination of no particular urgency. Her peculiar temporality is internal this time, languid and relaxed amidst passing snatches of organ or horns or bass. It feels just like it should.