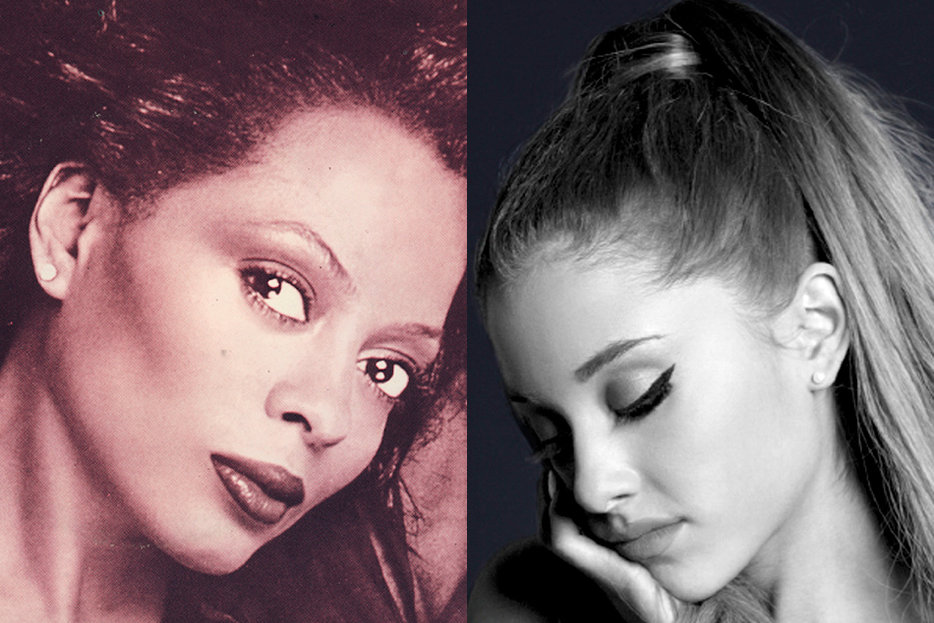 For somebody who emerged singing woozily idealized evocations of '90s R&B, Ariana Grande is no naïf. Not quite a year after that first album, her new record My Everything strides coolly into line with current dance-pop, marshaling the man who did as much as anyone to give it spring and shape, and the melodies written by Max Martin et al adhere to her voice like pliant taffy. What hasn't changed is Grande's taste in guest artists, by turns canny—booking Iggy Azalea moments before her Jack-Torrance-like breakthrough, booking Nicki Minaj whenever—and insipid.
Now and then, though, she works small miracles with corny MCs: the lead single "Problem" transmutes Big Sean's laziness into a subtly anticlimactic whisper; Childish Gambino might be beyond help—Donald Glover took that moniker from a Wu-Tang name generator, and I'd rather listen to an algorithm spit out random Ghostface lyrics. He uses "Break Your Heart Right Back" and its ex-cheating-with-another-man premise as an excuse for the wretched punchline, "Yes, I'm a G, from the A, and they ask Y."
Rather more startling is the song's sample of "I'm Coming Out," which strips away its orchestration until little except Nile Rodgers's percussive guitar line remains, now faintly reminiscent of surf-rock. Never shy about telegraphing how much of a twerp he can be, Glover raps a few lines from "Mo' Money Mo' Problems" with Biggie's flow, invoking the other song that famously borrowed Diana Ross's disco standard. The secret of that single—aside from "B-I-G, P-O-P-P-A / No info for the DEA / Federal agents mad 'cause I'm flagrant"—was its unresolved tension between the unbound form and anxious, harried content. It's not hard to imagine a prisoner humming "I'm Coming Out" on their final walk back into the world, the lyrics drifting restively through the air beyond the walls.
According to Nile Rodgers, but maybe not Diana Ross, the song was always meant to suggest sexual liberation. His memoir Le Freak mentions visiting a gay-friendly club called the Gilded Grape in 1979, as the reactionary backlash against disco intensified: "On a trip to the bathroom, I noticed a number of Diana Ross impersonators lined up on either side of me. I felt like I was in an unscripted La Cage aux Folles number … I shared the anecdote with Bernard [Edwards, his partner in Chic], who agreed that it would be a cool idea to have Diana talk to her gay fans in slightly coded language." Despite its declarations of emancipation, "I'm Coming Out" went through a fitful, bitterly contested genesis; after hearing the original Chic mixes for Diana, disco made staccato and polysyllabic, Motown executives decided the pair had ventured too far in the "new direction" they envisioned and fired them both. Rodgers proudly notes that the inferior replacement versions went multi-platinum anyway. (Gene Simmons, who was recording next door and also somehow dating Diana Ross, loved the album too.)
He gets more adulation for his production work, for playing rhythm guitar as if ripping the notes from a book, but Rodgers is a slyly ingenious lyricist. "I'm Coming Out" alludes to a history of struggle and purpose without deigning to offer anything so unsophisticated as specifics: "Somehow, I have to make them / Just understand / I got it well in hand / And oh how I've planned." It seductively insinuates the language of gay rights circa 1979 into a broader context, moving backwards through time; "I'm Coming Out" is one of the very few post-rock-and-roll singles to feature a trombone solo. And the ragged first-take quality of the part in question, an artifact left from its severed production history, seems like a charming misstep. It was played by Domenico Menardo, best known for his kitschy Star Wars disco medley—the soundtrack of a movie where the camera turns away from Han Solo as he leaves that sunless cantina, focusing instead on a compound-eyed hustler, about to fuck his way off-world with the help of a closeted Imperial officer. Jean Genet, The Space Pirate's Journal.
"I'm Coming Out" has since been covered straight by Amerie and given an explicitly sisterly reading by Keyshia Cole (Iggy Azalea appears there too, in case you hoped to be free of her before 2019), but that first dusting of glitter will never fall from it. "Break Your Heart Right Back" picks up on the association like a hidden weapon. Aside from the Childish Gambino contributions, there's nothing overt about it—you could easily switch around genders in the lyrics and still make sense of them. But sampling that gay perennial to curse the wayward ex is a flourish of spurned cruelty, the kind of gaping anachronism that Tilda Swinton's Queen Isabella might seize upon. "I just want to break your heart right back" allows the possibility she couldn't. It reminds me of Pet Shop Boys' "Can You Forgive Her?", where the fecklessly closeted subject gets admonished: "It's bad enough, she knows how you feel / But she's not prepared to share you with the memory." Whatever's coming out now, it implicates them all.