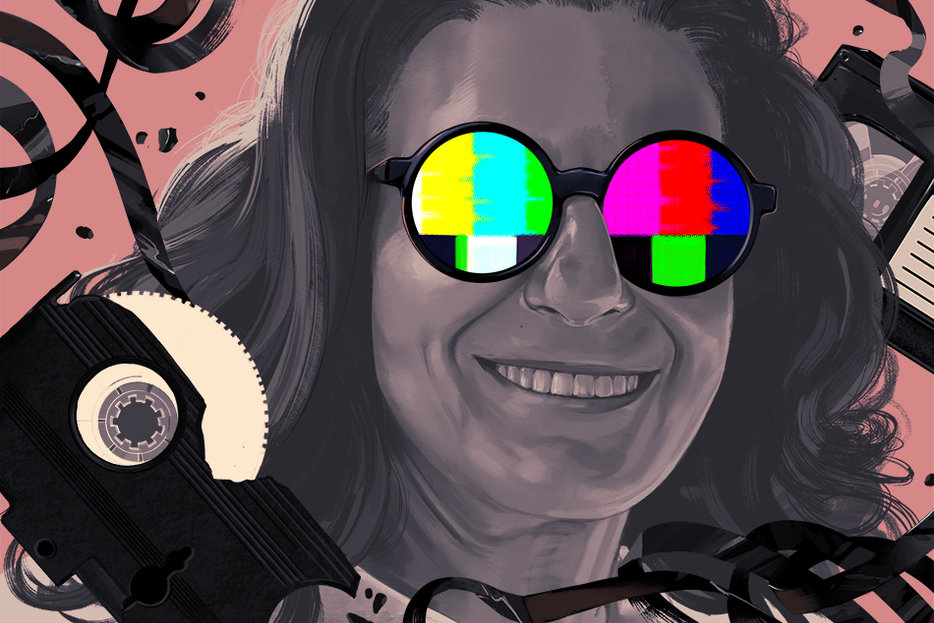 What does it take to preserve an independent filmmaker's oeuvre?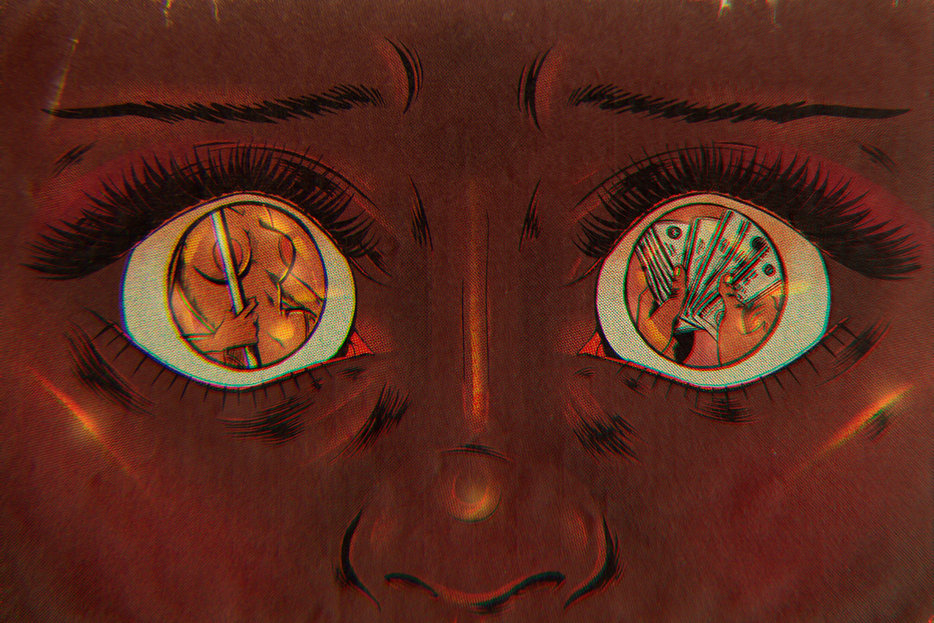 A calculated veneer of identity is our most valuable modern resource.
Latest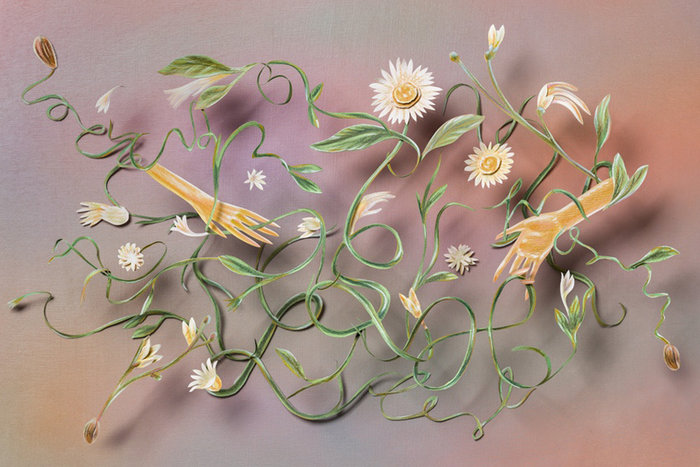 My name is someone's past and my present and I'm not sure about the future. 
Should I introduce myself? Is that a nice way to begin? It would be good if it were simple like that. It would be good if I could say my name and not think of the dead. My life began in memoriam, my birth marked by formative loss. I am first-named for my grandmother, Sara: she died when my mother was sixteen. And I am middle-named for my uncle, Leslie: he died when my father was thirty-two. Two deaths. And in their wake, gaping craters. Black holes. A thick and endless abyss. Who does that make me? Was I born a conduit for my parents' pain? Or am I a second chance? I feel the weight of my name over my head like a hood—warm and comfortable but a little disorienting. I am constrained by the grief and by the love it represents. Ten letters so specific, I am unsure how to wear them. I am unsure where I fit in. I suppose that's why I'm here. ~ In Neil Gaiman's novella Coraline, the title character meets a cat, introduces herself, and asks its name. The cat replies that it does not have or need one: "Now you people have names," it says to her. "That's because you don't know who you are." ~ My name is someone's past and my present and I'm not sure about the future. My name bends in the light and it gropes in the dark. My name is a blessing and it is a responsibility. In Judaism, it is common to name a baby for a deceased loved one (though never for someone living, the custom dictates, so that the angel of death does not take the wrong person). Often, it's just a first initial that the dead and living share, but I inherited the exactness of my relatives' names, every letter a stamp on my identity before I had begun to form it for myself. Every letter a path. "So much of what is transmitted between parents and families is not the obvious and the verbal and what's said," says Dr. Mavis Himes, clinical psychologist, psychoanalyst, and author of The Power of Names: Uncovering the Mystery of What We Are Called. "It's also the silences." ~ "There is a Quichua riddle: 'El que me nombra, me rompe.' Whatever names me, breaks me. The solution, of course, is 'silence.' But the truth is, anyone who knows your name can break you in two." —Carmen Maria Machado, In the Dream House ~ There is a letter, sent from my grandmother to one of her sisters, announcing my mother's birth. "She has black hair and a round little face and a nose all over it," Sara writes in long, looping scrawl that my mother says she'd recognize anywhere. "We're just not sure of her name yet—it might be something like Trudy Beth—how does that sound?" ~ Will you do one thing for me, if you don't mind? Will you stop reading, for a moment, and say my name out loud? Sara Leslie Harowitz How does it sound? Does it sound strong or soft as it comes off your tongue? Does it sound curious and graceful and good? Does it sound like the name of a woman you'd like to learn the intimacies of? Does it sound like the name of a woman who understands who she is? These are things I want to know. ~ S-a-r-a. Translated from Hebrew to mean "noblewoman" or "princess." The wife of Abraham in the Old Testament; the cornerstone matriarch of the Jewish people. Her name is more traditionally spelled S-a-r-a-h, and people often add the h to my name when they don't know me well. A silent, seemingly harmless fifth letter, and yet it startles me every time. Don't they know who I'm trying my best to live up to? L-e-s-l-i-e. Gaelic, meaning "holly garden," for whatever that's worth. I ask my father if he knows why his parents named his brother that. He isn't sure, but mentions that Leslie's middle name, Errol, was chosen for his mother's love of the actor Errol Flynn. I give Flynn a quick Google to make sure I have the spelling right; it turns out his middle name is Leslie. Errol Leslie Thomson Flynn. One of his films is called Escape Me Never. ~ "After years of my pleading, my mother finally gave me her yellow gold 'D' ring that was passed down to her from her mother. Daisy, Dulcie, Dolores, and now Durga. The ring's band is thinning so I don't wear it often but when I do, I feel the clout of family. Few things yield such command. I'm from somewhere! And these women had something to do with it!" —Durga Chew-Bose, "How I Learned to Stop Erasing Myself" ~ I understand that naming a baby is not an easy or quick thing. It's not like picking the paint colour for the nursery, which can be covered with a new hue in a single cumbersome weekend. A name is permanent. A name goes on paperwork. A name is how a child first finds their place in the world. It cannot be hidden with a roller brush. It took social justice professor Minelle Mahtani and her husband two weeks after the birth of their son to choose his name. "I see now that passing on a specific part of my family legacy matters to me, not just a vague gesture to my heritage." she writes in her essay, "What's in a Name?" for This Magazine. They eventually decided that, bucking Western tradition, their son would be given the last name Mahtani, honouring the lineage of Minelle's father. Whether we like it or not, our names do define us. On a superficial and stereotypical level, they tell people who we are—or at least, who they think we are. Name signalling is when a person's moniker signifies their religion, race, or socioeconomic status; our names can also affect our ability to find a job or a romantic partner, thanks to what is referred to as name bias. There is even research suggesting that over time, our names can affect our physical appearances. A 2006 University of Michigan study found that a person's satisfaction with their first name directly related to their sense of self-worth. "The link between first name and identity appears consistent," co-authors Jean M. Twenge and Melvin Manis write. "What you think of your name has something to do with what you think of yourself." I don't mean to suggest that I dislike my name. Not at all. I love the simplicity and evenness of Sara. I love that Leslie is wispy and genderless. I love these names individually, but I love them especially when they're together. Because that's how they feel most like they're mine. ~ Nomen est omen / name is destiny ~ I know that my name comes from sweetness and from tenderness. Still, in the quiet, these legends hover. I know I am lucky to have my name, but worthy of it I'm not so sure. Himes asks me a question that sticks: "What has been your relationship with your name?" What has been my relationship with my name? Maybe a better question is: what has been my relationship with my grandmother and with my uncle? Can I get to know them now? The mere fact that I am named for their memories means it's too late. But I'm trying to find them in the stories. I'm trying to understand. So, I suppose, my relationship with my name makes me sad. Because my name means my parents' grief. Call me Cheryl instead. Call me Michael. I don't care. Call me anything else if it means Sara and Leslie didn't die so soon. If it means I had the chance to meet them. If it means I can know the sounds of their voices and what it was like to make them laugh and how they walked into a room. If it means saving my mother and father from that pain. I'd do it. I'd give my name away for that. ~ Sara Shirley Sheckter. Born in 1918 in Vegreville, Alberta, the fourth oldest of a now-unheard-of ten kids. Named in honour of her paternal grandmother, Sora. A devoted daughter who grew up working in her father's bakery. Good with her hands. Meticulous. Sara had short but thick black hair, delicate lips, a warm smile that revealed a set of false teeth (the flour from the bakery, she claimed, rotted her real ones). When I look at photographs of her in her later years, I am ashamed to say I don't recognize her. But when I look at images of her in her youth, I see traces of my mother. Same eyes, same nose. I wonder if they are my eyes and my nose, too. For most of my mother's life growing up in St. Catherines, Ontario, Sara was sick. She contracted a virus in her heart muscle that caused the organ to fibrillate, which in turn led to cardiac arrests; her children lived in fear that one wrong move would trigger a fatal attack. Every day, my mother would rush home from school and yell for Sara. Was she still there? Was she still flesh and soul and bone? Sara was an avid and skilled sewer, often making my mother's outfits—outfits for her Barbies, even. Frilly, detailed numbers with lace and sequins. She also sewed aprons for a local community organization and for my mom's dance recitals; Sara loved to dance and put her two daughters in classes from when they were small. My own mother forced me to take dance lessons when I was little; I hated it at first, but after a few attempts, the aversion grew into adoration. Now I understand why it mattered to her so much. Sara collected stamps. Many weekends, she'd tote my mother—only seven or eight years old—to the Welland Canal in the Niagara Region and ask disembarking sailors if they had any stamps from faraway places that they'd be willing to part with. She would offer to take them to Niagara Falls in return. "I would be sitting," my mother recalls, "in the backseat with a sailor." Sara baked. She'd make cheese rolls, sugar nothings, even delicate icing roses placed gingerly on top of cakes. My aunt Karen, a few years older than my mother, was usually tasked with standing at the stove and stirring the custard for Sara's lemon meringue pie; despite her best tries, Karen burnt it every time. She can't eat the dessert to this day. Sara also loved to be social and to entertain. "She was a one-woman welcome committee," Karen says. As she got sicker, it became harder for her to live the life she wanted. It made her demand more of her family—to excel at the things she could not. Sara died of a heart attack at age fifty-two. At the time, my mother was visiting Karen, who was working at a Gulf Island summer camp. My dad happened to be working there that year, as well. He went to Sara's shiva—the Jewish period of mourning after a funeral—out of support for his colleague. It wasn't until years later that he met my mom; still, it comforts me to know that they were together that day. I cannot tell yet if Sara and I are alike in any significant ways. I don't have a fondness for baking; I was never good at crafts. Perhaps our personalities do not converge. But in my name, on paper, I become her. "If I see Sara without an h, I go, 'That's my mother's name,'" my own mother says. "The spelling of your name always does that. Every time." ~ Leslie Errol Harowitz. Born in 1942 in Vancouver, B.C. One of four kids. A romantic, a prankster; he would go to the ends of the earth for a joke. No punchline was too far-fetched. No party was too elaborate. He had kind, squinty eyes; a round face; large, nerdy glasses that would probably be considered cool now; a happy, crooked smile. Looking at his picture, I see a hint of mischief that reminds me of my father. Leslie was a klutz, not much of a sportsman, but great with words (just don't try to decipher his printing). He liked to construct silly contraptions—one famously called Bite Da Mama was engineered with wind-up toy dentures to annoy his mother by nipping her in the arm—and had nicknames for everybody; my father's was Baby Bowie. Leslie teased relentlessly, but as is the case with so many jesters, the more he ridiculed you, the more he liked you. Leslie was generous, in particular with his time. When he was a law student at the University of British Columbia, he took it upon himself to help my father—ten years his junior—improve his writing skills. "I'd have weekly assignments. He would give me a topic and I'd have to write two or three pages," my father recalls. "And then he would edit it and mark it up, and we would sit down and discuss it. I'd take it back and have to do a second draft and then maybe a third draft, and then we'd move on to another assignment." My dad's grade eight English teacher went from being on his case about poor performance to reading his assignments aloud for the class. I'm warmed by this. The love of words that I share with my father: it came from Leslie. Leslie was fiercely loyal, led by his principles, and fancied himself a handyman—though the stories say otherwise. One day, when they were both adults living in their own homes in Vancouver, my father got a call from his brother. "You have to come over right away," Leslie said calmly. "I've had a bit of an accident." My father whipped over to his house to find Leslie with a board of wood nailed to his thumb. He had been taking down the family's sukkah—a temporary hut built for the Jewish holiday of Sukkot—pulling apart wooden beams this way and that, and one of them, it seemed, bent but didn't fully disconnect from the structure; when it swung back into place, its nail went right through his finger. Leslie opened his own law firm with two colleagues, but no matter how well they did, he never felt comfortable in his success. And according to his widow, my aunt Sharon, he was never really in love with his work: "He always said, 'Nobody in law likes law.'" Leslie's taste for elaborate schemes never faded, though, nor did his impressive ability to run late for absolutely everything. He had a yellow Chevy convertible that he loved, but as my father puts it, "it didn't always love him back." When he was feeling uncomfortable, his right eyebrow twitched. Leslie was also a hypochondriac, and it made him fearful that he'd die young, leaving his wife and three daughters behind. He was forty-three when a heart attack killed him, caused by a condition savagely referred to as the widow-maker. Leslie would have loved me, my father says. I suppose it's not hard to believe; we were family. But what would he think of my writing? And how would he feel knowing I carry part of his identity in mine? Would he think I'm doing a good job? I ask my father why I was given Leslie's name. "I guess," he says, "because he was just a hole in our life." ~ There is another letter, this one written by one of Sara's sisters to her kids, documenting various family milestones. In it, she mentions the birth of a cousin named Faigie—another prominent moniker in the family. "She will perpetuate the name of her two grandmothers," she writes. "Life is eternal." ~ I come back to the question: what has been my relationship with my name? It is one of honour and healing. I hold it tight, even when it hurts. "You lighten the burden of your past, but you can't eliminate it," Himes tells me. "You can't erase your name." I don't want to erase it. I want to know it. I want to trace the lines of its curves, over and over again. ~ When I sit down with Sharon to ask her about Leslie, I ask her: who was I named after? Do I live up to their memories? Do I live up to my own name? Her face is a mixture of pleasure and surprise. "Your middle name is Leslie?" she asks. Surely she knew, but somewhere along the way, among the everyday muck, amidst the heartbreak and the joy and the mishugas, she forgot. "Yes," I say. Yes. "Sara. Leslie. Harowitz," she announces, and hearing her say it makes me want to cry. Each syllable like a warm tear down my cheek; their streaks are invisible but I feel them just the same. "That's me," I say. At least, a version of me. A version of me I'm interested in becoming. A version of me who lives softly in the margins but also brightly in the open. A version of me who is proud of her name, even if she doesn't fully understand its legacy yet. A version of me who carries her ancestors in blood and in documentation and maybe that's enough. ~ Will you do one last thing for me? Will you say my name out loud again? Sara Leslie Harowitz How does it sound? I'm getting closer to answering that on my own. To feeling like this narrative is really mine. ~ I think I should introduce myself. I think that is a nice way to end.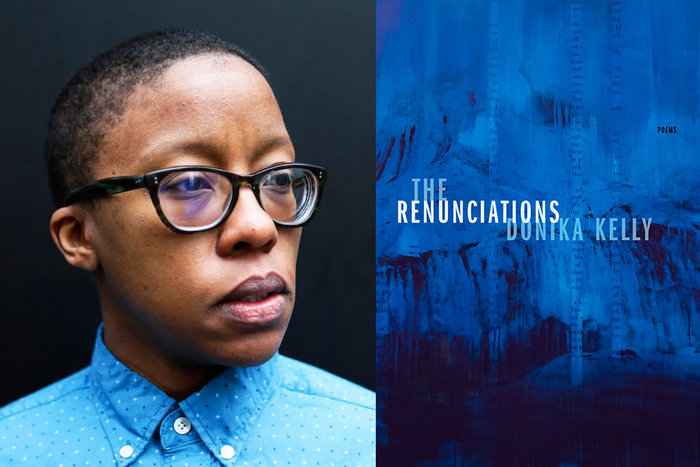 Talking to the author of The Renunciations about structuring a book of poetry, living with myths, and caring for yourself and others when writing about trauma. 
The Renunciations (Graywolf Press), poet and Iowa Writer's Workshop professor Donika Kelly's sophomore collection, opens with an explosion. In a nod to astrology, even the poem's title, House of Air, Hours of Fire, evokes a blinding brightness that reduces to ash. And reading this collection is in many ways a flammable experience: the language simply glows, even when it appears as erasure or empty brackets. The content circles childhood sexual abuse, divorce, and glimmers of hope and home, the possibility of rootedness. Along with fire, other elements come into play: water, earth, air. Sediment that gets disrupted, shoots of new growth, foundations maybe, slowly, being built. Kelly's almost otherworldly gift for composing words into something alive was clear in her 2016 debut, Bestiary; The Renunciations too embodies the animal, which is also the human. In "Hymn," she writes: "...the closer I am/to my animal self the more human I am/the more I let myself break/like a wave. Ocean/in my arm. Stone in my arm./Iron and wood and brass in my arm." And in one of the several poems titled "Dear–,": "I hold my breath. My body hollows,/grows teeth: gathers bone, gathers root and nerve." The visceral nature of this collection carries the reader to heights of poetic euphoria while simultaneously refusing to look away from pain. "I am neither land nor timber," she writes, "nor are you/ocean or celestial body. Rather,/we are the small animals we've always been." I spoke to Kelly on Zoom about myths and mythology, artifice, hope, and what it means to be a non-believer. Sarah Neilson: The epigraph of this book is from Anne Carson: "To live past the end of your myth is a perilous thing." What is the myth you've lived past, if you have one? Are there any myths that are meaningful in your life? And how do they serve you or not serve you? Donika Kelly: The core myth that I would say I've lived past… Well, there are two. The one where my dad sort of occupies the center of the family. And a big part of [living past] that was teaching gender studies—just realizing I could put myself at the center of my life. A man doesn't have to be at the center of my life. And the other myth, which comes out of that, has to do with the formation of romantic relationships as I saw modeled in my family of origin: My parents are definitely a stay-together-forever, it-doesn't-matter-how-bad-it-is, this-is-better-than-anything-else model. That's not a great model. It was not a great model when I was a kid, I recognized that. But that was a hard one to let go—that being married, being partnered, meant that that person was also at the center and that I wasn't at the center of my own life. So those myths, if that's a way of thinking about them, those myths served to keep my attention on other people and what other people needed. And I think this book demonstrates the process of, how do I move those folks from the center? How do I move those ideas from the center? And how do I get closer to the center of my own life? I'm hoping that I'm not living with too many myths right now. Carl Phillips has this craft essay on the uses of myth and fable. And he says that—I'm paraphrasing, so, grain of salt—but the way I remember it is that a myth helps us explain something we don't understand. And I think I've come to understand some things now. I don't need the myth anymore. The first poem in the collection, House of Air, Hours of Fire, is such a powerful gut-punch of a poem. What made you decide to open the book that way? That poem is the clearest overture that I've written. It captures the two strands of the book: the removal of the father from the center of the speaker's life, and then the ending of the marriage. The title refers to the fact that my dad is an Aquarius, which is an air sign. My ex is a Leo, and I'm a Sagittarius [fire signs]. I don't necessarily believe in astrology, but it created one small lens for understanding, a kind of elemental interaction. The Aquarius is the water bearer, and so I started with that—what does my dad have to bear? What does this father have to bear? And then what does the speaker, the daughter, what does she have to bear? The poem also brings in a lot of the themes around landscape and time that feels like it foreshadows what's to come in the book, and it was one that I wrote towards the end of writing the poems that would go into the book. In an interview with The Creative Independent, you said: "...it's not just like, 'Here's this trauma without the artifice.' The artifice is nice. The artifice is like a little pillow around the trauma, and a reminder that I'm okay and my speaker is okay, and hopefully the reader feels safer in that space." I think sometimes the word "artifice" has a negative connotation. Can you expand on the idea of finding safety and comfort in artifice? Artifice doesn't have a negative connotation to me, and I don't know how it could, since I'm a poet; so much of the genre relies on artifice. Like, Oh, here are some stanzas. Here's a rhyme. Which would not occur naturally, right? Here's a soundscape that's holding the poem together in some way. The artifice for me is actually really comforting. It's one of the things that I love about poetry—that there are ways to present material and process emotional material to make it available, or translate it for readers. That being said, the artifice for me as the writer is a way of processing the feeling, the thought, the act. The experience, the events. It suggests a measure of distance or control in relation to the material. As a person who has written about sexual violence and trauma, I often am read as "raw." But I would not ever give anyone the raw experience. That would feel irresponsible to me. But I think what that means is it creates a feeling inside the reader of encountering something that is intense. There's a measure of intensity. And it was important for me to feel that I was exercising some control over the experience, over the work—that there was a reason that I was bringing myself to that event and remembering it, and a reason I'm asking the reader to come along with me to remember. For me, the artifice is the suggestion that there is a structure here, that design and thought has gone into this, that I've made something for someone. How do you take care of yourself when you're writing about trauma? I have some very basic strategies. So, when I decided… it didn't really feel like a decision, but when I felt compelled to write about childhood sexual abuse and the abuse that I experienced, I knew that I was going to need some help. I've been in therapy since I was 17 or 18, almost consistently. Therapy is a big tool that I use to help manage and navigate some of that traumatic stuff. So when I'm writing, if it feels too hard, I can take that to therapy and work out what's hard, what feels scary, why I feel compelled to write about this. So there's that aspect of it; therapy is super helpful. But when I'm actually writing and I've decided this is what I'm doing, writing about this traumatic stuff, I can get really anxious and scared. Part of my strategy is to remind myself that I'm safe, which has been true. For the last 10 years or so I've felt really safe. The other thing that I do is remind myself I can stop at any time, that I don't have to do it. No one's asking for the poems. It's not like someone's like, "We need your poems about trauma." It's not for anyone, and I think that has been really important to recognize—that the work that I'm doing, and writing the poems, is first for me. So if I am not being served by the process, I can stop. I've gotten pretty good at just checking in and attending to all the little parts that can get worked up. I am so drawn to your use of empty brackets and erasure, conveying this sense of missing, or stolen, or hidden information. Can you talk about the role of these tools in the book, what they mean to you? This is the reduction in erasure. Each section is headed by a redacted letter, and those letters are drawn from real letters that I wrote in a therapeutic practice, like writing a letter to somebody that you don't send but you can say whatever you want in it. I did that, and it was helpful when I did it. But it was to someone; even though I wasn't ever going to share it, it was to that person. I got the idea in a workshop with Gabby Calvocoressi. They asked us to do either erasure or redaction as part of an exercise, and I was like, "Oh, I have these letters." I was drawn to those letters because I believe I thought—not consciously, not in the foreground of my brain, but somewhere deep—I thought, "I wrote something to myself in here. It wasn't really to this person. This is for me." And so the redactions in terms of what they do for me, and what they did for me in the process of writing them, it was a way of trying to find these messages to myself. This goes back to what we were talking about with artifice. They are a reminder to the reader that the reader does not have access to everything, even though the collection is very forthcoming, very plain-spoken, I think. I hope. It feels intimate, but there are things that people don't know and won't know who do not share that experience. The brackets do something similar, the sort of erased parts and withholding. But what they do for me is that I've taken out some things that I don't ever want to say. I don't want to have to complete the sentence. I don't want to have to save the thing that I'm recounting, that I'm remembering. Thinking about other strategies for taking care of myself and writing about trauma, that particular technique is perhaps one of the more protective ones. I don't ever have to say that thing out loud, and so I'm taking care of myself. My speaker doesn't have to say it out loud, so it's also a kindness to the speaker. I feel like it's an act of tenderness of care. It's like, "We don't have to say that." It's not necessary to say everything; we can say what feels possible to say right now. I'm curious about the structure of the collection and your thoughts about where you were positioning the different poems, and the different emotional tones of the poems, in relation to each other in the book. I feel so pleased with the structure, and in some ways the process of it coming [together] in terms of it existing in its final form. When I initially put the manuscript together, the sections alternated in the ways that they do now: the sections about the end of the marriage alternate with the sections about the father—the sections about the end of the marriage are moving forward in time, is how I think of it. It's like we're coming to the end. It's like a series of oh-no's; I have to figure out how to be by myself. I think the first section is about, who is this person? Of course they're scared. I know that there's a way to flatten out abusers, people who are abusive, [by making them monsters]. And that's not interesting. So I thought I might do a little bit of internal investigation about how I understood my dad's life and his existence before he was my dad, like as a whole human being. But I don't know that much about him; as it turns out, I know very little. So putting the poems together in that first section is really like trying to understand something about the father as a person who had experiences. Then it sort of moves forward into the abuse. It felt important to me to not start with the father or begin with the abuse. That actually felt really important to me. But it felt like I needed to articulate my own progression towards being able to talk about and acknowledge what happened. And that's replicated in the book. Jeff Shotts, my editor, was like, "Can we have some page breaks, some section breaks?" And I was like, "No. Absolutely not." He was like, "Numbered sections." I was like, "Unthinkable. I couldn't possibly." But I listened to Jeff. I might not always agree with his direct suggestions, but I do trust his instincts. I think he really was asking for room to give the reader some kind of respite, like some little pitstops through the experiences. There's room to breathe in the book and the way that it exists now. Before it was like a waterfall, and now I think there are these steps between them that feel careful and caring, too. This is important to me, to the speaker. The speaker doesn't have to rush through all of that, and also the reader doesn't have to rush through all of it. We came back to air. Yes. I'm really interested in the way that you explore the tension between science and faith. It's not a binary tension, but there's a line from In the Chapel of St. Mary's that reads, "I try to find comfort in the inevitability/of science, when what I lack is faith." In Sanctuary, you write, "I call this the difficulty of the nonbeliever,/of waking, every morning, without a god." Can you talk about exploring that faith and prayer aspect, and the word "non-believer" in your work? Greek mythology relies on gods in a particular kind of way. They're very fallible. I stopped believing, or maybe I never really believed in God, when I was in my twenties. And that was really disorienting because it felt wrong. But the Greek mythology still made sense, and part of what I was trying to work through in this book was like, "Why am I still relying on Greek mythology when I don't believe in anything?" I don't have a prayer practice. I don't have meditative practices. The primary practice in my life is writing and writing poetry. But I don't necessarily believe that I am right. There are so many things that I don't understand. I think that in some ways, the book is working through that. What does it mean to have faith? What does it mean to trust that things will be okay? What does that mean to move through the world without a sense of something larger at the wheel? And where I've come to is, strangely, I believe in time. I believe in the experiences that I've had. I believe in trusting my instincts based on my experiences. I believe in relating to people based on the experiences that we have had together. That has been the thing that has made the most sense. And the writing of poems takes a certain kind of time. That time feels long and stretchy, even though it tends not to be on-the-clock long. There's just something about time that feels really comforting. So my sort of new interest, my new direction, I am thinking about time, also geologic time. Because it's so big, and we're so little. At the end of the book, with The moon rose over the bay. I had a lot of feelings., you so beautifully reclaim the land use imagery you started with, and turn it into building something rather than taking something. Can you talk about the process of arriving at that last poem? Was it actually the last poem you wrote for the book? I just thought that last poem feels appropriately hopeful, which is to say not very but a little bit. Like something could potentially happen that is positive. I wrote that poem, again, in a workshop with Gabby. Same workshop. It was a very productive time in Provincetown. And I wrote that before I wrote [the opening poem] House of Air, Hours of Fire, like a full year before. The thing I like about the last poem—aside from its tempered hopefulness which I do really like—it's very tempered, and that's reassuring to me. The speaker in that poem is trying to figure out what the future could look like and hasn't started to make anything. But it's like trying to imagine what the future could look like. Like to stand in a mud field and call it a pasture. I don't really know what a pasture is, and the speaker doesn't either. But it's like, "Okay, so I could make something here. Maybe a life." It feels in contrast with the beginning where that speaker's feature seemed more foreclosed. Here at the end, it does feel like a bit of an opening. And I've often struggled to think about the future. So I count The moon rose over the bay. I had a lot of feelings. as little gestures of hopefulness and possibility.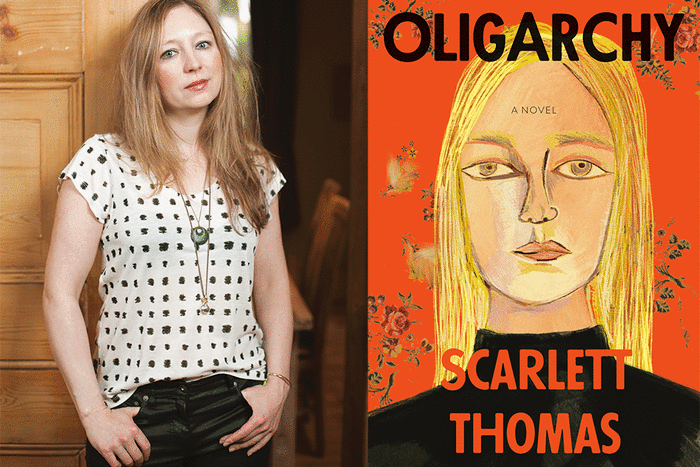 The author of Oligarchy on teenaged girls, hierarchies within hierarchies, and the great confidence tricks of capitalism. 
In The Lying Life of Adults, Elena Ferrante's narrator Giovanna reflects on her adolescence: "I spent the days studying myself . . . as if I were a piece of good-quality material damaged by a clumsy worker. I was I—whatever I I was—and had to concern myself with that face, that body, those thoughts." Giovanna's seemingly boundless obsession with, and revulsion at, her own body (and the perceived disgust of others) seems excessive only until you inhabit the mind of a teenage girl. And then, all at once, it makes perfect sense. There is an absolute, infallible logic of heightened self-consciousness into which Ferrante writes, as does Scarlett Thomas. The British novelist's newest book Oligarchy (Counterpoint Press) begins with Natasha, the daughter of a Russian oligarch, joining a private, all-girls English boarding school. Here, Tash (the "more English" variant of her name) finds herself in a rarefied world of money, angst, and the all-consuming desire to be thin. Tucked away in a turret, the most remote of the school's dorms, it's as if Tash and her friends (including Tiffanie, who "is too lazy, too French, and frankly too fucking cool to learn English pronunciation") were "put here for a deliberate reason, to make them feel different from everyone else: to make them go bad." Haunted by the ghost of Princess Augusta, whose portraits line the school's gothic hallways, the "bad apples" (later, just "apples") are consumed by what teenage girls are often singularly devoured by: themselves. Thomas's novel is an account of the interior lives of adolescent girls; a text haunted by all of us who have walked those strange corridors before. Oligarchy is also every boarding school story you've ever read gone wrong; or rather, gone true. Thomas writes: "On Sunday night the girls break out of the attic dorms and it's like an Enid Blyton book except it isn't because in what Enid Blyton book do girls escape at midnight to weigh themselves on kitchen scales that they then break?" Blyton's Claudine at St Clare's, who limited herself to tiny portions of cake, certainly couldn't have conceived of it. But Ferrante's Giovanna probably could have. And Tiffanie? Well, it was Tiffanie who broke the scales. Richa Kaul Padte: You write of teenagers: "They raise their eyebrows and lower them again and experiment with the sort of make-up that male teachers can never detect but female ones always can. Not because they plan to lie . . . [but because] at fifteen you have to practice everything you do." I'm always so grateful to have left that awkward age behind, but at various points Oligarchy made me go: "Wait, do I still . . . do that?" Do you ever still feel the extreme self-consciousness of being a teenage girl, or did you write it purely from memory (or research!)? Scarlett Thomas: Oh my God—totally! Most recently, it's been about Zoom calls; first experimenting with all the normal filters, and then adding lighting and plants in the background. I now do my makeup with Zoom open, and as a result I think I look okay on screen but kinda weird IRL. Recently I had to have a meeting on Microsoft Teams, and I spent about half a day trying to get Snap Camera to work with it just because I couldn't bear to appear unfiltered. There's so much technology now to assist this sort of thing. I take pictures of outfits now too—although that does actually save time when deciding what to wear. I feel so comforted by this! Last year I read Elisa Gabbert's The Unreality of Memory, in which she talks about how our selfies feel truer and more like "us," because it's the same image we see in the mirror. On the other hand, candid pictures can feel quite alarming, because at some level we literally don't recognize ourselves in them. She writes: "It's the reflection that's inaccurate, but to us, the unreversed face looks wrong." Do you mirror your image on Zoom? (I definitely do!) Actually, no! I did at the start, but then I sort of became obsessed with this other, weirder self that I didn't know at all. On the one hand I'm trying to make myself as fake as possible (all the filters, etc., as I said) but on the other hand I'm so obsessed with the image that's seen that I want to work on the canvas as I know others are experiencing it. Also I like seeing my book jackets non-mirrored. Bodies loom large in your text—even when they're practically disappearing. There's this great paragraph I wish I could quote in full, but some of it goes: "Rachel, whose dark regimen of pubic hair has paraded shamelessly up to her belly button and down her thighs . . . Lissa, whose T-zone cannot be absorbed by all the cotton wool balls in the world . . . Donya, whose underarms smell of offal." Are the keenest observers of teen girls' bodies other teen girls? Where does this lead? I think part of being young is about just how much you notice. Kids drink everything in in a way that adults don't. When I was young, I noticed everything, remembered everything. And I guess I was super-critical in a way I definitely didn't understand. I sensed that I had this thing that adults wanted, but also that the thing was utterly without meaning or value. Having perfectly clear skin or visible collarbones is just random—or worse, it denotes being young and inexperienced. Who wants that? (Obviously I want it now I don't have it any more, but back then I just wanted to be "experienced.") There seems to be a sort of public acknowledgement thanks to the new Britney documentary that teenage girls—including queen Britney, herself—have so much less power than we imagine they do. And I wonder if that imaginary has to do with precisely this: that as adults, we want what they have (or what we once had), so much so that we forget how very little control teenage girls are actually afforded? Yes, absolutely! It seems to be one of the cruel ironies of life that you want to be old when you're young, and then young when you're old. And the celebrity thing is fascinating. One of the great confidence tricks of capitalism is to make us believe that "stars" are powerful. Everyone grows up dreaming of becoming famous, but of course that means being exploited—literally becoming a branded item for sale. In that sense, Britney is less a human and more a product that broke down or malfunctioned. Why do we want that, rather than to become an exec with actual power? Growing up, I attended a very expensive boarding school where I was a day-student (my parents were teachers so I got to go for free). And something I really loved about Oligarchy was that it's the only boarding school story I've ever read where a day-student doesn't feel left out because they aren't in dorm, but because they don't have money. Which is exactly how I felt, surrounded by the many expensive things my friends so casually owned and used and lost. Was this a conscious choice, or have I just latched on to this detail given its personal resonance? It was conscious—I'm interested in hierarchies within hierarchies. Where other people might just see "wealth," I always want to look for the nuance. It's great, because we do start by thinking that everyone is just "rich," but it's all so relative. Even the context of an elite private girls boarding school is eventually revealed as "less-than" old English public schools (like Eton). Given that this is all still the one (or maybe . . . three?) percent, what do you see as the value in prying apart these distinctions and hierarchies within wealth? For me it's less about the wealth and more about the hierarchies themselves. Hierarchies can be based on other things—attractiveness, daringness, or anything—but the key concept for me is always power. Who has it, how do you get it, how do you lose it?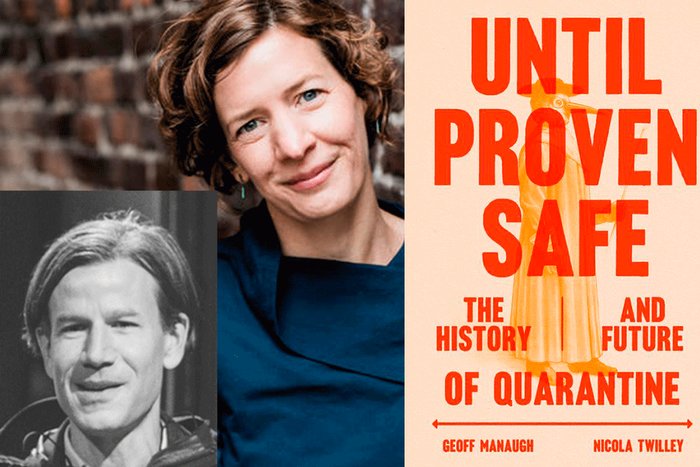 The authors of Until Proven Safe on the ongoing pandemic, the history of quarantine, and our existential precarity.
In August of 2019, Geoff Manaugh and Nicola Twilley gave a lecture in Moscow on the phenomenon of quarantine. "I would go out on a limb and say that we are entering the age of quarantine," Manaugh said toward the end of the presentation. "If everyone at this event at some point in their life experiences quarantine, it wouldn't be entirely surprising." This prediction was eerily accurate. Due to the global spread of COVID-19—the first cases of which were identified a few short months after the aforementioned lecture—the once obscure subject of quarantine has taken on new relevance. While Manaugh and Twilley's Until Proven Safe: The History and Future of Quarantine (MCD) is a timely release well suited for our current moment, it is not a book dealing strictly with the present. Rather, it tracks the historical evolution of quarantine, the origins of which date back to the 14th century. Heavily researched and inquisitive, Until Proven Safe is an atypical travelogue of quarantine sites that includes the lazarettos of Croatia, the International Cocoa Quarantine Centre in London, and a radioactive waste depository in New Mexico. Along with carefully considering the spatial and temporal implications of the legacy of quarantine, the journalistic duo also looks toward the current pandemic to examine what we can learn to guide us in the future. Manaugh and Twilley, who are married, spoke with me over the phone from their home in Los Angeles. Both are accomplished thinkers in their own right: Manaugh is the creator of BLDGBLOG and author of A Burglar's Guide to the City; Twilley is a New Yorker contributor and co-host of the podcast Gastropod. It was exciting to have them on the line at once. It wasn't a light conversation, but it was engaging, much like the couple's assorted work. Andru Okun: As your book notes, the last mass quarantine event before COVID-19 was about a hundred years ago. I know the interest you both have in quarantine pre-dates the pandemic, so I'm curious to hear what it was like to have a subject you had been researching for years suddenly enter into global public consciousness. Geoff Manaugh: Speaking for myself, it was kind of an emotional rollercoaster to be working on a project that, to be honest, was relatively obscure up until about a year-and-a-half ago. Even some of the experts that we talked to for the book thought of quarantine as a thing of the past, that we had moved on to other solutions to dealing with pandemics or contagious disease. We went from feeling as if we were writing a book that made people look twice at us—wondering why on earth are you interested in quarantine?—then suddenly every trip to a restaurant, bar, or gym there'd be a TV on and people would be talking about quarantine. It kind of felt as if our book had leaked out into the world and taken things over. It definitely made us get the book done; we realized that this was something we had been well placed to write about because we had been researching it for so long, and now was the time to finish it. Nicola Twilley: One funny thing is that the book was actually going to be called The Coming Quarantine. Then, of course, quarantine came, so it got a new title. Geoff said it was a rollercoaster and it was. One of the emotions was frustration at seeing all of the challenges, abuses, and issues around quarantine that we had seen through our research for the book. It was almost this strange déjà vu where everything we had learned about quarantine played out in real time, but it was so frustrating to see we hadn't really learned from quarantines past. In some ways, it made the book a little more activist than it would have been in really flagging how we can do this better next time. I imagine you've both formed opinions on the recent pandemic responses throughout the world. Where do you think quarantine measures have been successful and where have they failed? NT: There's a few examples of success that are interesting for different reasons. Quarantine was initially reliant on islands when it was formulated during the Black Death. Dubrovnik used islands, Venice used islands—that built-in cordon sanitaire of the ocean has always been useful. And it was no surprise to us to see that the countries that did well in keeping COVID out were island nations. New Zealand and Australia were able to take advantage of the ocean and their relative geographic isolation. The other places that have done well, frustratingly, are the ones that used the U.S. pandemic response playbook that we ourselves did not use. One of the central figures in our book is Dr. Martin Cetron, the head of the CDC's Division of Global Migration and Quarantine. We spoke to him a couple of times during the pandemic, and we could hear the anguish in his voice explaining to us that, say, South Korea was running a playbook that the CDC had written and trained them on, and yet, the CDC was not implementing this playbook itself. GM: While in agreement with everything Nicky said, quarantine is really a very specific thing. It's different from a lockdown or a stay-at-home order or social distancing. In the United States, if you do in fact say it's quarantine, and if you are quarantining individuals, that comes with a federal duty of care for making sure people can get through quarantine. They'd have accommodations and access to food, maybe even wage coverage. If it's just a lockdown or a stay-at-home advisory, then there's no real obligation to do anything for those people. So, basically, you're asking the population of a city or a nation to take on all of the loss, risk, and responsibility of mitigating a pandemic disease but not doing anything to help them. In nations that took it seriously—that said, we're going to pay lost wages or make up for some of the loss that goes into a pandemic response—people were more willing to do the things they were asked to do. NT: The U.S. is more individualistic and doesn't have public safety nets in place. It's like we say in the book: there's no public health without a public. Countries that don't have a strong culture of public welfare or public good did worse. Why is this distinction between quarantine and isolation so important? NT: These terms do get used interchangeably and we're not pedantic about it, but one of the things that makes quarantine so interesting is this element of uncertainty and suspicion that makes it so powerful and prone to abuse. That's why we focused on it. GM: We didn't write a book about isolation or pandemics. We wrote a book about quarantine specifically because it's so metaphorically interesting. Quarantine means you don't know if you're infected or infectious; you don't know if someone or something is dangerous. So, quarantine takes on these really interesting, almost poetic overtones—there's something inside of you that might be waiting to reveal itself, and quarantine is the time and space needed to give it a chance to appear. I think that metaphoric aspect is one of the things we tried to emphasize in the book as well—that you find quarantine operating at different scales, far bigger than just medical response. It informs our mythologies, our sense of ancient religion. It gets into a poetic discussion that I think is quite exciting. Would you elaborate on these metaphorical implications? GM: During the Black Death, quarantine was expanded from thirty days to forty days, and it was done because of the biblical resonance of forty days—it ties back to Christ's time in the desert and the rainfall that caused the flood for Noah's ark. The number forty provides this sense of quarantine being tied back to something much larger than oneself, and it thus gives it a kind of theological weight. "The Masque of the Red Death" [by Edgar Allan Poe] would be a classic literary example of this idea of separating from others and waiting to see if something is in you. Arguably, it's a story about isolation, but to a certain extent, it's a story about quarantine. The wealthy of the society seal themselves off to avoid catching a hemorrhagic fever, only to find that they've locked themselves in with the disease. Quarantine pops up a lot in contemporary horror as well, even in a movie called Quarantine that came out in 2008, as if the title itself was enough to let you know it was a horror story. On a mythological level, one of the stories that I love because it's so fascinating from a cultural point of view is the story of Alexander's gates. Alexander the Great, when he was conquering the open lands of Asia, had built a huge set of gates in the Caucasus Mountains that would divide the Christian West from a monstrous Eastern other. It's also very interesting because the Caucasus Mountains became sort of pseudo-scientifically associated with the origin site for the Caucasian race; there's something fascinating about the idea that Europeans actually thought that at the very heart of what it means to be Caucasian is a set of iron gates in the Caucasus Mountains dividing them from the "other" that challenge their identity. Although that's a story of separation, it touches on some of these themes of how quarantine, isolation, and spatial segregation impact even our identities as ethnic races. NT: Another example is how the Austro-Hungarian cordon sanitaire—or quarantine corridor—ended up informing European vampire myths. For about a century, there was a thousand-mile quarantine corridor along the imperial frontier of the Austro-Hungarian empire. It went through Serbia, Bosnia, Croatia—this swath of land that was at the edge, neither one thing nor the other, a sort of liminal zone in which travellers crossing had to wait and see if they were carrying disease. And the people who lived there had to serve on the quarantine line. It's had a lasting impact on how people conceive of the edge of Europe, how that region functions. It is also the home of vampire sightings in Europe. So, there's this idea that there's a zone of suspicion, and inside the inhabitants are neither healthy nor sick; it's also the home of these sort of liminal, living dead figures. It was interesting to see that these edge spaces are home to monsters, as well as people waiting to see if they have a disease. I was particularly fascinated and horrified to learn about the "American Plan." I had no idea of this piece of American history. NT: I also had never heard of this; I don't think it gets taught in school. When people look back at mass quarantines of the past, they tend to look at the 1918 flu. But around the same time, there was this Orwellian-sounding American Plan that used quarantine to detain suspect women. A new generation of women were starting to not just stay at home, get married, and have kids; they were moving to cities and working in offices and factories. That newfound independence was causing great alarm among the patriarchy and there was a fear that these "loose women" (and there was no evidence that they were particularly loose) would infect America's young men with STDs. There was no sense that America's young men might bear some responsibility for that or might be even able to avoid those STDs. Quarantine was used to detain these women on suspicion of spreading STDs and it was used widely and in very biased way[s]: African American women were detained under American Plan laws at a far higher rate; people used it for personal vendettas, like husbands reporting their wives after an argument to have them detained; bosses reported recalcitrant workers to the American Plan officials. It was an ugly set of laws and even uglier in its implementation. There's one book about it that came out, [The Trials of Nina McCall] written by Scott Stern, who wrote his Ph.D. thesis on this and then turned it into a book. Until then, I think it was a forgotten piece of American history and a fascinating example of how quarantine could be abused. Do you think we've seen similar abuses of quarantine during the current pandemic? GM: We certainly have. We see that a lot in how potential guilt has been assigned to an entire class of people. In the early days of the pandemic, a lot of divisive language was used to describe Asian individuals—whether they were U.S. citizens or foreigners—as potential carriers of COVID-19. The attitude toward who was considered potentially contagious or quote-unquote dirty or a risk to others. To a certain extent that's continued, as seen in the huge spike in crimes against Asian Americans. I think that the rhetoric we saw from the previous presidential administration also carried on these themes of who was a risk and who was a threat to the American public and the health of our nation. NT: This is a slightly different example, but another thing that's always been true of quarantine in history is that the wealthy and the poor are viewed and treated differently. Even in the very first quarantine regulations in Dubrovnik during the Black Death, essential workers had to stay and the wealthy were allowed to flee. You saw that display of limitations of people's mobility during COVID-19, too. In regards to how the U.S. handles quarantine, there seems to be an issue of guiding principles. Given how profit-driven the country is, I question how possible it is to even have a successful mass quarantine unless people figured out how to profit from it. How do you think current socio-economic factors impact our susceptibility to pandemics? GM: I absolutely think that larger questions about inequality, wealth disparity, access to health care, and even access to a home (if you're being asked to stay at home, you need to have a home to stay in), all of these conversations are relevant. I also think that that's exactly the role of governance—and I'm saying this as a believer in government. That's when government steps in to fill a void that is otherwise unaddressed by economic or social circumstances. It's the government who would be responsible for the individual in the case of last resort, so you can make up for lost wages. Or if you're asking someone who can't afford to quarantine because they still have to buy medications or put food on the table and they don't have savings or have family members that they're trying to take care of, then they actually have a way to make up for that and they can afford to not work. NT: One interesting thing that a former head of the CDC, Julie Gerberding, pointed out to us at a pandemic simulation is that the U.S. has a very well-funded military with the sort of health care that you would hope to see. When it quarantines, it provides housing and people continue to get paid and their families are fed. The military does quarantine and health care right, and the U.S. taxpayer funds that. It's interesting to me that we have this example that is much more functional, and yet there's an unwillingness to expand it beyond that limited group. One of the things we saw again and again in pandemic simulations, [was that] people who were supposed to evaluate our pandemic preparedness would talk about our manufacturing capabilities and our PPE reserves, but our preparedness to quarantine never came up during these simulations. As Geoff said, can people do what is being asked of them? And if not, how do we make them ready to do so? How do we put in place the structure and resources that would make quarantine possible? As we write in the book, quarantine was just invoked and not discussed or imagined in any way as an experience. There wasn't thought given to what it would be like to be prepared for it. GM: Also, you mentioned if people could figure out how to profit off of quarantine. I genuinely believe that's going to happen. I think there's a drive to get in on quarantine as a business model. One of the things we try to do at the end of the book is look at a rise in the quarantine profiteer—people who are trying to disrupt quarantine in the Silicon Valley sense—and get ahead of it. So next time there are stay-at-home orders, maybe your smart home can be an active participant in your medical isolation. Maybe your subscription Amazon purchases can be used to help mitigate the kind of difficulty of staying at home. We're already seeing everyday appliances becoming diagnostic tools—our Alexas and other always-on microphones can pick up the sound of a cough and detect whether it might be COVID-19 or not. We're seeing the rise of all kinds of things that are going to turn quarantine into a niche industry. To be clear, I say this in the dystopian sense and I'm not advocating for it, but I do see that there is going to be profit made in keeping people isolated from one another. And so, it will be quite interesting to imagine when the next pandemic hits exactly who makes money off our quarantine experiences. This is actually something I wanted to talk about. Contact tracing and genomic sequencing have shown how collecting information can help us respond to viral outbreaks. But on a smaller, more personal scale, data presents some frightening scenarios, like the hypothetical of the hyper-connected smart home determining that a person living within it is potentially contagious, then imposing quarantine upon them by locking them inside against their will. As far as pandemics go, how concerned should we be about surveillance and diagnostic infrastructure? GM: I would say that diagnostic infrastructure is not in and of itself dystopic, but I think the idea that corporate interests will find a way to spin a profit off of making sure that we stay isolated from one another has dystopian overtones. I think it's a really complex and nuanced conversation because I don't think the answer is that we need data privacy. It goes back to what Nicky was saying, that we can't have public health without a public. If people are known to be carrying highly transmissible diseases that are threats to the general public body of a nation or city, public health officials need access to that information. They need to know who is infected and at what stage of the infection they are in, so I think that the testing and tracing infrastructure is important. It belies the idea that we all have to have absolute privacy over all of our data. At the same time, obviously we don't want to turn all of our medical diagnoses over to the public so that everybody knows our illnesses and ailments. So, I think that we're constantly going back and forth between information that is vital for public health versus information that is being sold to corporations that potentially don't have public health in their interests. One of the examples we use are bleach companies or vitamin firms getting access to our state of health—curing illness is not necessarily in their interest if they can profit off of cleaning surfaces for the next six months or selling cough drops instead of a cure. You get into not just mixed messages regarding whether or not they're on our side, but incentives that could potentially go against public health itself. NT: Adam Kucharski, one of the epidemiologists we talked to, has been working on modelling for the U.K. government, and I think he has a really smart attitude to this. He relies on data, and sometimes data that you might otherwise be very reluctant to share about your movements and interactions with people. His point is that it requires trust; if you're asking people to do this, you have to demonstrate a social benefit. You have to think in terms of permission rather than just doing it and hoping you get away with it. You have to involve people; if it's for a social good then it should be a social effort. The data gathering in and of itself is not inherently bad; using that data to limit people's movement is not inherently bad. How the protections and the process around building that system work is where the nuance lies, making sure that it's being done for the public good and not private profit. One thing that's worth noting is that throughout the pandemics of history, surveillance and quarantine have gone hand-in-hand and the tools of that surveillance and that monitoring of people's movement have hardened into the bureaucracy we know today: the border control, the passports. There is a real risk that things put in place to manage a pandemic will harden into a new reality without discussion. I think we would all do well to have the kinds of discussions that Adam advocated and that we advocate, too. The pandemic is still very much ongoing, but I have wondered about what aspects of the past year-and-a-half will stick. Do either of you have any thoughts on that? GM: It will be so fascinating to see what the remnants of COVID-19 are and how it changes cities. I think that there are certainly positive things, like the changes to the use of the streets for outdoor dining. It's almost like the Europeanization of American cities in the name of social distance, so you can eat outside in a way that would be typical for a European city, but that isn't something that you see very often in a place like Dallas. I think that things like that would be great if they stuck around. Other minor cultural quirks might change, like handshakes; although, it's funny to see people who can't stop shaking hands. I could definitely go the rest of my life without shaking hands again. I think that the hand sanitizer market is likely poised for a permanent boost, in terms of having hand sanitizer stations everywhere. This also ties into the argument now about vaccine passports. These things already exist in the sense that you're required to get certain vaccinations before going to schools. For travel, there are recommended vaccinations for places where you might be exposed to certain diseases, but now that it's happening with COVID-19 there's this kind of exaggerated political outrage. But will we see vaccine passports become a permanent part of life? Or having to bring your vaccine card around? All these things are going to be interesting to track in the months to come. NT: And, certainly, there are examples in other countries, like the way China expanded its Alipay system into a health and mobility control app. I don't see that being rolled back. One thing that I think is interesting is that in the U.S., so much is driven by the idea of liability and trying to avoid it that it's actually businesses and universities (which are basically businesses) that are figuring out how to bring everyone back together but not make ourselves liable to a COVID super spreader event. So, what you're getting is these businesses—not in discussion with their employees or consumers—implementing different testing regimes, whether it be swabbing buildings or monitoring sewage or air quality. And those kinds of monitoring systems also are invasive of peoples' privacy. That's all being done right now without any real oversight, guidance, or consultation, all in the interest of liability. We've been taught to think that we're on CCTV in public spaces, but we haven't been taught to think that what we're breathing out is now being surveilled through an air quality sensor. And that's personal information that we're leaving in a space that's being gathered, and it's not necessarily something we agreed to. Surveying air quality or swabbing surfaces as a sentinel of disease is a great idea, it's just something that you want to think twice about the privacy issues around before implementing and ideally have a conversation with people whose privacy is going to be invaded in this way. While reading this book, I felt like I was being regularly reminded of how incredibly vulnerable the human species is. For so many people, there seems to be a very deep-seated unwillingness to acknowledge this precarity, an unwillingness that is especially pronounced in affluent countries. I'm curious to hear if either of you feel the same. GM: I agree with that. That comes to the fore whenever there's a blackout basically anywhere in the United States and people suddenly realize how thin the line is that keeps us back from a much earlier age in which we maybe don't even know how to survive. We certainly don't know how to make our goods or grow food. I think one of the reasons why there's been a decade-long interest in infrastructure—especially in architecture and geography—is that it's almost a branch of precarity studies. It's people looking into these systems that are otherwise invisible and exist on the periphery of the world and yet keep everything moving. It's like the stagecraft that allows the actors to get through their roles, and I think that kind of interest—at least in an academic world where people are interested in writing about ports, electrical infrastructure, or hydrology—all of these things are an attempt to shine a light on that precarity. I think that people don't really want to admit that things are as bad as they are. One of the things that's funny is that every political ideology has its own pet disaster, and I think on the right there's a huge fear of electromagnetic pulse weaponry, but it's a very peculiar worry that is specific to conservative geopolitical thinkers. The idea is that North Korea or a similar power will explode a nuclear weapon in the atmosphere above the United States, and so, while it won't kill everyone with an explosion, it will short out all of our electrical devices, including our power stations and cars. So, there's this idea that we have to harden ourselves against the disappearance of civilization, which is to say the short-circuiting of our infrastructure. I think that's fascinating. NT: The larger, more abstract way that I think about this, and it comes up in my refrigeration research all the time too, is that we have not assigned economic value to resilience and we have assigned economic value to efficiency and optimization. So, we have a system that is highly efficient and optimized (of course in some cases it's not actually that efficient, but it's economically efficient and not resilient). I think the idea of incentivizing resilience—or even requiring resilience through regulatory means—is something that we really need to do. Climate change is making this increasingly obvious, but it is something we're very reluctant to do because the benefits are almost invisible: it's things not going wrong. It's hard to get excited about that, as it's not a clear win in the same way. We saw this again and again in the pandemic preparedness sphere, these big simulations where the same things would go wrong every time. But until they actually go wrong, there's no incentive to do anything about it. When you say "resilience," what specifically do you mean? NT: It looks different in different examples, but resilience could be not having a supply chain that is entirely dependent on the Suez Canal being open, for example. It could be not having a fruit and vegetable supply that only comes from three states, as that's inherently fragile. GM: Redundancy is a really important thing, to have a backup. Also, I think COVID-19 has shown us the limits of just-in-time inventory and infrastructure. Companies have gotten so used to having something shipped in on a twenty-four-hour notice, that we've seen a lot of companies just running out of goods. Products are running short on shelves. Starbucks was the big story recently because they were running out of ingredients and didn't have access to things that they needed for their drinks. The global economy has become really dependent on this just-in-time approach to life, it's almost become an ideology. I think resilience would be not being dependent on [things being] just in time, even though that would have its own costs built into it. It also seems like there's an issue of precedence. There are people in power who don't want to set up a dynamic in which they help another country out of a dire situation because I think we all know, even if we don't want to admit it, that more dire situations are certainly on the way. Which brings me to nuclear waste . . . [Laughter] Your reporting on nuclear waste was an unsettling illustration of how difficult it is to safeguard against human error. How did you arrive at the subject of geologic disposal? GM: What we wanted to do was look at the outer limits of isolation technology in terms of how we think of threats and dangerous material, as well as how we try to contain it. There are so many similarities between the burial of nuclear waste and some of the protocols that exist for quarantine and high-level isolation units in hospitals. There were many similarities we saw between how Ebola patients would be treated in London and the Royal Free Hospital and how the nuclear waste isolation pilot plant in New Mexico is run, in terms of circulation, filtration, and air ventilation. When you get into nuclear industry, these interesting similarities are scaled-up dramatically, and what we wanted to look at was how we handle something that has a danger that is far in excess of an individual human life, if not the lifespan of human civilization itself. How do we figure, model, confront, and build for that? That led us into nuclear waste as a way of looking at containment, isolation, and, to a certain extent, quarantine vis-à-vis taking something dangerous out of society and placing it elsewhere in a kind of sacrifice zone. We thought that there would be lessons to learn from that; that we could look at the way that systems are designed for long-term, if not permanent, isolation and see how both metaphorically and literally those same systems might inform a quarantine station design or the design of a hospital. NT: The second half of the book, where we look at planetary quarantine and agricultural quarantine and nuclear waste isolation, we thought that by looking at how we implement these protocols in different fields that we could get perspective on things that are harder to extrapolate when you're talking about just quarantining humans. When the consequences are existential, you have to approach risk differently. You can't approach it in terms of likelihood, you have to approach it in terms of its consequences. Looking at nuclear waste isolation helped us pull out larger threads that apply to quarantine and isolation as a whole. GM: One of those things is the challenge of communicating risk to future generations. That's something we saw throughout the history of quarantine and even during COVID-19 where there was a struggle to communicate to people that this is actually dangerous, a real virus that should be avoided. People don't always believe the information and they may not trust the authority that's communicating it. In the history of quarantine, we saw that houses being marked as dangerous or under quarantine were specifically targeted by criminals and burglars as places to break in and steal items because those were seen as unprotected houses where things could be taken. In other words, the warnings weren't heeded even then, so there's a challenge to communicate over huge spans of time that a nuclear waste site is in fact a place to avoid, that the danger is real and the risk is not exaggerated. That was a major aspect not just of the nuclear waste chapters, but also just the entire challenge of communicating the need to quarantine. This last question is very much an existential one: Until Proven Safe claims that there's an increased likelihood of quarantine in the future. Generally speaking, how optimistic do either of you feel about our ability to handle the crises that await us? GM: Ooph. I guess I'd say, for me, there are at least two answers to that question. In terms of the prognosis that we're going to quarantine more, not less, in the future, I definitely stand by that. If we take the time to learn from this pandemic and to learn where and how quarantine worked or failed, then we can use quarantine as a very simple spatial power to address disease mitigation and to prevent the next pandemic from being as bad as it could be. Quarantine has a reputation for political abuse and for being ominous and dystopian, but at heart it's just an unbelievably simple form of personal responsibility that says we're going to take some time apart and ensure that we're not a danger to one another. I'm optimistic that if we're able to make quarantine work as a tool then it will become appreciated for what it is as opposed to feared. The other question I think is just a temperament question: am I optimistic about our ability to address challenges? Nicky and I kind of swap back and forth between who's the doomsday foreteller here, but I would say that I am not optimistic at all that we're able to address these larger problems as a civilization or as nation-states or even as a species. Again, I think that's a temperament question rather than a rational, political assessment of where we are. I would say there are many larger problems than COVID-19; there are many diseases that are much more fatal and dangerous; there are other problems like climate change that we simply are not addressing right now, and those stand out to me. But Nicky, what do you think? NT: I see no evidence that society at large has learned from pandemics past. Individuals have; again, Dr. Martin Cetron at the CDC did a detailed study of what had worked and not worked in quarantines past to come up with new federal quarantine regulations that do all the things that we need to do to make quarantine work. It's just that they weren't implemented at scale—we were in lockdown deliberately, not quarantined, and we didn't follow the CDC playbook. So, individuals can learn, but whether we as a society can learn, I see no evidence that that's been the case in the past, therefore I am not optimistic we will. We need to; we need quarantine. We're going to use it again, as Geoff said. We need to redesign it so that it works better next time, and if I had to put money on it I would say we're not going to. I would really like to be wrong.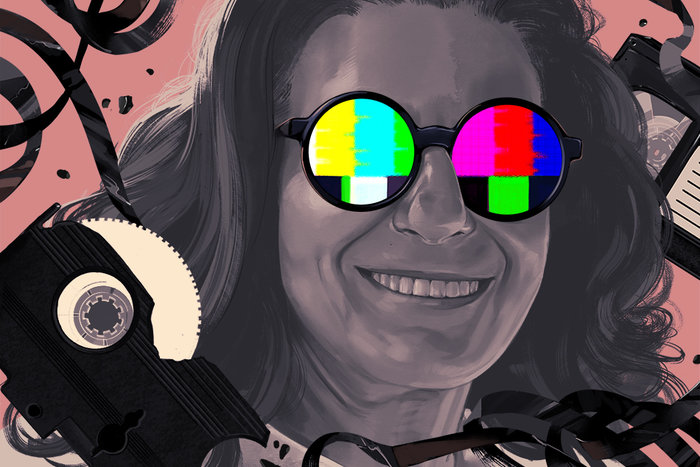 What does it take to preserve an independent filmmaker's oeuvre?
In 1986, seven female independent filmmakers from five different countries came together to interpret the seven deadly sins for a film called Seven Women, Seven Sins. In preparation for filming Anger, New York-based filmmaker Maxi Cohen placed an advert in The Village Voice that read, "ANGRY ? ? ? ? WHAT MAKES YOU ANGRY? I'M MAKING A FILM ABOUT ANGER. PLEASE CALL 976-5757." She made a second casting call on a local radio station. The host said, "I think you picked the right city. New York is the anger capital of the world." Cohen interviewed her ad respondents on BETA-SP, a then cutting-edge Sony camcorder, resulting in a collection of narrated traumas: a young woman with white-blonde curls recites the details of being raped and, years later, stabbed, expressing a wish that all the evil in the world be concentrated on her attacker; a couple who loathe each other but can't afford to stop living together form a wall of hateful noise; a man in sunglasses recounts murdering four people. The most remarkable aspect of these interviews is the accepting calmness in Cohen's voice. "I do feel like I speak to people's higher selves, and hope that I create a safe space so that they can honestly reveal them," she says. "When you see a documentary, sometimes it's hard to realize that it's just as much about the filmmaker. Somebody else might get different responses or not as much openness. It's my nature that makes people feel comfortable and safe and open." She is not intimidated by bearing witness to these raw stories. Cohen's flair for gathering confessions from everyday people is a constant in her films. Second Grade Dreams (1983) is, literally, a collection of seven-year-olds relaying their dreams. Intimate Interviews: Sex in Less Than Two Minutes (1984) features women talking about sex. Las Vegas: Last Oasis in America (1982) brings together a patchwork of eccentric Vegas characters, including kids with sage insights on gambling. Birty: Godmother of Watts (1994) is a moving portrait of a Black 50-something foster mother in Los Angeles who has suffered several lifetimes worth of state-inflicted losses to her family, yet persists in caring for the vulnerable, including two drug-addicted babies. Much of Cohen's work blurs the line between fiction and documentary. In Boney (1982), Cohen's long-time collaborator, and a spoken-word artist in his own right, Joel Gold, improvises an outsize character walking the streets of New York. The Edge of Life (1984) is metafiction chronicling a day in the life of a video artist with a striking resemblance to Cohen, filmed in her own SoHo studio. How Much Is Really True? (1989) features Cohen herself as one in a group of four women who take a trip to the beach. Sometimes Cohen invites members of the public to enact her filmmaking ideals. In South Central Los Angeles: Inside Voices (1994), she gives cameras to members of the Black, Latino, and Korean communities who lived and worked in the areas most affected by the 1992 LA riots sparked by the police killing of Rodney King, a Black man. The camerapeople embed themselves within their own communities and the combined footage is a panoramic people's history of a major moment in US civil unrest. The Belgian auteur Chantal Akerman also contributed to Seven Women, Seven Sins (she was Sloth). Akerman's death in 2015 brought on retrospectives that included screenings of the film, which, in turn, led to renewed interest in Maxi Cohen's body of work. The majority of Cohen's films had been made using magnetic video, a medium that formed the basis of grassroots political and artistic filmmaking from the '60s until the '90s but is now more or less obsolete. "We had been asked by curators to do this retrospective of all my work and it really wasn't available," says Cohen. Established filmmakers are more likely to have the financial means or machinery in place to preserve their work for rediscovery and retrospective. Artists putting out work on niche formats, who are relatively unknown, are more likely to lose it to the whirligig of life. The possibility of a legacy is weighted towards those whose interests dovetail with market forces at a crucial moment in their creativity. Is it up to an individual to try to secure their legacy? Or must they succumb to luck and collective impulse, as unfairly stacked towards the ruling classes as these forces tend to be? How can artists from more disadvantaged backgrounds give their work the best chance of survival? *** Cohen has been interested in the arts since her stage debut, at age two, as a rabbit in a local theatre production. In her early years, she tried dancing, the piano ("but my mother told me I was tone-deaf"), and painting. "The truth is, I wanted to be an artist. I wanted to be a painter. I thought, 'If I learn to animate, I can paint.' So I went to New York University to do animation. I thought they had animation classes. But they didn't." A lack of animation classes wasn't the only issue Cohen had to contend with. NYU was a lonely place to be in the late '60s for a woman trying to figure out her creative path in a sea of men. On the surface, she had arrived at an aspirational location, for the school was scattered in stardust. Martin Scorsese taught classes and Oliver Stone was often around. These trappings belied the rampant misogyny which meant that Cohen was constantly second-guessed by the men in the film department. As she puts it: "The guys who ran the equipment all knew better than you did." Cohen's driving force was not a particular career role, but the expression of ideas. So when her class was given an assignment to make a three-minute film about how to open a door, she was unimpressed. "I thought that was the stupidest assignment. Instead, I raised some money and made a film about Black Jews who were hiding in the pine barrens of New Jersey, who had escaped the anti-Semitism in the ghetto of Philadelphia. I thought, 'Nobody's made a film about them. That's much more interesting than how to open a door.'" Due to the steamrolling nature of the men in the film department, this project was subject to interference. "One of the guys in the film department who handed out the film cameras said, 'Let me come shoot it for you,' and he was just horrible to work with. He took over and then most of the film was light-struck." This patronizing attitude was everywhere. Haig Manoogian (to whom Martin Scorsese dedicated Raging Bull) told her that women had no place as filmmakers and that she should probably leave school because "the best I could become was an editor, and the best grade I could get was a C." Nonetheless, she kept plugging away. "I tried to take as much advantage of the situation to discover what it was that I wanted to do. I had to figure out why I was there. I knew that I wanted to make this film about my father because he was a bigger-than-life character. That was the way I reasoned being in film school." The film about her father became Joe and Maxi. It was released as a documentary feature in 1978, immediately stirring both praise and controversy and securing a cult prestige that causes it to crop up in repertory programmes to this day. Mainly shot on 16mm when Cohen was 23, eight months after her mother died from cancer, it's framed narratively as a way to bond with her dad, Joe, after years of estrangement. Theirs had been an inappropriate relationship when she was an adolescent, involving sexual behaviour and beatings. She was scared, but she never stopped loving him. Joe and Maxi is a casually shocking chronicle of a dynamic that veers between touching and queasy. The vulnerability that Cohen would later inspire in her interviewees finds precedence in her own emotional nakedness before the camera's gaze. She is unafraid to show herself stunned into silence by the tsunami that is Joe. Formal rather than filmic influences set the tone of the documentary. Cohen learnt her craft through working on magnetic media, where she says that editing meant literally cutting then scotch-taping film back together. To avoid too much of this, she developed a habit of shooting in long takes. "Years later I saw Faces. John Cassavetes could have influenced me but I hadn't seen him at the time," she says. When Joe and Maxi was released, documentaries tended to be contrived around a pose of objectivity. As Cohen recalls, "Somebody would be shooting and you would have a narrator explaining what you saw or interviewing someone. My favourite accolade for Joe and Maxi came when it was played in LA. Some guy came up to me and said, 'Who played your father?' It was so real, he thought it was fiction! The intimacy and this way of working was instinctive. When I made video, the camera was an extension of my hand and my mind. A lot of people have told me over the years that Joe and Maxi influenced them, filmmakers who are very well known and who are much more successful than I am. . . .I don't know if I should say this but Michael Moore once said that to me, and Judy Helfand and Michel Negroponte." *** Magnetic media marked a revolutionary departure from earlier television cameras, which were so heavy that vehicles had to transport them. In 1967, Sony released the Portapak, a two-piece set-up composed of a video camera connected to a tape recorder, both small and light enough for one person to carry around. It used magnetic tape, as did the later iterations that Cohen used: a one-inch open reel and 3/4-inch U-matic. (Although by 1994, she had upgraded to digital. Birty: Godmother of Watts and South Central Los Angeles: Inside Voices were shot on D2, a digital video camera.) While Cohen was finding her filmmaking legs, so too were people from different subcultures. The freedom that magnetic video offered to shoot one's community away from establishment red tape and systemic homophobia made it a form that appealed to collectives like Queer Blue Light, a non-profit organization that operated from 1971 to 1974 capturing vignettes of gay life in San Francisco. "You weren't going to be able to get a studio television camera that weighs 400 pounds and commercial people weren't going to be interested in your subculture," says J. Vincent Raines, who spent the years between 2000 and 2008 volunteering for the GLBT Historical Society in San Francisco, a museum and archive of materials and knowledge promoting understanding of LGBTQ+ history, arts, and culture. He says that magnetic media opened up possibilities for his community. "It was more accessible. In many cases, it was cheaper; it was reusable; it didn't need to be sent away to someone else to process. So if you were dealing with material that was sensitive in some way, you didn't have to involve a third party. It was more easily shared, it was more easily and cheaply duplicated than, say, a film." Over eight years, Raines digitized thousands of hours of audio and video from the GLBT Historical Society's archive of film and magnetic media. "This was all material that was sitting in boxes on a shelf somewhere for decades," he tells me. "I found it fascinating to bring this material back to life. A doorstop-looking reel of tape could have images and sounds and bring you back to another time to meet people who, in many cases, are long gone." His descriptions of the works channel the energy of the '70s gay counterculture. Raines digitized videos by Queer Blue Light shot on EAIJ-1, a one-inch open-reel videotape that came out in 1969. "They ran around the Castro District in San Francisco taping various events, including the second or third Castro Street Fair in 1976. Harvey Milk pops up in one spot." Then there are more personal scenes. "Not only were they out on the street, there were a few tapes where they're just goofing around sitting in someone's living room, so there's insight into more of the interior lives." The biggest collection he worked on was shot on U-matic, "you know, the chunky three-quarter-inch videotapes," by a man with a home-video business who recorded everything from leather and drag pageants—Mr. Leather and Miss Continental—in his native Chicago, to fundraisers and talent shows in San Francisco. "That was just an enormous collection," says Raines. "What was poignant is that, towards the end of it, there were tapes made by his partner after he had died of HIV. A lot of the challenge working with that archive is much of the material came in a chaotic fashion and out of order as people died during that plague [the AIDS epidemic]. Often the family, or whoever was trying to get rid of a lot of property, would just throw them in boxes and donate them." All the work that Raines digitized remains held at the GLBT Historical Society archive, and some, like "The Gay Life," a radio show made on audiotapes, is publicly available to listen to online. The counterculture of the late '60s and '70s existed along identity lines, but also, notably, along anti-establishment lines. We need only hark back to images of Dennis Hopper in Easy Rider, grinning under a walrus moustache as he rides a motorbike through the desert to the sound of Steppenwolf's "Born to be Wild," to know the type. Michael Shamberg has been a Hollywood producer since 1980 with big-boy credits like Pulp Fiction, Erin Brockovich, and Contagion to his name. In another era, he was a part of the New York video counterculture, and in 1970 co-founded the Raindance Corporation, an "alternative culture thinktank," with Frank Gillette (a social activist and video artist), Paul Ryan (a former research assistant to Marshall McLuhan), Louis Jaffe (a musician and journalist with money to invest), and Marco Vassi (Gillette's friend who went on to become a renowned erotic novelist). A journalist by trade, Shamberg met Gillette while covering a video art show and, after spending some time hanging out with artists, realized the potential of video art and public-access television. Switched on by a medium he felt had the potential to be a great social equalizer, he quit his staff job at Time Life. "I was young and didn't need much money and just felt it was a valid form of expression." Raindance put out a video art journal called Radical Software that brought Shamberg into contact with an ever-greater network of video artists. For Shamberg, the most compelling element of magnetic media was rooted in his journalistic impulse to document events freely. In 1972 he co-founded TVTV, a video collective that made documentaries using guerilla techniques, with Allen Rucker, Tom Weinberg, Hudson Marquez, and Megan Williams. "The first things we did were the political conventions in 1972. I have to laugh because myself and my partner, Allen Rucker, we'd go to the White House every day with long hair and press credentials." Shamberg was filming in Steven Spielberg's office when he didn't get nominated for Jaws, and the extremely charming response can be found on YouTube. He says this was a time when even well-known directors were less guarded. "There were no publicists to say, 'No.' Everything you got was much more authentic. Whereas now, people are both guarded and filtered or, conversely, with social media they're simply doing it for the camera." An ex-boyfriend introduced Cohen to magnetic video and it immediately impressed her as free from the hierarchies and misogyny of traditional filmmaking. She went on to do a master's at NYU where she became friends with other video artists fuelled by the same ideals as Shamberg and his collective. "We were guerrilla TV-makers, all seeing video as a political tool. We could play and go anywhere and experiment. It was the beginning, so nobody knew more than anybody else. There was a level of equality between men and women and there was a kind of freedom about it." *** As video artists were finding their way forward, a new era of public-access television was dawning in America. Previously, there had been only three television networks: CBS, NBC, and Public Television. In 1969, the government mandated that two channels be given to the general public to create their own programming. Public-access television decentralized the means of production and freed broadcasters from having to abide by studio production values, tone, and equipment. Both Cohen and Shamberg say this foreshadowed how smartphones and social media have blown open citizen journalism today. The truth of this parallel is evidenced by the extraordinary social impact of Darnella Frazier, who had the presence of mind and fortitude to record on her phone the brutal murder of George Floyd in Minneapolis by police officer Derek Chauvin, which sparked an explosion of Black Lives Matter protests in the summer of 2020 and led to Chauvin's eventual conviction and sentencing. Indeed, filming on smartphones has become a ubiquitous way for non-white Americans to document the racism they experience and witness, making it harder for wider society to turn a blind eye and, sometimes, mobilizing real change. Back in the early '70s, Shamberg's work with the Raindance Corporation in documentary videos overlapped with public-access television to the point that he wrote a book, Guerrilla Television, in 1971, solidifying the values central to both mediums. "I look back on it now and it was so jargony it's a little bit embarrassing, [but] it was a manifesto about democratizing television. The idea of a manifesto is that for a new media or art form, historically, like with Dadaism, somebody is always going to write about it. So I'm proud of it as a manifesto. It summed up a lot of ideas." In Guerilla Television, Shamberg writes, "The inherent potential of information technology can restore democracy in America if people will become skilled with information tools." Like Cohen, he was influenced by the idea of new technology for social change, a movement spearheaded in America by Red Burns and George C. Stoney, the latter carrying the epithet "the father of public-access television." Cohen recalls speaking alongside Shamberg on a '70s panel about programming hosted by the National Cable Television Association. "When I started out in video, there were a handful of people across the country and we all knew each other. The people who were part of TVTV are like my closest friends," she says, citing projects with TVTV participants Nancy Cain, Skip Blumberg, Elan Soltes, and Wendy Appel, who co-produced Cohen's South Central Los Angeles: Inside Voices. Fresh from graduating with her master's in 1971, Cohen instantly found work creating public-access television in Cape May, a small town in New Jersey with a population of 5,000. Her local community series was called Are You There? "I showed up and taught people in town how to make television. I had an open workshop. I did a TV show once a week and played the videotapes that the public made. I said, 'Well, if you want to respond, just call me up and I'll come make a video with you.'" The impact of Cohen's work in Cape May was historical, causing her to butt heads with the town's mayor. "A dialogue happened in this town and as a result, for the first time in 100 years, a Democratic mayor got elected. [Public-access television] changed the social, economic, and cultural trajectory of that town forever." After a year in Cape May, Cohen returned to New York where she worked as director of the Video Access Center, part of the Alternate Media Centre (AMC). This was the first public-access facility in the United States, set up by Red Burns and George C. Stoney. The AMC trained thousands of laypeople in the tools of video production. After another year, Cohen set up video arts distribution at Electronic Arts Intermix, putting out work by the likes of Tony Oursler and Bill Viola, "all the people who were using video as art." Oursler and Viola were pioneering multimedia artists at the time and have gone on to have prolific, award-winning careers, exhibiting work to this day. Cohen recounts AMC alumni recording everything from homophobic police officers talking to members of the gay community to Salvador Dali just kicking back; from Betty Dodson's masturbation workshops to Allen Ginsberg in his tiny apartment in the East Village; from the 1974 Democratic Convention to Yoko Ono talking cosmic feminism in her white room at The Dakota. Cohen wore many hats in these scenarios, enabling others to make work, but also shooting her own stuff. It was a time when the fruitfulness and momentum of making videos far outweighed thoughts of storage and archiving. *** In 2019, Matthew Hoffman, a young Canadian studying for a master's at NYU in Moving Image Archive and Preservation, was doing a collection management assignment that involved a variety of possible tasks, some purely organizational, some involving collaborations with artists. "We were essentially given a long list of people we could request to work with in a top-three order. I looked into Maxi's work and started reading about Joe and Maxi; it sounded like everything I've ever wanted to see in a documentary film. I watched it and thought that it was one of the best documentaries of that era, as important as anything the Maysles (Grey Gardens, Gimme Shelter) were doing in the '70s. I was shocked by how raw it was." Hoffman was moved. "When I came to class, I said, 'Look everybody, I have never gotten my first choice for anything over the last year and a half, and you all know that, so I want to do the Maxi Cohen collection. Does anyone have issues with that?' Everyone said 'No' and then I turned to the professor and said, 'Okay, so that's what we're going to do.' I was very adamant." Over the course of the collection management assignment, Hoffman spent quality time at Cohen's studio in SoHo, New York going over records of her archives. He was excited to see that she still owned the master materials of films shot on magnetic video. "It leaves this great window open for preservation that's timely." He created a list of Cohen's video works, noting which had yet to be preserved, considering both the films and the surviving recordings from Cape May and the AMC. The non-film works felt too sprawling for a student project. "It was expansive and I don't know if I was ready for that quite yet." There was much to choose from, which "speaks to the fact that there's so much to preserve with Maxi and with so many artists. If only those resources were readily available because it is not only a financial commitment but a time commitment. It's amazing how much there is to be done." Hoffman's anxieties about the scarcity of preservation resources were born out in the experience of Raines. He relays an illustrative experience with buying and selling a time-base corrector that he first bought on eBay for a little more than $100 and then auctioned off a few years later. "I put it up with a really low opening price and it sold for almost $800. So, obviously, in that amount of time, they had become scarcer and grew in demand." For his thesis project, Hoffman decided to digitize eight films—one feature, South Central Los Angeles: Inside Voices, and seven shorts: Second Grade Dreams, Intimate Interviews: Sex in Less Than Two Minutes, Las Vegas: Last Oasis in America, Birty: Godmother of Watts, Boney, The Edge of Life, and How Much Is Really True? He hired a vendor (Mercer Media in Long Island) based on affordability and the ability to meet the required technical specifications; he also observed and assisted in the digitization process. When the video files were delivered, Hoffman performed quality control and, once satisfied, ensured that both the newly digitized works and the magnetic media masters were stored according to best practice. "How lucky can I be?" was Cohen's reaction. For several years, the Museum of Modern Art (MoMA) in New York had shown interest in paying for a 4K restoration of Joe and Maxi. Hoffman and Cohen seized the idea of using the restoration as a hook for a retrospective featuring her newly digitized films. Hoffman collected the digitized files on March 9, 2020. The World Health Organization (WHO) announced a global pandemic on March 11. When Cohen and I first talked in August 2020, well into the COVID-19 pandemic, MoMA had gone quiet. "Communication has only gone in one direction. Whatever plan was in place may no longer be in place," said Cohen, deluged with other projects but keeping a half-hopeful, half-mournful eye on the horizon. So, then what? *** Legacy is a crushingly heavy idea that requires all logistical dominoes to be in a row. Without the Raineses and Hoffmans of this world, less mainstream and more obscure work would be as good as extinct. But what about the people who do not have access to the means of production in the first place? Even though magnetic media was more accessible than other forms, its heyday wasn't a lost Eden powered by equal opportunity. "Let's face it, even back in the '70s and '80s, getting this equipment for most people required at least a certain income, unless someone was fortunate [enough] to get it through school or a friend," says Raines. "Much of the material we have from the '70s and '80s is by men, and white men in particular, so it didn't completely open the door to everybody. There are a lot of barriers to having your expression preserved and your legacy carried forward, especially in this realm where you don't have a studio and a machine and a patriarchy behind you." Still, without the patriarchy behind her, Cohen managed to make the work, but its preservation was down to Lady Luck visiting in the form of Hoffman's university assignment. This is not a lottery that many disenfranchised creators tend to win. Shamberg agrees with Raines that the video art scene, as he knew it, did not include the widest demographics. Having used the term "marginalized" to explain how his peers in the counterculture identified, he is keen to stress that it had a different meaning then. "We were a bunch of, basically, white people wanting to express ourselves about the culture. We were hardly oppressed the same way that women, Black people, and minorities are." He is turned on by the possibilities of the present moment and doesn't seem remotely nostalgic. "The rebellions that are happening now for political and media power have much more scale and weight to them than what we did. We were probably ahead of our times in seizing the means of production, but the dynamic of technological exploration continues to today." Shamberg has made his peace with not having a legacy: "I don't think you can look at me like some really good Black filmmaker [such as] Ava DuVernay, or [someone like] Quentin Tarantino, and say, 'Well, there's a Michael Shamberg legacy.' The abilities and skills brought to mounting those films are probably worthy of recognition, but not me personally." Instead, his focus is on keeping on moving. "I'm 77 and I'm just going to keep working as long as I can, looking for what's new." It's perhaps easier to shrug off the idea of legacy when your works remain accessible. Shamberg doffs his cap to Pacific Film Archives, who have taken his TVTV collective's archive into storage. Meanwhile, there are artists whose work disappeared before anyone even knew to save it. There will always be talented people who are locked out of the dominant technological platforms, who have not been brought up to believe that their voices have value. In such conditions—lacking access to technology and a support network—many also lack the confidence to push their work forward publicly and end up destroying it, either actively or through atrophy. As Raines says, "That happens so frequently with artists. It was so easy to do in haste with magnetic media, to just record over it or erase it, whereas, if you've made a film, you have to go to the trouble of burning it. People don't understand the value of what they have in the moment." A normal way of working on video involved recording new footage over existing tapes, meaning that a lot of Cohen's material from the AMC years has been lost. Raines talks about the same phenomenon with regard to the Queer Blue Light collective: "At some point, one of the guys reused tapes to record Chinese lessons, probably for pay, and recorded over who knows what. I heard that they had a whole tape of Harvey Milk practising political or campaign speeches and I'm pretty sure they recorded over it. So that's the peril of magnetic media. What's priceless in the future, you don't know; you might record over it." As towering Australian goddess Nicole Kidman said on the Marc Marron podcast WTF, "I give blood and then the interesting thing is to see the reaction." Artists offer something that makes them vulnerable—and subject to a private backlash of self-questioning and doubt. Perhaps a way to reduce instances of work being lost is to prioritize artistic communities over individual stardom and teach creators that they are not best placed to judge their own work. If all creators had a network of cheerleaders, maybe some wouldn't have their chance of a legacy strangled at birth. The problem, as 'twas ever thus, is that potential profitability is mistaken for intrinsic value. No matter how many cautionary tales exist of great artists like Vincent van Gogh and Emily Dickinson, who laboured in obscurity for their lifetimes only to gain an enduring legacy after death, the comfort of being recognized by a large number of people—and their wallets—in the here and now fogs up a more existential awareness that this moment will be washed away by future ones and no one knows what works will be left standing. There is, of course, the real and pressing need that we all have to survive by selling our skills. While the industrial fight for fair pay will never end as long as bad-faith operators, per Oscar Wilde's definition of "knowing the price of everything and the value of nothing," wield exploitative pay practices, it is vital that artists resist this kind of cynicism on an individual level. Most creative people, understandably, want to earn a living from monetizing their art, yet struggling to do so does not invalidate the art or preclude its potential for finding an audience at a later date. *** How important is it that a work lives in public? Does it still have value if it doesn't connect with a large audience, or has no audience at all? Some idealists believe in art for art's sake. That is to say, something profound happens in private when you work on your art. I think about the day I spent as a volunteer art critic for The Koestler Trust, reading a binder of poems by prisoners identified only by their serial numbers. These poems reckoned with primal emotions and experiences: love, death, suffering. They would never bring their authors fame or fortune, or even recognition, yet by putting words to their feelings, something important had already happened in their lives. But for many artists, creation stems from wanting to communicate something to leave behind. For that possibility to exist, the work must exist. Dead formats tell no tales. *** Since the pandemic hit, Cohen has worked alone out of her studio in SoHo on a variety of projects, without her usual producer, assistant, and interns. There is a book, a film she's been gathering material on for 40 years ("a sequel to Joe and Maxi"), a feature documentary on ayahuasca, a feature documentary that arose from her filming evicted artists in her SoHo neighbourhood breaking into a fancy hotel, and an art installation on "the movement in water," created in connection with the Buckminster Fuller Institute's Design Science Studio who gave her an award in service of imagining a world that works for everyone. "It's really exciting because you're working with a lot of futurists and people who are highly optimistic. You see the renaissance—or the regenaissance—below the surface of all this turmoil, and all this male, right-wing domination, trying to play itself out." When we speak again a few months later, in January 2021, it's all systems go, and she is thriving. "I have a film editor who's edited all of Gus Van Sant's films. I'm in a cyber community." What's more, to the delight of Hoffman, who is only hearing this news on our call, MoMA has come through with the digital restoration. "Seeing Joe and Maxi made me really want to put on this epilogue," says Cohen, referring to the eight films digitized by Hoffman. Seven Women, Seven Sins is the other of her films out in the world, anchoring her in the consciousness of certain industry gatekeepers. She tells herself to make a note to reach out to the curators in Italy and Belgium who wanted to host retrospectives after Chantal Akerman died and before her newly digitized canon existed. On our first call, reference had also been made to a streaming platform interested in buying South Central Los Angeles: Inside Voices, as its subject spoke to the Black Lives Matter movement. "I never heard from them actually," says Cohen. "I don't know if I stayed on them enough. I should really pursue them. I'll make a note. I have, like, lists and lists of things I have to do." Papers rustle over the line. I say that maybe she has enough on the go, but no. "It would be nice for the film to have a home." Finding homes for all the newly digitized works is a Sisyphean task, add to this the fact that there is so much work yet to be digitized from Cohen's time in Cape May and at the AMC. Much has been lost or recorded over, but stray treasures abound, even as their ripeness for preservation is risked with every passing day. Cohen has held onto the Yoko Ono video from her AMC days, which Hoffman finds thrilling. "I'm ready to get the Yoko Ono transferred right now!" Does she feel like she gets enough credit for the trailblazing work she did? "Well, that's so sweet that you're writing and that Matt is doing this because the truth is that I've never really been out there. I don't brag, I'm a modest person, but in having these discussions I see that I did make a real imprint on the cultures. So I appreciate all of this. None of us want to go and be forgotten."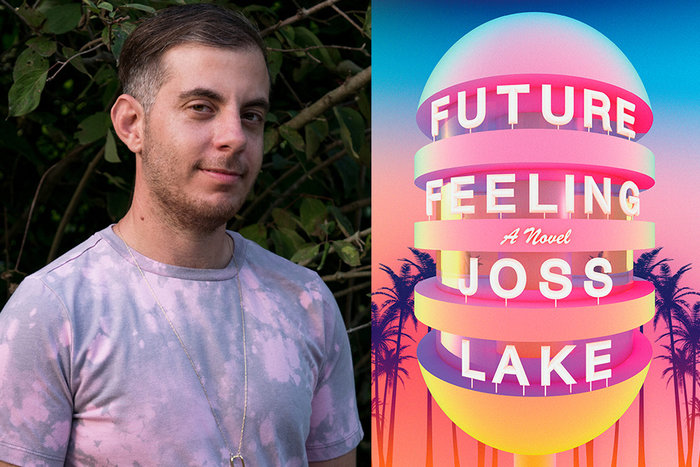 Talking to the author of Future Feeling about letting characters carry on in literary reality, counterbalancing angst and humor, and the interconnectedness of queer relationships.
Future Feeling (Soft Skull Press), Joss Lake's debut novel, is a delightfully queer book. Penfield R. Henderson, the novel's narrator, is a trans man living in a near-future Brooklyn in which social media is still a powerful force but also cellphones have hologram capability and New York City's subway cars scan their passengers' cumulative emotional state and change colors accordingly, like a public mood ring. Pen is in a lull in his life at the start of the narrative: he's a dog-walker for those wealthier than him, he's got a casual sex thing going on with a minor celebrity, and he has a love-hate parasocial relationship with Aiden, a trans social media influencer with perfect pecs and a seemingly serene soul. When the hate part of the love-hate gets a bit too overwhelming, Pen enlists his roommates—one a witch, the other a hacker—and attempts to hex Aiden. Instead, the hex ends up affecting a total stranger, Blithe, a transracially adopted trans man in California, who plummets into a sudden, deep depression. In this near-future world, queers in distress aren't left to their own devices; they're assisted, in more or less direct ways, by a kind of queer caretaking body, the Rhiz (pronounced like the word rise), whose name gestures at "mycorrhiza," the mutual symbiotic relationship between fungi and plants—a kind of mutual aid, if you will. The Rhiz sees fit to direct Pen and Aiden to figure out, together, how to help Blithe. But this is, as I said, a very queer book, and these characters' trajectories aren't particularly linear or predictable, making Future Feeling all the more fun to read as its surprises, anxieties, and hilarities unfold alongside each other unexpectedly. I spoke to Joss Lake over Zoom about the novel's structure, world, and incredible narrative voice. This interview has been edited and condensed. Ilana Masad: About halfway through the novel I realized that even though Pen, our narrator, is in his early thirties, he narrative is a kind of coming of age. In fact, that's the case for all three of the trans men whose lives Future Feeling focuses on. What interested you about this post-transition, post-coming out time in Pen, Aiden and Blithe's lives? Joss Lake: I think what interested me was the way that Pen had transitioned but was still in this very teenage, angsty mindset. And I was interested in this queer non-linearity of life phases. He's at a point in time where maybe some of his cis "well-adjusted" friends are having children or moving up in their careers, but he's sort of moving through puberty and then getting to a point where he's like, What is it that I actually want? [I was] playing around with disrupting these developmental milestones, with [the question of], like, what does help people move through these stages? How do you hold yourself together when maybe you're doing things out of order? Maybe you know, intellectually, that you can do something at any age, but emotionally it feels very much like, Oh, I'm stuck, I'm behind, but also I'm just getting a chance to do X, Y, and Z. For Blithe—because of the hex, but potentially this could have happened anyway—he's just starting to confront all of this emotional turmoil and trauma for the first time. So his career was in a good place, but he's now sort of stepping off onto another path. And then we have Aiden who is coming to terms with the limitations of his role as an influencer and is trying to conform to some social messaging and find some sense of security. One of your blurbers, Jordy Rosenberg, wrote that this book "accomplishes that rare and difficult goal: the conversion of anxiety into laughter." Your narrator, Pen, is an extremely anxious person. He's not always likeable—although he's often extremely relatable, TBH—and he messes up plenty. But he's also hilarious, and he's able to poke fun at himself and his anxiety. How did you develop Pen's beautifully unique voice? It was a long process, and originally, in earlier drafts, I didn't necessarily know that he would evolve [as a character]. I'd taken this class in grad school on the hysterical male and I kind of hated most of what we read. It felt like you're sort of trapped inside these very fragile cis male narrators, and there's no movement—you're just supposed to either find humor in their fumbling around or identify with them if there's something about them that's relatable, but there's no particular movement. At first, I thought I could create a hysterical trans masculine narrator, and that would be subversive in itself. It was fun to do that, but I was like, This feels very limiting. And I don't think it's actually that subversive to have a white trans hysterical narrator just spinning off in his head. I don't know that I would really care to read that, after a certain point. So I started to think, what if this narrator has all this fragility and this messy way of relating to people, and I also send him on a journey? I also wanted to have other characters give him feedback and elevate other voices; I didn't want people to be trapped in his consciousness. I wanted them to have all these ways of relating to other characters and other characters' perspectives rubbing up against his so that he's not our elevated, picaresque hero. In some ways he is, but he has all these other elements and people that can balance him out. There was this question of what does move someone out of deep angst and [out of] taking themselves too seriously when they are stuck in a dark place? One thing that very organically arose was humor. Because the more he dug into, like, my life is horrible, I live in this whatever apartment in Ridgewood and I just walk people's dogs, the more heavy it felt. So there was a lot of counterbalancing: I'm going to counterbalance this heavy angst with humor, I'm going to counterbalance zooming in too far on him with other people coming in to add some breathing room. I think another factor was that I wrote a fairly serious, experimental, historical fiction novel, and then a memoir in the third person about transitioning, and it was very dark. I couldn't get them published. And then I started doing The Artist's Way [practice] where you write three pages every morning without thinking and what came out was basically Pen's narrative voice. I was sort of surprised that that was spinning around inside of me, but it was pragmatic to go with it. I wasn't thinking very intellectually about it—it was just some part of me that I hadn't really thought about or explored. Would you tell me a bit about how you arrived at the concept of the Rhiz—this officialization of the unofficial queer underground network that anyone who's queer has (hopefully) had some kind of contact with? It came out of a blend of personal experience and sort of imagining new possibilities. [In terms of] personal experience, just thinking about the interconnectedness of queer relationships, and using the internet in relating to queer folks, and the way you can find housing and all sorts of things just from knowing different people, and that being a kind of alternate structure—with its own problems—to capitalist, hierarchical ways of maneuvering. The Rhiz also came out of trying to come to terms with the internet and feeling, myself, very depleted by the internet and social media, but also wanting to approach it neutrally. The internet can obviously have really negative effects and can also have positive effects, so [I was] thinking about it more generatively as a structure that is linking things together and imagining an underground structure that is parallel to the internet and is very relational. Because [the book] is set in the near future, and there are a lot of futuristic technological factors, I wanted—and I didn't have a ton of space to do this—but I wanted to gesture at the queer past, so that it wasn't like these characters are existing in a vacuum. I did want there to be a sense—or at least a way to mark—that generations of queer folks have been working together for various forms of liberation. I also wanted to build in a sense of vastness, so it wasn't like Pen's life or Blithe's or Aiden's is the end all, be all of queer existence. I did have a lot of fun building out the Rhiz. At first I wanted it to be a little more nefarious, like maybe there's something sinister about it. But in a way it felt more subversive to have elements of a sort of utopia, because, to me, it's very easy to imagine a dystopia. The world that the book is set in is just far enough in the future to include some technology we don't have, but it's near enough that it's very recognizably our own late-stage capitalism, social media influencer, climate disaster-filled world. So I was wondering what did setting the book a bit in the future allow you to achieve? Did it feel hopeful or bleakly realistic to preserve many of our contemporary social anxieties and ruptures in this future space? I think putting it in the future helped me get a little imaginative distance. Setting it in the present, I would have felt more of a pressure to make things more recognizable. I mean, obviously you could set something in the present and still have these imaginative flourishes, but setting it in the near future just felt more spacious. It also gave me space to write towards something. In my immediate present, as a person and as a writer, things just felt very stuck. And so I think the future—not even in terms of following our present socio-political reality a little bit further, but the future in a more expansive way—allowed me to be able to move around in some possibilities. I think originally, the idea was that by setting them in the future, I can take all these aspects of the present and turn up the volume on them so that the characters feel extra tense and squashed by these mediating elements, and then as I was writing and changing internally, it felt like I had some agency over determining what the future could be. So, again, not thinking in the way that we're receiving information from the media about what the future will be in ten years, but just as a writer—maybe I can decide in this narrative space what a future could be. Maybe the characters—in relation with each other, in relation to the Rhiz—maybe there is a way that they can evolve in some sense. I did think a lot about how to modulate this so it's not a sort of uncomplicated happy ending. I was sort of afraid that by making any gesture toward things not being hopeless, that people would just scoff at it, like, Oh, that's so naïve, who gives their characters a happy ending? Your characters should remain unlikable and suffer until the end. But who does that literature serve? I want to talk about the structure of the book a little bit. It has a kind of prologue, and then three parts or chapters, and then we catch up to where the prologue left off. It also has these stories-within-the-story sections, where Pen is telling a story or putting together other people's stories. Events bleed into one another at times, and the narrative focus allows itself to shift around. In other words, the structure of the book itself feels very queer to me, very much eschewing the familiarity of simple linearity. How did the structure of the book develop and what was your vision for what it would feel like to read? I really wanted the prologue to be a kind of flash forward. The way that Pen opens [the novel], with the hex and his frame of mine—I wanted the reader to be cued that he wasn't going to remain the same from the beginning to the end. I was sort of afraid that opening with him hexing [Aiden] would signal that maybe the book is very much about social media, which to me was the starting point, but then I wasn't particularly interested in delving too far into that. So I wanted to mark the complexity and the layers by having this sort of signpost at the beginning—we're building up to something and this character and the plot of the novel is going to change a lot from the beginning to the end. In terms of the narrative structures—one generative way I was thinking about social media and the Rhiz is like: Okay, if social media companies have so much data about people, then in this sort of tilted world [of the novel], maybe there's a way that characters could use all the data to understand each other and to put together these narrative packages. How can we take surveillance culture and reshape it so that characters are taking on the role of writers? Part of Pen's process of evolving is working through stories: the stories he tells about himself, the way that he's encountering other people's stories, the way he's relating to Aiden and what that's telling him about himself. So I definitely wanted room for there to be narrative play. Having written this more experimental historical fiction novel and this memoir, I really was thinking more about the reader and wanting them to feel like they're in this heightened or different or exaggerated world, but there's a layer of generosity in the humor and how characters are relating to each other. I wanted [the book] to be inviting, through color and language and things moving around. And I did want there to be a lot of narrative elements, not to overly complicate things, but just to keep shading in complexities. One of the novel's main themes, I'd say, is the ways in which people—all people, mostly likely—project narratives onto people. This happens with the parasocial relationship Pen has with Aiden and the way he first gets to know Blithe through his data. But even as Pen learns more about who these people actually are (as opposed to his stories about them), there's a sense that he can only go so far into their experiences. How did you decide how far to go into the various other characters' stories and experiences, and what held you back from exploring some of them further? It was a really interesting tension for me, knowing that I didn't want to completely keep us close to Pen and also wanting to model not going too far into someone else's experience—which is not a hard and fast rule, but it felt, at the time, like an ethical decision to stay in Pen and gesture at the complexity of other people's lived experiences without trying to narrate them too far. Especially, I think, with Blithe, giving him in dialogue and plot a lot of room to be taking his own space—going off and looking at his past and his ties to the culture of his family of origin—without me narrating that too closely. So [I was] trying to gesture at Pen's own limitations, because he can access other people's experience in some ways, but there's also this gulf. I think he's anxious enough that he would love to just find a way to close the gulf; in some fantasy, there'd be no tension if he could just understand everything and wouldn't have to deal with the messiness of other people's experiences. But I wanted to show that there are some things that Blithe has to do internally, or with people who are not Pen, that Pen just doesn't have access to. And that's just how I imagined a sort of ethics of having Pen work through different people's experiences and how he relates to them. My last question, fittingly, has to do with resolution. At one point in the book, Pen spends time reading crime novels because he "longed for every loose end of a story to get tied up." (216) There are narrative threads that are resolved in this book, and there are threads that are clearly deliberately not. How do you feel, as a writer and a reader, about leaving loose ends of a story dangling and free? Maybe it's just my TV watching habits but I do love these really tight structures, like in procedural crime shows where there's a problem and then things happen and then it's tied up at the end. But in my actual writing and my way of experiencing reality, I wanted to have so many threads unspooling in the book that it would feel sort of artificial to have to neatly tie them up. So instead of looking at the end as Okay, how do I resolve everything that I opened up in the earlier sections, it was more like where can the characters end up that represents a new phase for them? Maybe in the new phase they don't necessarily get to wrap up all these other elements of their life. I wanted it to feel like they were continuing on in literary reality and that the place where the reader left them at the end was just starting the next part of their lives.