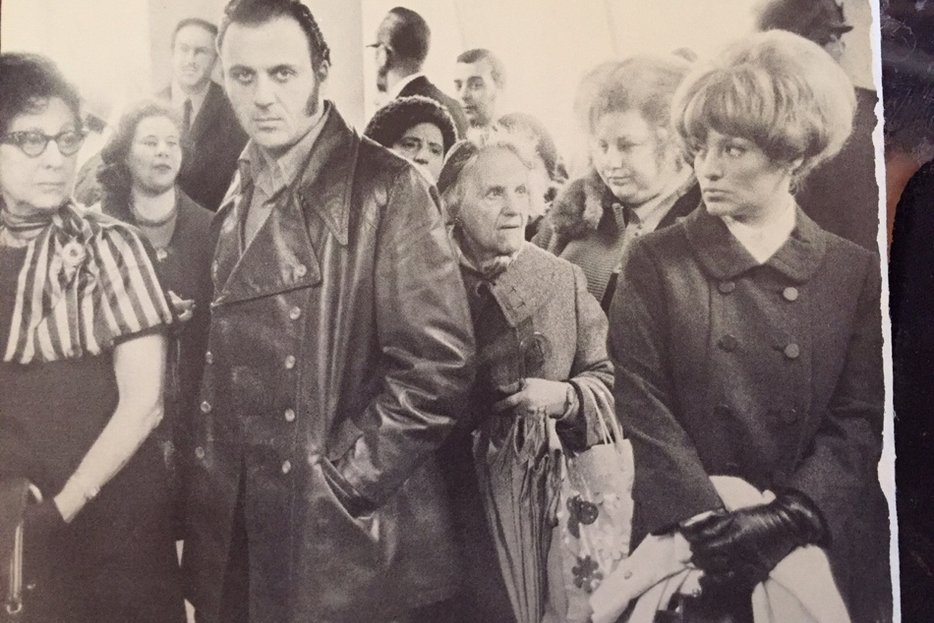 Alice Crimmins, right, waits in line with the crowd before a session of her 1971 trial. (Courtesy of the author)
In a cemetery high up in the Bronx, close to the Throgs Neck Bridge that connects the northernmost city borough to Long Island, a family lies together in a single plot more than twelve miles from home. Their collective grave bears the mark of irregular but consistent tending. The afternoon I visit, a bouquet of purple and white flowers covers part of the gray headstone, a cross carved at the top, just above the family name: Crimmins.
The children lie deepest in the ground. Born a year and a week apart in October, Eddie and Missy died on the same July day in 1965. Lying above them is their father, Edmund. He outlived his children by nearly fifty years.
All but one of the Crimmins family are dead now. Alice, Eddie and Missy's mother, is out there somewhere. For decades she lived in various parts of Florida. Other times she lived on a yacht bearing her name. More recently, after her second husband died, rumors placed her back in the Queens neighborhood she fled, nearby Nassau County, or somewhere along the Metro-North's New Haven line. Nobody knows. Everybody speculates.
People are experts at speculating about Alice Crimmins. They've had so much practice over half a century. It's hard not to, when her story will never have a proper ending.
*
At the New York City Municipal Archives, in a musty old building a few stones' throw away from the Brooklyn Bridge, City Hall, and several courthouses, a gentleman archivist I'll call Reg shakes his head. "They're telling me you can't have the box. It's ridiculous. We never had a problem before."
"What seems to be the issue?" I ask.
He waves his hand. "Some new person, doesn't understand how things work around here. Let me go talk to somebody. He'll be able to sort it out."
I wait a few minutes, then a few more. The truth is I'm already further ahead than I thought. I figured there would be court transcripts, affidavits, and other relevant documents, secrets hiding in plain sight as they so often do in old buildings housing city archives. Anything else pertaining to the case is like extra gravy on a succulent turkey. Keep your expectations close to zero, I tell myself, and then be pleasantly surprised.
Reg returns with a long rectangular box and sets it on the table in front of me.
"Here it is. Shouldn't be a problem from now on."
He leaves the room again, this time to retrieve the boxes of documents I requested. Left alone, with surprising nervousness, I open this box. My hands shake. A thrilling jolt pulses through me. Because it feels, somehow, wrong.
Fifty years ago, if you lived in or near New York City, Alice Crimmins was an inescapable tabloid fixture. With bouffant red hair, hooded almond eyes, a sultry Bronx-accented alto voice listing towards girlish laughter, and an hourglass figure hugged by the tight, above-the-knee fare she favored, Crimmins seemed tailor-made for the engulfing, devouring media spotlight. Her celebrity was rooted in infamy, every action judged by the cameras or the columnists, every silence filled in by those quick to condemn.
Crimmins bore a superficial resemblance to Lindsay Lohan or Emma Stone, but her true descendants in notoriety got there through child murder: Susan Smith (guilty, prison), Diane Downs (pinned the blame on somebody else, guilty, prison), and most recently, Casey Anthony (not guilty by a court of law, guilty by a court of public opinion).
Crimmins was twenty-six on the morning of July 14, 1965. Seven years earlier the former Alice Mary Burke, "Rusty" to her intimates, all grown up after a religious Irish Catholic upbringing in the Bronx, married her high school sweetheart Edmund Crimmins, doing what young people were supposed to do in order to have sex. Their coupling swiftly produced two kids: Edmond Michael, always Eddie, in 1959 and Alice Marie, nicknamed Missy, a year later. They moved to a ground-floor garden apartment in the northwest Queens neighborhood of Kew Gardens Hills, then populated by a mix of middle-class Irish, Italian, and Jewish families who actively disapproved of adulterous marriage breaches—even if they might be conducting clandestine affairs themselves.
Alice, having discovered sex, came to realize Edmund wasn't what she wanted. He drank too much and stayed out too late with his friends, leaving her to cope with the children entirely by herself. She didn't want more kids and she didn't care about Edmund's fury over discovering her diaphragm. She sought out other men, discreetly at first, as was the norm. Then, after a formal separation from Edmund in 1964—he caught her in bed with another man in their house—more openly.
In February 1965, Alice went on a cruise with her main boyfriend, the fifty-something millionaire contractor Anthony Grace. She swore the trip was an accident, claiming she and a friend got locked in the bathroom of the boat while it was still docked and weren't let out until the boat was on en route to the Bahamas. Alice then had to cajole her nanny into staying several days alone with Missy and Eddie. The nanny, Evelyn Atkins Linder, and Alice did not get along. Evelyn later sued Alice for $600 in back pay. Alice claimed she owed Evelyn a mere $150, and said the nanny had stolen money from her.
Then young Eddie told his father and grandmother he saw "cousins" in their undershirts in the living room when he woke up in the morning. It made the little boy upset and anxious because he didn't understand what was going on. His father, who kicked in $40 a week in child support and saw the kids regularly, understood all too well.
On June 22, 1965, Edmund filed for sole custody of Eddie and Missy, alleging Alice was an unfit mother and, without saying so outright, an immoral slut. Alice's own mother wrote an affidavit siding with her son-in-law, calling Alice "mentally ill" and asking the court to grant full custody of the kids to Edmund. Mrs. Burke called him a "good man" who would "take good care of the children," who were, in her view, "innocent victims of a sick mind." She didn't know Edmund was spying on her daughter, tape-recording Alice having sex with other men (more for titillation than information-gathering).
Needless to say, acrimony thickened the tension between Alice and Edmund—and, most of all, within Alice herself. She was still young, still beautiful, still turning heads. She had Tony Grace and other, younger suitors. And she had two little children whom she loved but found difficult to care for.
On the night of July 13, she said she put Eddie and Missy to bed, took her eleven-year-old pregnant dog, Brandy, out for a walk, and didn't get to sleep until after another contentious 3 a.m. phone call with her estranged husband, again yelling belligerently about money and sauced to the gills.
Alice slept in 'til 9 a.m. She went to check on Missy and Eddie in the other bedroom, which they shared. They were gone. She looked at the window with its dirty sill, slightly ajar. She called Edmund. "Have you got the kids?" she cried.
"No."
"Don't you play games with me!"
"I don't have them."
"Eddie! Don't fool around! Do you have them? Please don't do this to me! Eddie, they're missing!"
He came back to the house he'd once shared with his family, still not quite registering that Missy and Eddie were gone, truly gone, until Alice's voice became too frantic too ignore. Together they called police.
"You take the husband," lead detective Jerry Piering said to his partner, while the house was still being searched, before Missy's body was even found. "I'll take the bitch."
Hours later, detectives found Missy's body in a vacant lot a few blocks away. She'd been strangled, marks visible on her neck and her eyes red from hemorrhaging. Eddie's body didn't turn up until the following Monday, covered by a blanket off of the Van Wyck Expressway, too blackened by decomposition for the Queens medical examiner to determine the cause of death.
Right from the first, the cops sensed something amiss about the story Alice told them after the bodies of her children were discovered, even if they wouldn't charge her for more than two years. Crimmins was hardly the first to be convicted by media well before a jury. But decades later, no one really knows if she killed her son and daughter. As former Newsday reporter Kenneth Gross wrote in his 1975 account of the crime and subsequent trials, the investigative game was rigged from the start, and Alice was always fated to lose. The police fell back on a familiar feeling, voiced by lead detective Jerry Piering well within the first 24 hours of the case: "you take the husband," he said to his partner, while the house was still being searched, before Missy's body was even found. "I'll take the bitch."
*
The first piece of paper is a legend listing all of the evidence inside the box. Two keys on a heavy key ring. Slides—blood. Evidence—hair sample. Telephone books large and small, with lists of numbers that stopped working decades ago. Notebooks filled with doodles, ranging from gibberish to procedural to, in one instance, weirdly artistic. And two envelopes.
I don't fully grasp the significance of these until I put my hands inside the envelopes. I remove the first item. A small pair of underwear, too small for anyone under the age of six to wear. It's yellow now, with flecks that, with time, have turned blue, but were almost assuredly red half a century ago. It smells of must and grime and the passage of several decades. Almost without thinking I start to run my hands along the waistband, the seams. Then I catch myself as a more insistent part of me thinks, you can't do that. You'll violate the chain of custody.
Habits forged from a science background, not to mention a couple of years learning the basics of forensics, are hard to break. The chain of custody broke so long ago. Before I was even born.
The case of the Crimmins children is closed. The NYPD won't ever reopen it. That's why all of the files are in the Municipal Archives. Old evidence counts among the files. The police don't care anymore. Hardly anyone connected with the case is still alive to bother. What was once a molten-lava crime story is now consigned to the dusty annals of history.
So why can't I shrug off the feeling, as I scrutinize the little boy's underwear, and the item from the second envelope, the little girl's night shirt, and the mother's notebooks, that I'm defiling these objects? That my violation of privacy, part of a lineage of earlier unauthorized evidence handlers, also slams the door on the chance of proving, once and for all, beyond all possible reasonable doubt, that Alice Crimmins killed her children?
*
For two years, the case of the Crimmins murder stalled. Jerry Piering and his fellow investigators may have judged Alice Crimmins guilty, but two grand juries in Queens failed to indict her. Alice went about her life, first trying again with Edmund and, when that didn't work, moving between Tony Grace and other paramours, all caught by the police on hundreds of reel-to-reel tapes. Alice knew she was under constant surveillance and she didn't like it. But she wasn't about to let a bunch of cops dictate what she did and whom she spent time with.
In November 1966, Alice's neighbor, Sophie Earomirski, sent an anonymous note to the prosecutor's office. She said insomnia kept her up in the early hours of July 14, 1965, and when she looked out the window, "a man and woman were walking down the street toward 72 Road. The woman was about five feet in back of the man. She was holding what appeared to be a bundle of blankets that were white under her left arm and was holding a little child walking with her right hand. He now hollered at her to 'hurry up.' She told him 'to be quiet or someone will see us.'"
When police traced the note to Earomirski, they realized they had interviewed her several times. Why had she said nothing? Her husband had advised against it. But the more Sophie told her story the more emboldened and confident she became. And she knew, as did investigators, there was no case without her eyewitness testimony. In the fall of 1967, a third grand jury gave police the result they wanted.
Grand jury indictment in hand, the prosecution began its trial of Alice Crimmins in May of 1968. What became clear, in weeks of saturated local and national media coverage, was that Alice was as much on trial for her good looks and extramarital conduct as she was for killing her daughter (the prosecution team, led by district attorney Thomas Mackell and assistant DA Anthony Lombardino, believed they had the best chance of convicting her for manslaughter for Missy's death).
Many defendants do not take the stand, but Alice Crimmins did. Lombardino spared nothing in his cross-examination, which cemented her citywide, even countrywide, Whore of Babylon status. Still, Alice held her own, as this exchange over Alice's relationship with one of her principal lovers, the contractor Joe Rorech, illustrates:
- Does he have a swimming pool there, Mrs. Crimmins?
- Yes, he does.
- Did you ever go swimming in that pool?
- Yes, I did.
- What were you wearing when you went swimming in that pool, Mrs. Crimmins?
- One time a bathing suit; one time, no bathing suit.
- Where were your children when you were swimming without a bathing suit in Joe Rorech's swimming pool?
- They were dead.
Rorech also testified. Years of tapping Alice's many phone calls with him, as well as the tightening of a great many pressure points—lawsuits, impending bankruptcy, a wife and seven children unaware of his infidelities—culminated in his sworn statement, and corroborating testimony, that Alice told him she'd killed her kids. Alice nearly fainted at Rorech's remarks. "I thought you were my friend," she said. "How could you?" The betrayal hit her hard: days earlier, in her lawyer's office, Rorech held Alice's hands and said he wanted to marry her.
She reacted more angrily to Earomirski, the woman whose anonymous note in late 1966 spurred the third and final grand jury proceeding. Earomirski identified Crimmins in court as the woman she saw on the night of July 13, carrying a "bundle" like it was a baby, talking about her pregnant dog to her male companion, holding the hand of a little boy. "I saw you," said Sophie, "I heard you." "You liar!" Alice shouted several times,
The jury was instructed to ignore Alice's outburst, just as they would be instructed to ignore a great many more, from Alice and from others. That Earomirski had a history of embellishing stories, that a head injury while working the World's Fair may have impaired her memory, and that she changed her story significantly from the final grand jury proceeding, did not sway the all-male jury or the audience. In fact, when Earomirski pointed to Crimmins, the courtroom burst into applause, leading the judge to grouse, "this is not a Hippodrome."
The trial nearly derailed when Alice's defense team discovered three of the jurors had gone to Kew Gardens Hills, to the scene of the crime. They wanted to see for themselves if Earomirski's eyewitness testimony—already controversial because she took two years to come forward, and by anonymous letter at that—held up. Judge Farrell, who presided over that first trial, waved it off, let the jury deliberate (reminding them, "We are not trying here a case involving sex morals. We are trying a homicide case") and find Alice guilty. But that code breach eventually brought down Alice's first conviction on appeal, and instead of serving five to twenty years for manslaughter, Alice, who had spent the summer in hospital and incarcerated before making $25,000 bail, was free.
The prosecution tried again in 1971, upping the stakes by adding a first-degree murder charge for Eddie's death along with manslaughter for Missy. By then, Alice and Edmund's brief reconciliation after the deaths of their children evaporated for good. Tony Grace's wife was dead (after suing him for divorce and another mental hospital stint) and he was in Alice's frame again. The circus atmosphere remained, set at a dimmer frequency. Earomirski testified, but so did another neighbor, Marvin Weinstein, saying his was the family Sophie saw, not Alice and her children.
Lombardino returned, this time not as the district attorney but as a prosecution witness, admitting to offering a mob man in prison "a deal" to testify he was the mystery man with Alice the night her children died. The mob man, Vinnie Colabella, testified he did not know her and had no involvement whatsoever. But the new jury convicted Alice of both charges. Herbert Lyon, Alice's lawyer for the second trial, seemed as stunned by the conviction as was the prosecution: "Apparently I convinced everybody except the jury," Lyon told reporters.
Just as before, an appeals court threw out Alice's conviction—or, at least, the first-degree murder charge for Eddie's death that garnered a life sentence. Alice would serve just over thirty months of prison time overall. In November 1977, Alice Crimmins was paroled. She married Tony Grace, who'd visited Alice once a week during her time in prison, and moved with him to Key Largo. Nearby docked a boat called Alicia II, named for Alice—or, perhaps, her murdered daughter.
The real Alice Crimmins sought obscurity and quiet, but popular culture hadn't finished with her. Tuesday Weld played a thinly veiled Crimmins in the less-than-successful 1978 TV movie A Question of Guilt. Dorothy Uhnak, a policewoman who later turned to suspense fiction, fictionalized the story in her 1977 novel The Investigation.
But the Crimmins case is most closely linked to Mary Higgins Clark, who used it as the basis for her 1975 bestseller Where Are the Children? While working on the novel, she told me, she attended a party and the subject came up. The person Clark spoke to said she'd be right back. Clark thought she had lost the other woman's interest, but the opposite was true: the woman returned with her high school yearbook and pointed to a photo of her classmate, Alice Crimmins.
Clark also had a story about the boat that would be Alice's refuge. She was promoting one of her recent suspense novels at an event in Florida, where she rented a house during the winter. During the Q&A, a fan brought up the novel that propelled Clark to Queen of Suspense territory, which she has yet to relinquish. "Don't you know? The Alicia is docked nearby." I asked Clark if she and Crimmins had ever crossed paths. "Oh, no, I'd never want to meet her," she said without hesitation. "That would be too strange."
*
By coincidence, or possibly karma, I spend a weekend in Kew Gardens Hills. I reconnected recently with distant cousins I haven't seen since I was a child. They are Orthodox Jews, and I am no longer, but the chance to unplug for a couple of days and spend time getting to know this family branch as an adult is immensely appealing. Plus, when I mention I need to location scout and explain why, they grow curious, not revolted.
Kew Gardens Hills, or at least the part I see, is now more overtly religious. We walk by Main Street on Friday night, after the Shabbos meal, and nearly all the businesses are closed. Max 'n Mina's ice cream parlor has one-of-a-kind flavors like lox and garlic. The supermarkets and clothing stores are specially geared towards women in need of long-sleeve shirts on hot days and below-the-knee skirts all year round. Any trace of the Main Street beauty parlor where Alice Crimmins's naturally brunette hair was tinted red or strawberry blonde, week after week by one Mr. Jerry, is long gone.
Traditions are not only sacrosanct but past the point of entrenchment. A mutual friend set up my cousin with her husband, but their daughters insisted on a matchmaker. The youngest hears about a date prospect, her very first. She's twenty-one. The elder has been dating for marriage for three years, and, nearing twenty-five, gamely hides her anxiety that almost all of her friends have married, some with children. My cousin and I puzzle mildly over the problem. It's another reminder that I like to visit this world but cannot live in it full time.
The girls humor their mother, and by extension me, by walking over to 150-22 72nd Drive. The number is emblazoned in white on the wall facing the street. Now, like then, there is a garden just outside the ground floor apartment.
I've seen too little. I've seen too much.
The girls ask what happened in this apartment complex. I explain in broad strokes, because in truth, I still have a hard time telling people about Alice, what she did and what she was supposed to have done.
Their reaction is blessedly simple: "That's sooooo creepy."
So is mine, unspoken: fifty years later, Kew Gardens Hills hasn't changed much at all. Another Alice Crimmins could come along and she'd be depicted the same way.
*
As Kenneth Gross makes clear in his book The Alice Crimmins Case, Queens police were far more interested in Alice Crimmins's sex life than in proper detective work. The original investigation, while Missy and Eddie were still officially missing persons, was shoddy at best and embarrassing at worst. Newspaper photographers took more photos, and more meaningful ones, than did police photographers. Jerry Piering, a resolutely Catholic rookie detective desperately angling for a promotion, concentrated so much on interrogating and judging Alice at eight-to-ten-hour-a-day intervals that he forgot about other important matters.
"They wanted me to break down. They wanted me to grieve—not for the sake of my children, but for them—the police. I wasn't going to give them the satisfaction. They were my kids. Nobody was out looking to see who killed my kids. They were interested in making me break."
Technicians dusted the top of the kids' bedroom bureau for fingerprints before it could be photographed. Piering forgot to note down a plate of manicotti that he would later claim, over and over again in testimony, was in Alice's refrigerator, that Missy could have eaten as her last meal instead of the veal Alice in turn claimed, over and over, she fed her daughter.
Edmund, their father, wasn't taken seriously as a suspect, dismissed as "not too bright" and thus incapable of the complexities involved in kidnapping and murdering children. Yet a discrepancy between when he claimed he watched a TV program and when it actually aired could not be accounted for. Nor could his confession to Alice, and others, that he exposed himself to children in the park. The custody battle was as much motive for him as it was for his estranged wife.
As for circumstantial evidence, there simply wasn't much, though police and the prosecution were successful at spinning gold out of the weak straw they had. The testimony of Milton Helpern, the storied chief medical examiner of New York City who presided over thousands of cases, made it seem like Missy had, indeed, died before midnight. It emerged that testimony came from months, if not years, of wearing Helpern down from a less specific estimate of between 10 p.m. and 4 a.m.
What led Alice to conviction, by police, media, and two predominantly male juries, was being resolutely herself. How dare she take considerable time to put on makeup before talking to detectives? Never mind that makeup was Alice's defense against longstanding acne scars and anyone who would make her feel ashamed or out of control. People said she wasn't grieving for her children, but, in rare moments of true solitude, she would take out deeply buried photographs of Missy and Eddie and weep for their loss.
Alice knew her defiant attitude was what set people against her, but she clung to it because, as she told Gross in 1971, "they wanted me to break down. They wanted me to grieve—not for the sake of my children, but for them—the police. I wasn't going to give them the satisfaction. They were my kids. Nobody was out looking to see who killed my kids. They were interested in making me break."
She broke, over and over again, whether questioned directly on the stand in her first trial, through years of phone taps, being asked to leave jobs after her employers found out who she was from police, and continuing to drink too much, laugh too hard, and take too many lovers instead of acting like the stereotypical sobbing, grieving mother. In the immortal words of Cole Porter, "Why can't you behave?" Alice Crimmins didn't, until she had no other choice.
*
I return once more to the Municipal Archives. I ask Reg to bring out the box of evidence again. I touch Missy and Eddie's bloodstained clothes, Alice's telephone books and doodle-laden diaries, Eddie's kindergarten notebook filled with his first printed words ("Missy" prominently among them), blood and hair samples encased in slides. The feeling of wrongness has subsided, replaced by a more curious question: can I possibly understand Alice Crimmins through these objects?
The clothes don't help, nor does Eddie's notebook. They touch too raw a nerve, even after fifty years. The telephone and address books carry an opposite, more remote feeling. The book emblazoned with Anthony Grace's name carries a sense of unresolved longing. Did they love each other? Or did they marry because there was simply no other option for the millionaire contractor and his notorious mistress once their names were inexorably bound by courtroom testimony?
The only thing that pierces Alice's hard-won, tortoise-strength shell and brings me closer is a simple doodle. The woman angles her head down, to the left. In that same notebook there are other similar, incomplete versions of this doodle, accompanied by untold scribbles in the margin. This cartoon woman carries a whiff of loss, of retreat, of wanting to find some sliver of self while the psychological walls closed in. Here is Alice, a little bit of her, more than any interview, any recording of her voice, any videotaped footage could ever provide.
*
Few people connected to the case are still alive. Sophie Earomirski moved with her family to Florida and died there in 2009. Joe Rorech's financial problems continued to mount, and he died in obscurity in 2006. Tony Grace died in the rich Westchester suburb of Harrison, New York, where one of his sons still lives, in 1998. Edmund Crimmins remarried and relocated to Leesburg, Florida, where he died in 2012, a few days after his seventy-sixth birthday.
Anthony Lombardino still practices law in the Queens neighborhood of Richmond Hill. A mere five years after Alice's first conviction, Lombardino walked his behavior back: "I don't know if she did it. It still seems unlikely. I can't believe it. I don't even believe the story I told the jury. I don't even believe it now." (In a telephone conversation earlier this week, Lombardino denied he made these comments. He also called Gross, who included the comments in his book, "a liar," and held back more vituperative comments because I was "a lady.")
For all intents and purposes, the only person left to care is Alice Crimmins. Now seventy-six and long living under a different name, she hasn't spoken to the press in more than four decades. (That includes me: she did not return repeated voice messages.)
The lawyer and true crime writer Albert Borowitz, in his 1991 account of the case, wrote: "If the Crimmins case is viewed with the hindsight of the 1980s—when a young mother with a strong sexual appetite is less likely to be pronounced a Medea—it seems that Alice is entitled to the benefit of the Scottish verdict: Not Proven." Two and a half decades later, the Scottish verdict still seems to be the right call, even if it is the most frustrating one. The polarized debate about Alice would not die down if she spoke up today and revealed what she's been up to for the last forty-odd years. It would only worsen in the current, public shaming-happy climate; more would believe her, but yet more would condemn her.
The Alice Crimmins case seems to turn everyone connected to it into a guilty party. From Sophie Earomirski wishing to tell her version of the truth, to Jay Piering and his fellow detectives judging Alice's lifestyle, not the evidence, while laughing over wiretaps of Alice sleeping with her lovers, to an entire society understandably discomfited by the idea of a mother murdering her children for some perverted sense of freedom. And me, adding grubby fingerprints to evidence that could have yielded tangible forensic truths, if anybody cared enough.
Perhaps if the evidence stored at Municipal Archives had been properly secured, primed for a fresh look by authorities more understanding of a woman's right to live her own life, we might know, doubt-free, who killed Eddie and Missy Crimmins. We won't. It's too late. The looking glass clouded over the night Alice Crimmins's children died and it has reflected back fog ever since.