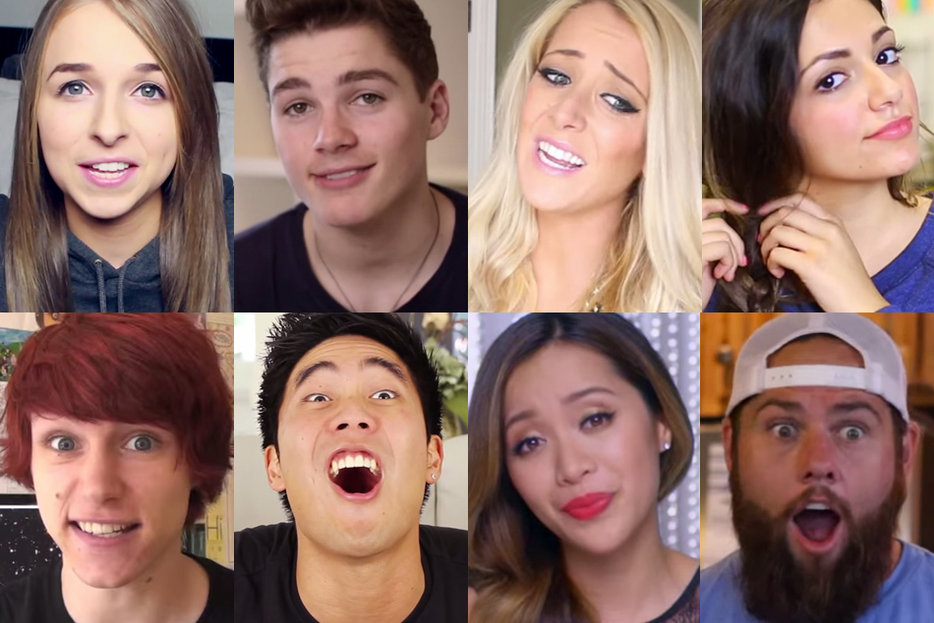 From left: Jenn McAllister, Jack Harries, Jenna Marbles, Bethany Mota, Shay Carl, Michelle Phan, Ryan Higa, Charlie McDonnell
In the best adolescent pop culture, adults exist on the fringes. Parents are either dead (this is almost always ideal) or off in the wings somewhere—absent from the boarding school, unmentioned in the pop song, vague figures without their own subplots or interior lives. Maybe a kindly wizard casts a useful spell or a dad sympathetically schmears a bagel for a troubled teen, but for the most part, grown-ups stay out of the way while the tributes murder each other, the breakfast club kids bond, and Ponyboy and the rest of the Greasers fight and cry and are tender with one another. The most compelling adolescent worlds are just big high schools: adult-free utopias where kids are left to suffer and triumph on their own.
I was thinking about this the other day when my girlfriend's 12-year-old niece Catalina showed me a YouTube video of someone named Ryan Higa riffing about Ebola. Higa is a fresh-faced Japanese-American 24-year-old who has been making videos since he was 16. He shoots short vlogs and comedy sketches in what's become the YouTube house style: all jump cuts and abrupt changes in tone, a burst of goofy enthusiasm quickly undercut with a quiet aside. "Speaking of Ebola, am I the only one that, before you found out what it was, you pictured like a snake?" he asks. "And that's probably because it sounds like boa." He mugs shamelessly, sings snatches of songs, looks handsome on camera. The video ends with Higa falling to the ground, pretending to have been bitten by a snake. In its first month online, it's been seen 3.2 million times.
Higa, Catalina explained to me, is pretty much the best. "But why do you like him?" I pressed. She looked at me with the incredulous, slightly pitying expression that's become increasingly familiar since she started middle school. "He's so funny, I don't know. Everyone likes him." Catalina's friends have their own YouTube channels where they post videos about anime or One Direction. Her 13-year-old brother Alfonso subscribes to a dozen channels that he watches on his cracked smartphone before bed, streaming videos of guys with patchy facial hair playing their way through video games or bedroom comedians riffing on pop culture.
The people they watch are famous—genuine celebrities often in the extended adolescence of their early twenties, playing to younger teams of fans who adopt collective names like Bethany Mota's Mota-vators and special hand gestures like the Nerdfighters' double-handed Vulcan gang sign. In a poll conducted by Variety in August, the five most influential celebrities among Americans aged 13-18 were all YouTube stars. Ryan Higa, KSI, Smosh, Jenna Marbles, and other YouTubers with equally absurd names were all more popular than notable old person Leonardo DiCaprio. The highest-ranking movie star, Jennifer Lawrence, lagged well behind someone named PewDiePie, a Swedish 25-year-old who films himself cracking jokes while playing video games. His videos have been seen more than 6.5 billion times, making his the most viewed channel of all time—bigger than Beyoncé, bigger than Bieber.
Tween culture has always been somewhat inexplicable to adults, of course. But even if adults didn't understand the crazes of the past, at least they saw the evidence in their peripheral vision—flicking through episodes of Hannah Montana on the Disney Channel, walking past a stack of New Kids on the Block teen mags in the pharmacy. An adult hired Zac Efron to dance his way through all those TV musicals. Grown-ups picked each and every one of those Mouseketeers.
YouTube, in contrast, can feel like some hermetically sealed, for-kids-by-kids world. It's a place where an oddball 17-year-old with a video camera can gain an audience of millions, drop out of school, and regularly send malls full of teenagers into a frenzy, all while remaining completely anonymous to anyone over 30. It feels, more than anything, like an adolescent wonderland—parent-free and thriving. And so I was curious: What does a mainstream kid culture look like when it's seemingly cut loose from adult supervision? And what happens when that culture grows up?
*
On the stage in an auditorium of the Metro Toronto Convention Centre, a thirty-something woman in business-casual addressed a crowd of increasingly impatient teenagers. The teens were waiting for their chance to meet three British YouTube stars. First, though, the woman had to break the bad news.
"We can't do hugs, guys," she announced. "I'm so sorry, there's just not enough time." The crowd murmured with displeasure. The girl next to me groaned and flung her head back in frustration. The woman ploughed ahead, ignoring the increasingly open hostility in the room. "We can't do signatures. So sorry. We don't do selfies. Also, sorry, no planned poses, guys. One picture of all three of them, you can't do, like, one photo of each."
The pressure in the room seemed to drop, the kind of change in potential energy you might experience just before a thunderstorm or maybe a bear attack.
Watch one video of Jack and Finn Harries pretending they're telepathic and it will leave you—a person who once thought of yourself as at least sort of educated about pop culture—irritable and confused, an ancient crank insisting Technicolour ruined the talkies. Watch a dozen and you find yourself thinking things like: I wonder when Jack decided to get that haircut? Does Finn seem a little tired lately?
I'm not sure exactly what happened next. Maybe the talent whispered a few words to the event organizers, maybe someone in the hall read the mood, but when I turned back to the front of the room after interviewing a pair of teenagers, fans were streaming towards the stage, completely disregarding every one of the woman's requests. The three YouTubers signed everything handed to them. They smiled the subtle, cheek-muscle-preserving grin of the perpetually photographed. Everybody got a hug.
The meetup was part of Buffer Festival, a three-day gathering that brought some of the biggest YouTubers in the world to Toronto. For one weekend in October, the lobby of the TIFF Bell Lightbox theatre was stuffed with teenagers, the vast majority of them girls huddled in groups of two or three, a few bewildered fathers standing dutifully on the fringes. Shay Carl, the bearded patriarch of YouTube royal family "the Shaytards" presided over a sold-out screening of his videos. Fans lined up to see Jenn McAllister, an 18-year-old who has been making videos since she was 12, telling embarrassing stories from school or reliving humiliating Facebook profile pics from the past. Everywhere, people walked around in the quintessential pose of the YouTuber: holding cameras in outstretched arms so that their faces were always in frame, confidently narrating the world around them, stars and directors of their own lives. "So many cameras," a girl murmured, walking past yet another guy filming the crowd. "Sorry," the cameraman began. "But I mean… you're at a YouTube festival."
Buffer Festival, now in its second year, seemed explicitly designed to celebrate a new era of YouTube. From its tawdry beginnings as a home for pirated TV shows, cute cat videos, and footage of hilarious accidents, YouTube has become increasingly slick, encouraging creators to make films with real budgets and real production values. The top YouTubers can make millions, taking 55 percent of the earnings from the ads that play before each video (Google, which bought YouTube in 2006, takes the rest), and making much more from product placement and sponsorships.
The old industries have taken notice. Bethany Mota, a perky 19-year-old who started off at 13 making "haul videos" of her purchases, now has her own fashion collection at Aeropostale. Michelle Phan, an absurdly smooth-skinned vlogger who creates make-up tutorials and encourages her viewers to think of her as their "beauty bestie," was given a cosmetics line with L'Oréal. Hollywood agents and managers have come calling, inserting themselves into that profitable space between fans and creators. Earlier this year, Disney bought Maker Studios, one of YouTube's biggest distribution networks, for $500 million with the promise to pay an additional $450 million if Maker reaches certain targets.
Kids who once shot grainy videos in their bedrooms are now uploading fully realized short films, with scripts and costumes and production coordinators. Buffer Festival, held in the same building that hosts the Toronto International Film Festival, felt like a medium flexing its muscles: YouTubers are not just filmmakers, but rich and popular ones who are every bit as deserving of a red carpet treatment and a gala screening as the snotty TIFF crowd.
At the "British Invasion" screening, I sat in the crowd as 15 British guys walked on stage—all skinny jeans, sneakers, and dimples, fresh from the pages of Non-Threatening Boys Magazine. For the next hour and a half, we watched YouTube videos: a short entry by Jack and Finn Harries, the impossibly handsome twins behind JacksGap; a video of a man earnestly harmonizing with himself on the Game of Thrones song "The Rains of Castamere"; a Halloween sketch in which comedy combo Jack and Dean dress up as ghosts and worry about being mistaken for Klansmen. There weren't seats in the audience for the stars, so the YouTubers just watched the show sprawled out on the stage, gazing up as videos usually seen on a 14-year-old's smartphone were projected onto the towering screen.
*
Being a teen idol has always been a difficult balancing act. How to simultaneously project awesomeness and authenticity? How to convince a mass audience that you are worthy of their attention while retaining an aura of utter normalcy?
In many ways, today's online stars are dealing in the same simulated intimacy that teenage celebrity has always relied on, from the goofy approachability of The Monkees to Taylor Swift's knack for sounding as if she's just a regular girl baring her soul to her locker neighbour. With YouTubers, though, this intimacy is turned up to extraordinary new levels. "Celebrity is more like a faraway kind of thing and this is like, you're in their bedrooms," 17-year-old Allie Cox explained to me while we waited in line to meet three English YouTubers, including Will Darbyshire, a 21-year-old who just started his YouTube channel earlier this year. Cox considered for a moment. "I mean… that's kind of freaky. But at the same time you feel like you know them."
The founding myth of YouTube is of some digital meritocracy where the line between producer and consumer has been erased and anyone with something to say can gain an audience. Many of the kids at Buffer Festival weren't just fans, but creators of their own videos. Corey Vidal, the festival's founder and a prominent YouTuber himself, was a poster boy for the transformative power of the humble online video. Vidal had struggled through high school. He'd been homeless, couch-surfing and spending time in a shelter. Then a geeky video he made of himself lip-syncing an a capella Star Wars song went viral. Now he's the head of a YouTube production company, the guy in charge of a festival that brings all of his favourite people to Toronto. It was easy for the teenagers in the audience to imagine themselves one day on the stage, hanging out with their idols, collaborating with their fellow video makers.
Everyone I spoke to said some variation of the same thing: YouTubers were approachable, nicer than movie stars, more down to earth. They liked their fans. They were normal. "Today when we were waiting, a few of them just walked through the front doors," said Georgia Mahoney, a 17-year-old hanging out at the festival with her friend. "And then they were told that they had to go through a different entrance and they were like: 'Oh.' Because they're so accustomed to just being normal."
You can feel the pull of this heightened normalness, even if you're an indifferent thirtysomething. Watch one video of Jack and Finn Harries fooling around, pretending they're telepathic, and it will leave you—a person who once thought of yourself as at least sort of educated about pop culture—irritable and confused, an ancient crank in a bathrobe insisting that Technicolour ruined the talkies. Watch two, though, and you begin to feel the power of a familiar kind of charisma. Watch a dozen and you find yourself thinking things like: I wonder when Jack decided to get that haircut? Does Finn seem a little tired lately? You spot their friends collaborating with them, click on those YouTube videos, and experience the pleasure that comes from beginning to understand the contours of an exotic new social circle.
In many ways, YouTube is the perfect technology to fulfill a long-held teenage desire. When I was 13, the funniest, coolest people I could think of weren't the lip-glossed stars of Hollywood or the wrinkled "teenagers" of Aaron Spelling productions—they were the kids a few grades ahead who played guitar in the hallway. They were people like the beautiful, effortlessly cool daughter of a family friend who came by one afternoon before starting university with a buzz cut, casually explaining to my enraptured sister and me that she was "just tired of men looking at me." They were the older brothers of friends who, during camp-outs on the Toronto Islands, would ramble through the bushes, wild and high-spirited, cracking lewd jokes and shooting roman candles out over the lake, talking about girls and music and comics in a way that made you feel as if you were getting a peek into a thrilling world that would soon be yours to inhabit.
What 13-year-old wouldn't want to hang out with people like that, to get a glimpse into that world, even from a distance?
*
In a YouTube video from 2009, a skinny-armed English 19-year-old named Charlie McDonnell accepts a challenge from one of his viewers to dye his hair red. In the video, McDonnell is a sweet-faced, wry teenager. "We're a very odd species, aren't we," he says, rubbing the dye into his hair. "This really isn't something you see anywhere else in nature." The video is shot in his bedroom. You see his computer in the background, some Post-it notes on the wall. He squeezes the bottle of hair dye out completely, examines the instructions. "So it says that once I've done this all I have to do is rinse it, which definitely is something that I would have instinctively wanted to do." When it's done, he considers his new head of bright red hair. "I guess it's going to be easier for people to find me out on the street," he muses.
The video is at once utterly pointless and totally charming. It's easy to see how a sensitive tween in her bedroom would want to hang out with the McDonnell onscreen, a bright, funny guy on the cusp of adulthood who isn't just likeable but seems like the kind of person who would probably like you back.
"Dyeing My Hair Red" was shot four years ago, and has been seen nearly 4.7 million times. Since then, McDonnell has shot to a certain kind of stardom. He was the first British YouTuber to reach a million subscribers, then quickly doubled that number. He's appeared on the cover of Wired in the UK. At Buffer Festival, he was greeted with cheers from an auditorium of fans.
He has also grown up. The goofy teenager who sang duets with himself and painted his body purple has become a thoughtful 24-year-old. He's spent the last year making more ambitious movies—a short horror comedy, a meditative film about grief—doing the kind of artistic experimenting you'd expect from anyone in his mid-twenties who's figuring out what he wants to do with his life.
When I watched the hair-dyeing video recently, the newest comments were from the last few months. Old fans had come back to it, people who'd once loved that Charlie McDonnell and now lamented how he'd changed. "Oh the old Charlie," one girl wrote. "I miss this Charlie :(" added someone else. A viewer called "thosealexdays" posted a long, melancholy response: "I miss when Charlie enjoyed YouTube and made fun videos like this… Sorry Charlie, I know it's just you growing up and I hope you can find some inspiration or something that makes you happy, but I'm not sure whether you should continue youtubing." The commenter signed off: "Still love you Charlie, An old fan x."
In so many kids' books, the sharpest moments of sadness come from the inevitable approach of adulthood—the moment you're no longer allowed into Narnia, the time you try to use the enchanted cupboard or the secret bell and find it no longer works, that the magic's gone. There is nothing more melancholy than being 15 and realizing you will never, ever experience 14 again. When your heroes grow up, when the people you thought you knew so well shift their loyalties to the adult world, it can feel like a kind of betrayal.
In some ways, this sense of nostalgia hung over the festivities. On Twitter, a local YouTuber suggested that next year the programmers devote a showing to the "golden age of YouTube." The idea that a technology still in its infancy might have already seen its best days seems absurd, but still there was the sense that, in some vital ways, the purest days of vlogging were over. Many of the stars at the festival began their YouTube careers years ago, when they were teenagers fooling around with a new technology, making silly videos for the hell of it. Now they've gotten older. With agents involved and sponsorship opportunities and TV deals in the air, it has become increasingly difficult to maintain the fiction that the person behind the camera is just another normal kid. Buffer Festival was ushering in a new age of professional YouTube, but it seemed not all the fans were ready. The stars, meanwhile, were awkwardly trying to make the same transition that pop singers and Disney kids and other teen idols have always had to navigate, feeling their way into adulthood and hoping their fans follow.
Last month, Charlie McDonnell posted a video simply called "Thank you :)." "The past couple of years has been very… transitional for me," he says, smiling into the camera. "I've been attempting to deal with the fact that I am now growing up by doing my best to embrace it. By drinking more grown up drinks and wearing slightly more grown-up shoes and, maybe most apparently for things on your end, doing my best to make more grown-up stuff." The video is at once a gentle explanation and a plea for understanding. He reassures his viewers that he still really, really likes making silly videos. He apologizes for neglecting his fans. He thanks those who have stuck with him. "You're here," he says. "Not everybody who watched me two years ago still is. But you are," he says sincerely. The video is pitched as a note of gratitude. Mostly, though, it reads like an apology for growing up.
*
I skipped the Buffer Festival red carpet gala. The idea of braving a cold Saturday evening to cling to the outskirts of a mob of teenagers, doing my best not to seem like an old creep, just wasn't appealing.
Instead, I watched it on YouTube, in the dozens of videos that popped up in the days after the event. Out on the carpet, Shay Carl gave someone a piggyback ride. The JacksGap twins wore tuxedos and skateboarded through the crowd. The fans screamed and the stars leaned in to take endless selfies, deploying the goofy smile, the mock-sly look, the faux-shocked pose, and the rest of the arsenal of approachable expressions that distinguish the YouTuber from the stuffy celebrity, with their unsmiling glamour shots.
Clicking through video after video, deep in a YouTube spiral, the images began to bleed together—established celebrities giving way to anonymous teenagers, all of them eager to stake their claim in an exciting new world where fame seemed just a single charming video away. Not that long ago, when the most famous YouTube celebrity was a dramatic chipmunk, the idea of a booming kid culture built around an online video-sharing site would have seemed absurd; it's equally absurd to think the culture will look anything like this in a few years' time. It was easy to imagine the teenagers at Buffer Festival clicking on these videos years from now—long after they'd outgrown their vlogging phase and YouTube had matured into something new and unrecognizable—and feeling that flicker of melancholy and wonderment you experience whenever you revisit something you once loved wholeheartedly only to find that those emotions are long gone, distant and inaccessible.
Online, the red carpet celebrations were unending. Two YouTubers narrated the same cramped elevator ride, loudly cross-talking like characters in some demented Altman movie. One girl documented the process of getting dressed for the gala and another debriefed from her bedroom after the event, excitedly recounting the night's events to an empty room and a potentially limitless audience. A young woman walked the red carpet, her camera swooping through the crowd. Everybody cheered, everybody mugged, everybody clutched their own phones and cameras out in front of them—a hundred lenses capturing each other capturing the moment.