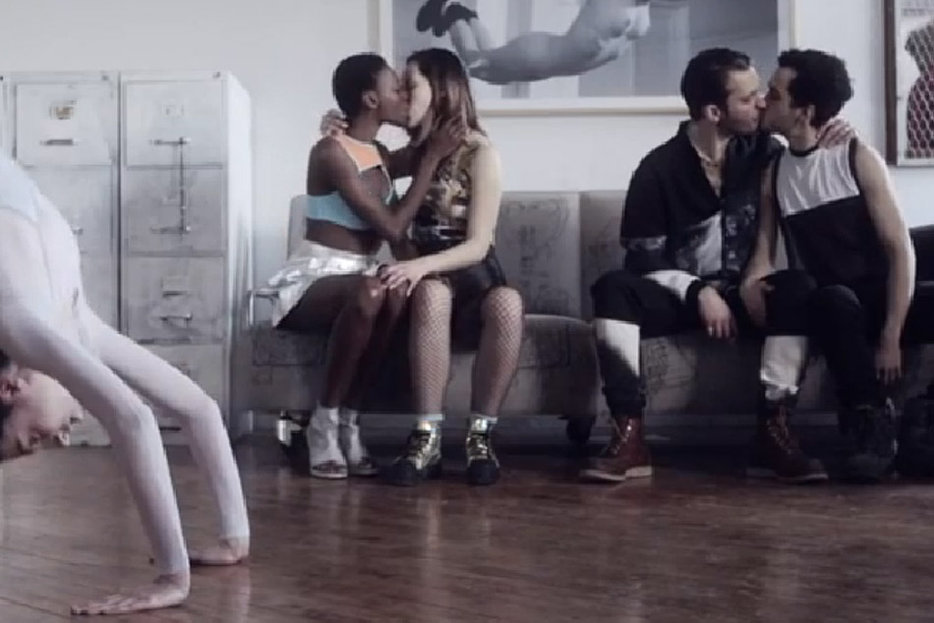 I am on the record here as not being much of a sports fan, but I have a soft spot for the Olympics, one of the few chances to see a lot of non-team sports on TV and like the World Cup generally made more interesting (albeit not more virtuous) due to its internationalism.
Still, ideally everyone would switch off the Sochi Winter Olympics right now. Only a huge plummet in ratings could convince the almost impressively amoral International Olympics Committee to stop awarding hosting duties to minority-torturing despots (up to and including Hitler in 1936).
If you don't believe me, believe members of Pussy Riot.
But, but, but. I know. We want to watch the skating. The jumping. The snug body fit of the luge. So here's one thing to do: turn down the sound and put on queer-positive background music so that at least in your house—or your sports bar, you publican readers!—Vladimir Putin's attempt to whitewash his gay-persecuting regime will instead seem like a huge gay festival.
Going by the opening ceremonies, perhaps a few of his programmers have the same idea, slipping a Queen song and pretend-lesbian duo t.A.T.u. past authorities. Or using them to placate the West. Or maybe just not realizing it at all: While a few commentators recently have boggled at how "gay" Russia's anti-gay pop culture seems to be, they're forgetting that a few short decades ago many North Americans accepted Freddie Mercury as a hetero rock stud, didn't get the joke about the Village People and (a couple of decades earlier) took Liberace's cover story with a straight face. So things can and do change.
Meanwhile, for your big-O-lympic pleasure, here's a cornholeucopia of anti-Putin protest anthems, queer sports songs and other suitable novelties, whether in pump-you-up mode or suitable for slow couples skates.
1. Momus, "Love on Ice"

There are only a couple of actual queer winter-sport songs I know, so I'd like to begin with one of them: "One perfect couple on four perfect blades/ We execute two perfect figures of eight/ We accept the bouquets, but we'd just like to say/ Before these flowers wither like all accolades:/ We want to come out of the closet …"
Perhaps the gayest album ever made by a straight man (depending whom you count)—in part in response to Britain's own anti-gay laws, which I'll return to—Momus's 1988 Tender Pervert is full of masquerade and sexual role-swapping, in an era when it was still truly daring. One of the best is this tale of opposite-sex figure-skating Olympians who are living a lie, and what happens when the lie collapses.
2. South Park, "What Would Brian Boitano Do?"

Few cultural enterprises of any worth are less queer than South Park, but this 1999 ode to the 1980s and 1990s U.S. figure-skating champion took on a new kick in its step when Boitano came out as gay in December in joining the U.S. Sochi delegation.
3. Annie, "Russian Kiss"

The Norwegian singer released this song on Friday for the opening of the Games in collaboration with the artist-provocateur Bjarne Melgaard. It's not the dance track of the year but the video is gorgeous and it pulls a neat activist-appropriation trick by proposing that we call same-sex smacking a "Russian kiss" from now on.
4. Potpourri of Pearls, "Sochi"

This Philadelphia queer dance unit takes the language-flipping a step closer to "Santorum" territory by suggesting that "Sochi" now mean "happy butthole."
5. Rainbow Flame, "Love Is Not For Propaganda"

As you can tell by its name, this Berlin-based project was conceived exclusively for the Games, and held its own mock cauldron-lighting ceremony this week. The title of this track gets at a part of the "anti-gay propaganda" law that's intentionally easy to misunderstand—stating that you are gay in public or, for example, being gay parents who don't tell your children that your relationship is "unnatural" is "gay propaganda."
6. The Mekons, "Empire of the Senseless"

Now to come back to Britain, which pioneered "anti-gay propaganda" laws in 1988, when Margaret Thatcher introduced Section 28, instructing that no local authority could "intentionally promote homosexuality" or schools teaching "the acceptability of homosexuality as a pretended family relationship." (Thankfully no one was ever prosecuted.) The Mekons retorted here by singing, "This song promotes homosexuality/ It's in a pretended family relationship with the others on this record."
7. The Vibrators, "Disco in Mosco"

It's difficult to tell whether The Vibrators were for or against either Moscow or disco, but for our purposes this 1980 single by the briefly compelling (and strangely never-ending) band fits perfectly.
8. Boney M, "Rasputin"

The banging in this 1978 novelty hit isn't same-sex, but as a disco anthem about "the lover of the Russian queen" it seems plenty gay enough, not to mention a reminder of previous idiotic (but at least, by Boney M's account, more sex-positive) regimes in Moscow.
9. Dolly Bellefleur, "Putin Protest Song"

If the original "Rasputin" is not gay enough for you, please refer to this version adapted to the cause of the moment and performed by a Dutch drag queen this fall in Amsterdam.
10. Pansy Division, "Alpine Skiing"

"It takes three people to do it right/ You need a guy on your left/ And a guy on your right … You don't need no winter/ You don't need no cold/ Just get your hands/ Around two poles …."
The other queer winter-sport song I know does not tell you anything at all about winter sports, but as always with queercore flagship Pansy Division, it's a highly competent demonstration of the single-and-a-half-entendre. The Russian judges give it a "RUN!"
11. Against Me!, "Drinking with the Jocks"

A less fun picture of sports-v.-queers dynamics, this track from punk band Against Me!'s new album, its first since its lead singer Laura Jane Grace came out as trans, Transgender Dysphoria Blues, describes the agony of spending years hanging out with the guys and joining in on their homophobic jokes to cover up your real identity. Don't do it in Sochi, Olympians.
12. Pussy Riot, "Putin Lights Up the Fires"

While we're in a punk phase, of course, it wouldn't be an anti-Putin protest without Pussy Riot, although this song is about another issue altogether (oil revenues and the environment).
13. Rheostatics, "Queer"

Taking the mood down a notch: Not exactly a hockey song or a gay song, but from the unusual p.o.v. of the sibling of a kid who's coming out, it contains the lines, "I wish you were there to see it/ When I scored a hat-trick on the team/ That called you a fucking queer." From which perspective, go Team Canada.
14. Suman Sridhar, "Evening in Gay Maharashtra"

In the global spirit of the Olympics, let's not forget Russia's not the only place things are really shitty for gay people right now. This modernization of a 1960s pop hit in India was recorded this summer as a protest against the criminalization of homosexuality there—which the Indian Supreme Court approved late last year.
15. Angelique Kidjo, "Wombo Lombo (Junior's Extended Club Mix)"

Things are even worse in Nigeria and other African countries where campaigns pushed by Western evangelical missionaries have led to death sentences for being gay. I wasn't able to find any explicitly queer Nigerian music (wonder why) but Benin-born singer Kidjo has been outspoken about the situation, so here is a Junior Vasquez remix of one of her songs that became a club hit in the mid-1990s.
16. Tony Mono (via Pharrell), "Happy"

And now back to the villain of the hour, with producer Tony Mono's anti-Putin take on Pharrell's relentlessly upbeat Oscar-nominated hit (from the soundtrack of Despicable Me 2 – which gives me an idea for the plot of Despicable Me 3).
17. POP:SCH, "Policemen"

Released in 2011, this tune from the queer Euro-electro band from Vienna probably wasn't aimed at Moscow cops when it was created, but a little "I love a man in uniform" cheekiness is always welcome for some semiotic dissonance when you're struggling with homophobic boys in blue.
18. Russian Army Choir, "The Show Must Go On"

There was some confusion in the reporting about whether the choir in the Olympic opening ceremonies was this group, the Russian Police Choir or the Choir of the Internal Affairs Ministry; I think they are all the same. In any case, their cover of Daft Punk's "Get Lucky" cannot equal in camp this video for a Freddie Mercury song that, like many gay anthems through history, dramatizes the pain of the closet via the conflicts of the stage performer: "Another hero/ Another mindless crime/ Behind the curtain/ In the pantomime."
19. Gay Men's Chorus of Los Angeles, "We Shall Overcome"

No irony here, just this excellent gay male chorus performing in Moscow at a huge LGBT gathering in 1999 that was broadcast live on Russian television. It's evidence that not long ago conditions were much better there, and the scapegoating of gays has been engineered politically. It's also a heartbreaker.
20. Choir! Choir! Choir!, "Russians"

I round out the choral section, and our program, with Toronto's homegrown volunteer songsters singing a topically adapted version of Sting's mawkish Cold War protest song. Cheesy, but kind of moving too, and a heartfelt community gathering seems like a fine place to end up.