Once a year, my friends and I rent a cottage just outside Tweed, Ontario, at the bottom of the Canadian Shield. We boat around a little, fish, drink a few around the campfire, and then drive Highway 401 back down the Southern Ontario peninsula to Toronto and Hamilton and our lives as plumbers and parole officers and comic book illustrators. That's about as much as I commune with those sacred lands—and, as far as the average Canadian's engagement with the wilderness is concerned, I doubt I'm alone. Now, the Shield is, to be certain, a valuable and historic piece of land. It's the oldest part of North America, and one of the first lands to broach the ocean, period. It covers half of Canada from the Great Lakes to the Arctic Ocean and Labrador to the Albertan border. It's been a central set-piece in the national formation of Canada, from the aboriginal settlers to the fur traders and on to economic development in the major logging and mining industries.
All very important. And yet, for the great many of us, it's a place we might visit, at most, a few weekends a year. The idea, however, of Canada the terre sauvage, the harsh and even deadly Northland, a rugged and unsettled terrain, informed by our images of the Shield—and, to another extent, the Rockies—somehow manages to keep a strong psychic hold on our concept of national identity.
Few storytellers, especially in the 20th century, have done as much to evangelize the image of a wild, untameable Canada as the painters who comprised the Group of Seven and their associates Tom Thomson and Emily Carr. Working from the Great War until 1931, the Group—aiming to capture, as member Lawren Harris once remarked, "Canada painted in her spirit"—turned their brand of Modernist landscape into the first national art movement. In her short story "Death by Landscape," Margaret Atwood observes: "Their work later turned up on stamps, or as silkscreen reproductions hung in the principals' offices of high schools, or as jigsaw puzzles, or on beautifully printed calendars sent out by corporations as Christmas gifts to their less important clients." For a time, the Group's iconography was ubiquitous in Canada, a palliative for identity—as dear as hockey and beer and peameal bacon. And though the Group's fame may have faded some, the images of Thomson's Jack Pine and Harris' arctic landscapes remain bound to our collective picture of Canada. But there's a disconnect here: the great majority of Canadians, now as ever, live in urban centres—most just a few hours from the American border. Why do we continue to hold up pictures of hills and trees and streams to in order to explain what defines us as a people?
At Confederation, Canada was already thought to be one of the most urbanized countries of its time; by the 1920s, more Canadians lived in urban centres than in the country's rural settlements. But the Canadian Shield was distinctive in a way neither Montreal nor Toronto were, especially when measured against, say, Buffalo or Rochester or parts of New York. A post-First World War Canada, having just stepped up to massive international responsibilities, was hungry for a sense of identity, and took quickly to the Group's vision.
In a new exhibit called "You Are Here," the fruits of a four-month residency at the McMichael Canadian Art Collection in Kleinburg, Ontario (a shrine to the Group if there is one; six members are actually buried on the property), Toronto-via-Red Deer artist Kim Dorland explores what it means to paint Canadian landscapes in the contemporary mode, especially in the looming shadow of those national masters. Dorland knows the baggage of the territory, and doesn't hide the fact that he's a diehard Groupie himself. On the sleeve, his work shares in the violent brushstrokes of Thomson—his electric palette (amped up a few clicks), and, certainly, a common reverence for the Canadian wilderness, which he calls "our cathedral."
But Dorland is more playful than his influences. He renders textures in a heaping impasto; branches and cliff faces jut from the canvas with a sculptural mound of paint. The gallery rooms still smell of oils; they'll literally take years to dry. He's mastered an airbrush technique that makes his lakes and rivers appear as chrome, rippling in black and magenta. He scatters interventions around the landscape—spectral figures, abandoned easels, a page from a porno mag tacked to a tree, evidence of human life. He revels in the Thomson murder mystery, meditating on his exhumed skull (if we're to believe Roy MacGregor's take). There's Woodland Waterfall (After Tom Thomson), Dorland's plugged-in reaction to Thomson's own Woodland Waterfall. There's The Ghost Moose, the glowing silhouette of an antlered beast, a response to Frank Johnston's Algoma Landscape and the story that he'd painted over a moose (vaguely visible to the eye) that he first included in the lake scene. The centerpiece, though, is French River, an 8 by 18-foot triptych that manages to evoke the majesty of the waterside Thomson knew so well in a sort of neon splendor, a literal aura that seems to pronounce, "there's magic here."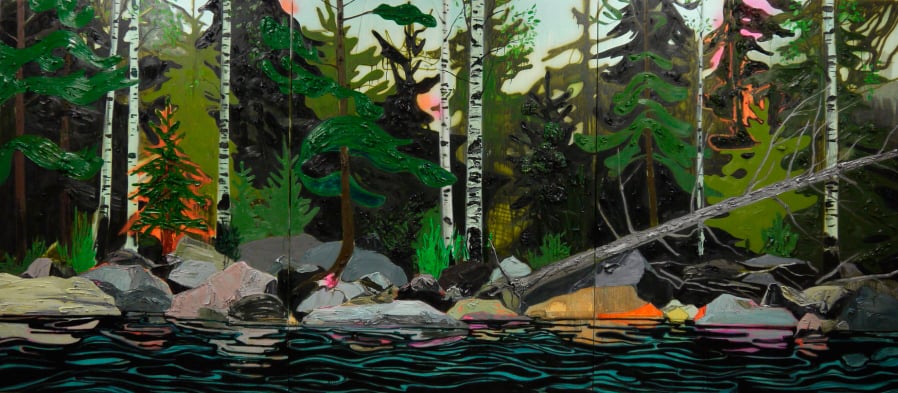 "You could quite easily die out there," says Dorland. "I'm not an outdoorsman. I'm not going to be able to go into the woods and survive." Whereas Thomson was an expert woodsman who'd write correspondence about leading fishing parties in Algonquin Park, advising when the flies would be at their worst, Dorland is an urbanite who keeps a studio in Toronto's downtown Parkdale neighbourhood. While he may be a proficient canoeist who goes camping with his wife and kids (they travelled to Thomson's beloved Canoe Lake this past summer), his work displays a palpable uneasiness about the woods; rather than the sublimity the Group tried for, there's instead an eeriness, a presence, a sense of horror. His work recontextualizes the Canadian landscape in a light much closer to our 21st century relationship with wilderness—one that accounts for more contemporary reference points, too. Dorland's woods are where kids have secret bush parties, the roaming lands of sasquatch, of spectres in the distance, of Friday the 13th's Camp Crystal Lake, where Atwood's protagonist disappeared, and sometimes, where people die because they starved to death or froze to death or just stepped on a rock funny and hit their head.
"I grew up with '80s horror," says Dorland. "The '80s had this great way of putting your fear in front of you in a very literal way. In Jason's case, it's just this crazy guy who hacks you to death, but I think it was digging deeper into a fear that most people have of the deep landscape. Because things can go wrong really quickly."Dorland's woods can be fun and they can be pretty, but they're also alienating. In a way, the nature he portrays is one of the least natural places a human could possibly venture.
"You Are Here" won't unhinge the images of wild Canada that have become the stock in trade of national identity, but that was never Dorland's intention (nor do I think we, as an audience, are hungry for a more accurate depiction of our national character). Instead, his work shows that landscape painting is still potent. It can speak meaningfully about our modern relationship to the land, even if that land is four hours down the highway with a service station hamburger in between; that's sort of the point. It's more like: the true North, strong and, well, actually kinda freaky.
Images of Kim Dorland's "Sasquatch/Shoreline," "French River" and "Him #6" via