It's what a hobbyist's sweetest dreams must look like. Outlining the Art Gallery of Hamilton's second-floor atrium are tables cluttered with power tools, cases of drill bits, glue, fasteners, and cardboard boxes heavy with action figures and kits on kits of 1:87 scale hobby railroad gear, or HO for short. Canadian sculptor Kim Adams circles around his 1959 Volkswagen Transporter pickup truck parked—probably permanently—at the centre of the space, unconsciously navigating ladders, carts, heaps of reject toys, and other piles of "maybes," preening what might just be his magnum opus. He's searching for a home for Violator (the clown-demon nemesis of Todd McFarlane's Spawn), then a spot for a fuzzy-chested Austin Powers doll. Next, he's righting an HO pig that's been tipped over. "Tinkering," Adams says. "Always tinkering."
Dressed in two shades of blue denim and thick black suspenders, his silver hair pulled back with an elastic, Adams looks not unlike a guy who spends his Saturdays out in the garage, fussing around with engines. He steps back. "Is that today's or yesterday's?" he asks, hand hovering over a paper coffee cup on the workbench before bringing it up to his lips. "Yesterday's. Tastes funny." He's been at this for a few days already.
Over the month of January, in run-up to his retrospective One for the Road (which opened February 8), the 62-year-old Edmonton-born sculptor, who won the 2012 Gershon Iskowitz Prize and was named a 2013 Guggenheim Fellow, has returned to the AGH to work on his ongoing installation Bruegel-Bosch Bus—an icon of the gallery since its purchase in 2001. Named for the hellscapes of Netherlandish Renaissance artists Pieter Bruegel the Elder and Hieronymus Bosch, Adams' Bus is a megalopolis kit-bashed (hobbyspeak for "assembled by mixing different sets") from HO buildings built on the bedrock of the VW's hull. There are industrial farming facilities, highway systems, train tracks, residential towers, and most prominently, steel factories (Adams is understandably pleased to see the piece living in Hamilton). Upfront, a mudflow spills action figures—Tommy Chong, two different John Lennons, a small horde of Incredible Hulks clung together like a barrel-o-monkeys chain—out the passenger-side windshield and down the bumper. If the rear is a testament to the organizing, harmonizing powers of urban living—the city as a well-oiled machine and all that—the frontend looks like an amusement park caught fire.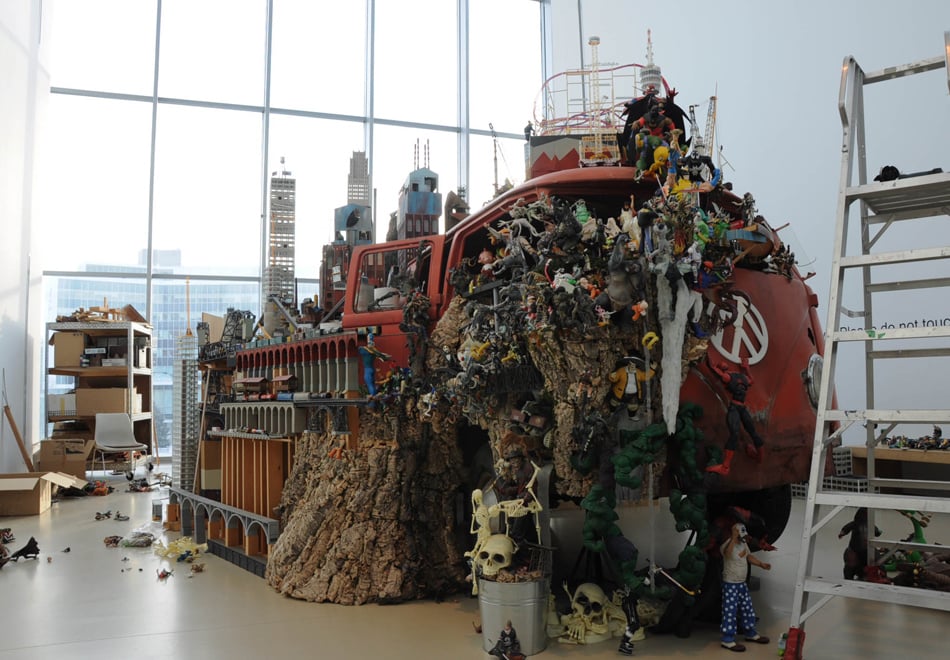 Bruegel Bosch Bus, 1997 - ongoing
8'H x 13.5'L x 5.5'D
1960s VW bus, multiple scale model parts, action figures
Art Gallery of Hamilton, Acquired with the Assistance of the York Wilson Endowment Award at the Canada Council for the Arts, The Muriel Baker Fund, The Russell Nelson Eden Fund and The Walter and Duncan Gordon Foundation
Photo: Toni Hafkenscheid