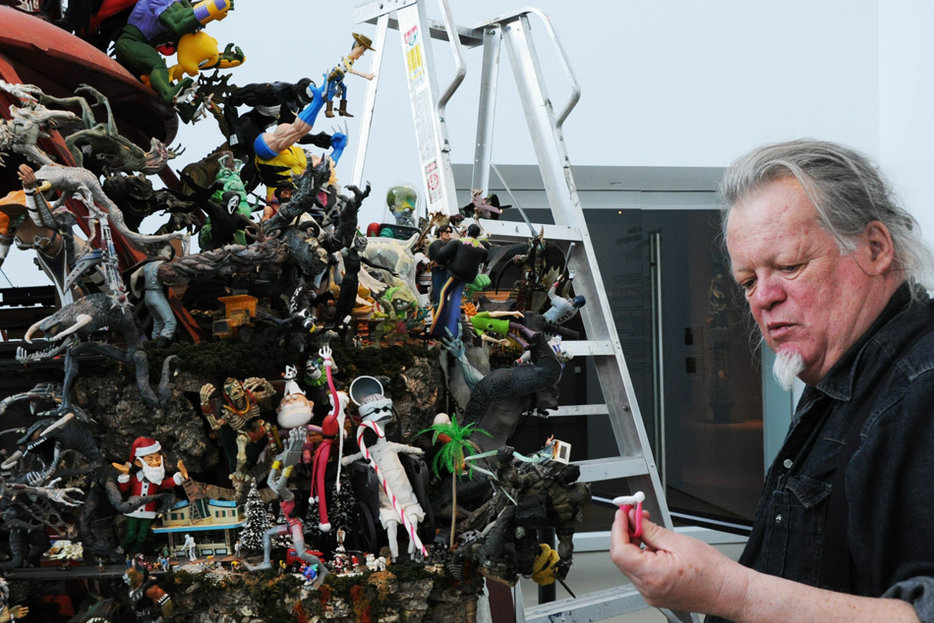 It's what a hobbyist's sweetest dreams must look like. Outlining the Art Gallery of Hamilton's second-floor atrium are tables cluttered with power tools, cases of drill bits, glue, fasteners, and cardboard boxes heavy with action figures and kits on kits of 1:87 scale hobby railroad gear, or HO for short. Canadian sculptor Kim Adams circles around his 1959 Volkswagen Transporter pickup truck parked—probably permanently—at the centre of the space, unconsciously navigating ladders, carts, heaps of reject toys, and other piles of "maybes," preening what might just be his magnum opus. He's searching for a home for Violator (the clown-demon nemesis of Todd McFarlane's Spawn), then a spot for a fuzzy-chested Austin Powers doll. Next, he's righting an HO pig that's been tipped over. "Tinkering," Adams says. "Always tinkering."
Dressed in two shades of blue denim and thick black suspenders, his silver hair pulled back with an elastic, Adams looks not unlike a guy who spends his Saturdays out in the garage, fussing around with engines. He steps back. "Is that today's or yesterday's?" he asks, hand hovering over a paper coffee cup on the workbench before bringing it up to his lips. "Yesterday's. Tastes funny." He's been at this for a few days already.
Over the month of January, in run-up to his retrospective One for the Road (which opened February 8), the 62-year-old Edmonton-born sculptor, who won the 2012 Gershon Iskowitz Prize and was named a 2013 Guggenheim Fellow, has returned to the AGH to work on his ongoing installation Bruegel-Bosch Bus—an icon of the gallery since its purchase in 2001. Named for the hellscapes of Netherlandish Renaissance artists Pieter Bruegel the Elder and Hieronymus Bosch, Adams' Bus is a megalopolis kit-bashed (hobbyspeak for "assembled by mixing different sets") from HO buildings built on the bedrock of the VW's hull. There are industrial farming facilities, highway systems, train tracks, residential towers, and most prominently, steel factories (Adams is understandably pleased to see the piece living in Hamilton). Upfront, a mudflow spills action figures—Tommy Chong, two different John Lennons, a small horde of Incredible Hulks clung together like a barrel-o-monkeys chain—out the passenger-side windshield and down the bumper. If the rear is a testament to the organizing, harmonizing powers of urban living—the city as a well-oiled machine and all that—the frontend looks like an amusement park caught fire.
Adams leads me on a tour of the bus, letting me in on a few of the little stories he's built into it. There's a slaughterhouse, but he imagines the livestock escaping their pens—a wink to Animal Farm. He points out a small HO window-washer cleaning the glass helmet of a Martian from Mars Attacks! Also included: his dream studio, a brown brick warehouse that once sat adjacent to the Patterson Chocolate Factory on Queen Street West in Toronto. He takes me over to a bridge section where the military has amassed to break up striking steelworkers. "They're on strike because of how they've been treated, and if they come any closer," Adams says, pointing at the army, "the picketers will set the charge and blow up the bridge." (He's hidden a little missile behind the union encampment.)
As he plots out these narratives, it strikes me that what's driving his constructions here is exactly what drove me as I played with Legos or Ninja Turtles when I was six years old: the spontaneous creation of stories, the role-playing, the stream of imagination that's irrepressible when you're sitting in front of an exploded toy chest.
"Sure, it's play," he says, laughing. "You can't plan this. The blueprint is gone."
*
I first saw Bruegel-Bosch Bus when I was about 18, after the AGH had reopened following its major renovation in 2005. It was the first piece of contemporary art I remember engaging with, its internal logic and monstrous scale undeniable. I walked around it, floored by its obsessive detail, pointing out toys I had once played with, catching whiffs of the inside jokes. Infinitely more accessible than the abstract movements that came just before Warhol and Lichtenstein (who were and, I'm sure, remain many people's baby steps into art post-Second World War), and more accessible still than the minimal and conceptual stuff that came after, if Adams' all-you-can-eat buffet here was art, then art was cooler than I'd ever realized. Though the world of white plinths and gallery pomp might seem as if it has high barriers to entry, a sport reserved for specialists, Adams' oeuvre came as an antidote. The Bus was my gateway.
*
He brings me to a section of the Bus he's particularly proud of. Down the driver's side, from the back of the cab to the rear bumper, he's built a multi-wing mega-museum: it's his Hamburger Bahnhof. Every inch is a marvel. Outside of the gallery, amidst tiny HO wedding parties and TV crews, Adams has fashioned miniature artworks, some nearly to scale, riffing on famous titles by his heroes. He points out three pieces of steel propped against each other: "That's a Richard Serra." There's a checkered tile piece for Carl Andre, a shrouded object on mini skids in honour of Christo. A flatbed has just pulled in carrying Claes Oldenburg's Floor Burger—a giant canvas hamburger. Fans hang around Keith Haring's grave, tucked into a corner, like Jim Morrison groupies.
"Who's that?" I ask, gesturing at a convoy of trucks headed towards the Bruegel-Bosch gallery carrying modified grain silos and reservoir tanks and perforated shells—works that look awfully like some of the pieces being loaded in downstairs for the retrospective. "Well," Adams says, "that's me." He's built his own history into the bus.
*
Perhaps it's exactly because the Bruegel-Bosch Bus blurs the distinction between plaything and high art that it's become the most popular piece in the AGH's holdings. For adults, it's literally a vehicle with which viewers can enliven their personal nostalgia, says Curator of Contemporary Art Melissa Bennett. (Remember Earthworm Jim? Bob and Doug McKenzie? Rat Fink?) For kids, it's a decadent—Adams prefers "rich"—wonderland. "It's a cake with all of this candy on top," Bennett says.
It's no coincidence we all use the same language; the work appeals to the sweet tooth in near everyone. Because the Bus is so popular, the AGH has positioned it at the forefront of its collection: the exhibit got a central, purpose-built room of its own in the redesign, appears on the front of marketing materials, and sits behind a giant glass window-wall that makes the work visible from Main Street. It's the piece that gets people in the door, Bennett says: "[it] allows us to fulfil our mandate of engaging the general population." And, because it engages, it also serves as a point of access to the AGH's broader collection. "It bridges any perceived gaps about the understanding of fine art."
*
The Southernmost wing of the Bruegel-Bosch museum is holding a Serra retrospective, Adams tells me. Around more Serra miniatures plunked in front of the stately pavilion, the fire department has arrived—a nod to the Ed Ruscha painting LA County Museum On Fire. While Adams, a maximalist if there is one, seems in contraposition to Serra, Andre, and other Minimalist sculptors like Donald Judd, it's clear he feels indebted to them. Stranger still is that these are exactly the artists top-of-mind when I think of work that's inaccessible or, at least, extremely challenging for those outside the trained art world—exactly the sort of thing Adams and the Bus are poised against.
But Adams tells me the key to his affinity: they're all playing. "In Judd's studio, he played," Adams says, "working on different forms or working out colours." Judd owned 29 studio buildings in Marfa, Texas; he employed 200 workers. "It was his own kind of Bruegel-Bosch nightmare."
"Serra, too," continues Adams, now arranging the limbs of figures on the frontend mass. "Do you know how he does his models? He has a sandbox. He gets pieces of steel, or they'll bend lead, and he tries them out in the sandbox." It's hard to imagine Serra's hulking structures born of the same activity I enjoyed at about two years old in my family's backyard in a plastic turtle, but, as he reiterates, "Making art is a type of play."
Adams points down at a pile of plastic skeletons. "See," he says, "they're laughing hysterically." He's right: all of their jaws are positioned agape, roaring for eternity. They're inhabitants of a world in which all is permitted, constrained by nothing but the limits of imagination.
Bruegel Bosch Bus, 1997 - ongoing
8'H x 13.5'L x 5.5'D
1960s VW bus, multiple scale model parts, action figures
Art Gallery of Hamilton, Acquired with the Assistance of the York Wilson Endowment Award at the Canada Council for the Arts, The Muriel Baker Fund, The Russell Nelson Eden Fund and The Walter and Duncan Gordon Foundation
Photo: Toni Hafkenscheid