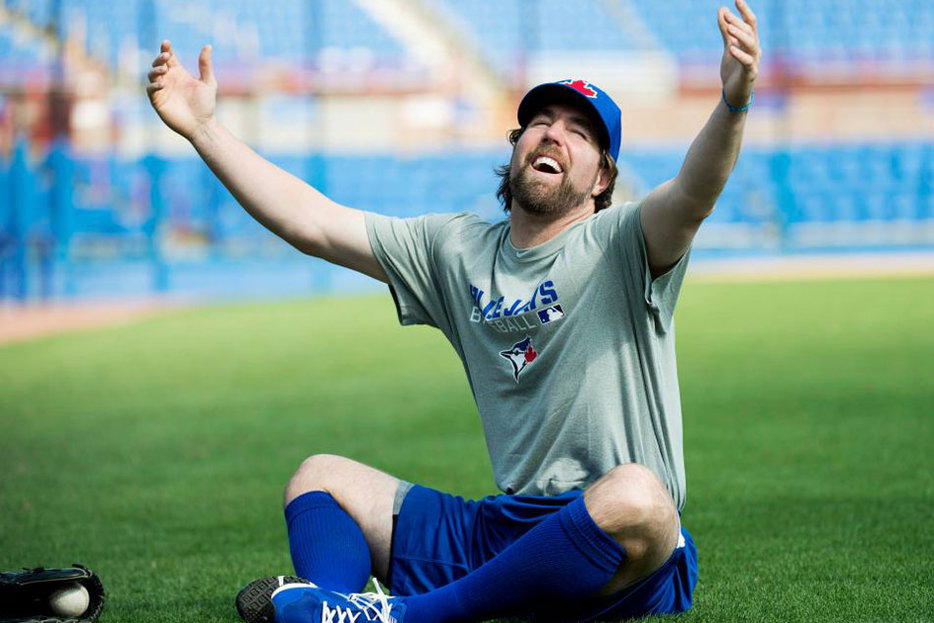 Despite baseball's reputation for being cripplingly slow, unlikely folks have been feeling inexplicably drawn to the Toronto Blue Jays in recent months. Some may dismiss such newfound fans as bandwagon jumpers, but in this beleaguered city, one that hasn't seen a championship sports team in decades (the Argonauts notwithstanding), who wouldn't want to get behind this wildly overhauled, expensive lot that Las Vegas odds have as a good bet to win the World Series? Baseball culture needn't be some exclusive club of alienating "get off my lawn" types; in its finest moments, the sport is a glorious literary-style endeavor, uniting wide swaths of people to gasp at poetic stories of balls and strikes. If you're new, and can get past the surface yawn of the occasional meandering, nine-inning stand-around, baseball is deeply rewarding, and the best way to access it is to find your own personal brand of investment. The compelling back-stories of players have always done the trick for me, and the 2013 Blue Jays have plenty of rich narrative arcs to feast on.
R.A. Dickey, Pitcher
On opening day, the Jays' brand new ace will take the mound in Toronto for the first time. He's the team's wise, wizardly sage: a 38-year old bestselling author and avid reader, who The New Yorker says looks like a "retired up-country hunting dog." Defined by his dramatic slow rise to greatness, knee-socked Dickey is older than most, with a soft, southern drawl, and a rare and confounding knuckleball. Without getting technical, the knuckleball is an obscure thing of beauty with a compelling history of its own, thrown much less aggressively than your average pitch, and travelling in a confusing pattern that bewilders both hitters and catchers. Dickey makes a neat metaphor about personal authenticity out of the pitch; in his recent memoir, Wherever I Wind Up, he revealed he is a sexual abuse survivor and is on a personal mission to raise money and awareness for survivors of human trafficking. He's the team's lonely yet grounded father figure, a calm stabilizing force who provides much-needed perspective to what can be an aggressive and hyper-masculine game.
Brett Lawrie, Third Base
In stark contrast, third baseman Brett Lawrie is our Canadian-born, sleeve-tattooed Ken doll, with excellent bone structure, hyperactive energy, and a bit of a temper. At 23, he's a Red Bull-loving, good-natured jock who shirtlessly duct-tapes a forty to his hand, calls out his high school PE teacher on Twitter, and looks like every guy with whom I went to high school. Last year, Lawrie was famously ejected from a game after yelling at an umpire, tossing his helmet in a tantrum, and inspiring a fan to throw a full beer at said official. Having said all that, he is the king of the baseball bromance, and the Internet is littered with shots of him spreading his arms wide to embrace his teammates, dopily wearing his glove on his head like a hat. He's a good choice if you enjoy a charming bad boy with a heart of gold story, the kind of guy who would back you up in a fight yet be really sweet to your grandmother.
Melky Cabrera, Left Field
Drugs are bad, but redemption is better. Melky Cabrera is a big-hitting All-Star Game MVP who was unceremoniously suspended for fifty games last year after getting busted for using a banned testosterone-boosting substance. Apparently Toronto didn't care about his clandestine drug use, signing the free agent to a two-year deal with an emphatic "we're willing to give anybody a second chance." Second-chances are pretty much the hallmark of any good baseball story; when they pan out, your unwavering faith is a rewarded with a great, smug "in your face" victory. Watching Melky do it without the juice in 2013 could lead to an inspiring rise after the fall.
Adam Lind, Designated Hitter
If underdog redemption is more your narrative school, Adam Lind has had so many chances I've lost count. The once-celebrated Silver Slugger got sent down to the minors last year for not living up to expectations, but, with his new yoga regimen, improved perspective and a strong spring, he's looking poised for a dramatic comeback. Lindy is in many ways the most viciously mocked player on the team—folks love to call him slow, lazy, and worthy of being stripped of his duties—so for the masochists among us, watching his struggle is uniquely satisfying. The red-headed Midwesterner also married a girl from Scarborough, Ontario, which inevitably breeds its own unique type of local loyalty.
Mark Buehrle, Pitcher
New starting pitcher Mark Buehrle, the guy whose name no one can spell on a first try, tragically left his wife and children behind in St. Louis because Ontario's pit bull ban means they can't come up as a family with their beloved two-year-old American Staffordshire, Slater. Buehrle is the proud owner of four rescued dogs, and when asked why he wouldn't just bring everyone else up and leave the dog, he told ESPN, "That would be like if we moved somewhere that only allowed boys. I wouldn't leave my daughter behind."
Jose Reyes, Shortstop
If animal-loving sacrifice doesn't pull on your narrative heartstrings, you can go with the eternal, radiant optimism of quick-footed, big-bearded shortstop Jose Reyes. He may be the happiest man alive (or at least in the majors), the kind of player who takes time to dance with groundskeepers, and has teammates already commenting on the infectious joy he brings to the clubhouse. From the great baseball nation of the Dominican Republic, Reyes was just an integral part of that country's team winning the 2013 World Baseball Classic, and watching him jump around in hysterical, manic glee over that victory is enough to make even cynics fall deeply in love.
Jose Bautista, Right Field
The unwavering heart of this team is undoubtedly Jose Bautista. He's the classic hero, a journeyman who became a star, a well-spoken and rational spokesperson who embodies the gentlemanly class and focus that baseball history famously lauds. Not just the face of Booster Juice, Bautista is also this team's unofficial leader, the voice in the scrum that tells it like it is, the solid athlete whose name is worn on the back of children's replica jerseys, and whose face is heavily represented in every emotionally stirring, artfully created promotional montage.
And there are more stories to track this season, from outfielder Colby Rasmus, the shaggy haired, hard-to-understand southerner who hasn't yet lived up to his potential but, thanks to the awkward yet skillful way he has about him, is impossible not to like, to catcher J.P. Arencibia, the handsome, outspoken joker who famously (and bravely) caught Dickey's unpredictable knuckleball this off-season in Nashville without a cup. If this team emerges victorious, the resulting drama will be filmic in its unfolding. Each player is his own archetypal character, easily capable of showing up in a madcap adventure tale thoroughly more entertaining than the slow unwind of a sunny Saturday afternoon game would suggest.
Yes, advanced statistics such as xFIP, UZR, and WAR can be exhausting if they're not your preferred route in—when you're a bookish type who's more interested in narrative than numbers. But those systems can work in tandem, and you can easily peel back the complex minutia of numbers to find the humanity in baseball, celebrating it as an enthralling and addicting piece of theatre. Whether you choose to invest in Buehrle's beloved dog, Reyes's stunning smile, or Lind's sun salutations, this season has the potential to change our all too pessimistic feelings around sports in this town. Sure, there are moments in a game when these fascinating characters do a lot of standing around, but that, my friends, is what the beer is for.
–
Photo of R.A. Dickey via the Toronto Blue Jays' official Facebook page