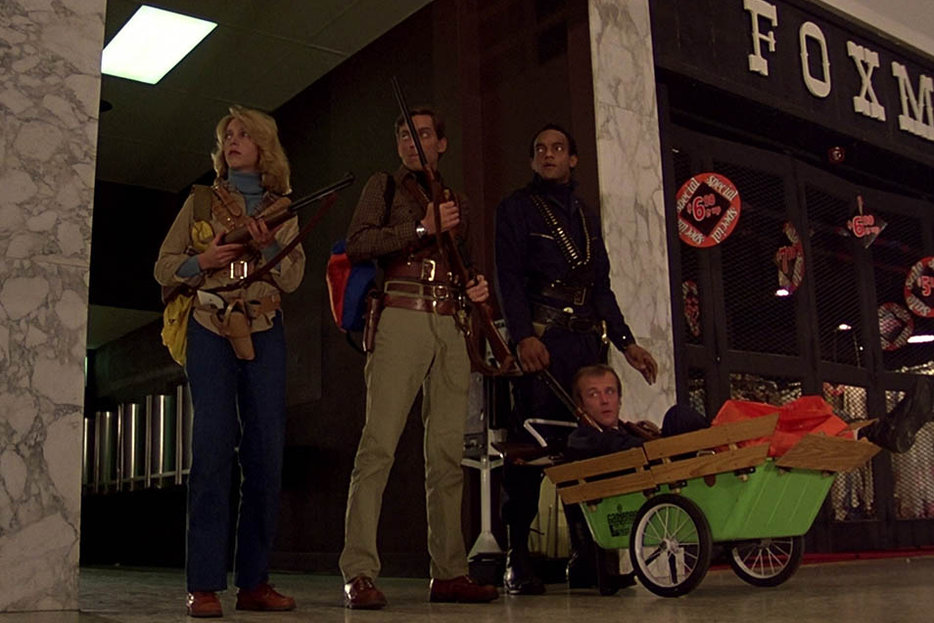 Trailer, Dawn of the Dead (1978)
Don DeLillo famously captured the mood in 1985's White Noise when he described a resistant college professor succumbing to his family's passion for retail:
"I shopped with reckless abandon. I shopped for immediate needs and distant contingencies. I shopped for its own sake, looking and touching, inspecting merchandise I had no intention of buying, then buying it. … I began to grow in value and self-regard. I filled myself out, found new aspects of myself, located a person I'd forgotten existed. Brightness settled around me. I traded money for goods. The more money I spent, the less important it seemed. I was bigger than these sums. These sums poured off my skin like so much rain."
Tao Lin got at another mood in 2010's Richard Yates when he described two college-aged kids texting: "They talked about writing a book called How to Steal from American Apparel, Whole Foods, Virgin Megastore, and Duane Reade and putting it on the internet."
There were only a handful-and-a-half of casualties in the U.S. this year during the Black Friday shopping frenzy—seven deaths, 90 injuries, according to the handy Black Friday Death Count. A minor discount compared to the instantly prescient-feeling scenario dreamed up by The Onion last year: "42 Million Dead in Bloodiest Black Friday Weekend Ever." A few decades ago, after all, wouldn't the existence of a Black Friday death count at all have seemed cynically implausible?
The name Black Friday was coined by Philadelphia cops in the 1960s to describe the terrible traffic on the day after Thanksgiving, and only later came to refer to businesses getting "into the black" with all the day's business. Either way, it marks the manslaughtery launch of the holiday shopping season that will engulf us for the rest of the month, with its own double edge—the pleasant sensation of getting gifts for loved ones alongside the drag of that generosity being conscripted to perpetuate capitalism, Christianity, the rape of the ecosystem, all that.
But kneejerk anti-consumerism gets old, not to mention grinchy, and there is something about our collective well-meaningness, the vulnerable narcissism-altruism of the shopping horde, that I do find touching. At least once the sacrificial rite of Black Friday has passed.
I am a procrastinator about most things but especially about shopping, so I'm unlikely to be found behind the sliding doors of a mall more than once in any month other than December. The prospect always has me flashing on mall scenes out of zombie movies like George Romero's Dawn of the Dead (above) or the sequence in Mike Judge's devolution dystopia Idiocracyin which the electronics department of the cavernous Costco is "not far, about an hour away," Starbucks dispenses "adult" lattés (hand jobs), and the store greeter mutters over and over, "Welcome to Costco, I love you… Welcome to Costco, I love you…."
(Judge, the creator of Beavis and Butthead as well as Office Space and King of the Hill, may convey the most complicated mix of condescension and compassion of any current satirist, which is saying a lot.)
But kneejerk anti-consumerism gets old, not to mention grinchy, and there is something about our collective well-meaningness, the vulnerable narcissism-altruism of the shopping horde, that I do find touching. At least once the sacrificial rite of Black Friday has passed.
In that spirit, I've assembled a soundtrack of songs about shopping to help see us through the gauntlet. I've ruled out the over-obvious candidates (The Clash's "Lost in the Supermarket," that Macklemore song, etc.) and eliminated all the songs in which shopping is a metaphor for looking for love ("Shop Around," "Window Shopping," Dolly Parton's "The Bargain Store," etc.) rather than literally about buying stuff, to the extent that's psychologically possible.
Most of all I have tried to balance the jaded screeds with a fair number of actually upbeat tunes about spending and getting. Submit your own choices in the comments, but be sure to keep your receipts. May the music pour off your skin like so much snow.
1. Toni Basil, "Shopping from A to Z" (1982)
Starting on a cheerleading note, it's the one-hit wonder you almost certainly know only from "Mickey," with another single from the same album, which was backed by members of Devo. Yes, it's only about grocery shopping, but the crew of b-boys in the video make that chore seem anything but mundane.
2. Fabolous feat. The-Dream, "Throw It in the Bag" (2009)
And now a more modern equivalent, a summer hit on the clichéd theme of buying swag for those ever-materialistic ladies (see also De La Soul's superior but more resentful "Shopping Bags"), but redeemed for me by The-Dream's beguiling vocals and the fact that the title phrase evolves into a cue for a shopping-themed dance move. It's the Twist of conspicuous consumption.
3. Gang of Four, "Capital (It Fails Us Now)" (1982)
After those two it does seem time for the palette cleanser of sarcastic punk Marxism, for which we turn to the most reliable cadre, singing about being born in a superstore but discovering you've left your credit card in your other (birthday?) suit.
4. The Slits, "Spend Spend Spend" (1979)
From the same era but from the feminine side of the checkout line, the Slits underline the yearning and emptiness that drives the purchasing urge—it's implicitly an answer song to all the "golddigger" tunes like "Throw It in the Bag": Stuck in a relationship with someone who's "not communicating," the singer croons to herself, "I want to buy… something trivial would do/ I want to satisfy this empty feeling." Depending how you interpret it, at the end it seems perhaps she's bought a dildo … or two. Which nudges at an older English meaning of "spend." (It was difficult to choose between this and "Shoplifting" as the Slits' best retail riff.)
5. Tom Waits, "Step Right Up" (1976)
Speaking of sex toys, here's Waits pitching a product that "gives you an erection, it wins the election!" His parody of 1970s-era advertising lingo is dated but recognizable today: "Tired of being the life of the party? Change your shorts, change your life! Change into a nine-year-old Hindu boy and get rid of your wife!" Its most telling take on the burden of consumerism, though, comes right here: "And it finds you a job! And it is a job!" (There are also several great live, improvisational versions on YouTube, but the words are sharper on the album track.)
6 and 7. Jonathan Richman, "Rockin' Shopping Center" (1976) and Biz Markie, "Albee Square Mall" (1988)
A dose of more wholesome appreciation for mall life from JoJo, and an injection of crazed enthusiasm for it from Biz: "When I come in the place, then I hang up a sign/
Reads 'Home Sweet Home'—this house is mine!" Complex named that one of the 25 best Brooklyn anthems last spring.
8. The Coasters, "Shopping for Clothes" (1960)
One of Lieber and Stoller's wittiest songs performed by a band that knew its way around witty Lieber and Stoller songs ("Yakety Yak," "Charlie Brown," etc.), this proto-rap story-song winds up as a sad tale of credit crunch. The animated version below is a rare early Nelvana joint.
9. Gang Starr, "The Mall" (1998)
Quite another take from Biz Markie's, Gang Starr's mall begins as a benevolent-seeming place but gets messed up by police surveillance and violence. But then, I think, maybe, ends up okay again? Not the group's peak period, but I'd ride with Guru (RIP) and Premier on any errand.
10. The Replacements, "Customer" (1981)
Short, sweet take on having a crush on the person working the counter and hanging awkwardly around. Otherwise, mostly guitars.
11. Bobbie Gentry, "Papa Won't You Let Me Go To Town With You?" (1967)
Maybe Gentry has a crush on some shop boy, too, but she's not letting on to her Chickasaw County daddy in this jazzy country classic about wanting to go pick up a dress pattern and some hand cream in the city because you've finished all your chores. Seriously, that's all it's about. After "How Much is that Doggy in the Window?" this must be the most innocent shopping song ever written, and it's even less avaricious. C'mon, papa, stop being a dick and take the girl to town.
12. Willie Nelson, "Pretty Paper" (live, 1984, I think)
A hit for Roy Orbison in 1963 that sounds a little overproduced to modern ears, this was a Willie original, performed here in a TV Christmas special in the Eighties. That unusual Xmas song that actually evokes the contradictions of the season—a homeless man is selling pencils and wrapping paper on the street, but "busy feet… hustle by him." This is how you do anti-consumerism without being a snotty punk jerk.
13 and 14. Chris Farlowe, "Handbags and Gladrags" (1967) and Johnny Boy, "You Are the Generation that Bought More Shoes and You Get What You Deserve" (2004)
This is how you do anti-consumerism while being a snotty punk, or hippie, jerk. But I have a soft spot for the first as the original hit version of the Mike D'Abo (ex-Manfred Mann) song that was eventually re-recorded to be the theme song to the BBC version of The Office. Imagine it being sung by David Brent (Ricky Gervais) and its pumped-up Cat Stevens-style mansplaining becomes amusing rather than ruining the groove.
As for the song by Johnny Boy, the otherwise forgettable Manic Street Preachers-associated indie duo: contemptuous, sure, but c'mon, that catchphrase is irresistible, especially released as it was at the height of the Sex and the City era.
15. Kanye West, "All Falls Down" (2004)
The condescension to women and their supposed shopping weakness is undermined here because Kanye turns around and pins the same charge to himself, buying luxury watches to soothe his self-consciousness. Kanye's first Top 10 single is indelible for the Syleena Johnson hook and for "single black female/ addicted to retail" but also for "Things we buy to cover up what's inside/ 'Cause they make us hate ourself and love their wealth." His acquisition anxiety continues on "New Slaves" and other songs on this year's Yeezus.
16. Chicks on Speed, "99 Cents" (2003)
Time to scour the bad taste out again with this multinational coalition of Germany-based feminists electro-critiquing the high cost of cheap to global social justice.
17. Future Bible Heroes, "Death Opened a Boutique" (1997)
The drive to accumulate meets thanatos in this synth-cabaret bijou by Stephin Merritt, best known as the leader of the Magnetic Fields: "People came from far and near/ To buy poison and tears," he croons. "Open seven days a week/ It was de rigeur and chic/ For the wicked and the weak." The finest little number to aestheticize your shopping ennui.
18. Eugene McDaniels, "Supermarket Blues" (1971)
From the soul maverick's landmark psychedelic fusion disc Headless Horses of the Apocalypse, a shaggy-dog chronicle of the ultimate bad experience at the returns counter, and the hazards of Shopping While Black.
19. By Divine Right, "Mall Santa" (2010)
I haven't come across a lot of Canadian retailing songs (there are many office-drone anthems), but this novelty by the veteran Toronto band from the Ho! Ho! Ho! Canada Deux compilation brings in a little seasonal spice.
20. William de Vaughan, "Be Thankful For What You Got" (1974)
To close, let's bring it on back to the soul with a palliative for all that materialism and greed, in this classic later covered by Massive Attack on Blue Lines (1991).
The News in Art appears every Monday (okay, sometimes Tuesday).