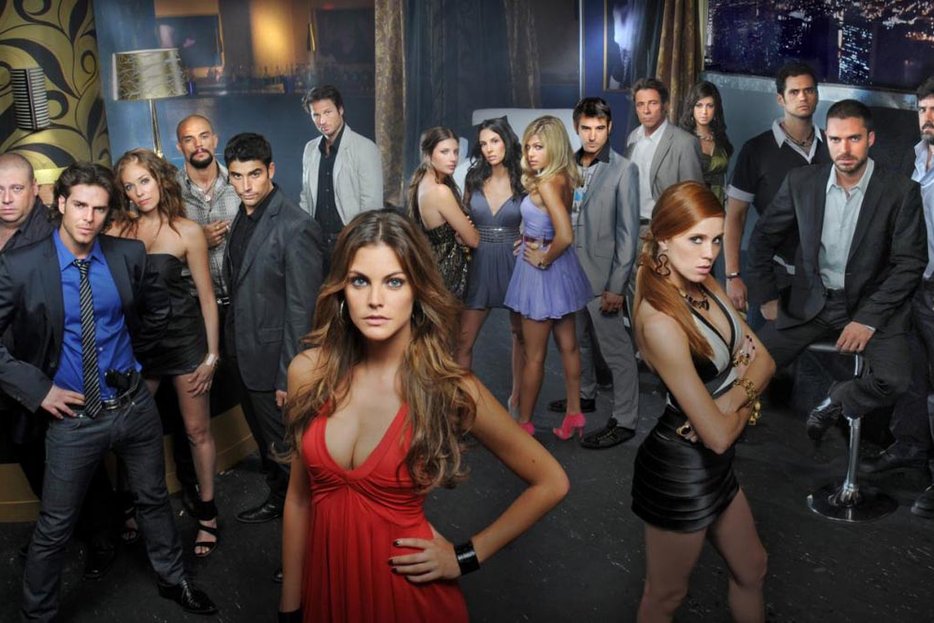 On a recent visit to my parents' house I discovered a mid-1990s home video of my mother, worn out and beautiful, collapsed on the living room sofa with my toddler brother half-asleep beside her. Her eyes are droopily fixed on the TV screen, on a telenovela whose name I no longer remember.
"Mama loves novelas," bleats my eight-year-old voice from behind the camcorder, a cadence of disapproval carefully over-projected for posterity. In case my stance wasn't clear, I threw in a "so corny!" for insurance.
My mother's devotion to serialized melodramas instilled in me a certain fondness for the genre, but one borne of nostalgia more than respect—the fondness one might feel for a kindergarten best friend who grows up to campaign for Herman Cain (speaking hypothetically). My North American TV sensibilities trump parental influence and Latin heritage; by and large, the telenovela exceeds my ridiculousness quota. (Fact: the title character of 1997's Esmeralda was cured of congenital blindness by the alchemical union of Catholicism and Fernando Colunga's lips.)
But nearly 20 years after that childhood episode was recorded and forgotten, I've found myself debating the virtues of a child named Honey Boo Boo and reevaluating the concept of schlock.
In the English-speaking Americas, few prime-time television scripts accommodate over-the-top schmaltz. Reality television, with its reassuringly uncomplicated characters and thought-proof premises, has more or less annihilated its would-be competition (remember sitcoms?). While people still watch their stories, those dance-offs and cat-fights masquerading as slices of life win big in live ratings. A frequent explanation for the stubborn persistence of so-called "unscripted" programming is that it's cheap to produce—a claim that accounts for network executives' tastes more than it does ours, although the no-frills, low-budget appearance might help to explain why we tolerate reality TV's extravagant account of the real world.
Telenovelas, on the other hand, are hardly low-cost affairs. The bread, butter, and flapjacks of Latin American programming, they are often high-octane productions with ornate sets and cinematography that's downright dreamy. Mexico's Televisa studio, which produces a disproportionate number of the Spanish-speaking world's most beloved evening soaps, is the largest mass-media company in Latin America. A new book on Televisa by Brooklyn-based photographer Stefan Ruiz (called, like the studio itself, The Factory of Dreams) offers on-set snapshots of starlets reclining on stiff-looking lounges and of moustachioed toughs wielding Marlboros—uncompromising (and slightly overacted) caricatures of gender and class.
In her review of Ruiz' book, NPR blogger (and co-host of the network's excellent Alt.Latino podcast) Jasmine Garsd lists the familiar telenovela archetypes Ruiz documents: "the swarthy, good-looking country man; the maid; the poor peasant woman (generally devoid of indigenous features); the evil rich girl." She quotes Latino-American scholars and media critics' who wax intellectual on the telenovela's Cinderella narrative. It's a trapdoor into an alternate dimension where social mobility is obtainable, they explain; where racial difference is cavalierly dismissed by omission and faith is tangibly rewarded.
All this is to say that telenovelas, while flawed, are comfy and predictable. They demand little more from viewers than an hour-long attention span and suspension of disbelief. In short, they sate a yearning so essential, the psychologist Abraham Maslow could have made it the sixth stratum of his hierarchy of needs, right up there with self-actualization and belonging: totally mindless entertainment. There aren't enough brain cells in the average human noggin to allow a steady diet of The Wire; or sufficient feeling in our duodenums (where most feelings are secretly stored) for a steady diet of Breaking Bad. To quote the matriarch of Here Comes Honey Boo Boo, "no one can be proper and etiquettely all the time." Our need for thoughtless diversion is a consequence of evolution. Darwin probably wrote that.
Reality shows are every bit as formulaic as telenovelas—and easily as problematic—but it's escapism we can stomach, cheesiness made palatable by the guise of authenticity (no matter that the guise isn't all that convincing). We can insert ourselves, as viewers, into the pseudo-narratives we are given. We root for the contestant who best resonates with us to win that recording contract, or that life-changing cash prize; we set our voyeuristic gazes on gussied-up sextini swillers vying for a single douchebag's stupid rose and think, "if only life were so simple," unsure of our own conviction. Or we gape with fascination—and maybe resentment—at the antics ofpeople who are like us, but without shame. My personal favourites are TLC's exploit-a-thons of American individualism gone awry, which make me half-yearn for a showier freak flag.
Unsurprisingly, Latin American audiences aren't missing out on the gift of reality TV. Competition shows like Mira Quién Baila ("look who can dance") and the Dr. Phil-esque ¿Quién Tiene La Razón? ("who's right?") have tremendous followings of their own. Their audiences, and those of telenovelas, are hardly mutually exclusive: Televisa hunk-of-the-minute William Levy even made it to the finals on last season's Dancing with the Stars, where he defied ethnic stereotypes by coming in last. But ultimately, reality programming in Latin America remains peripheral, just as our daytime soaps do here. No need to tweak a recipe that's already to taste.
Not all telenovelas deliver straight-up cheese, either; there is, increasingly, room for grit. My mother tells me she's watched a Colombian soap about a serial killer. My father (who denies his affinity for novelas yet keeps suspiciously up-to-date on them) not long ago mentioned a Mexican one starring the versatile Kate del Castillo as a (female!) drug kingpin. And I, with my own two eyes, recently happened upon reruns of a Colombian soap called Sin Tetas no Hay Paraíso, about sex workers seeking to transcend poverty through a store-bought bosom. Sometimes the brain gets restless.