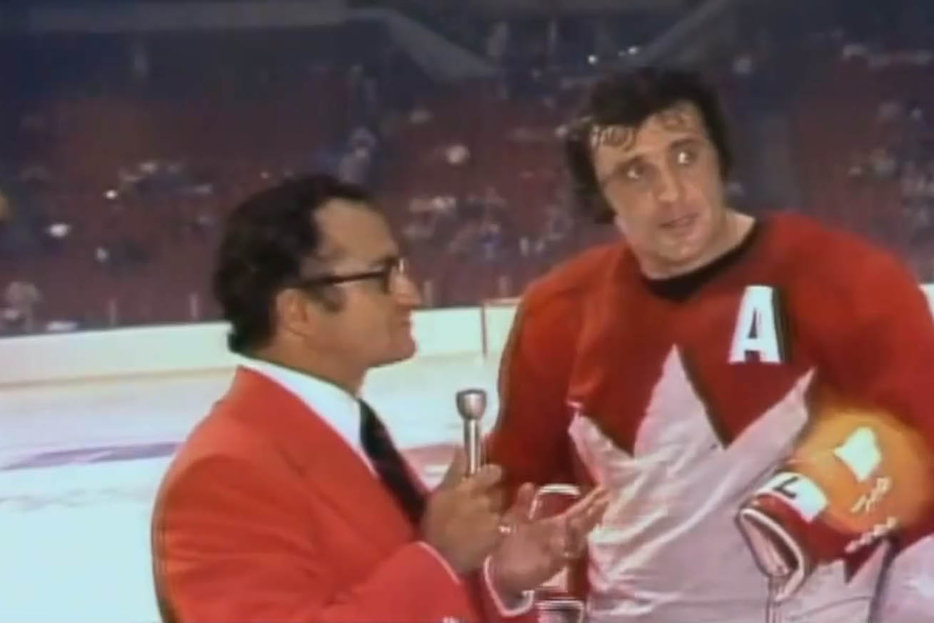 Earlier this year Adam Gopnik put forth a theory in the pages of the New Yorker that he called the Golden Forty-Year Rule. The crux of which is that nostalgia moves in 40-year cycles. Inspired by the popularity of Mad Men, Gopnik argued that what was culturally relevant at any given moment in history will be looked back upon most fervently, and reincorporated into popular culture of the day, about 40 years after the original moment.
And then it occurred to me, since Gopnik has also been known to write about hockey, that he could've also been anticipating one of the more spectacular moments in hockey history—the 1972 Canada-USSR Summit Series, whose 40th anniversary we're marking at this moment.
Four games played in Canada, followed by four games in Moscow. The best Canadian players, all of them professionals in the NHL, finally competing against the Soviet Union's best—erstwhile "amateurs" who had been dominating international hockey for about a decade, though most of them were basically professionals playing for the Red Army club. Today, the 1972 series represents a veritable explosion of nostalgia. For a generation of fans too young to have watched the games when they happened, the whole thing is mythic.
Forty years on, then, how do we best remember these eight games of hockey? That is, if flagrant nationalism just doesn't seem like the way to go. Maybe we're just too nice to keep reminding the Russians of our victory. Maybe the idea of blind, patriotic, sporting bravado makes you squirm just a little bit? This would make you quite Canadian indeed, according again to Gopnik, for it was also in the New Yorker that Gopnik argued Canadians are not actually so nice at all, but rather uniquely sensitive. As in, Canada had to win against the Russians in '72 because we would have been too enduringly sensitive to the actuality of losing the series to have been able to carry on.
So how do we best seize the moment and embrace its legacy, a series that was at the time invested with all the stakes of its Cold War backdrop? How do we best become the Paul Hendersons of our destiny, these Gopnick-approved four decades later? I present four easy steps for doing exactly that.
Step 1: Start drinking Jolly Cola
It's probably difficult to import, so if you'll probably need to take your cue from Breaking Bad and work some up in your home laboratory. Instead of crystal meth try concocting a replica of the Danish soft drink Jolly Cola. The recipe must be available somewhere on the Internet. I'm going to guess that Jolly Cola is slightly less than delicious. But in the spirit of authenticity sacrifices must be made.
I gleaned the significance of Jolly Cola from Dave Bidini's A Wild Stab For It, a new book that commemorates the anniversary of the Canada-USSR series, and whose title comes from Foster Hewitt's famous call near the end of game eight, right before Henderson scores. Bidini's book is itself a wild, probing stab at capturing the feel of the series from as many perspectives as possible, collecting and also testing anecdotal accounts from people who played the games, avidly watched them, talked about them, lived them.
Ken Dryden claims Team Canada waited much of the time they were in Moscow for their shipment of Coca-Cola to arrive, only to eventually be presented with the strange tasting substitute called Jolly Cola. This was just the tip of the iceberg. There are stories of being given cheese and sardines for breakfast, and of 500 cases of Canadian beer being disappeared. Phil Esposito complained of mysterious phone calls to his room at random hours of the night. Jolly Cola comes to represent the treacherously cloaked world that the Canadians faced.
Of course, there was a notable counterpoint to such treachery in form of Team Canada's occasionally over-aggressive play—best exemplified by Bobby Clarke taking out Russian star Valeri Kharlamov by a chop to the ankle. (Some of the Soviet players still maintain that with Kharlamov in the line-up for game eight they would've won.) I'm thinking the taste of some genuine Jolly Cola might bring us that much closer to the September streets of Moscow in '72.
Step 2: Invent new uses for your middle finger
This is probably the best way to channel your inner Alan Eagleson, who was the self-appointed mastermind behind the Summit Series itself. 'Uncle Al' infamously scrambled through the stands to challenge officials during the third period of game eight when it appeared the Russian goal judge hadn't turned on the light to acknowledge Yvon Cournoyer's goal to tie the game. When soldiers tried to apprehend Eagleson, he was rescued from their custody by the Canadian players. All this happened in the middle of the game in front of everyone. And as he was being escorted across the ice to the safety of the Team Canada bench, Eagleson gave the finger to the entire arena.
Asked after the game by Russian media just what the gesture meant, Eagleson said that it was meant to indicate Canada was number one. In the years following the series, however, Russian players travelling in North America claimed to encounter misunderstandings when they used their middle finger the way that Eagleson demonstrated. Maybe it isn't so prudent to come up with new meanings of flipping the bird. So how about we rebrand the gesture as "The Alan Eagleson Salute," especially in light of Eagleson's subsequent downward trajectory. He would eventual admit that as union chief, player agent, and hockey promoter he embezzled money, sometimes even stealing directly from players. He has been removed from the Order of Canada, and he's a convicted felon. Ladies and gentlemen, the Alan Eagleson Salute.
Step 3: Write some Cold War era espionage Summit Series fan fiction
Your main character is clearly going to be Phil Esposito. If the Internet we have today had existed in 1972, there would surely have been a healthy amount of fan fiction written about Phil Esposito already. Not only was he the heart of the team on the ice, a phenomenal goal-scorer and physical presence, he was the soul of Team Canada off of it. He was character personified. An everyman of mythic capabilities. He gave a stern but impassioned address to the Canadian fans and media after game four (which Canada lost in Vancouver), expressing his anguish and disappointment over those who booed the team and accused it of a lack of effort. He implored Canadian hockey fans to renew their support.
After that, fans did rally around the team. In the Soviet Union Esposito was admired, especially by women. They swooned over him, and he was gallant in his brutishness. The Russian players admitted they feared Esposito. So imagine a thrilling fictional spin-off from reality in which Esposito was in Russia in 1972 not only to play hockey for Team Canada, but also to conduct heroic spy missions against the Russians, not unlike a burly Canadian James Bond. Imagine a story in which Esposito tangles with a group of femme-fatale hockey bunny spies. Give the tale a culturally insensitive title like "Mail-Order Mayhem." That's our Phil Esposito.
Step 4. Get yourself to a jeweler
The 40th, after all, is the ruby anniversary. And Ruby is a highly appropriate stone with which to commemorate the series, given that red was the colour worn by both the Russian and Canadian teams. Ruby is a jewel that feels like it's from another time. Perhaps its particular hue of red will always have the nostalgic feel of old-world communism to it. And this is fitting because didn't the Russian team, playing as ambassadors of the communist system, end up teaching us Canadians a bit of a lesson anyway?
Canada may have won the series, but not in the convincing fashion that had been expected of a team composed of NHL stars. The Russians were disciplined. They skated perfectly. They moved the puck with precision, functioning as a well-oiled hockey machine, a team that was greater than the sum of its parts. Maybe that wasn't only about hockey either. Didn't Esposito claim fans were starting to shout at him while he was on the ice that communism was better, when he was in Vancouver even?
With the NHL lockout now in effect, there are rumors that some prominent NHL players with connections to the KHL (Kontinental Hockey League, formerly the Russian Superleague) will go and play there. Perhaps there is a rival hockey league out there to the very capitalist NHL, one with a secret communist agenda waiting to take its place as the premier league on the world hockey stage? (They're already joking about this on TSN.)