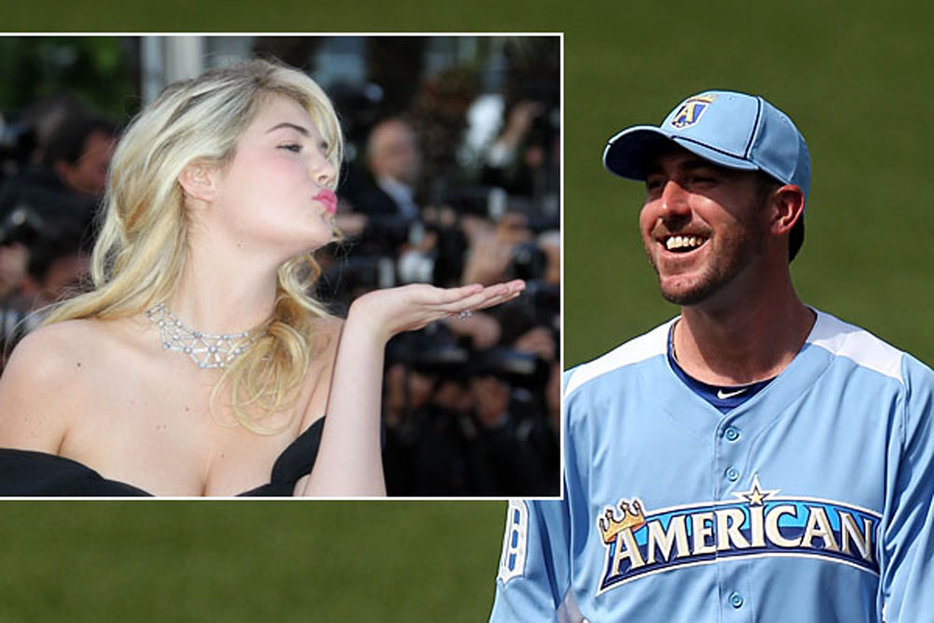 There was a rumour going around that Justin Verlander is the best pitcher on the planet. That idea might have taken just a bit of a hit after the loss he suffered at the hands of Pablo Sandoval and the San Fransisco Giants last night. But probably only a slight one. However, he can, as we learned before the World Series began, on the kind of slow news days that sports rumour-mills seize upon, neither confirm nor deny reports that he is dating Sports Illustrated model Kate Upton.
How's that for meta-fiction? An athlete dating a Sports Illustrated model is much like Charlie Kaufman writing himself into his adaptation of The Orchid Thief. Can there really be a slow news day in sports if Sports Illustrated can supply so much of its own content?
I've got to think that Verlander was smiling when he deflected questions about his romantic life. His grandfather seems to enjoy the whole thing too. Granted this was before he pitched his worst game in a really long time, and on the biggest stage of all, as his Detroit Tigers lost game one of the World Series 8-3. But really, the reason that Verlander could smile through the Hollywood gossip kind of treatment he was getting is exactly because he is pitching in the World Series. That combined with the fact that otherwise his recent pitching performances have been incredible, and he led his Detroit Tigers to victory against the New York Yankees.
Rumours and gossip about the personal life of a professional athlete, particularly one who ranks as a genuine superstar in his or her sport, tend to work sort of like a thermostat for the opinions of the sports-watching public. I can neither confirm nor deny whether Justin Verlander is dating Kate Upton. Nor can I verify what he eats before a game, although I have read that it's tacos. I've got nothing to say about his off-season home in Troy, Michigan. But these are the things that have been talked about, written about, and caught people's imagination and attention. A pretty clear story takes shape here. Justin Verlander is half-regular guy, eating at Taco Bell, and half-the luckiest man going, with a golden arm, just trying to take his place on top of the world. He's not caught up in off-field distractions. Any of these rumours and reported details about his life are all just testament to how much he's liked right now.
As a side note though, I can neither confirm nor deny whether the known properties of the physical universe were conspiring in favour of the San Fransisco Giants, letting Hunter Pence hit the ball three times with one swing of his bat against the Cardinals to get them to the World Series, or giving Sandoval three home runs to earn them the win in game one against Detroit. Maybe when you've faced elimination the number of times that the Giants have during these playoffs and lived to tell about it, the stories start to bend your way.
Similarly to Verlander, Lebron James is rumoured to be the best at what he does, too, but of course what he does is play basketball. And neither is Lebron spared from the machination of rumour, public opinion and the outlets of media. I can neither confirm nor deny that the Los Angeles Lakers are preparing a mythic sales pitch for Lebron. Rumour is already circulating that the Lakers are going to make every strategic move possible to have him in a Laker uniform in 2014, but there are at least two levels to how this rumour gets explained.
It doesn't take too much foresight to see it coming. A team like the Lakers is well equipped with the financial power to be in perpetual position to compete for a championship by attracting all of the big-name free agents. In basketball this is a more complicated task than in baseball (with the buying power we've seen from the Yankees) because of salary-cap restrictions, so effective moves usually need to be planned for. Lebron James can choose to become a free agent again in 2014, the same year that Kobe Bryant's contract is complete. Kobe has said he'll at least consider retirement at that point, and the Lakers have managed to organize things so that almost all of their existing contracts (Pau Gasol, Metta World Peace, Steve Blake, etc) will all be up at the same time as Kobe's, in 2014. They will have plenty of salary room to sign even a star that will command the salary of Lebron James. If you put two and two together (Lebron's situation and that of the Lakers) then all you have left to do is get a source (unidentified even) inside the Laker organization to say that, sure the Lakers have talked about the possibility of landing Lebron James. Then you have a rumour, ready to fly.
But the rumour sticks in the minds of sports fans for reasons other than this (less than) remarkable behind-the-scenes coincidence. It's all probably for somewhat opposite reasons than why Justin Verlander gets made into the subject of an imaginary reality TV show by the same rumor mills. Despite the declarations that it became officially ok to like Lebron James again, after the way he lead the Miami Heat to the championship last season, and Team USA to an Olympic gold medal, it's still easy not to. It's definitely easy to still not like Lebron, because the way that he ended up joining the Heat, with everything prearranged that he would join his buddies Dwayne Wade and Chris Bosh there, still feels like it revealed something, if not unseemly, than at least untrustworthy. It felt like watching a kid using a cheat-code to jump ahead to the final level of a video game. So there will always be a rumour hovering around Lebron, like this one about joining LA. It's easy to believe that he's simply untrustworthy. Maybe it's even the preferred way to think about Lebron James. Whatever the case, I don't think the public perception is going away, and the rumours are evidence of that.
Nor do I think, however, that baseball fans, especially the ones who have been backing the Detroit Tigers for longer than just the postseason, are quite finished with the adulation of Justin Verlander. Of course, yes, he got crushed in game one of the world series. So the rumours of Verlander's infinite likability might die down. But I don't think that the perception of Verlander goes away either. I think that we'll get to see him go up against the Giants again in the series and everyone will get a chance to be reminded of what there really is to like about him. It's how he throws a baseball.