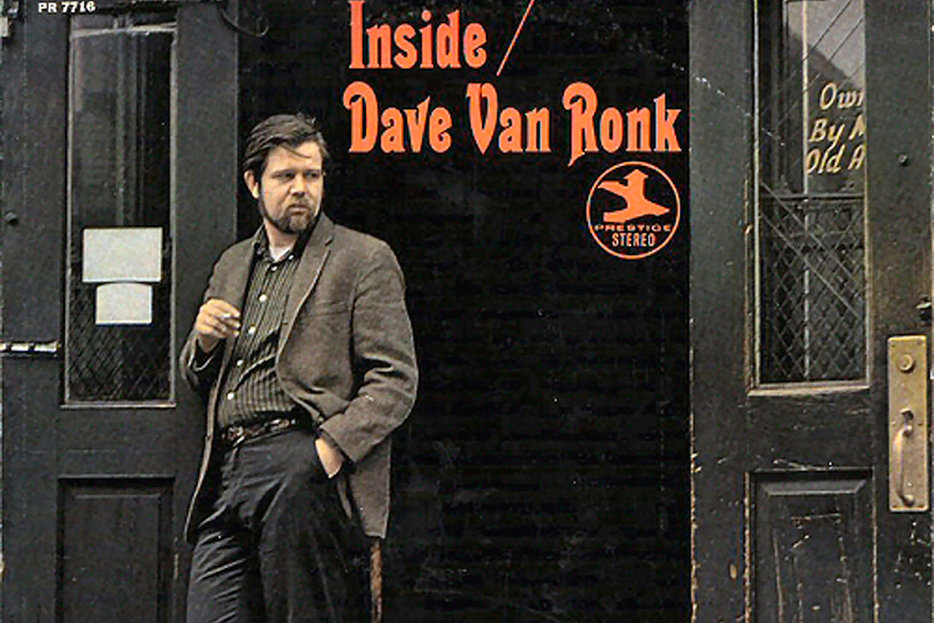 If you know of the musician Dave Van Ronk, you probably love folk music more than the average person. In his four-decade-long career, he wrote exactly one hit—"Bamboo," recorded by Peter, Paul, and Mary—as well as an iconic version of "House of the Rising Sun," which was plagiarized by Bob Dylan and popularized by the Animals. Though he recorded more than 20 albums, most are relatively unknown; a few are minor classics among people with old-timey sensibilities. Today, Van Ronk's biggest claim to fame is having inspired the Coen brothers' new move, Inside Llewyn Davis.
With Llewyn Davis, the brothers revisit the New York folk music revival of the early '60s. The film is a character study, but also a portrait of a community and a moment in time, and while Van Ronk is hardly the most famous musician of the era, he's the perfect subject for the film. In the bars and coffeehouses of Greenwich Village, he was something like a mentor, a maharishi, and a consigliore. If you needed a couch to crash on, Dave was your man. If you wanted 15 minutes of stage time at one of the dingy basement venues where folk musicians played, he'd introduce you to the right people. (Van Ronk helped Dylan get a regular gig at the Gaslight, a former coal cellar that became the beating heart of the coffeehouse scene.) If you loved Van Ronk he would love you back, and if you pissed him off he'd unleash a torrent of rage. (He may have had a Dutch name, but as his temperament and drinking habits suggest, he was more Irish than not.)
Van Ronk was the ultimate scenester, and his life story captures all that is wonderful and limiting about being a big star in a small constellation. In the village, you'd be judged not by looks or business acumen or social connections, but by your knowledge of sea shanties and Appalachian fiddle tunes. People shared what meager resources they had, so you didn't have to be employed to survive. Everybody had a nickname (Van Ronk was known as the Mayor of MacDougal Street), and many had made-up origin stories (Dylan claimed to have rode into town on a boxcar).
This romanticism might seem cloying, but it stemmed from a real sense among left-wing musicians that they had been entrusted with an imperiled tradition. Vernacular American music had deep connections to labour unrest, agrarian revolt, civil rights, and abolitionism, and the threats to its survival were real: many older folksters had personally experienced the financial and psychological devastation that came from being blacklisted. But while unconventional in most respects, the community held conservative aesthetic values. For your music to pass muster with Van Ronk and his purist set, it had to be authentic—which is to say, it had to sound passably similar to the southern blues or slave spirituals or hillbilly ballads that you were imitating. Nostalgia wasn't just a sentiment but an ethic, and Van Ronk was its chief enforcer.
He was also a top-notch musician, a burly man who could belt and yell and growl; his first love had been jazz music, and he saw the guitar as a piano that you wore around your neck, which is why he preferred virtuosic finger picking to idle strumming. His two most beloved albums—Dave Van Ronk, Folksinger and Inside Dave Van Ronk, both from 1963—contain masterful arrangements of "He Was a Friend of Mine," "House Carpenter" and other heartland standards. They're worth listening to, not because they're life changing, but because they're good.
Van Ronk's autobiography—surely one of the Coen brothers' main sources—is very enjoyable, although it sometimes borders on self-parody. At one point, Van Ronk refers to his cohort—only partially in jest, it seems—as "the true keepers of the flame." He also makes heavy use of plural pronouns, like us and we. (As in, "the Village had bongo players up the wazoo … and we hated them.") It's clear that he both spoke and lived for his community: when Albert Grossman, a high-profile scout, came in from Chicago to tap into the local talent, Van Ronk was mistrustful. "Grossman had his eye on a national audience, but for me the scene was still centered on New York."
This partially explains why Van Ronk was so beloved, and why, although he was every bit as talented as Dylan, his recordings aren't nearly as compelling. We often dismiss imperfect works from bygone days as being "of their time." But Van Ronk and his fellow purists—like the New Lost City Ramblers, Paul Clayton, and Doc Watson—made albums that were already anachronistic. Even in their 20s, Van Ronk and his crew spoke about pop culture like a bunch of grumpy old men. The folksinger Ramblin' Jack Elliot (née Elliot Charles Adnopoz, the son of a Brooklyn surgeon) referred to clean-cut mainstream folk acts, like the Weavers, as "sissies," and when Dylan got his first gig at Carnegie Chapter Hall (a smaller performance space inside the legendary venue), the embittered village purists boycotted the performance. (Later, many of them booed him off stage when he plugged in his guitar at the 1965 Newport Folk Festival.) These guys would never call you pretentious for singing about whale hunting, but god help you if you performed in a tailored suit.
You might think that a musician with Van Ronk's talent would be above this kind of pettiness, but he was as ornery as his less talented Greenwich Village townies. He said that the radio-friendly folk pop of the Kingston Trio "threw me into an absolute ecstasy of rage," and he attributed Joan Baez's success to the public's fetish for virginal women. When Andy Warhol started making the village scene, Van Ronk said Kaddish for the entire movement. ("That towhead was like a vulture—when he appeared, you knew the fun was over.") In 1964, Warhol and his fellow pop aesthetes revolutionized the art world with the American Supermarket exhibition, while Van Ronk and his buddies recorded an album of jazz and blues standards on washboards, banjos, and kazoos.
I understand the desire to play to your crowd: there's something nice about having your own private club, and its frightening to entrust your career to the vagaries of the mass market. Van Ronk sincerely believed that immersing yourself with the right community was more edifying than going it alone. He recalls that, in the late '50s, he rarely associated with non–folk musicians at all. "That kind of passionate attention pays off, in terms of being able to learn songs, play, sing, or whatever one needs to do," he wrote. "I was learning more music, and learning it faster, than I have ever done before or since."
He's right: a scene can be nourishing and fulfilling. But it can also be an echo chamber, a crab bucket, and an obstacle before the steps you need to take to do something fresh. It's not that Van Ronk should have abandoned folk music altogether, but if he'd been less rigid in his devotions, and just a little less disdainful of his moment in time, he might have had something more unique to contribute. I'm reminded of the time in the late 2000s when I saw the poet John Giorno—a living ambassador of the American counterculture—in a performance that relied too heavily on first-name shout-outs to deceased comrades (Allen, Jack, William). Or I think of the Montreal poet and Concordia professor Robert Allen, a canonical saint in his corner of the world, whose works resonated most with those who knew him and understood his eccentric mind. Of course, abandoning one's roots can be disastrous too (recall Serge Gainsbourg's awkward forays into reggae), but failed experiments are forgivable when they're the byproduct of a restless and independent mind.
When Van Ronk died of colon cancer, in 2002, he was living on Sheridan Square, a mere five-minute walk from where the Gaslight used to be. By then the village had become glitzy, fashion conscious, and expensive. Divey performance spaces were losing ground to ready-to-wear boutiques. Still, for those who cared about folk, and the New York scene of the '60s, Van Ronk remained every bit as iconic as Dylan is to the rest of us. In 1969, he was rounded up when the NYPD raided the Stonewall Nightclub. (While heterosexual, he came by when he heard the commotion and stuck around for the fight: "As far as I was concerned, anybody who'd stand against the cops was all right with me.") In the '80s, after a successful European tour, he started receiving visits from aspiring young musicians who'd been turned on to his work.
Occasionally, Van Ronk pushed himself; in 1990, for instance, he recorded a jug band version of Prokofiev's Peter and the Wolf. Mostly, though, he stuck to the Americana rulebook, recording old blues and jazz standards that only got older as the years went by.