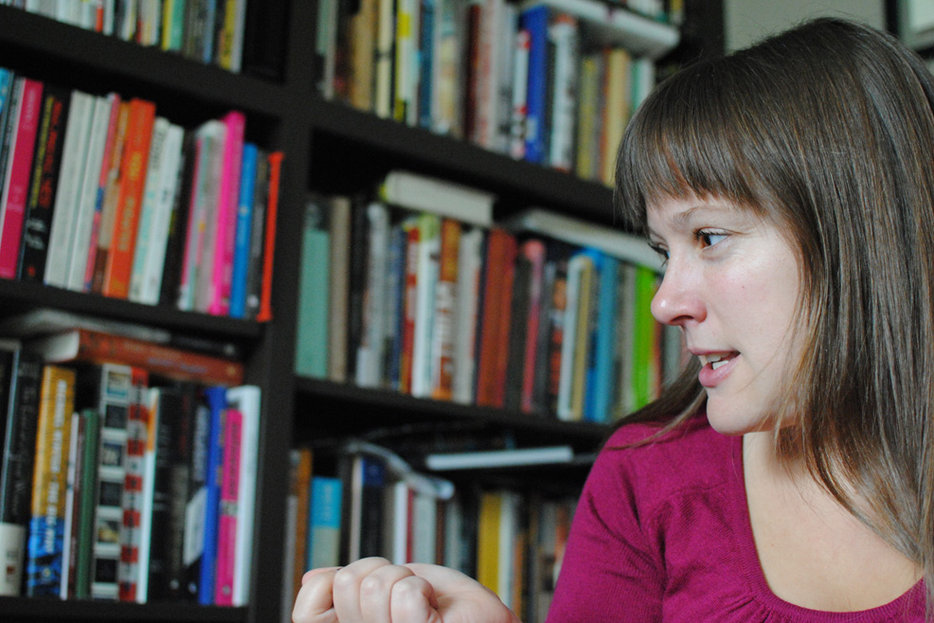 Shelf Esteem is a weekly measure of the books on the shelves of writers, editors, and other word lovers, as told to Emily M. Keeler. This week's shelf belongs to Zoe Whittall, who is a book reviewer, creative writing instructor, poet, and the author of the novels Bottle Rocket Hearts and Holding Still For as Long as Possible, which was named an American Library Association Stonewall honor book. Her bookshelf is in her west Toronto home, which she shares with her partner Marcilyn Cianfarani and their three cats, Licorice—who is pictured below—Bones, and Biggie Smalls.

So when I moved in with Marcilyn a couple of years ago, I was thinking it'd be quick move. I don't really own much, but I realized the bulk of my investments over the past 10 years were in books. We actually had to have this shelf built. When you look at it, it's kind of awkward. This morning I tried to think if I have a system for all this, because I knew we had a system when I moved in, but I feel like it's gone a little bit crazy. I find whenever I work on a long-term project I'll just pull books randomly all the time, and then things get into a disarray. And now that I'm teaching, I'm like, "Oh, we should read an excerpt of this, or that." So there's really no order to it right now. Except graphic novels, and memoir and poetry. They have their own sections, more or less. The graphic novel shelf is very organized, because they're mostly Marcilyn's.
Most of my collection is fairly contemporary. I feel like when writers get photographed with their book shelves, it's very—"These are the classics, I read them." But I'm a very contemporary reader, so that's more what my collection is made of.
There are also some embarrassing paperbacks that you would have at a cottage. If you had a cottage. Y'know, books you can't seem to part with. I also really like reading quite trashy memoirs. The James Frey is not mine, some of these are Marcilyn's, but y'know, like Diary of a Gangster, or Augusten Burroughs, or like, anorexia memoirs and shit like that, those are mine. I don't know why. I've always been drawn to them. I remember when I was 12, reading those kind of Diary of a Teenage Runaway type books.
The book I've had the longest is probably this copy of The Passion, from when I was about 21. I've reread it about a million times. The books I've read the most, though—whenever I'm struggling with really getting into a character's voice, I reread books that have very strong or weird voices. Like, I just reread The Tracey Fragments, and Amanda Marchand's Without Cease the Earth Faintly Trembles—I've read that so many times.
I moved here, to Toronto, when I was 21, and I didn't move here with a truck, so I didn't bring a lot of the classics that I read in University, or as a youth. This is a sort of 25-years-old-and-up library. And I don't tend to hold onto classics unless I'm using them for research. We do have a shelf downstairs with a lot of classics in paperback form, but I'm a strong believer that if you want to write contemporary work, and that's obviously all a writer can write—then you have to be immersed in what's going on now.
I hold onto books for quite a long time, so some of my poetry collection is a little bit embarrassing. I have a lot of remnants from the spoken word era, from when I was 18. Justin Chin—he's really funny though. Alison Pick, and of course, Ken Babstock. And Jon Paul Fiorentino. And, here's The Laundromat Essay, by someone you know. There are a lot of Canadians. I buy a lot of Canadian books. Probably mostly Canadian books.
I'm also big Ben Lerner fan. I saw him read at IFOA. Though, this was the first time that a poet has written a novel where I didn't immediately prefer the novel. I love reading prose by poets, but I think I prefer his poetry. Y'know when you read someone's debut and you think, "the second one's gonna kick ass!" even though the first one's amazing? Maybe I have a higher standard for people I'm already obsessed with.
The stuff on my desk, that's all stuff I'm using for my U of T and Guelph classes. People have been telling me to read that Stephen King book, On Writing, forever, and I just haven't yet. Have you read it? I'm reading it because Christy Ann Conlin, who also taught this course, was like, "you should read it." So it's been useful. I don't really read a lot of craft books. I had to get them all out again, and look at them, when I was preparing the course curriculum. I mostly use books from my own library when I think about teaching. I taught my first poetry seminar last week at Guelph, the reading list had Elizabeth Bishop and Tomas Tranströmer. These are students who've never read poetry, really, except for maybe in grade 10. That's the last time they read poetry. So I wanted to give them some very contemporary work. I took a stack from my poetry shelf, and said "Here you go! Poetry can be fun, and experimental, and it doesn't have to rhyme!" They seemed really wowed by it.
I keep all of the books I've written or that my writing's in, up here, with the Unicorn. It's my favorite tchotchke, from a London pawn shop. London, Ontario. As if there was a question! I did a really weird gig there, and it was on a street just filled with pawn shops. So that was my find. Above my own books, I filled that shelf with Douglas Coupland. I happened to have almost all of his books, and I just wanted to fill the space with something. So, yeah, nerds in action!
Marcilyn and I have mostly intermingled our books. I have a system where if I buy any books, and I feel like I buy about 25 a month, or am given them to review, then I have to move some of them out. I'll give them away, so I usually have a shelf for what's next to go. I'm ready to let go of Anita Shreve, and the Gabriel Garcia Marquez. Eventually.