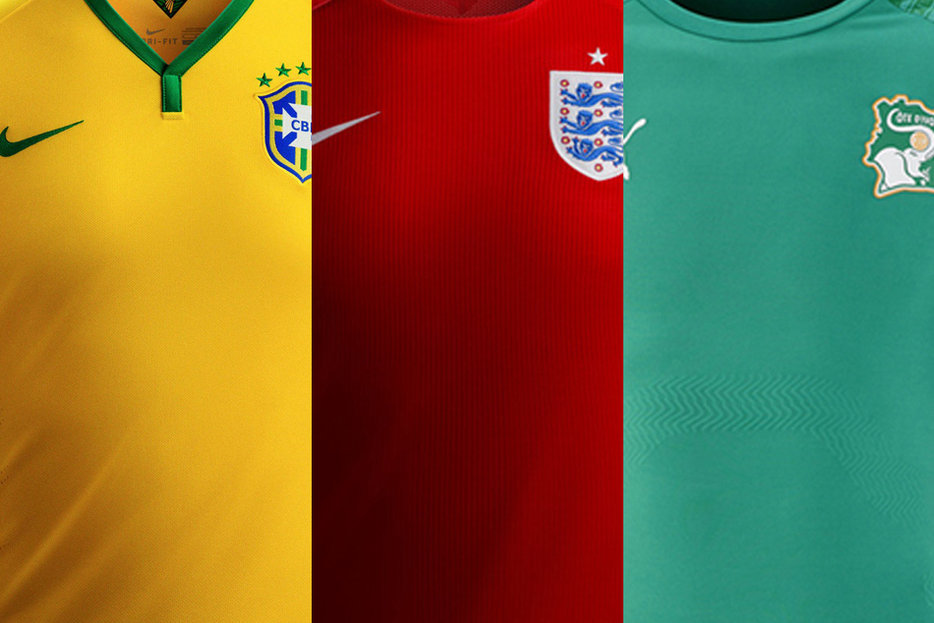 I was not a big sports kid. The only game that ever made me sentimental enough to wear any corresponding gear was football—sometimes a uniform used by the English team I inherited from my dad, but more often a shirt with no claim on me beyond the aesthetic one, like Valencia and their bat-winged badge. Maybe it wasn't just sentimental, then. Although discussion before each World Cup tends to focus on the minute changes to every corporate-sponsored ball, a team's outfits seem more important to me, if only because of the stylish beauty that football promises and even intermittently fulfills. I'd rather buy a $90 shirt elsewhere these days, but being perversely fond of writing about sports while ignoring the game itself, I decided to look at all 32 of this year's uniforms.
Algeria
I do like those green highlights, symbolic of Islamic tradition and minty freshness alike, but little else was done here aside from that ill-advised badge symmetry.
Argentina
Adidas managed to not fuck up one of the most recognizable uniforms in sports. And they had $25 left over to buy a Tumblr theme with gradients for the away version.
Australia
"We can do the impossible" is sewn inside the necks of these shirts, quoting the captain of Australia's first World Cup squad from 1974—a tribute made more pertinent by the task of escaping a group with Spain, Holland, and Chile.
Belgium
A giant crown watermark represents the illustrious history of the Belgian monarchy. Raf Simons is from Flanders—couldn't they have begged him for help instead of relying on some guy who works in the back of a printing shop?
Bosnia and Herzegovina
If you removed the local car dealership's logo, Bosnia might as well be wearing my 12-year-old self's uniform.
Brazil
The standard description of Brazil's uniforms is "flattened banana," but they also bring to mind a deconstructed running shoe.
Cameroon
"What I want want want is what you want want want."
Chile
Subtle piping! Complementary collars!
Colombia
The people who design these clothes typically come to grief when doing anything unusual with stripes, so at least one thing went right for Colombia this summer.
Costa Rica
"Ugh, fuck it," muttered Jeremy Scott, hitting SEND on his overdue email to the Costa Rican Football Federation.
Croatia
Yes, it resembles a tablecloth, but an arresting tablecloth.
Ecuador
Even uglier than Bosnia's. It's as if somebody used the wrong laundry settings.
England
I've never understood why the red kit isn't the default version—I have a vintage 1966 facsimile lying around my apartment somewhere. The current home uniform does get spectacularly ruined more easily, though.
France
They got rid of 2010's stupid red bits and now the lines are so clean. Even that collar looks like some Opening Ceremony piece.
Germany
Is this stealth Volkswagen sponsorship?
Ghana
Ghana's trademark black star is the closest the World Cup will come to repping Pan-African socialism.
Greece
A blandly functional design that only accentuates how great the badge is.
Honduras
I almost admire how forthrightly tacky this crest is. A giant Sesame Street letter really helps you stand out amidst all the heraldic animals.
Iran
The faded cat here is meant to raise awareness about the plight of the endangered Asiatic cheetah, but after ending up in the same group as Argentina and Nigeria they'll probably only have three games to do so.
Italy
For a team so devoted to defensive pedantry, they sure are wearing some pointless ornamentation on the field. Who put those pinstripes there? Why do the collars have buttons?
Ivory Coast
You don't need a lot of design elements when your badge is a rampant elephant.
Japan
Hideous electric-yellow away kit made all the more aggravating by the fact that Pikachu is Japan's official 2014 mascot. They could've taken outfits directly from a video game.
Mexico
They might not get very far, but it's still inspiring to see a Kraftwerk tribute album at the World Cup.
The Netherlands
I want a mimosa.
Nigeria
Well, at least those away uniforms will help the physicians if somebody breaks their collarbone.
Portugal
"Inside the back of the neck is a red-and-green pennant tab featuring an Armillary Sphere to herald Portugal's seafaring history. The Armillary Sphere is a navigation tool that famous Portuguese explorers used to discover the world. It has stood as a national symbol for more than 500 years and serves as the background for the Portuguese shield on the national flag." Also, the hoops get larger.
Russia
According to the promotional blurb, Russia's away shirt features a modified image of Earth from outer space, taken by the satellite Electro-L #1. I appreciate the fantastical detachment of making your World Cup gear an homage to the cosmonaut program, even if it looks less like a vision of Yuri Gagarin than some clubgoer in Ibiza.
South Korea
Ooh, asymmetry.
Spain
"The electricity pop color and design represent the nightlife within Spain," says an Adidas functionary, trying to explain the merits of a black outfit in tropical heat.
Switzerland
Proudly boring in the Swiss tradition, except for the Puma logo that appears moments away from mauling that featureless human.
United States
I miss the 1994 USA uniforms and their star-spangled denim, perhaps the most American look ever seen that didn't involve a fanny pack. Would probably wear a tank top version.
Uruguay
Although they won two of the earliest World Cups, in 1930 and 1950, Uruguay have since been overshadowed by their much larger neighbour, Argentina—not least sartorially.