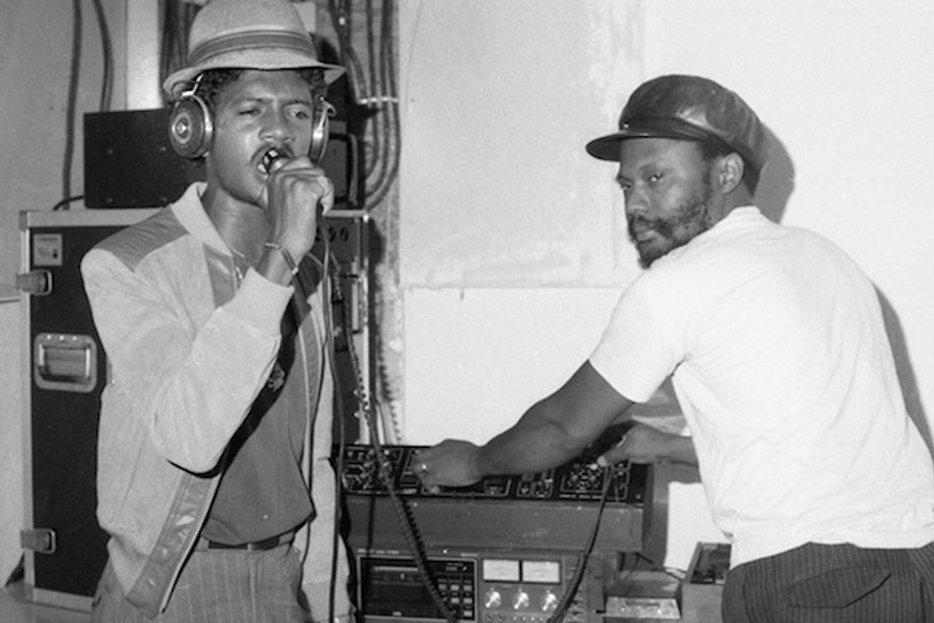 The photographs assembled for Reggae or Not: The Birth of Dancehall Culture in Jamaica and Toronto, Beth Lesser's new exhibition at Toronto's Gladstone Hotel, document the emergence of a genre, but part of their charm is that no one makes too much fuss about it. Taken mostly in the 1980s, when Lesser and her husband David "Lord Selector" Kingston were making regular Caribbean pilgrimages for their magazine Reggae Quarterly, the images seem casual, almost unposed: DJs cradle vinyl, recording engineers glance over their shoulders, singers grin in front of long-shuttered music stores and Jamaican landmarks like Volcano Corner. The launch party last Friday featured a temporary sound system by Lord Selector; in lieu of that, let these five Youtubed cuts be your audio tour.
1. Johnny Osbourne, "African Wake"
An entire room of Lesser's exhibition is given over to the movement between Kingston and Toronto, fueled by cheap flights and the Afro-Caribbean diaspora. One such emigrant was former Wildcats vocalist Johnny Osbourne, who spent the '70s making music in Canada. This instrumental from that period was included on the vital compilation Jamaica to Toronto.

2. Tenor Saw, "Ring the Alarm"
One of the most enigmatic photos in Reggae or Not depicts this precocious singer pursing his lips outside Sugar Minott's Youth Promotion sound system, stoic or coy amidst scattered activity. He died at 22 in an apparent hit-and-run accident, inspiring various conspiracy theories.

3. Eek-a-Mouse, "Wa Do Dem"
In addition to his unimpeachable nickname, E-a-M was one of the first singjays, artists as likely to croon over a record as toast atop it. The version of "Wa Do Dem" on Lesser's own book/compilation Dancehall, nearly eight minutes long, makes evocative use of sway and space. She also captured him wearing red-and-yellow-striped pants, with matching umbrella.

4. Wayne Smith, "Under Mi Sleng Teng"
Whether "Sleng Teng" represents the first all-digital dancehall riddim ever is a complicated question; it was certainly the most popular and influential, spawning hundreds of derivative tracks. Producer King Jammy used this as the template for his so-called "computer sound," which left permanent markings on the nascent genre. The photo of his old studio in Kingston's Waterhouse district displays a slogan written beneath its windowsill: "IDLERS KEEP OUT."

5. Bonjay, "Stumble"
Dancehall never stopped filtering through to Toronto. It just got a little more indirect.
Reggae or Not: The Birth of Dancehall Culture in Jamaica and Toronto
Feb 1 - Feb 28
Gladstone Hotel, Toronto
–
Photo by Beth Lesser