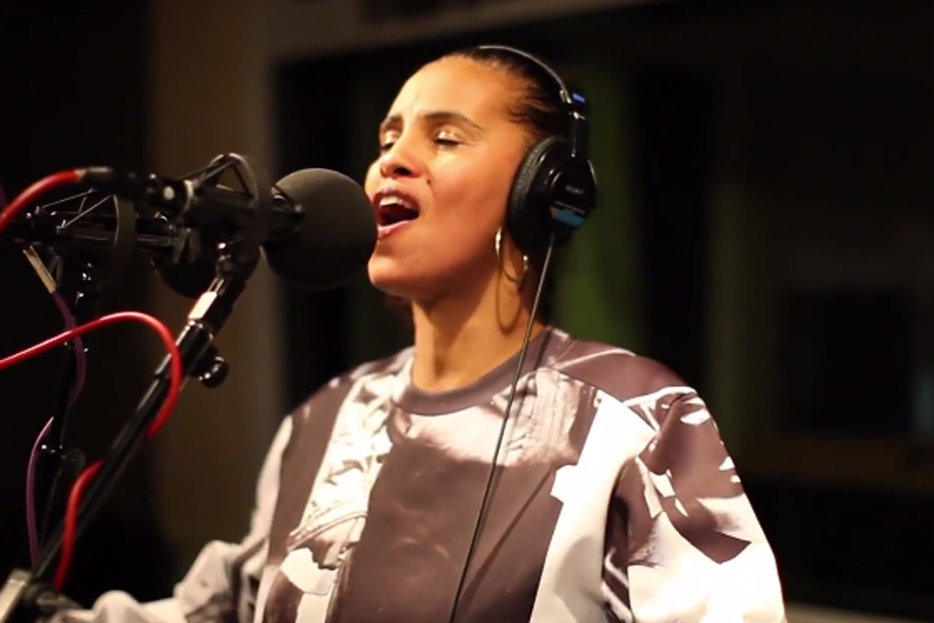 Civil War obsessives wonder what would've happened if some tactical maneuver at Vicksburg went another way; pop nerds can indulge themselves in alternate histories while listening to Neneh Cherry.
Unfairly reduced to the indelible 1988 hit "Buffalo Stance" in North America (she maintained a higher profile elsewhere through the 1990s), her initial moment suggested a form of pop stardom that only really caught on over the past decade: at home in a club and conversant with the art world, able to flip from singing to MCing between breaths, cosmopolitan by inclination. Cherry wasn't the only kid who dropped out of high school to sing backup for a band like the Slits, but the rest of them didn't have a gifted jazz musician in the family. M.I.A. obviously took notes. Then, after striking a pose of cocky poise, she spent the next twenty years wandering away from it, leaving her silhouette to hang in the air as a possible outline.
There are musicians who really do contrive a single hit before vanishing to the protective ecosystem of state fairs, and then there are cases where the "fluke" is more like a celestial convergence; returning from Cherry's new album Blank Project to her 1989 debut Raw Like Sushi shows how much broader her career has been. I love David Morales's Latin house remix of "Kisses on the Wind," stringing up beautiful synth chimes to clink in its summery wake; "Manchild" is like "No Scrubs" aiming for nuance.
But everything seemingly does return to "Buffalo Stance"—on this LP, amateur party playlists, the wheel of existence. That keyboard hook corkscrews through the song, spearing the raps to the chorus to Cherry's creak of a giggle, until it fades out around a guitar riff cruelly promising permanence. Even the inept scratches are endearing. I imagine the lyrics chanted across a schoolyard: "Who's looking good today? Who's looking good in every way?" "Buffalo Stance" sounds dated in the sense of evoking a particular night during 1988, one that might recur inexhaustibly. Like Le Tigre's "Deceptacon" ten years later, it's a template no one else can figure out how to use to such effect.
After Raw Like Sushi, Cherry began leaning towards the trip-hop aesthetic she had never exactly been far away from. (When she crows "hangin' with the Wild Bunch" on "Buffalo Stance," she was namechecking future members of Massive Attack.) There's plenty of good music on those next two records; "7 Seconds," her Youssou N'Dour duet from 1996's Man (which didn't even get an American release), blends two disparate voices hypnotically. And yet their roomier, atmospheric production style somehow aged worse than Raw Like Sushi's manic tricks and effects, perhaps because it's just less distinctive. Then there were Cherry's overtures to college radio, like "Trout," the AIDS-education anthem where Michael Stipe raps "parents and teachers get together, get cool / children need to learn about sex in school"—a cultural artifact lodged so deeply in the '90s it should've been pollybagged with issues of The Sandman. In a modernist subversion of poetic convention, he recites the alphabet, but all mixed-up.
There are other methods of interpolating rock music, or attacking it. "I got to the point where I starting to feel this longing, craving, itchy feeling," Cherry told Pitchfork earlier this year, explaining why she'd recorded a solo album for the first time in almost two decades. It's a sensation that leaps off her previous LP The Cherry Thing, a 2012 collaboration with Scandinavian free-jazz trio the Thing. The collection of covers and originals there upholds their reputation for seething intensity; listening to it, I occasionally pass through entire songs like a wormhole, recovering higher brain functions after some indeterminate amount of time. That disorientation wouldn't be so acute if not for the subtlety and control Cherry et al. build up to it with. Free-jazz improvisations frustrate most singers, but she gets properly protean, syncopating vocals across the notes: "Sudd-en mo-ment, peace-ful sha-dow…" Of course, the Thing did take their name from her stepdad.
The non-absurd Don Cherry wrote one of the songs on the album too, and the "Golden Heart" cover doesn't end so much as dissipate, like water flung into a boiling pot, while his stepdaughter murmurs: "A part of what we all have made…" Eerie as that channeling is, though, the track that best explains Cherry the younger's career and its sinuous circuit—her aversion to the strategic compromises chart resiliency typically demands—might be the collaborators' reinvention of "Dream Baby Dream." They turn the Suicide original into a fraught dance, with Cherry's ad-libbed-sounding lyrics dodging the increasingly manic saxophone. When Mats Gustaffson's horn freakout reaches its height, she returns a touch more insistent, and then almost entranced: "dream baby dream baby dream baby dream baby dream baby dream baby dream baby dream baby dream baby dream."
The new Neneh Cherry solo album, Blank Project, barely involves collaborators at all. Only the faintest human guidance seems to be animating the mechanical throb. Even her well-known producer Four Tet described his contribution as being akin to a recording engineer (he didn't write any arrangements, which were left to the backing band RocketNumberNine). With such sparse instrumentation—a distorted bass tone, some percussion—it's as if the garish flourishes of that debut album fell away around her. The austere surroundings display how expressive Cherry's voice is; she can do understated, but she never goes minimalist. On "Weightless," her hushed, anxious notes vie to escape a great churning anchor of a beat. "Across the Water" lacks even a melody, just timekeeping drums, though it does have a spoken near-rap that approaches emotional revelation slowly enough to astonish. She's singing the blues on an unlit stage.
The one notable guest appearance is Robyn's cameo on "Out of the Black," which pulls off a sly trick: You were expecting maybe a huge club anthem? Two generations of idiosyncratic Scandinavian pop, together at last? Declarations of female solidarity? The track just feels like it's constantly on the threshold of that state, rocking back and forth on its fabulous heels. It arrives at a realization, not the dancefloor. Neneh's preternatural calm may be the coolest way to not give a fuck of them all: "These are the facts / And here is the news / We just want you / To want it too." If you wanted, one could see these decades of musical tangents as a variation on the theme she never phrased more cornily or perfectly than in her single famous single: "No money man can win my love, it's sweetness that I'm thinking of." The only royalty I've ever understood were the abdicators.