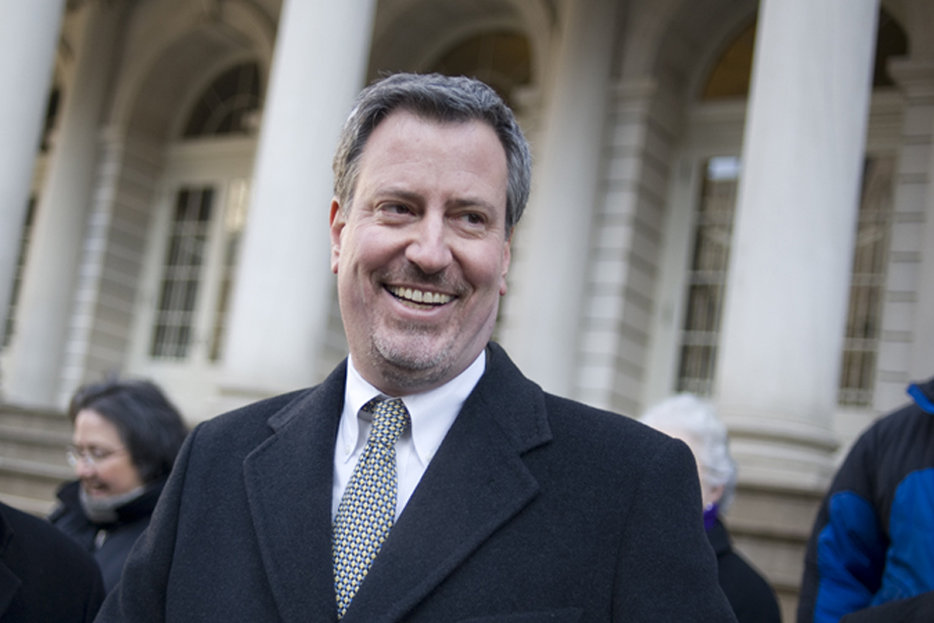 So while the largest city in Canada and the seat of its provincial government is consumed with the current unpleasantness, let's make Toronto sadder by checking in on how another city is doing, shall we? Last night, in a lopsided vote, the people of New York City elected Bill de Blasio as their first Democratic mayor in 20 years. The papers didn't even wait for polls to actually report before declaring de Blasio the winner, since his lead had been so large for so long the actual counting of ballots was a mere formality.
De Blasio was the surprise winner of the Democratic primary, coming from fourth place to win handily. But perhaps more importantly than his win was the manner of it: de Blasio won on the simple premise that the New York Police Department should stop doing the indefensible on the police-preferred tactic of "stop-and-frisk"—wherein mostly young minority men are stopped by police in the absence of evidence. De Blasio not only vocally opposed stop-and-frisk, but made the convincing case that unlike other Democratic challengers he could actually be trusted to make them stop it.
It was actually, in that sense, a repeat of what we saw in the 2008 Democratic primary: Barack Obama had a difficult enough time defeating Hilary Clinton that it's inconceivable to think he would have done so without the credibility he had as an early, vocal and correct opponent of the Iraq War—something Clinton could never say.
The thing about stop-and-frisk is that, in New York and elsewhere, it's the kind of policy that surrounds itself in a conspiracy of assent where policymakers find themselves making statements in its defense that would be horrific in other contexts. Like when Michael Bloomberg said the only problem with the policy was that white people got stopped too often. (Bloomberg would later follow up by calling de Blasio a racist.)
These kinds of policies are rarely defeated incrementally. Systems like this make us all complicit in their perpetuation, and when we're all complicit tearing the system down can sound like treason. (Read the history of the abolition movement in the United States to get an idea of how byzantine this can get—Eric Foner's The Fiery Trial in particular sums up Abraham Lincoln's evolution.) De Blasio's win, first in the primary and again yesterday, reminds us that some systems are beyond tinkering and beyond negotiation. We can talk about the best ways to keep the streets of a big city safe, but we have to rule out the systematic harassment of minorities first. (Don't we?)
The only example we've got in Canada so far of someone taking a clear and unambiguous stance against a ridiculous and deeply harmful policy is Justin Trudeau on pot (though arguments could be made that the NDP are right on the Senate, too) but we have yet to see whether the voters of this country are actually willing to reward their radicalism.
We could lament that taking an uncompromising stance against an abuse is seen as "radical", but it's far more important to note that for once, voters and a political leader came together to say no. We could use more of that.