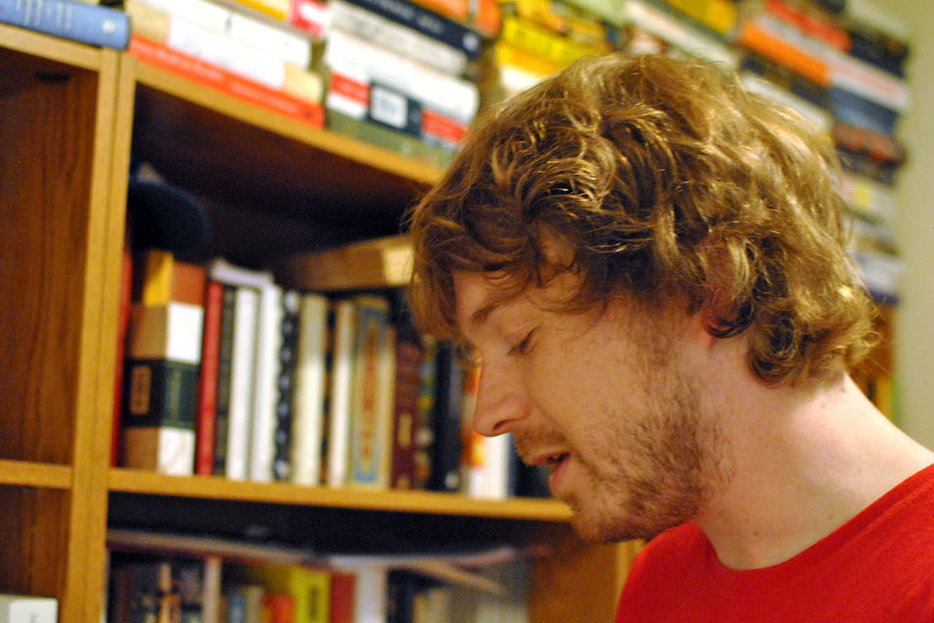 Shelf Esteem is a weekly measure of the books on the shelves of writers, editors, and other word lovers, as told to Emily M. Keeler. This week's shelf belongs to Mark Medley, who edits the National Post's book section. Mark is a prolific interviewer, both in print and on stage, and under his stewardship NPBooks is a vital space for literary news and opinion. His bookshelves are in his home in downtown Toronto, which he shares with his wife and their cat. Mark's sagging, overstuffed bookshelves are the first thing you see once he opens the door.
These are my bookshelves, and over there are my wife's bookshelves. We live together, we share a cat, but we don't share bookshelves. That's the last remaining frontier of our relationship. Although some of her books have made their way over to my shelves. I kind of steal books from her. She's the one person I know who reads more than I do. I can't think of anything I've stolen, lately. Actually, is this bad? Do you know what I do? Because I have a bit more than she does, if I have a book I think she'll like and that I want to keep, I'll hide it on her shelf because it saves me some room.
As you can see, I'm really out of space. Double stacked in some spots. Space is an issue. But if you had seen our old place, you'd see that it used to seem more, well, exploded. Our shelves used to be along one wall of the living room, and because we'd run out of space books were just stacked along the walls. When we moved in here, she told me that, um, that was no longer an option. So we got rid of hundreds of books when we moved here. I wrote about it for the Post, actually. My difficulties with shedding so many books. It was traumatic. We sold four or five hundred books, and I put about five hundred more in my parent's basement. So. But I don't really feel like I have that many books. I'm not as attached to books as I used to be. I used to keep every single book that was ever mailed to me at work, like it was the last one I was ever gonna get, but now, probably, of the three hundred books I get a week…I keep two or three. If I interview a writer, or if it's something I want to read later, I'll keep those books. But that's it. Even the ones in my parent's basement, I don't know that I'll ever take them back. I kept them for a reason, but I couldn't tell you what they are. The minute they're off the shelf—like, you could steal a book today and I wouldn't know.
I used to have three copies of The Brief Wonderous Life of Oscar Wao, but now I have two, and I'll show you why. This one was signed, For Mark, Not Here—So I didn't have it signed, my friend Ron, who used to work with me at the Post, got it signed for me at IFOA a few years ago. I do not ask authors to sign my books, but he knew how much I love Diaz. Who I finally got to meet. I interviewed him when This is How You Lose Her came out. Nobody's ever told me not to ask authors to sign books, but I wouldn't feel right about it, it crosses the line into fanboy.
I don't reread books. I don't have time to reread books. I'm reading about a 120 books a year. I was just talking about this with Lisa Moore—I interviewed her to talk about Caught and she's staying at a hotel near here, so we split a cab. She asked me if I ever reread, and I told her I just don't ever get the chance. The only books I've ever reread are Fifth Business, which is one of my top three books. Though I haven't read the rest of the Deptford trilogy, which is a bit odd. I've reread The Great Gatsby, which is a short book, so I don't know what I'm bragging about it. I probably read it in high school and then in University, so it probably doesn't count. And I've reread The Sun Also Rises, which is probably my all-time favourite book.
I was talking with my boss about giving up on books, and Catch 22 was a book he gave up on. There was a feature in the Wall Street Journal the other week about stopping halfway through, which is something I never do. If I read the first chapter, I'll finish the book because I'm stubborn. So apparently, the book people give up the most on, after halfway through, is Catch 22.
I'm starting to colonize this area, I don't think my wife's noticed. If you sit over there, you can barely see that there are books here. I'm using it for nice editions of books. Salinger, The Hobbit, and Catch 22 are here. It's possible she'll notice but just hasn't said anything, because they're not dog-eared paperbacks.
I mean, let's see, she might have stolen books from me. I told her you were coming, and she was like, Don't claim that these are your books. I said, I would NEVER do such a thing. But see, I'm already spotting my books on her…She's gonna get so mad. But this is mine. Vaclav and Lena, by Haley Tanner. She's actually married to Josh Ritter now. I profiled her when she was coming through Toronto, a couple years ago. It's a lovely, lovely book that I thought my wife would like, and she keeps promising to read it but she hasn't. But she's kept it, now it's hers, and I'm never going to get it back again. I'm pretty sure this Yiddish Policeman's Union is also mine. This is my copy of The Night Circus. This is my copy of Room. Well this is very illuminating, seeing the books she's taken from me, over the years. That's my copy of To Kill a Mockingbird. It's a nice one. You know what I'm gonna do? I'm going to put that one on the nice shelf, where it belongs. Right now. And she'll never know.
Do you know Stephen Elliot? He started The Rumpus? Have you read Happy Baby? I should give you this book. It is the best book. I mean, first of all, it's McSweeney's, and everything they do is gorgeous. I read his journalism before his fiction, and most of his fiction is kind of about either adopted children, or abused children, and, I don't want to say sexual perversion because that's not fair, but you know, sexually adventurous people. This kind of combines everything, and moves backwards. It's about a guy in San Francisco who is kind of into S&M, getting beat up by men and women, and it goes back to his time in Chicago, living in a big group home, which Elliot really did, he was a ward of the state. I wouldn't call him one of my favourite writers, but that is an awesome book.
Sometimes when people introduce me to someone for the first time, they'll call me a critic. And I'll say, no-no-no-no, I'm not a critic. I don't write book reviews. Obviously I think they're important, I assign them, but I'm just too enthusiastic about books.
Shelf Esteem runs every Tuesday.