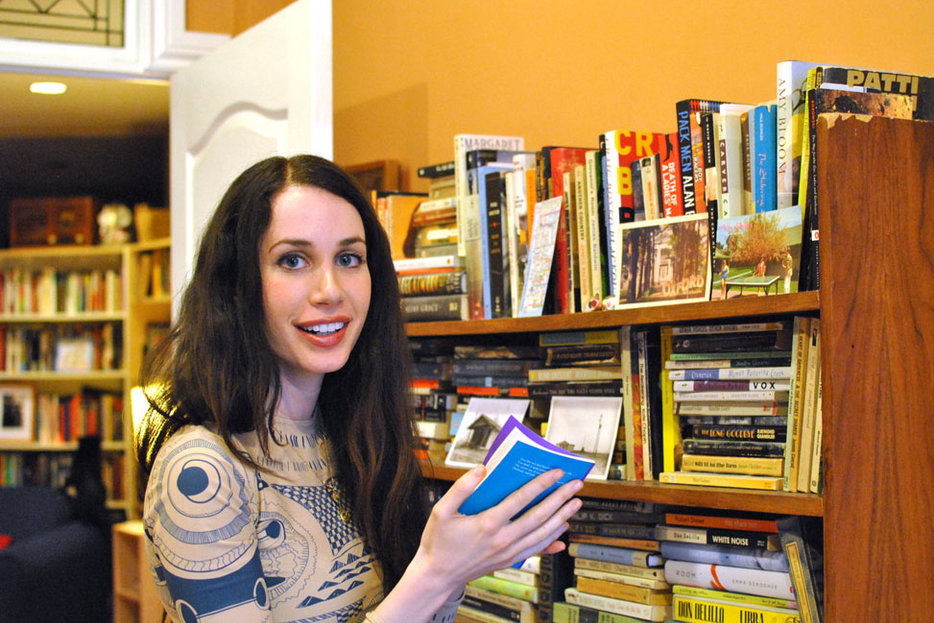 Shelf Esteem is a weekly measure of the books on the shelves of writers, editors, and other word lovers, as told to Emily M. Keeler. This week's shelf belongs to Lauren Kirshner, the author of the novel Where We all Go, and founder of Sister Writes, a writing program for marginalized women in Toronto's West end. Her books are in her home in Toronto, which she shares with her husband and two cats.
When I moved in here, I had about 400 books and I just tried to move everything. It ended up being in garbage bags, and I was so eager to get everything unpacked that I didn't shelve them in alphabetical order. After a while I got frustrated with not being able to find anything, I couldn't lend people books. Finally, I put everything in a loosely alphabetical order. But I like lending books, or giving people books, and now it's gotten messed up. But I'm not too particular about it.
I reread my favourite books, and I like to have all my books in case there's a book emergency and you have to go right back to a book. Or if I have to lend a book to someone, if they're going through something and I think that they need a particular book. I love this book, Moon Palace, by Paul Auster. It's one of the most beautiful coming-of-age stories I've ever read. The first part takes place in New York City in the late '60s, the middle part takes place in the badlands of the US —it's unforgettably vivid and poignant, and I love to give it to people when they're in a time of transition, while they're figuring out what they'd like to do. It's a great book about chasing your dreams without any tools. Which is kind of what everyone's doing.
Sometimes when you recommend a book—you know, with the effort it will take a person to actually get the book, it might not happen, but if you just hand them the book, it's a great gift. So I have multiple copies of some of my favourite books. Like The Bell Jar, I've got three copies, and two I just lent out. McTeague I love as well, and these are different editions, which I picked up at Goodwill by the Pound. There's a condo there now. They were about 10 cents each.
I keep a lot of my favourite books together. I love Nathanael West. This is a beautiful edition I bought at the Victoria College book sale. I love the art in here. And West's voice—the urgency and the longing. Day of the Locust, amazing. Richard Yates, I think he's one of the most underrated writers. Even though we had Leonardo DiCaprio in this film, and from the cover it seems like this is a really popular book, but I feel like Richard Yates should be read more. Jesus' Son, also a movie, is one of my favourite books of short stories. Denis Johnson.
I originally thought I wanted to be a music journalist. Some of my first published pieces were in NOW—I interviewed Joe Strummer, wrote concert reviews. I love this oral history of punk, and Just Kids. Patti Smith wrote it so beautifully. Being kids in New York, the difficulty of it and the determination just to make it—not to make it, but to make her art the way she wanted to. It's amazing. This is a fan book for the Manic Street Preachers, and I loved the Manic Street Preachers—I still do, but they were my band in high school. I bought this at the Tate Modern the first time I went to Europe when I was 18. It cost £12, which was a lot of money for me then. It still is, but then it meant I was buying nothing else for a month after that. For that hologram cover!
These are some writing books, books on writing. The first one I got was If You Want to Write. It's an amazing book. It's like a cheerleader and sage. The voice is timeless, although the book was written in the '30s. It's not a book about craft, it's about the spirit of writing and how to pick yourself up when things don't seem to be going well. I read that in my M.A. There are more formal, technical craft books. The rest of the books were gathered over time. I have two editions of The Elements of Style. One was my dad's—he's a journalist. It was his when he probably was 19, and mine was again from Goodwill by the Pound. It strangely looks older than his, but I've cared for his better, knowing where it came from.
What else do I have? I love this book. It's probably the best nonfiction book I've read in a long time. Random Family. Adrian Nicole LeBlanc. The book is immersion journalism, and she went to the Bronx and lived there for ten years, among different families headed by women. She learned all about their lives and it's sensitive and beautifully written. She followed the ups and downs of people's lives, and it reads like a novel. You understand from the beginning what her method is, but she's almost invisible in it. It's one of the kinds of journalism I love and really respect. I want everyone to read this book.
I have a bunch of authors where I try to get everything they've written. There's a Canadian writer by way of Ireland—he was a newspaperman—Brian Moore. I know he wrote a bunch of pseudonymous pulp novels in the late '40s, but this, Judith Hearne, is his first novel under his name. It's about this single woman—pejoratively a "spinster"—living alone in a boarding house. She has these illusions of grandeur and it's such a psychologically astute portrait of a woman who is trying to improve her life but doesn't see things as they are. So many heartbreaking moments, but from the first sentence you're just completely held. All of his novels are beautifully written, but he takes on different subjects in each novel. There's one about tracking down a Nazi war criminal, one about the magicians of late Victorian-era France, they're just so different. Black Robe was made into a movie. It's about Jesuit priests in what became Quebec in the 1600s, and the conditions were just brutal. It's one of the most visceral novels I've ever read. 1800 will seem really hip and recent when you read this.
This one's funny. Okay, so I really like Roddy Doyle. This is dated June 5th, 1999, so I was 16. "To Lauren. Roddy Doyle." I went to see him read, I had to get there on the subway, and it was the first literary reading I'd ever been to. I wanted to talk to him about his book, so I made sure I was the last person in the line-up. I thought I was going to have a two hour conversation because I liked his book so much and thought I really understood it. He was so nice to me, and he signed the book, and that was that. He was very gracious, but of course in my 16-year-old mind this was going to be the changing moment in my life. And then later I thought, Oh stupid! You brought him a discard from the library!
I think sometimes that I'm going to go digital. But I just really like the way books smell. This old Graham Greene novel smells really good. Smell that, tell me what you get from that. I love that smell. What's that company called, the fragrance one? They should try to get that smell. Maybe it's best kept in the book, not for the body. It's an amazing scent. You want to know another really interesting smell? The Chicago Manual of Style. Smell this. No other book has this smell, it's a unique Chicago Manual smell. And it's helpful. Some books don't have any particular smell. You're not reading for the smell at that point.
–
Shelf Esteem appears every Tuesday
Find Hazlitt on Facebook / Follow us on Twitter