A few weeks before Jay-Z and Beyoncé landed in Havana to celebrate their anniversary last month, another far less celebrated New York icon visited Cuba. His name is Rey Ordoñez, and it was his first trip home in two decades. I learned of the Ordoñez visit from a tour guide who showed me grainy cell phone pictures of the former New York Mets shortstop handing out gloves to a crowd of kids. His return to the island, made possible by a new Cuban immigration law, was a very big deal. In Cuba, baseball bears more resemblance to a national religion than a national pastime; when a player defects, people notice. The media have a name for athletes like Ordoñez who betray socialism for a chance at untold riches in the Major Leagues: traidor.
It takes a certain kind of country—the kind with government-run media—to label somebody who seeks a lucrative career playing sports elsewhere a traitor. Cuba is exactly that place. In the United States and Canada, the relationship between sports and politics is mostly incidental: sports, as part of the culture, are affected by politics, and so become platforms for the projection of certain political ideas. But in Cuba, sports are politics. Fidel Castro has done his best to not just cement baseball as a pillar of his own legacy, but to make sports a triumph of the revolution.
On a recent trip to Cuba, I picked up a book called Fidel y el deporte: seleccion de pensamientos 1959-2006 (Fidel and Sport: Selected Thoughts, 1959 to 2006). The cover features photos of a young Castro awkwardly attempting to dribble a basketball and an old Castro staring off as if surprised by something in the distance. Inside, presented with very little context, are hundreds of pages of Fidel's musing on sports.
—13 de Enero de 1959—
"El juego debe acabarse en todos sus formas comerciales..."
—January 13, 1959—
"The game should end in all its commercial forms..."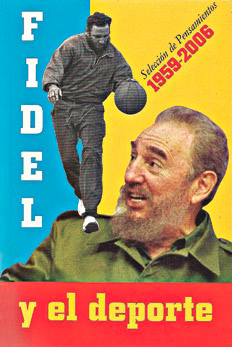 You can see this play out in the way Castro and his government treat "traitors" like Ordoñez, Oakland outfielder Yoenis Céspedes, and the hundreds of other athletes who have chosen to leave Cuba, even when that has meant leaving behind their families. When they label an athlete a traitor, the government goes beyond name-calling, instead questioning their morality and value as human beings. "We are proud to have athletes who have been offered contracts worth up to $40 million over five years and rejected them," Castro said in 1998, more subtle than usual. But each time an athlete defects, he or she is not only undermining Castro's sanctimonious notions of amateurism, but reminding the world of the stark material and political differences between Cuba and the United States. If, as Castro has said, Cuban athletic champions are emblematic of the nation's best qualities, what does it mean when they leave?
For one, It likely means that there is a long line of people behind those athletes who want to leave, too, says Roberto González Echevarría, the Cuban-born Yale professor who wrote The Pride of Havana: A History of Cuban Baseball. In an interview with National Public Radio, González Echevarría argued that while Cuban opposition to professional sports is theoretically based on the idea of "preventing exploitation of man by man," that is exactly what the Cuban government has done to baseball players by turning them into propaganda tools. "They want to be able to market the players and have the players become a source of revenue for the country," González Echevarría said. For Cuban athletes, the calculation is probably not so complicated: Leaving Cuba could mean the difference between a life of poverty and a life of riches; it could mean taking control of one's own destiny. 
—26 de Julio de 1999—
"El amateurismo, que como nosotros los concebimos es el deporte como derecho del pueblo y una actividad sana y libre de mercantilismo, con posibilidades para la recreación y la salud de toda la población, ya casi no existe..."
—26 July, 1999—
"Amateurism, which as we conceive of it is sport as a public right, a healthy activity free of mercantilism, with possibilities for the recreation and well-being of the entire population, is almost gone..."
In Estadio Latinoamericano, Havana's premier ballpark, there are entire sections without seats in them. The seats must have broken over the years, been stripped out, and never replaced. Teenagers sit on the unadorned concrete picnic-style, drinking Malta and eating potato chips. Admission is free for Cubans and concessions are cheap. There's no beer for sale, but the fans don't need it; they're moved sufficiently by the game itself, occasionally rising to scream at one another about pitching or bad calls or the manager's strategy.
The field itself is a little bit patchy. The players' uniforms aren't exactly uniform: some wear fitted hats, others the adjustable versions. Everything about the game has a local college vibe. There are homemade looking banners hanging out of the dugouts, and after home runs, entire rosters file out and line up for very organized high-fives. The youngest of them are teenagers, the oldest in their mid-forties. One can imagine Rey Ordoñez, or Orlando Hernandez, or any number of Cuban major leaguers from the last two decades lost among this crowd, anonymous. The home runs sail into the empty bleachers, painted a long-faded baby blue. There are no advertisements for Coke and Budweiser to be seen—only propaganda slogans in blocky white lettering. With nobody in the seats, the slogans are easy to read. In right field, for instance: "EL DEPORTE, CONQUISTA DE LA REVOLUCIÓN."
Eric Nusbaum lives in Mexico City. He is a co-founder of The Classical and has written for Deadspin, Slate, Outside, and The Daily Beast. You can reach him at his website ericnus.com.