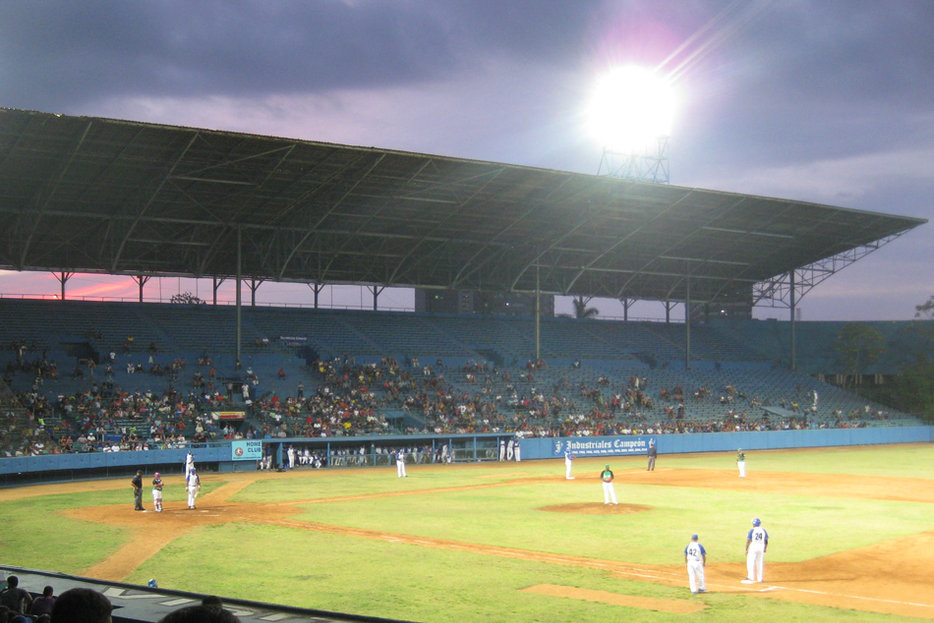 A few weeks before Jay-Z and Beyoncé landed in Havana to celebrate their anniversary last month, another far less celebrated New York icon visited Cuba. His name is Rey Ordoñez, and it was his first trip home in two decades. I learned of the Ordoñez visit from a tour guide who showed me grainy cell phone pictures of the former New York Mets shortstop handing out gloves to a crowd of kids. His return to the island, made possible by a new Cuban immigration law, was a very big deal. In Cuba, baseball bears more resemblance to a national religion than a national pastime; when a player defects, people notice. The media have a name for athletes like Ordoñez who betray socialism for a chance at untold riches in the Major Leagues: traidor.
It takes a certain kind of country—the kind with government-run media—to label somebody who seeks a lucrative career playing sports elsewhere a traitor. Cuba is exactly that place. In the United States and Canada, the relationship between sports and politics is mostly incidental: sports, as part of the culture, are affected by politics, and so become platforms for the projection of certain political ideas. But in Cuba, sports are politics. Fidel Castro has done his best to not just cement baseball as a pillar of his own legacy, but to make sports a triumph of the revolution.
On a recent trip to Cuba, I picked up a book called Fidel y el deporte: seleccion de pensamientos 1959-2006 (Fidel and Sport: Selected Thoughts, 1959 to 2006). The cover features photos of a young Castro awkwardly attempting to dribble a basketball and an old Castro staring off as if surprised by something in the distance. Inside, presented with very little context, are hundreds of pages of Fidel's musing on sports.
—13 de Enero de 1959—
"El juego debe acabarse en todos sus formas comerciales…"
—January 13, 1959—
"The game should end in all its commercial forms…"
Soon after the revolution was won, Castro led an amateur baseball team of fellow fighters called Los Barbudos (The Bearded Ones) in an exhibition game against the Havana Sugar Kings, Cuba's most famous ball club at the time and a minor league affiliate of the Cincinnati Reds. Castro, many apocryphal stories claim, was scouted as a pitcher by major league teams, but in reality he was only good enough to play on the intramural team at the University of Havana; exhibitions like the one against the Sugar Kings probably represented the peak of his athletic career. A year later, he followed through on his declared opposition to the game in all its commercial forms and outlawed professional sports. The American-owned Sugar Kings moved to New Jersey.
—1 de Marzo de 1964—
"Quien amara de verdad el deporte y sintiera el deporte, tenía que preferir mil veces más este deporte que el deporte profesional..."
—March 1, 1964—
"Anybody who truly loves sport and feels sport, has to prefer this sport to professional sport by a thousand times…"
Reading Fidel y el deporte, you get the impression that every sentence Castro speaks or writes is actually a declaration of what he sees as some ultimate truth. The words have the exuberant edge of a manifesto constantly in the making. In other words, he sounds like a dictator, a person who has come to believe that his own word is indeed sacred, who argues with invisible straw men to prove points nobody had challenged. (Take the faux-wisdom he serves up on ping pong diplomacy: "The work of the politician, of the statesman," he says, missing the point entirely, "is more like chess than ping pong.") Never mind that he repeats the same handful of ideas again and again—they're clearly very important to him, and an essential part of his continued grip on power. In the context of Castro's political beliefs, it makes sense that he had little choice but to vehemently oppose professional sports. But nobody said he had to become an evangelist for amateurism.
Castro's basic understanding of sports is that they are inherently good, even detached from large-scale glory. It's not a particularly controversial attitude: exercise is good for everybody both physically and mentally. Plato said as much. So did your gym teacher. Except that's not all Castro is saying. He's also saying that sports are fundamentally better when kept apart from money—that the business side not only ruins their special nature but can have a degenerative effect on the athlete's sense of pride and competitiveness. True ballplayers, he writes, prefer an adoring public to vast sums of money, now sounding less like a gym teacher and more like Bob Costas during the Olympics, or a delusional NCAA official talking up the chaste nature of amateurism at the college level.
Rey Ordoñez would probably disagree with Castro on that front. When he left Cuba for the United States, he departed a country where even the finest ballparks were crumbling for a place where he could make $21 million over an eight-year career during which he would bat a middling .246. His case, of course, is obviously far from typical: most people don't become major league shortstops. But what about the fans? The Serie Nacional, Cuba's professional-but-not-professional baseball league, is massively popular, but it's hard to tell whether that popularity actually has anything to do with the league's egalitarian nature. The country is baseball mad, and was so long before Fidel Castro took power, but major league games are not broadcast on the island and Internet access is scarce. In fact, many fans I spoke with had formed their opinions about international ballplayers from old video games and the recently concluded World Baseball Classic (Canadian outfielder Michael Saunders, who batted .727 during the WBC, is pretty much Babe Ruth). The Serie Nacional might be beloved simply because it's the baseball that Cuba has.
—20 de Septiembre de 1971—
"Ustedes cuentan aquí con extraordinarias instalaciones deportivas. En esas instalaciones ustedes deben desarrollar al máximo las actividades deportivas, como parte de la satisfacción de las necesidades del hombre."
—September 20, 1971—
"You've come here, to a place with extraordinary sports facilities. In these facilities you should develop your athletic abilities to their maximum potential, as part of the satisfaction of your human needs."
Castro's vision for sports as a pillar of the revolution does not only apply to stars and the fans who adore them. In the book, he constantly brags about plans to build more swimming pools, baseball fields, basketball courts and boxing gyms. The quote above is from a speech he gave at the inauguration of a high school in Pinar del Rio, Cuba's western-most province. The book's introduction, by the president of Cuba's Olympic Committee, makes proud note of Castro's efforts to "generalize sport in Cuba and put it in everyone's reach." However, Castro's desire to make sports accessible and universal is more than just an altruistic love of fitness. He sees sports as a key tool in the molding of young Cubans into ideal, noble, strong young socialists. Think of the way Soviet athletes were portrayed in America during the Cold War as living embodiments of everything frightening that was happening beyond the Iron Curtain. Cuba may not be producing Ivan Dragos or mechanically perfect hockey teams wearing red CCCP sweaters, but the idea is the same. There may no longer be an actual revolution to fight, but the values must live on.
In his novel The Man Who Loved Dogs, Cuban writer Leonardo Padura's protagonist discusses what it was like to be a high school and university student in that era, having totally bought into the fervor:
"I think that in those years, we were the only members of our generation in the entire civilized Western and student worlds who never put a joint between their lips, and despite the heat that ran through our veins, the last ones to liberate ourselves from sexual atavism having been guided by the fucking taboo of virginity (as close to Communist morality as it is to Catholic precepts); in the Spanish-speaking Caribbean, we were the only ones living without knowing that salsa music was being born or that the Beatles (Mamas and Stones too) were a symbol of rebellion, not of imperialist culture like we had been told so many times…"
Padura's character, a writer much like him, is reacting to what he sees as essentially forced physical and intellectual chastity. To Castro, athletics are an important part of that chastity, an ethical imperative: "Sport is not just technique or physical conditioning," he said in October of 1977, "it requires morals, the conditioning of one's character, the conditioning of one's spirit." A few minutes before exhorting the high school students to play sports as a way to fulfill their human needs, he declared that Cuba's athletic champions were "a measure of the character and the will and the strength of our people."
—14 de Agosto de 1971—
"Seguir avanzando, seguir luchando, seguir cumpliendo la consigna de ir derrotando al rival principal (los Estados Unidos) en nuevos deportes, seguir superándose…"
—14 August, 1971—
"Keep advancing, keep fighting, keep fulfilling the motto by beating our main rival (the United States) in new sports, keep overcoming…"
Castro rarely mentions the United States by name in the writings and speeches collected in the book. Instead, he refers to obliquely to Cuba's "main rival"; he bemoans the imperialist blockade; he self-righteously dismisses the money-obsessed pro sports played ninety miles away in Florida. However, implicit in every word is the understanding that if the United States were not the United States, Cuba would not be Cuba. Castro's "main rival" serves as an effective geopolitical foil as well as an athletic one, and Castro excels at tying the two together, using sports to make subtle digs at American policy as well as broad proclamations about Cuban superiority.
You can see this play out in the way Castro and his government treat "traitors" like Ordoñez, Oakland outfielder Yoenis Céspedes, and the hundreds of other athletes who have chosen to leave Cuba, even when that has meant leaving behind their families. When they label an athlete a traitor, the government goes beyond name-calling, instead questioning their morality and value as human beings. "We are proud to have athletes who have been offered contracts worth up to $40 million over five years and rejected them," Castro said in 1998, more subtle than usual. But each time an athlete defects, he or she is not only undermining Castro's sanctimonious notions of amateurism, but reminding the world of the stark material and political differences between Cuba and the United States. If, as Castro has said, Cuban athletic champions are emblematic of the nation's best qualities, what does it mean when they leave?
For one, It likely means that there is a long line of people behind those athletes who want to leave, too, says Roberto González Echevarría, the Cuban-born Yale professor who wrote The Pride of Havana: A History of Cuban Baseball. In an interview with National Public Radio, González Echevarría argued that while Cuban opposition to professional sports is theoretically based on the idea of "preventing exploitation of man by man," that is exactly what the Cuban government has done to baseball players by turning them into propaganda tools. "They want to be able to market the players and have the players become a source of revenue for the country," González Echevarría said. For Cuban athletes, the calculation is probably not so complicated: Leaving Cuba could mean the difference between a life of poverty and a life of riches; it could mean taking control of one's own destiny. 


—26 de Julio de 1999—
"El amateurismo, que como nosotros los concebimos es el deporte como derecho del pueblo y una actividad sana y libre de mercantilismo, con posibilidades para la recreación y la salud de toda la población, ya casi no existe…"
—26 July, 1999—
"Amateurism, which as we conceive of it is sport as a public right, a healthy activity free of mercantilism, with possibilities for the recreation and well-being of the entire population, is almost gone…"
In Estadio Latinoamericano, Havana's premier ballpark, there are entire sections without seats in them. The seats must have broken over the years, been stripped out, and never replaced. Teenagers sit on the unadorned concrete picnic-style, drinking Malta and eating potato chips. Admission is free for Cubans and concessions are cheap. There's no beer for sale, but the fans don't need it; they're moved sufficiently by the game itself, occasionally rising to scream at one another about pitching or bad calls or the manager's strategy.
The field itself is a little bit patchy. The players' uniforms aren't exactly uniform: some wear fitted hats, others the adjustable versions. Everything about the game has a local college vibe. There are homemade looking banners hanging out of the dugouts, and after home runs, entire rosters file out and line up for very organized high-fives. The youngest of them are teenagers, the oldest in their mid-forties. One can imagine Rey Ordoñez, or Orlando Hernandez, or any number of Cuban major leaguers from the last two decades lost among this crowd, anonymous. The home runs sail into the empty bleachers, painted a long-faded baby blue. There are no advertisements for Coke and Budweiser to be seen—only propaganda slogans in blocky white lettering. With nobody in the seats, the slogans are easy to read. In right field, for instance: "EL DEPORTE, CONQUISTA DE LA REVOLUCIÓN."
Eric Nusbaum lives in Mexico City. He is a co-founder of The Classical and has written for Deadspin, Slate, Outside, and The Daily Beast. You can reach him at his website ericnus.com.