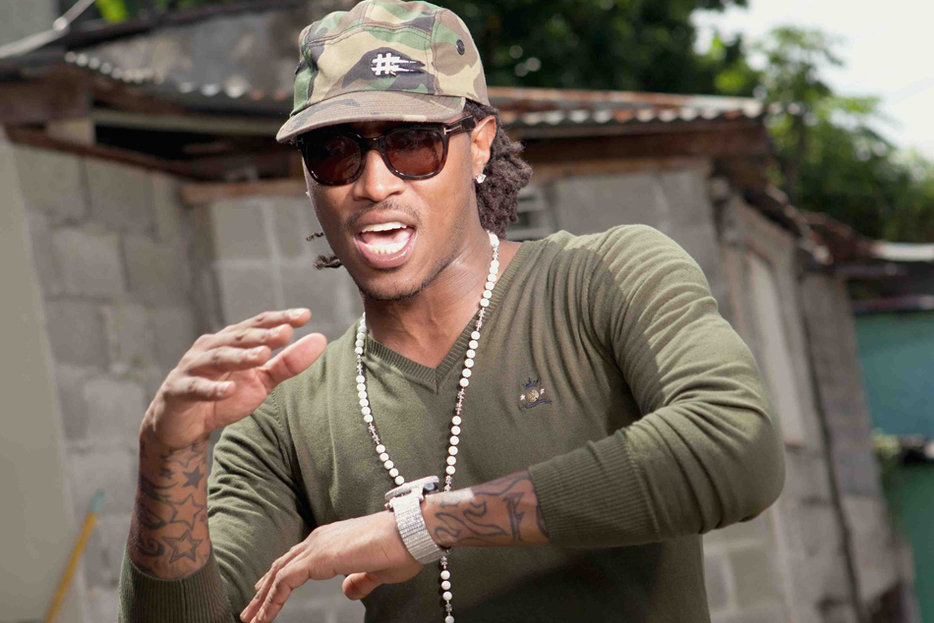 To say that Future is rap's strangest young male star right now might not be saying all that much. As music sales of all kinds dissipate into the aether, it seems to be making the dwindling number of big record companies more and more conservative, content to approach a promising weirdo like Young Thug only when there's already popularity for the leveraging—especially since certain potential signees, having gained a cult from one hot mixtape, question the necessity of any major-label deal at all.
Reared on Outkast, Future came by his idiosyncrasy organically (older cousin Rico Wade was part of Atlanta's original Dungeon Family). His experimentation takes an accessible form, emotive and rousing. The most prominent technique is frequent but deliberate use of Auto-Tune: his raspy singing-rapping keeps drifting in and out of impossible computer-enhanced focus. In the music video for fiancée Ciara's life-affirming "Body Party," a song Future co-wrote, he comes on like the love interest from some '90s teen movie, or an android replacement who just discovered human feelings: "They don't call me the Future for no REAson."
Whether "Same Damn Time" or "Tony Montana," Future initially commanded attention with pace-quickening action movie rap, but their inclusion on his debut album Pluto two years ago functioned as historiography; the focus was vulnerable ballads and cosmic imagery. You hear a lot of bragging in pop music. That's sort of what "You Deserve It" was, but it wouldn't have spawned a hashtag/catchphrase/ethos if Future weren't blustering at himself alone, bruised, consoling: "All this pain can't even rappin' / Sometimes I feel like I wanna sing." Since then, he's been prolific enough to create a sense of intrigue around the next LP—would it resemble his imperious guest spot on this street rap hit, or that song he gave to Rihanna?
All of them, as it happens. Until the latter's deferment, Honest was originally going to be a guitar-heavy album called Future Hendrix, which might account for its liminal quality: not messy, exactly, just wavering between various possibilities, produced meticulously yet without finality. It's compelling in a way that doesn't always make sense. Maybe that's why I decided to take it track-by-track.
1. "Look Ahead"
Ooh, a sample of Malian music—this is like peering into a parallel universe where K'naan is a good rapper. Actually, what's interesting is how Amadou & Mariam collaborated on the source material with Santogold, as if the snippet heard here were being patched from one coat to another…
2. "T-Shirt"
Nayvadius learned about DIY screenprinting and it's really paying off for him!
3. "Move That Dope" (ft. Pusha T, Pharrell & Casino)
Having made more money off "We Can't Stop" than your typical drug runner, Mike WiLL Made It returns to the craft of evil-sounding bangers. It's too bad the writhing tones of his synth were developed to accompany this middling quartet of performances. Pusha T contributes a failed 2 Chainz punchline before making sure that we all understood it: "I nose better / Get it? Nose better / [exaggerated sniffing]." Future's part is serviceable. Pharrell does some rapid salvage work ("veehickles" -> "gee" is crucial). Future's brother Casino ensures that everybody will want to shout this in a car regardless: "HE SPEND THAT MONEY ON CASINO!"
4. "My Momma" (ft. Wiz Khalifa)
Fine entry in the annals of Future yelling a hook, but I'd be surprised if Khalifa even stood upright while recording his verse. "She get wetter than rain"? Was Big Sean trapped beneath one of his oversized hats?

5. "Honest"
"I'm just being honest" tends to be a baleful phrase in the mouths of young men, but Future isn't quoting Charles Bukowski, only listing his $100,000 watch collection, the flawlessness of his jewels, his desire to clench money until it rots, etc., while also giving the impression that he might start weeping at any moment. It's apologism as abnegation.


6. "I Won" (ft. Kanye West)
"OK, we'll do a big soggy tribute to the women in our lives…" …yes, into it… "…it'll sound like tearfully embracing somebody on top of a mountain…" …so down… "…then we talk about what great trophies they are…" …mmmm, nah. At least Future gives the whole misbegotten lyrical conceit a tone of hushed amazement. Kanye seems continually impressed to just be having sex: "I made it over NBA, NFL players / So every time I score it's like the Super Bowl." Now and then I mishear the chorus as "I wanna be a trophy," which would be way more princessy and therefore better.
7. "Never Satisfied" (ft. Drake)
Despite their little spat last year, I think this pair has potential as a double act, with Drake being the (very) straight man. First Future got him hilariously claiming to be Toronto's premier drug kingpin, and now his cameo fades out after less than two minutes.
8. "I Be U"
Auto-Tune tends to be used sparingly throughout Honest, an embellishment or smoothing tool rather than the pervasive aesthetic. But midway through the serene austerity of "I Be U," after Future says "I'm naked you naked / and neither of us looking for a blanket," after describing his desire to be subsumed by another person, there is a shivery moment where his voice blurs, refracts, strains towards glossolalia.

9. "Covered n Money"
Ares abandons Mount Olympus to take up kick drum programming. A friend of mine tweeted "oh shit 'Covered n Money' came on and now I want to punch eight people." I also enjoy Future's sheer agitation on the hook, like it's just too much money, struggling to escape the pile of greasy bills, get this fucking money off of me NOW
10. "Special" (ft. Young Scooter)
With its subdued strumming, "Special" hints at what Future Hendrix could've been and might still end up doing. There's such a razored snarl of bitterness, disdain and pity in that one succinct line: "You ain't even trying to be special."
11. "Benz Friendz" (ft. Andre 3000)
This is probably Dre's best moment since… "International Players Anthem," one of my favourite songs ever? Back then he was composing twee couplets for his imagined bride, but here he's in a sourer mood. And for a guy with a string of rambling stapled-on verses in his recent past, the production weaves him through the whole song with remarkable cohesiveness. I do roll my eyes at the purposefully ignorant gold-digger shit; at least he seems still more contemptuous of capitalism.
12. "Blood, Sweat, Tears"
Little things: the cascading overdubs, adding "tears" as if he were shy about admitting to them, "I just fired my lawyer and bought a new lawyer."
13. "Big Rube Speaks"
The transition from (newly slight and subtle) Auto-Tuning on the previous track to this unadorned spoken-word one, where the headlining MC doesn't appear at all, is a deft moment of sequencing.
14. "Side Effects"
Somewhere I read Future saying that he doesn't want to chase star features anymore, because of the stultifying amount of paperwork and negotiation involved. Compare this bubble-burst of unconditional ardor, alternately woozy and grand, to the botched "I Won" to see how wise that is.
15. "I'll Be Yours"
"You're electrical and exceptional and inside of you is an angel named St. Michael." Why did all these gently floating ballads for emo astronauts get relegated to the deluxe edition?????
16. "How Can I Not" (ft. Young Scooter)
HOW CAN I NOT HOW CAN I NOT HOW CAN I NOT HOW CAN I NOT HOW CAN I NOT HOW CAN I NOT HOW CAN I NOT HOW CAN I NOT HOW CAN I NOT HOW CAN I NOT HOW CAN I NOT HOW CAN I NOT HOW CAN I NOT HOW CAN I NOT HOW CAN I NOT HOW CAN
17. "Shit"
During the long pre-Honest purgatory, when Future was stealing tracks from any nominal lead artist with a Datpiff page, he appeared on a single by the unnervingly generic rapper Ace Hood called "Bugatti." What made everybody forget about Ace Hood was Future's roaring hook, intoning "I woke up in a new Bugatti" in a manner that could inspire trashing a club while retaining undertones of alarm about the situation. "Shit" goes harder still, there being no Ace Hood around to ignore/mock, chopping up words to staccato rhythms until they attain the vehemence of a religious mantra.
18. "Karate Chop" (Remix) (ft. Lil Wayne)
Metro Boomin, the producer of "Karate Chop," is 20 years old, which makes it all the more annoying that the darkly phantasmal work he did with Future (those synth guitar whines) got overshadowed by thirtysomething Lil Wayne's idiotic Emmett-Till-related punchline. At least we'll always have his patron rhapsodizing about a girl who looks like "Janet in the '80s."