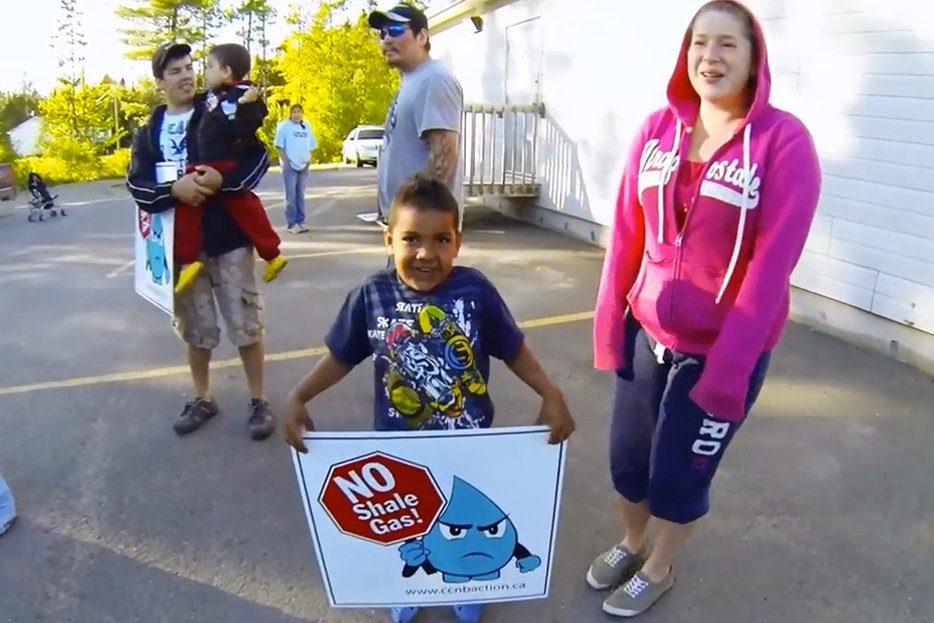 The good news is that nobody is dead. Last week the RCMP moved in on a protest against a natural gas fracking company by locals and the Elsipogtog First Nation around Rexton, New Brunswick. Using "sock rounds," the Mounties enforced a court order clearing the blockade that protesters had erected around a property used by SWM Resources, which is currently engaged in seismic exploration in the area that the protesters worry will inevitably lead to hydraulic fracturing ("fracking") for natural gas and the flaming garden hoses we've all heard so much about.
SWN Resources kindly provides a map of the area it's currently licensed to explore for shale gas in the province, and it's not small. The New Brunswick government says that nine companies hold licenses to explore or drill in 1.4 million hectares of the province. So before we go on, we could all grant that whatever is and is not a legitimate form of protest, just because it happens in New Brunswick, doesn't mean it doesn't matter: this is actually a big deal.
Given this country's history with confrontations between First Nations protesters and the police, a body on the ground is not a crazy impossibility. It's almost 20 years later and the death of Dudley George at Ipperwash Provincial Park still haunts Ontario's provincial leadership. Because nothing seems to make people lose their sense like Aboriginal people showing up in any number, anywhere, the incendiary or simply addled columns have already started pouring in.
You would never know from these columns that the Elsipogtog First Nation is being joined in these protests by locals just as upset by the government's refusal to take its foot off the gas on its drilling plans (pun only somewhat intended).
Which isn't to defend the throwing of Molotov cocktails; firearms are seldom a good idea in general, and particularly when confronting the police. And, as a somewhat self-interested side note, it's always a good PR move to let reporters do their job with a minimum of harassment. For their part, reporters should probably be a bit more skeptical of police claiming to find improvised explosive devices, if only because "weapons" found by police at protests aren't always what they seem.
A few days later and everybody is calling for calm, which suggests that important people aren't being swayed by inane newspaper columns—something we can be grateful for. But there's no reason to think this is the end of anything. This weekend, a few hundred people briefly obstructed an Ontario highway over the construction of wind turbines in the province. The OPP let the rolling protest roll on through.
Comparing shale gas to wind turbines is liable to give someone a fit, but there is a connection: shale gas, like wind power, has changed the geography of energy extraction. The 20th century saw massive new energy sources make whole new communities, whether that was oil in Houston or hydroelectricity in Las Vegas. The new wave of energy technology is "invading" places with long histories of their own whose residents are used to energy coming in discreetly from somewhere else. It's cropping up in communities that never expected it and don't want it now that it's here.
Sadly for the protesters, the voracious appetite for energy will not be denied. Count it as a victory if they just manage to slow the march down a little. And if nobody gets shot in the process.
–
Find Hazlitt on Facebook / Follow us on Twitter