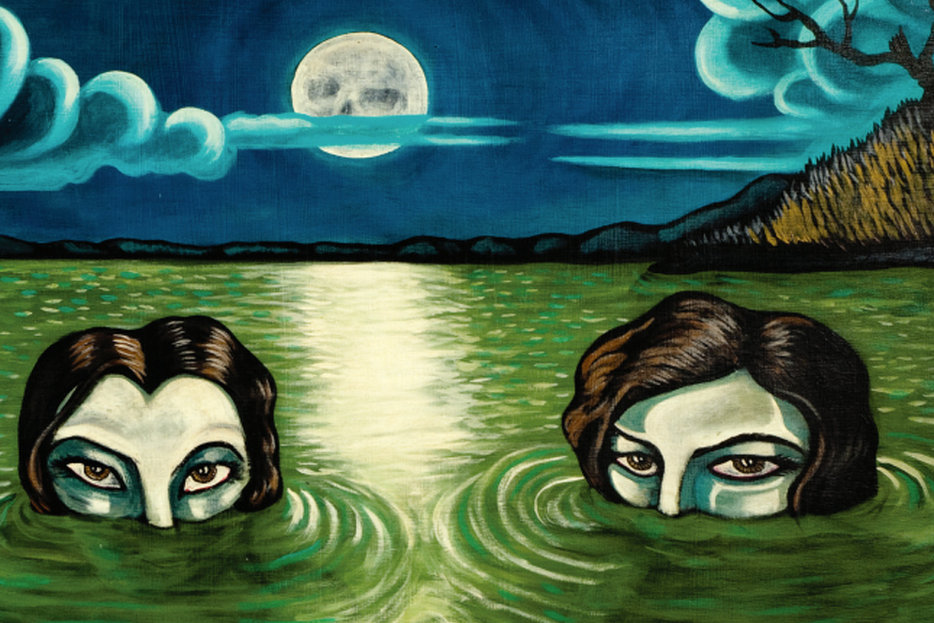 When the Drive-By Truckers called their 1998 debut album Gangstabilly, it wasn't just a cute portmanteau, even if their raucous country-rock shares little aesthetic affinity with hip-hop. There was a recognition that these once-subcultural genres had other things in common: a fixation on outlaw tales (whether lionizing or harrowing), and the kind of sustained character studies you don't often hear in pop. "Birthday Boy," from 2010's The Big To-Do, made a businesslike stripper sound like one of the riders in a Western: "'Which one's the birthday boy?' she said / I haven't got all night / What your momma name you? You can call me what you like."
The sheer number of songwriters rotating through the band, too, combined with its extraordinary consistency over ten albums, allowed for some subtle variations in approach—guitarist Patterson Hood (son of the prolific Muscle Shoals session player David H.) tends to contribute short stories about rough lives, while co-founder Mike Cooley prefers more allusive and abstracted lyrics.
In 2001, the group hired third guitarist Jason Isbell, and for a while they became a rare songwriting triumvirate, the new kid's style complementing an increased emphasis on the details and struggles of working-class life. Isbell adopted the voice of his father sending him off: "Don't sing with a fake British accent, don't act like your family's a joke / Have fun but stay clear of the needle, call home on your sister's birthday." For several years he was married to their bassist Shonna Tucker, who penned a few memorable tunes herself. I'm partial to "The Purgatory Line," so calmly resigned, a song dwelling on some perpetual cusp: "Angels here are wearing fancy new perfume / All the bread's unleavened, I guess it'll have to do." Then festering intra-band tensions led both to gradually depart, and the last couple of Drive-By Truckers albums began to feel forced, as if their admirable persistence had succumbed to enervation. Hood and Cooley are well into middle age, but until this decade they'd belied that, along with any simple position as the band's "core."
On their great 2001 double album Southern Rock Opera, the band took up what Hood called "the duality of the Southern thing," as embodied by Lynyrd Skynyrd and exploited by George Wallace. But "the devil is also a Southerner," so when the latter ends up in Hell, they're serving up sweet tea and borrowing a Civil War sea shanty for his anti-hymn: "Throw another log on the fire, boys, George Wallace is coming to stay / When he met St. Peter at the pearly gates, I'd like to think that a black man stood in the way." Never what you'd call a succinct collection of lyricists, Southern Rock Opera found them at their wordiest; "The Three Great Alabama Icons" is really just a seven-minute-long Hood monologue, featuring bare musical accompaniment. It makes the synthesis they achieved, not to mention those walloping hooks, all the more impressive. Juxtaposing the Birmingham church bombing with Aretha Franklin's recording sessions at Muscle Shoals, "Ronnie and Neil" binds the Skynyrd good ol' boy to his friendly Canadian antagonist in historical memory.
A similar dialectic is at work with this month's English Oceans, the best Drive-By Truckers album since Brighter Than Creation's Dark six years ago. Hood has always written material faster than the more ruminative Cooley (he's released two solo albums in his off-time), but here they split the new tracks as neatly as 13 can be. Without any other songwriters (or a third guitar), it's easier to appreciate their subtleties—all the abrasive textures Hood's voice assumes, or how Cooley jams many words into a confined space. The press releases have been touting this record as a return to their unruly youth, and album opener "Shit Shots Count" is as classical as punkish rock gets, True Detective dialogue included ("meat's just meat, and it's all born dying"). But I was intrigued by the new keyboard parts, how vocal melodies fell in different places than they did before. It's like the sense of familiarity allowed Hood and Cooley to be more adventurous.
Some of the songs on this LP do continue a dialogue with their previous work—I could only see "Made Up English Oceans," the confession of a devious Lee-Atwater-like political operative, as obliquely elaborating on the same gnarled subjects as Southern Rock Opera. ("See, once you grab them by the pride their hearts are bound to follow / Their natural fear of anything less manly or less natural.") My favourites manage to do that broadly, less "spiritual sequel" than entering undiscovered territory in a considerable expanse of music. They drift towards long, melancholic codas, or seize up into an unexpected guitar solo, like "Pauline Hawkins." There, Hood pares himself down to simple syllables, speaking through a woman who's shucked off the claims of love but enjoys a certain sovereignty in sex: "I'm not yours to keep / Don't want you to save me / You're just a vacation / To keep me awake, until I'm ready to sleep."