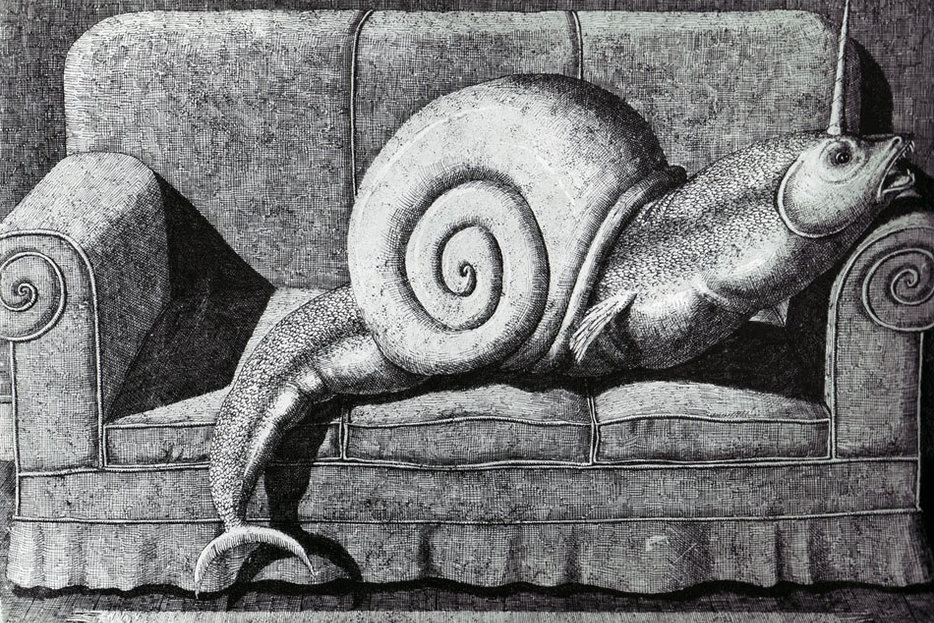 Had I known of Edward Gorey's books as a child I'd would've been on them like a Goth kid on a coffin. I didn't discover Gorey until I was already a teenager and had just moved to Canada from Poland. He was, though, was one of the first "things" that I first learned about after arriving here—the first "thing" I loved here, in fact. I remember buying postcards featuring Gorey's striking, cross-hatched illustrations and mailing them to friends in Poland. "Can you guys believe this?!" I wrote. Because I couldn't believe there were books like Gorey's books: dark, disturbing books for children you could argue were not really for kids at all. But apparently the books were popular with children so children's books they were. My favourite—and perhaps his most best-known—Gorey work is The Gashlycrumb Tinies, an illustrated alphabetical list of children dying under tragic, often brilliantly inventive circumstances. The child that appealed to me especially is Neville who died of ennui.
Gorey died from a heart attack thirteen years ago, but had he lived, he would've celebrated his 88th birthday today.
In retrospect, as a happily morbid child, I was terribly deprived for not having been exposed to Edward Gorey sooner. Sure, there was the overt horror: Michael Jackson in the video for "Thriller" comes to mind. The sight of Michel Jackson turning into a werewolf made me pee my bed the night I first saw it. But it was the subtler frights that had the most impact. Neighbours (Sasiedzi) was a Czechoslovakian Claymation series about two guys named Pat and Mat endlessly screwing up house repairs. This was a jab at the infamous sloppiness of communist constructions that often looked pretty but fell apart the moment you'd walk away from nailing the last plank. The series was aimed at grownups but became popular with kids. I got the inside joke of it thanks to my father's commentary while the cartoon was on TV; since I thought we lived in a perfectly lovely place (Poland, circa early 1980s), it was my first exposure to the idea that things could be very wrong with the perfectly lovely place we lived in.

The second show I loved as a child was The Muppet Show, which I also watched with my father. The feathery flamboyance and the jokes I sort-of-got/sort-of-not was thrilling. I picture myself enjoying the show as a bug-eyed child, smile stretched as wide as it would go, teeth all showing and yet some strange terror in my eyes. My favourite characters were the ones who appeared or possibly were mentally ill and/ or drunk: Fozzie Bear, Animal, Rolf, Dr. Teeth. Is it any wonder that I became both as a grownup? I kid!
Speaking of crazy, a while ago my partner (who is a writer) and I came up with a Gorey homage: a book featuring various psychiatric drugs as characters. Imovane was a tall, willowy character who floated grayly above foggy mountains and cried herself to sleep. Trazodone was a club-owner type who played hot and cold with Imovane. Wellbutrin was a crazy jerk who climbed bridges while drunk. The book never came to fruition because it was too grownup; it was a book for grownups. The joke was too obscure and too inside. We were after that perfect balance only a real genius like Gorey was able to achieve—grownups could get it at their own level while kids could be simultaneously delighted and troubled by these enigmas that hinted at the world out there beyond childhood. I'm all for the sweetness and light of stories that carry and coddle the innocence of childhood, but it's the darkness of knowing that really makes us.