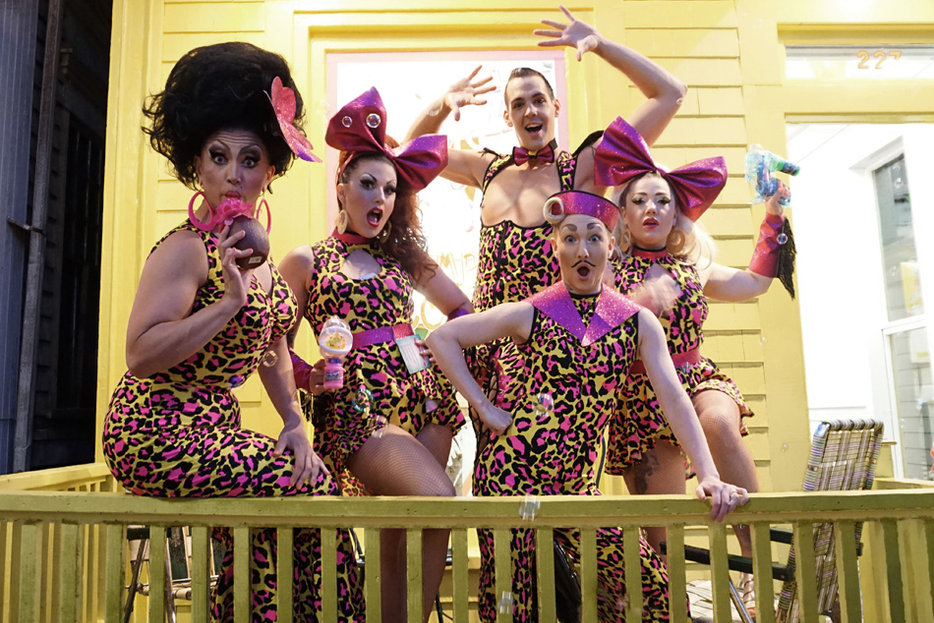 In front of the Happy Camper ice cream and coffee shop (all photos by Nicole Pasulka)
On a Thursday night in late July, the Atomic Bombshells strut down Commercial Street in the center of Provincetown, Massachusetts, wearing outfits made of yellow and pink cheetah print spandex. In the distance between the Happy Camper ice cream and coffee shop and the lobster roll stand, Lou Henry Hoover, BenDeLaCreme (a drag queen who won Miss Congeniality on RuPaul's Drag Race), Kitten LaRue, Ruby Mimosa, and Mr. Gorgeous scan for the willing or persuadable.
P-Town is one of the oldest gay vacation destinations in the United States. BenDeLaCreme calls it "the city where soft serve meets sodomy," and periodically children with ice cream cones do stop to gawk at the group. It's "family week," and the burlesque show the Bombshells are promoting is—sort of—family friendly. There's no actual nudity or bad language. "It would go right over their heads," DeLaCreme says, sweeping a hand over six inches of firmly secured wig to demonstrate.
"Jungle Boogie" plays on a portable speaker as Lou Henry Hoover hands a flier to a middle-aged man. "Come to the show tonight," he chirps, smiling as he walks past.
"I think that one was really a girl," he tells the woman next to him.
Here is the hurdle Ricki Mason must constantly leap across: how to get a random guy and his wife to see her onstage persona, Lou, as more than a stripping girl in a moustache.
A classically trained dancer with a sweet, expressive face, Lou Henry Hoover is one of the most well-loved personas in boylesque—burlesque strip shows starring male-identified performers, sometimes in drag but typically not—and also one of the most unusual. Not just because of the dance-school pedigree, but also because Lou is the drag persona of Ricki Mason a person who feels female (albeit what she calls "a real peacock of a butch") in her day-to-day life and male when dancing (and stripping) onstage.
We expect stripping to reveal more about a person's gender. This isn't what happens when Lou performs. Somehow, wearing fewer clothes brings greater freedom to play with identity. Without pasties or a g-string, Mason-as-Lou gets to "invent what nude means." Sometimes it's a balloon cock and a dickey; on other occasions, "nude" is a binder, a glued-on codpiece, or a strategically placed beer bottle.
A mix of dance skills, charisma, and unusual gender presentation has made Lou a celebrated outsider in the burlesque world—a performance community that revels in its own outsider status. Because Lou doesn't fit perfectly anywhere, he's had the opportunity to take the stage pretty much everywhere. But the farther and wider Lou performs, the less likely it will be that his audiences have spent time thinking about things like the politics of queerness, or gender identity in drag performance.
On the streets of Provincetown, people of all ages swarm BenDeLaCreme. They are star struck. She was on TV, after all. But professional gender-benders have always had a tenuous relationship with the wider public that sees drag as no different from a Halloween costume. At best, they're embraced but largely misunderstood. At worst, they're mocked as sad, cartoonish approximations of actual men and women.
*
Six weeks earlier, Ricki Mason had been preparing for the Burlesque Hall of Fame Weekender competition—the burlesque world's Academy Awards. Snaps had to be sewn, pompoms purchased, and glitter glued before Mason and her wife, fellow Atomic Bombshell Susanna Welbourne, also known at Kitten LaRue, could pack seven outfits into six suitcases for the trip to Las Vegas. One of Susanna's wigs would fill an entire bag.
At close to eight in the evening, Mason walked to Beauty Curators on Sixth Avenue in Manhattan. In cut-off jean shorts and an oversized Madonna T-shirt, she carried a Styrofoam head somewhere in her cluster of shopping bags. The store had just closed, so Mason knocked on the window and a woman with a high, shiny ponytail opened the door.
Mason had done burlesque once before; dolled up as a pretty lady, she says the strip tease "didn't feel powerful" to her the way it did for some women. But then she created a boylesque act where she was an angel who was becoming human to be with his lady; stripping in drag offered "a secret key to a new place." The shelves are lined with building materials for New York City's nightlife looks—bottles of hair product, brushes and combs, and a rainbow of hair extensions. This is Home Depot for drag queens. Mason's wig designer, Marco, was at work in the back. Matted and crushed hairpieces waited for rehabilitation on the table behind him. He was worried that a wig made from Barbie heads might not be ready in time for this year's Gay Pride celebrations.
"You want to try?" Marco presented a chestnut pompadour, like a fuzzy wave crashing above the forehead. Mason's hair—a lighter brown, flatter version of the pompadour—was already under a flesh-colored wig cap.
She twisted in her chair to inspect the back and sides in the mirror. Staring back at Mason is Lou, an earnest, all-American guy who tries hard and fails harder, whether he's a cowboy, a Romeo, a disco dancer, or a clown. Mason has been performing as this perpetual underdog, the delightful and unflappable loser with a heart of gold, for more than seven years. By now, she is simply "Lou" to many friends and fans.
In the back of Beauty Curators, Mason and Marco fussed over the wig, pulling down the sideburns and pressing the puffy, pretty-boy upsweep into shape. Lou wears this wig during a cowboy-themed act called "Wanted," a number he and Kitten would perform during the Burlesque Hall of Fame Weekender's "small groups" competition. In pink western wear, Lou and Kitten rob a bank, shoot some guns, and tear each other's clothes off before losing all the money.
In Vegas Lou would also compete against three other dancers for the title of King of Boylesque. As far as anyone can remember, Lou is the first drag king boylesque competitor in the pageant's 25-year history.
*
It hasn't always been chest binders and glitter mustaches for Ricki Mason. Growing up in Lexington, Massachusetts, Mason was the youngest child in a family of four with strong ties to the military. When she was nine, her older brother left home for the naval academy. For a while she wanted to go too, and her parents were thrilled. "You'll love it there," they encouraged. "There's a glee club."
Performing soon took over her adolescent life. She'd been taking dance classes every day, dreaming of studying musical theater at the University of Michigan and dancing in Fosse, but she didn't make it into the program. At Michigan, she settled for and then fell in love with modern dance, where every movement has a precise meaning and intention.
After college, Mason moved to Seattle to front a modern dance company called LAUNCH. The city is home to a vibrant community of drag and circus performers. Far away from people she'd grown up with, Mason felt freer to express queerness on and off stage, and it was here that she discovered boylesque.

Mason started crossing paths with queer performers who formed the backbone of Seattle's vibrant circus, drag, and burlesque scenes. She'd done burlesque once before; dolled up as a pretty lady, she says the strip tease "didn't feel powerful" to her the way it did for some women. But then Mason created a boylesque act where she was an angel who was becoming human to be with his lady. "At least that was the story in my head," she says. Mason wore a suit and angel wings. "I was pretty much an angel taking my clothes off." Stripping in drag offered "a secret key to a new place." It was fun to have a persona on stage and Mason loved choreographing to popular music, something the modern dance world discouraged.
Mason took the name Lou Henry Hoover after the adventurous, Chinese-speaking former first lady. Many of her performances express the nostalgia, affection, and disillusionment she feels for America. Mason's brother and sister-in-law had been married at the naval academy chapel when they were both serving in the armed forces. But her sister-in-law came to oppose the war, and was working to help civilians survive when she died in Iraq. Mason choreographed an evening-length modern dance piece about her death.
The drag performances are lighter than the eulogy for her sister-in-law, of course, but still draw on classic Americana, especially iconic images of American masculinity. "I wish that the American dream was true," Mason says. Her costumes, choreography, and the earnest but clueless persona of Lou Henry Hoover reflect this sentiment and her family's ties to the military. "I wish you could believe that fighting for your country is the right thing and that country songs were true."
Lou Henry Hoover is an affable underdog, a Charlie Chaplin character who tries and usually falls short—as a cowboy, a sailor, a tough guy, or a loverboy. In an early act, Lou was a magician whose tricks all failed. Rather than disappearing, the handkerchief fell through his hand onto the stage.
*
In 2010, Lou performed the magic act in Provincetown with the Atomic Bombshells, the burlesque troupe co-fronted by Welbourne and BenDeLaCreme. Welbourne had been bringing the Bombshells to P-Town for a month-long residency since 2005. At the very tip of Cape Cod, far from prying eyes or errant travelers, P-Town was home to artists' colonies and experimental theater groups that brought early 20th-century queers to the area. Today, it's a destination for gay and straight tourists. With the highest proportion of same-sex couples in the country, the town offers a glimpse of a world (or at least a vacation spot) in which straight people are a minority.
With two queer strippers holed up in a beach town so gay it hosts an annual "bear week," a showmance seemed inevitable. Kitten and Lou had performed together before in Seattle but they'd never had a chance to talk backstage. During the flight to Massachusetts, they chatted nonstop. Mason liked Welbourne, but assumed she was straight. A friend who was performing with them and knew better guessed right away that Mason would be Wellbourne's summer's hook-up. It happened when they were drunk at the bar, and in the days and weeks that followed they kept it up. "Everyone's just like dying in love with Lou," Welbourne explains. "They just wanna put her in their pocket." When they weren't performing, the pair would amble down Commercial Street, "sucking face like insane people," says Mason. 
The next summer Kitten and Lou performed a duet in New Orleans. Mason suggested a wedding theme, and though it was a statement on Washington State's marriage referendum it was also a bit of wishful thinking. Welbourne and Mason got engaged in a photo booth the following year. The invitations to their 2013 wedding promised "an extravaganza of wedding eleganza." Both brides wore ivory accented with teal leopard print. The officiant had a goatee full of glitter and BenDeLaCreme was the wedding's art director. There were choreographed dance numbers, a bouncy castle, a musical performance by RuPaul's Drag Race winner Jinkx Monsoon, and more pompadours and beehives than a 1950s prom. The UK Daily Mail dubbed it "the most outrageously camp wedding ever."
While neo-burlesque attracts women looking to be both sexual and subversive on stage, the form also appeals to men who want to challenge gender stereotypes, either through drag, camp, or traditionally gay imagery.
Two years later, Welbourne and Mason reflect on the ways they've influenced each other. "I upped your style game a little," Welbourne tells Mason. "When I first met you and Lou, Lou was like, 'Oh, let me just pop on these plaid pants from the thrift store.'" Mason looks sheepish.
Their acts are more polished now. In their cowboy number, "Wanted," the couple play bank robbers on the run, wearing handkerchiefs across their faces and bright pink western wear accented with fringe and pictures of cacti. Ten-gallon hats fly off to reveal tiny cowboy hats underneath. Lou proclaims his love for Kitten. He strokes her cheek for a little too long and she grimaces and moves his hand to her chest. After stripping down while being chased by the law, Kitten throws the money they've stolen in the air, and it rains down over her. Lou gets bitten on the crotch by a rattlesnake.
The masculinity that Lou presents is more Village People than Magic Mike. Though being in love with a woman means that we see Lou as a hetero guy, Welbourne insists that the persona "is not an image created for a straight woman." The military outfits, the sequins, and the musical theater dance moves—"it's very coded."
They performed "Wanted" at a burlesque competition in Las Vegas this summer. Lou was the only boylesque performer who took the stage. The act plays well to the rockabilly crowd, but Lou thinks the organizers put her on because, to them, she was still a female performer—a girl stuffing her dance belt. "This act has such a candy coated vibe, it doesn't matter that I'm a drag king," she says.
*
An edgy and popular form of strip tease in the early-to-mid-twentieth century, burlesque evolved into what we now know as stripping. But in the 1990s and early 2000s, performers such as Dita Von Teese began to popularize the form in what some call neo-burlesque. More likely to be watched in an art-house theater or cabaret than at a strip club, today's burlesque performers are often overtly feminist and less commercially minded than their predecessors.
While neo-burlesque attracts women looking to be both sexual and subversive on stage, the form also appeals to men who want to challenge gender stereotypes, either through drag, camp, or traditionally gay imagery.
The Burlesque Hall of Fame Weekender competition's organizers created the King of Boylesque category in 2006, after some male performers had been lobbying to compete for the title of queen. Jo Weldon, headmistress of the New York City School of Burlesque and the co-executive director of education at the Burlesque Hall of Fame, recalls that the category was created as a way to include a more diverse group of performers in what was becoming an increasingly formal event and title.
When Lou applied to be King of Boylesque, organizers again had to decide how to embrace innovation while respecting the general desire for clearly defined categories. The burlesque world is overwhelmingly female, and so male performers can have a "novelty factor," says Dustin Wax, executive director of the Burlesque Hall of Fame. This means they often score higher in mixed gender competitions.
Lou's participation in the boylesque competition has led to some backstage rumblings that a male performer could try to game the system and snatch the title of queen. Weldon, whose stage name is "Jo Boobs," does not share this concern. Performers should be able to choose which category they compete in. "If a man picks the Queen category and he qualifies, we'll have to deal with it," she says. Wax thinks that ultimately it's more important to embrace creativity than to protect against those few who might take advantage of the contest's flexibility. When deciding whether to allow Lou Henry Hoover to perform, Wax and the organizers wondered, "Is boylesque about your junk?" No, they decided. "It's about a way of approaching gender."

About 40 people have trickled in to one of those generic hotel ballrooms for a roundtable on gender representation and identity. At the Orleans Hotel and Casino in Las Vegas, the King of Boylesque competition is in two days; Jo Weldon organized this panel to quiet any discontent about Lou's inclusion and foster a conversation about gender throughout the history of burlesque. Though Mason is not trans, Weldon and the contests' organizers hope Lou's take on gender roles will lead to broader recognition of trans and gender non-conforming people's place in the burlesque world. Trans performers have always been a part of burlesque, many people are careful to point out, but because most were stealth, it's been hard to acknowledge and credit their contributions. An exception is Miss Violet DeVille, an out trans woman who's also on the panel.
When it's Mason's turn to talk, she tells the story of how she started doing drag and says she feels lucky that "gender has always felt relatively light to me—it's nice I can be playful about it."
The crowd gets to watch Mason-as-Lou do just that during one of the strongest King of Boylesque competitions in the past few years. The night is introduced by Tigger!, a performer who won the first boylesque competition in 2006 and calls himself "The original King of Boylesque."
Introducing the contest, Tigger! says that "aside from promotion, boylesque is an artificial, irrelevant distinction based on the myth of a gender binary."
"We're all in the same gang," he tells the cheering crowd.
Tigger! doesn't mention Lou by name—it would have been inappropriate to single out one performer. Instead, he tells the audience he is "thrilled that a drag king has finally entered the game … because this is all supposed to be a variety show. So hats off—and pants off—to variety!"
Lou appears on stage, illuminated by a single spotlight. His inch-thick, comma-shaped eyebrows rise and fall. As Cyndi Lauper sings, "sometimes you picture me," Lou frames his face with his hands. Moving purposefully across the stage he pantomimes walking, "calling to me," and the second hand of a clock unwinding.
The bright blue of Lou's sailor suit suggests an MGM musical about a young serviceman whose ship is about to sail. The act is wistful and funny, but it is not particularly sexy. After cartwheels, pirouettes, and arabesques, Lou slowly and purposefully peels off his sailor shirt to reveal another sailor shirt. Just as Lou's dancing threatens to turn sentimental, he scales it back with a hip thrust or a blank look.
Removing the rest of the costume is a struggle. Lou is self-conscious, and once he's made it down to a binder painted with tattoos and a blue and white sequined dance belt, a flash of ass is the closest he gets to nude. Now that this sailor has bared himself for the audience, he celebrates the revelation with a knee slide … only to pull another, identical sailor suit out of his bag. Pompoms fly through, the air, the audience erupts, and Lou puts his costume back on.
Mason thinks Lou won the crowd, even though he didn't get the crown. The act that did win was "classic burlesque," danced to a medley from West Side Story. The performer, Matt Finish, teased, waved, shook his ass and did the splits. Weldon was in the audience and insists that gender isn't the reason Lou's performance, which she called "enormous, wonderful, beautiful," didn't win. "Nobody complained to me about Lou except one purist person. I don't care," she said.
"I'm a queer person, I drew it on my face … [but] I'm going to present a universally human experience."
During the Weekender, last year's King, Mr. Gorgeous, gave a step-down performance. He won in 2014 with an ice cream-themed act in which he conceals his cherry-garnished package with fans shaped like pieces of a waffle cone. Gorgeous is six-and-a-half-feet tall and has a silly, self-deprecating style. During the act, he smells his shoes and armpits, recoils in disgust, and then winks seductively at the audience. The crowd reacts to his wholesome good looks, sure, but a winning boylesque performer needs more than sex appeal and "another act with feather fans," Gorgeous says. At a time when you can watch hardcore porn on your phone while in line at the DMV, a drawn out strip tease with pasties and a g-string is unlikely to grab people's attention.
Gorgeous and Mason have become good friends—they perform together every year in P-Town—and he says he loves "that little moustache and eyebrows on that little miniature man." Though his career got a boost after he won King, Gorgeous doesn't think the title is the real point. "In a sense, being in the category and shaking things up is a win," he says. "Being the odd one out in a community where we all identify ourselves as oddballs, dang, that's next level."
*
Six weeks after the Weekender, in P-Town, the Atomic Bombshells' show closes with Kitten and Lou's raucous, frenzied "clown act." It's a rare performance in which they wear almost identical costumes. They're even more in synch tonight because Lou forgot to stuff her dance belt. At first, BenDeLaCreme was hesitant about including the act in the Bombshells' show—it doesn't reflect the roles that have become the touchstone of Kitten and Lou's partnership. But the number was a hit at an open mic night for P-Town performers, and both Kitten and Lou seem willing to ditch the gender roles for a good dance number.
Some contentious voguing escalates to a slapping fight. They remove tall clown hats to reveal bright orange ponytails that sway back and forth as they dance. During the act's controlled chaos, Lou isn't trying to be any particular gender, but putting that clown trope through a Kitten and Lou filter is yet another way to play with identity.
All these flexible representations of "girl" and "boy" are formed from the raw material of Ricki Mason's daily life. Earlier that afternoon, Mason, Welbourne, and BenDeLaCreme had been relaxing in the shallow end of an outdoor pool.
"Now you're the boy and I'm the girl," Mason told DeLaCreme, referring to her pineapple print women's swimsuit. He demurred. His swim trunks were pink, after all.
"But I've got boobs," Mason countered.
"And you love to remind us of that fact," Welbourne said sarcastically. They often joke Mason is the rare stripper who never exposes her breasts.
"Sometimes I wrap them up and sometimes I let them out," Mason replied before diving underwater like she'd just gotten away with something.
Mason is hoping that polished dancing, a precisely drawn mustache, and the perfect amount of glitter, sequins, and pompoms, will charm audiences into embracing Lou. That his performance will make the lines between woman and man, gay and straight, macho and dandy seem etched in eyeliner rather than permanent marker.
"I'm a queer person, I drew it on my face," Mason says, "[but] I'm going to present a universally human experience."