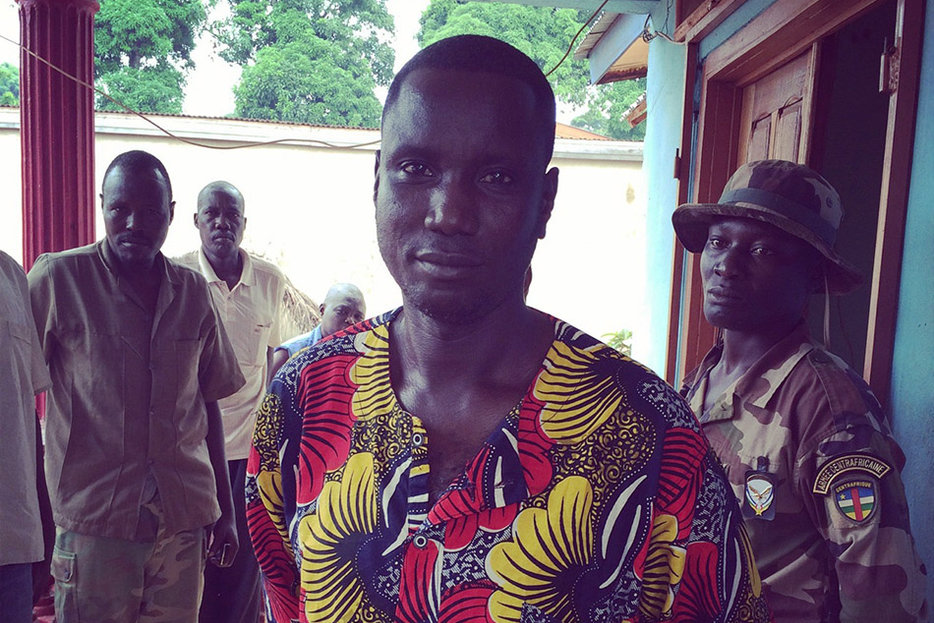 General Issa Issaka Aubin.
Read Richard Poplak's previous dispatches: Diamonds in the Rough: A Central African Shell Game (1), Their Methods Were Not Gentle (2)
We sit across from Imam Oumar Kobine Layama in the dark sitting room within his fortified compound. When my eyes adjust to the gloom, I make out a Barbapapa tablecloth piled with religious texts, the couches on which we sit, and nothing else by way of adornment. The imam, thin and hunched with a scruff of beard at his chin, is as spare as his surroundings. He speaks so softly we must lean forward to catch his words. Over the past six months, as president of the Communaute Islamique Centrafricaine, the imam has buried 775 members of his community. He is precise on the number of dead, just as he is precise on another number he considers relevant to CAR's present circumstances.
"We have many things for miners here—there are 488 resources in the ground," he says, after apologizing for the full-body search at the door. As something of a specialist in inter-religious dialogue, the imam was previously living with Bangui's archbishop in a house closer to the city, but now he's a resident of this hidden place in the outlying suburb of Ngaragba. Several months ago the anti-balaka came looking for him, hoping to impart their own, slightly more emphatic views on inter-religious communication. Even so, the imam doesn't much buy into the conventional Muslim vs. Christian view of the conflict. In CAR, he says, the number of the resources vs. the number of dead is the only ratio that counts: the former are pulled from the ground, while the latter are dumped in to fill the holes.
"In the history of our country," says Imam Layama, "man was not known as a violent guy. But now, the Central African man has become a fighter, violent. I'm not a politician, I'm religious, so I am called on to tell the truth." He's met the heads of the French mission and told them that they should leave. "If you've noticed, the anti-balaka are backed by the French, who also support the Seleka, and this kind of practice fragments the UN resolution that asks them to disarm the fighters by force." As far as the imam is concerned, the French soldiers are of no more use than "photographers, journalists—they don't protect, they just report."
And when they aren't reporting, says the imam, they're digging. Either mineshafts or graves, to them it's all the same.
*
It takes me several seconds to figure out why, exactly, Lt. Colonel P.Y. Sarzaud is standing up in the bright blue Bangui afternoon and rooting around in the pockets of his fatigues. Then I realise that we are being treated to a pantomime. He shows us his hands, palms up, fingers splayed. "See?" he asks. "No diamonds. Nothing! Not one!"
Lt. Colonel Sarzaud is in charge of communications for the Sangaris mission in CAR, a job for which a healthy a sense of humour is clearly a prerequisite. The French base, M'Poko, is appended to the airport, and is the sort of rapidly deployed, hi-tech, heavily armed tent city that has become one of the more notable features of the 21st century warscape. "War is beautiful because it creates new architecture," wrote the Futurist Marinetti in 1936, in praise of Mussolini's Ethiopian campaign. Sangaris contributes to this ever-evolving aesthetics with Gallic flair. The communications' tent is outfitted with a detailed map of CAR placed on an easel, a jaunty retro prop. We gather on safari-chic canvas patio furniture, sip water and listen to Sarzaud expand on the Sangaris effort to contain the uncontainable.
General Issa Issaka Aubin leads the Seleka forces in Bangui; his men receive the baguettes gratefully. The General is a youngish man in a new jamba and old Air Jordans, and not to be fucked with under any circumstances.
"Sangaris is not a mission to disarm forces," insists Sarzaud. "Phase One"—he raises a single finger—"is to confine the warring groups to their barracks. We say, 'go into your barracks with your gun, and do not come out.' If he comes out with his gun, we have the right to take that gun."
But what is the point of leaving armed men to stew in their barracks? And how do Sangaris soldiers differentiate combatants who have come out from their barracks from those who never entered their barracks in the first place?
Pah! Details. These questions matter less than the implementation of Phase Two and Phase Three of the mission, which focus on clearing roads into Cameroon from the west, and roads into Chad from the east. Roads that are used to ship goods, weapons and, of course, resources into and out of the country. Which, if you think about it, does make it seem as if the French are here for no other reason than to secure the smooth passage of shiny things into and out of this non-place, this retail state.
"No, never," insists Sarzaud. "Our aim is to save people. Nothing else. If you would see the mines, they are broken, you would say it is too much money to produce uranium or other things. It is not possible." The French line is simple: they came to CAR to stop genocide.
Those empty hands again, palms up, showing off nothing.
*
The following morning the weather turns, and we drive to the neighbourhood of Gobongo in heavy rain. Along the way, the Basbangui shrouded in mist to our right, we stop to buy twenty baguettes from a street vendor. Our next stop is the Bangui Golf Club. The sand traps and fairways are long gone, and instead the sprawling, lean-tos of the Seleka barracks. A MISCA tent stands at the camp's entrance, and a colonel waves us down a rutted track transformed into an avenue by towering mango trees. The rangy hard-faced men and boys corralled here by the French have nothing to do. They are waiting.
General Issa Issaka Aubin leads the Seleka forces in Bangui; his men receive the baguettes gratefully. The General is a youngish man in a new jamba and old Air Jordans, and not to be fucked with under any circumstances. He comes from the north, from the border with Chad, and he has been at war since 2006. His eyes are deep pools, best avoided. We meet him on the veranda of a ruined colonial building—perhaps the dining hall of the ancient golf club—and he tells us that where he comes from, there are no roads, no schools, no nothing. "Why do we have nothing?" he asks. "That is why I decided to join this movement."
General Aubin swept into Bangui with Seleka's rump forces, ran Francois Bozize out of town, and helped install the leader of the coalition, Michel Am-Nondokro Djotodia, in Bozize's stead. The first Muslim to hold the office, it was assumed that Djotodia would quiet the Seleka and end the violence. He suspended parliament and declared a transitional government, and while countries in the region tried to cobble together a plan to that effect, the violence escalated. Djotodia resigned in N'Djamena in January of this year, and was replaced by Catherine Samba-Panza. He recently announced his own rump state in the north called Dar Al-Kouti, a reference to a short-lived Islamic sultanate in Central Africa which accepted a French protectorate in 1897.
After killing many people, and risking his own life over and over again, General Aubin is back roughly where he started: wondering how to get electricity and a flush toilet in his family home. "Today we have no solutions. You see around you, we have weapons, we have soldiers, if we have a bad mind, we will cause war. We are children of this country, and so we do nothing."
But like a deadbeat parent, CAR wants nothing to do with its children. It's strange to contemplate patriotism in a country like this one. I am reminded of the protagonists in Kazuo Ishiguro's Never Let Me Go, who are raised so that their organs can be harvested, but nonetheless believe that this life is somehow theirs to live. It isn't—they're just vessels. But I also know that the pull of place is strong. We are a species of topophiliacs. Home is where the heart is.
Alternatively, it's where the heart of the enemy is eaten, an atrocity the Seleka have accused the anti-balaka of committing on Seleka soldiers' corpses—the old CAR cannibalism libel re-upped and retrofitted for a new war. Such alleged incidents notwithstanding, General Aubin is in agreement with Imam Layama: this is not a religious war. He points to the men guarding him: "Musulman, chrétien, chrétien, musulman, chrétien, musulman. It is only the politicians who say this is jihadist or Islamist."
Yes, but isn't it time for CAR to become something, to stop harvesting the organs of its children? Fifty-five years after the French split, Paris is back, holding the airport, running the show.
Aubin rubs his face, looking suddenly very old.
"The French at the airport are just covering what they want from the ground. We don't see any change here. If we were the partner of Great Britain, it would be better than being the partner of France."
Robert Mugabe of Zimbabwe would no doubt disagree with that statement. Besides, a country is after all a partnership between its people and its government, not between its government and another government. Is the general just tired, did the word just slip out? There can be no partnerships here. Even the Seleka divides itself up into ever-smaller factions, Balkanizing in a way that mirrors what remains of CAR. The theme here is dissolution. The General should know. He's felled one president, and helped usher out a second. 
After our meeting, I walk with my colleague through the smoke and mud and ripped tarpaulin of the camp. I try to imagine pulling a set of golf clubs along these rutted tracks, or the crack of a driver against a new Titleist's sweet spot. But there is nothing to suggest that golf was ever played here. Someone filled all the holes in—which, I suppose, is what counts as a national sport.
Read Richard Poplak's previous dispatches: Diamonds in the Rough: A Central African Shell Game (1), Their Methods Were Not Gentle (2)