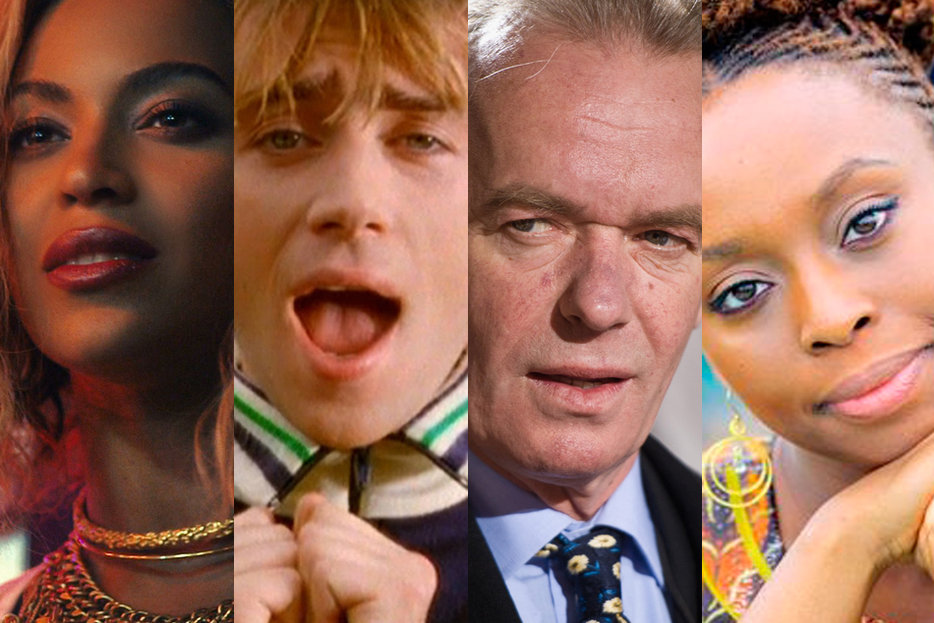 In the essay "My Night of Ecstasy with the J. Geils Band" towards the end of Psychotic Reactions and Carburetor Dung, Lester Bangs writes about a time said band invited him onstage to collaborate with them. Rather than pick up a stray guitar or wail into an extra mic, though, Bangs performed on his instrument of choice: the typewriter. Bangs's telling is breathtaking—the band carries on with their instruments while he conjures up a frenzied clattering with fingers slamming into keys—but in a more cynical moment, trying to pull apart the sonic components of that scene, one can also imagine a torrential racket, the sort of concept that, despite sounding wonderful on paper, enters ears almost irredeemably flawed.
Such is the sort of risk you run when pop and literature blend: the art forms can complement one another well, but beyond simple mismatched dissonance, there's also the danger of a song, say, simply restating a story or novel's plot. (Or, on the flipside, a writer's fictional pop music coming off as entirely unconvincing.) Some of these collisions of music and literature make impact and leave little trace; others sear and reshape the landscape, affecting all involved parties, coming as they may through a lyrical mention, a nod in the liner notes, or even a particularly well-chosen sample.
Beyoncé Knowles's 2013 album Beyoncé greeted listeners with an amassed array of star power, including one from the world of letters: the acclaimed novelist Chimamanda Ngozi Adichie, whose recent Americanah landed on the fiction longlist for the National Book Award, and whose earlier Half of a Yellow Sun was a National Book Critics Circle Finalist. "***Flawless," Beyoncé's eleventh track, incorporates a lengthy sample of Adichie—taken not from one of her novels, but instead from a TEDx talk she gave about feminism. The appearance was covered by pop and literary journalists alike with abundant glee: book critics who'd championed Adichie's work were pleased to see her words invoked by a pre-eminent pop star, and Adichie's appearance gave numerous music critics a new angle from which to view the album.
Adichie's appearance on Knowles's album, in addition to being the most recent example of a high-profile musician looking towards the literary world for inspiration, is also among the most literal: the track credits in iTunes read "***Flawless (feat. Chimamanda Ngozi Adichie)," that "feat." allotting Adichie the same pre-eminence of any featured guest on an album of this scale. (Knowles's other featured guests on the album are Jay Z and Frank Ocean.) We need not look far, however, to find other artists who have turned to literature to draw inspiration for particular songs, or adapted a specific aesthetic for a particular work.
Blur frontman Damon Albarn and Martin Amis are both fond of punchy refrains, larger-than-life scenarios, and possess an eye for blistering satire. And, in interviews, Albarn has cited London Fields, the novel in which Martin Amis's talents for magnificently bleak comedy came together with a burgeoning view towards global politics, as a major influence on Blur's 1994 album Parklife. In an essay for The Quietus that turns a critical eye on Amis's Lionel Asbo, Alex Niven notes that, after a borderline-religious experience reading London Fields in 1992, Albarn sought a musical equivalent to that book's tone:
Albarn created an elaborate pastiche of working-class Englishness that became instantly and emphatically successful. Greyhound racing, jubilees, bank holidays, package holidays, Essex suburbia, cheeky laddishness, gratuitous winking, tokenistic shouts of 'oi!': everything that seemed cheap and cartoon-like about the British proletariat was subject to Albarn's stereotyping zeal. Parklife was the immediate result, and Britpop was the epoch-straddling monster spawned by this Amis-indebted musical project.
In the case of Blur and Amis, the influence of the latter on the former birthed an entire album. In the case of Nirvana and Patrick Süskind, the influence of a beloved novel was more tightly focused, zeroing in on the level of a specific song. And what a song: "Scentless Apprentice," inspired by Perfume, Patrick Süskind's novel of a fragrance-obsessed murderer, hits like a cloud of white noise as the second song on 1993's In Utero. It messily channels the sociopathic menace of Süskind's protagonist Jean-Baptiste Grenouille, who sits doubly isolated from society due to his mastery of fragrances and his penchant for killing. In interviews, Cobain spoke of his love for the novel, and "Scentless Apprentice" works as both a tribute to a beloved work and as a way for the group to channel the darker side of the outsider perspective that often inspired their music.
The worlds of letters and pop can collide in other ways as well. Bob Dylan's 1975 Rolling Thunder Revue tour found him working with a wide assortment of musicians, from Mick Ronson to Joen Baez, but playwright Sam Shepard was in tow, too. Larry "Ratso" Sloman's liner notes to Vol.5 of The Bootleg Series also point to Allen Ginsburg's presence on the tour—sometimes reading poetry on stage, and often serving as a useful commentator on Dylan's performance style and historical import. It was Shepard, though, who would eventually release Rolling Thunder Logbook, an account of the tour, in 1977. In 2005, Liz Thompson, writing for The Independent, reviewed a new edition of Shepard's book: "Impressionistic or merely chaotic, depending on your view, Shepard's book captures something of the spontaneity of the tour, though his weariness at the mayhem taints the fractured narrative." Here, the overlap skirted lines: the writer becoming part of the tour, then creating work in his chosen discipline after the fact.
Remember that that overlap can take many forms. Let's not forget that Duran Duran's almost archetypally '80s pop song "The Wild Boys" drew inspiration from William S. Burroughs's novel of the same name, earworm pop colliding with the afterglow of the avant-garde. Bruce Springsteen spoke about the influence of Flannery O'Connor on his songwriting at the time of the album Nebraska. There's even an entire blog, From Novels to Notes, dedicated to this phenomenon.
Also noteworthy: these are cases where the material being riffed on—sometimes literally­—isn't exactly obscure. Martin Amis is a best-selling author; in 1987, after being translated into English, Süskind's Perfume won the PEN Translation prize, and a high-profile film adaptation would be made almost twenty years later. Adichie, though not yet a household name, has drawn abundant attention in literary circles. In an article for The Atlantic, Robinson Meyer noted a significant spike in sales for Adichie's Americanah following the release of Beyoncé—though Meyer acknowledged that that moment coincided with the New York Times naming Adichie's novel one of the year's ten best. (Some enterprising booksellers are using its author's time in the spotlight as a selling point for her latest novel.)
When literature finds root in song (or songs), how does that affect both? Probably, it depends on the listener. As someone who was paying attention when reading Cobain's praise for Süskind, I remember being delighted to find a copy of Perfume while shopping for books one day, and quickly picked it up. And I can remember a circa-2000 conversation in which friends, talking up the work of Martin Amis, cited Parklife's influences as another reason to seek out his novels—kind of an, "If you like A, you'll find that B shares its aesthetic" situation. These are the kinds of unexpected connections the overlap between music and literature can make, drawing readers to works they might not have otherwise encountered; two decades after its release, after all, Nirvana fans are still discussing Perfume, and much has been written about Rush's nods, for better or worse, to Ayn Rand in their mid-1970s work. Sure, maybe those fanbases would have eventually intersected, but at their best, these songs and albums can take a pop artist's enthusiasm for a writer and turn it on an unexpected, unsuspecting audience. It's a broadcast as potent as anything.