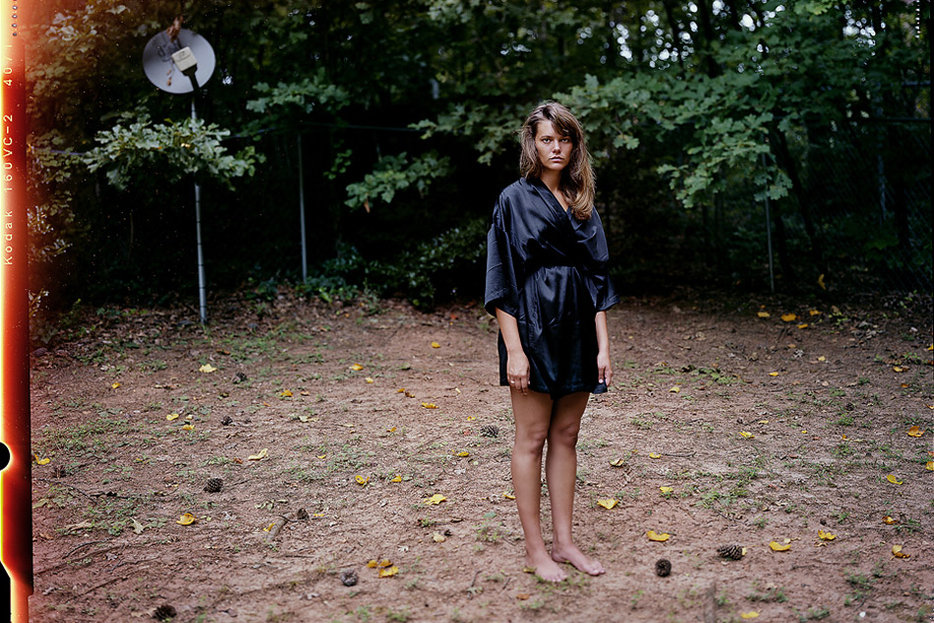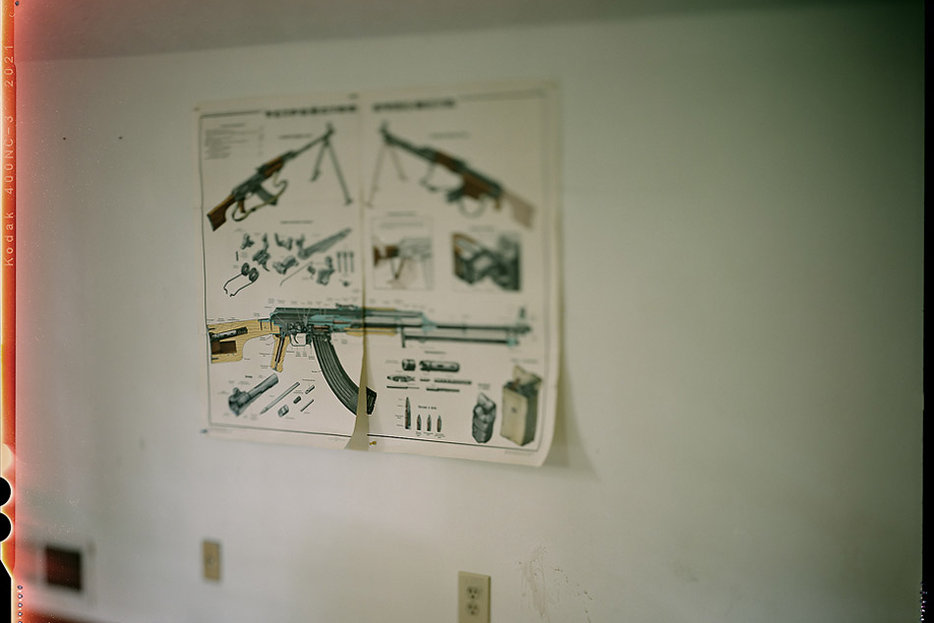 Stupidly perhaps, I begin my interview with Montreal photographer Guillaume Simoneau by proposing that I not probe too far into the backstory of his series Love and War. The images are entrancingly, hauntingly ambiguous, and I want to keep it that way; in his artist's statement he describes the series as "instinctively and sporadically [documenting] the complexity of a young US army sergeant veteran's love life, before, during and after her deployment to Iraq."
Simoneau thanks me for my offer, confirming his wish to "stay on the periphery of this." I proceed to respect that—for the most part. Like all confessional art that confesses obliquely (Sophie Calle's or Sally Mann's, for instance), the anonymous intimacy of Simoneau's work is beautiful, but also, inevitably, elicits curiosity. Viewers will want to ask basic questions about relationships, and degrees of veracity. What's more, the journalist and critic, bound to the viewer (as a professional viewer himself), will want to get at least some facts straight—to attempt some answers.
There are indeed things you should know about Simoneau's project that he's not telling in his artist statement or on his website. And they will augment your enjoyment of the project, now showing at the Contact Photography Festival's gallery space in Toronto (Simoneau won the portfolio review at last year's Contact). Most important, the "love life" of Caroline Annandale is his and hers: Guillaume's and Caroline's. They were a couple. I choose not to dwell on the minutiae of their ups and downs in the interview, but obviously there were a few. The photographs attest to this—the feelings, not the occurrences.
Simoneau has a young practice, but he met Annandale when they were both exceptionally, tenderly young: in 2000, after graduating high school, when Simoneau got a job as a teacher's assistant at the Maine Photographic Workshops in Rockport. Annandale, two years younger than him, was one of his students.
"She drove up for the session with her friend from Nashville," says Simoneau. "Once it was over, we started spending time with each other. She decided to stick around Rockport. Consequently, I was fired from my job. I guess someone was jealous of us and told the staff. We left right after that and started traveling. The story started there."
Looking at the photographs, it's easy to see why Simoneau fell for her. Annandale is all those muse-words: gorgeous, feline, mercurial. With her chestnut hair and eyes, down-turned lips and prominent cheekbones, she could be a model or actress. In Love and War, one sees her beauty mature, from girlhood (a shot of her blowing a kiss to Simoneau in 2000, or of her doing a recreation of Andrew Wyeth's Christina's World the same year, or of her on a bed in Goa a year later, during their travels) to toughened, sexually aware womanhood.
"I knew she was a special person," says Simoneau. "And to this day, despite everything we went through, I still think she's a special person—the kind you meet in your life and know they exist on a different plane, a different reality than most. You meet very few people like that in your life." Carl Jung's famous quote about the meeting of two personalities being like a combination of chemical substances comes to mind: "if there is any reaction, both are transformed"—and art often results.
What to make, then, of Iraq, in the midst of this idyll? Did Simoneau see it coming? "No," he says. "She was a young woman into the arts, nature—a kind of a hippie. But later on, when we weren't together, I found out she'd been seeing someone in the military and it made sense that her involvement had been influenced by this person."
As pieces of a person, Love and War works this way, almost classically. A photograph's inherent purpose is to present and make sense of the past, to verify it. Photographic theory stresses the opposite: that this is merely what the medium professes, but rarely accomplishes. In their marking of a moment, photographs cause reconsiderations and investigations, some of which remain forever open-ended.
Simoneau himself puzzled through the project, telling me that, even though he takes pictures all the time, he didn't know that this would be "something" until he got a text from Annandale saying his visit to Atlanta wouldn't be "a good idea anymore." This text, among others, is in Love and War, photographed on Simoneau's phone as a kind of still life. Three days later, Simoneau received a grant from the Canada Council for a proposal to document Annandale's reentry into society as a civilian. He couldn't do that anymore, but he could do something else.
In this sense, Love and War reads as a Zodiac–style detective story: the more you look at the details, the farther you get from a conclusion. Simoneau photographs evidence—in addition to texts, love letters, printed-out emails, family photos he didn't take—whose only clear message is loss, its presentation seeming the most concrete gesture towards meaning. Obviously, Simoneau wanted to understand, and then found the best poetry in not being able to. A significant portion of the photos in Love and War are dated from 2008 in Georgia, and seem to represent a decadent rekindling of his and Annandale's romance, one that often happens after the first breakup, where confusion, haplessness, and doom dominate. Perhaps he was thinking about the project then, subconsciously, before it surfaced.
"Bringing my private life into the public sphere [as art] is never something I thought I'd explore—in the past, it's actually something I disliked," says Simoneau. Yet Love and War never has a whiff of excess about it. It is self-aware, but also restrained. Its coyness is synonymous with its elegy. I call it a story about a story. Simoneau, who ultimately doesn't seem to want to remember the incident that much, corrects me. "It is, I think, the story of a lost story."
Love and War is showing at Toronto's CONTACT Gallery (80 Spadina Ave.) until March 2. It will be released as a book later this year by Demi Lewis UK.