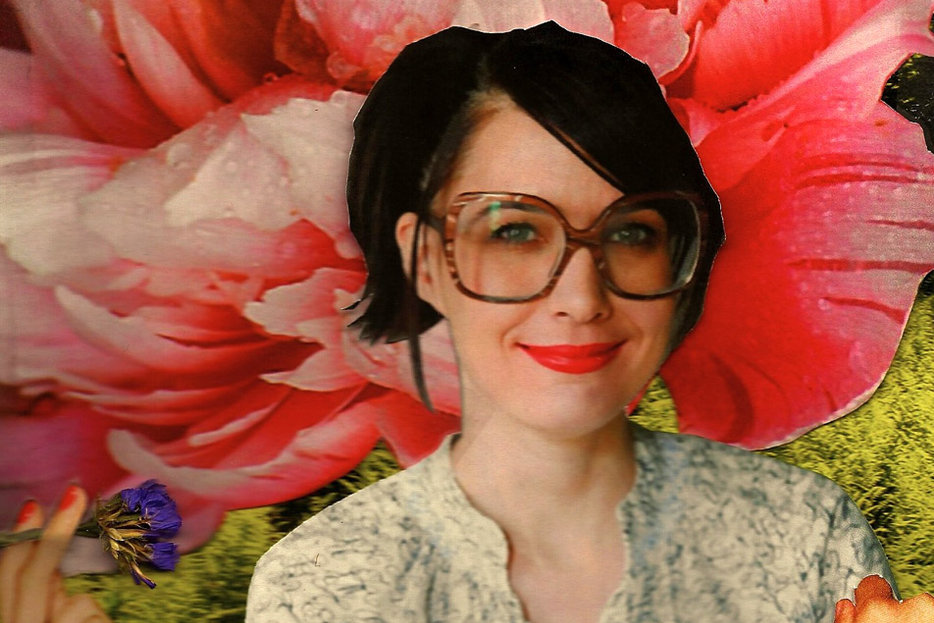 Early in The Punk Singer, riot grrrl icon Kathleen Hanna tells a story about her roommate in the late 1980s, a musician who was working on a symphony at the time. Late one night, she awoke to find a man in her bedroom, who grabbed her by the neck and dragged her up the stairs of their apartment, threatening to rape and murder her. She gathered the strength to escape by telling herself, "I'm going to finish my fucking symphony."
"I had to take this thing that had happened and put it into my work," Hanna tells Sini Anderson, director of this long-awaited documentary about her life and art. "I couldn't keep it out. It was totally impossible for me to keep it out." As the lead singer of Bikini Kill, Le Tigre, and The Julie Ruin, Hanna always stared down the really painful truths—both her own, and those of her peers, friends, fans, and admirers. In Bikini Kill, Hanna says, she was always singing to "an elusive asshole male that was fucking the world over." (From "White Boy": "I'm sorry if I'm alienating some of you/your whole fucking culture alienates me.")
In every incarnation, Hanna was singing for and to the people who needed her most. She was inspiring, she was empowering, but in 2005 she disappeared, leading many fans to wonder plaintively what had happened. "Why has she forsaken us?" a fan wonders to the camera. In The Punk Singer, Hanna tells the truth about why she stopped performing: in 2010, she was diagnosed with late-stage Lyme disease after years of mysterious symptoms and inconclusive tests. "I lied when I said I was done. I just didn't want to face the fact that I was really sick," she says in one of the film's more intense one-on-one interviews. "I wanted to tell everyone that I chose to stop, but I didn't. I didn't choose."
Seeing the debilitating effects of Hanna's illness, especially in contrast with the footage of her early performances, is unsettling. This woman is supposed to be made of pure, righteous steel—it's easy to forget that she's human, just like the rest of us. The Punk Singer reminds us that Hanna is both flesh and bone and a force of nature: the flawed leader of a flawed movement and a woman whose enduring influence cannot be underestimated.
Anderson, a long-time friend of Hanna's, funded the production herself and successfully turned to Kickstarter for the cost of post-production. I spoke with her about the making of the film, celebrating feminist artists in their own time, and being—in Hanna's words—"the Ken Burns of riot grrrl."
You've been friends with Kathleen for ten years. How did you meet?
We meet in 2000, 2001, at a women's music festival where I was performing and she was performing with Le Tigre. We had a lot of friends in common for quite a few years and we knew of each other, so when we finally met at this music festival we just hit it off. Like old friends right away.
What was it like working with and directing Kathleen as her friend?
It's a little bit of a risk to do a large project with a good friend of yours. You're going into an intense commitment. But it was pretty great. I'm a big fan of Kathleen's work, and the way she thinks, and I was able to see her commitment to her career in a deeper way. I had these conversations I wouldn't have had with her if I wasn't making this film with her. I definitely walked away with a greater respect for her as an artist and a cultural figure and as an activist. I also walked way being like, I don't know anyone else who works as hard at their art as Kathleen does. I really don't. The woman can WORK. She's pretty prolific.
When you were making the movie, did you learn anything about Kathleen that you didn't already know?
Hm. I'm sure I did, but what should I tell you though? (laughs). I think I figured out that she doesn't have it all figured out. And she's pretty aware of that, and pretty humble about that. I've always kind of seen Kathleen as rallying other people together, and I think in the process of making this film I saw a deeper need for her to make the work for herself. It was kind of assumed that she's a hero, it's Kathleen, she's always going for the underdog, and I think I really figured out that she's just like everybody else. She's going to continue to make her work and put it out there as she's figuring it out, and she was really open about that. I've seen Kathleen in a lot of interview situations, and because of our relationship I saw her open up in a way that I've never seen her open up before in interviews. That was really special.
In a blog post about making the movie, Kathleen mentioned being inspired by the Valentino: The Last Emperor. She also told the L.A. Times that you were the "Ken Burns of riot grrrl." Were there any other films or directors you used as an inspiration for this film?
No. I mean, not because I don't think there's a million amazing directors, but the inspiration was Kathleen more than anything else. Just really trying to get to her story and to get the emotional content of her work. That was really my drive.
In previous interviews, you've mentioned that you think it's important to make documentaries about artists before they're dead. Why is that important?
Kathleen is somebody that talks about this a lot, and my friends who are feminist artists talk about this a lot: there's so much work by feminists and women artists that just does not get documented. It's disappeared over the years and we have to dig back to try and find it. Kathleen talks about reinventing the wheel, or believing that you have to reinvent the wheel, all the time. To me, making a profile of a really important artist like Kathleen when she's at the halfway point of her career—not only is that good for a younger generation of feminists and activists, to kind of get a spark in them for their generation, but I also believe it's really good for the artist to realize people are actually going to see this documentary and [think], I have done a lot of work, so I am going to keep going. It can give the artist energy, it gives the viewers energy. I don't understand why we wait so long to do that. We wait until an artist is sick or passed or no longer making work. I think it's especially important for feminist artists to hear that.
In the last few years, there has been a bit of a riot grrrl revival, particularly online—was that at all a factor in your decision to make the film?
Oh yes, absolutely. I'm always thinking of the younger generation, wondering who they are and where they are. I have to say, part of the inspiration to make this documentary at this time, why I pushed Kathleen to make it now, or when we started it, was because it seemed like we were in a black hole of feminist activism at the time. Before we went into production, there wasn't a lot of noise being made. I couldn't see evidence of a lot of activism. I would read about Kathleen online and it was a lot of people being like, "What happened? Where are you? We need you!" And I was like, well, where's the next Kathleen? You know? Where's the next Bikini Kill, where's the next Johanna Fateman?
When we started there wasn't a lot going on, but in the process of the yearlong production a lot of things came to light. The Slutwalk sparked off a movement in Canada and inspired us here in the States, there was the Sandra Fluke incident where members of Congress were going after this young woman who was asking for really basic health care, women's health care was being attacked, the Pussy Riot thing happened. So I was like, OK, here we go. We have to finish this and get it out so we can kind of jump in on this activism. I believe that most great things happen in collaboration, and activism really works that way—Kathleen is a great motivator, you know, people just get inspired by her work. Specifically, with this film, I'm looking to find other activists. Who else needs the energy? That's what's on my mind.
You funded the production yourself and successfully turned to Kickstarter for post-production. Do you have any information about who donated to the project? Were they longtime fans, new fans, etc.?
I believe most of the donations were $25 and below. The people who donated are people who don't have a lot money and either believe in Kathleen's work or my work. There were a few people who were like, "I don't know Kathleen Hanna is, but this looks amazing." But I think most people were like, "I can't wait, someone is FINALLY making a documentary about Kathleen," you know? Which kind of ties into this earlier question about how people do want to see this kind of work while the artist is still working.
In your last Kickstarter update, you said you were back in New York trying to get a distributor for the film. Are there any new developments?
We're talking to a couple of different distributors in the States. We don't have any distribution deal sealed yet. It's really amazing to be able to make a feature length film and have crowd funding support like Kickstarter. That got us through a big bulk of our editing.
Right now, we're still not completely finished. This film cost a lot of money to make! We're still really in debt, so we're trying to find the best deal we possibly can to reach as many people as we possibly can. We're also looking for an international distributor because we believe people outside of the United States are going to want to see this film. If everything went perfectly, I guess it would be on television, like on PBS or a cable network.
The thing is, I know fans of Kathleen are going to find it. I'm interested in the people who don't know who Kathleen is finding it and getting inspired by it, or getting them to think twice about something.
The Punk Singer is screening tonight, April 29, at 9:30pm at The Royal, as part of Hot Docs, with Sini Anderson will be in attendance. It will also screen May 1 and May 3, see the Hot Docs website for more details.