John Waters once called Joseph Losey's Boom! "the greatest failed art film ever made." I won't dispute the superlative; this is, after all, a movie featuring Richard Burton in a samurai outfit, Noel Coward as "the Witch of Capri," and Liz Taylor reciting simmered-mimosa Tennessee Williams dialogue such as "he was wildly beautiful, and beautifully wild." Backtrack is a less-mythic disaster, the wreckage of a mercurial creator smashing into capitalist imperatives, so terminally modern that the director tried to erase his own authorship—the greatest failed video installation, maybe. It leapt out at me from a Wikipedia vortex one day: A Dennis Hopper crime thriller where the jazz-loving hit man Milo, also Dennis Hopper, decides to kidnap his target instead of killing her? And this conceptual artist/murder witness is played by Jodie Foster? And the wall-mounted aphorisms ("MURDER HAS ITS SEXUAL SIDE") he studies to track her down were all created by Jenny Holzer, beloved actual conceptual artist? Did I mention the helicopter chase? The filmmakers meant to revisit Out of the Past and, to their chagrin, succeeded.
Hopper shot Backtrack during an apparent resurgence. After overcoming his abyssal dependency on booze and drugs, he got an Oscar nomination for playing the saintly drunk in Hoosiers, though Blue Velvet's terrifying one was the role that guaranteed steady villain work. Producers tentatively started trusting him with money again: 1988's Colors, one of the first movies to anticipate gangsta rap, was a moderate financial success. Filming Backtrack that same year, he returned to the habit of casting whichever friends might be passing through. Long-time collaborator Julie Adams plays a gallery owner; John Turturro a gawky, giggly henchman with impractical red loafers; and Neil Young is in there somewhere, giving his best ex-mafioso. Bob Dylan briefly cameos as a chainsaw-wielding sculptor based on Laddie Dill. "Our forms aren't exactly simpatico," he says of Foster's Anne Benton.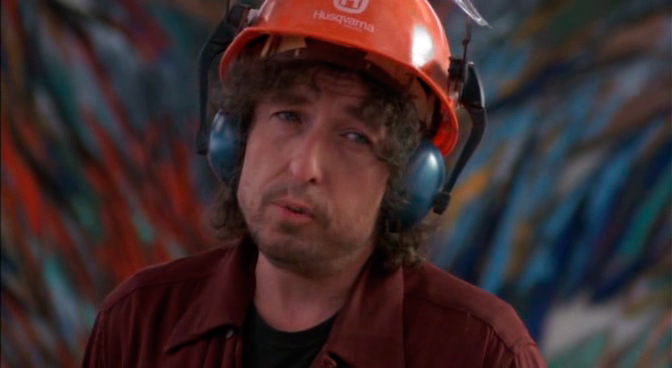 And there are things in Backtrack to be fond of. I'm thinking of Milo blowing his saxophone, then getting mad at his saxophone, then unsuccessfully hurling his saxophone against a plexiglass window. His line reading for "I own a large chain of laundromats" is somehow the best joke in the film. (Hopper never got enough recognition for this; he's the only Super Mario Bros. cast member being funny on purpose, and his last memorable role, in George Romero's Land of the Dead, replaced the usual typecast villainy with comic aloofness.) The beautiful, nightmarish industrial landscapes repaint Antonioni's Red Desert in L.A. neon. Jodie Foster may have hated making Backtrack (though, unlike Joe Pesci, she left her name on it), but the husky voice and determined set of her jaw suggest Clarice Starling enduring a biennale. Near the end, for no greater reason than anything else in this movie, she actually wanders through the desert cradling a lamb—as if Hopper's cut had been butchered so wildly as to gash time itself.
The musician John Darnielle, who grew up with an abusive stepfather, spoke on Marc Maron's WTF podcast about his experience of addiction: "A lot of drug abuse that arises from having been abused, and from being in environments that deprive you, is about wanting to feel power. [It's] wanting to say, "Well, I can control something… I can control the rate of my own destruction." In the 1970s, Jenny Holzer made a series of "inflammatory essays," stark yet elusive, one of which said: RUIN YOUR FUCKING SELF BEFORE THEY DO. I can't pretend to know what Hopper saw in her art, but quite a few Holzer phrases do sound like something said to, by, or about a Dennis Hopper character. You get amazing sensations from guns. Abuse of power comes as no surprise. Slipping into madness is good for the sake of comparison. Protect me from what I want.