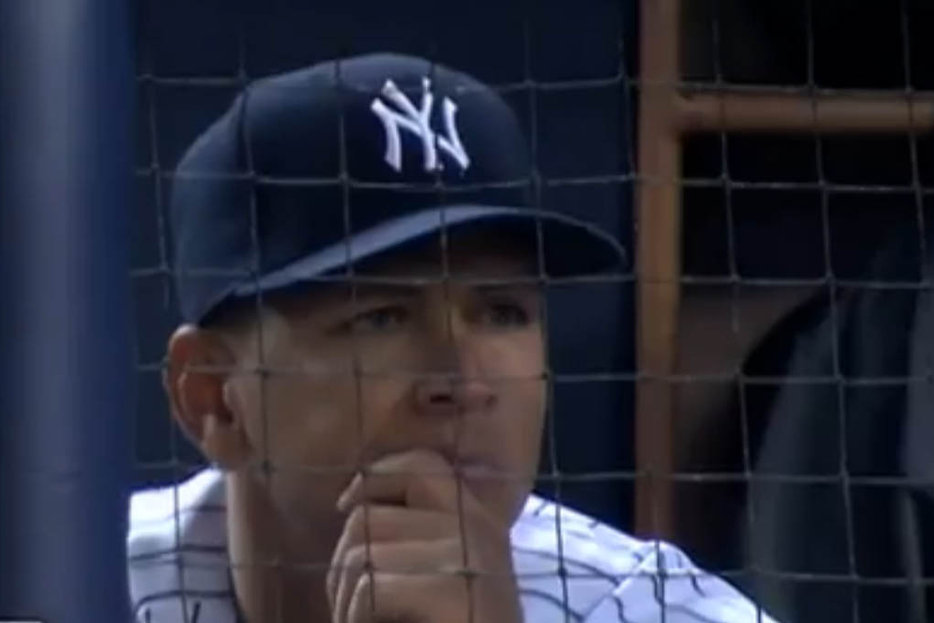 As a general rule, I feel like baseball is a sport that resists conclusion. Extra innings can last forever. An unlimited number of pitches can be thrown.
Last night, the 2012 New York Yankees saw their season resist conclusion, with their series against Detroit being extended for at least one more day. This had little to do with baseball, of course—it was inclement weather that forced the postponement of game 4 of the American League Championship Series until tonight, and it might be the last game of the year for the Yankees. Despite the temporary delay in the series, New York is trying to stave off not just elimination but a four-game sweep. It's a bit like the Yankees haven't shown up for the series, and the metaphorical value for that abounds. After all, it's not really like the Yankees play baseball anymore anyway, is it?
Let's review…
Derek Jeter is injured
An injury to his left ankle forced Jeter out of game one in the Detroit series; it was announced after the game that he was finished for the season. The Yankees would have to play on without him, already down a game to the Tigers. I might not be able to explain this well, but sometimes it feels as though Derek Jeter is the only thing that keeps the Yankees existing as a baseball team. This theory is both cosmic and spiritual. No matter how much the Yankees are hated for being nothing but a super-inflated bank account in pinstripes, Jeter has seemed to be a figure that at least commands some respect outside of New York. He's beloved in New York obviously, but even elsewhere in the League it's known that he can flat out play, and he's a big game player. He makes the Yankees seem at least a tiny bit like an organic team because he's not a player they've just bought during the most recent off-season for an unreasonable sum of money.
Boardroom decisions 
So the inmates aren't running the asylum, at least not the inmates who are paid to be on the field. And they're not on the field. A-Rod has been benched, of which much has been made in the media. So that's about $30 million sitting out. Financially, that might be a cost the Yankees can absorb, but baseball-wise, they can't. And with Rodriguez having so much company on the sidelines, with Swisher, Granderson and others either benched or also slumping, the Yankees can't win because they're bankrupt in baseball terms. Supposedly it's his slump that pulled Rodriguez from the line-up, but there are rumours that there's more to the story. Donald Trump thinks it might have something to do with the unseemly conduct he observed A-Rod displaying when they were both living at Trump Tower.
Rodriguez picks up extra-curriculars
A-Rod made headlines by reportedly trying to pick up women during game one against the Tigers. It's not hard to believe that Rodriguez was much more interested in bikini model Kyna Treacy, who was in attendance for that game with a friend, than he was in how his team was doing (they lost). With all of the money that he is being paid whether team manager Joe Girardi has him in the line-up or not, everything else seems to make A-Rod just shrug it off and seemingly take whatever comes his way. He didn't complain much when he was dropped lower in the batting order, or when he was taken out altogether, or when he wasn't even used to pinch hit at a moment in game three when a victory was still within reach for the Yankees. So Kobe Bryant had to call him on the phone and tell him to remember that he's the great Alex Rodriguez, that he's the great Alex Rodriguez. But of course, for all of the press that A-Rod has gotten, none of it is about baseball. 
It's not a stretch to think that the New York Yankees would be most comfortable if Joe Girardi, general manager Brian Cashman, Donald Trump, and whomever else would be sitting around a conference table operating the team, could just negotiate the winning of the World Series. Like it was the stock market. The less baseball involved the better for them. But this is also what's so interesting about the Yankees in the postseason (for however much longer that lasts for them this year). They don't play baseball, so much as play against it. They're so hated for how they're perceived that it feels now more like they're trying to take over baseball, or to take baseball away from everyone else. So the Detroit Tigers are doing a pretty good job of defending baseball from the Yankees, since tonight they might actually sweep them out of the postseason altogether. In fact, in game three, the Tigers' starting pitcher, Justin Verlander, threw for 8 and 1/3 innings against them, giving up just one run. Verlander might be the best pitcher around these days. And you know what that's all about? Baseball.
And game four's rain postponement probably gave all baseball fans time to reflect on the threats to the game other than the Yankees. There's always performance enhancing drugs to worry about. Right about now, baseball is pretty glad it's not cycling.