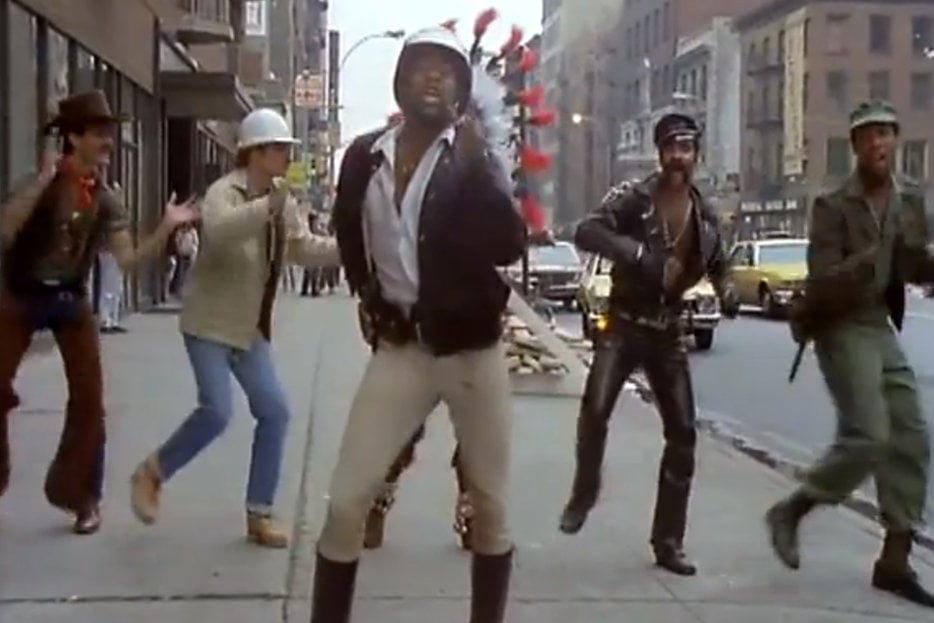 Who owns "Y.M.C.A."? At this point, the cheesy disco number feels like part of the culture, more a folk song than a piece of recorded intellectual property. After untold bar mitzvahs and countless stadium sing-a-longs, after entire generations of awkward teenagers have spelled out its title with their skinny arms at middle-school dances, how can you possibly hope to control it?
This week, Victor Willis, the former lead singer of the Village People, regained legal rights to the song, along with 33 other tunes he helped create as the singing, dancing cop at the front of one of the biggest groups of the disco era. Thanks to a little-known provision of copyright law known as "termination rights," Willis will take partial control over the songs he co-wrote with the band's creators, French disco producers Jacques Morali and Henri Belolo. The law, passed in 1978, allows artists to regain copyright control of their songs after 35 years, even if they originally signed those rights away as naive young musicians without any bargaining power.
The legal victory marks the end of a six-year legal battle, but it's also the continuation of a much longer struggle for Willis, the straight singer who somehow found himself the frontman of perhaps the most iconic gay pop group ever assembled.
The Village People were a fascinating concoction: A cartoon vision of America by two enthusiastic Frenchmen, the mainstream expression of macho gay culture, and a manufactured boy band that somehow managed to find enough purchase on the fine line between campy enthusiasm and overtly gay content to conquer the world.
As Nicole Pasulka writes in her fascinating essay in a recent issue of The Believer, the band was born when Morali and Belolo were strolling through Greenwich Village and saw a vision: A handsome kid in an Indian headdress and leather loincloth ambling down Christopher Street, bells jingling around his ankles. They followed him into a club, where he tended bar and occasionally leapt up to dance. "And while we were watching him dancing and sipping our beer, we saw a cowboy watching him dance," Belolo told a disco website in 2000. "And Jacques and I suddenly had the same idea. We said, 'My God, look at those characters.' So we started to fantasize about what were the characters of America. The mix, you know, of the American man… And we named it the Village People."
Morali and Belolo approached Felipe Rose, the "Indian," on the spot. They signed Willis as lead singer after seeing him in a performance of The Wiz on Broadway, then filled the rest of their roster of American archetypes with various mustachioed singers and dancers—the leatherman, the GI, the construction worker, the cowboy. The formula was "a group of all-American men singing amped-up disco hits with thinly veiled references to gay sex and culture." They would work their way through the gay discos into the mainstream.
Exactly where the idea to write a song about the YMCA came from is in some dispute. In one version of the story, Randy Jones (the cowboy), takes credit for introducing Jacques Morali to the workout spot. "I took Jacques there three or four times in 1977, and he loved it," Jones told Spin in 2008, for an oral history of the song. "He was fascinated by a place where a person could work out with weights, play basketball, swim, take classes, and get a room. Plus, with Jacques being gay, I had a lot of friends I worked out with who were in the adult-film industry, and he was impressed by meeting people he had seen in the videos and magazines." Morali quickly wrote the tune, then allegedly handed it over to Willis, who penned the positive lyrics about the place that had "everything for you men to enjoy," the perfect place to "hang out with all the boys."
It's hard to imagine that the song, released on an album called Cruisin', wasn't intended to have a gay subtext. "At the Y, a spiritual man was a well-built, muscular man," writes Pasulka. "It was here that many young guys had their first homosexual experiences." In the song, Willis urges a young man to visit the Y with what feels like a wink and a nudge: "I'm sure you will find / Many ways to have a good time."
For Willis, though, the tune was never about picking up. He was an ambitious singer, a newly minted celebrity married to The Cosby Show's Phylicia Rashad, who struggled with the group's identity. "The group has never performed gay," Willis once asserted. "Nobody has ever come out in drag. The group performs a masculine show. Gay people like us, straight people like us. But we're not a gay group."
"Victor Willis wrote about the YMCA and having fun there, but the type of fun he was talking about was straight fun," Willis's publicist told the Canadian Press in 2007, adding that Willis had nothing against homosexuality. "When he says, 'Hang out with all the boys'… he's talking about the boys, the fellas," she insisted. Willis was appalled by the homosexual subtext the songs he wrote took on, worried that it would doom the band to a niche market. "Y.M.C.A." was a huge hit, "but for Willis it came to represent one of the biggest insults to his career."
Willis left the Village People in 1980, frustrated with the band's direction. He suffered through years of substance abuse problems, attempted a few comebacks, rejoined the band for short-lived reunions.
This week, as Willis regained his rights to his songs, he mused about preventing the current version of the Village People—a nostalgia act primarily made up of new members—from performing them. "I learned over the years that there are some awesome powers associated with copyright ownership," Willis told the Times. "You can stop somebody from performing your music if you want to, and I might object to some usages."
If Willis now has some measure of legal control over his songs, time has also changed the way his tunes are perceived. Mainstream popularity has smoothed over much of the cheeky gay subtext "Y.M.C.A" once had. A million wedding DJs spinning it for a million dancing aunts have flattened any hint of subversion. It's campy, not queer—a song that, at long last, has become all about having good, clean fun with the boys.
In 1996, a general partner with the New York Yankees began playing the song in the fifth inning of baseball games, blasting the disco hit while the groundskeepers strutted and danced their way through the infield. The song has become a staple at sports stadiums, not generally known as bastions of queer culture. When asked about the song forSpin, the Yankee executive seemed genuinely shocked. "'Y.M.C.A.' is about homosexuality? I had no idea until this very moment. Wow!" he said, adding: "Well, it's a great song that makes people feel good. That's what's important."