Shelf Esteem is a weekly measure of the books on the shelves of writers, editors, and other word lovers, as told to Emily M. Keeler. This week's shelf belongs to Trilby Kent, the award-winning author and journalist. Kent's latest book, Silent Noon, hit the shelves just last month, shortly after she and her family returned to Toronto after living in London, England, for a decade. When I arrived on a dreary Sunday to peruse her shelves, Kent's entire family was in the house. While everyone else was watching over Kent's 10-month-old daughter, Clea, I was offered a butter tart and ushered into the warmth of the study.
My dream study would be airy and light, this is a bit more gentleman's smoking club. But it works. We arrived in July. The books are in no order at all. We did a major cull when we moved. We reduced our library by about two-thirds. It's actually been really liberating. Heart-wrenching, but it's nice that I can actually see all of them.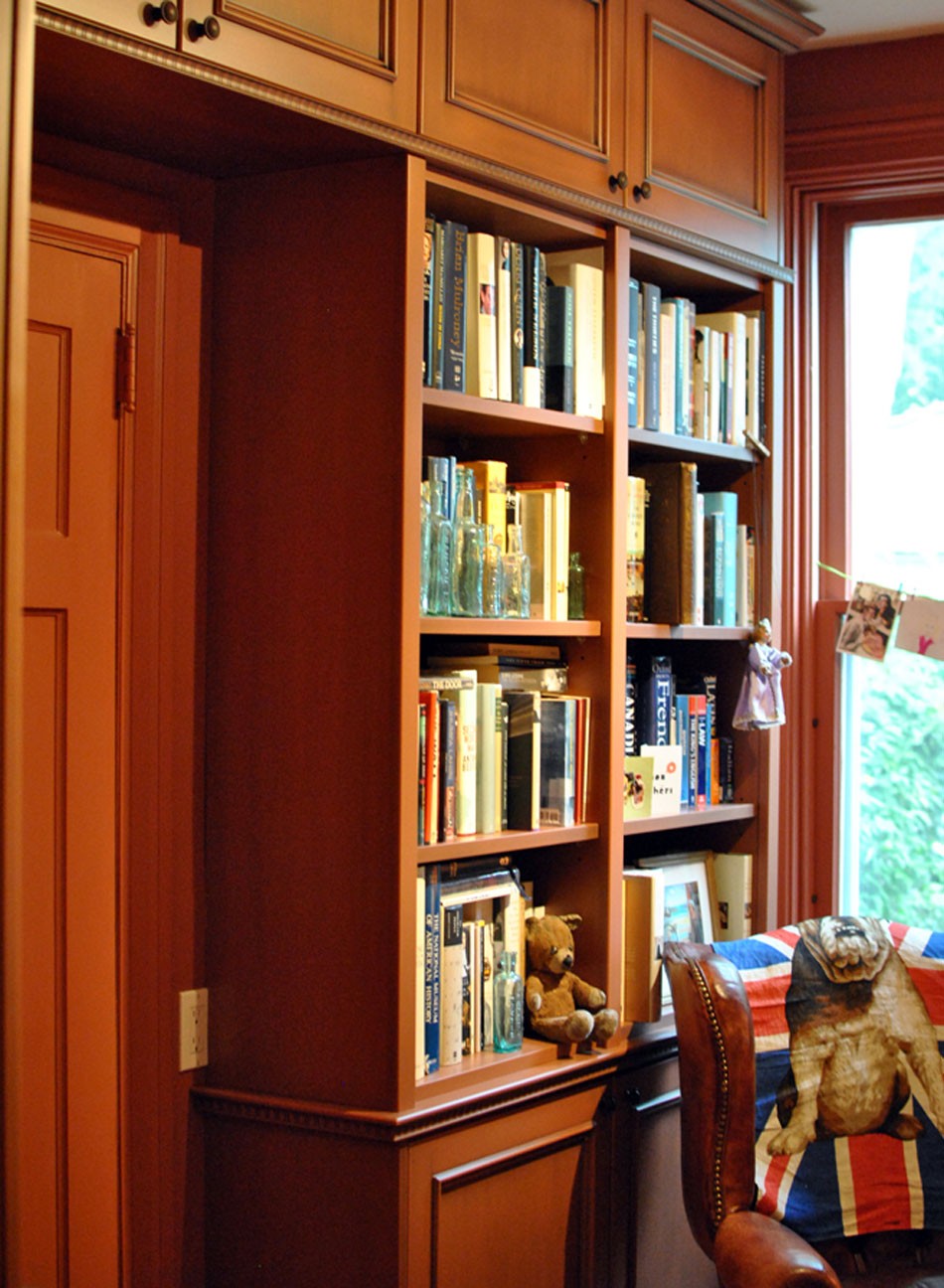 Just like with Clea, people always ask about my name. There's a novel by George du Maurier. This is, I think a second edition. There she is, Trilby, looking a little bit mannish. Broad-shouldered and Teutonic. So this is from 1895, and the copyright's from 1894. You're not familiar with this story? Oh but you are, because you've seen Phantom of the Opera. So, Trilby is the tone-deaf artist's model living in Paris in the 19th Century, with all these kooky, bohemian friends. And Svengali is the evil hypnotist, who casts a spell on her. It's under his spell that she becomes an opera singer. It has definite overlaps. It was really popular in its day, and it was turned into a stage play. Apparently, the actress playing Trilby on opening night, on her way to the stage, grabbed a hat from the costume box and put it on. Just as an affectation. And that's how the trilby hat came to be known as a trilby. It's now a completely forgotten novel. Its expressions are a bit dusty around the edges. My mum was reading this novel when she was pregnant with me. Her first choice of name had been India, which my dad nixed. So Trilby was second-choice. I don't know why India was unacceptable, when Trilby was. People always think it's Trudy.
Shelf Esteem runs every Tuesday.