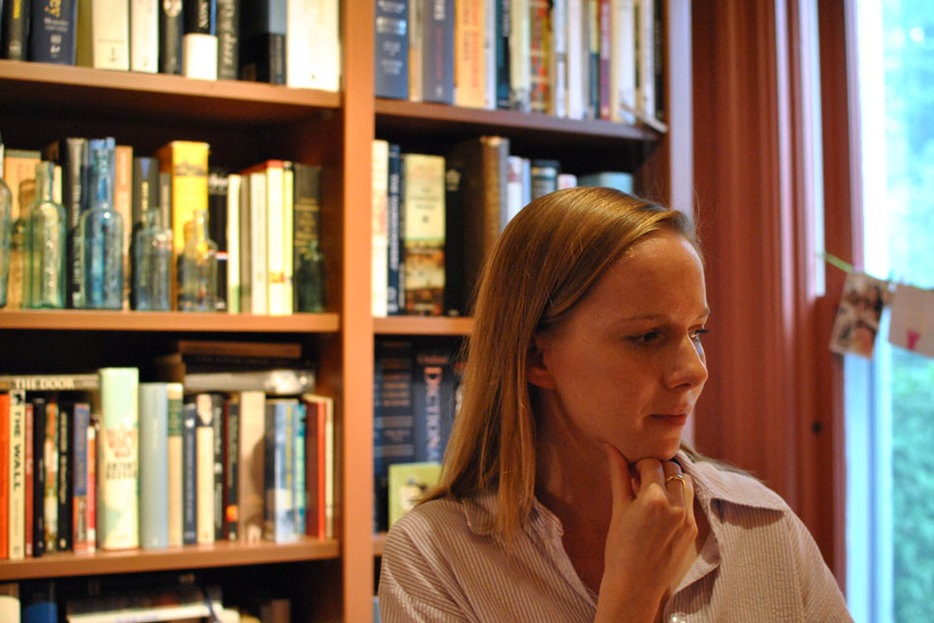 Shelf Esteem is a weekly measure of the books on the shelves of writers, editors, and other word lovers, as told to Emily M. Keeler. This week's shelf belongs to Trilby Kent, the award-winning author and journalist. Kent's latest book, Silent Noon, hit the shelves just last month, shortly after she and her family returned to Toronto after living in London, England, for a decade. When I arrived on a dreary Sunday to peruse her shelves, Kent's entire family was in the house. While everyone else was watching over Kent's 10-month-old daughter, Clea, I was offered a butter tart and ushered into the warmth of the study.
My dream study would be airy and light, this is a bit more gentleman's smoking club. But it works. We arrived in July. The books are in no order at all. We did a major cull when we moved. We reduced our library by about two-thirds. It's actually been really liberating. Heart-wrenching, but it's nice that I can actually see all of them.
This is where I work, and then the overflow books are in the den. One of the first things I wanted to do when we moved in was sort out the books, but I'm kind of enjoying the randomness. There are quite a few titles that I think even benefit from their entirely random or inappropriate juxtaposition with other books. We had The God Delusion next to the Quran. I moved that, but otherwise I think I might just leave it as it is now. It might take a little longer to find something, but half the pleasure is in the search.
I have a first edition Scoop. I worked as a freelance journalist for a few years before making the transition more and more into fiction. It's a bit of a cliché to say it, but this is the book that inspires lots of journalists when they're starting out, even though it really shouldn't. It shows the business—it's just so corrupt and comical. And awful. I mean, it's based on Waugh's own experience at The Daily Mail, which is not a paper I'd ever, ever want to write for.
People are constantly asking me about my daughter Clea's name and where it comes from. It's from Lawrence Durrell's The Alexandria Quartet. This is Clea, which is the final one, and absolutely not the one that people should start reading—they should start at the beginning. I read this when I was 13 or 14, and thought it was the most amazing thing ever. I've returned to it since, and I have to say that some of the prose is a little turgid; I'm not precisely sure how I got through it all. But the memory of being so totally immersed in this book at that age and liking the name, and what her character represents—she's a kind of beacon of artistic purity and beauty, wise behind her years, an old soul—the name sort of stuck, and that's why Clea is Clea.
I'm pretty sure this is Nadine Gordimer's first novel, and this is the novel which, I think, made me realize for the first time what a novel could really achieve. I read it in my last year of undergrad. For years and years, while I was in high school and university, I was all about either becoming a journalist or going into academia. I had this weird sense that non-fiction was weightier than fiction; there was something about novels that seemed really frivolous to me. And I found this in a second-hand bookstore and, I don't know, it really resonated with me.
It's about a girl's coming-of-age in South Africa, and I believe that it's based on her own years in the '40s and '50s. So I had absolutely nothing in common with her experiences, the place or the circumstances. I'd only been to South Africa a few times—my mum is South African. But there was something about the inner life of that character that really resonated, or that I recognized. I hadn't had that before. It's really, really fantastic. I haven't read it subsequently. In a way, I'm kind of nervous to read it again, because the power of a book has so much to do with where you are at the time you read it.
I love Jenny Diski! I have two copies of On Trying to Keep Still in the other room. I have no idea why I have two copies, I must have bought one for a friend and then been unable to part with it. I discovered her reading the London Review of Books, she does a lot of writing for them. This is an example of her fiction, Apology for the Woman Writing, which is about this real woman, Marie de Goumay, who was obsessed with Montaigne. She was determined to become his secretary, his muse, his something—she wanted to get close to him. She ended up writing to him, and she stabbed herself with a hairpin to prove her devotion. He ended up adopting her, as his daughter, and this book is basically a re-imagining of their correspondence and later, their professional relationship. She becomes his diarist. It's such a good book. It's slightly astounding to me that someone who is such a good journalist is also capable of not just imagining this world, but evoking it in the form of a novel as well. She's amazing. She's one of those writers that I'd be slightly afraid to meet in person, because her intelligence just burns through the page. She is incredible.
So this is the school stories shelf. My last novel, which has just been released, was set in a boarding school on an imaginary island in the North Sea. So reading school stories was a big part of informing the inspiration. The Wives of Bath. Susan Swan [and I] went to the same high school. Obviously not at the same time, alas, although if anything in this novel is to be believed it would have been a cool time to be there. I wonder if they permitted actual students to pose for the cover, because that's the uniform, the green kilts and the ties. If so, I'm amazed they were stupid enough to let that go to press. I loved reading this while I was at the school, and knowing that she had been there.
I came to Claudine at School surprisingly late. I read it for the first time a couple of years ago. I was asked to do an essay on Colette. It's amazingly raunchy and witty. You wouldn't think it from the cover, but if a 14 year old read it today, she would actually think that Claudine was, like, the coolest girl ever. She's bad. She's a bad girl, Claudine.
Just like with Clea, people always ask about my name. There's a novel by George du Maurier. This is, I think a second edition. There she is, Trilby, looking a little bit mannish. Broad-shouldered and Teutonic. So this is from 1895, and the copyright's from 1894. You're not familiar with this story? Oh but you are, because you've seen Phantom of the Opera. So, Trilby is the tone-deaf artist's model living in Paris in the 19th Century, with all these kooky, bohemian friends. And Svengali is the evil hypnotist, who casts a spell on her. It's under his spell that she becomes an opera singer. It has definite overlaps. It was really popular in its day, and it was turned into a stage play. Apparently, the actress playing Trilby on opening night, on her way to the stage, grabbed a hat from the costume box and put it on. Just as an affectation. And that's how the trilby hat came to be known as a trilby. It's now a completely forgotten novel. Its expressions are a bit dusty around the edges. My mum was reading this novel when she was pregnant with me. Her first choice of name had been India, which my dad nixed. So Trilby was second-choice. I don't know why India was unacceptable, when Trilby was. People always think it's Trudy.
Shelf Esteem runs every Tuesday.