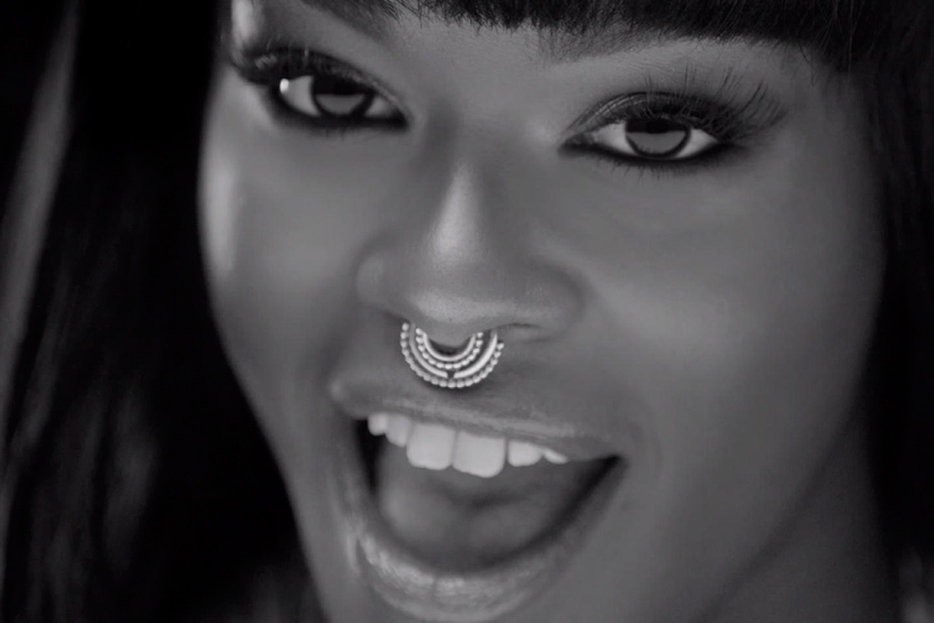 Oh, right: Azealia Banks. It's been three years since her debut single "212," an apparent breakthrough that now looks more like those scenes where Wile E. Coyote bursts straight off a cliff, kicking his legs in mid-air. She released the seapunk-invoking mixtape Fantasea (a description that tells you just how long ago this all happened), and the retail EP 1991, and then discovered that her erstwhile label Interscope didn't feel like granting a release date to any young artist without a mainstream hit. And not only young artists; even Lil Wayne and Nicki Minaj have pushed back their latest albums, because pop radio no longer plays much hip-hop, and urban radio isn't playing many women. ("Anaconda" has 300 million YouTube views, but never cracked the Top 20 in either format.) The major labels' strategy for rappers is so illogical that Rick Ross will supposedly be releasing his second LP of 2014 later this month. When upstart MCs lacking Drake's benevolence do notch a crossover hit, it's often through unconventional means—witness, say, the saga of Bobby Shmurda's hat.
Banks did hamper herself by feuding with half of the music industry on Twitter, whether righteously (calling out dark namesake Iggy Azalea for some flagrant racism) or obnoxiously (she's still trying to justify slurring noted MS Paint user Perez Hilton). Despite retaining rights to all the songs on debut album Broke With Expensive Taste after escaping that Interscope contract, her reputation made other labels leery—the LP went on sale a week or two ago not with the pomp of a Beyoncé-level stealth campaign, but a shrug. Here, take it. When Eminem is still around threatening violence against a famous woman for attention, more desperate to impress adolescent boys than Count Aschenbach in Death in Venice, one suspects that Banks only became a pariah or punch line because she refuses to treat the vagaries of the music industry as orthodoxy. Emphasis on she.

"I don't know what the source of the conflict was because, to my understanding, I thought it was cool with everyone," Banks told Pitchfork recently. "I would always send them my songs and feel as if they liked me, even if they didn't get it. But it got to a point where they were like, 'Azealia, we get it, you're cool, but we've spent $2 million on this record, can you just give us one [hit]?' So then I did 'Chasing Time,' and I was just like, 'You know, this isn't gonna work out.' It was like that awkward point in a relationship where you're forcing yourself to have sex because you're like, 'We live here, we're sleeping in bed, it's awkward if we don't.'"
I still love "212." I still thrill a little when it comes on at a party, a memory of a memory of the first time I heard Banks twist assonance around her tongue. She'd pause inside an impressionistic fantasy like "cock-a-lickin' in the water by the blue bayou" and then casually ask "what's your dick like homie, what are you into?" It was as if she could make any syllable sound profane. Several bars resemble a baleful internal monologue now: "I'm the new one too, huh? / See I remember when you were / The new young face but you do like to / Slumber don't you?" Yet you would struggle to catch Banks sleeping on Broke With Expensive Taste. Her flow still delights in its own rapidity, almost merging with the drum machine on higher-BPM tracks such as "Desperado." She's still menacingly pansexual: "Tits out with your wife, n**ga / I'm bringing out the dyke in her." Midway through "Gimme a Chance" she begins rapping in fluent Spanish, taxiing from downtown disco to uptown merengue.
"Chasing Time" is here too, and the Interscope executives were right in one respect: It doesn't strike me as a Top 40 hit. The synths are a little too lurid, a little too Streets of Rage 2. But who cares? Banks tried to appease them with "ATM Jam," and ended up sounding like the hapless guest on a lazy Pharrell track. Whichever style she's trying on, Broke With Expensive Taste suggests a consistently good ear for dance beats. (The Ariel Pink collaboration "Nude Beach A-Go-Go," conversely, just confirms my total disinterest in anything involving Ariel Pink.) Banks sings most of her own hooks, and if they're sometimes tentatively written, dissipating like the steam off a subway grate, she can handle melody as a house vocalist. Cycles of hype and fizzle are nothing new to any culture industry; in a bank last week I heard "My Sharona," perhaps the classic colossal example of popularity turning rancid. But under postmodern capitalism a musician can go from ingénue to ubiquity to obsolescence before their career ever really begins. Banks deserves enough time to stumble into her own aesthetic, like all of us.