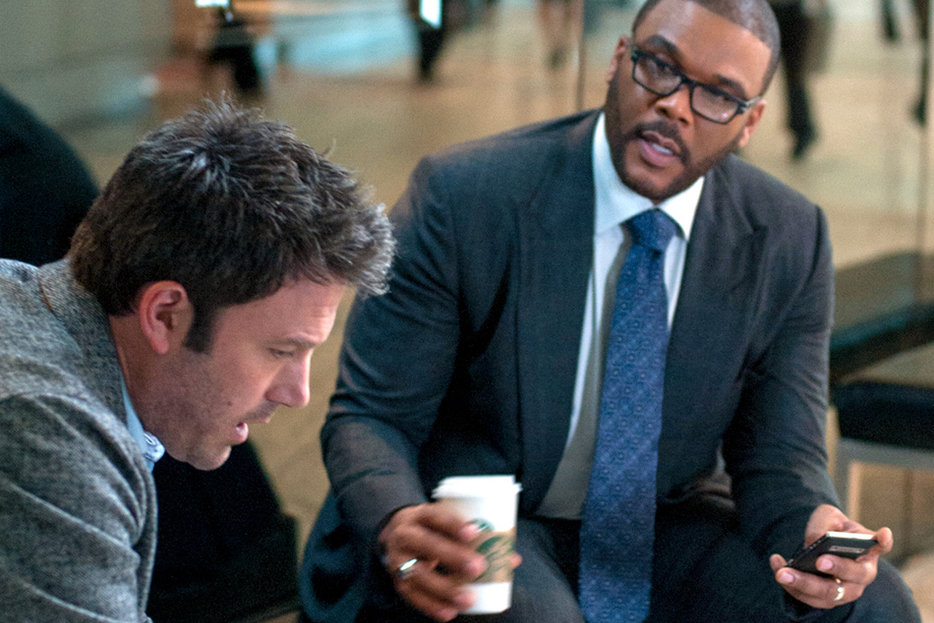 "You haven't heard the new D'Angelo yet? No wonder your wife doesn't love you anymore." (Still from "Gone Girl")
Scaachi Koul:
Have you seen Gone Girl? Have you read it yet? Well, you have to do both before the year is over. I've spent a significant portion of the year trying to get other people to see and read Gone Girl. Mostly men. I want all the men in my life to love Gone Girl the way I love Gone Girl.
I read the book last summer in a day, starting at 9 a.m., and taking it on the subway so that I could finish it at a friend's wedding later that evening. (Gone Girl has been more important to me than any of the weddings I went to this year.) I spent most of the day texting my boyfriend things like, "HOW COULD YOU" and "YOU'RE SO SELFISH, NICK," transplanting the male lead into him like I do with most negative depictions of white men. (My boyfriend's name is not Nick, but over the course of our relationship he has been Scott Peterson, Alec Baldwin, and Robin Thicke.)
I didn't read the book when it came out in 2012 for a reason that embarrasses me now. Foolishly, I thought the book was flighty chick-lit—which is a stupid thing people say about books that happen to be written by women with female main characters—and that I wouldn't enjoy it. Effectively, 2014 was the year that I realized I am a big stupid idiot. As it turns out, just because a book has a lady in it does not mean it's a Book For Girls. I insisted that every man I know read this book, telling them that they, too, would enjoy it, as if I could atone for my years of ridiculousness by getting everyone else to buy it. A bad feminist indeed, I wanted to convince my entire social circle that this book was the best book they would read in 2014. "Read this book," I'd tell them. "It's insane and it will make you go insane."
Few works of fiction stuck in my gut this year like Gone Girl did. Everyone talks about that "cool girl" speech in both the book and the movie, and for good reason: I don't think anyone has encapsulated the scourge of the cool chick so perfectly as that passage. Anal sex and hot dogs! How long have I strived to be that person, and for what? Gone Girl let me stop trying. I wish I had this book when I was 19.
I made a lot of people read Gone Girl. I sent one to my pal at Maisonneuve, briefly pausing Hazlitt's longstanding blood feud with that magazine. I dragged my boyfriend to the movie (he did not like it but I think it's mostly because I kept accusing him of murder). I got Hazlitt Deputy Editor Jordan Ginsberg to read it, and then tried to force him to produce even the slightest human emotion, which is like trying to moisturize a rock. (He says he liked it!)
What am I saying is: have you read Gone Girl yet? Have you seen the movie? Have you seen Ben Affleck's great penis in it? Can you do all of this so that we'll actually have something to talk about already?
*
Chris Randle:
Top 25 Compact Discs, Randle Division

1. D'Angelo & The Vanguard - Black Messiah
2. Owen Pallett - In Conflict
3. Taylor Swift - 1989
4. Swans - To Be Kind
5. The Juan Maclean - In a Dream
6. Jennifer Castle - Pink City
7. Rich Gang - Tha Tour Part 1
8. Mr Twin Sister - s/t
9. Jemeel Moondoc - The Zookeeper's House
10. Tinashe - Aquarius
11. YG - My Krazy Life
12. Neneh Cherry - Blank Project
13. The New Pornographers - Brill Bruisers
14. Charli XCX - Sucker
15. Tanya Tagaq - Animism
16. Miranda Lambert - Platinum
17. The Soft Pink Truth - Do the Heathen Rage?
18. K. Michelle - Anybody Wanna Buy a Heart?
19. Grouper - Ruins
20. St. Vincent - s/t
21. Toni Braxton & Babyface - Love, Marriage & Divorce
22. Chumped - Teenage Retirement
23. Matthew Shipp - I've Been to Many Places
24. Run the Jewels - RTJ2
25. Hercules & Love Affair - The Feast of the Broken Heart
*
25 Songs That All Look Like "Singles" If You Squint
1. Kira Isabella - "Quarterback"
2. Migos ft. Young Thug - "YRN"
3. Javiera Mena - "La Joya"
4. Hodgson - "Babylon System"
5. Taylor Swift - "Style"
6. Usher - "Good Kisser"
7. Owen Pallett - "The Riverbed"
8. Nicki Minaj ft. Drake & Lil Wayne - "Truffle Butter"
9. Tinashe ft. Schoolboy Q - "2 On"
10. Nick Jonas - "Teacher"
11. Rosanne Cash - "When the Master Calls the Roll"
12. Cam & China - "Do Dat"
13. Tune-Yards - "Water Fountain"
14. Shift K3y - "Make It Good"
15. Todd Terje - "Delorean Dynamite"
16. Popcaan - "Everything Nice"
17. Sistar - "Touch My Body"
18. Future ft. Pharrell, Pusha T & Casino - "Move That Dope"
19. Jessie Ware - "Champagne Kisses"
20. Shamir - "On the Regular"
21. Azealia Banks - "Chasing Time"
22. Pitbull ft. Ne-Yo - "Time of Our Lives"
23. Leonard Cohen - "Almost Like the Blues"
24. Kilbourne - "El Teke Teke"
25. Perfume - "Hold Your Hand"
*
14 Favourite Tweets by My Friend Ari Cat, Who is Locked On Twitter But Said I Could Post Them
1. being a girl is cool and i highly recommend becoming one
2. one bro criticizing another for his "childish blogging" one table over
3. who's this foucault person………is he ur BOYFRIEND
4. *vogues mournfully*
5. Last Night I Ascribed Reified Romantic Author/Performer Status To A DJ And Played Into His Creepy Patriarchal Power Fantasy
6. a spider spent the past 5 min trying to crawl up my bedpost and it finally made it and i whispered "yeah bruh" and gave it a tiny fistbump
7. today i was in class and i got "always be my baby" stuck in my head and literally started crying because it's the best song ever written
8. just imagined Plies whispering "pwussy" in my ear and felt a cold chill ripple through my body like a ghost had just passed through me
9. i feel like most of my dj sets will devolve into a kind of abject hysterical public karaoke on my part
10. drake crawls through a radiation-scarred desert of cracked clay, decayed metal, his body corroded. he croaks, "worst…" the sun winks out.
11. oh
my
god
look
at
her
pup
12. 4 those who r wondering: im actually a dog, the "cat" in my name is by marriage altho i do support cats in all of their endeavors
13. a young man once approached a wise rabbi after saturday services. "what can i do for you, my son?" he asked. "rabbi. im so thirsty in dm"
14. in the club but not of the club
*
Emily Fraser:
I'll often read cookbooks like I read novels: in bed, hot water bottle lodged between my back and the wall, two cats at my feet, dry Froot Loops being crammed into my gaping maw. So I enjoy cookbooks that have an aspirational element over ones that are exclusively practical (looking at you and your 15-minute meals, Rachael Ray). I want a cookbook to teach technique, to influence flavour pairings, and I want the photos to show tiny amounts of food that would make me punch a waiter if I were given the plate IRL. I want the book to mention how hard it will be to find the ingredients. I want there to be a flavoured foam or gel on every goddamn page.
North: The New Nordic Cuisine of Iceland is the foamiest cookbook I've read in the while. There's apple foam, cream cheese foam, birch foam (my personal favourite foam), and foam made from Skyr, an Icelandic yogurt-like dairy product. Many of the ingredients are Icelandic in origin, but they provide alternatives for those that can be replicated with something more locally available. There's some specialized equipment that the average home kitchen won't have (I have a cheap dehydrator, but not a smoker or a geothermal oven heated by a lava-scape backyard), but they provide alternatives for these, too: instead of dehydrating, you can use your oven on low, and they have a section on building your own smoker out of a vegetable steamer. The recipes in the book are exquisite, and if each one has three components, at least one is doable in a home kitchen.
Usually when a cookbook tries to tell the story of a region I get a little irritated. A half-page explanation of a historical event is not enough to satisfy my curiosity, and yet, is too much preamble for a salad recipe. North has few pretensions about providing a history, instead focusing on contemporary producers and the current state of agriculture in Iceland. The food producers the book features (it has an introduction as well as a Q&A with each) and the areas they farm recur throughout the recipes like persistent characters. The other looming presence in the book is the economic collapse of 2008, which has fueled a return to Iceland-grown staples such as barley while also damaging the subsidies that farmers receive from the government. And in case the link between economics and the way people eat doesn't interest you, there are instructions on how to make your own salt from seawater ("The process results in an odor that smells like the dirtiest cat litter box imaginable").
Bitter, by Jennifer McLagen, gets closer to the practical side of things. As the name suggests, she focuses on bitter ingredients, including Brussels sprouts, Campari, endive, and walnuts. The art design of the book is Goth: The Adult Years and makes me think of absinthe and beautiful velvet wallpaper. The backdrops are dark and textured and there's still dirt on the roots of the vegetables. I want to rub my fingers on the page.
The most exciting element of her recipes is how she's able, within a few pages, to reintroduce you to a vegetable that's been boxed in the "salad" or "roasted" category for as long as you've been aware of it. The night I got the book I had a head of organic celery languishing in the crisper, waiting to become base for soup (or, more realistically, to be eaten with peanut butter and raisins like a toddler). Taking a cue from McLagen, I scrapped my plans, broke off the exterior ribs of the plant and roasted them (although I didn't have the tarragon she suggested). I ended up with densely flavoured, bitter-yet-salty goodness—unlike any celery I've had before. If a cookbook makes you rethink celery, it's a winner.
*
Anshuman Iddamsetty:
When NBA 2K15 arrived in October, it shipped with a peculiar promise that stood outside the usual feature sets of video games that ended with a year. Face scanning, we were told, employed a console's camera to flawlessly capture a face IRL and map it onto a user generated player, in there. The effect was monstrous. But could anyone blame Dr. Frankenstein for the shambling glove of organs scurrying away from the torches and the pitchforks? Like the programmers of NBA 2K15, his tools were crude, and so too were his efforts.
But blunt instruments should never be dismissed, not entirely, for the failures of imagination.
Jerry Paper (neé Brooklynite Lucas Nathan) is a louche arrangement of polygons making music for the departure gates of Second Life. He employs crude synthesizer presets that mimic RL instruments, and plays them bright and uncanny, against a voice bereft of any modulation, even though its obvious that Paper, struggling to render, emotes not one feel or two, but all of them simultaneously; feeling, as much as a wireframe in a cheap suit could, in chords.
Interviews peg Nathan's concerns with the mystical divisions between reality and simulation. (I think.) "Is it just the word 'harpsichord' on my keyboard that makes it a harpsichord?" he muses in a recent feature on THE FADER. Donning the Paper persona, his answer is to de-rez the distinctions until both pills are just primitive chips of red and blue. YMMV, of course. All of this could be dismissed as muzak between levels; an elevator ride through a loading bar that hangs, forever at Not Quite There. This isn't an unreasonable response, and yet I've found myself returning to Big Pop for Chameleon World as 2014 shuddered itself apart and total empathy failure plucked the year out of the sky. Not a week went by when I didn't retreat to Paper's square waves, his MIDI pop, away from a world in desperate need of simplification.
*
Jordan Ginsberg:
I watched a lot of TV this year, which, End of the Golden Age notwithstanding, is not difficult to do, considering how good and how plentiful it currently is. And with so much available, it's easy to be surprised. Hugo Blick's The Honourable Woman initially felt a little too Homeland-inspired (right down the glitchy blue jazz theme music), albeit a version of Homeland made by and for grown-ups. But where Homeland even at its best employs cartoonish bin Laden-esque boogeymen, The Honourable Woman is generally uninterested in concrete moral judgments about Middle Eastern conflicts and politics—it's far less about the virtues of any particular ideology, and instead focuses on the difficult, painful decisions people in such a fraught environment are (or at least feel) forced to make. Plus, Maggie Gyllenhaal gives one of the best performances of her career as an Anglo-Israeli corporate philanthropist with a ~*secret*~ or two, and Stephen Rea really Le Carrés the shit out of his quietly confident MI6 man charged with unraveling the whole grisly plot.
There were other great ones: Steven Soderbergh's The Knick is the most impeccably directed and horrifically graphic series set in a New York hospital in the year 1900 to depict reconstructive surgery on a woman's syphilis-ravaged nasal cavity in at least a few years; Jill Soloway's Transparent is a genuinely uplifting, bracingly human show that manages to treat transgender people with actual dignity and respect while allowing that the people around them may need a minute to process these changes in their own way (and, at the same time, succeeds in being maybe the most Jewish show ever, shouts to Judith Light); The Leftovers is an occasionally underwritten and overacted nightmare factory that nonetheless tries to reckon honestly with crises of faith in the aftermath of inexplicable tragedy and loss (and Justin Theroux's bouncy jogging-pants penis); and BoJack Horseman is a cartoon about an alcoholic, washed up former sitcom star who is also a horse named BoJack Horseman. TV was strange and sad and fun this year.
But the most fun was Banshee, whose third season starts next month. It's an oft-told story: the most talented thief in America is released from prison after 15 years, tracks down his old partner (and love interest) in Pennsylvania Dutch Country where she's living under a new name and married to the district attorney and hiding out from her Ukrainian crime-lord father. Also, along the way, the thief runs into the town's new sheriff one day before he's set to begin the job and watches as he's killed in a random standoff and steals his identity. Also, there is an Amish crime syndicate and brutal women working as deadly enforcers for the local Native American casino. I don't know, when I see it all written out like that, maybe it seems easy to write off as inessentially lowbrow—a C-level Jason Statham movie that runs 10 hours at a time. But there's something eternally appealing about a story that steers into the pulpy skid every chance it gets—one that doesn't delay gratification, exactly, but is surprisingly and unconventionally plotted while still managing to hit every dime-store beat. Makes sense, I guess, that co-creator David Schickler is an accomplished (non-pulp) author who's responsible for, among other things, one of the best pieces of New Yorker fiction of the last 15 years or so.
*
Top 25 Compact Discs, Ginsberg Division (in no particular order)
Swans - To Be Kind
The Hotelier - Home, Like Noplace Is There
Sharon Van Etten - Are We There
D'Angelo and the Vanguard - Black Messiah
Sun Kil Moon - Benji
Run the Jewels - RTJ2
Ben Frost - A U R O R A
Iceage - Plowing Into the Field of Love
Against Me! - Transgender Dysphoria Blues
Ryan Adams - Ryan Adams
Greys - If Anything
YOB - Clearing the Path to Ascend
Ought - More Than Any Other Day
Cloud Nothings - Here and Nowhere Else
TV on the Radio - Seeds
Angel Olsen - Burn Your Fire For No Witness
Joyce Manor - Never Hungover Again
Modern Baseball - You're Gonna Miss It All
Single Mothers - Negative Qualities
Wye Oak - Shriek
Aphex Twin - Syro
Jenny Lewis - The Voyager
Thee Silver Mt. Zion Memorial Orchestra - Fuck Off Get Free We Pour Light on Everything
Afghan Whigs - Do To The Beast
Perfume Genius - Too Bright
*
My most rewarding cultural experience this year, though, was not even of this year—it was reading Carsten Jensen's We, The Drowned, the Danish author's 2011 seafaring adventure epic I picked up on a whim after seeing a stranger's Twitter recommendation. Over 700 pages and 100 years, it plots the course of Marstal, a small island town in the south of Denmark whose identity is forged in turn by the men who leave and the women they leave behind. The men are soldiers, sailors, merchants and adventurers—they go because it's their duty, because their culture and history demand it, but they stay gone because they fall in love with a life that confuses constant motion for forward momentum. The women, meanwhile, do their best to build a society in their absence—one that will keep their children planted on solid ground, away from the murderous sea. Over time, the men come to see the women as forces of destruction, and they're not wrong: their wives and daughters become the captains of the industry in order to crush it. This has become a place where a new cemetery is a sign of hope—a piece of land that can slowly fill with the town's history, rather than degrade into yet another empty plot, vacant for the absence of all the souls that will never return.
The story has its share of action set-pieces—bloody battles and treacherous storms, shrunken heads and brutal slave ships—but it's all in the service of showing the cost of "progress" for its own sake, the damage wrought by development absent the unity and fellowship that make a society great.
Also, read Station Eleven by Emily St. John Mandel. Holy shit is that one beautiful book.
Thanks for reading, everyone. Hazlitt will return in 2015.