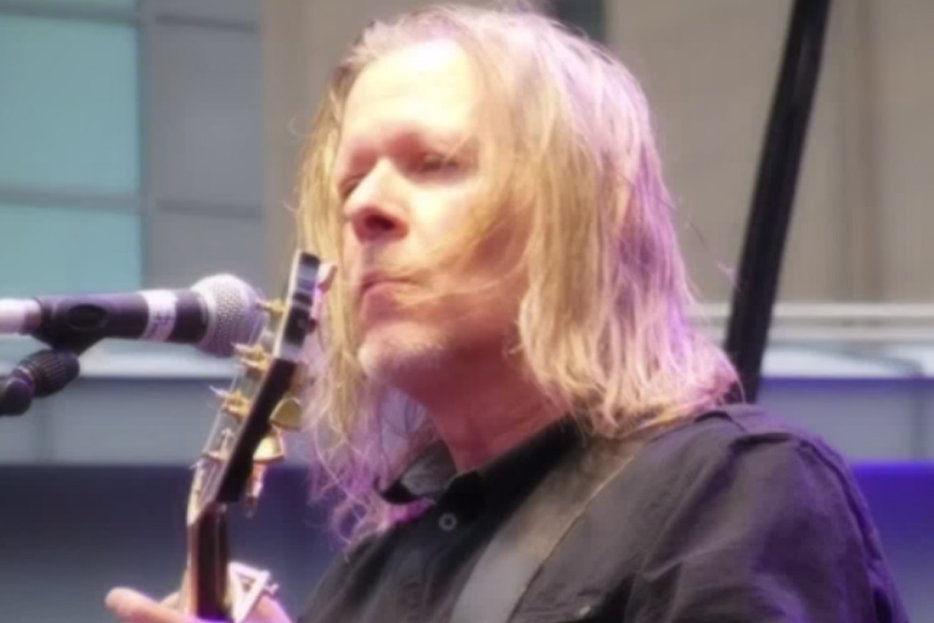 The big controversy of this year's North by Northeast was an extension of its standard radius clause, forbidding any participating musician from playing another local show within 45 days of the festival—though "controversy" may be the wrong word, since NXNE rescinded the policy for 2015 after 3,000 people signed a petition protesting it. It seems reasonable enough to ask international touring acts for some sort of briefly exclusive guarantee (most probably wouldn't relish the hassle of scheduling random extra concerts anyway), but this was an obvious ploy to intimidate the rival Canadian Music Week, employing local bands like doomed infantry at the Somme. It might explain the atomized quality of last weekend: There were many arresting sets to dash between, just no sense that they coexisted even as counterpoints—ecumenicalism without the purpose or distinctive sensibility of a festival like Pop Montreal.
Swans
Some of us wondered/fantasized about what the loudest band in the world might do amidst the Samsung ads and Jack Astor's franchises of Yonge-Dundas Square, and indeed a visiting Conservative cabinet minister did not stick around long enough to hear Michael Gira barking "G-G-G-GET FUCKED!" The stage manner of the Swans frontman does suggest that sinister cowboy from Mulholland Drive on amphetamines, but he's a courtly dad now—he doesn't hurl his 60-year-old body against amps anymore—and made a point of noting that he'd hang around to greet fans afterwards, like always. I suspect he guessed that sheer decibels would dissipate in the branded air. So we didn't get a total noise assault; it was something more thoughtful than that. Percussionist Thor Harris came onstage first, playing a gong solo that filled out instrument by instrument into the increasingly ominous drone of "Frankie M." Receiving less than half the time of their normal shows wasn't going to stop Swans from opening with a 25-minute-long song.
There was an emphasis on percussive motion in general, the churning rhythms they render with such mesmeric force. Gira gyrated like a satyr, leapt into every guitar part as if spearing some vast beast, and introduced "The Apostate" by howling "bring these buildings down!" at the pixels above. The Budweiser Girls seemed to be into it. Compromising no less than they ever have, Swans avoided their greatest extremes—the terrifying intensity and transcendent ecstasy, each constantly emerging from the other—for a kind of relentless formalism. "We are gone. Thank you," Gira said as our teeth ceased vibrating, both a statement of fact and brutally mordant deadpan.
St. Vincent
Writing about the new St. Vincent album earlier this year, I couldn't stop thinking about the deliberate theatricality of Annie Clark's performances, "alternately combative and mesmerized, twitching shoulders and feet, using poses as choreography." She'd changed her hair (cornrows) before last Friday's packed outdoor set, but it was just as stylized and disciplined, whether making jerky little hops or snapping into stillness. Even her laughing headbanging looked strangely controlled. After wishing "a very warm welcome to the freaks and the others," her comments edged towards the surreal: "And sometimes when you walk into a Tim Horton, the shopkeepers think you're stealing, even when you're not stealing…"
All this is only made more striking by her virtuosity with a guitar, often refracted through a range of effects while the backing band handled synths. "Marrow," perhaps her lone number that could be described as funky, became squelching and ugly and wonderful. At one point, she pierced the ground with her headstock, as if dowsing for feedback. Nearly all the selections came from this year's St. Vincent and 2011's Strange Mercy, and Clark exulted in their most jarring transfigurations, as when "Huey Newton" goes from a dreamy synth melody to colossally distorted riffs. Her performance was sandwiched by songs that devote themselves to shredding; first "Rattlesnake," extended through abrasion, then a furious "Krokodil" to close the encore. Clark writhed all over her guitar, lyrics such as "I need to bite," and finally the stage, limbs splaying. The puppet cut its own strings.
Danny Brown
Apparently Danny Brown was hanging around in the wings while St. Vincent performed, which makes sense: His midnight set on Friday was as committed in its own way. Ambling onstage in oversized glasses that vaguely reminded me of Cornel West, hip-hop's most idiosyncratic 33-year-old impishly led the crowd to chant for "blunt after blunt after blunt after blunt after blunt after blunt." I haven't even gotten to (his latest album) Old yet and I could still tell he was only bringing hits. When "I Will" came around, hundreds and hundreds of people echoed his almost monomaniacal enthusiasm for giving women head, a sight that obviously delighted him (and me). "I just wanna know where the fucking molly is at in this motherfucker," he said to nobody in particular, resigned to getting hassled at the border forever.
Le1f
Opening for Danny Brown earlier that night, he'd seemed a little anonymized, hobbled by sound glitches and a crowd that wasn't entirely his. In the temporary "festival hub" of the Edward Day Gallery (i.e. where music writers recharge their phones), at 1 or 2 a.m., everyone sweatily converged on Le1f. The young NYC rapper already had a gift for vivid images, drawing on the language of ball culture and nerd culture alike ("whiskey in my cup, posing like I'm in amanga"), but his recent material is rather more lascivious. A few dozen people were all happy about that. One proposed marriage; I can't remember if that was before or after Le1f took his shirt. I do know that "how many batty boys can you fit in a jeep," his dancehall-queering query from "Boom," is now anthemic.
Kelela
She didn't say anything, just waited on the pulsing beat of "The High," unearthly blue light spilling over her shoulders, dreads hanging off half her head like a loosened hood. There is something classical about the R&B Kelela makes, but not at all traditionalist, especially now the DJ Total Freedom has played around with her live tracks. (At a dance party later that night, he flipped Lil Kim's "Not Tonight" into "Rock the Boat," a Biblical miracle.) All the empty space in Massey Hall, not really intended for this music, allowed her processed vocal loops to drift towards distant elaboration, as if they might float off to live as ghosts. And yet Kelela goes from laconic to imploring with such disarming speed, her voice shrinking suddenly into intimacy, falling on its knees. Near the end of it Total Freedom cued up a bunch of gunshot samples. She smiled, made a revolver with her fingers, took aim.
Swearin'
Thanks to a customary minor streetcar disaster, I only saw them play two or three songs—but pop punk makes a virtue of brevity, right? The last one was, I think, "Kill 'em With Kindness," and the most loudly succinct of all.
Juicy J
Sundays at NXNE have unofficially become the rap night in recent years, and when Juicy J bounded out to meet his audience, everybody turned up like the elements in a nuclear reactor. The all-bangers approach bludgeoned a couple of the more subdued older tracks, like his Three 6 Mafia classic "Sippin on Some Syrup," but anyone who so emphatically saved their career from the limbo of cancelled reality TV would feel triumphant. (When he said "I want to buy a condo in Toronto," it might not have been ingratiating stage banter—the guy owns both an Oscar and Katy Perry royalties.) It's rare for any musician to gain their broadest following near age 40, especially after they've specialized in hilariously lurid EC Comics raps about mailing an enemy's fingers to their mother. From the moment he appeared with "Bands a Make Her Dance," which will continue making strip clubs sound like a John Carpenter movie for the foreseeable future, you could see why: Charisma that's found its outlet, and that undiminished double-time flow. As Juicy J threw his Jordans into the audience and left to keep partying, a children's choir on America's Got Talent cheered from the video screen overhead.